| | |
| --- | --- |
| AceNotes Today | Thursday, December 1, 2022 |
Oval parking closing at 3:00pm on December 2nd
The front Oval parking lot will be closed to all vehicle traffic at 3:00pm on Friday, December 2nd for Winter on Walnut activities. The activities will includes horse and carriage rides. To ensure a safe event for our students and participants, all vehicles must be removed from the Oval no later than 3:00pm.
Submitted by Jason Cullum jc647@evansville.edu
Winter on Walnut Registration is Open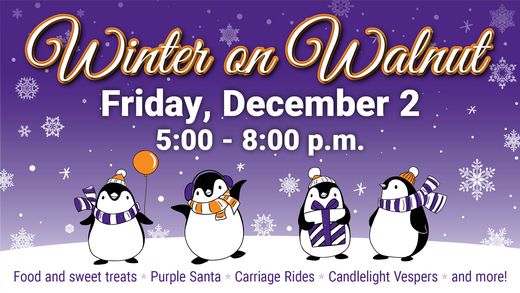 Winter on Walnut Registration for Faculty and Staff is now open!
Registration is $6 per person and includes hot chocolate, carriage rides, train rides, ice skating, and a children's craft!
Winter on Walnut is a free event for current UE students. There is no need to register.
Non-UE students can register at www.uealumnionline.com/2022WOW
Those wishing to only partake in Vespers and Tree lighting do not need to register.
Submitted by Morgan Lamberton ml184@evansville.edu
UE Community Band to Perform Thursday
The UE Community Band is presenting a concert on Thursday, December 1, at 7:30 pm in Neu Chapel. The Community Band is comprised of current UE students and community members, many of whom are UE music alumni.
Under the direction of Kenneth Steinsultz, the band will play pieces by composers such as Eric Whitacre and Michael Daugherty, as well as arrangements of music from Cole Porter and The Polar Express.
The concert is free and open to the public. Live stream is available at: https://www.evansville.edu/majors/music/calendar.cfm
Submitted by Amy Esche ae128@evansville.edu
Street Closure - Winter on Walnut
Walnut will be closed at 9am starting on Dec. 2 for Winter on Walnut. It will be reopened the next morning.
Lot N (between New Hall and Moore) will be closed during this time, and all cars parked in this lot will need to be moved by 10pm on Dec. 1.
Submitted by Lily Renfro lr156@evansville.edu
Art Exhibit "Reflections" in Melvin Peterson Gallery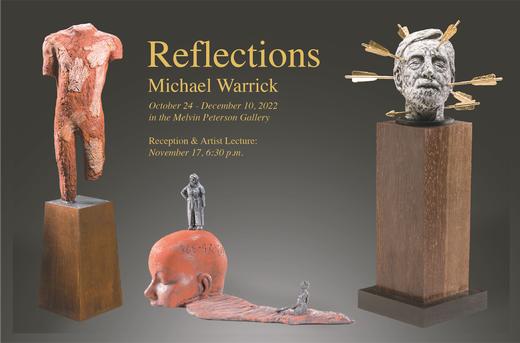 The University of Evansville presents "Reflections", an exhibit by Michael Warrick, on display at the Melvin Peterson Gallery through Saturday, December 10.
All are welcome to attend the reception and artist lecture on Thursday, November 17 at 6:30 PM in the Melvin Peterson Gallery.
The exhibit and reception are part of the Emerging Contemporary Artist Lecture Series sponsored by the Efroymson Family Fund and the UE Department of Art.
The hours for the Melvin Peterson Gallery are Monday 12–3pm; Tuesday 12–3pm; Wednesday 12–6pm; Thursday 12–6pm; Friday 12–3pm; and Saturday 12–3pm.
Submitted by Carol McCraney cm177@evansville.edu
It's Not Too Late to Register for Winter Intersession Courses
Get ahead by taking Winter Intersession online courses. Complete a missing required course, lighten your spring load, and take advantage of the winter break. Classes are held from December 16, 2022, through January 6, 2023. Students may take one class and register when registering for spring classes starting October 31, 2022.
For more information visit www.evansville.edu/wintersession.
Winter Intersession Course List: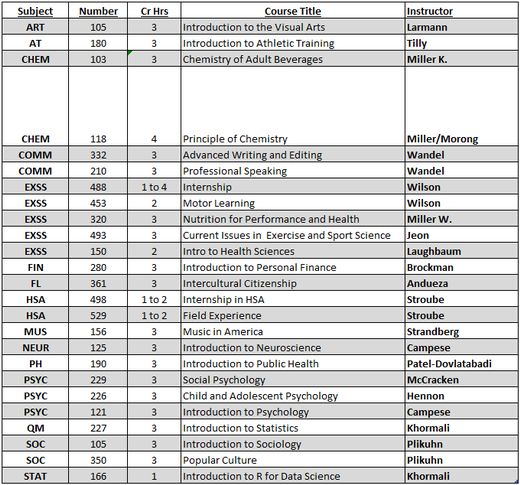 Submitted by Paula Heldt ph28@evansville.edu
Library Display Cases
Looking for a highly visible space to show off what is happening in your area of campus? The Library has the perfect place for you! The library has two display cases with great views and are available all year. The schedule is currently open for reservations. If you are interested in taking advantage of the space, contact Meg Atwater-Singer (812-488-2487 || ma35) with your preferred dates.
Submitted by Meg Atwater-Singer ma35@evansville.edu
The Night It Rained Tears: Remembering the Victims
On December 13, 1977, a tragic plane crash took the lives of 29 members from both the UE community and the flight crew. We will hold both a daytime and evening service on Tuesday, December 13 to mark the 45th annivesary of this fateful evening. Until then, we encourage you to read each day about those who perished in the crash.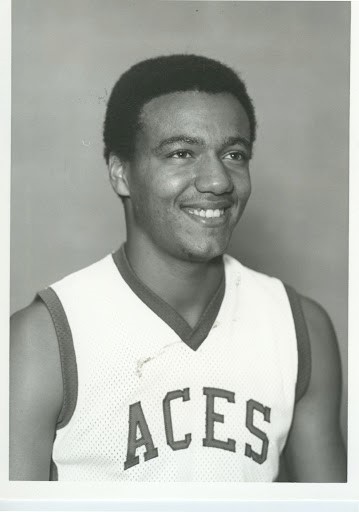 Michael Joyner
Michael Joyner was a freshman business major from Terre Haute, Indiana. He was a three-year score leader at South Vigo High School and was considered one of Terre Haute's best high school shooters ever at the time. Joyner was the first to sign a letter of intent of Coach Bobby Watson, and he did particularly well in the state tournament.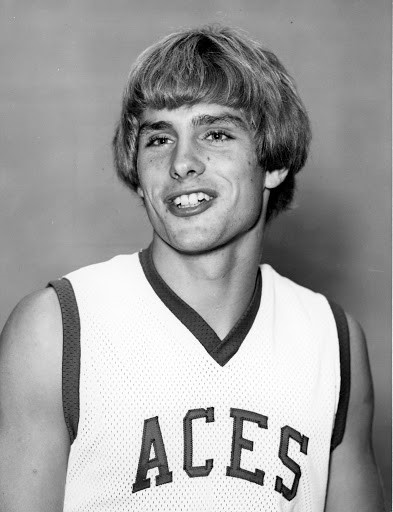 Greg Smith
Greg Smith was a freshman from West Frankfort, Illinois. The 6'1 guard made the team as a walk-on following a tryout. He was the captain of his team at Community High School during his senior year and averaged 18.2 points and 7 rebounds per game. An extremely athletic player, he earned ten letters in high school, including four for baseball and three in men's basketball.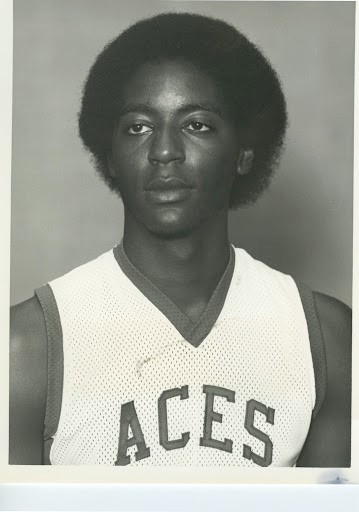 Barney Lewis
Barney Lewis was a freshman from Goldsboro, North Carolina. He averaged 10 points and 9 rebounds per game in his high school career. He was a brown belt in karate and played bass guitar in his spare time. Lewis spent time alternating between center and forward for the Aces while specializing as a great rebounder.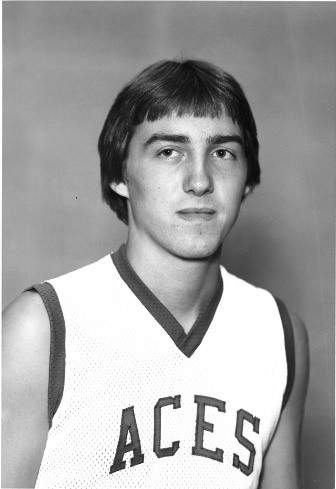 Mark Seigel
Mark Siegel was freshman business major from Indianapolis, Indiana. At Pike High School, Siegel was an honorable mention all-state player in '76 and '77, averaging 19.5 points per game as a senior and setting six school records. These records included single-season assists of 180, career assists of 271, and career steals of 184. In 2020, Mark was inducted into the Indiana Basketball of Hall of Fame.
Submitted by Julie Beer / jb855@evansville.edu
Bike Race Informational Meeting
Bike Race 2023 is right around the corner! The Intramural Department and Fitness Center is excited to present the annual Bike Race again this year to the students, faculty, and staff of the University of Evansville.
The Bike Race will take place in late April, but training for the race starts right after Christmas Break!
If you're interested in learning more about Bike Race or how you can be involved with the event, there will be an informational meeting on Thursday, December 1st at 6:00pm inside the lobby of the Fitness Center. The meeting will be brief but will answer many of your questions about what bike race is, how to properly check out and ride a "bike race bike" and many other details pertaining to the event. If you have any questions feel free to ask Drew @ah519 or stop by the fitness center with your questions.
Submitted by Drew Hawkins ah519@evansville.edu
Winter Housing - Residence Halls
Residence Hall Students - do you need a place to stay this winter? The residence life office has limited winter housing available. Only students participating in official University functions or with approved reasons will be considered for winter housing.
Students approved for winter housing may be assigned a temporary room in another housing facility and may not have access to their permanent rooms during winter break. Approvals are subject to room availability. Students are charged a flat fee of $400 for winter housing. Dining services will be closed from December 16, 2022 – January 8, 2023.
Students seeking winter housing must submit a Winter Housing Request Form by December 2, 2022, available through this link - https://forms.office.com/r/c3udPknAUq.
Submitted by Brian Conner bc32@evansville.edu
Spring Meal Plan Changes
Students can adjust meal plans for the Spring semester until Friday, January 13, 2023 at 5:00 p.m.
Submitted by Brian Conner bc32@evansville.edu
Become an Orientation Leader: Harlaxton Application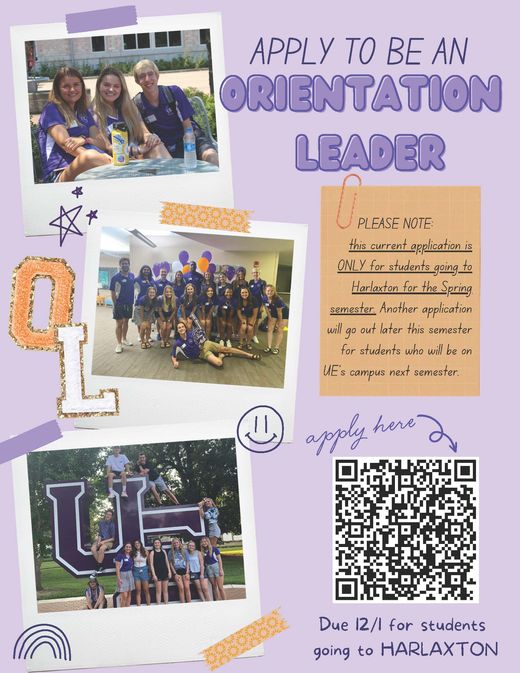 Going to Harlaxton this Spring? Apply to be an Orientation Leader now, so you don't miss the Spring interview process! Please note, another application will be sent out in the future for students that will still be on campus next semester. This round of applications closes on December 1st, and interviews will be on December 8th. Please contact Shelby Gardner, sg293@evansville.edu with any questions. We look forward to your applications!
Submitted by Shelby Gardner sg293@evansville.edu
Journal Article Published
Kevin Jordan, associate professor of psychology, has published an article in the Elsevier journal International Journal of Psychophysiology, an interdisciplinary journal that aims to integrate the neurosciences and behavioral sciences. Entitled "Adaptation to social-evaluative threat: Effects of repeated acceptance and status stressors on cardiovascular reactivity," the article presents experimental findings on the effects of multiple exposures to evaluative threats on blood pressure and heart rate reactivity.
You can view the article https://doi.org/10.1016/j.ijpsycho.2022.11.008
Submitted by Brenda Miller bm24@evansville.edu
Congratulations to Dr. Pallav Bera from the School of Engineering and Computer Science on his recent publication
Congratulations to Dr. Pallav Bera, Assistant Professor of Electrical Engineering from the School of Engineering and Computer Science on the publication of his research work titled "Detection of High Impedance Faults in Microgrids using Machine Learning", published by the Institute of Electrical and Electronics Engineers (IEEE). This work was presented at the 2022 IEEE Green Energy and Smart System Systems (IGESSC) conference.
Dr. Bera used Machine Learning (ML) based models for the protection of the distribution line connecting a wind farm in a microgrid. Internal faults are distinguished from external faults with CT saturation. The internal faults include the high impedance faults (HIFs) which have very low currents and test the dependability of the conventional relays. The results show that ML-based models can effectively distinguish faults and other transients and help maintain the security and dependability of the microgrid operation.
P. K. Bera, V. Kumar, S. R. Pani and V. Bargate, "Detection of High Impedance Faults in Microgrids using Machine Learning," 2022 IEEE Green Energy and Smart System Systems (IGESSC), 2022, pp. 1-5, doi: 10.1109/IGESSC55810.2022.9955330.
Submitted by Suresh Immanuel ss476@evansville.edu
UE falls to SIU in Valley opener
Completing the first half on a 30-10 run, Southern Illinois pulled away for an 80-53 victory over the University of Evansville men's basketball team in Wednesday's Missouri Valley Conference opener at the Ford Center.
Southern Illinois shot 60.7% for the season while hitting 12 of their 24 attempts from long range. The Purple Aces shot 40.4% in the game with Antoine Smith Jr. recording a team-high 12 points. Kenny Strawbridge Jr. scored 10 while Yacine Toumi finished with eight. SIU was led by Lance Jones, who scored 17 points. Xavier Johnson posted 14.
"We played against an older, more experienced team that was prepared to play. The flood gates opened early and they did not stop," UE head coach David Ragland said. "We will learn from it, get better and be ready for Saturday."
Evansville hit three of its first four shots to open the game with a 6-2 edge. Southern Illinois scored six in a row to go up 8-6 before a Kenny Strawbridge Jr. free throw gave UE a 9-8 edge. With the score tied at 11-11, the Salukis scored 12 in a row to go up 23-11 just past the midway point of the half.
Marvin Coleman II found Yacine Toumi for an open triple but the Salukis continued their run. Over the final 10 minutes of the period, SIU outscored the Aces by a 30-10 margin to go up 41-21. They connected on 10 out of 11 attempts at one point as they extended the lead. They shot 62.1% in the opening 20 minutes while holding UE to 39.1%.
Out of the break, SIU opened the scoring with a triple and pushed the advantage to 50-24. Coleman ended the stretch and Gage Bobe followed with a 3-pointer to cut into the deficit. Once again, SIU responded as they posted the next 16 to go up 66-29.
Antoine Smith Jr. recorded a dunk with Strawbridge following it up with a 3-point play. As the clock closed in on eight minutes remaining, Gabe Spinelli made a nice move at the basket to pick up his second field goal of the night before Smith added five more to cap off a 12-0 run.
Over the final minutes, the teams exchanged buckets with SIU completing the 80-53 victory. Much of the success for SIU came in their ability to share the ball as they were credited with 23 assists in 34 makes. Jones posted nine helpers for the Salukis. Southern Illinois finished with a 29-28 edge on the boards with Preston Phillips leading the Aces with five.
Valley play continues for the Aces on Saturday with a trip to Northern Iowa.
Submitted by Athletics
Three UE Swimmers To Compete At Toyota U.S. Open Championships Friday & Saturday
Three members of the University of Evansville swimming team – junior Alon Baer (Gesher HaZiv, Israel) and sophomores Daniel Santos Lopez (Madrid, Spain) and Benjamin Hasanovic (Innsbruck, Austria) – will represent UE at one of the nation's premiere swimming events beginning on Friday, as they will each take part in the Toyota U.S. Open Championships at the Greensboro Aquatic Center in Greensboro, North Carolina.
The Toyota U.S. Open Championships, which begins today and runs through Saturday, is a long-course meter competition which consists of hundreds of athletes, including members of the U.S. National Team, National Junior Team, the 2020 U.S. Olympic team, and the 2022 FINA World Championships U.S. roster. In order to participate in the meet, participants had to meet qualifying time standards in either the long-course meter or short-course yard version of events in the last calendar year.
All three UE swimmers will be in action on Friday, as Santos Lopez will compete in the 100-Meter Butterfly competition, while both Baer and Hasanovic will compete in the 100-Meter Breaststroke event. Friday's action will begin at 8 a.m. central time with preliminary-round swims in the 400 IM, 100 Fly, 200 Freestyle, 100 Breaststroke, and 100 Backstroke. Timed finals in each event of the day will begin at 5 p.m. central time. Friday's preliminary rounds will be shown live on USA Swimming's website (www.usaswimming.org/watch) with Friday night's finals being shown live on the Peacock streaming service beginning at 5 p.m. central.
Baer will also represent UE on Saturday in the 200-Meter Breaststroke competition. Saturday's action will begin at 8 a.m. central time as well with preliminary-round competition. Saturday's finals will begin at 5 p.m. central time. Every preliminary-round swim and final on Saturday can be found live on USA Swimming's website at the link above.
"We are really excited to have three members of our program qualify for an event of this quality," said UE swimming and diving head coach Stuart Wilson. "The Toyota U.S. Open is one of the top swimming events in the country.
"All three men have put in a lot of work and are ready for competing on this stage. Now, it's just time to let all of that hard work show in the pool."
Submitted by Athletics
Contribute to AceNotes
To have content considered for inclusion in AceNotes, please submit a Marketing Request Form. Deadline for submission to AceNotes is 10:00 a.m. on the requested date of publication. Only articles concerning UE related/sponsored activities will be accepted. Articles submitted to AceNotes may be edited for length and clarity. Submitter contact information is at the end of each article.