| | |
| --- | --- |
| AceNotes Today | Monday, November 28, 2022 |
Winter on Walnut Registration is Open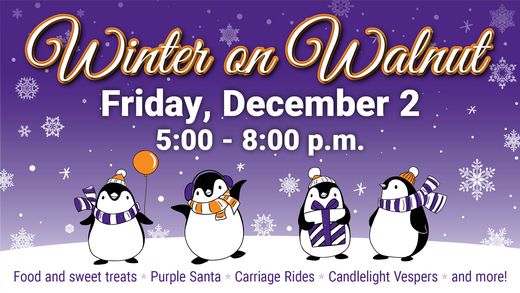 Winter on Walnut Registration for Faculty and Staff is now open!
Registration is $6 per person and includes hot chocolate, carriage rides, train rides, ice skating, and a children's craft!
Winter on Walnut is a free event for current UE students. There is no need to register.
Non-UE students can register at www.uealumnionline.com/2022WOW
Those wishing to only partake in Vespers and Tree lighting do not need to register.
Submitted by Morgan Lamberton ml184@evansville.edu
Charles du Preez to Perform Faculty Recital
Dr. Charles du Preez will present a clarinet recital on Tuesday, November 29, at 7:30 pm in Neu Chapel. He will be accompanied on piano by Professor Anne Fiedler. Dr. du Preez will perform an eclectic mix of traditional and modern compositions, including a piece featuring an accompaniment track and visuals.
The concert is free and open to the public. You can also watch by livestream here: https://www.evansville.edu/majors/music/calendar.cfm
Submitted by Amy Esche ae128@evansville.edu
Join Us for Honors Project Presentation on Tuesday, November 29
The Honors Program invites the campus community to attend the Honors Program Project Presentation on Tuesday, November 29 at 2:00pm in Koch Center 102.
The honors project represents the culmination of the honors experience and provides an opportunity for students to explore an area about which they are passionate. The honors project may consist of a research project, thesis, or creative work.
This semester, we have one Honors Program student who will be graduating and presenting her Honors project. Alexa Markl will present on the topic, "Role of Endothelin-B Receptors on Kidney Sensory Nerves".
We hope you will join us to hear the fantastic work that Alexa has completed for her Honors project.
Submitted by Jayme Williams jw504@evansville.edu
SAB Just Dance Glow Party Tournament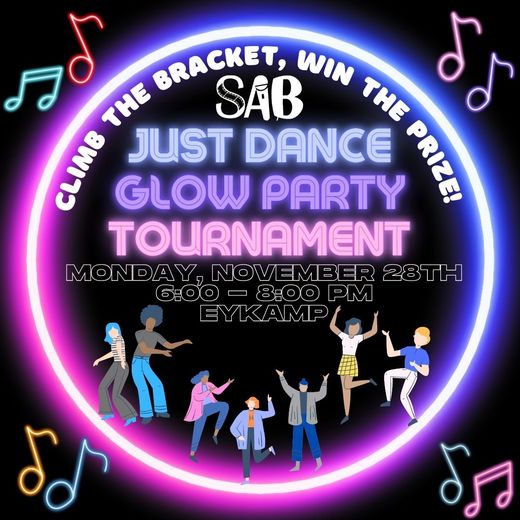 SAB is hosting a Just Dance tournament/karaoke night on Monday, November 28th! Come dance and sing in a glow party environment! The winner of the bracket-style dance tournament will win a prize! Those who come also have a chance to win a prize which can be claimed at the end of the event. Come show off your dance skills, climb the bracket, and win the prize!
Submitted by Auberi Grubb ag334@evansville.edu
Ace Care MOD Giveback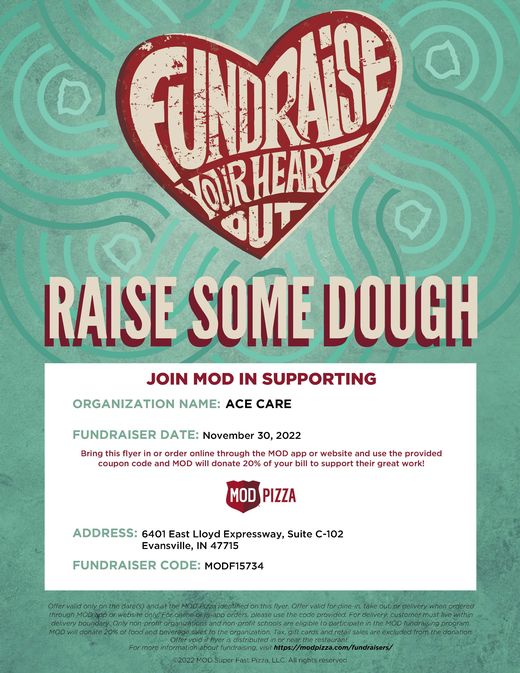 AceCare is the umbrella term for our three pro-bono student run programs, Ace+PT, ACErcise, and AceBuddies. Through these programs we can reach the uninsured, underinsured, homeless, and vulnerable members of our community to provide them with physical therapy care or health and wellness services that these individuals require but cannot afford. On November 30th, there will be a MOD giveback and 20% of all proceeds will go to Ace Care! I have attached the flyer for more information and please make sure you show the cashier the flyer to ensure we receive the maximum amount of proceeds!
Thank you,
Molly Watson and Maddie Scheil
Fundraising Co-Coordiantors
Submitted by Maddie Scheil ms746@evansville.edu
Intramural Pickleball Tournament
The Intramural department is having an end of the year doubles Pickleball tournament for students faculty and staff!
The tournament will be held Friday, December 2nd beginning at 6:00pm inside the Fitness Center. Paddles and balls will be provided. Information about the tournament can be found on imleagues.com. Anybody wanting to participate in the tournament can signup on imleagues.com or by contacting Drew @ah519.
Submitted by Drew Hawkins ah519@evansville.edu
"Within The Wild" Photography Exhibit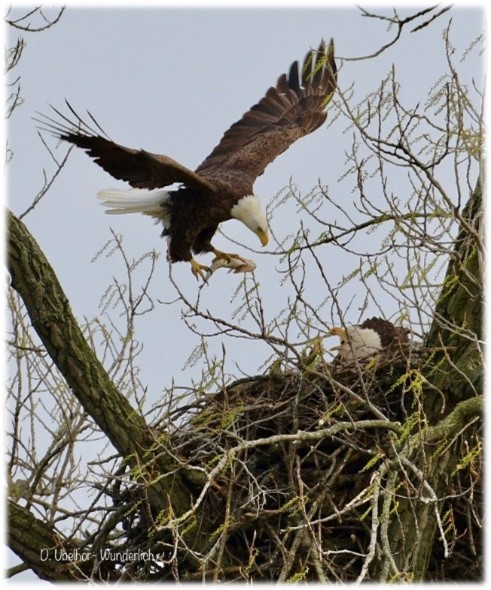 Keith Gehlhausen, Executive Director of Human Resources and Institutional Equity, will exhibit photographs in the Audubon State Park "Within the Wild" photography show. This exhibit, opening on November 22, will run through February 2023 and features nature in the wild locally and across the United States. Please feel free to attend the artist reception on Tuesday, November 29 at the Audubon Museum 5:00-6:15pm.
Submitted by Carol McCraney cm177@evansville.edu
Center for Career Development welcomes new staff
The Center for Career Development is excited to welcome three new staff members to our team.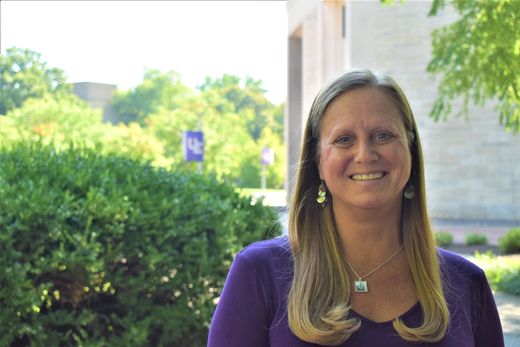 Tracy Gerth, Assistant Director
Tracy's background is in education where she has taught students in all grade levels, K-12. She is excited to expand her experience to higher education and help guide UE students to find rewarding, fulfilling careers.
---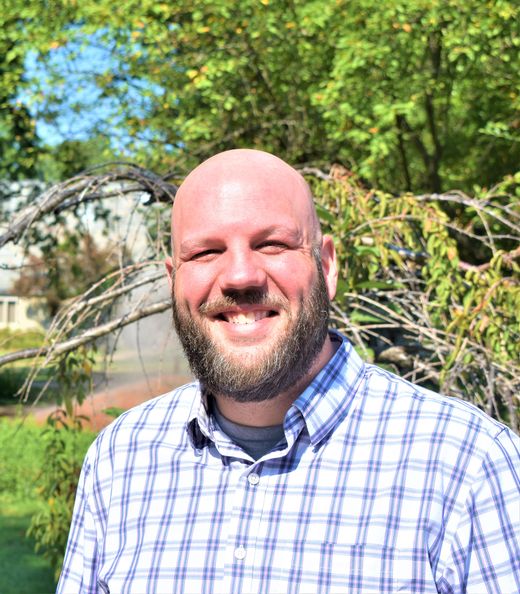 Adam James, Assistant Director
Adam is a 2009 alumni of the University of Evansville. He lives in Evansville with his wife, Paige, son, Lou, and dog, Betelgeuse. Prior to his role in the Center for Career Development, Adam worked in social work, sales, and owned his own business, which he sold in 2021 when his son was born. He and his family love to travel, and attend concerts, UE sporting events, and local events happening around Evansville.
---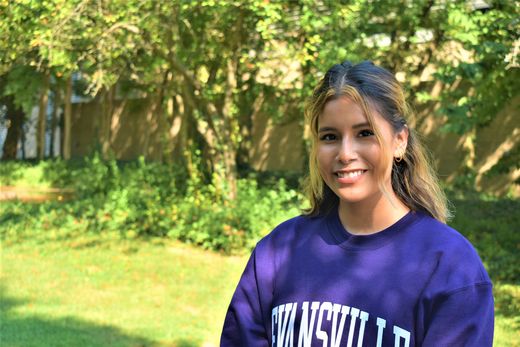 Joss Torres-Edwards, Coordinator of Employer Relations
Joss earned a BS in psychology and joins Career Development after working with Easterseals Rehabilitation Center. There Joss worked in Human Resources to hire and recruit employees that worked with individuals with intellectual and physical disabilities.
Submitted by Amanda Wood aw505@evansville.edu
TIAA Educational Webinar for UE Employees
The financial knowledge to help plan for whatever life brings
Join University of Evansville's Plan Consultant, Tom Loftus from PlanPilot and TIAA Sr. Financial
Consultant, Michael Dooley, as they highlight recent retirement plan enhancements
The webinar will highlight changes within the retirement plans:
Investment menu updates
Addition of the Roth contribution option
Addition of the online salary deferral agreement
There will be time for Questions & Answers, so be sure to attend!
Join us for a webinar online Wednesday, November 30th from 3 p.m. to 4 p.m. CT
Submitted by Lori LeDuc ll138@evansville.edu
PsyD in Clinical Psychology program is now accredited by the Higher Learning Commission
The PsyD in Clinical Psychology program is now accredited by the Higher Learning Commission. We are accepting applications, and the official start date is fall 2023. The PsyD is a 5-year program with 4 years spent on campus and the fifth year spent on clinical internship. Students will be trained in the mental health clinic at Talbot Square and will also have training experiences with local partners (e.g., Ascension, Deaconess, Evansville State Hospital).
The PsyD program will include 4 licensed psychologists as well as discipline-specific psychologists (e.g., social psychology, developmental psychology) within the Department of Psychology & Behavioral Sciences. Each PsyD cohort will include 15 students. The PsyD requires completion of 118 credit hours as well as an empirical dissertation that contributes to the knowledge base of clinical psychology.
Submitted by Holly Smith hh98@evansville.edu
Winter Housing - Villages
Village residents who wish to stay in their apartment or house should complete and submit this form to let us know if you are staying over break - https://forms.office.com/r/EdYkbbT0hw. There is no charge for Village residents to remain over winter break, but we do ask that you let us know if you plan to be here in case of emergencies.
Submitted by Brian Conner bc32@evansville.edu
Become an Orientation Leader: Harlaxton Application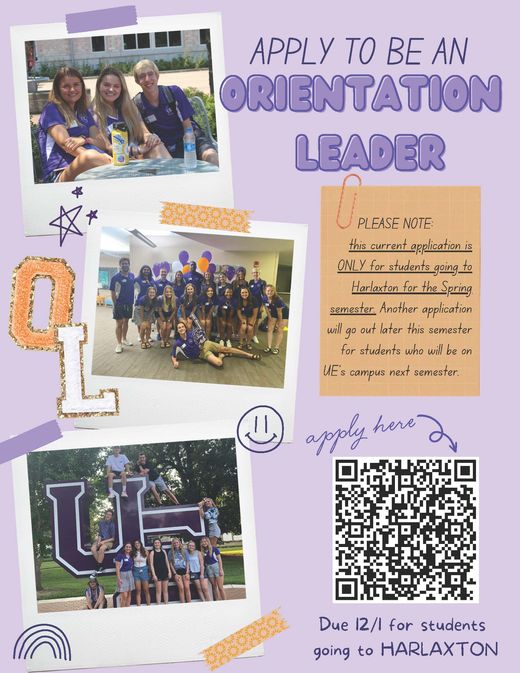 Going to Harlaxton this Spring? Apply to be an Orientation Leader now, so you don't miss the Spring interview process! Please note, another application will be sent out in the future for students that will still be on campus next semester. This round of applications closes on December 1st, and interviews will be on December 8th. Please contact Shelby Gardner, sg293@evansville.edu with any questions. We look forward to your applications!
Submitted by Shelby Gardner sg293@evansville.edu
Dawn Murtaugh: Fiber Art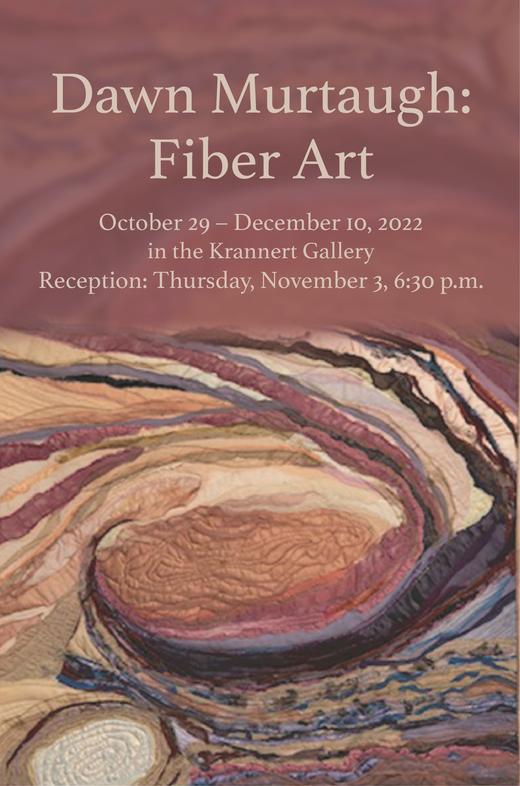 The Dawn Murtaugh: Fiber Art exhibit is open from October 29 through December 10, 2022 in the Krannert Gallery. Please plan to attend the artist reception on Thursday, November 3 at 6:30 p.m.
Submitted by Carol McCraney cm177@evansville.edu
Congratulations to Dr. Pallav Bera from the School of Engineering and Computer Science on his recent publication
Congratulations to Dr. Pallav Bera, Assistant Professor of Electrical Engineering from the School of Engineering and Computer Science on the publication of his research work titled "Detection of High Impedance Faults in Microgrids using Machine Learning", published by the Institute of Electrical and Electronics Engineers (IEEE). This work was presented at the 2022 IEEE Green Energy and Smart System Systems (IGESSC) conference.
Dr. Bera used Machine Learning (ML) based models for the protection of the distribution line connecting a wind farm in a microgrid. Internal faults are distinguished from external faults with CT saturation. The internal faults include the high impedance faults (HIFs) which have very low currents and test the dependability of the conventional relays. The results show that ML-based models can effectively distinguish faults and other transients and help maintain the security and dependability of the microgrid operation.
P. K. Bera, V. Kumar, S. R. Pani and V. Bargate, "Detection of High Impedance Faults in Microgrids using Machine Learning," 2022 IEEE Green Energy and Smart System Systems (IGESSC), 2022, pp. 1-5, doi: 10.1109/IGESSC55810.2022.9955330.
Submitted by Suresh Immanuel ss476@evansville.edu
Professor Emeritus David Unger Publishes Technical Article
Dr. David J. Unger, Professor Emeritus of Mechanical and Civil Engineering, has published the article: "The Modified Generalized Tresca Yield Condition with Application to Mode I Perfectly Plastic Crack Problems," in the journal ZAMP (Journal for Applied Mathematics and Physics), Z. Angew. Math. Phys. 74:1 (2023), pp 1-11. The author is pleased that his contribution has been chosen by this journal as its lead article for 2023.
Submitted by David J. Unger du2@evansville.edu
Harlaxton Christmas Tree Cam
Our Front Circle Christmas tree is arriving and going into the place of honor this week.
Feel free to see the tree, our open houses, and the weather, along with beautiful scenes of the front circle through the new year.
Submitted by Holly Carter hc110@evansville.edu
Strawbridge paces UE in loss to Fairfield
Kenny Strawbridge Jr. scored a game-high 25 points to lead all players in Sunday's finale of the Hostilo Hoops Community Classic at Enmarket Arena. Up by nine in the second half, the University of Evansville men's basketball team fell to Fairfield by a final of 63-56.
UE's leading scorer finished the night hitting 11 of his 18 attempts. Yacine Toumi posted 13 points and four boards. Marvin Coleman paced the Purple Aces with 8 rebounds, 6 assists and 5 steals. Caleb Fields led the Stags with 21 points and a 10-for-12 free throw performance.
Hitting their first four attempts, Fairfield took a 10-6 lead in the opening four minutes. Yacine Toumi had the first four points of the game for UE before Kenny Strawbridge Jr. got on the board. His triple cut the deficit to one (10-9) before his third field goal of the game gave Evansville an 11-10 lead.
Antoine Smith Jr. hit a triple to cap off an 8-0 run that put the Aces up 14-10 at the 13:41 mark. Over the next six minutes, the Stags kept the Aces scoreless while forcing six missed shots. On the offensive end, they scored nine in a row to go up 19-14 inside of the 8-minute mark. Consecutive baskets by Toumi made it a 1-point game once again.
Things did not extend beyond one possession in the final six minutes with Fairfield taking a 28-27 halftime lead. Toumi lead all players with 10 tallies in the opening 20 minutes.
Strawbridge took over in the opening moments of the second half, scoring the opening eight points including a dunk as the Aces went up 35-29. Six minutes in, Sekou Kalle added a dunk that gave UE a game-high 40-31 edge. The Stags defense took over at that point as they held UE scoreless for six minutes while scoring nine in a row to tie the game at 40-40.
Once again, Strawbridge took action as he scored the next four points to put the Aces back on top with Fairfield countering with a triple on the other end with the game entering the last eight minutes. Evansville would go back up by five (48-43) with 6:58 showing on the clock. The Stags continued to inch their way back before jumping back in front at 49-48 with a pair of free throws inside the 5-minute mark.
What would turn into a 10-0 run by the Stags put them in front – 53-48 inside of three minutes left. Toumi halted the stretch with a pair of free throws but Fairfield matched those tallies on the other end to hold a 57-50 edge with 70 ticks remaining and would go on to win by the 7-point margin – 63-56.
Missouri Valley Conference action gets underway on Wednesday when the Aces welcome Southern Illinois to the Ford Center for a 7 p.m. game.
Submitted by Athletics
Beauchamp's game-winner sends UE past Robert Morris
With his team trailing by two points with 16 second remaining, Blaise Beauchamp knocked down his third 3-pointer of the night and it would prove to be the game-winner as the University of Evansville men's basketball team defeated Robert Morris by a final of 54-53 at Enmarket Arena.
Trailing by 12 at halftime, UE opened the second half on an 8-0 run before taking the lead with 11:42 left in the game. The teams swapped the lead multiple times before the Purple Aces earned their second win of the season.
"We told our guys that Robert Morris plays at a pace that we have not seen and we definitely struggled with it in the first half," Purple Aces head coach David Ragland stated following the victory. "I told our guys at halftime that we had a decision to make and I loved our response. We kept fighting and showed our resiliency in the second half. It is crazy how basketball works and I am happy for Blaise and our entire team."
Strawbridge led UE with 21 points while hitting four triples. Beauchamp finished the night with 14 points. Robert Morris was led by Josh Corbin's 22 points, 20 of which came in the first half. Kahliel Spear notched a double-double with 16 points and 12 rebounds.
Eight of the first nine shots found the bottom of the net for Robert Morris as they took the early 19-8 lead. Kenny Strawbridge Jr. opened the game with a putback before hitting two 3-pointers as he accounted for Evansville's first eight points of the game. The Colonials added another make to push the lead to 21-8. Following eight missed shots in a row, Sekou Kalle turned an offensive rebound into a field goal to put UE back on the board.
Blaise Beauchamp converted his first triple with just over eight minutes left in the half to get his squad back within single digits at 24-15. While the Aces got as close as seven points on a Chris Moncrief layup, Robert Morris extended the advantage to 14 before settling for a 37-25 lead at halftime. Josh Corbin of RMU had 20 points, including six triples, at the break.
Just as he did in the first half, Strawbridge came out shooting, knocking down his third 3-pointer of the evening to open the second half. His basket was the first of eight in a row by the Aces to make it a 37-33 game at the 16:51 mark. Seven minutes into the half, Marvin Coleman II grabbed an offensive board and found an open Beauchamp who converted a triple to bring the Aces within one – 39-38.
Antoine Smith Jr. was held scoreless in the opening 20 minutes but his first field goal of the night was a big one as it gave UE a 40-39 lead with 11:42 left in the game. His basket capped off a 6-for-12 start to the period for Evansville. Robert Morris opened the stanza hitting one of its first 14 attempts before Corbin hit a layup with 9:24 left on the clock.
From there, it was a back-and-forth contest with each team holding multiple leads. With UE down one, Strawbridge converted a 4-point play to give the Aces a 49-46 edge inside of the 5-minute mark but a triple on the other end saw RMU tie it right up. He would make another critical play with 3:30 on the clock. A perfect read on the defensive end saw him pick off a pass before turning it into a layup and 51-49 Evansville edge.
Robert Morris tied it up before taking a 53-51 lead in the final minute. Just when it looked like the Colonials would wrestle away the win, Blaise Beauchamp drained a clutch 3-pointer with 16 seconds on the clock. RMU was unable to convert in its final two opportunities and UE would hang on for the 54-53 win. The Colonials finished with a slight shooting edge (38.8%-36.2%) while outrebounding the Aces by a 38-35 final.
Sunday's Hostilo Hoops Community Classic finale pits the Aces against Fairfield at 7:30 p.m. CT.
Submitted by Athletics
Aces offense rolls as six finish in double-figures in win over Miami (Ohio)
Putting together an offensive effort not seen in nearly five years, the University of Evansville women's basketball team powered past Miami (Ohio), 97-72, on Saturday afternoon inside Meeks Family Fieldhouse in Evansville.
The offense of the Aces was the story of the day with six players finishing in double-digits in scoring, the first time UE has accomplished the feat since Dec. 14, 2017. Leading the Aces was fifth-year senior guard A'Niah Griffin, who tallied 20 points in just 22 minutes on the court. Frontcourt duo Abby Feit and Barbora Tomancova both recorded a double-double on the afternoon, with Feit going for 19 points and 12 boards, while Tomancova recorded 17 points and 10 rebounds. Also notching double-digit points on the day were fifth-year guard Myia Clark (15 points), sophomore guard Elly Morgan (12), and freshman guard Kynidi Mason Striverson (11). The RedHawks were led by a pair of 20+ point performances from Ivy Wolf (23 points) and Maddi Cluse (22).
The first two minutes were controlled by the RedHawks as Miami opened the game on an 8-2 run that forced an Evansville timeout. The timeout proved to be well worth it as the Aces responded in a big way out of the break. Out of the timeout, UE proceeded to scored 12 straight points to take a 14-8 lead, holding the RedHawks scoreless for nearly four minutes in the middle of the first quarter. Evansville's lead only grew throughout the opening period with Mason Striverson hitting a pair of free throws just before the quarter came to an end to give UE a 31-20 advantage following the first 10 minutes.
Miami (Ohio) broke a two-minute scoreless stretch for both teams to begin the second quarter with a bucket from Cluse that would be the RedHawks only success offensively early in the frame. Following Cluse's layup, Evansville went on a 10-0 run that pushed the Aces lead just shy of 20 at 41-22. Much of UE's first half offense was provided by Griffin, who had 16 points the first 20 minutes, including eight in the second quarter as the Aces lead sat at 56-35 at the half.
Coming out of halftime, the RedHawks looked to cut away at its deficit, but Evansville had an answer each time. UE's lead was trimmed as low as 13 at three different points in the second half, but each time the Aces were able to craft a response and build back their advantage. Seeing it's advantage trimmed to 77-64 less than one minute into the fourth quarter, Evansville made one final push to put the game away. A 15-2 run from the Aces featuring well-balanced scoring ended any comeback hopes for the RedHawks as Evansville secured the 97-72 win.
The Aces are back in action on Friday, Dec. 2 with a trip to take on Morehead State at 5 PM in Morehead, Ky.
Submitted by Athletics
Men's basketball falls to South Alabama
Blaise Beauchamp reset his season scoring mark with 18 points in Friday's opening game of the Hostilo Hoops Community Classic against South Alabama inside Enmarket Arena. The Purple Aces fell to the Jaguars by a final of 78-67.
"This was another great team that we faced tonight. We had some good stretches in the first half, but South Alabama just did not miss during that stretch in the second half," UE head coach David Ragland exclaimed. "There are several positives to take away from tonight and we will be ready for Robert Morris tomorrow."
Beauchamp was 6-of-15 from the field in the contest and was one of four double figure scorers for UE. Kenny Strawbridge Jr. tallied 14 while Antoine Smith Jr. and Yacine Toumi recorded 11 and 10, respectively. Marvin Coleman II led the Aces with seven rebounds as each team had 33. Isaiah Moore led the Jaguars with 21 points.
Yacine Toumi got the Aces on the board in the opening possession before South Alabama scored the next seven points. Evansville countered with a 7-0 run of its own to go up 9-2. Preston Phillips got it started with a triple and would add a second field goal during the stretch.
With the score tied at 9-9, Antoine Smith Jr. began what would finish as an 11-point half by hitting his first of four shots to begin a 7-0 run. Blaise Beauchamp hit his second field goal of the game before finding Smith for a 3-pointer to make it a 16-9 game at the 12:15 mark. Over the next six minutes, the Jaguars worked their way back into the contest and used a pair of free throws to get within one at 24-23.
Smith took matters into his own hands, knocking down two more 3-pointers to put the Aces back in front – 32-27 – with four minutes left in the half. Beauchamp drained his first outside shot less than a minute later to push the advantage to 35-29. Over the final moments of the half, USA made another run and hit a shot in the final seconds to make it a 37-37 contest at the half.
Kenny Strawbridge Jr. gave UE the lead to open the second half and would be credited with the assist on a Phillips dunk that gave Evansville a 44-43 edge at the 15:44 mark. Over the next four minutes, South Alabama outscored the Aces by a 12-1 margin to take their largest lead of the night at 55-45. Four in a row by Beauchamp got UE back into the fray but the Jaguars would push their lead to 67-52 with 9:24 on the clock.
Evansville never gave up and used an 8-2 stretch to get within nine entering the last seven minutes. UE continued to keep things within reach as Beauchamp added his sixth made field goal of the game to make it a 72-63 game at the 2:44 mark, but South Alabama had the answer each time and would take the win by a 78-67 final.
Game two of the weekend will see the Aces face Robert Morris on Saturday at 4 p.m. CT.
Submitted by Athletics
Volleyball tripped up by Panthers
An historic season for the University of Evansville volleyball team came to a close in a hard-fought match against top seeded Northern Iowa inside Meeks Family Fieldhouse. The Purple Aces put forth a stellar challenge from the outset but it was UNI advancing to Wednesday's Missouri Valley Conference Championship match.
The 2022 campaign was a memorable one that included a program record for MVC victories, MVC Championship wins and individual accolades that included Alondra Vazquez setting the all-time UE program kills record and Giulia Cardona setting the single-season mark with 574 kills.
Cardona was the top performer on Tuesday, posting 19 kills, 3 assists and 2 aces. Vazquez added 12 kills and 9 digs. Kora Ruff recorded 33 assists while Blakeley Freeman picked up 10 digs.
Set 1 – UNI 25, UE 19
After Northern Iowa opened up a 3-0 stretch, they extended their lead to 6-2. Vazquez put the team on her back, giving the Aces pinpoint serving as the squad registered four in a row to tie it up. Back-to-back kills from Vazquez saw Evansville take its first advantage at 12-10.
UNI responded with four in a row to jump back in front before pushing their lead to 18-15. A Panther error saw the Aces get within a pair before UNI pulled away for a 25-19 win and a 1-0 lead.
Set 2 – UNI 32, UE 30
Game two was a battle that saw both teams have chances to pick up the win. Out of the gate, Evansville put forth another battle, taking an 8-6 lead on a Cardona ace and Emilee Scheumann kill. The tides turned the Panthers way as they wrestled away an 11-9 lead, but Evansville swung things back in their direction with a 4-0 run. Maddie Hawkins tallied an ace as UE retook a 13-11 edge.
Back-and-forth play ensued with the Panthers going up 19-17 before a 4-0 UE run was capped off by a Laura Ruiz ace that made it a 21-19 game. Northern Iowa reeled off three in a row for another lead change before UE countered with a Cardona kill to have set point at 24-23. Each team had its shot to end the set, including the Aces having set point on four occasions. Up 30-29, the Aces looked to take control but it was the Panthers who were able to hang on for the 32-30 win.
Set 3 – UNI 25, UE 21
Following their win in the second set, UNI sprinted out to a 6-1 lead. The persistent Aces crew never gave up, make it a 3-point game at 12-9. Northern Iowa responded to push the lead to eight points – 19-11 – but UE still would not bow out of the fight. Scoring eight of the next 11 points, the Aces made it a 22-19 game on a Kate Tsironis kill. Unfortunately, UE just ran out of time as the Panthers took a 25-21 victory to clinch the match.
Submitted by Athletics
Late run pushes UCF to 76-56 win over Aces
Kenny Strawbridge Jr. returned to form, scoring 20 points as the University of Evansville men's basketball team dropped a 76-56 contest against the University of Central Florida on Wednesday evening inside Addition Financial Arena. Full stats will be posted as soon as they are available.
"UCF has a ton of experience and they are going to win a lot of games. We did a nice job of containing them in the first half, but it seemed like the flood gates opened during a stretch in the second half," UE head coach David Ragland said. "We need to do a better job of stopping the bleeding during those types of stretches and generate quality possessions."
Antoine Smith Jr. score nine points while Blaise Beauchamp matched his total.
Strawbridge hit two early shots to give the Aces a 6-0 lead. Evansville's defense held the Knights to an 0-for-5 start from the field before they got on the board at the 15:32 mark. UCF took its first lead of the night at 9-8 with just under 13 minutes left in the half. Their second triple of the night put them up 14-11 but it was Antoine Smith Jr. providing an immediate answer on the other end to tie it right back up.
UCF reeled off 11 points in a row to take their largest advantage of 25-15 with four consecutive shots finding the bottom of the net with under nine minutes left in the half. Confident in his team's ability to play through the adversity, Coach Ragland did just that and his team responded. Five in a row by Blaise Beauchamp highlighted a 7-0 rally for Evansville.
With the first half entering the final minute, the Knights padded their lead at 11 when a Taylor Hendricks dunk pushed the advantage to 35-24. UE was undeterred by the deficit and grabbed the momentum entering halftime. Smith drained his second triple of the game and following a UCF miss, the Aces had the final possession. With time running down, Marvin Coleman II drained a triple to send the Aces to the break down just five – 35-30.
What turned into a 10-0 run by the Aces continued to open the second half when Gage Bobe turned a steal into a fastbreak basket to open the scoring. Coleman hit a layup on the ensuing possession to make it a 35-34 game. Five minutes into the final stanza, Preston Phillips knocked down a 3-pointer to make it a 42-39 game, but in the blink of an eye, the tide turned.
Eight in a row by the Knights in less than a minute saw them match their largest lead at 50-39. Strawbridge helped UE get back within seven tallies before UCF would begin to take control. Inside of the 6-minute mark, they opened up a 66-51 lead and would go on to take the win by 20.
UE travels to Savannah this weekend where they are set to face South Alabama, Robert Morris and Fairfield.
Submitted by Athletics
Hostilo Hoops Community Classic on tap for UE men
Savannah, Georgia will be the scene of the Hostilo Hoops Community Classic, which will see the University of Evansville men's basketball team open play on Friday evening against South Alabama. Tip is set for 5:30 p.m. CT at Enmarket Arena with the Purple Aces Radio Network and BeTheBeast having the coverage.
Weekend Outlook
- Evansville and South Alabama are set to meet for the 5th time in their histories and the first contest since 1994; UE has won three of the first four match-ups
- Robert Morris will be the second opponent on Saturday evening in the second meeting between the schools (UE won a meeting in December of 1996)
- For the first time on the hardwood, the Purple Aces take on Fairfield in Sunday's finale
Last Time Out
- In another hard-fought contest, Evansville gave UCF all it could handle before a late stretch gave the Knights a 76-56 win
- Kenny Strawbridge Jr. was the leading scorer in the contest, totaling 20 points on 8-of-19 shooting
- Antoine Smith Jr. and Blaise Beauchamp scored nine apiece
- UE scored the opening six points of the game and would trail by just five at the break...in the second half, UE got within two points before the Knights pulled away
Back in Form
- Kenny Strawbridge Jr. reached the 20-point mark for the third time this season as he scored 20 at UCF
- He attempted a career-high 19 shots
- For the season, he ranks 10th in the Valley with 16.2 points per game
- He has attempted at least 13 shots in all five games
- Knocking down 9 of his 17 attempts, Strawbridge scored 23 points to lead UE to a 78-74 win at Miami Ohio
Scorching the Nets
- Blaise Beauchamp averaged just 4.67 points per game in the opening three games but has rebounded to average 12.5 points in the last two
- At SMU, he scored a season-high 16 points while hitting four triples (he hit a total of three triples in the first three games)
- Beauchamp followed that up with 9 points at UCF while adding two more treys
- He played a season-high 33:42 in the contest in Dallas
Leader on the Boards
- For the second time this year, Marvin Coleman II tied his career-high with 12 rebounds at UCF after doing the same against SEMO
- His average of 7.6 rebounds per game is 5th in the MVC
- Coleman is averaging 7 PPG on the season and hit that mark at UCF while draining a triple to complete the first half
- He connected on three of his four free throw attempts in the final seconds to ice the season-opening victory at Miami Ohio
Scouting the Opponent
- South Alabama comes into the weekend tournament with a 1-3 record, but the Jaguars have played well against top competition
- Following a 97-59 win over Mobile in the season opener, the Jaguars fell by just six at New Mexico
- USA dropped a 10-point game to Alabama before coming up just four points short at Oklahoma
- Isaiah Moore paces the Jaguars with 19.5 points per game while chipping in 4.0 rebounds
- Kevin Samuel checks in with 11.5 points and a team-best 9.3 caroms per contest
Submitted by Athletics
Aces return home to face Miami (Ohio) on Saturday
Playing its first true home game of the regular season, the University of Evansville women's basketball team welcomes Miami (Ohio) to Meeks Family Fieldhouse at 1 PM on Saturfday afternoon in Evansville.
Meeting frequently in recent years, the Aces and RedHawks will clash for the sixth-time in series history on Saturday with Miami owning a narrow 3-2 advantage in the all-time series. UE and Miami (Ohio) last met a season ago in Oxford, Ohio with the RedHawks capturing an 81-73 win on Dec. 4, 2021. Evansville comes into the weekend matchup following a 93-54 loss on the road at Illinois last Saturday. On the season, UE is 2-2 with both losses coming to Big Ten opponents on the road. The RedHawks are 1-3 on the season, having lost back-to-back road games against tough opponents; 76-51 at Memphis and 91-55 at WKU.
Saturday's matchup figures to heavily feature trips to the free throw line as both Evansville and Miami (Ohio) both sit inside the top 35 teams in the nation in free throws made per game. The Aces are 16th nationally with 18.3 free throws made per contest, while the RedHawks are 34th in the same category in NCAA DI with 16.5 per game.
Tickets for Saturday's game are currently discounted to just $5 as part of UE Athletics' Black Friday Ticket Sale. Tickets are also just $5 for Evansville games against SEMO (12/18) and UT Martin (12/22).
Submitted by Athletics
UE men in Orlando to face UCF on Wednesday
In the second match-up in a home-and-home series, the University of Evansville men's basketball team travels to Orlando, Fla. to face the University of Central Florida on Wednesday evening. Tip is set for 6 p.m. CT inside Addition Financial Arena with the Purple Aces Sports Network and ESPN+ having the coverage.
Last Time Out
- A low scoring contest saw SMU hang on for a 55-47 win in Dallas on Saturday
- Evansville led by a 21-17 score at the break before the Mustangs opened the second half on a 13-0 run to take the lead for the duration of the contest
- Following the run by SMU, Evansville cut the gap to as few as one point with three minutes remaining before the Mustangs took control at the end
- Blaise Beauchamp scored a season-high 16 points while draining four 3-pointers in the contest
- Yacine Toumi added 11 points and 10 boards for his second double-double in the last three games
What an Improvement
- Offensive rebounding is one thing that been an emphasis for the Purple Aces this season and the work has paid off
- With an average of 12.0 offensive caroms per contest, Evansville leads the MVC and is 109th in the country
- That is a start turnaround from last season when the Aces averaged just 4.77 offensive boards to rank 350th nationally and at the bottom of the Valley
Scorching the Nets
- Hitting four 3-pointers, Blaise Beauchamp scored a season-high 16 points at SMU
- Through the opening three games, Beauchamp hit just three triples before eclipsing that total against the Mustangs
- He played a season-high 33:42 in the contest in Dallas
Double-Double Take Two
- Two of the last three games have seen Yacine Toumi record a double-double
- Last time out, he recorded 11 points and 10 boards against SMU while his first double-double came at Saint Louis where he tallied 14 points and 10 caroms
- For the season, Toumi is tied for 5th in the MVC with 7.5 rebounds per contest while his 13.25 points ranks 19th
Scouting the Opponent
- Following a season-opening loss to UNC Asheville in double overtime, UCF has recorded four wins in a row
- After defeating Florida State and Western Illinois, the Knights defeated Oklahoma State and Santa Clara to win the Baha Mar Hoops Bahamas Championship
- Taylor Hendricks leads UCF in both scoring and rebounding
- He checks in with an average of 15.8 points per game while totaling 7.2 rebounds per contest
- A 51.7% shooter, Hendricks has hit 41.7% of his triples
- C.J. Kelly is averaging 13.2 points and has converted 90% of his free throw tries
Submitted by Athletics
Three Swimmers To Represent UE At Toyota U.S. Open Championships Next Week
Three members of the University of Evansville swimming team – junior Alon Baer (Gesher HaZiv, Israel) and sophomores Daniel Santos Lopez (Madrid, Spain) and Benjamin Hasanovic (Innsbruck, Austria) – will represent UE next week at one of the nation's premiere swimming events, as they will each take part in the Toyota U.S. Open Championships at the Greensboro Aquatic Center in Greensboro, North Carolina.
The Toyota U.S. Open Championships will run from Wednesday, November 30 through Saturday, December 3. The long-course meter competition is expected to consist of hundreds of athletes, including members of the U.S. National Team, National Junior Team, the 2020 U.S. Olympic team, and the 2022 FINA World Championships U.S. roster. In order to participate in the meet, participants had to meet qualifying time standards in either the long-course meter or short-course yard version of events between November 1, 2021 and today.
Baer qualified in both the 100 and 200 Breaststroke events by meeting the short-course yard standards with times of 54.11 and 1:58.70, respectively, at last year's MAC Championships. He also reached qualifying standards in the events over the summer in the long-course meter version of the events while competing in his native Israel.
Hasanovic qualified for the 100 Breaststroke event with a long-course meter time of 1:04.76 at a meet in his native Austria this past August. Santos Lopez, meanwhile, will represent UE in the 100 Butterfly competition, after meeting the short-course yard standard with a time of 48.29 last year, and lowering that mark earlier this month at the A3 Performance Invitational with a school-record time of 48.00.
"We are really excited to have three members of our program qualify for an event of this quality," said UE swimming and diving head coach Stuart Wilson. "The Toyota U.S. Open is one of the top swimming events in the country.
"Even though we compete and train collegiately in short-course yards, all three of these men are built to compete in long-course meters. They have done that their entire life while competing overseas, and I am really looking forward to seeing what they can do next week."
Collegiate swimming is competed in short-course yards, with pool lengths being 25 yards. A long-course meter competition will feature a pool length of 50 meters (54.6807 yards).
Submitted by Athletics
Contribute to AceNotes
To have content considered for inclusion in AceNotes, please submit a Marketing Request Form. Deadline for submission to AceNotes is 10:00 a.m. on the requested date of publication. Only articles concerning UE related/sponsored activities will be accepted. Articles submitted to AceNotes may be edited for length and clarity. Submitter contact information is at the end of each article.