| | |
| --- | --- |
| AceNotes Today | Monday, November 21, 2022 |
Winter on Walnut Registration is Open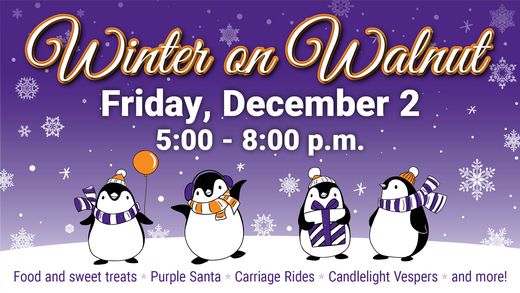 Winter on Walnut Registration for Faculty and Staff is now open!
Registration is $6 per person and includes hot chocolate, carriage rides, train rides, ice skating, and a children's craft!
Winter on Walnut is a free event for current UE students. There is no need to register.
Non-UE students can register at www.uealumnionline.com/2022WOW
Those wishing to only partake in Vespers and Tree lighting do not need to register.
Submitted by Morgan Lamberton ml184@evansville.edu
"The Night it Rained Tears": 45th Anniversary Services
On December 13, 1977, a plane crash tragically took the lives of 29 members from both the UE Men's Basketball team and the flight crew. We invite you to help us remember and honor these lives as we mark the 45th anniversary of "the night it rained tears" – a date that will forever be embedded in our University's history.
There will be two services on Tuesday, December 13, both of which are open to the campus community and the public. We hope you can join us in remembering them.
Daytime service: Noon / Memorial Plaza
Evening service: 7:00 p.m. / Neu Chapel
Additional details will be shared at a later date.
Submitted by Julie Beer / jb855@evansville.edu
It's Not Too Late to Register for Winter Intersession Courses
Get ahead by taking Winter Intersession online courses. Complete a missing required course, lighten your spring load, and take advantage of the winter break. Classes are held from December 16, 2022, through January 6, 2023. Students may take one class and register when registering for spring classes starting October 31, 2022.
For more information visit www.evansville.edu/wintersession.
Winter Intersession Course List: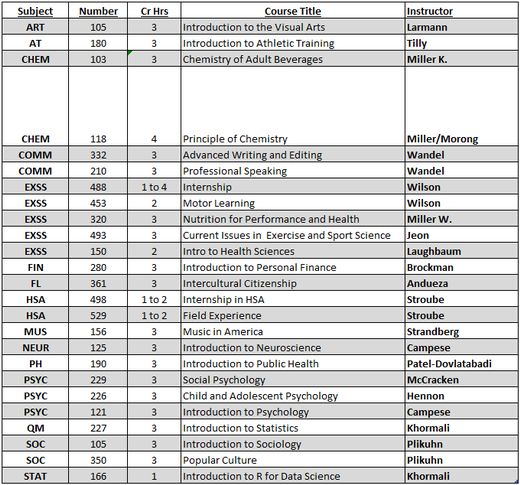 Submitted by Paula Heldt ph28@evansville.edu
Music Conservatory Welcomes Piano Students
The Music Conservatory recently hosted the annual "KEY" (Keyboard Education for Youth) Competition sponsored by the Greater Evansville Music Teachers Association (GEMTA). Over 80 pre-college pianists plus area piano teachers and parents were on campus for the competition and evening recital of winners on November 19. Professor Anne Fiedler also conducted a piano masterclass for select students of GEMTA teachers earlier in November.
Submitted by Anne Fiedler af23@evansville.edu
PsyD in Clinical Psychology program is now accredited by the Higher Learning Commission
The PsyD in Clinical Psychology program is now accredited by the Higher Learning Commission. We are accepting applications, and the official start date is fall 2023. The PsyD is a 5-year program with 4 years spent on campus and the fifth year spent on clinical internship. Students will be trained in the mental health clinic at Talbot Square and will also have training experiences with local partners (e.g., Ascension, Deaconess, Evansville State Hospital).
The PsyD program will include 4 licensed psychologists as well as discipline-specific psychologists (e.g., social psychology, developmental psychology) within the Department of Psychology & Behavioral Sciences. Each PsyD cohort will include 15 students. The PsyD requires completion of 118 credit hours as well as an empirical dissertation that contributes to the knowledge base of clinical psychology.
Submitted by Holly Smith hh98@evansville.edu
Bookstore Thanksgiving Break Hours
The bookstore will have special hours for the week of Thanksgiving Break (November 21st-27th):
Monday the 21st thru Tuesday the 22nd: 9am-5pm
Wednesday the 23rd thru Sunday the 27th: CLOSED
We will resume normal hours on Monday the 28th. Have a wonderful break!
Submitted by Becky Lamont bl164@evansville.edu
Free Tickets for Students/Faculty for 2022 MVC Volleyball Tournament inside Meeks Family Fieldhouse
For the first time in program history, the University of Evansville volleyball team will host the Missouri Valley Conference Tournament inside Meeks Family Fieldhouse on campus. Tickets are free for students and faculty/staff/administration can get two free tickets with their ID.
The eight-team MVC Tournament begins on Sunday, November 20 and runs through the championship match of Wednesday, November 23.
The Aces earned the No. 5 seed in the tournament and open their postseason at 3 PM on Sunday, facing-off against the No. 8 seed Bradley. For the full bracket and schedule, visit GoPurpleAces.com.
Submitted by Athletics
Bike Race Informational Meeting
Bike Race 2023 is right around the corner! The Intramural Department and Fitness Center is excited to present the annual Bike Race again this year to the students, faculty, and staff of the University of Evansville.
The Bike Race will take place in late April, but training for the race starts right after Christmas Break!
If you're interested in learning more about Bike Race or how you can be involved with the event, there will be an informational meeting on Thursday, December 1st at 6:00pm inside the lobby of the Fitness Center. The meeting will be brief but will answer many of your questions about what bike race is, how to properly check out and ride a "bike race bike" and many other details pertaining to the event. If you have any questions feel free to ask Drew @ah519 or stop by the fitness center with your questions.
Submitted by Drew Hawkins ah519@evansville.edu
Winter Housing - Villages
Village residents who wish to stay in their apartment or house should complete and submit this form to let us know if you are staying over break - https://forms.office.com/r/EdYkbbT0hw. There is no charge for Village residents to remain over winter break, but we do ask that you let us know if you plan to be here in case of emergencies.
Submitted by Brian Conner bc32@evansville.edu
Winter Housing - Residence Halls
Residence Hall Students - do you need a place to stay this winter? The residence life office has limited winter housing available. Only students participating in official University functions or with approved reasons will be considered for winter housing.
Students approved for winter housing may be assigned a temporary room in another housing facility and may not have access to their permanent rooms during winter break. Approvals are subject to room availability. Students are charged a flat fee of $400 for winter housing. Dining services will be closed from December 16, 2022 – January 8, 2023.
Students seeking winter housing must submit a Winter Housing Request Form by December 2, 2022, available through this link - https://forms.office.com/r/c3udPknAUq.
Submitted by Brian Conner bc32@evansville.edu
Spring Meal Plan Changes
Students can adjust meal plans for the Spring semester until Friday, January 13, 2023 at 5:00 p.m.
Submitted by Brian Conner bc32@evansville.edu
Change a Young Life - Volunteers to Mentor Needed
UE's College Mentors for Kids chapter needs student volunteers to mentor young children from our local community. Students from all majors have the opportunity to be inspirational role models for elementary-age students, and all UE students enrolled full-time are eligible to apply. Mentoring involves a one-hour weekly commitment on Wednesdays to check in with your little buddy. To begin the application process, please email our College Mentors for Kids President, Lyndsay Deal, at ld157@evansville.edu. Join College Mentors for Kids today, volunteer, and help us make this year our best year for our UE chapter of College Mentors for Kids.
Submitted by Lisa Marie Hale lh241@evansville.edu
Diana Rodriguez Quevedo publishes peer-reviewed book chapter
Diana Rodríguez Quevedo, associate professor of Spanish, has published a peer-reviewed chapter in the book Améfrica in Letters: Literary Interventions from Mexico to the Southern Cone edited by Jennifer Carolina Gómez Menjíbar. This book is part of the series Hispanic Issues published by Vanderbilt University Press. This chapter entitled "Reclaiming Lands, Identity, and Autonomy: Raping Youth in Rural Chocó, Colombia" examines rap songs composed by Afro-Colombian peasant boys within the contexts of oral traditions of Colombia's Pacific region and forced internal displacement.
Submitted by Carol McCraney cm177@evansville.edu
Harlaxton Christmas Tree Cam
Our Front Circle Christmas tree is arriving and going into the place of honor this week.
Feel free to see the tree, our open houses, and the weather, along with beautiful scenes of the front circle through the new year.
Submitted by Holly Carter hc110@evansville.edu
Volleyball wins second-ever MVC Championship match
For just the second time since joining the Missouri Valley Conference in 1994, the University of Evansville volleyball team picked up a win in the MVC Championship as the Purple Aces defeated Bradley by a 3-1 final on Sunday at Meeks Family Fieldhouse.
With the victory, UE moves on to face 4th-seeded Southern Illinois at 3 p.m. on Monday. Giulia Cardona added to her single-season kills record with 25 more on Sunday. She hit an unbelievable .352 while picking up eight digs. Alondra Vazquez finished with 10 kills with Madisyn Steele and Emilee Scheumann adding 8 and 6, respectively. Vazquez tied for the match-high with 13 digs. Kora Ruff recorded 41 assists and nine digs. Hannah Watkjins led the way with six block assists with Vazquez contributing four.
Set 1 – UE 25, BU 19
Back-to-back service aces saw the Braves jump out to an early 5-3 lead. Evansville put forth a relentless charge, going on a 7-1 run to go up 10-6. Emilee Scheumann contributed three kills to put her team on top. The lead hovered around three points for the Aces when Cardona picked up a kill to make it a 5-point game at 18-13.
Three in a row got the Braves right back into the fold but it was UE with the answer. Madisyn Steele added a kill and block with Cardona picking up an ace to highlight a 4-0 run that put UE in front at 22-16. UE completed the set with a 25-19 victory.
Set 2 – BU 25, UE 14
After opening the set with a 9-3 advantage, the Braves extended the lead to 16-6. Laura Ruiz picked up an ace as UE scored three in a row, but the Braves countered to push the lead back to double figures and would take the set, 25-14.
Set 3 – UE 25, BU 22
In the early going it was Bradley getting the upper hand once again as they jumped out to a 7-4 lead. Three Giulia Cardona kills tied it up at 8-8 and Evansville would go in front at 11-10 on a Bradley error. Each time the Aces would take a lead, the Braves answered and would not let the advantage go above a point. That changed when BU posted four in a row to take an 18-15 edge.
Blakeley Freeman picked up an ace as Evansville rallied to tie the score at 18-18 before Bradley wrestled away a 20-18 edge. Cardona recorded kill #17 of the night as UE tied it back up at 20-20. Madisyn Steele and Alondra Vazquez tallied the block that put the Aces in front (22-21) and it would be the defense that had the clincher as Kora Ruff and Hannah Watkins recorded the block that clinched a 25-22 win.
Set 4 – UE 25, BU 16
Evansville's duo of Alondra Vazquez and Giulia Cardona picked up early kills in a 4-1 stretch to open the set. Cardona and Watkins combined on a block that helped UE extend the advantage to 8-2. The UE lead remained at six points (12-6) when the Braves reeled off four in a row to get within a pair and later, they would cut the deficit to just one at 13-12.
One of the most important stretches of the season ensued. After the Braves closed the gap, Evansville scored the next three points in a run that saw them outscore BU by a 7-1 margin. UE clinched the match on the strength of a 25-16 decision to advance to Monday's quarterfinals round against Southern Illinois. Match time is set for 3 p.m.
Submitted by Athletics
Cardona, Ruff and Vazquez earn MVC recognition
Giulia Cardona, Kora Ruff and Alondra Vazquez each received Missouri Valley Conference postseason honors as the league announced its All-Conference squads on Saturday.
Cardona and Vazquez were named to the All-MVC First Team while Kora Ruff earned a spot on the All-Freshman squad.
Alondra Vazquez was named to the All-MVC First Team for the third consecutive season. She was also an All-Freshman honoree in 2018. Vazquez is set to complete a stellar career that saw her break the Purple Aces career kills record. The 5-time MVC Player of the Week in her career currently has 1,864 kills, which is 4th-best in MVC history.
She led the MVC in kills once again with an average of 4.75 per set. In her time at Evansville, Vazquez has accumulated 5,351 attacks, which set the program record and will finish second in the league record books.
Giulia Cardona joins Vazquez on the First Team. The 2021 MVC Freshman of the Year was named to the All-MVC Second Team last season. Her 24-kill performance against Indiana State saw her break the Evansville single season kills record. Currently sitting with 508, Cardona passed Vazquez' mark of 494 versus the Sycamores.
The top effort for Cardona saw her register 25 kills at Southern Illinois. Her average of 4.23 kills per set put her second in the Valley, trailing only Vazquez.
Kora Ruff picked up a spot on the All-Freshman squad. With 1,232 assists in 2022, she ranks fourth in the nation and second among all freshmen nationally. With 10.27 helpers per frame, Ruff is 4th in the league. As the season has wound down, Ruff has been at her best. Over the last 13 matches, Ruff has recorded an average of 11.28 assists.
Ruff has reached the 50-assist mark in a match on five occasions with her top total of 58 coming in a win over Missouri State. Defensively, Ruff has notched at least five digs in 29 out of UE's 32 contests.
Submitted by Athletics
Mustangs fend off challenge to defeat Aces 55-47
Blaise Beauchamp knocked down four 3-pointers to keep the University of Evansville men's basketball team right in the thick of the battle before a late stretch by the Mustangs saw them win by a score of 55-47 inside Moody Coliseum.
Beauchamp's top scoring effort of the young season saw record 16 points while Yacine Toumi picked up his second double-double of the campaign as he totaled 11 points and 10 rebounds. Three SMU players reached double figures with Zhuric Phelps pacing the squad with 15 points. Zach Nutall scored 13 while Efe Odigie picked up a double-double with 10 points and 11 caroms.
"We had a good gameplan coming in and played pretty well. I told our guys to stick with it and it will come together," Aces head coach David Ragland said. "Once SMU got that lead, they held onto it. We gave ourselves a chance and climbed back into it. There are many positives that we can take from today."
Yacine Toumi got UE on the board before SMU came back to score the next seven points to go up 7-2. Kenny Strawbridge Jr. ended a drought of six misses in a row and Blaise Beauchamp drained a triple on the fast break to cut the deficit to 9-7. Beauchamp struck again with 12:44 remaining in the half, draining a shot to tie the game at 9-9.
With the offense knocking down a few shots, the UE defense did the job on the other end. Evansville forced 11 consecutive missed shots and three turnovers in a span of eight minutes. Despite the defensive pressure, UE could not muster up the offense on the other end with Strawbridge picking up a field goal to make it an 11-9 contest as the half entered the final eight minutes.
Sekou Kalle provided the energy over the ensuing stretch as he recorded a pair of dunks to put UE up 17-14 with Toumi adding a layup that extended the lead to 19-14 with just over three minutes showing. Evansville was able to keep the advantage, heading into the break with a 21-17 edge.
After turning the ball over just twice in the first half, five turnovers in the first two minutes of the second half led to a 6-0 run by the Mustangs to put them in front at 23-21. SMU continued to clamp down on the Aces. Over the first 6:49, UE missed all six attempts and turned it over six times as they solidified a 30-21 lead.
Marvin Coleman II ended the stretch with a layup with 14:11 showing on the clock and Beauchamp followed with a pair of 3's that saw Evansville make it a 36-33 game just past the midway point of the final stanza. Gabe Spinelli went coast-to-coast minutes later to get Evansville within a pair.
A Zhuric Phelps layup with 4:15 left in the contest put SMU up 44-38 but Evansville was not backing down. It was Beauchamp doing the damage once again as he connected on his fourth triple of the day before draining a pair of free throws to get UE within just one (44-43) as the game entered the final three minutes. SMU posted the next two field goals as they pulled back out to a 5-point edge. After pushing the lead to 52-43, the Mustangs would hang on to win by a score of 55-47.
Evansville outrebounded SMU by a 46-42 margin while the Mustangs finished with a slight edge in the final shooting tallies. The Mustangs completed the game at 32.1% with UE checking in at 28.8%. UE remains on the road Wednesday for a 6 p.m. CT game at UCF.
Submitted by Athletics
MVC Championship opens Sunday in Evansville
Playing host to the Missouri Valley Conference Championship for the first time in school history, the University of Evansville volleyball team will open the championship on Sunday afternoon at 3 p.m. As the No. 5 seed, UE will take on 8th-seeded Bradley on ESPN+.

Record-Breaking Season
- A 3-1 win over Indiana State in the regular-season finale was the 11th MVC victory of the season for UE
- That total is the most for the program since joining the league in 1994
- Prior to this season, the only year the Aces were over .500 was 2000 when UE was 10-8

First to 500
- On November 15, Giulia Cardona became the first player in program history to record 500 kills in a single season
- Her 24-kill performance pushed her season total to 508, which bested Alondra Vazquez' record of 494 from last season
- On Nov. 5, Cardona had her top career match with 25 kills, besting her previous total by one
- In the road trip to Missouri State and SIU, Cardona averaged 5.50 kills per set
- For the season, Cardona is second in the MVC with her 4.23 kills average while her total of 1,414 attacks is 3rd-highest in the NCAA and is just 21 away from tying Alondra Vazquez' record of 1,435
- Defensively, Cardona has shown great improvement, chipping in an average of 2.56 digs per set over the last 21 matches (207 digs in the last 81 sets)

Making History
- On Oct. 22 against Drake, Alondra Vazquez became the all-time program kills leader, breaking Jessica Kiefer's record of 1,706
- Her current total of 1,864 kills is 4th in MVC history

1) 2,293 Lily Johnson, Missouri State, 2014-17
2) 1,948 Lindsay Stalzer, Bradley, 2002-05
3) 1,919 Michelle Witzke, Missouri State, 1994-97
4) 1,864 Alondra Vazquez, Evansville, 2018-
5) 1,779 Molly O'Brien, UNI, 2000-03

- Earlier this season, Vazquez moved past Julie Groves for the most attempts in program history and now has 5,351 with Groves' mark of 4,401 ranking second...Vazquez' total is second in MVC history

1) 6,610 Lily Johnson, Missouri State, 2014-17
2) 5,351 Alondra Vazquez, Evansville, 2018-
3) 5,060 Erica Haslag, Bradley, 2015-18
4) 4,944 Michelle Witzke, Missouri State, 1994-97
5) 4,914 Ashley Rosch, Illinois State, 2012-15

- Vazquez also moved into the top ten in career digs with 1,526...she is currently 5th
Top Four
- With 1,232 assists in her freshman campaign, Kora Ruff ranks fourth in the nation and second among all freshmen
- Her average of 10.27 per set ranks fourth in the MVC but her efforts in the last 13 matches has been lights out - she has recorded 11.28 assists per set over that time
- She was named the MVC Freshman of the Week on Oct. 31 following the road victories at Valpo and UIC where she averaged 11.75 assists, 3.00 digs and 0.63 service aces
- She reached 50 assists in a match for the first time on Sept. 30 at Belmont and has now reached the mark on five occasions
Submitted by Athletics
Men's basketball travels to Dallas to face SMU
For the first time in 49 years, the University of Evansville men's basketball team travels to the State of Texas as the Purple Aces face SMU on Saturday at 2 p.m. UE faces the Mustangs in Moody Coliseum with the broadcast set for ESPN+.
Last Time Out
- Trailing by as many as 17 points in the first half, Evansville got within one in the final 20 minutes before Southeast Missouri State finished with a 67-61 victory
- Kenny Strawbridge Jr. scored 22 points on 7-of-17 shooting while Yacine Toumi added 13 points and 7 boards
- Sekou Kalle and Marvin Coleman II hauled in 12 rebounds apiece
Back to Texas
- Evansville will play a game in Texas for the first time since December of 1973
- A 2-game road swing that year saw the Aces earn a 100-76 win over Lamar in Beaumont, Texas before traveling to El Paso the next day to face UTEP where the squad fell by a 60-57 final
Rebounding Stat
- It has been close to eight years since two Evansville players had 10+ rebounds in a game as Marvin Coleman II and Sekou Kalle accomplished the feat against SEMO
- The last time UE did so came on Dec. 28, 2014 when Egidijus Mockevicius and Mislav Brzoja each grabbed 10 boards versus Coppin State
Another 20-point Game
- With 22 points against SEMO, Kenny Strawbridge Jr. improved his season average to 17.7 points per game and is 7th in the MVC
- Knocking down 9 of his 17 attempts, Strawbridge scored 23 points to lead UE to a 78-74 win at Miami Ohio
- His debut was the best for Evansville since DeAndre Williams scored 26 against Ball State in his first game with the program in 2019
Double-Double Threat
- Every time he takes to the floor, Yacine Toumi has the chance to record a double-double
- Toumi is averaging 14.0 points and 6.7 rebounds per game on the season and recorded the first double-double of his career at Saint Louis, posting 14 points and 10 rebounds
- He currently ranks inside the MVC's top 18 in scoring, rebounding and minutes played
- His debut at Miami Ohio saw him score 15 points, including the first eight UE tallies of the game
Scouting the Opponent
- SMU comes into Saturday's game with a 1-2 record with a win over Texas A&M-Commerce and losses to Dayton and New Mexico
- Zhuric Phelps has had an outstanding start to the season, checking in with an average of 18.7 points per game
- Zach Nutall is just behind with a mark of 15.0 PPG
- On the boards, it is Efe Odigie leading the Mustangs with 10.0 rebounds including 8.0/game on the defensive end
- Samuell Williamson is also a force on the boards, standing with 8.3 caroms per contest
Submitted by Athletics
Contribute to AceNotes
To have content considered for inclusion in AceNotes, please submit a Marketing Request Form. Deadline for submission to AceNotes is 10:00 a.m. on the requested date of publication. Only articles concerning UE related/sponsored activities will be accepted. Articles submitted to AceNotes may be edited for length and clarity. Submitter contact information is at the end of each article.