| | |
| --- | --- |
| AceNotes Today | Friday, November 18, 2022 |
Transgender Day of Remembrance Vigil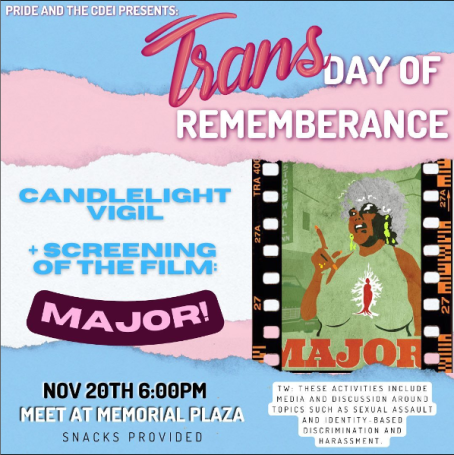 Join PRIDE to light a candle this weekend in memorial and honor of those who lost their lives to anti-transgender violence in 2022. The candlelight vigil will begin at 6:00 PM at Memorial Plaza. After the vigil, at 6:45 PM, head inside Eykamp and watch CDEI's showing of MAJOR!, a documentary film about the life and campaigns of Miss Major Griffin-Gracy, a Black transgender elder and activist. Popcorn is included!
Submitted by Chloe Prince cp260@evansville.edu
Intramural Pickleball Tournament
The Intramural department is having an end of the year doubles Pickleball tournament for students faculty and staff!
The tournament will be held Friday, December 2nd beginning at 6:00pm inside the Fitness Center. Paddles and balls will be provided. Information about the tournament can be found on imleagues.com. Anybody wanting to participate in the tournament can signup on imleagues.com or by contacting Drew @ah519.
Submitted by Drew Hawkins ah519@evansville.edu
Join us for International Bazaar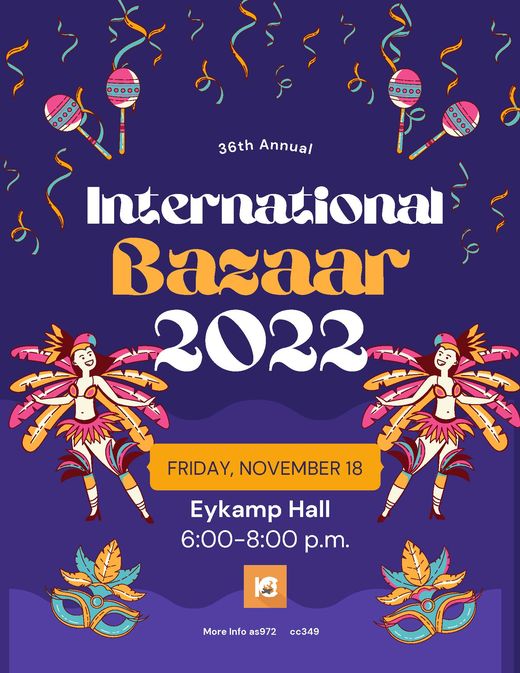 Join International Club at our annual International Bazaar this week on Friday, November 18th, 6-8 PM in Eykamp!!!
We will have multiple performances, a fashion show, many booths representing different countries and clubs, as well as a marketplace where people will be able to purchase things! We hope to see you all at this event to celebrate and appreciate the diversity on campus!
All students, faculty, staff, and the public are welcome!
Submitted by Akane Suzuki as972@evansville.edu
Final Four Performances of UE Theatre's CABARET Slated this Week
The University of Evansville Department of Theatre's production of CABARET, inspired by the play by John Van Druten, stories by Christopher Isherwood, music by John Kander, and lyrics by Fred Ebb, runs for four more performances this week, at 7:30 p.m., On November 17, 18, and 19, and at 2:00 p.m., on November 20.
Set against the tumult and sheer chaos of Germany's 1929 Berlin, the alluring emcee invites all to engage in willful ignorance and revel in the lustful delights inside the legendary Kit Kat Club. "Here…life is beautiful." With hedonistic abandon, these riveting characters live life as a carnival of debauchery and despair. Winning Tony Awards for Best Musical for the 1966 Broadway premiere and for Best Revival of a Musical in 1988, this provocative and challenging style of storytelling packs a potent punch on the dangers of mass indifference in the face of injustice and atrocities and asks audiences to either act now or say, "so what?"
In following industry standards, as established by the Broadway League, all audience members must remain masked during the performance. It is our hope that these restrictions will allow our student actors to safely perform unmasked.
Adult ticket prices are $20 and $18 for senior adults, UE employees, and non-UE students. UE students may obtain one free student rush ticket beginning at 12 p.m. on the day of the performance they wish to attend. In addition, UE Theatre is excited to introduce a new "Pay What You Can" initiative. Every Thursday evening performance in Shanklin Theatre is available for any person to pay any price that best fits their budget. Single tickets may be purchased online at theatre.evansville.edu or by calling the ticket office at 812.488.2031, Monday through Friday, 12:00 to 5:00 p.m.
Submitted by Sharla Cowden sc75@evansville.edu
Clothing Drive for Hangers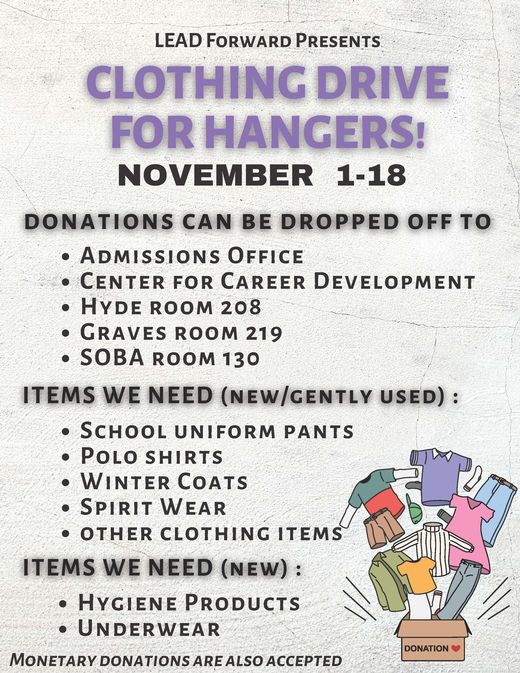 The students of LEAD Forward are hosting a clothing drive for Hangers. Hangers is a resource for EVSC that provides students in need with clothing and other necessities. This program serves thousands of students each year. If you would like to make a donation, please drop the listed items off at the donation bin most convenient for you! All locations are listed on the flyer. Thank you!
Submitted by Maggie Newcomb mn156@evansville.edu
It's Not Too Late to Register for Winter Intersession Courses
Get ahead by taking Winter Intersession online courses. Complete a missing required course, lighten your spring load, and take advantage of the winter break. Classes are held from December 16, 2022, through January 6, 2023. Students may take one class and register when registering for spring classes starting October 31, 2022.
For more information visit www.evansville.edu/wintersession.
Winter Intersession Course List: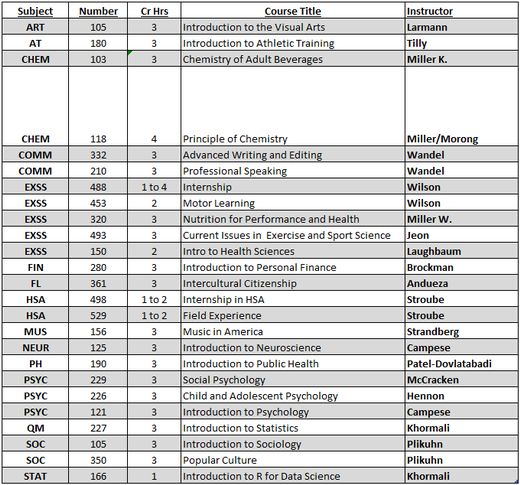 Submitted by Paula Heldt ph28@evansville.edu
Free Tickets for Students/Faculty for 2022 MVC Volleyball Tournament inside Meeks Family Fieldhouse
For the first time in program history, the University of Evansville volleyball team will host the Missouri Valley Conference Tournament inside Meeks Family Fieldhouse on campus. Tickets are free for students and faculty/staff/administration can get two free tickets with their ID.
The eight-team MVC Tournament begins on Sunday, November 20 and runs through the championship match of Wednesday, November 23.
The Aces earned the No. 5 seed in the tournament and open their postseason at 3 PM on Sunday, facing-off against the No. 8 seed Bradley. For the full bracket and schedule, visit GoPurpleAces.com.
Submitted by Athletics
UE Theatre Welcomes Scott Illingworth, Professor at NYU's Tisch School of the Arts, to Campus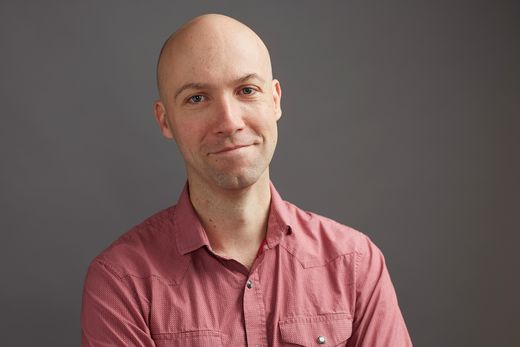 The University of Evansville Department of Theatre is thrilled to host Professor Scott Illingworth, from the Graduate Acting program at NYU's Tisch School of the Arts. Professor Illingworth is on campus this week, as a guest artist, working with first-year, junior, and senior theatre performance majors. His expertise is in physical actioning for actors, and he is the author of EXERCISES FOR EMBODIED ACTORS: TOOLS FOR PHYSICAL ACTIONING (Routledge, 2020). He is a founder of SOCIETY, a New York City theatre collective and a Fulbright grant recipient. He has taught at universities and schools across the U.S. and internationally. His directing credits span Off-Broadway, regional, and international work including new play collaborations with Lucas Hnath, Mona Mansour, and Christina Anderson, among others. Scott is currently developing a new work with collaborators from Ukraine using audio diaries and interviews from young people recorded during the first six months of war.
Submitted by Sharla Cowden sc75@evansville.edu
Honorary Degree Committee Welcomes Your Suggestions
The Honorary Degree Committee looks forward to receiving your recommendations for honorary degrees to be conferred at the May 2023 Commencement. We need your help in selecting accomplished individuals to receive one of our university's highest honors. Nominations may be made on the basis of individual service to the University or individual achievement that exemplifies the University's mission. Recently selected persons have excelled in a variety of areas, including law, medicine, education, business, literature, politics, and entertainment. The committee will forward their nominations to President Pietruszkiewicz so he can make his recommendations to the faculty for their approval. Please email the following information to Robert Dion, committee chairperson, at rd35@evansville.edu, by Tuesday, November 22: Your name, the name of your nominee, the rationale for your nomination, biographical information on the nominee, and contact information for the nominee. Thank you in advance for your ideas.
Submitted by Robert Dion rd35@evansville.edu
New Hall Openings for Spring 2023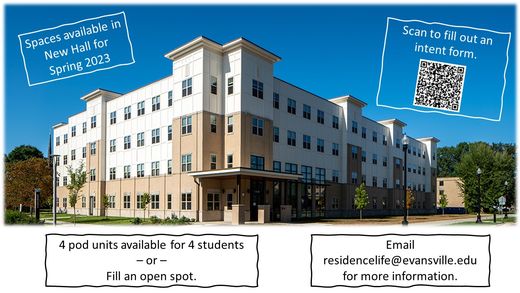 Interested in living in New Hall for the spring semester? The Office of Residence Life has spaces available in New Hall. 4 pod units are available for a group of 4 students or there are individual spaces within pods available. If you are interested, email Brian Conner, bc32, by November 18 for more information.
Submitted by Brian Conner bc32@evansville.edu
Become an Orientation Leader: Harlaxton Application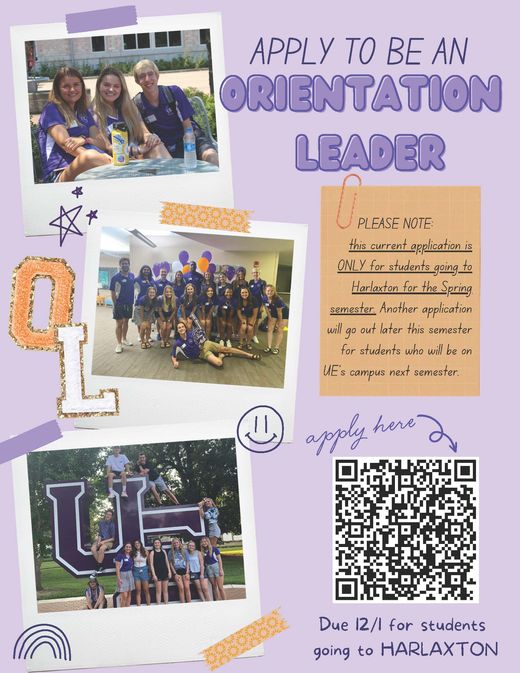 Going to Harlaxton this Spring? Apply to be an Orientation Leader now, so you don't miss the Spring interview process! Please note, another application will be sent out in the future for students that will still be on campus next semester. This round of applications closes on December 1st, and interviews will be on December 8th. Please contact Shelby Gardner, sg293@evansville.edu with any questions. We look forward to your applications!
Submitted by Shelby Gardner sg293@evansville.edu
Change a Young Life - Volunteers to Mentor Needed
UE's College Mentors for Kids chapter needs student volunteers to mentor young children from our local community. Students from all majors have the opportunity to be inspirational role models for elementary-age students, and all UE students enrolled full-time are eligible to apply. Mentoring involves a one-hour weekly commitment on Wednesdays to check in with your little buddy. To begin the application process, please email our College Mentors for Kids President, Lyndsay Deal, at ld157@evansville.edu. Join College Mentors for Kids today, volunteer, and help us make this year our best year for our UE chapter of College Mentors for Kids.
Submitted by Lisa Marie Hale lh241@evansville.edu
Dawn Murtaugh: Fiber Art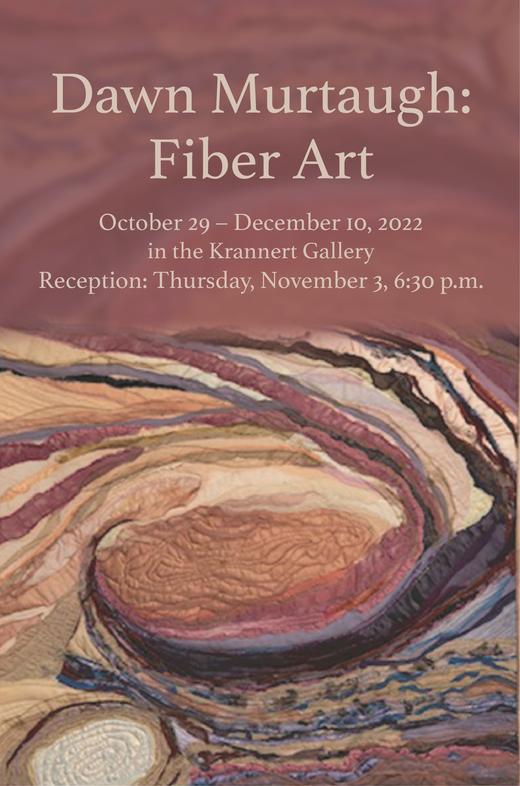 The Dawn Murtaugh: Fiber Art exhibit is open from October 29 through December 10, 2022 in the Krannert Gallery. Please plan to attend the artist reception on Thursday, November 3 at 6:30 p.m.
Submitted by Carol McCraney cm177@evansville.edu
Diana Rodriguez Quevedo publishes peer-reviewed book chapter
Diana Rodríguez Quevedo, associate professor of Spanish, has published a peer-reviewed chapter in the book Améfrica in Letters: Literary Interventions from Mexico to the Southern Cone edited by Jennifer Carolina Gómez Menjíbar. This book is part of the series Hispanic Issues published by Vanderbilt University Press. This chapter entitled "Reclaiming Lands, Identity, and Autonomy: Raping Youth in Rural Chocó, Colombia" examines rap songs composed by Afro-Colombian peasant boys within the contexts of oral traditions of Colombia's Pacific region and forced internal displacement.
Submitted by Carol McCraney cm177@evansville.edu
Kora Ruff earns second MVC freshman honor
For the second time in the last four weeks, University of Evansville setter Kora Ruff has been recognized as the Missouri Valley Conference Freshman of the Week.
Evansville's final match of the regular season saw Ruff finish with 55 assists and 10 digs. Her efforts saw Giulia Cardona pick up 24 kills while Alondra Vazquez recorded 19. UE has won seven matches in a row where Ruff has picked up at least 40 assists. Ruff picked up 10 digs in the win and contributed at least 7 in each Valley match during the season.
With 1,232 assists in her freshman campaign, Kora Ruff ranks fourth in the nation and second among all freshmen. Her average of 10.27 per set ranks fourth in the MVC but her efforts in the last 13 matches has been lights out - she has recorded 11.28 assists per set over that time.
She was previously named the MVC Freshman of the Week on October 31.
Submitted by Athletics
UE Volleyball adds top 100 recruit Chloe Cline
The next recruiting class for University of Evansville head volleyball coach Fernando Morales has taken shape with the Purple Aces adding one of the top 100 high school players in the nation for the second year in a row.
Joining the UE program is Chloe Cline. The 6-foot-1 middle blocker comes to Evansville from Pleasant Valley (Iowa) High School where she was teammates with current Aces freshman Kora Ruff.
"Chloe is a great addition to our program, she is a hard working player who puts her team first all the time. It is no coincidence she got picked in the top 100 high school players with her work ethic and team mentality," Morales exclaimed. "She played in high school with Kora so they will have that connection already set, plus she will graduate early and enroll in UE the Spring semester so she will be working with the team for 6-7 months before her first match. We can't wait to have her in our gym!"

Cline was recognized by the American Volleyball Coaches Association (AVCA) as a 2022 High School Second Team All-American. Both AVCA All-America Teams include 50 players. She garnered Iowa Class 5A All-State Volleyball First Team accolades earlier this week by the Iowa Girls Coaches Association.
As a senior at Pleasant Valley, Cline helped her team earn a spot in the Class 5A State Volleyball Championship. Cline accumulated 2.8 kills per set in her final high school season while adding 71 blocks and 36 aces. She hit .387.
Submitted by Athletics
Contribute to AceNotes
To have content considered for inclusion in AceNotes, please submit a Marketing Request Form. Deadline for submission to AceNotes is 10:00 a.m. on the requested date of publication. Only articles concerning UE related/sponsored activities will be accepted. Articles submitted to AceNotes may be edited for length and clarity. Submitter contact information is at the end of each article.