| | |
| --- | --- |
| AceNotes Today | Thursday, November 17, 2022 |
Transgender Day of Remembrance Vigil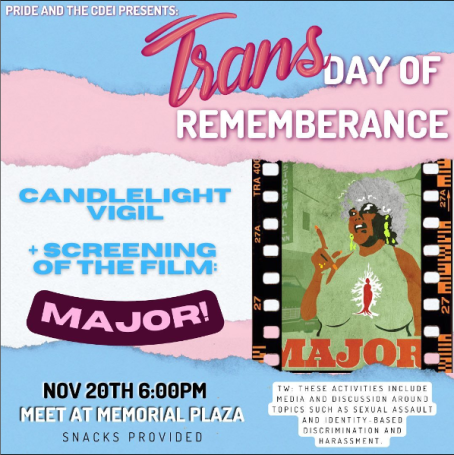 Join PRIDE to light a candle this weekend in memorial and honor of those who lost their lives to anti-transgender violence in 2022. The candlelight vigil will begin at 6:00 PM at Memorial Plaza. After the vigil, at 6:45 PM, head inside Eykamp and watch CDEI's showing of MAJOR!, a documentary film about the life and campaigns of Miss Major Griffin-Gracy, a Black transgender elder and activist. Popcorn is included!
Submitted by Chloe Prince cp260@evansville.edu
Join us for International Bazaar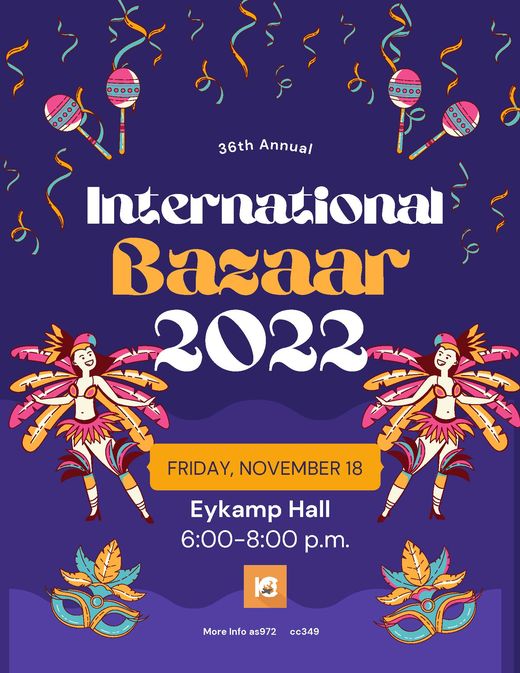 Join International Club at our annual International Bazaar this week on Friday, November 18th, 6-8 PM in Eykamp!!!
We will have multiple performances, a fashion show, many booths representing different countries and clubs, as well as a marketplace where people will be able to purchase things! We hope to see you all at this event to celebrate and appreciate the diversity on campus!
All students, faculty, staff, and the public are welcome!
Submitted by Akane Suzuki as972@evansville.edu
Final Four Performances of UE Theatre's CABARET Slated this Week
The University of Evansville Department of Theatre's production of CABARET, inspired by the play by John Van Druten, stories by Christopher Isherwood, music by John Kander, and lyrics by Fred Ebb, runs for four more performances this week, at 7:30 p.m., On November 17, 18, and 19, and at 2:00 p.m., on November 20.
Set against the tumult and sheer chaos of Germany's 1929 Berlin, the alluring emcee invites all to engage in willful ignorance and revel in the lustful delights inside the legendary Kit Kat Club. "Here…life is beautiful." With hedonistic abandon, these riveting characters live life as a carnival of debauchery and despair. Winning Tony Awards for Best Musical for the 1966 Broadway premiere and for Best Revival of a Musical in 1988, this provocative and challenging style of storytelling packs a potent punch on the dangers of mass indifference in the face of injustice and atrocities and asks audiences to either act now or say, "so what?"
In following industry standards, as established by the Broadway League, all audience members must remain masked during the performance. It is our hope that these restrictions will allow our student actors to safely perform unmasked.
Adult ticket prices are $20 and $18 for senior adults, UE employees, and non-UE students. UE students may obtain one free student rush ticket beginning at 12 p.m. on the day of the performance they wish to attend. In addition, UE Theatre is excited to introduce a new "Pay What You Can" initiative. Every Thursday evening performance in Shanklin Theatre is available for any person to pay any price that best fits their budget. Single tickets may be purchased online at theatre.evansville.edu or by calling the ticket office at 812.488.2031, Monday through Friday, 12:00 to 5:00 p.m.
Submitted by Sharla Cowden sc75@evansville.edu
Art Exhibit "Reflections" in Melvin Peterson Gallery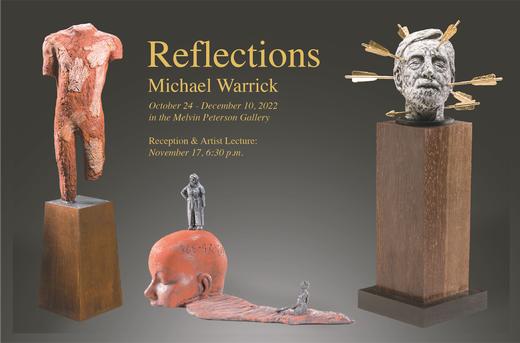 The University of Evansville presents "Reflections", an exhibit by Michael Warrick, on display at the Melvin Peterson Gallery through Saturday, December 10.
All are welcome to attend the reception and artist lecture on Thursday, November 17 at 6:30 PM in the Melvin Peterson Gallery.
The exhibit and reception are part of the Emerging Contemporary Artist Lecture Series sponsored by the Efroymson Family Fund and the UE Department of Art.
The hours for the Melvin Peterson Gallery are Monday 12–3pm; Tuesday 12–3pm; Wednesday 12–6pm; Thursday 12–6pm; Friday 12–3pm; and Saturday 12–3pm.
Submitted by Carol McCraney cm177@evansville.edu
It's Not Too Late to Register for Winter Intersession Courses
Get ahead by taking Winter Intersession online courses. Complete a missing required course, lighten your spring load, and take advantage of the winter break. Classes are held from December 16, 2022, through January 6, 2023. Students may take one class and register when registering for spring classes starting October 31, 2022.
For more information visit www.evansville.edu/wintersession.
Winter Intersession Course List: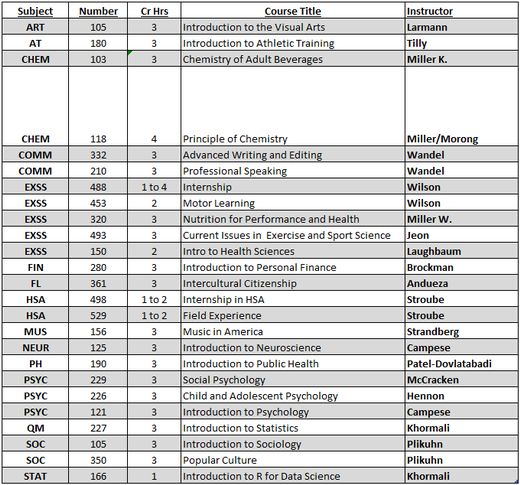 Submitted by Paula Heldt ph28@evansville.edu
Bike Race Informational Meeting
Bike Race 2023 is right around the corner! The Intramural Department and Fitness Center is excited to present the annual Bike Race again this year to the students, faculty, and staff of the University of Evansville.
The Bike Race will take place in late April, but training for the race starts right after Christmas Break!
If you're interested in learning more about Bike Race or how you can be involved with the event, there will be an informational meeting on Thursday, December 1st at 6:00pm inside the lobby of the Fitness Center. The meeting will be brief but will answer many of your questions about what bike race is, how to properly check out and ride a "bike race bike" and many other details pertaining to the event. If you have any questions feel free to ask Drew @ah519 or stop by the fitness center with your questions.
Submitted by Drew Hawkins ah519@evansville.edu
Robert Dion Offers Analysis of 2022 Midterm Elections
The University of Evansville was well represented last week in local, state, and even international media as the 2022 election results came in. Robert Dion, of the Department of History, Politics, and Social Change, appeared during the election night coverage on Channel 25 Eyewitness News with news anchor, Brad Byrd. In addition, he was quoted in the Indianapolis Star about the Indiana Senate election and in a story from the Statehouse File about the Indiana Secretary of State race. He was interviewed twice on a national news radio broadcast, Midi Info, on Radio Canada, and he made two live appearances on Canadian television, including an interview with Anne-Marie Dussault on Radio Canada's flagship evening program, "24 Heures en 60 Minutes." A link to one of the radio interviews can be found here.
Submitted by Robert Dion rd35@evansville.edu
Honorary Degree Committee Welcomes Your Suggestions
The Honorary Degree Committee looks forward to receiving your recommendations for honorary degrees to be conferred at the May 2023 Commencement. We need your help in selecting accomplished individuals to receive one of our university's highest honors. Nominations may be made on the basis of individual service to the University or individual achievement that exemplifies the University's mission. Recently selected persons have excelled in a variety of areas, including law, medicine, education, business, literature, politics, and entertainment. The committee will forward their nominations to President Pietruszkiewicz so he can make his recommendations to the faculty for their approval. Please email the following information to Robert Dion, committee chairperson, at rd35@evansville.edu, by Tuesday, November 22: Your name, the name of your nominee, the rationale for your nomination, biographical information on the nominee, and contact information for the nominee. Thank you in advance for your ideas.
Submitted by Robert Dion rd35@evansville.edu
Winter Housing - Villages
Village residents who wish to stay in their apartment or house should complete and submit this form to let us know if you are staying over break - https://forms.office.com/r/EdYkbbT0hw. There is no charge for Village residents to remain over winter break, but we do ask that you let us know if you plan to be here in case of emergencies.
Submitted by Brian Conner bc32@evansville.edu
Winter Housing - Residence Halls
Residence Hall Students - do you need a place to stay this winter? The residence life office has limited winter housing available. Only students participating in official University functions or with approved reasons will be considered for winter housing.
Students approved for winter housing may be assigned a temporary room in another housing facility and may not have access to their permanent rooms during winter break. Approvals are subject to room availability. Students are charged a flat fee of $400 for winter housing. Dining services will be closed from December 16, 2022 – January 8, 2023.
Students seeking winter housing must submit a Winter Housing Request Form by December 2, 2022, available through this link - https://forms.office.com/r/c3udPknAUq.
Submitted by Brian Conner bc32@evansville.edu
Spring Meal Plan Changes
Students can adjust meal plans for the Spring semester until Friday, January 13, 2023 at 5:00 p.m.
Submitted by Brian Conner bc32@evansville.edu
Diana Rodriguez Quevedo publishes peer-reviewed book chapter
Diana Rodríguez Quevedo, associate professor of Spanish, has published a peer-reviewed chapter in the book Améfrica in Letters: Literary Interventions from Mexico to the Southern Cone edited by Jennifer Carolina Gómez Menjíbar. This book is part of the series Hispanic Issues published by Vanderbilt University Press. This chapter entitled "Reclaiming Lands, Identity, and Autonomy: Raping Youth in Rural Chocó, Colombia" examines rap songs composed by Afro-Colombian peasant boys within the contexts of oral traditions of Colombia's Pacific region and forced internal displacement.
Submitted by Carol McCraney cm177@evansville.edu
UE rally comes up just short in home opener
Trailing by as many as 17 points in the first half, the University of Evansville men's basketball team rallied to make it a 1-point game in the final 20 minutes before Southeast Missouri State finished with a 67-61 victory at the Ford Center.
"SEMO came ready to play. They have been battle-tested and did what good teams do. We were a little reactive with the excitement of being at home and having a good crowd," UE head coach David Ragland explained. "We need to be proactive in our approach and be ready to play for each other and do what we did in the second half for the entire 40 minutes."
Leading the way for the Purple Aces was Kenny Strawbridge Jr. His 22-point effort saw him knock down 7 of his 17 attempts. Yacine Toumi recorded 13 points and 7 rebounds. Marvin Coleman II and Sekou Kalle got the job done on the boards recording 12 apiece. For Coleman, it tied his career-high from his days at UNLV while Kalle's effort was a new career-best.
Strawbridge converted the first field goal of the night for UE to break a 4-4 tie. SEMO scored the next five tallies and would go up 11-7 on a Josh Earley triple at the 11:43 mark. Yacine Toumi hit a free throw that made it a 1-possession game at 13-10 but it was the Redhawks who had the answer.
Outscoring the Aces by an 11-1 tally, SEMO went up by a 24-11 score inside of seven minutes remaining in the half. Two free throws from Earley gave the Redhawks their largest advantage (34-17) with the half entering the final two minutes. Evansville hit a pair of field goals in the final moments to close the gap to a 13-point gap of 36-23 at the break. The story of the half was the SEMO defense which held UE to 26.1% shooting in the opening stanza.
Baskets by Toumi and Gage Bobe opened the second half for UE and would set the stage for Strawbridge. His 3-pointer at the 17:20 mark cut the deficit to just seven – 38-31. After the Redhawks pushed the lead back to seven points, the Aces continued to storm back.
What was once a 17-point deficit was cut to just one tally as a triple on the break by Blaise Beauchamp made it a 45-44 game with 11 minutes remaining. Strawbridge had a field goal during the rally and picked up the steal that led to Beauchamp's three. SEMO had an immediate answer with Adam Larson draining a three.
Another SEMO triple pushed the lead to 53-46 with 8:25 remaining and UE could not get back within one possession as the Redhawks finished the night with a 67-61 win.
Chris Harris led four Redhawk double figure scorers. He posted 14 while tying for the team high with six boards. Kobe Clark and Josh Earley tallied 13 each. SEMO outshot UE by a 41.8%-32.3% margin. Evansville won the battle of the boards, 44-40.
On Saturday, the Aces are back on the road for a 2 p.m. game at SMU.
Submitted by Athletics
Contribute to AceNotes
To have content considered for inclusion in AceNotes, please submit a Marketing Request Form. Deadline for submission to AceNotes is 10:00 a.m. on the requested date of publication. Only articles concerning UE related/sponsored activities will be accepted. Articles submitted to AceNotes may be edited for length and clarity. Submitter contact information is at the end of each article.