| | |
| --- | --- |
| AceNotes Today | Wednesday, November 16, 2022 |
Intramural Pickleball Tournament
The Intramural department is having an end of the year doubles Pickleball tournament for students faculty and staff!
The tournament will be held Friday, December 2nd beginning at 6:00pm inside the Fitness Center. Paddles and balls will be provided. Information about the tournament can be found on imleagues.com. Anybody wanting to participate in the tournament can signup on imleagues.com or by contacting Drew @ah519.
Submitted by Drew Hawkins ah519@evansville.edu
Tala Logistics recruiting on campus Wednesday
A representative from Tala Logistics will be on campus in Ridgway University Center Wednesday, November 16 from 11:30am-1:30pm. Tala Logistics is a 3rd party company hiring drivers to deliver packages for Amazon. They are currently hiring for part time positions and offer competitive pay and a flexible work schedule. Stop by for more information.
Submitted by Amanda Wood aw505@evansville.edu
FREE Student Shuttle & Tickets - UE Men's Basketball
Attention all students: UE Athletics is excited to share that a FREE student shuttle will be provided for all home men's basketball games at the Ford Center! Starting this Wednesday, November 16 a shuttle will run students from Carson Center to the Ford Center and back after the game. The shuttle will run twice before the game (45 minutes and 15 minutes before tipoff) and return to campus 2 hours after tipoff. For example, for a 7:00PM game such as 11/16 vs. SEMO, the shuttle will leave at 6:15PM and 6:45PM from Carson Center and return to campus at 9:00PM.
As a reminder, students tickets are FREE with a valid UE ID for all regular season home athletic events. Tickets may be claimed at the Ford Center for men's basketball at the south end of the arena through the skywalk between the DoubleTree hotel and the Ford Center beginning 1-hour before the game. Student tickets for the 11:00AM women's basketball Education Day game at the Ford Center on November 16 will be available at the front of the arena at will call with a valid UE ID.
Please contact Scott Peace at sp166@evansville.edu with any questions. Go Aces!
Submitted by Scott Peace sp166@evansville.edu
Join us for International Bazaar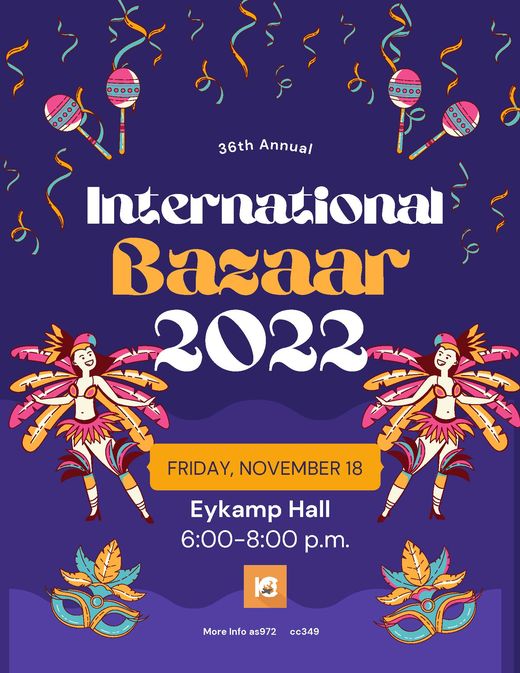 Join International Club at our annual International Bazaar this week on Friday, November 18th, 6-8 PM in Eykamp!!!
We will have multiple performances, a fashion show, many booths representing different countries and clubs, as well as a marketplace where people will be able to purchase things! We hope to see you all at this event to celebrate and appreciate the diversity on campus!
All students, faculty, staff, and the public are welcome!
Submitted by Akane Suzuki as972@evansville.edu
Final Four Performances of UE Theatre's CABARET Slated this Week
The University of Evansville Department of Theatre's production of CABARET, inspired by the play by John Van Druten, stories by Christopher Isherwood, music by John Kander, and lyrics by Fred Ebb, runs for four more performances this week, at 7:30 p.m., On November 17, 18, and 19, and at 2:00 p.m., on November 20.
Set against the tumult and sheer chaos of Germany's 1929 Berlin, the alluring emcee invites all to engage in willful ignorance and revel in the lustful delights inside the legendary Kit Kat Club. "Here…life is beautiful." With hedonistic abandon, these riveting characters live life as a carnival of debauchery and despair. Winning Tony Awards for Best Musical for the 1966 Broadway premiere and for Best Revival of a Musical in 1988, this provocative and challenging style of storytelling packs a potent punch on the dangers of mass indifference in the face of injustice and atrocities and asks audiences to either act now or say, "so what?"
In following industry standards, as established by the Broadway League, all audience members must remain masked during the performance. It is our hope that these restrictions will allow our student actors to safely perform unmasked.
Adult ticket prices are $20 and $18 for senior adults, UE employees, and non-UE students. UE students may obtain one free student rush ticket beginning at 12 p.m. on the day of the performance they wish to attend. In addition, UE Theatre is excited to introduce a new "Pay What You Can" initiative. Every Thursday evening performance in Shanklin Theatre is available for any person to pay any price that best fits their budget. Single tickets may be purchased online at theatre.evansville.edu or by calling the ticket office at 812.488.2031, Monday through Friday, 12:00 to 5:00 p.m.
Submitted by Sharla Cowden sc75@evansville.edu
Clothing Drive for Hangers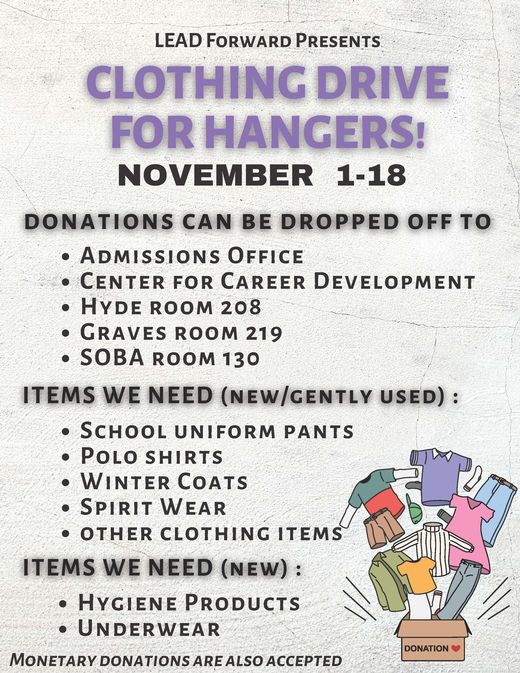 The students of LEAD Forward are hosting a clothing drive for Hangers. Hangers is a resource for EVSC that provides students in need with clothing and other necessities. This program serves thousands of students each year. If you would like to make a donation, please drop the listed items off at the donation bin most convenient for you! All locations are listed on the flyer. Thank you!
Submitted by Maggie Newcomb mn156@evansville.edu
Art Exhibit "Reflections" in Melvin Peterson Gallery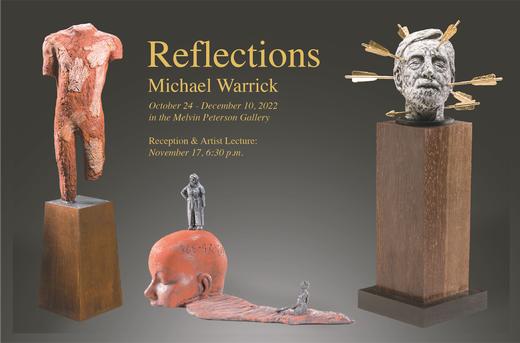 The University of Evansville presents "Reflections", an exhibit by Michael Warrick, on display at the Melvin Peterson Gallery through Saturday, December 10.
All are welcome to attend the reception and artist lecture on Thursday, November 17 at 6:30 PM in the Melvin Peterson Gallery.
The exhibit and reception are part of the Emerging Contemporary Artist Lecture Series sponsored by the Efroymson Family Fund and the UE Department of Art.
The hours for the Melvin Peterson Gallery are Monday 12–3pm; Tuesday 12–3pm; Wednesday 12–6pm; Thursday 12–6pm; Friday 12–3pm; and Saturday 12–3pm.
Submitted by Carol McCraney cm177@evansville.edu
It's Not Too Late to Register for Winter Intersession Courses
Get ahead by taking Winter Intersession online courses. Complete a missing required course, lighten your spring load, and take advantage of the winter break. Classes are held from December 16, 2022, through January 6, 2023. Students may take one class and register when registering for spring classes starting October 31, 2022.
For more information visit www.evansville.edu/wintersession.
Winter Intersession Course List: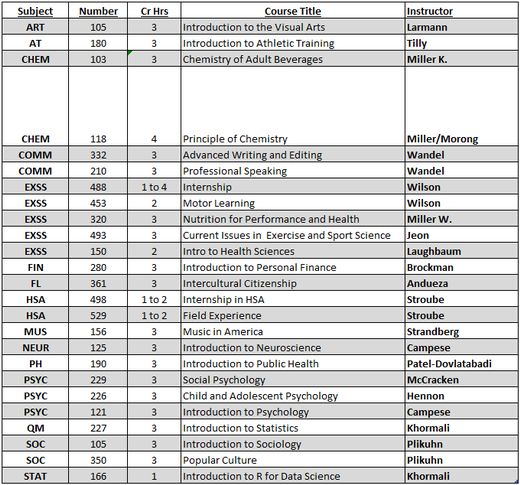 Submitted by Paula Heldt ph28@evansville.edu
Robert Dion Offers Analysis of 2022 Midterm Elections
The University of Evansville was well represented last week in local, state, and even international media as the 2022 election results came in. Robert Dion, of the Department of History, Politics, and Social Change, appeared during the election night coverage on Channel 25 Eyewitness News with news anchor, Brad Byrd. In addition, he was quoted in the Indianapolis Star about the Indiana Senate election and in a story from the Statehouse File about the Indiana Secretary of State race. He was interviewed twice on a national news radio broadcast, Midi Info, on Radio Canada, and he made two live appearances on Canadian television, including an interview with Anne-Marie Dussault on Radio Canada's flagship evening program, "24 Heures en 60 Minutes." A link to one of the radio interviews can be found here.
Submitted by Robert Dion rd35@evansville.edu
Honorary Degree Committee Welcomes Your Suggestions
The Honorary Degree Committee looks forward to receiving your recommendations for honorary degrees to be conferred at the May 2023 Commencement. We need your help in selecting accomplished individuals to receive one of our university's highest honors. Nominations may be made on the basis of individual service to the University or individual achievement that exemplifies the University's mission. Recently selected persons have excelled in a variety of areas, including law, medicine, education, business, literature, politics, and entertainment. The committee will forward their nominations to President Pietruszkiewicz so he can make his recommendations to the faculty for their approval. Please email the following information to Robert Dion, committee chairperson, at rd35@evansville.edu, by Tuesday, November 22: Your name, the name of your nominee, the rationale for your nomination, biographical information on the nominee, and contact information for the nominee. Thank you in advance for your ideas.
Submitted by Robert Dion rd35@evansville.edu
New Hall Openings for Spring 2023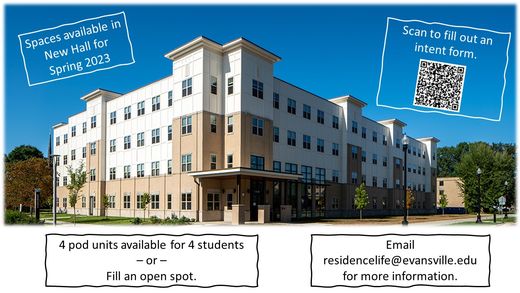 Interested in living in New Hall for the spring semester? The Office of Residence Life has spaces available in New Hall. 4 pod units are available for a group of 4 students or there are individual spaces within pods available. If you are interested, email Brian Conner, bc32, by November 18 for more information.
Submitted by Brian Conner bc32@evansville.edu
Become an Orientation Leader: Harlaxton Application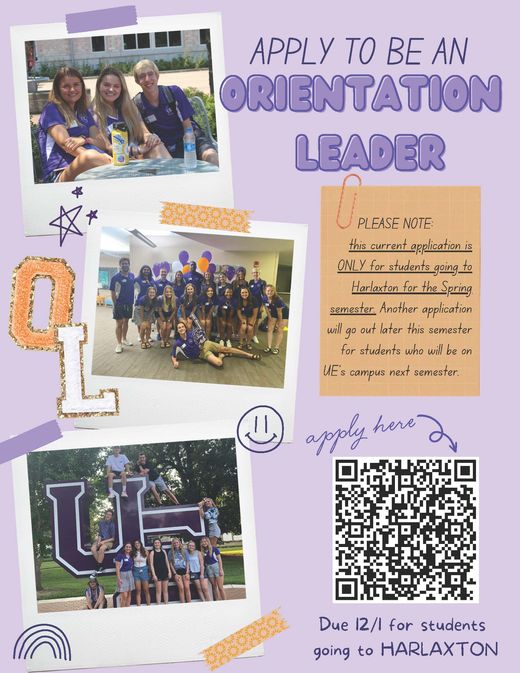 Going to Harlaxton this Spring? Apply to be an Orientation Leader now, so you don't miss the Spring interview process! Please note, another application will be sent out in the future for students that will still be on campus next semester. This round of applications closes on December 1st, and interviews will be on December 8th. Please contact Shelby Gardner, sg293@evansville.edu with any questions. We look forward to your applications!
Submitted by Shelby Gardner sg293@evansville.edu
Change a Young Life - Volunteers to Mentor Needed
UE's College Mentors for Kids chapter needs student volunteers to mentor young children from our local community. Students from all majors have the opportunity to be inspirational role models for elementary-age students, and all UE students enrolled full-time are eligible to apply. Mentoring involves a one-hour weekly commitment on Wednesdays to check in with your little buddy. To begin the application process, please email our College Mentors for Kids President, Lyndsay Deal, at ld157@evansville.edu. Join College Mentors for Kids today, volunteer, and help us make this year our best year for our UE chapter of College Mentors for Kids.
Submitted by Lisa Marie Hale lh241@evansville.edu
Dawn Murtaugh: Fiber Art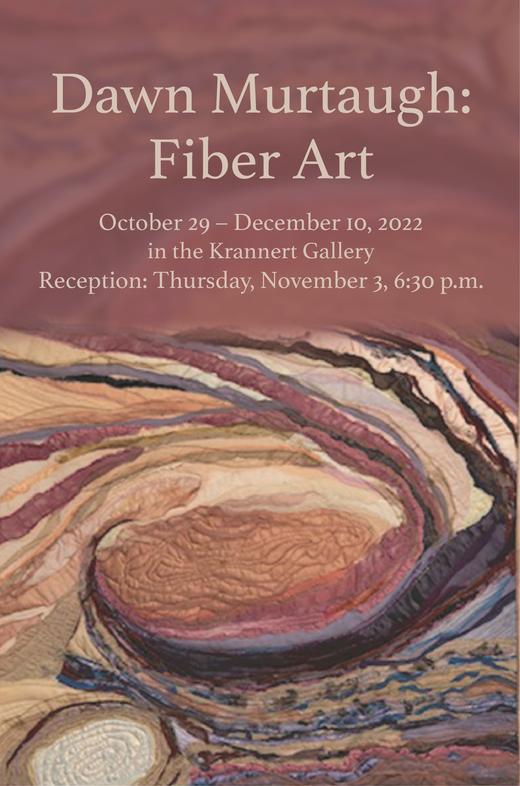 The Dawn Murtaugh: Fiber Art exhibit is open from October 29 through December 10, 2022 in the Krannert Gallery. Please plan to attend the artist reception on Thursday, November 3 at 6:30 p.m.
Submitted by Carol McCraney cm177@evansville.edu
Aces welcome Chicago State to the Ford Center for Education Day game
Home for the first time in the regular season, the University of Evansville women's basketball team hosts Chicago State at the Ford Center at 11 AM on Wednesday morning for its annual Education Day game.
Evansville and Chicago State are meeting for the ninth time in series history with the Aces capturing all eight previous meetings. The Aces and Cougars were scheduled to meet last season on Dec. 19, 2021 in Chicago, but the game was canceled due to COVID-19. The last time UE and CSU met was back on Dec. 18, 2019 inside Meeks Family Fieldhouse with the Aces winning, 76-42.
Evansville's 89-81 win over EKU last Monday evening was UE's first win in a season-opener on the road since Nov. 9, 2012 in a 54-45 victory at Ball State. Fifth-year guard Myia Clark was on fire last Monday at EKU. The St. Louis native finished with 25 points, tying the program record for most three-pointers in a single game with eight, going 8-for-9 from beyond the arc in the win. Newcomer Barbora Tomancova has impressed in her first two games in white and purple. Against EKU, Tomancova recorded 16 points and 15 boards before adding 11 points and four rebounds on Thursday night at No. 4 Iowa.
Wednesday's game is slated to feature over 2,000 school children from the tri-state area for a game full of educational activities and fun. Fans interested in attending Wednesday's matinee can purchase $5 tickets at the Ford Center box office on Wednesday.
Submitted by Athletics
Three Aces Named To MVC Women's Soccer Scholar-Athlete Teams
Three member of the University of Evansville women's soccer team were named to the Missouri Valley Conference's Scholar-Athlete Team on Tuesday for their work both on the soccer field and in the classroom.
Juniors Rachel Rosborough (Mt. Brydges, Ontario/Strathroy District Collegiate Institute) and Emily Wiebe (Mequon, Wis./Homestead) both earned first-team MVC Scholar-Athlete Team honors in a vote by the league's Sports Information Directors. Fifth-year forward Emily Ormson (Folsom, Calif./Vista del Lago) also earned honorable-mention MVC Scholar-Athlete Team honors.
On the field, Rosborough was a third-team all-Valley performer in the defense, allowing just 10 of UE's 113 shots allowed in MVC play as UE's starting right-back, while playing every minute of league play. In the classroom, Rosborough carries a 3.986 GPA in elementary education at UE. Wiebe owns a perfect 4.00 GPA at UE in Civil Engineering, and played in 15 of UE's 16 matches, with nine starts, as a defensive midfielder. Ormson, meanwhile, earned honorable-mention MVC Scholar-Athlete Team honors by sporting a 3.687 GPA in Communications in the classroom, and earning second-team all-Valley honors on the field while ranking fourth in the MVC in points (13) and third in goals scored (five).
Missouri State's Grace O'Keefe and UNI's Lauren Heinsch shared Co-Scholar-Athlete of the Year honors, as both players own perfect 4.00 GPAs at their institutions and earned first-team all-conference honors on the field.
The criteria for the honor parallels the CSC (formerly CoSIDA) standards for Academic All-America voting. Nominees must be starters or important reserves with at least a 3.50 cumulative GPA (on a 4.00 scale). Also, students must have participated in at least 75 percent of the regular-season matches or played in the MVC Tournament. Student-athletes must have reached sopho¬more athletic and academic standing at their institution (true freshmen and redshirt freshmen not eligible) and must have com¬pleted at least one full academic year at their institution. Sports Information Directors at MVC institutions voted for the team. A total of 43 student-athletes met the criteria for the award.
Submitted by Athletics
Aces complete a record-breaking regular season
It was a special evening inside Meeks Family Fieldhouse as the University of Evansville volleyball team put the finishing touches on a special season with a 3-1 victory over Indiana State.
With its 11th Missouri Valley Conference win of the season, the Purple Aces surpassed the previous record of 10, which was set in 2000. Entering the night, sophomore Giulia Cardona needed 11 kills to break Alondra Vazquez' single season mark of 494. She broke the record in the third set and became the first UE player to record 500 or more in a season.
Her total of 24 kills led all players as she hit .354 in the contest. She added 9 kills and two service aces. Vazquez recorded 19 kills, 9 digs and 5 block assists. Laura Ruiz had a strong night with 12 digs and 4 aces while Kora Ruff and Blakeley Freeman added 10 digs apiece. Ruff tallied 55 assists.
Set 1 – INS 26, UE 24
Giulia Cardona's second kill of the night put UE in front 6-4 before a block by Madisyn Steele and Kora Ruff pushed the lead to 10-7. Indiana State made its first run of the night, scoring six in a row to take a 13-10 lead.
Alondra Vazquez picked up a kill that got UE right back in the thick of it, tying it at 14-14. After ISU went back in front at 17-15, Cardona picked up two more kills to tie it up while Emilee Scheumann added her first kill to put UE back in front – 18-17. The Sycamores retook a 22-20 lead but Laura Ruiz served UE right back in front. Her ace gave Evansville a 23-22 edge, but ISU rallied once again to take the frame by a 26-24 score.
Set 2 – UE 25, INS 8
Evansville came out with a burst of energy in the second set, scoring the first seven points. Hannah Watkins picked up an early block and kill. UE made it a double figure game at 11-1 and pulled away even more to go up 18-3. Scheumann had a stellar kill that capped off a long rally during the run.
Ruiz added back-to-back aces to help the Aces tie the match on the strength of a 25-8 decision.
Set 3 – UE 25, INS 23
Early in the set, Cardona recorded her 495th kill of the season to break the program single season record. The Sycamores jumped in front at 7-5 before Cardona put the Aces back in front with a kill to make it 8-7. UE would slowly extend its lead to three points when Steele and Vazquez assisted on a block to make it a 14-11 contest.
Maddie Hawkins used her serving to extend the lead even more, adding an ace in a run that made it a 19-12 score. Six in a row by ISU cut the deficit to one with Cardona getting UE back on track with a kill but the Sycamore run continued as they tied it at 20-20 before taking the lead on a block. Trailing 23-21, Evansville finished on a strong note, scoring the final four points to take a 2-1 lead.
Set 4 – UE 25, INS 23
Vazquez opened the fourth set with a pair of early kills and an ace to put her squad up by a 9-2 score. Indiana State scored four in a row to cut into the deficit with UE weathering the storm to go up 13-7. Cardona had an ace during the stretch.
The Sycamores countered as they would cut the margin to a pair (16-14) before Watkins registered a kill. Evansville looked to be in good shape as they would hold a 21-17 advantage but ISU reeled off three in a row to get within one before eventually tying it at 22-22. Vazquez' 18th kill of the night broke the tie before #19 clinched the victory.
Following the final MVC matches tomorrow, the bracket will be announced for the MVC Championship which is set to begin on Sunday inside Meeks Family Fieldhouse.
Submitted by Athletics
Regular season home opener set for Wednesday
Season #12 inside the Ford Center officially begins on Wednesday evening when the University of Evansville men's basketball team faces Southeast Missouri State. Tip will be at 7 p.m. for Military Appreciation Night with the Purple Aces Sports Network and ESPN+ having the coverage.
Military Appreciation Night
- Wednesday will mark Military Appreciation Night with all active military and veterans receiving free admission to the game
- Veterans and active military members can purchase additional tickets for just $5
Last Time Out
- Evansville trailed by a 14-2 margin to open at Saint Louis but rallied to take a halftime lead of 39-37
- With 11:42 remaining, UE continued to lead by a 55-51 score before the Billikens stormed back with a 26-2 run to finish with an 83-65 victory on Saturday night
- Completing the game with 14 points and 10 rebounds, Yacine Toumi picked up his first collegiate double-double
- Antoine Smith Jr. added 11 points
- Yuri Collins of SLU had 13 assists in the game and was the first to record 10+ assists against the Aces since Ja Morant had 10 in 2018
Double-Double
- Yacine Toumi followed up a 15-point effort in the opener with the first double-double of his college career at Saint Louis
- Toumi finished with 14 points and 10 caroms against the Billikens
- He currently ranks inside the MVC's top 15 in rebounding and minutes played
- His debut at Miami Ohio saw him score 15 points, including the first eight UE tallies of the game
- In seven games as a member of the Little Rock program in 2020-21, Toumi did not attempt a 3-pointer, but in the opener he was 2-for-4
New Career Mark
- As a freshman last year, Preston Phillips scored a career-high of 8 points on two occasions
- On Saturday, he eclipsed that by scoring 9 points on a perfect 4-for-4 shooting night at Saint Louis
- Phillips was also 1-for-1 from outside and added a block, steal and rebound
- Last season saw him pick up a great deal of experience as he played in 28 games while making 15 starts
Scouting the Opponent
- Southeast Missouri State heads to the Ford Center with a 2-0 record on the young season
- In their opener, the Redhawks picked up a 64-61 road victory at South Florida before defeating Lyon by a final of 83-46 in their home opener
- SEMO is led by Phillip Russell, who is averaging 17.0 points per game while leading the way with eight 3-points makes
- Chris Harris is averaging 11.5 points while Josh Earley checks in with 10.0 points and 10.0 rebounds per game
- Kobe Clark is their leading threat on the boards with 12 per contest
Submitted by Athletics
Contribute to AceNotes
To have content considered for inclusion in AceNotes, please submit a Marketing Request Form. Deadline for submission to AceNotes is 10:00 a.m. on the requested date of publication. Only articles concerning UE related/sponsored activities will be accepted. Articles submitted to AceNotes may be edited for length and clarity. Submitter contact information is at the end of each article.