| | |
| --- | --- |
| AceNotes Today | Tuesday, November 15, 2022 |
Women's Basketball hosts Chicago State at 11 AM on Wednesday at Ford Center
On Wednesday, the University of Evansville women's basketball team will host its Education Day game at 11 AM at the Ford Center in Downtown Evansville.
Students, faculty, and staff get in FREE to the game and tickets can be picked-up Tuesday at the Carson Center ticket office or at the Ford Center ticket window pregame on Wednesday.
Submitted by Athletics
Tala Logistics recruiting on campus Wednesday
A representative from Tala Logistics will be on campus in Ridgway University Center Wednesday, November 16 from 11:30am-1:30pm. Tala Logistics is a 3rd party company hiring drivers to deliver packages for Amazon. They are currently hiring for part time positions and offer competitive pay and a flexible work schedule. Stop by for more information.
Submitted by Amanda Wood aw505@evansville.edu
FREE Student Shuttle & Tickets - UE Men's Basketball
Attention all students: UE Athletics is excited to share that a FREE student shuttle will be provided for all home men's basketball games at the Ford Center! Starting this Wednesday, November 16 a shuttle will run students from Carson Center to the Ford Center and back after the game. The shuttle will run twice before the game (45 minutes and 15 minutes before tipoff) and return to campus 2 hours after tipoff. For example, for a 7:00PM game such as 11/16 vs. SEMO, the shuttle will leave at 6:15PM and 6:45PM from Carson Center and return to campus at 9:00PM.
As a reminder, students tickets are FREE with a valid UE ID for all regular season home athletic events. Tickets may be claimed at the Ford Center for men's basketball at the south end of the arena through the skywalk between the DoubleTree hotel and the Ford Center beginning 1-hour before the game. Student tickets for the 11:00AM women's basketball Education Day game at the Ford Center on November 16 will be available at the front of the arena at will call with a valid UE ID.
Please contact Scott Peace at sp166@evansville.edu with any questions. Go Aces!
Submitted by Scott Peace sp166@evansville.edu
UE Opera and Choirs to Perform this Week
Heavenly voices will fill the air this week in the UE Music Conservatory. On Tuesday, November 15, at 7:30 pm in Neu Chapel, the UE Opera will present Sacred and Sublime. This program will feature spiritual selections from operas by Britten, Purcell, and von Bingen.
On Sunday, November 20, the University Choir and Choral Society will perform a wide selection of sacred and secular pieces from classical and modern composers. The concert will take place at 6:00 pm in Neu Chapel.
Both concerts are free and open to the public.
Live stream available at https://www.evansville.edu/majors/music/calendar.cfm
Submitted by Amy Esche ae128@evansville.edu
Join us for International Bazaar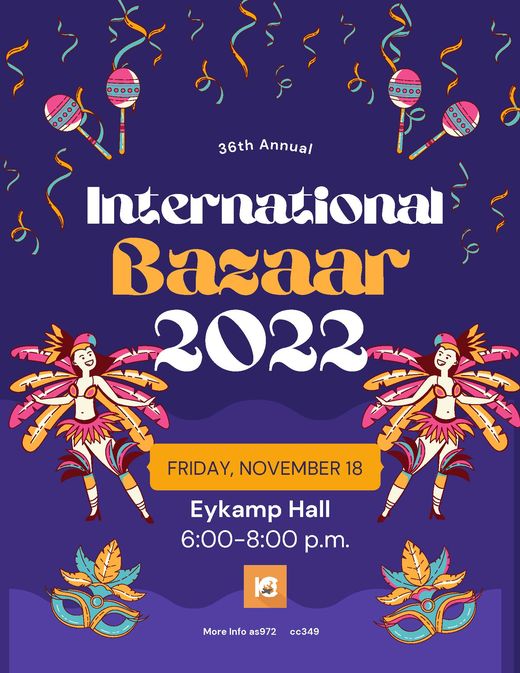 Join International Club at our annual International Bazaar this week on Friday, November 18th, 6-8 PM in Eykamp!!!
We will have multiple performances, a fashion show, many booths representing different countries and clubs, as well as a marketplace where people will be able to purchase things! We hope to see you all at this event to celebrate and appreciate the diversity on campus!
All students, faculty, staff, and the public are welcome!
Submitted by Akane Suzuki as972@evansville.edu
The TJX Companies- recruiting on campus Tuesday
Stop by Ridgway to meet with representatives from The TJX Companies. Recruiters will be on campus Tuesday, November 15 from 9am-3pm in the lower level of Ridgway University Center. They will be recruiting specifically for the following positions, but available to answer questions regarding any position.
Distribution Operations Internship (Evansville, IN)
Distribution Human Resources Internship (Evansville, IN)
Distribution Merchandise Control Internship (Evansville, IN)
These positions are posted in Handshake for your review.
Submitted by Amanda Wood aw505@evansville.edu
Save the Date: Winter on Walnut
Save the date for our annual Winter on Walnut! It will be held on Friday, December 2, from 5:00 - 8:00 p.m.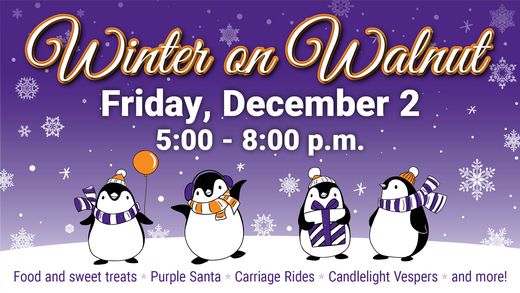 More information will be released at a later date, but the campus community and alumni can expect:
Food and sweet treats
Purple Santa
Ice skating
Train
Carriage rides at the front oval
Lighting of the Christmas tree
Caroling
Candlelight Vespers - 7:00 p.m. in Neu Chapel
Mark your calendars so you don't miss out on this evening of fun!
Submitted by Julie Beer / jb855@evansville.edu
Art Exhibit "Reflections" in Melvin Peterson Gallery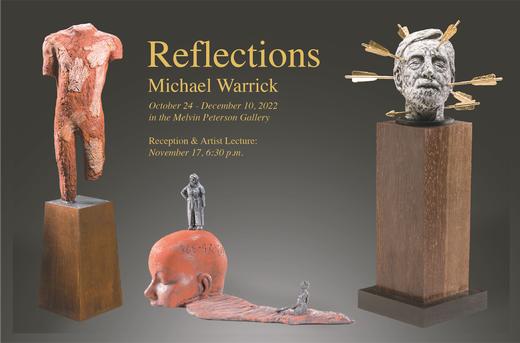 The University of Evansville presents "Reflections", an exhibit by Michael Warrick, on display at the Melvin Peterson Gallery through Saturday, December 10.
All are welcome to attend the reception and artist lecture on Thursday, November 17 at 6:30 PM in the Melvin Peterson Gallery.
The exhibit and reception are part of the Emerging Contemporary Artist Lecture Series sponsored by the Efroymson Family Fund and the UE Department of Art.
The hours for the Melvin Peterson Gallery are Monday 12–3pm; Tuesday 12–3pm; Wednesday 12–6pm; Thursday 12–6pm; Friday 12–3pm; and Saturday 12–3pm.
Submitted by Carol McCraney cm177@evansville.edu
Bike Race Informational Meeting
Bike Race 2023 is right around the corner! The Intramural Department and Fitness Center is excited to present the annual Bike Race again this year to the students, faculty, and staff of the University of Evansville.
The Bike Race will take place in late April, but training for the race starts right after Christmas Break!
If you're interested in learning more about Bike Race or how you can be involved with the event, there will be an informational meeting on Thursday, December 1st at 6:00pm inside the lobby of the Fitness Center. The meeting will be brief but will answer many of your questions about what bike race is, how to properly check out and ride a "bike race bike" and many other details pertaining to the event. If you have any questions feel free to ask Drew @ah519 or stop by the fitness center with your questions.
Submitted by Drew Hawkins ah519@evansville.edu
Robert Dion Offers Analysis of 2022 Midterm Elections
The University of Evansville was well represented last week in local, state, and even international media as the 2022 election results came in. Robert Dion, of the Department of History, Politics, and Social Change, appeared during the election night coverage on Channel 25 Eyewitness News with news anchor, Brad Byrd. In addition, he was quoted in the Indianapolis Star about the Indiana Senate election and in a story from the Statehouse File about the Indiana Secretary of State race. He was interviewed twice on a national news radio broadcast, Midi Info, on Radio Canada, and he made two live appearances on Canadian television, including an interview with Anne-Marie Dussault on Radio Canada's flagship evening program, "24 Heures en 60 Minutes." A link to one of the radio interviews can be found here.
Submitted by Robert Dion rd35@evansville.edu
Honorary Degree Committee Welcomes Your Suggestions
The Honorary Degree Committee looks forward to receiving your recommendations for honorary degrees to be conferred at the May 2023 Commencement. We need your help in selecting accomplished individuals to receive one of our university's highest honors. Nominations may be made on the basis of individual service to the University or individual achievement that exemplifies the University's mission. Recently selected persons have excelled in a variety of areas, including law, medicine, education, business, literature, politics, and entertainment. The committee will forward their nominations to President Pietruszkiewicz so he can make his recommendations to the faculty for their approval. Please email the following information to Robert Dion, committee chairperson, at rd35@evansville.edu, by Tuesday, November 22: Your name, the name of your nominee, the rationale for your nomination, biographical information on the nominee, and contact information for the nominee. Thank you in advance for your ideas.
Submitted by Robert Dion rd35@evansville.edu
Winter Housing - Villages
Village residents who wish to stay in their apartment or house should complete and submit this form to let us know if you are staying over break - https://forms.office.com/r/EdYkbbT0hw. There is no charge for Village residents to remain over winter break, but we do ask that you let us know if you plan to be here in case of emergencies.
Submitted by Brian Conner bc32@evansville.edu
Winter Housing - Residence Halls
Residence Hall Students - do you need a place to stay this winter? The residence life office has limited winter housing available. Only students participating in official University functions or with approved reasons will be considered for winter housing.
Students approved for winter housing may be assigned a temporary room in another housing facility and may not have access to their permanent rooms during winter break. Approvals are subject to room availability. Students are charged a flat fee of $400 for winter housing. Dining services will be closed from December 16, 2022 – January 8, 2023.
Students seeking winter housing must submit a Winter Housing Request Form by December 2, 2022, available through this link - https://forms.office.com/r/c3udPknAUq.
Submitted by Brian Conner bc32@evansville.edu
Spring Meal Plan Changes
Students can adjust meal plans for the Spring semester until Friday, January 13, 2023 at 5:00 p.m.
Submitted by Brian Conner bc32@evansville.edu
Fundraising Initiative Unveiled for UE Basketball Programs
A unique fundraising initiative was unveiled by the University of Evansville athletics department to benefit the men's and women's basketball programs.
Teaming up with Pledge Per Win powered by CUE, the initiatives include a "Pledge Per Rebound" campaign for the UE men while the women's portion is a "Pledge Per Forced Turnover". The Purple Aces are just the second Division I school to launch this type of campaign with CUE.
Men's Basketball
Pledge Per Rebound gives supporters the opportunity to stay engaged with UE men's basketball for the entirety of the season by pledging at little as $0.10 or as much as $2 per rebound. Your donation amount is multiplied by the number of rebounds each game with donations going directly to enhance the overall experience for the student-athletes within the Aces' Men's Basketball program. As a reference point, the Aces grabbed 813 rebounds last season.
Women's Basketball
Pledge Per Forced Turnover is a way to remain invested with UE women's basketball for the entirety of the season by pledging at little as $0.25 or as much as $5 per forced turnover. Your donation amount is multiplied by the number of rebounds each game with donations going directly to enhance the overall experience for the student-athletes within the Aces' Women's Basketball program. As a reference point, the Aces forced 512 turnovers last season.
Total donations of $100 or more will count towards Purple Aces Club membership. Additional sports will be added in the spring of 2023. Please visit https://evansville.pledgeperwin.com/ for more information, FAQs, and to support the Aces today.
Submitted by Athletics
Old National Bank Junior Aces Reading Program unveiled
Purple Aces Athletics has teamed up with Old National Bank to create the Old National Bank Junior Aces Reading Program. Ace Purple challenges all children in fifth grade or under to read 5 books over the course of the upcoming basketball season! Upon completion, submit the form and you will win two (2) free tickets to a University of Evansville men's basketball game this season.
"Providing and supporting education is a major focus at Old National and we are proud to serve as presenting sponsor of the Junior Aces Reading Program," said Sara Miller, Old National Bank Market President.
Directions for the Old National Bank Junior Aces Reading Program are:
1. Print out a Junior Aces Book Tracker to display your child's progress.
2. Start Reading! Fill in books on the tracker as you go.
3. When five books have been finished, complete the form below!
4. Show off your completed book tracker on social media! Use the hashtag #ONBRead (Optional)
5. Be on the lookout for an email with ticket instructions!
The final day to submit the completion form is February 1, 2023.
"The Old National Bank Junior Aces Reading Program is a great step forward in our desire in the Athletics Department to continue to place an emphasis on community outreach. Thanks to the generous support of Old National Bank we are able to launch this program that truly will make a difference," UE Director of Athletics Dr. Ziggy Siegfried stated. "I want to thank Old National Bank, Brandon McClish and Nicole Tucker from Purple Aces Sports Properties, and all of our coaches for their commitment to making a difference in our community. Go Aces!"
An additional aspect of the program will include UE student-athletes and coaches reading in local classrooms.
Please contact Nicole Tucker at nicole.tucker@purpleacessportsproperties.com with any questions.
Submitted by Athletics
Senior Day set for Tuesday evening
Five University of Evansville volleyball players will take the floor for the final time in the regular season as Purple Aces when UE faces Indiana State on Tuesday night at Meeks Family Fieldhouse.
Starting at 6 p.m., Senior Day will recognize Hannah Watkins, Laura Ruiz, Chloe Bontrager, Alondra Vazquez and Kate Tsironis. The pivotal home contest has major MVC Championship implications. The Aces have the chance to finish as high as fourth place with a win and a Southern Illinois loss on Tuesday.
Giulia Cardona enters the match with a season total of 484 kills. She is just 10 away from Alondra Vazquez' single season program record which was set last season. Cardona recorded 19 kills on Saturday against Belmont after finishing Friday's match versus Murray State with 20.
UE won its 10th MVC contest on Saturday to clinch just its second winning season since joining the league in 1994. In 2000, the Aces went 10-8 in conference play while earning a 3-1 win over Creighton in the opening round of the championship. A win over the Sycamores would clinch the highest number of MVC wins in a season for UE.
Submitted by Athletics
Contribute to AceNotes
To have content considered for inclusion in AceNotes, please submit a Marketing Request Form. Deadline for submission to AceNotes is 10:00 a.m. on the requested date of publication. Only articles concerning UE related/sponsored activities will be accepted. Articles submitted to AceNotes may be edited for length and clarity. Submitter contact information is at the end of each article.