| | |
| --- | --- |
| AceNotes Today | Friday, November 11, 2022 |
UE Theatre Opens CABARET this Weekend
The University of Evansville Department of Theatre's production of CABARET, inspired by the play by John Van Druten, stories by Christopher Isherwood, music by John Kander, and lyrics by Fred Ebb, opens this weekend on Friday, November 11, in Shanklin Theatre. Additional performances are at 7:30 p.m., on November 12, 17, 18, 19, and at 2:00 p.m., on November 20.
Set against the tumult and sheer chaos of Germany's 1929 Berlin, the alluring emcee invites all to engage in willful ignorance and revel in the lustful delights inside the legendary Kit Kat Club. "Here…life is beautiful." With hedonistic abandon, these riveting characters live life as a carnival of debauchery and despair. Winning Tony Awards for Best Musical for the 1966 Broadway premiere and for Best Revival of a Musical in 1988, this provocative and challenging style of storytelling packs a potent punch on the dangers of mass indifference in the face of injustice and atrocities and asks audiences to either act now or say, "so what?"
In following industry standards, as established by the Broadway League, all audience members must remain masked during the performance. It is our hope that these restrictions will allow our student actors to safely perform unmasked.
Adult ticket prices are $20 and $18 for senior adults, UE employees, and non-UE students. UE students may obtain one free student rush ticket beginning at 12 p.m. on the day of the performance they wish to attend. In addition, UE Theatre is excited to introduce a new "Pay What You Can" initiative. Every Thursday evening performance in Shanklin Theatre is available for any person to pay any price that best fits their budget. Single tickets may be purchased online at theatre.evansville.edu or by calling the ticket office at 812.488.2031, Monday through Friday, 12:00 to 5:00 p.m.
Submitted by Sharla Cowden sc75@evansville.edu
Diaper Drive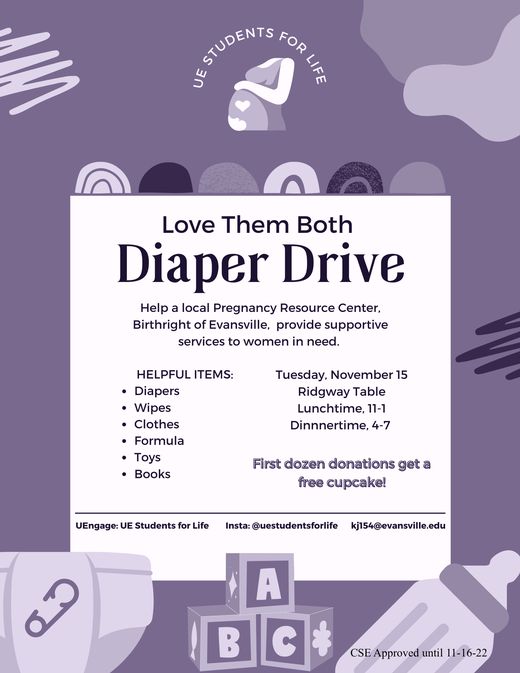 Continuing this month's theme of supporting women in need, UE Students for Life will host a diaper drive in Ridgway during lunch (11-1) and dinner (4-7) time! All donations will be given to a local Pregnancy Resource Center, Birthright of Evansville, and just about anything baby-related is helpful (onesies, formula, diapers, toys, books, etc)! As a bonus and incentive, the first dozen donations will receive a cupcake. Stop by, say hi, and help us provide resources and support for local women and families in need!
Submitted by Kira O'Neal kj154@evansville.edu
"Within The Wild" Photography Exhibit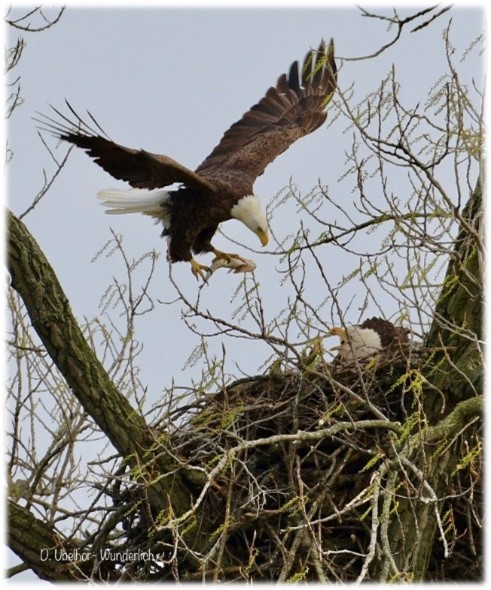 Keith Gehlhausen, Executive Director of Human Resources and Institutional Equity, will exhibit photographs in the Audubon State Park "Within the Wild" photography show. This exhibit, opening on November 22, will run through February 2023 and features nature in the wild locally and across the United States. Please feel free to attend the artist reception on Tuesday, November 29 at the Audubon Museum 5:00-6:15pm.
Submitted by Carol McCraney cm177@evansville.edu
First-Generation Mixer
Calling all First-Generation College Students - current students, faculty, and staff!
We're celebrating and recognizing those Aces who are first-generation college students and the success of all the faculty, staff, and administration who were themselves first-generation college students once upon a time.
UE's first-generation student organization Ace Scholars and the Office of Retention will be hosting a First-Generation Mixer, where all First-Generation Aces - current students, faculty, staff, and administration - can all connect together, network, and enjoy some free refreshments and some festive fall treats. Come and join us in the Class of 59' Gallery on the second floor of Ridgway University Center at 4:00 PM this Friday.
If you were among the first in your family to go to college, or will be the among the first in your family to earn a 4 year degree, come celebrate with us on Friday! We've all come a long way as we move forward in our futures.
Chad Hart / ch299@evansville.edu
Submitted by Chad Hart ch299@evansville.edu
Climbing at Vertical Excape with the Venturing Crew
Join the Venturing Crew as we climb the night away at Vertical Excape from 8pm till midnight on November 19th.
We will provide Pizza, drinks and a good time. The event is free and bus transportation will be provided.
Make sure to RSVP here on UEngage as we only have 75 spots available.
Submitted by Fred Wilson fw2@evansville.edu
Winter Housing - Residence Halls
Residence Hall Students - do you need a place to stay this winter? The residence life office has limited winter housing available. Only students participating in official University functions or with approved reasons will be considered for winter housing.
Students approved for winter housing may be assigned a temporary room in another housing facility and may not have access to their permanent rooms during winter break. Approvals are subject to room availability. Students are charged a flat fee of $400 for winter housing. Dining services will be closed from December 16, 2022 – January 8, 2023.
Students seeking winter housing must submit a Winter Housing Request Form by December 2, 2022, available through this link - https://forms.office.com/r/c3udPknAUq.
Submitted by Brian Conner bc32@evansville.edu
Spring Meal Plan Changes
Students can adjust meal plans for the Spring semester until Friday, January 13, 2023 at 5:00 p.m.
Submitted by Brian Conner bc32@evansville.edu
Chartwells is Hiring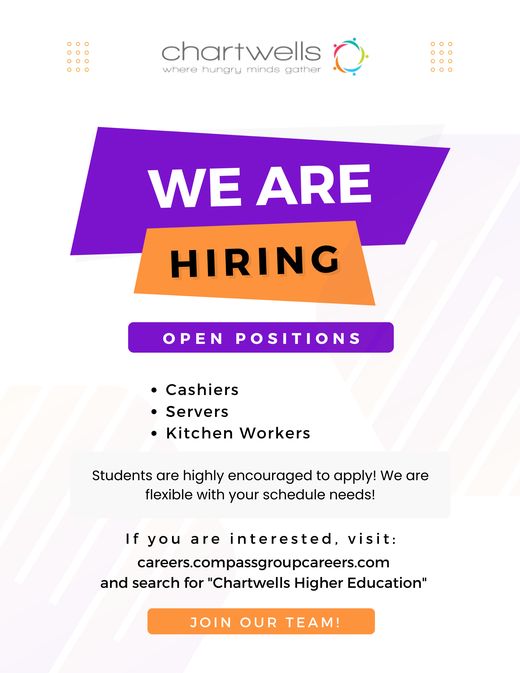 Hey Aces! Looking for a job? Come join our team in the Eatery! We are flexible with scheduling needs! We are looking for cashiers, kitchen workers, and servers. If you're interested, visit careers.compassgroupcareers.com and search for "Chartwells Higher Education" and enter Evansville in the location to get started!
Submitted by Ka'Bria Carr kc403@evansville.edu
Kevin Jordan publishes research with doctoral student
Kevin Jordan, associate professor of psychology, has published an article in the Elsevier journal Telematics and Informatics Reports, an interdisciplinary journal dedicated to the global and cultural impact of digital technologies. Entitled "Individual Differences Influencing the Relationship Between Online Social Support and Addictive Use of Social Media," the article presents findings on the role of social anxiety in influencing susceptibility to social media addiction.
You can view the article at https://doi.org/10.1016/j.teler.2022.100025
Submitted by Kevin Jordan kj33@evansville.edu
50 Years: A Harlaxton History with Principal Carter
Have you ever wondered how the University of Evansville ended up owning a Victorian Manor House in England? Or maybe you've been curious about the students who first came to Harlaxton 50 years ago. If you're at all curious about the history of Harlaxton over the last 50 years, then join Principal Dr. Holly Carter as she presents 50 Years: A Harlaxton History.
The Details:
50 Years: A Harlaxton History
A look at Harlaxton's history since 1968. Find out how the University of Evansville purchased Harlaxton, what the early days were like for students and faculty, and learn about important figures in Harlaxton's leadership.
Hosted by Principal Dr. Holly Carter
Monday, November 14, 2022 from 12:00-1:00 PM CST
In person: University of Evansville SOBA 270, Vectren Executive Board Room
Online: https://evansville-edu.zoom.us/j/99709484593
We hope you can join us!
Submitted by Victoria Cartal vr35@evansville.edu
Aces fall to fourth-ranked Iowa as Mason Strivers and Tomancova record career highs
Facing it's highest ranked opponent in program history, the University of Evansville women's basketball team dropped a road contest at No. 4 Iowa, 115-62, on Thursday night in Iowa City, Iowa.
For the second-straight game, fifth-year senior guard Myia Clark paced the Aces offensively, scoring 18 points with seven coming at the charity stripe. Also finishing in double-figures for Evansville were a pair of Aces who recorded new career highs. Redshirt-junior center Barbora Tomancova and freshman guard Kynidi Mason Striverson both finished with 11 points, doing so in limited minutes with Tomancova playing just 19 minutes due to foul trouble and Mason Striverson coming off the bench to play 23 minutes. THe Hawkeyes were led by preseason Big Ten Player of the Year Caitlin Clark, who tallied a double-double with 26 points and 12 assists.
In the first quarter, Evansville struggled to settle in to a rhythm in front of a crowd of 7,675. The Aces shot just 18.8% (3-16) in the first 10 minutes, while the Hawkeyes hit 10 of their 15 attempts from the field, allowing Iowa to take a 26-7 lead after the first period.
Evansville's offense got going in the second quarter as UE knocked-down five field-goals and got to the free-throw line, where they hit five foul shots. Touting one of the most explosive offenses in the nation, Iowa's attack ratcheted up as well, scoring 28 in the second with the Hawkeyes taking a 54-23 advantage to the half.
The second half revealed impressive performances from the aforementioned Myia Clark and Kynidi Mason Striverson. After tying the program record for threes against EKU, Clark cashed-in three more triples against Iowa. In just her second collegiate game, Mason Striverson seemed to gain confidence in front of everyone's eyes, taking the ball to the rim and drawing four fouls and scoring five of her 11 points at the free-throw line. Evansville enjoyed multiple times in which Tomancova dominated the paint, backing-down her defender and laying it in against a tough Hawkeye front court. Shooting just 25% (8-32) from the field in the first half, Evansville finished the game with a much-improved shooting performance in the second 20 minutes, hitting 12 of its 28 attempts for 42.9%.
Evansville comes home for its regular-season home opener with Education Day against Chicago State at 11 AM on Wednesday, November 16 inside the Ford Center.
Submitted by Athletics
Two UE Swimming Records Fall On First Day Of A3 Performance Invite
The University of Evansville swimming and diving team had a strong start to the A3 Performance Invitational in Carbondale, Illinois, as the Purple Aces broke two school records in Thursday's opening-day sessions.
Junior Iryna Tsesiul (Minsk, Belarus) set a new school record in the women's 100-Yard Backstroke, as she posted a school-best time of 55.47 as the lead leg of the 400 Medley Relay squad which placed second. Then, minutes later, the men's 400 Medley Relay team of sophomores Patrik Vilbergsson (Kopavogur, Iceland) and Daniel Santos Lopez (Madrid, Spain), junior Alon Baer (Gesher HaZiv, Israel) and senior Riccardo Di Domenico (Johannesburg, South Africa) broke the UE school record in the event with a winning time of 3:15.03.
"What an incredible night!" said UE head swimming & diving coach Stuart Wilson. "Two team records, with Iryna breaking the 100 Back mark, and then the 400 Medley Relay record just minutes later. There is so much energy with this group!
"Everyone is swimming well, but tonight, was a great night! A lot of positive energy flowing, which makes it easy for everyone to fall in line and perform their best!"
The school records came as part of a strong night for UE, as the Purple Aces posted 14 top five finishes in the 12 different events. Relays-wise, Evansville won the men's 400 Medley Relay (3:15.03), while placing second in the women's 400 Medley Relay (3:49.28) and men's 200 Freestyle Relay (1:22.17). UE also placed third in the women's 200 Free Relay with a time of 1:37.83.
Individually, UE earned second-place finishes from Vilbergsson in the men's 500-Yard Freestyle with a time of 4:33.21, and junior diver Madison Rollett (Evansville, Ind./Reitz) in the women's one-meter competition with a score of 236.25.
Baer turned in one of UE's three third-place finishes on the day in the men's 200-Yard IM with a time of 1:52.62. Meanwhile, on the women's side, senior Sarah Jahns (Lilburn, Ga./Parkview) earned a third-place finish in the 500-Yard Freestyle with a time of 5:00.25, and sophomore Sveva Brugnoli (Rome, Italy) tied for third in the women's 200 IM with a time of 2:06.01.
Sophomore Carlos Souto (A Coruna, Spain) earned a fourth-place finish in the men's 200 IM, finishing just 0.20 behind Baer with a mark of 1:52.82. Junior Jackson Caudill (Mount Sterling, Ky./Montgomery County) posted a fifth-place finish in the men's 500-Yard Freestyle with a time of 4:36.84, while senior Maya Cunningham (Yakima, Wash./Eisenhower) and sophomore Mari Müller (Zurich, Switzerland) tied for fifth in the women's 200 IM with identical times of 2:06.17. Müller's time moved her up to the fifth-fastest female swimmer in UE history in the event. Meanwhile, on the men's side, freshman Daniil Goncharuk (Kyiv, Ukraine) cracked UE's career top 10 in the men's 50-Yard Freestyle, as he posted a time of 20.95 to rank as the ninth-fastest male swimmer in the event.
The A3 Performance Invitational will continue on Friday at 10 a.m., with preliminary round swims in the 400 IM, 100 Fly, 200 Free, 100 Breast, 100 Back, and the 800 Free Relay. Diving will continue with the three-meter competition at noon, with Friday's competition concluding with event finals in the above events, as well as the 200 Medley Relay. Fans can follow the action on the Meet Mobile App.
Submitted by Athletics
Arntsen's second-half goal sends Aces to MVC Championship final
A rocket off the foot of freshman Ola Arntsen and another clean sheet from graduate Alex Vidizzoni helped the University of Evansville men's soccer team to a 1-0 victory over Belmont in the MVC Championship semifinals on Thursday afternoon in Springfield, Mo.
Coming into the match seeing increased minutes over the second half of the season, Arntsen opened his college account, scoring for the first time in his UE career, on his only shot of the day. Graduate goalkeeper Alex Vidizzoni continued his top form, recording his third-straight shutout and the eighth clean sheet of his season, moving him into a tie for fourth in single-season shutouts at UE.
As had been true in the previous two meetings, the Aces and Bruins played a very closely matched contest in the first half. Playing to shutouts in both previous meetings this season, Evansville and Belmont recorded a combined six shots each in the opening 45 minutes with each team tallying three. Evansville was the only one to put a shot on goal, though, with sophomore Jose Vivas testing Belmont keeper in the 24th minute.
Much like the first half, the second period was evenly matched in shots, but two moments helped shape the outcome of the match. 10 minutes into the half, Belmont played the ball into the six and had a cross tipped away and knocked free from the box by the Aces defense, helping to avoid a Bruin breakthrough. Less than 10 minutes after Belmont's chance, a moment of brilliance gave the Aces the lead. A ball into the box was headed out and took two bounces before Arntsen smashed a volley into the upper 90 with plenty of pace, putting UE up 1-0. Evansville nearly doubled its advantage a few minutes later as junior Kai Phillip got the ball in the box, but had his shot miss just wide. Following Arntsen's goal, Belmont would take four shots, but put just one on-goal, an 82nd-minute attempt that Vidizzoni saved as the Aces captured the 1-0 win and a berth in the MVC Championship final.
Evansville will play top-seed and host Missouri State in Sunday's final at 1 PM in Springfield, Mo.
Submitted by Athletics
Aces return home for final regular season stretch
With its road schedule complete for the 2022 season, the University of Evansville volleyball team returns home to Meeks Family Fieldhouse for its final three matches of the regular season before hosting the 2022 MVC Championship. On Friday, the Purple Aces open the home stretch with a 6PM contest against Murray State before welcoming Belmont for a 5PM match on Saturday with both games slated to be carried on ESPN3.
Making History
- On Oct. 22 against Drake, Alondra Vazquez became the all-time program kills leader, breaking Jessica Kiefer's record of 1,706
- Her current total of 1,813 kills is 4th in MVC history
1) 2,293 Lily Johnson, Missouri State, 2014-17
2) 1,948 Lindsay Stalzer, Bradley, 2002-05
3) 1,919 Michelle Witzke, Missouri State, 1994-97
4) 1,773 Alondra Vazquez, Evansville, 2018-
5) 1,779 Molly O'Brien, UNI, 2000-03
- Earlier this season, Vazquez moved past Julie Groves for the most attempts in program history and now has 5,231, with Groves' mark of 4,401 ranking second...Vazquez' total is second in MVC history
1) 6,610 Lily Johnson, Missouri State, 2014-17
2) 5,231 Alondra Vazquez, Evansville, 2018-
3) 5,060 Erica Haslag, Bradley, 2015-18
4) 4,944 Michelle Witzke, Missouri State, 1994-97
5) 4,914 Ashley Rosch, Illinois State, 2012-15
- Vazquez also moved into the top ten in career digs with 1,495...she is currently 5th
MVC Road Mark
- For just the second time since joining the MVC in 1994, Evansville completed its conference season with a winning road record
- Earning wins in three of the final road matches, the Aces finished at 5-4
- The top road MVC record came in 2000 when Evansville went 6-3
Another Career-Best
- Saturday's match at Southern Illinois saw Giulia Cardona reset her single match kills mark with a total of 25, which bested her previous high of 24 at Indiana State earlier this season
- In the weekend trip to Missouri State and SIU, Cardona averaged 5.50 kills per set to improve her season average to 4.08/set
- For the season, Cardona is third in the MVC with her 4.08 kills average while her total of 1,279 attacks is 5th-highest in the NCAA and is already the 6th-most in a single season in Aces program history
- Defensively, Cardona has shown great improvement, chipping in an average of 2.64 digs per set over the last 18 matches (185 digs in the last 70 sets)
Block Party
- Hannah Watkins put together the best match of her collegiate career at Missouri State on November 4 as she set career highs in kills (8), attempts (16), block assists (10) and total blocks (10.0)
- In the weekend road matches at MSU and SIU, Watkins averaged an unbelievable 2.13 blocks per set, accumulating 17 block assists in eight frames
- She has been credited with at least 3.0 total blocks in seven of the last 11 matches
- Averaging 1.10 blocks/set on the season, her average has jumped to 1.26 in MVC outings
Submitted by Athletics
Scherr-Wells adds talented group of signees for 2023-24
On National Signing Day, University of Evansville head women's basketball coach Robyn Scherr-Wells has announced the signing of three players for the 2023-24 season.
"I am thrilled with our signees in the class of 2023! They are exactly the type of players we are looking to continue to build our program with," said Scherr-Wells. "All three of them are winners and will fit seamlessly into our uptempo style of play. Bigger than basketball, all three possess great character and will be wonderful representatives of the Aces on and off the court."
The three newcomers to the Purple Aces program include a pair representing the state of Wisconsin and one joining from Australia.
Coming to Evansville from Kenosha, Wis., the first signee for the Aces is Nevaeh Thomas. Playing for Mary D. Bradford High School, Thomas has been named all-conference each of her three prep seasons, while earning all-region player of the year in 2022 and receiving all-state honorable mention recognition a year ago. Thomas averaged over 20 points and 12 boards per contest last season, while adding just shy of four assists per game.
"Nevaeh brings great versatility and athleticism to the forward spot for us," mentioned Scherr-Wells. "She is quick and long and versatile on the offensive end. She will fit very well into our press defense. But perhaps what I am most excited about is her ability to rebound the basketball."
The second addition to the 2023-24 roster from Wisconsin is Maggie Hartwig from Sauk City, Wis. Hartwig plays her prep basketball for Sauk Prairie High School and has proven to stuff the stat sheet. A first-team all-conference selection in 2021-22, Hartwig nearly averaged a double-double last year, accumulating 12 points and just shy of 10 boards per game. A talented volleyball player as well earning second-team all-state honors, Hartwig stands at 6'1" and comes from an athletic family, including both parents playing collegiately at SIUE.
"Maggie adds a true inside out game for us in the forward position," stated Scherr-Wells. "She is strong and posts up well where she can then use her quickness and athleticism to score. She also shoots the 3 well. She will be a tough match-up for defenders. She is versatile and can defend multiple spots on defense. She is a really nice rebounder and brings a lot of toughness to our team."
Becoming the third member of the team from Australia, Evansville's final addition is Maddie Ford from Kilmore, Australia. At 5'9", Ford has proven to fill it up, averaging 33 points per game this season in The Big V, a semi-professional basketball league in Australia. Ford was named Big V blue carpet twice, rewarded to the league's player of the week and was named the MVP in the 2018 grand final of the VJBL.
'Maddy is a versatile wing and a really good, tough, all-around athlete." expressed Scherr-Wells. "She will be a catalyst in our press defense. Offensively, she has a very balanced game. We expect her to attack the rim well for us, but also stretch defenses with her ability to shoot the 3."
Submitted by Athletics
Contribute to AceNotes
To have content considered for inclusion in AceNotes, please submit a Marketing Request Form. Deadline for submission to AceNotes is 10:00 a.m. on the requested date of publication. Only articles concerning UE related/sponsored activities will be accepted. Articles submitted to AceNotes may be edited for length and clarity. Submitter contact information is at the end of each article.