| | |
| --- | --- |
| AceNotes Today | Thursday, November 10, 2022 |
UE Theatre Opens CABARET this Weekend
The University of Evansville Department of Theatre's production of CABARET, inspired by the play by John Van Druten, stories by Christopher Isherwood, music by John Kander, and lyrics by Fred Ebb, opens this weekend on Friday, November 11, in Shanklin Theatre. Additional performances are at 7:30 p.m., on November 12, 17, 18, 19, and at 2:00 p.m., on November 20.
Set against the tumult and sheer chaos of Germany's 1929 Berlin, the alluring emcee invites all to engage in willful ignorance and revel in the lustful delights inside the legendary Kit Kat Club. "Here…life is beautiful." With hedonistic abandon, these riveting characters live life as a carnival of debauchery and despair. Winning Tony Awards for Best Musical for the 1966 Broadway premiere and for Best Revival of a Musical in 1988, this provocative and challenging style of storytelling packs a potent punch on the dangers of mass indifference in the face of injustice and atrocities and asks audiences to either act now or say, "so what?"
In following industry standards, as established by the Broadway League, all audience members must remain masked during the performance. It is our hope that these restrictions will allow our student actors to safely perform unmasked.
Adult ticket prices are $20 and $18 for senior adults, UE employees, and non-UE students. UE students may obtain one free student rush ticket beginning at 12 p.m. on the day of the performance they wish to attend. In addition, UE Theatre is excited to introduce a new "Pay What You Can" initiative. Every Thursday evening performance in Shanklin Theatre is available for any person to pay any price that best fits their budget. Single tickets may be purchased online at theatre.evansville.edu or by calling the ticket office at 812.488.2031, Monday through Friday, 12:00 to 5:00 p.m.
Submitted by Sharla Cowden sc75@evansville.edu
Diaper Drive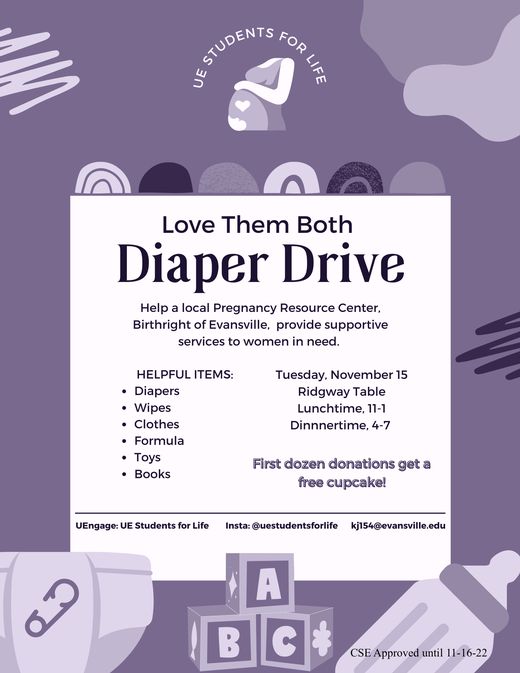 Continuing this month's theme of supporting women in need, UE Students for Life will host a diaper drive in Ridgway during lunch (11-1) and dinner (4-7) time! All donations will be given to a local Pregnancy Resource Center, Birthright of Evansville, and just about anything baby-related is helpful (onesies, formula, diapers, toys, books, etc)! As a bonus and incentive, the first dozen donations will receive a cupcake. Stop by, say hi, and help us provide resources and support for local women and families in need!
Submitted by Kira O'Neal kj154@evansville.edu
"Within The Wild" Photography Exhibit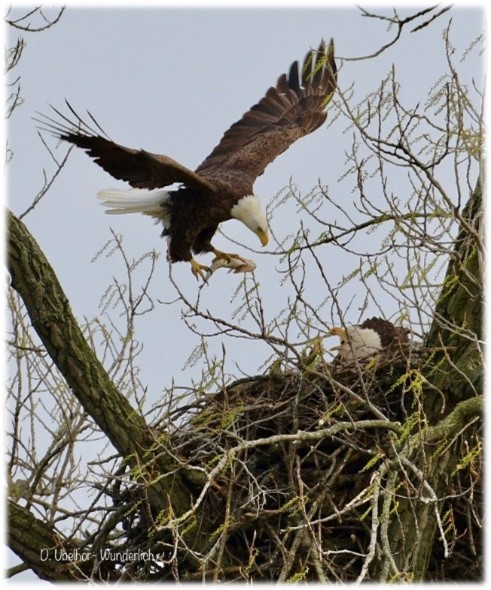 Keith Gehlhausen, Executive Director of Human Resources and Institutional Equity, will exhibit photographs in the Audubon State Park "Within the Wild" photography show. This exhibit, opening on November 22, will run through February 2023 and features nature in the wild locally and across the United States. Please feel free to attend the artist reception on Tuesday, November 29 at the Audubon Museum 5:00-6:15pm.
Submitted by Carol McCraney cm177@evansville.edu
ECTE – Lunch Bunch: Ice cream bar
Faculty and staff, join us for some ice cream at Lunch Bunch this Thursday, November 10th from 12:00 p.m. to 1:00 p.m. in the Philips Alcove (Ridgway 2nd floor).
No need to RSVP. Stay as little or as long as your schedule allows. There is no agenda or presentation for these gatherings. Lunch Bunch is a way to offer faculty and staff a common place to get together. We hope to see you on Thursday!
Kyle and Diana
Eykamp Center for Teaching Excellence
Submitted by Diana Rodriguez Quevedo dr130@evansville.edu
First-Generation Mixer
Calling all First-Generation College Students - current students, faculty, and staff!
We're celebrating and recognizing those Aces who are first-generation college students and the success of all the faculty, staff, and administration who were themselves first-generation college students once upon a time.
UE's first-generation student organization Ace Scholars and the Office of Retention will be hosting a First-Generation Mixer, where all First-Generation Aces - current students, faculty, staff, and administration - can all connect together, network, and enjoy some free refreshments and some festive fall treats. Come and join us in the Class of 59' Gallery on the second floor of Ridgway University Center at 4:00 PM this Friday.
If you were among the first in your family to go to college, or will be the among the first in your family to earn a 4 year degree, come celebrate with us on Friday! We've all come a long way as we move forward in our futures.
Chad Hart / ch299@evansville.edu
Submitted by Chad Hart ch299@evansville.edu
Clothing Drive for Hangers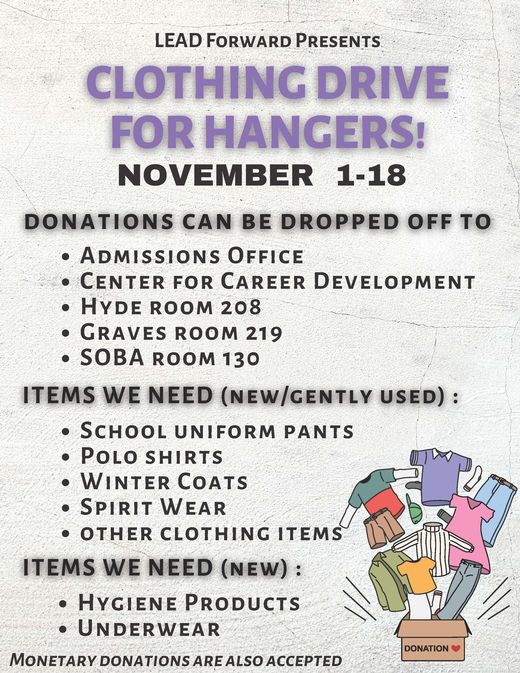 The students of LEAD Forward are hosting a clothing drive for Hangers. Hangers is a resource for EVSC that provides students in need with clothing and other necessities. This program serves thousands of students each year. If you would like to make a donation, please drop the listed items off at the donation bin most convenient for you! All locations are listed on the flyer. Thank you!
Submitted by Maggie Newcomb mn156@evansville.edu
Kent Parker speaks on being an Engineer and an Entrepreneurial Success - November 10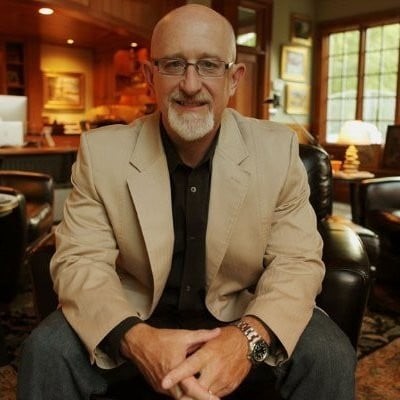 Kent Parker '83
University of Evansville - College of Business & Engineering Speaker Series
The Cross-Functional Fusion of Business & Engineering: Perspectives from an Engineer on Entrepreneurial Success
Thursday, November 10th, 6:00 p.m.
Schroeder School of Business Rm 170
Kent Parker is a business executive, entrepreneur, investor and engineer whose talent and passions have led to leadership positions in a wide range of industries, including business commerce network, software, and supply management services as well as manufacturing, strategic sourcing, and program management.
Reception and networking to follow.
A Zoom option will be provided for those that would like to attend virtually. The link will be sent via email within 48 hours of the start time of the event.
For questions or concerns please contact Nick Bragin at nb197@evansville.edu.
Submitted by Nicholas Bragin nb197@evansville.edu
SAA - Lunchbox Trivia
SAA Social Committee invites you to
Lunchbox Trivia!!!
Thursday, November 10th
12:00 – 1:00pm
Eykamp 252
Pack your lunches and test your knowledge!
There will be a total of five categories including UE/Harlaxton, Holidays, 90's, Movies, and Veteran's Day! Winning team will receive treats for their office and bragging rights.
Teams of up to 4 may register with Lori LeDuc at ll138@evansville.edu
Individuals wishing to participate that do not have a team will be assigned one at the event.
Submitted by Rebecca Oates ro32@evansville.edu
Art Exhibit "Reflections" in Melvin Peterson Gallery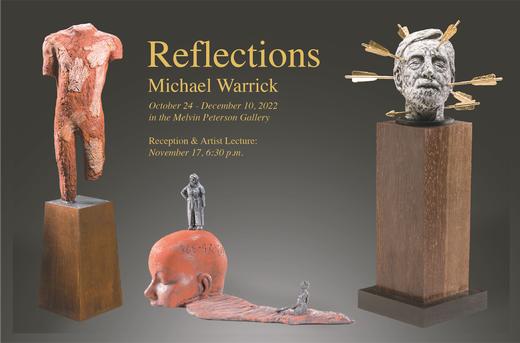 The University of Evansville presents "Reflections", an exhibit by Michael Warrick, on display at the Melvin Peterson Gallery through Saturday, December 10.
All are welcome to attend the reception and artist lecture on Thursday, November 17 at 6:30 PM in the Melvin Peterson Gallery.
The exhibit and reception are part of the Emerging Contemporary Artist Lecture Series sponsored by the Efroymson Family Fund and the UE Department of Art.
The hours for the Melvin Peterson Gallery are Monday 12–3pm; Tuesday 12–3pm; Wednesday 12–6pm; Thursday 12–6pm; Friday 12–3pm; and Saturday 12–3pm.
Submitted by Carol McCraney cm177@evansville.edu
Winter Housing - Villages
Village residents who wish to stay in their apartment or house should complete and submit this form to let us know if you are staying over break - https://forms.office.com/r/EdYkbbT0hw. There is no charge for Village residents to remain over winter break, but we do ask that you let us know if you plan to be here in case of emergencies.
Submitted by Brian Conner bc32@evansville.edu
New Hall Openings for Spring 2023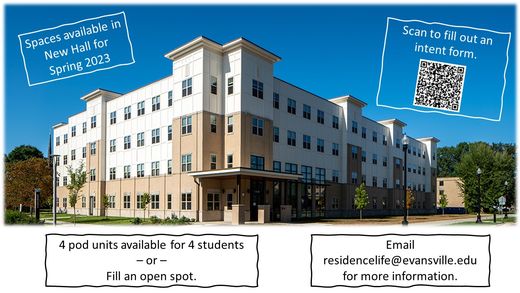 Interested in living in New Hall for the spring semester? The Office of Residence Life has spaces available in New Hall. 4 pod units are available for a group of 4 students or there are individual spaces within pods available. If you are interested, email Brian Conner, bc32, by November 18 for more information.
Submitted by Brian Conner bc32@evansville.edu
Become an Orientation Leader: Harlaxton Application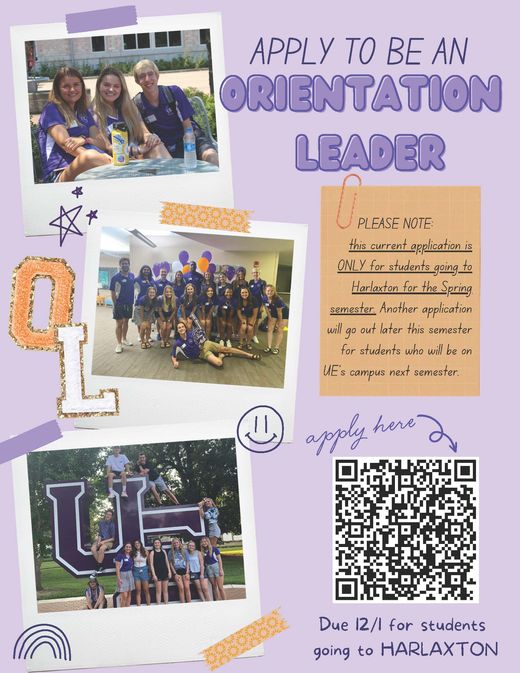 Going to Harlaxton this Spring? Apply to be an Orientation Leader now, so you don't miss the Spring interview process! Please note, another application will be sent out in the future for students that will still be on campus next semester. This round of applications closes on December 1st, and interviews will be on December 8th. Please contact Shelby Gardner, sg293@evansville.edu with any questions. We look forward to your applications!
Submitted by Shelby Gardner sg293@evansville.edu
LOVE THEM BOTH: Pregnancy Resource Center Information Session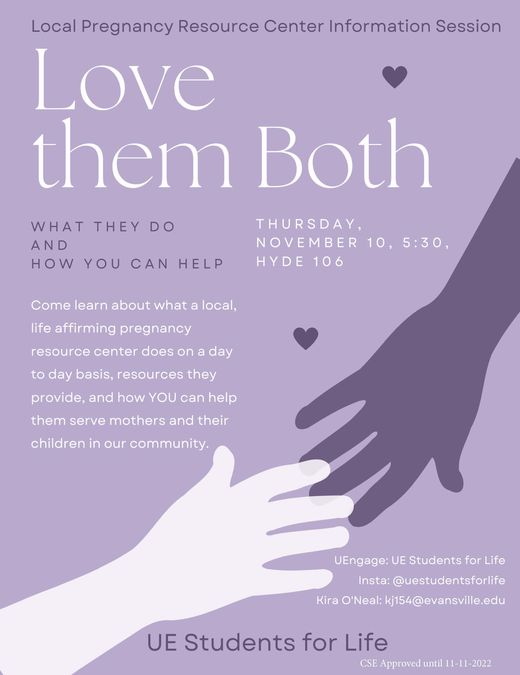 Local Pregnancy Resource Center Information Session: What they do and how you can help.
Being Pro-Life goes beyond baby-saves and standing for life in the womb. It involves caring for both the mother and the child that may be in a tough situation and needs help. Betty Marcheschi, the director of Birthright of Evansville, will come to share what a local, life-affirming PRC does on a day to day basis, resources they provide, and how YOU can help them serve mothers and their children in our community. We will also discuss these things in preparation for an upcoming donations event (more info to come!).
COME LEARN ABOUT A LOCAL PRC ON Thursday, November 10 at 5:30 in Hyde 106!
Submitted by Kira O'Neal kj154@evansville.edu
Change a Young Life - Volunteers to Mentor Needed
UE's College Mentors for Kids chapter needs student volunteers to mentor young children from our local community. Students from all majors have the opportunity to be inspirational role models for elementary-age students, and all UE students enrolled full-time are eligible to apply. Mentoring involves a one-hour weekly commitment on Wednesdays to check in with your little buddy. To begin the application process, please email our College Mentors for Kids President, Lyndsay Deal, at ld157@evansville.edu. Join College Mentors for Kids today, volunteer, and help us make this year our best year for our UE chapter of College Mentors for Kids.
Submitted by Lisa Marie Hale lh241@evansville.edu
Dawn Murtaugh: Fiber Art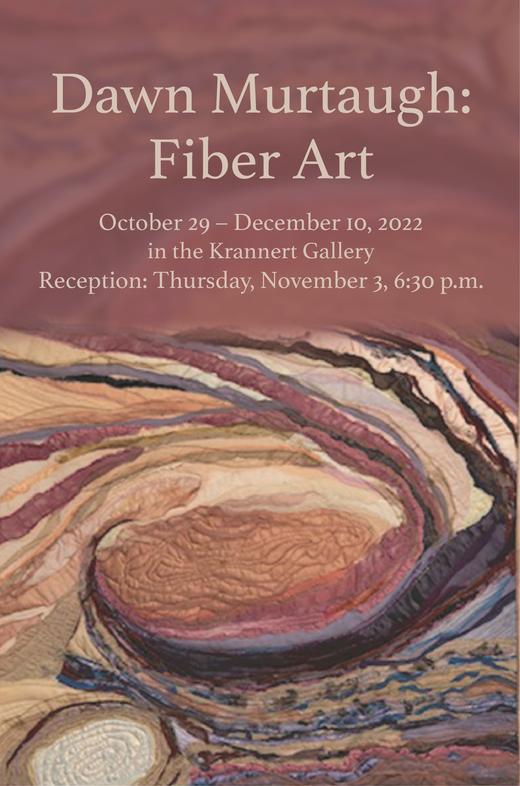 The Dawn Murtaugh: Fiber Art exhibit is open from October 29 through December 10, 2022 in the Krannert Gallery. Please plan to attend the artist reception on Thursday, November 3 at 6:30 p.m.
Submitted by Carol McCraney cm177@evansville.edu
Kevin Jordan publishes research with doctoral student
Kevin Jordan, associate professor of psychology, has published an article in the Elsevier journal Telematics and Informatics Reports, an interdisciplinary journal dedicated to the global and cultural impact of digital technologies. Entitled "Individual Differences Influencing the Relationship Between Online Social Support and Addictive Use of Social Media," the article presents findings on the role of social anxiety in influencing susceptibility to social media addiction.
You can view the article at https://doi.org/10.1016/j.teler.2022.100025
Submitted by Kevin Jordan kj33@evansville.edu
50 Years: A Harlaxton History with Principal Carter
Have you ever wondered how the University of Evansville ended up owning a Victorian Manor House in England? Or maybe you've been curious about the students who first came to Harlaxton 50 years ago. If you're at all curious about the history of Harlaxton over the last 50 years, then join Principal Dr. Holly Carter as she presents 50 Years: A Harlaxton History.
The Details:
50 Years: A Harlaxton History
A look at Harlaxton's history since 1968. Find out how the University of Evansville purchased Harlaxton, what the early days were like for students and faculty, and learn about important figures in Harlaxton's leadership.
Hosted by Principal Dr. Holly Carter
Monday, November 14, 2022 from 12:00-1:00 PM CST
In person: University of Evansville SOBA 270, Vectren Executive Board Room
Online: https://evansville-edu.zoom.us/j/99709484593
We hope you can join us!
Submitted by Victoria Cartal vr35@evansville.edu
Nacho Diaz named MVC Freshman of the Year as five Aces earn postseason honors
Forward Nacho Diaz was named the Missouri Valley Conference's Men's Soccer Freshman of the Year and four other Aces received recognition at the Conference's postseason award banquet on Wednesday evening in Springfield, Mo.
Diaz becomes the third-straight Ace and fourth in five years to earn the MVC's award for the best freshman in the league, joining teammate Jose Vivas, who earned the honor in 2021. Coming to Evansville from Almeria, Spain, Diaz has made an immediate impact on the team and the conference. The MVC's league leader with nine goals and 21 points, Diaz tallied two goals in a game three times this season and has recorded a pair of game-winning goals. Along with his recognition as freshman of the year, Diaz was also selected as first-team all-MVC and named to the MVC's all-freshman team.
Proving to be a force between the posts, graduate goalkeeper Alex Vidizzoni captured second-team all-MVC recognition. The Codroipo, Italy native has recorded seven shutouts this season, putting him inside the top 10 in both single-season and career shutouts despite playing just 16 matches in the white and purple. Vidizzoni has been in goal for each of Evansville's seven wins thsi season and has a goals-against average of 0.94.
A key to the Aces attack, sophomore Jose Vivas was named second-team all-MVC. Recording four goals and three assists on the season, Vivas scored a pair of game-winning goals, including a 74th-minute beauty on Sunday that sent Evansville to the MVC Championship semifinals. In two years at Evansville, Vivas has amassed six assists.
Joining his fellow countryman on the MVC's second-team is senior Carlos Barcia. A crucial force for the Aces in the midfield, Barcia tallied three goals and tied for the team-lead with four assists. Against Lindenwood on Oct. 1, Barcia's 50th-minute goal proved to be the game-winner.
The final Ace to receive postseason recognition was junior forward Kai Phillip. A native of Trinidad & Tobago, Phillip sits second on the team in goals this season. Phillip's five scores on the year have come almost exclusively against MVC competition, including a brace for Phillip at Missouri State on Sept. 24. Twice Phillip's goals have been game-winners, coming against SIUE and Drake. The junior assisted on another Evansville goal, the season-opening goal for the Aces in a 2-2 tie with Bellarmine.
Evansville continues its journey in the MVC Championship on Thursday afternoon at 3 PM with a semifinal matchup with No. 5 seed Belmont in Springfield, Mo.
Submitted by Athletics
UE Swimming & Diving Heads To A3 Performance Invite Beginning Thursday
The University of Evansville swimming and diving teams will return to action on Thursday, as the Purple Aces will take part in the A3 Performance Invitational in Carbondale, Illinois. The three-day meet will take place Thursday through Saturday at the SIU Recreation Center, and will begin with preliminary round action Thursday at 10 a.m.
The A3 Performance Invitational will serve as the mid-season championships for the UE swimming and diving teams, as, for a majority of the swimmers, it will be their final meet of the 2022 calendar year. UE is coming off a strong showing on Saturday, when UE posted dual-meet victories on both the men's and women's side over Eastern Illinois at the Deaconess Aquatic Center.
"This meet is always a great gauge of where we are at this time of the season," said UE head swimming and diving coach Stuart Wilson. "We have always done well at this meet since I've been here, and I am looking forward to seeing some great results from the team this year."
On the men's side, junior Alon Baer (Gesher HaZiv, Israel) and sophomore Daniel Santos Lopez (Madrid, Spain) have led the way, as Baer has been undefeated this year in both the 100- and 200-Yard Breaststroke events, while posting a top four time in the Mid-American Conference in both events this year. Santos Lopez, meanwhile, has posted the third-fastest time in the MAC this year in the 100-Yard Butterfly (49.19), while also posting one of the fastest times this year in the 100 Back (51.89) as well.
Senior Riccardo Di Domenico (Johannesburg, South Africa) also ranks among the MAC's top five this year in the 200-Yard Freestyle, having posted a time of 1:40.97. UE will also get the services of sophomore Patrik Vilbergsson (Kopavogur, Iceland) back this week, as Vilbergsson missed UE's home meet on Saturday while representing his native Iceland at the FINA World Championships in Indianapolis over the weekend.
On the women's side, senior Maya Cunningham (Yakima, Wash./Eisenhower) has been one of the top swimmers in the Missouri Valley Conference this year in the Butterfly events, ranking in the league's top 12 so far with a season-best time of 2:06.18 in the 200 Fly. Junior Iryna Tsesiul (Minsk, Belarus) has also ranked among the MVC's fastest swimmers in the 100-Yard Backstroke (58.12), while senior Sarah Jahns (Lilburn, Ga./Parkview) has excelled in the 200 Back and distance freestyle events.
Diving-wise, junior Madison Rollett (Evansville, Ind./Reitz) has picked up where she left off last season, as the honorable mention all-MVC diver has posted personal-best scores on both the one-meter and three-meter boards this fall for UE. Freshman Levi McKinney (Boonville, Ind./Boonville) has also posted impressive scores in the first month of his collegiate career, having won two of the three diving competitions he has competed in so far.
The A3 Performance Invitational will feature competitors from six schools, including UE, Bellarmine, Eastern Illinois, Southern Illinois, Southern Indiana and Valparaiso. Results can be found on the Meet Mobile app.
Submitted by Athletics
Contribute to AceNotes
To have content considered for inclusion in AceNotes, please submit a Marketing Request Form. Deadline for submission to AceNotes is 10:00 a.m. on the requested date of publication. Only articles concerning UE related/sponsored activities will be accepted. Articles submitted to AceNotes may be edited for length and clarity. Submitter contact information is at the end of each article.