| | |
| --- | --- |
| AceNotes Today | Monday, November 7, 2022 |
Wind Ensemble and Symphony Orchestra to Perform at Victory
The UE Wind Ensemble and Symphony Orchestra will perform on Tuesday night at 7:30 p.m. in the Victory Theatre. The concert will also feature violinist Jia-Rong Gan of the Eykamp String Quartet and a vocal performance by the Vukovich Competition winner, Maddi Filson.
Submitted by Amy Esche ae128@evansville.edu
University of Evansville Theatre Presents CABARET
The University of Evansville Theatre announces the second installment of the 2022–2023 season with CABARET, inspired by the play by John Van Druten, stories by Christopher Isherwood, music by John Kander, and lyrics by Fred Ebb. The show opens on Friday, November 11, at 7:30 p.m., in Shanklin Theatre. Additional performances are at 7:30 p.m., on November 12, 17, 18, 19, and at 2:00 p.m., on November 20.
Set against the tumult and sheer chaos of Germany's 1929 Berlin, the alluring emcee invites all to engage in willful ignorance and revel in the lustful delights inside the legendary Kit Kat Club. "Here…life is beautiful." With hedonistic abandon, these riveting characters live life as a carnival of debauchery and despair. Winning Tony Awards for Best Musical for the 1966 Broadway premiere and for Best Revival of a Musical in 1988, this provocative and challenging style of storytelling packs a potent punch on the dangers of mass indifference in the face of injustice and atrocities and asks audiences to either act now or say, "so what?"
CABARET is directed by Assistant Professor Wes Grantom '03. Evelyn Hipp, a sophomore theatre studies major, from Nolensville, Tenn., serves as the assistant director; Tyler Simpson, guest artist, serves as the music director; Chad Goodridge, guest artist, serves as the choreographer; Tansy, guest artist, is the burlesque consultant; Associate Professor Eric Renschler '83, serves as the scenic designer; Sara Mathew, a senior design and technology major, from Union, Ky., is the costume designer; Stephen Boulmetis, associate professor of lighting design, serves as the lighting designer; Richard Ingraham, guest artist, serves as the sound designer; Professor Diane Brewer is the dramaturg; Keegan Macaluso, a senior design and technology major, from Georgetown, Texas, serves as the technical director, and Madison Wilson, a senior stage management major, from Fort Worth, Texas, is the stage manager.
This cast features Jake Conrad, a senior performance major form Olympia, Wash., as Emcee; Lillian Grace Carlson, a junior performance major, from Minneapolis, Minn., as Sally Bowles; Caden Sevier, a junior performance major, from Humble, Texas, as Cliff Bradshaw; Elizabeth Dye, a senior performance major, from Frisco, Texas, as Fraulein Schneider; Spencer Marfy, a junior performance major, from Tallmadge, Ohio, as Herr Shultz; Jimmy Guest, a senior performance major, from Bettendorf, Iowa, as Ernst Ludwig; Nathan Viscaino, a senior performance major, from Redmond, Ore., as Max; Gabriel Smothers, a senior performance major, from Casper, Wyo., as Bobby; May Anderson, a sophomore theatre management major, from Minneapolis, Minn., as Frenchie; Amelia Overholt, a senior performance major, from Fort Collins, Colo., as Fraulein Kost and Rosie; Madison Conway, a junior performance major, from Jeffersonville, Ind., as Fritzie; Tomi Akinwande, a first-year performance major, from Houston, Texas, as Texas; Riley Katherine Miller, a senior performance major, from Crown Point, Ind., as Helga; Cara Connelly Gilbert, a sophomore performance major, from Suffern, N.Y., as Lulu; Daniel Perez, a first-year performance major, from San Antonio, Texas, as Herman; Mason Norton, a first-year performance major, from Bremen, Ind., as Victor; and Landry Barker, a first-year performance major, from Fort Worth, Texas, as Hans.
In following industry standards, as established by the Broadway League, all audience members must remain masked during the performance. It is our hope that these restrictions will allow our student actors to safely perform unmasked.
Adult ticket prices are $20 and $18 for senior adults, UE employees, and non-UE students. UE students may obtain one free student rush ticket beginning at 12 p.m. on the day of the performance they wish to attend. In addition, UE Theatre is excited to introduce a new "Pay What You Can" initiative. Every Thursday evening performance in Shanklin Theatre is available for any person to pay any price that best fits their budget. Single tickets may be purchased online at theatre.evansville.edu or by calling the ticket office at 812.488.2031, Monday through Friday, 12:00 to 5:00 p.m.
Submitted by Sharla Cowden sc75@evansville.edu
This Week: Celebrate First-Generation Aces
Calling all First-Generation College Students - current students, faculty, and staff!
This week we celebrate and recognize those Aces who are first-generation college students here at the University of Evansville, and the success of all of the faculty, staff, and administration who were themselves first-generation college students once upon a time.
National First-Generation College Celebration day is Tuesday, November 8 and Ace Scholars will be in Ridgway University Center from 4:00 PM to 6:00 PM talking about UE's first-generation student organization and handing out first-generation swag and giveaways. Celebrate with us and look for our table!
On Friday, November 11 at 4:00 PM, Ace Scholars and the Office of Retention will be hosting a First-Generation Mixer, where all First-Generation Aces - current students, faculty, staff, and administration - can all connect together, network, and enjoy some free refreshments and some festive fall treats. Come and join us in the Class of 59' Gallery on the second floor of Ridgway University Center.
If you were among the first in your family to go to college, or will be the among the first in your family to earn a 4 year degree, come celebrate with us this week! We've all come a long way as we move forward in our futures.
Chad Hart / ch299@evansville.edu
Submitted by Chad Hart ch299@evansville.edu
Virtual Talk with an FBI Forensic Accountant

Rania Mousa, Associate Professor of Accounting and Mead Johnson Nutrition Endowed Chair in Business, would like to invite students to attend an upcoming virtual talk with a guest speaker from the Federal Bureau of Investigation (FBI). The FBI's mission is to protect the American people and uphold the Constitution of the United States. It is an intelligence-driven and threat-focused national security organization with both intelligence and law enforcement responsibilities. It is also the principal investigative arm of the U.S. Department of Justice.
The guest speaker is Forensic Accountant, L. Chris Knight. Agent Knight entered on duty with the FBI Detroit Field Office in October 2004 after working two years at a regional public accounting firm. In October 2006, he transferred to the FBI Indianapolis Field Office's White-Collar Crime squad where he is assigned as a Forensic Accountant. In this role, he is responsible for the review and analysis of financial evidence received in support of criminal and national security investigations. In addition to working at the FBI, he is an adjunct professor at Indiana University's Kelley School of Business in Bloomington and Indiana University-East, where he teaches courses in Fraud Examination and Forensic Accounting.
Mr. Knight graduated with a Bachelor of Science degree in Business Administration with concentrations in Accounting and Legal Studies from Indiana University's Kelley School of Business. Additionally, he earned a Master of Science degree in Criminal Justice from the University of Cincinnati. He is a licensed State of Indiana Certified Public Accountant (CPA) and Certified Fraud Examiner (CFE).
Day: Monday, November 7th
Time: 4:00-6:00 pm
Virtual Talk Link: https://evansville-edu.zoom.us/j/9401122414
Submitted by Dr. Rania Mousa rm190@evansville.edu
Climbing at Vertical Excape with the Venturing Crew
Join the Venturing Crew as we climb the night away at Vertical Excape from 8pm till midnight on November 19th.
We will provide Pizza, drinks and a good time. The event is free and bus transportation will be provided.
Make sure to RSVP here on UEngage as we only have 75 spots available.
Submitted by Fred Wilson fw2@evansville.edu
We the People Volunteers Needed
UE is once again proud to host the Southern Regional Competition for We the People: The Citizen & the Constitution. On Wednesday, 11/9, we will welcome 8 schools (both high school and middle school) to campus as they work to earn a place at Indiana's State Finals. We need volunteers for the following shifts. If interested and available, email Erin Lewis at EL131@evansville.edu or text 812-449-1044. No experience needed for any shift!
Shift 1: 8:30am - 9:45am - Greeter (4 needed): Stand outside SOBA on the circle and Rotherwood sides, welcome the teams as they arrive and help them get to their classrooms. Purple UE scarf provided (must be returned), UE casual attire.
Shift 2: 8:45am - noon. Judges' Facilitator (6 needed): Serve as a guide for a panel of judges, getting them from room to room on time. Business casual attire recommended.
Shift 3: 11:30am - 12:00pm (8 needed): Lunch guide. Stand outside their hearing rooms as they finish their rounds, then guide them to Ridgway Eykamp Hall for lunch. Serving as an Ambassador for UE on the way. UE casual attire.
Submitted by Erin Lewis el131@evansville.edu
Spring Meal Plan Changes
Students can adjust meal plans for the Spring semester until Friday, January 13, 2023 at 5:00 p.m.
Submitted by Brian Conner bc32@evansville.edu
Chartwells is Hiring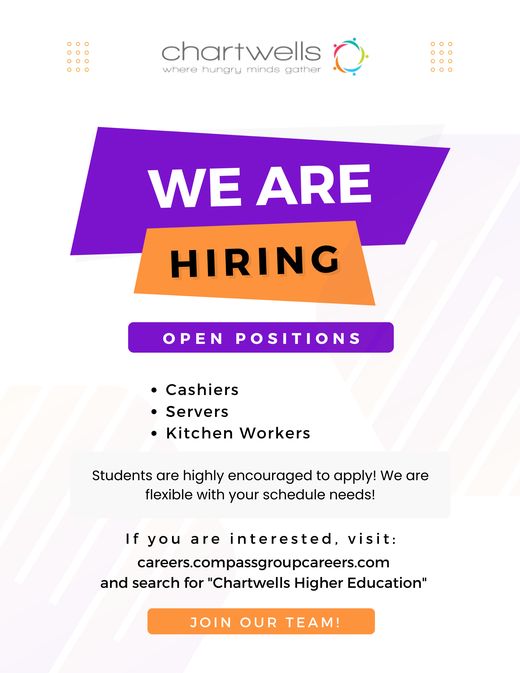 Hey Aces! Looking for a job? Come join our team in the Eatery! We are flexible with scheduling needs! We are looking for cashiers, kitchen workers, and servers. If you're interested, visit careers.compassgroupcareers.com and search for "Chartwells Higher Education" and enter Evansville in the location to get started!
Submitted by Ka'Bria Carr kc403@evansville.edu
Aces advance to MVC Championship Semifinals with 1-0 win over SIUE
Sophomore forward Jose Vivas scored a 75th minute winner to lead the University of Evansville men's soccer team to a 1-0 win over SIUE in the Missouri Valley Conference Championship quarterfinals on Sunday afternoon at Arad McCutchan Stadium in Evansville.
Vivas got on the board for the fourth time this season with his late second half goal, giving the Spaniard his second game-winning goal of the season. For the eighth-time this year, graduate goalkeeper Alex Vidizzoni shutout his opponent, moving him into a tie for fourth in single-season shutouts.
The opening half featured an eager Evansville side taking control possession as the Aces out-shot the Cougars, 9-4, in the first 45 minutes. Inside the first 10 minutes, Vidizzoni was forced to make one of his four saves, stopping a shot from SIUE's Myles Sophanavong in the ninth minute. Evansville created a string of opportunities near the quarter-hour mark of the first half, generating four corner kicks and recording three shots. One of those shots, coming off the head of senior Evan Dekker, appeared to have given the Aces the early lead, but was ruled to have been cleared off the line by a Cougar defender. The 24th minute saw another chance on-frame from Evansville as senior Ethan Garvey sent a shot on-goal that forced a save from SIUE keeper Sam Gomez. In the three minutes before the break, Evansville recorded three more chances, two coming from freshman Ola Arntsen, but the Aces could not get their breakthrough before the halftime whistle.
After controlling much of the possession in the opening 45 minutes, Evansville came rolling out of halftime and took control to the tune of another 9-4 advantage on shots. Senior Carlos Barcia tested Gomez in the 47th minute with a shot that the Cougar keeper saved. The Aces put two more shots on target in the 71st minute, but it would take four more minutes before Evansville was delivered its well-earned breakthrough. On another corner, junior Oliver Hald slipped a cross in to Vivas just inside the 18 and the forward quickly struck the ball, going for the top center of goal and finding the back of the net to provide Evansville with a 1-0 lead. Following the opening goal, Evansville locked-in defensively, preventing the Cougars from any opportunities as the Aces secured the win to advance to the MVC Championship semifinals.
The Aces will continue their postseason journey against No. 5 seed Belmont on Thursday afternoon at 3 PM in Springfield, Mo.
Submitted by Athletics
Regular season opens Monday for women's basketball
Following a win in its lone preseason exhibition last Saturday, the University of Evansville women's basketball team begins the 2022-23 regular season against Eastern Kentucky on Monday evening at 4 PM (CT) in Richmond, Ky.
Evansville and Eastern Kentucky open the 2022-23 season with their fifth meeting in series history with the all-time series tied at two wins each. The Aces and Colonels met last season inside the Ford Center in Evansville as the Aces earned a 67-57 win on Nov. 17, 2022. The Aces opened the 2022-23 campaign last Saturday in the team's lone exhibition against Roosevelt, capturing a 101-57 win over the Lakers. Six Aces finished in double-figures, led by seniors Abby Feit with 15 points and nine boards and A'Niah Griffin with 15 points and six rebounds.
The Aces opener at EKU starts a string of road games to open the regular season for UE. In its first seven games, Evansville will play five on the road, beginning with EKU on Monday and a trip to No. 4 Iowa on Thursday night in Iowa City.
Evansville returns more than 75% of this scoring from last year, including all-MVC first-team and all-MVC preseason team selection Abby Feit, who led the team in points, rebounds, and minutes per game, three pointers made, steals, and blocks. Joining Feit are returning starters Myia Clark, Anna Newman, and Celine DuPont, while key members Jossie Hudson, A'Niah Griffin, Elly Morgan, and Kodie Myszka also are back for the 2022-23 season.
Submitted by Athletics
UE picks up solid road win at Missouri State
Finishing with 19 kills each, Alondra Vazquez and Giulia Cardona led the University of Evansville volleyball team to a 3-1 road victory over Missouri State on Friday evening. It was the fourth road victory in a row for Evansville.
Vazquez led the Purple Aces with 16 digs and hit .286 in the win while Cardona tallied 11 digs while hitting a solid .319. Blakeley Freeman had a stellar outing, picking up 13 digs and a kill. Madisyn Steele and Hannah Watkins recorded eight kills apiece. Kora Ruff had 54 assists and 9 digs.
Set 1 – MSU 25, UE 23
Laura Ruiz recorded an early service ace to give the Aces a 3-0 at the start. Missouri State took their first lead at 6-5. Over the next sequence, neither team would lead by more than two before Evansville changed that pattern. Up 14-13, UE extended the lead to by a pair and would remain up by three when a kill from Emilee Scheumann made it a 20-17 score.
Following a time out, the Bears stormed back into the thick of it. Three service aces in a row highlighted a 5-0 run that gave them a 22-20 edge. Alondra Vazquez picked up two kills to tie it back up at 23-23, but MSU scored the final two points to win the set.
Set 2 – UE 26, MSU 24
Up 1-0 in the match, the Bears came out swinging in game two, jumping out to a 7-2 lead. Missouri State would extend the lead to 13-5 before leading by as many as nine points at 19-10. Just when it looked like the Bears were going to cruise to a 2-0 lead, the Aces had other ideas.
Wrapping up the set on a 16-5 run, Evansville stormed back to take a 26-24 win to tie the set. UE cut slightly into the gap, turning a 20-12 deficit into a 22-19 score with Cardona posting an ace and a kill. Looking to regain the momentum, Missouri State used a time out but it provided only a temporary fix. After scoring the first point out of the break to go back up by four, MSU saw Evansville reel off four in a row to tie the game at 23-23.
The Bears would have set point following a UE error, but a kill by Vazquez tied it right back up. An error by MSU put the lead in the Aces hands before Hannah Watkins had the clinching kill in a 26-24 victory.
Set 3 – UE 25, MSU 20
Twelve ties led to an 18-18 score in the third frame. Both squads took a 2-point lead with the other fighting back each time. That pattern changed when Kora Ruff posted a kill that sent the Aces on a 4-0 run. Cardona also had a kill during that stretch. Missouri State got back within three at 23-20, but it was Vazquez putting the finishing touches on the set. Two more kills capped off a 25-20 win that gave Evansville a 2-1 advantage.
Set 4 – UE 25, MSU 19
Three consecutive errors by the Bears turned a 3-3 tie into a 6-3 Aces lead before Cardona added a kill to make it a 9-4 game. With contributions coming from everywhere, Blakeley Freeman posted a kill in a sequence that made it a 16-7 game. The lead for the Aces reached as many as 10 points when Madisyn Steele picked up a kill.
MSU rallied late, getting within four points (22-18), but it was Steele coming up clutch once again. Her perfectly placed service ace landed just inside the line to clinch the 25-19 set win and a 3-1 match victory. Tomorrow, the Aces are in Carbondale to face Southern Illinois at 5 p.m.
Submitted by Athletics
UE Swimming & Diving Picks Up Two Wins In Tri-Meet With EIU & Illinois State
The University of Evansville swimming and diving teams earned two victories on Saturday afternoon in a triangular meet with visiting Eastern Illinois and Illinois State at the Deaconess Aquatic Center in Evansville.
The UE men cruised past Eastern Illinois, 218-58, while the UE women also knocked off the visiting Panthers, 160-118. Illinois State, picked to finish second in the Missouri Valley Conference preseason poll earlier this week, knocked off the UE women, 216-71, and beat Eastern Illinois, 232-55.
"Overall, I was really pleased with how today went," said UE swimming and diving head coach Stuart Wilson. "On the men's side, I thought we had some really great swims today across the board, especially by Daniel Santos Lopez, as he swam the second-fastest 100 Fly time this year in the MAC, which was great.
"On the women's side, I thought we had a lot of different swimmers step up, and I thought we produced some really good swims as well. Illinois State was picked second in the MVC for a reason this year, and their depth was just too much to handle, but we still had some individual winners today on the women's side, and I really liked what I saw from both teams today."
On the men's side, UE won the individual title in all 16 events, with five Purple Aces picking up multiple individual victories on the afternoon. Sophomore Daniel Santos Lopez (Madrid, Spain) posted the second-fastest 100-Yard Butterfly time in the Mid-American Conference this year with a time of 49.19, as he won the event by nearly three seconds. He also took home the title in the 100 Back (51.89) and was a part of UE's 200-Yard Medley Relay squad which won in a time of 1:32.60.
Junior Alon Baer (Gesher HaZiv, Israel) remained undefeated on the year in the breaststroke events, winning both the 100- and 200-Yard Breaststrokes with times of 57.30 and 2:08.43, while teaming with Santos Lopez in the 200 Medley Relay victory.
Senior Riccardo Di Domenico (Johannesburg, South Africa) also swept the 100- and 200-Yard Freestyle events with times of 46.27 and 1:41.65, respectively, while being a third member of the 200 Medley Relay squad. Junior Jackson Caudill (Mount Sterling, Ky./Montgomery County) swept the distance freestyle events (4:47.41 in the 500 Free, 9:44.73 in the 1,000 Free) and freshman diver Levi McKinney won both the one-meter and three-meter titles. Senior Griffin Hammett (200-Yard Butterfly – 1:56.98), sophomores Logan Anderson (200-Yard Backstroke – 2:00.79) and Carlos Souto (200 IM – 1:57.62) and freshman Daniil Goncharuk (50 Free – 21.37) also won races on Saturday for the UE men.
On the women's side, senior Maya Cunningham (Yakima, Wash./Eisenhower) won the individual title in the 200-Yard Butterfly in a time of 2:06.20, while also placing second in the 100 Free (53.97). Senior Sonsoles Aguayo (Jerez, Spain) finished second in both the 200-Yard Freestyle (1:56.84) and 500-Yard Freestyle (5:17.48) events, while also posting UE's top time in the 50 Free (25.47) while placing fourth overall.
Sophomore Sveva Brugnoli (Rome, Italy) posted a second-place finish in the 100-Yard Butterfly with a time of 58.87, while senior Allison McDonald (Cape Girardeau, Mo./Central) finished second in the 100 Breaststroke (1:07.16). Junior diver Madison Rollett (Evansville, Ind./Reitz) posted a second-place finish in the three-meter competition with a score of 247.95, while also placing third in the one-meter competition with a score of 245.60.
Evansville will have a short week this week, as the Purple Aces will return to competition beginning on Thursday at the A3 Performance Invitational in Carbondale, Illinois. The meet will run from Thursday through Saturday.
Submitted by Athletics
Cardona records career-high 25 kills against Salukis
Sophomore Giulia Cardona registered a career-high 25 kills as the University of Evansville volleyball team fell to Southern Illinois by a 3-1 final on Saturday night.
Cardona added six digs and an ace in the contest. Alondra Vazquez picked up 21 kills. Blakeley Freeman and Kora Ruff led the way with 12 digs while Ruff had 37 assists.
Set 1 – SIU 25, UE 23
Giulia Cardona notched an early kill as part of a 3-0 run to open the match. Southern Illinois stormed back with five in a row before going up 11-6. Blakeley Freeman picked up a service ace to help the Aces make it a 12-10 deficit, but SIU fended off the challenge to take a 19-14 advantage.
Refusing to give up, Evansville used an 8-0 run to take the lead. Consecutive kills by Cardona got things going while Alondra Vazquez picked up a kill and an ace. What finished up as a 9-1 run resulted in a 23-20 edge for UE. Southern Illinois did not let UE score again as they recorded the next five points to rally for the win.
Set 2 – UE 30, SIU 28
Madisyn Steel recorded an ace while Cardona chipped in two more kills to put the Aces up 6-3. SIU came back to tie it at 6-6 prior to taking an 8-7 lead. Laura Ruiz provided an ace that put UE in front at 12-11, but SIU responded once again to take a 17-13 advantage. The lead for SIU remained at four (22-18) when a quick spurt by Evansville cut the deficit in half.
The Salukis quickly scored a pair to have set points at 24-20, but Evansville never gave up and took advantage of three SIU errors with Vazquez adding a kill to tie it at 24-24. Both teams battled into extra point with UE wrestling away the win by a 30-28 final.
Set 3 – SIU 25, UE 23
UE grabbed an 11-8 lead when Steele had a kill that was the start of a 3-0 stretch. SIU came back to tie it at 13-13 before Emilee Scheumann put the lead back in the Aces hands. Another kill from Cardona solidified the Evansville advantage at 22-19 and it looked as if the Aces would pick up another win. Once again, SIU came back to finish the frame on a 6-1 rally to take a 2-1 match lead.
Set 4 – SIU 25, UE 19
After taking a 4-1 lead to open the fourth set, Southern Illinois did not look back. Their start extended to a 7-2 edge before UE worked its way back into the contest when a pair of Vazquez kills made it a 12-10 score. Evansville did its best to stay within striking distance but could not get over the hump as SIU clinched the match. Next weekend, UE plays host to Belmont and Murray State.
Submitted by Athletics
Men's basketball opens regular season on Monday
With two exhibition games in the books, the regular season officially opens on Monday evening when the University of Evansville men's basketball team travels to Miami Ohio. Tip is set for 7:30PM CT with ESPN3 and the Purple Aces Sports Network having the coverage.
Last Time Out
- On Wednesday, the Purple Aces earned a hard-fought 74-64 win over Huntington
- Kenny Strawbridge Jr. led the way with 18 points, 6 rebounds and 4 assists
- Hitting 6 of his 7 attempts once again, Antoine Smith Jr. scored 15 points
- Blaise Beauchamp recorded 12 points with Marvin Coleman II scoring 11
Exhibition Game # 1
- UE opened its exhibition slate on Oct. 29 with an 81-56 victory over Oakland City
- Antoine Smith Jr. recorded a game-high 17 points while Marvin Coleman II tallied 12 points and 8 rebounds
- Kenny Strawbridge Jr. and Blaise Beauchamp scored 10 points each while Strawbridge tied Coleman's team high of 8 boards
- After starting the game 1-for-7 from the field, Evansville hit 31 of its final 61 attempts on the way to the win
- Defensively, the Purple Aces forced 19 turnovers while holding the Mighty Oaks to 34.6% shooting
Setting the Scene
- For the second year in a row, UE will open its season in the Cincinnati area following the 2021-22 season opener taking place against the University of Cincinnati
- This will be the 9th meeting since 2009
- UE has won 4 of the last 5 games in the series and 8 out of 10 since 1990
- The last trip to Millett Hall saw the RedHawks finish with a 70-67 win over the Aces on Dec. 30, 2018
Coaching Link
- Aces head coach David Ragland has a connection to Miami assistant Khristian Smith from their days at Indiana State
- Ragland was an assistant coach for the Sycamores in Smith's first two seasons - 2012-13 and 2013-14
- In those two seasons, ISU was 41-26 with two berths in the Postseason NIT
Season Openers
- Monday will tip off the 104th season of Aces basketball
- In 103 previous season openers, the Aces
are 67-36
- UE is in search of its first season-opening road win since a 63-51 win over Western Michigan in 1994
- Since then, the Aces have opened the season on the road just six times, dropping each contest
Scouting the Opponent
- Miami University is in a similar position to Evansville with a new staff in place as Travis Steele is set to coach his first game with the program
- The RedHawks are coming off a 14-18 campaign that saw them record an 8-12 mark in the Mid-American Conference
- Evansville native Mekhi Lairy is the top returning scorer for MU with his average standing at 13.6 points per game last season; a 91.5% free throw shooter a season ago, Lairy completed the season with 109 assists and 40 steals
Submitted by Athletics
Contribute to AceNotes
To have content considered for inclusion in AceNotes, please submit a Marketing Request Form. Deadline for submission to AceNotes is 10:00 a.m. on the requested date of publication. Only articles concerning UE related/sponsored activities will be accepted. Articles submitted to AceNotes may be edited for length and clarity. Submitter contact information is at the end of each article.