| | |
| --- | --- |
| AceNotes Today | Friday, November 4, 2022 |
FREE TICKETS for Students and Faculty/Staff for Sunday Men's Soccer MVC Championship Match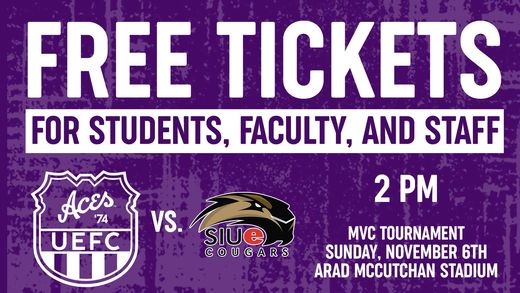 The University of Evansville men's soccer team hosts a MVC Championship quarterfinals match against SIUE at 2 PM on Sunday, November 6th at Arad McCutchan Stadium on campus. We need the full support of our students and faculty, staff, and administration as we look to progress in the postseason!
Free tickets are available for students, faculty, and staff!
Submitted by Michael Robertson mr328@evansville.edu
Groundbreaking Rescheduled
The groundbreaking for Lincoln Commons on November 17, 2022, will be rescheduled to spring 2023. More details to follow early next year.
Submitted by Holly Smith hh98@evansville.edu
Next Week: Celebrate First-Generation Aces
Calling all First-Generation College Students - current students, faculty, and staff!
Next week we celebrate and recognize those Aces who are first-generation college students here at the University of Evansville, and the success of all of the faculty, staff, and administration who were themselves first-generation college students once upon a time.
National First-Generation College Celebration day is Tuesday, November 8 and Ace Scholars will be in Ridgway University Center from 4:00 PM to 6:00 PM talking about UE's first-generation student organization and handing out first-generation swag and giveaways. Celebrate with us and look for our table!
On Friday, November 11 at 4:00 PM, Ace Scholars and the Office of Retention will be hosting a First-Generation Mixer, where all First-Generation Aces - current students, faculty, staff, and administration - can all connect together, network, and enjoy some free refreshments and some festive fall treats. Come and join us in the Class of 59' Gallery on the second floor of Ridgway University Center.
If you were among the first in your family to go to college, or will be the among the first in your family to earn a 4 year degree, come celebrate with us next week! We've all come a long way as we move forward in our futures.
Chad Hart / ch299@evansville.edu
Submitted by Chad Hart ch299@evansville.edu
Virtual Talk with an FBI Forensic Accountant

Rania Mousa, Associate Professor of Accounting and Mead Johnson Nutrition Endowed Chair in Business, would like to invite students to attend an upcoming virtual talk with a guest speaker from the Federal Bureau of Investigation (FBI). The FBI's mission is to protect the American people and uphold the Constitution of the United States. It is an intelligence-driven and threat-focused national security organization with both intelligence and law enforcement responsibilities. It is also the principal investigative arm of the U.S. Department of Justice.
The guest speaker is Forensic Accountant, L. Chris Knight. Agent Knight entered on duty with the FBI Detroit Field Office in October 2004 after working two years at a regional public accounting firm. In October 2006, he transferred to the FBI Indianapolis Field Office's White-Collar Crime squad where he is assigned as a Forensic Accountant. In this role, he is responsible for the review and analysis of financial evidence received in support of criminal and national security investigations. In addition to working at the FBI, he is an adjunct professor at Indiana University's Kelley School of Business in Bloomington and Indiana University-East, where he teaches courses in Fraud Examination and Forensic Accounting.
Mr. Knight graduated with a Bachelor of Science degree in Business Administration with concentrations in Accounting and Legal Studies from Indiana University's Kelley School of Business. Additionally, he earned a Master of Science degree in Criminal Justice from the University of Cincinnati. He is a licensed State of Indiana Certified Public Accountant (CPA) and Certified Fraud Examiner (CFE).
Day: Monday, November 7th
Time: 4:00-6:00 pm
Virtual Talk Link: https://evansville-edu.zoom.us/j/9401122414
Submitted by Dr. Rania Mousa rm190@evansville.edu
Save the Date: Winter on Walnut
Save the date for our annual Winter on Walnut! It will be held on Friday, December 2, from 5:00 - 8:00 p.m.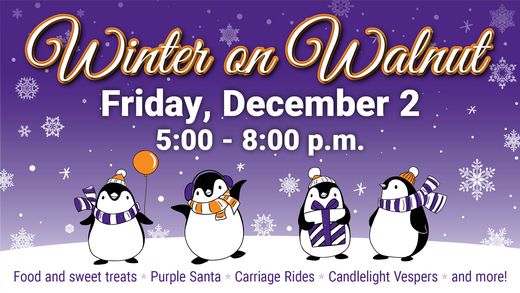 More information will be released at a later date, but the campus community and alumni can expect:
Food and sweet treats
Purple Santa
Ice skating
Train
Carriage rides at the front oval
Lighting of the Christmas tree
Caroling
Candlelight Vespers - 7:00 p.m. in Neu Chapel
Mark your calendars so you don't miss out on this evening of fun!
Submitted by Julie Beer / jb855@evansville.edu
Clothing Drive for Hangers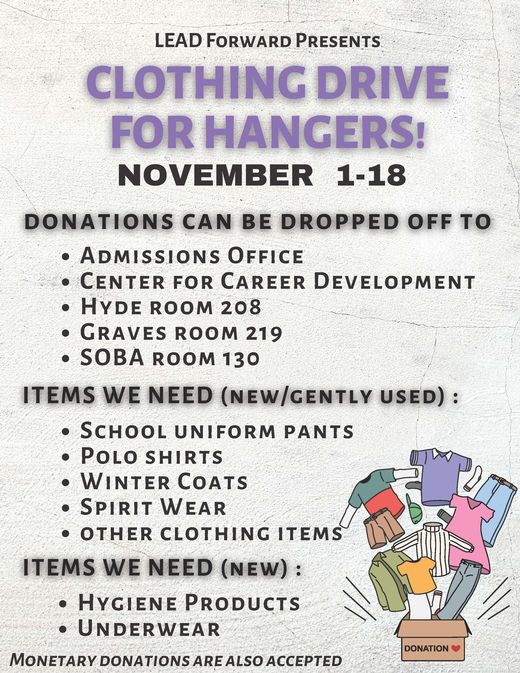 The students of LEAD Forward are hosting a clothing drive for Hangers. Hangers is a resource for EVSC that provides students in need with clothing and other necessities. This program serves thousands of students each year. If you would like to make a donation, please drop the listed items off at the donation bin most convenient for you! All locations are listed on the flyer. Thank you!
Submitted by Maggie Newcomb mn156@evansville.edu
Kent Parker speaks on being an Engineer and an Entrepreneurial Success - November 10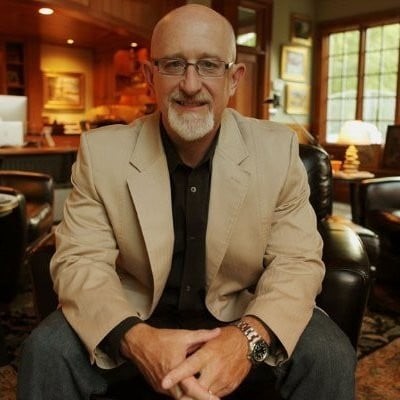 Kent Parker '83
University of Evansville - College of Business & Engineering Speaker Series
The Cross-Functional Fusion of Business & Engineering: Perspectives from an Engineer on Entrepreneurial Success
Thursday, November 10th, 6:00 p.m.
Schroeder School of Business Rm 170
Kent Parker is a business executive, entrepreneur, investor and engineer whose talent and passions have led to leadership positions in a wide range of industries, including business commerce network, software, and supply management services as well as manufacturing, strategic sourcing, and program management.
Reception and networking to follow.
A Zoom option will be provided for those that would like to attend virtually. The link will be sent via email within 48 hours of the start time of the event.
For questions or concerns please contact Nick Bragin at nb197@evansville.edu.
Submitted by Nicholas Bragin nb197@evansville.edu
SAA - Lunchbox Trivia
SAA Social Committee invites you to
Lunchbox Trivia!!!
Thursday, November 10th
12:00 – 1:00pm
Eykamp 252
Pack your lunches and test your knowledge!
There will be a total of five categories including UE/Harlaxton, Holidays, 90's, Movies, and Veteran's Day! Winning team will receive treats for their office and bragging rights.
Teams of up to 4 may register with Lori LeDuc at ll138@evansville.edu
Individuals wishing to participate that do not have a team will be assigned one at the event.
Submitted by Rebecca Oates ro32@evansville.edu
"Hopeless Resistance in Eastern Europe" is topic of Fiddick Lecture
Distinguished Indiana University Historian Padraic Kenney to deliver 2022 Fiddick Lecture on "Why Hopeless Resistance Matters. Lessons from Eastern Europe"
The University of Evansville's Department of History, Politics, and Social Change is proud to welcome Dr Padraic Kenney for the 20th annual Thomas C. Fiddick Memorial Lecture. The Lecture will be in Eykamp Hall in the Ridgway University Center at UE on Friday November 4 at 7pm. The event is free and open to the public.
In the decades from 1974 to 2014, dozens of opposition movements around the world brought about real political change. But in the more recent past, resistance in Russia, Iran, Hong Kong and elsewhere seems to have had little effect. In this lecture, Professor Padraic Kenney will draw insights from successful revolutionary movements in Eastern Europe, especially in the 1980s, but also more recent social mobilization in Ukraine, to consider what political resistance is and why it can work. At the same time, though, he will consider how conditions have become less conducive to the success of resistance.
Padraic Kenney is a Professor of both History and International Studies at Indiana University, where he teaches courses on global democracy movements and revolutions, communism, and Polish and Eastern European History. He is the author of six books, including Dance in Chains: Political Imprisonment in the Modern World (Oxford, 2017) and A Carnival of Revolution: Central Europe, 1989 (Princeton, 2002). In 2016, he was President of the Association for Slavic, East European, and Eurasian Studies (ASEEES). Before coming to Indiana University in 2007, he taught at the University of Colorado. He was educated at Harvard University, the University of Toronto, and the University of Michigan.
Submitted by James MacLeod jm224@evansville.edu
New Hall Openings for Spring 2023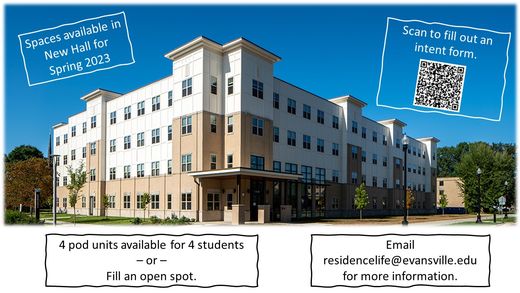 Interested in living in New Hall for the spring semester? The Office of Residence Life has spaces available in New Hall. 4 pod units are available for a group of 4 students or there are individual spaces within pods available. If you are interested, email Brian Conner, bc32, by November 18 for more information.
Submitted by Brian Conner bc32@evansville.edu
We the People Volunteers Needed
UE is once again proud to host the Southern Regional Competition for We the People: The Citizen & the Constitution. On Wednesday, 11/9, we will welcome 8 schools (both high school and middle school) to campus as they work to earn a place at Indiana's State Finals. We need volunteers for the following shifts. If interested and available, email Erin Lewis at EL131@evansville.edu or text 812-449-1044. No experience needed for any shift!
Shift 1: 8:30am - 9:45am - Greeter (4 needed): Stand outside SOBA on the circle and Rotherwood sides, welcome the teams as they arrive and help them get to their classrooms. Purple UE scarf provided (must be returned), UE casual attire.
Shift 2: 8:45am - noon. Judges' Facilitator (6 needed): Serve as a guide for a panel of judges, getting them from room to room on time. Business casual attire recommended.
Shift 3: 11:30am - 12:00pm (8 needed): Lunch guide. Stand outside their hearing rooms as they finish their rounds, then guide them to Ridgway Eykamp Hall for lunch. Serving as an Ambassador for UE on the way. UE casual attire.
Submitted by Erin Lewis el131@evansville.edu
2022-23 Student Consumer Information
The U.S. Department of Education requires universities to disclose consumer information to prospective and enrolled students, parents, and employees. This information is available on the University of Evansville website at https://www.evansville.edu/student-financial-services/student-consumer-information.cfm.
Questions may be directed to the Office of Student Financial Services at 800-424-8634, 812-488-2364, or studentfinancialservices@evansville.edu. A paper copy of this information is available upon request. Information included on the Consumer Information page:
Academic Programs Information
Accrediting and Licensing Agencies
Alcohol and Drug Policy/Prevention Programs
Athletics Program Participation Rates and Financial Support Data
Code of Conduct
Copyright Infringement Policy and Peer to Peer File Sharing Information
Cost of Attendance Information
Diversity – Student Body Diversity by Gender, Ethnicity, and Pell Grant Status
Emergency Response and Evacuation Information
Employment and Graduate School Information for Recent UE Graduates
Family Educational Rights and Privacy Act (FERPA)
Federal Student Financial Aid Penalties for Drug Law Violations
Financial Aid Credit Balance Refund Policy
Financial Aid Information
General Information
Graduation Rates by gender, race and ethnicity, and selected financial aid groups
Graduation Rates for General Student Body
Graduation Rates for Student-Athletes
Grievance and Complaint Procedures
Health Insurance Portability and Accountability Act (HIPAA)
Missing Person Protocol
Net Price Calculator
Program Closure Policy
Refund Policy and Return of Title IV Funds
Retention and Graduation Rates of Degree-Seeking, First-Time, Undergraduate Students
Satisfactory Academic Progress Policy Information
Security and Fire Safety Report
Services and Facilities for Students with Disabilities
Student Loan Forgiveness, Cancellation, and Discharge
Study Abroad
Teacher Preparation Accountability
Textbook Information
Transfer Policies on Credits that Transfer to UE
Transfer Articulation Agreement Partner Colleges
Vaccination Policies
Verification Policy
Veteran Information
Voter Registration Information
Submitted by Amy Sowders as560@evansville.edu
Change a Young Life - Volunteers to Mentor Needed
UE's College Mentors for Kids chapter needs student volunteers to mentor young children from our local community. Students from all majors have the opportunity to be inspirational role models for elementary-age students, and all UE students enrolled full-time are eligible to apply. Mentoring involves a one-hour weekly commitment on Wednesdays to check in with your little buddy. To begin the application process, please email our College Mentors for Kids President, Lyndsay Deal, at ld157@evansville.edu. Join College Mentors for Kids today, volunteer, and help us make this year our best year for our UE chapter of College Mentors for Kids.
Submitted by Lisa Marie Hale lh241@evansville.edu
Dawn Murtaugh: Fiber Art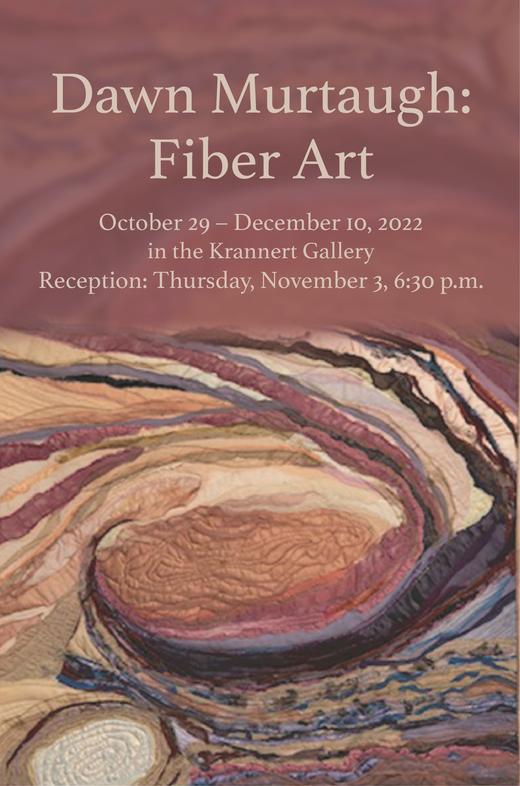 The Dawn Murtaugh: Fiber Art exhibit is open from October 29 through December 10, 2022 in the Krannert Gallery. Please plan to attend the artist reception on Thursday, November 3 at 6:30 p.m.
Submitted by Carol McCraney cm177@evansville.edu
Are You Ready For Advising and Registration Week?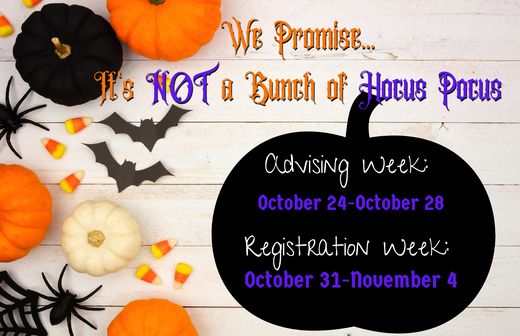 The time to plan your next semester is fast approaching! Advising Week is October 24-28 and Registration Week begins October 31-November 4. Make sure to schedule an appointment with your advisor NOW, to be ready for registration. Check your UE email! You'll receive your registration time in the coming weeks. As always, if you have questions or concerns visit Academic Services in Olmsted Hall 116 or email us at academicservices@evansville.edu.
Submitted by Jade S Shelby js818@evansville.edu
Aces open postseason in MVC Championship against SIUE
Hosting a postseason match for the second-straight season, the University of Evansville men's soccer team opens the Missouri Valley Conference Championship against No. 6 seed SIUE at 2 PM on Sunday at Arad McCutchan Stadium in Evansville.
The Aces and Cougars are meeting for the third time this season with Evansville capturing victories in the two regular season meetings, 2-0 at McCutchan Stadium and 2-1 on the road in Edwardsville. Evansville and SIUE have only met once previously in the postseason, doing so in 2016 in the MVC Championship semifinals, with SIUE capturing a 2-1 win. A year ago, Evansville went on a magical run in the MVC Championship, winning its quarterfinal matchup with Drake, 4-2, before upsetting No. 2 seed Loyola and advancing to the championship match on PKs, before falling to the host Bears in the championship. The Aces are 7-13-2 all-time in first round matchups in the MVC Tournament.
Tickets for Sunday's match are just $5 for the general public. Groups interested in attending can get tickets for $3 for adults and all youth attending as part of the group get in free. UE students, faculty, and staff receive free admission to the match.
Submitted by Athletics
UE Swimming & Diving To Host Eastern Illinois, Illinois State Saturday At Deaconess Aquatic Center
The University of Evansville swimming and diving teams will host their first meet of the 2022-23 season at the Deaconess Aquatic Center on Saturday afternoon, as the Purple Aces will welcome Eastern Illinois and Illinois State to Evansville. The meet will begin at 1 p.m.
The UE men will compete against Eastern Illinois in a dual meet, while the UE women will compete against both EIU and Illinois State in a triangular meet. UE officially hosted the first-ever meet at the Deaconess Aquatic Center last November 6 by sweeping a meet against Arkansas-Little Rock and Saint Louis. The $30 million state-of-the-art facility opened to the Evansville public on October 4, 2021. It features a stretch 50-meter competitive pool, plus a separate diving well with one-meter and three-meter springboards. The Deaconess Aquatic Center features raised spectator seating for just under 1,000 people, with the ability to accommodate over 1,000 bleacher seats on the pool deck. It is located at 1700 North Main Street in Evansville and is adjacent to historic Bosse Field.
"We are excited to be able to compete again at the Deaconess Aquatic Center," said UE head coach Stuart Wilson. "It is one of the best swimming facilities in the Midwest, and to have it right in our backyard and be able to utilize it for meets is huge for our program."
UE last competed two weeks ago, as the men battled Missouri State and Southern Illinois, while the women competed in the MVC Showcase in Carbondale, Illinois. On the men's side, junior Alon Baer (Gesher, HaZiv, Israel) remained undefeated in the breaststroke events on the season, as he won both the 100- and 200-Yard Breaststroke events in a triangular meet against Missouri State and SIU. On the women's side, senior Sarah Jahns (Lilburn, Ga./Parkview) continued her strong start to the 2022-23 season, placing second in the 200-Yard Backstroke (2:06.17), while also placing fourth in the 500 Free. Jahns won both the 500- and 1,000-Yard Freestyle events in UE's season-opening dual meet victory at Valparaiso.
"Both teams have really been going hard in training this week, so it will be fun to get out and race and compete on Saturday," said Wilson. "I am really looking forward to seeing what we can do in front of our home fans."
The meet is open to the public. Admission is $5.
Submitted by Athletics
Michael Ikejiani named MVC Men's Golfer of the Week
An excellent week for University of Evansville junior Michael Ikejiani continued on Thursday when he was named the Missouri Valley Conference Men's Golfer of the Week.
Ikejiani registered a 5-under 67 in Tuesday's second round of the Alabama A&M Fall Invite. It was tied for the 4th-lowest round in school history. Just nine men's golfers have recorded a lower round for the Purple Aces.
His efforts saw him tie for the 9th spot at the tournament with a 2-round score of 145. His final 18 holes was an 11-stroke turnaround from his first round on Monday at Robert Trent Jones at Hampton Cover in Owens Crossroads, Alabama.
Submitted by Athletics
Contribute to AceNotes
To have content considered for inclusion in AceNotes, please submit a Marketing Request Form. Deadline for submission to AceNotes is 10:00 a.m. on the requested date of publication. Only articles concerning UE related/sponsored activities will be accepted. Articles submitted to AceNotes may be edited for length and clarity. Submitter contact information is at the end of each article.