| | |
| --- | --- |
| AceNotes Today | Thursday, November 3, 2022 |
Groundbreaking Rescheduled
The groundbreaking for Lincoln Commons on November 17, 2022, will be rescheduled to spring 2023. More details to follow early next year.
Submitted by Holly Smith hh98@evansville.edu
Virtual Talk with an FBI Forensic Accountant

Rania Mousa, Associate Professor of Accounting and Mead Johnson Nutrition Endowed Chair in Business, would like to invite students to attend an upcoming virtual talk with a guest speaker from the Federal Bureau of Investigation (FBI). The FBI's mission is to protect the American people and uphold the Constitution of the United States. It is an intelligence-driven and threat-focused national security organization with both intelligence and law enforcement responsibilities. It is also the principal investigative arm of the U.S. Department of Justice.
The guest speaker is Forensic Accountant, L. Chris Knight. Agent Knight entered on duty with the FBI Detroit Field Office in October 2004 after working two years at a regional public accounting firm. In October 2006, he transferred to the FBI Indianapolis Field Office's White-Collar Crime squad where he is assigned as a Forensic Accountant. In this role, he is responsible for the review and analysis of financial evidence received in support of criminal and national security investigations. In addition to working at the FBI, he is an adjunct professor at Indiana University's Kelley School of Business in Bloomington and Indiana University-East, where he teaches courses in Fraud Examination and Forensic Accounting.
Mr. Knight graduated with a Bachelor of Science degree in Business Administration with concentrations in Accounting and Legal Studies from Indiana University's Kelley School of Business. Additionally, he earned a Master of Science degree in Criminal Justice from the University of Cincinnati. He is a licensed State of Indiana Certified Public Accountant (CPA) and Certified Fraud Examiner (CFE).
Day: Monday, November 7th
Time: 4:00-6:00 pm
Virtual Talk Link: https://evansville-edu.zoom.us/j/9401122414
Submitted by Dr. Rania Mousa rm190@evansville.edu
Climbing at Vertical Excape with the Venturing Crew
Join the Venturing Crew as we climb the night away at Vertical Excape from 8pm till midnight on November 19th.
We will provide Pizza, drinks and a good time. The event is free and bus transportation will be provided.
Make sure to RSVP here on UEngage as we only have 75 spots available.
Submitted by Fred Wilson fw2@evansville.edu
Save the Date: Winter on Walnut
Save the date for our annual Winter on Walnut! It will be held on Friday, December 2, from 5:00 - 8:00 p.m.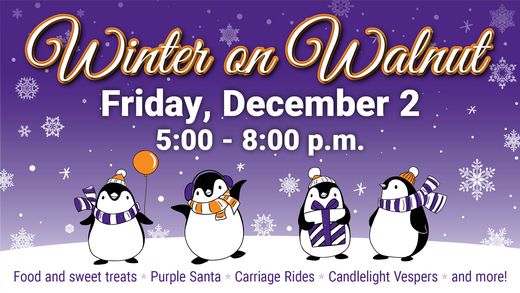 More information will be released at a later date, but the campus community and alumni can expect:
Food and sweet treats
Purple Santa
Ice skating
Train
Carriage rides at the front oval
Lighting of the Christmas tree
Caroling
Candlelight Vespers - 7:00 p.m. in Neu Chapel
Mark your calendars so you don't miss out on this evening of fun!
Submitted by Julie Beer / jb855@evansville.edu
ECTE Lunch and Learn
Greetings!
Join us for ECTE's Lunch and Learn this Thursday 11/3 in the Philips Alcove (Ridgway 2nd floor) from 12:15-1:00 p.m. for a Lunch and Learn presentation!
Dr. Vincent Campese will be presenting his upcoming research ideas regarding "Death-thought anxiety, misinformation and the Covid-19 pandemic: Persuasion through perspective."
Tacos and dessert will be provided. We look forward to seeing you there!
Eykamp Center for Teaching Excellence
Kyle and Diana
Submitted by Kyle Matsel km218@evansville.edu
Nonprofit Career & Volunteer Fair
Roles within nonprofit organizations can and often look identical to roles in private (for-profit) and public sector counterparts. A common misconception is that nonprofits cannot generate revenue. The difference is non-profits reinvest surplus funds into the organization to continue the promotion of its mission rather than paying share holders.
Join us for a nonprofit fair on Thursday, November 3 from 12 -1pm in the SOBA Atrium.
You can learn more about job, internship, and volunteer opportunities or come to learn more from professionals about the structure and operation of their organization!
Participating nonprofits include:
Albion Fellows Bacon Center
Boys & Girls Club
Catholic Charities
Catholic Diocese of Evansville
Easter Seals
Habitat for Humanity
Junior Achievement
Koch Family Children's Museum of Evansville (cMoe)
Susan G. Komen
Vanderburgh County CASA
Wesselman Woods
WNIN
Submitted by Nick Bragin nb197@evansville.edu
Become an Orientation Leader: Harlaxton Application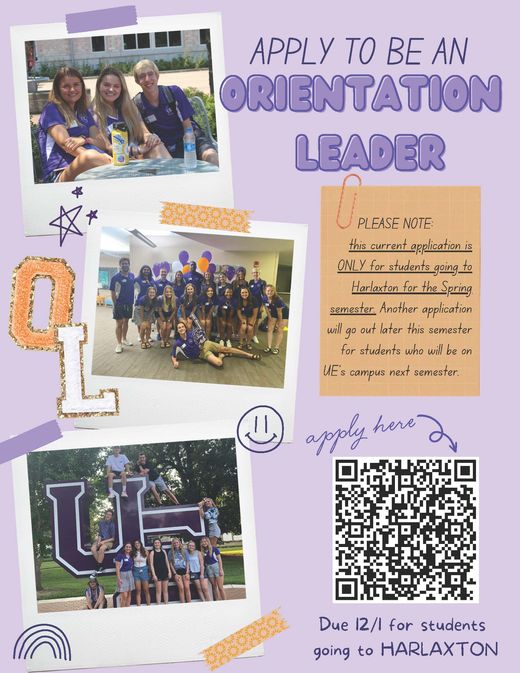 Going to Harlaxton this Spring? Apply to be an Orientation Leader now, so you don't miss the Spring interview process! Please note, another application will be sent out in the future for students that will still be on campus next semester. This round of applications closes on December 1st, and interviews will be on December 8th. Please contact Shelby Gardner, sg293@evansville.edu with any questions. We look forward to your applications!
Submitted by Shelby Gardner sg293@evansville.edu
2022-23 Student Consumer Information
The U.S. Department of Education requires universities to disclose consumer information to prospective and enrolled students, parents, and employees. This information is available on the University of Evansville website at https://www.evansville.edu/student-financial-services/student-consumer-information.cfm.
Questions may be directed to the Office of Student Financial Services at 800-424-8634, 812-488-2364, or studentfinancialservices@evansville.edu. A paper copy of this information is available upon request. Information included on the Consumer Information page:
Academic Programs Information
Accrediting and Licensing Agencies
Alcohol and Drug Policy/Prevention Programs
Athletics Program Participation Rates and Financial Support Data
Code of Conduct
Copyright Infringement Policy and Peer to Peer File Sharing Information
Cost of Attendance Information
Diversity – Student Body Diversity by Gender, Ethnicity, and Pell Grant Status
Emergency Response and Evacuation Information
Employment and Graduate School Information for Recent UE Graduates
Family Educational Rights and Privacy Act (FERPA)
Federal Student Financial Aid Penalties for Drug Law Violations
Financial Aid Credit Balance Refund Policy
Financial Aid Information
General Information
Graduation Rates by gender, race and ethnicity, and selected financial aid groups
Graduation Rates for General Student Body
Graduation Rates for Student-Athletes
Grievance and Complaint Procedures
Health Insurance Portability and Accountability Act (HIPAA)
Missing Person Protocol
Net Price Calculator
Program Closure Policy
Refund Policy and Return of Title IV Funds
Retention and Graduation Rates of Degree-Seeking, First-Time, Undergraduate Students
Satisfactory Academic Progress Policy Information
Security and Fire Safety Report
Services and Facilities for Students with Disabilities
Student Loan Forgiveness, Cancellation, and Discharge
Study Abroad
Teacher Preparation Accountability
Textbook Information
Transfer Policies on Credits that Transfer to UE
Transfer Articulation Agreement Partner Colleges
Vaccination Policies
Verification Policy
Veteran Information
Voter Registration Information
Submitted by Amy Sowders as560@evansville.edu
Dawn Murtaugh: Fiber Art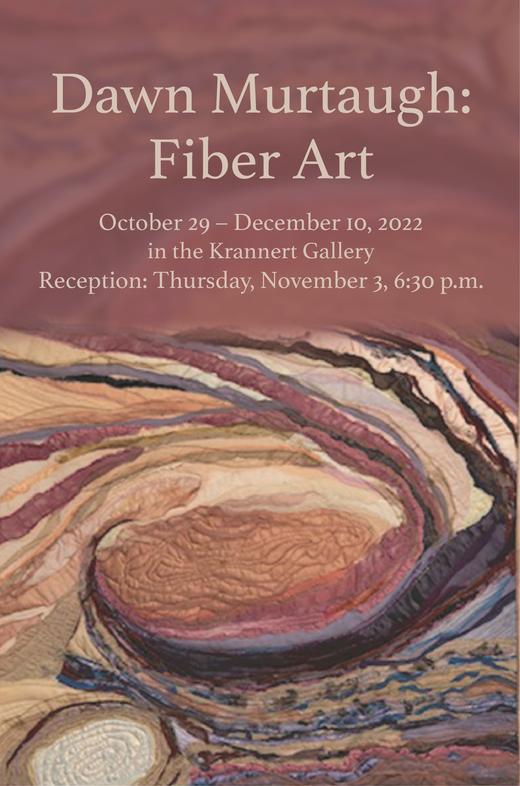 Please plan to attend the artist reception in the Krannert Gallery for Dawn Murtaugh at 6:30 p.m. tonight.
The Dawn Murtaugh: Fiber Art exhibit and reception is sponsored by the Efroymson Family Fund and the University of Evansville Department of Art.
Submitted by Carol McCraney cm177@evansville.edu
Dawn Murtaugh: Fiber Art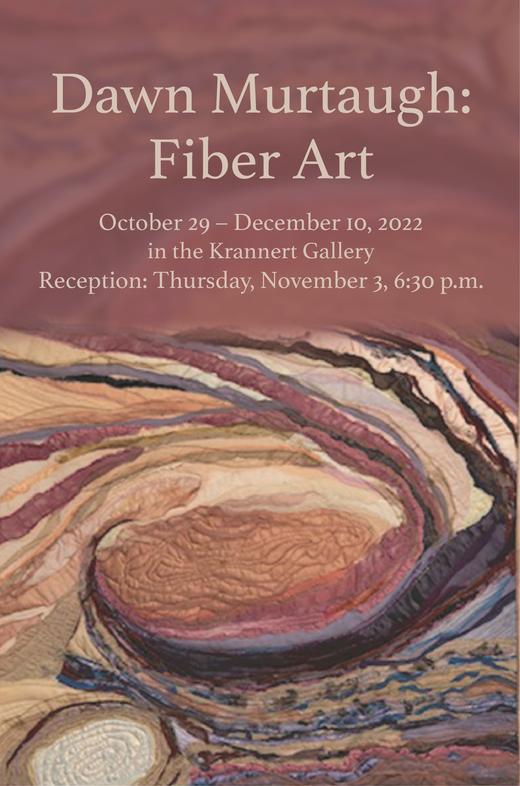 Please plan to attend the artist reception in the Krannert Gallery for Dawn Murtaugh at 6:30 p.m. tonight.
The Dawn Murtaugh: Fiber Art exhibit and reception is sponsored by the Efroymson Family Fund and the University of Evansville Department of Art.
Submitted by Carol McCraney cm177@evansville.edu
Chartwells is Hiring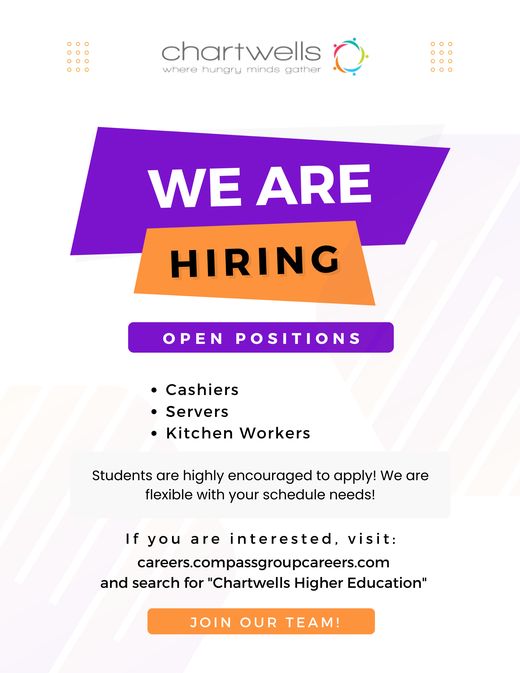 Hey Aces! Looking for a job? Come join our team in the Eatery! We are flexible with scheduling needs! We are looking for cashiers, kitchen workers, and servers. If you're interested, visit careers.compassgroupcareers.com and search for "Chartwells Higher Education" and enter Evansville in the location to get started!
Submitted by Ka'Bria Carr kc403@evansville.edu
Professor Azarian Publishes Reviews of Research Papers in Zentralblatt MATH and an Article in the International Mathematical Forum
Mohammad K. Azarian, Professor of Mathematics, published reviews of research papers in Zentralblatt MATH. Established in 1931, Zentralblatt MATH is a "major international reviewing service providing reviews and abstracts for articles in pure and applied mathematics, produced by the European Mathematical Society, FIZ Karlsruhe (Leibniz Institute for Information Infrastructure), and the Heidelberg Academy of Sciences".
Zbl 07568619: A mechanical concentric solar model in Kh?zin?'s Mu'tabar z?j, Arch. Hist. Exact Sci. 76, No. 5, 513-529 (2022), by S. Mohammad Mozaffari.
Zbl 07556179: Generalized hyper-Fibonacci numbers and applications, Integers 22, Paper A19, 10 p. (2022), by Lyes Ait-Amrane and Djilali Behloul.
Zbl 1492.11021: On the number of residues of linear recurrences, Res. Number Theory 8, No. 1, Paper No. 7, 10 p. (2022), by Carlo Sanna.
Zbl 1492.11034: Three imprimitive character sums, Integers 21, Paper A103, 10 p. (2021), by Brad Isaacson.
Zbl 1479.26019: Some best possible integral estimates involving Bernoulli polynomials, Arch. Math. 117, No. 4, 411-422 (2021), by Raymond Mortini and Rudolf Rupp.
Also, Dr. Azarian published the article Remarks and conjectures regarding combinatorics of discrete partial functions, International Mathematical Forum, Vol. 17, 2022, no. 3, 129 - 141, https://doi.org/10.12988/imf.2022.912321.
Submitted by Mohammad K. Azarian ma3@evansville.edu
Volleyball set for final MVC road swing
Taking to the road for the final time in the 2022 regular season, the University of Evansville volleyball team will make weekend stops at Missouri State and Southern Illinois. UE opens on the road Friday evening versus the Bears in a 6PM match before heading to Carbondale for a 5PM match against the Salukis on Saturday with both matches to be carried on ESPN3.
Weekend Road Sweep
- Evansville picked up a pair of road victories over the weekend defeating Valpo and UIC
- The effort marked the third MVC weekend road sweep since UE head coach Fernando Morales took over in 2019
- Between 1994 (when UE joined the MVC) and 2018, the program had just on weekend road sweep but since Morales took over, UE has had one in three out of four seasons
New Record
- On Oct. 22, Alondra Vazquez became the all-time program kills leader, breaking Jessica Kiefer's record of 1,706
- Vazquez officially set the record in the first set of the home contest against Drake and has continued to add to her number
- Her current tally of 1,773 kills is tied for 5th in MVC history
1) 2,293 Lily Johnson, Missouri State, 2014-17
2) 1,948 Lindsay Stalzer, Bradley, 2002-05
3) 1,919 Michelle Witzke, Missouri State, 1994-97
4) 1,779 Molly O'Brien, UNI, 2000-03
5) 1,773 Chris Rehor, Illinois State, 1985-88
1,773 Alondra Vazquez, Evansville, 2018-
7) 1,725 Cheryl Berg, Indiana State, 1998-01
8) 1,732 Jenny Pavlas, Bradley, 1993-97
9) 1,720 Kate Galer, UNI, 1993-96
10) 1,709 Karlie Taylor, UNI, 2016-19
- Earlier this season, Vazquez moved past Julie Groves for the most attempts in program history and now has 5,125, with Groves' mark of 4,401 ranking second
- Groves played at UE from 1997-2000
- Vazquez also moved into the top ten in career digs with 1,470...she is currently 5th
Clutch Efforts
- Emilee Scheumann stepped up in a big way in the weekend road sweep at Valpo and UIC as she posted 2.63 kills per set while hitting an impressive .391
- She opened the week by tying her career mark with 11 kills against the Beacons before totaling 10 kills and a .529 hitting tally at UIC
- Scheumann had two more impressive efforts UE defeated Illinois State and Bradley to open the MVC slate, posting 8 kills in both matches while hitting .538 & .375, respectively
- After totaling three kills in the opening four matches, she has notched 129 kills in the last 23 contests...she averaged 0.20 kills in the first four matches but has seen that average rise to 1.45 since that time including a career-high of 11 vs. Tennessee State and at Valpo
- She has notched 4+ kills in 15 of the last 23 matches
Freshman Honor
- Kora Ruff continues to put together an extraordinary season and was rewarded for her efforts on October 31 as she was named the MVC Freshman of the Week for the first time in her career
- In the weekend road victories at Valpo and UIC, Ruff averaged 11.75 assists, 3.00 digs and 0.63 service aces
- Her season assist mark of 10.01 per set puts her fourth in the MVC while her average in conference matches is even better at 10.42/set
- Ruff's total of 1,011 assists on the season is 7th-best in the NCAA
Honor #5 for Vazquez
- For the fifth time in her career, Alondra Vazquez was named the MVC Player of the Week, garnering the honor on Monday
- She averaged 4.75 kills and 3.75 digs per set in the road wins at Valparaiso and UIC
- Her season average of 4.68 kills per set paces the MVC while ranking 9th nationally
- Over the last eight matches, she has upped her efforts to a new level, averaging 5.23 kills per game
Submitted by Athletics
UE's Helder Named To MVC Cross Country Scholar-Athlete Team
University of Evansville graduate student Melanie Helder (Hudsonville, Mich./Hudsonville) has been named to the Missouri Valley Conference Cross Country Scholar-Athlete Team for her work both in the classroom and on the cross country course.
Helder, who is currently pursuing her Doctorate of Physical Therapy at UE, garnered MVC Scholar-Athlete Team honors after placing 13th overall at the MVC Championships in Terre Haute last Friday. Scholar-Athlete honors in cross country require student-athletes to meet performance standards, as they must finish in the first 20 runners at the conference championships, and hold at least a cumulative 3.5 GPA and be in sophomore standings academically. Helder earned CoSIDA Academic All-District honors at Michigan State last year after graduating from MSU with a 3.98 GPA.
Helder and the Purple Aces will now turn their attention to the indoor track season, with competitions beginning early next month.
Submitted by Athletics
UE's Ormson, Rosborough Earn All-MVC Honors In Women's Soccer
University of Evansville fifth-year forward Emily Ormson (Folsom, Calif./Vista del Lago HS) and junior defender Rachel Rosborough (Mt. Brydges, Ontario/Strathroy District Collegiate Institute) took home all-Missouri Valley Conference honors on Wednesday night, as the league announced its post-season award winners in a banquet prior to the MVC Tournament semifinals in Valparaiso, Indiana.
Ormson earned second-team all-Valley honors, while Rosborough was named to the Valley's third team all-conference. For both players, it marks the second-straight year in which they earned all-Valley accolades.
Ormson was named to the league's all-conference second team after ranking in the league's top 10 in most offensive categories this season. She currently ranks second in points per match (0.81) and fourth in total points with 13, while ranking tied for third in the league in goals scored (five) and tied for ninth in assists (three). Ormson also leads the league in shots on goal (24) and shots on goal per match (1.50), while ranking second in NCAA Division I women's college soccer in shot accuracy at 70.6 percent.
Rosborough, meanwhile, was one of the league's top lock-down defenders, while earning third-team all-Valley honors. Of the 113 shots allowed by Evansville this year in MVC play, only 10 came by players marked by Rosborough. This year, she also became an important part of the UE attack, as she tied Ormson for the team-lead with three assists. All three assists came in league play, as she tied for fourth in the league in assists in conference play, while playing every minute of league action. Overall, she ranked second on the team in minutes played with 1,305.
Missouri State's Grace O'Keefe (Player Of The Year), Carly Raunig (Defensive POY), and Hailey Chambliss (Freshman Of The Year) took home three of the four main individual awards at the tournament banquet, with Valparaiso goalkeeper Nikki Coryell earning her third-straight Goalkeeper of the Year honor.
Submitted by Athletics
Men's basketball wraps up preseason with another win
Kenny Strawbridge Jr. and Antoine Smith Jr. were the top scorers once again as the University of Evansville men's basketball team wrapped up its exhibition slate with a 74-64 victory over Huntington University on Wednesday evening inside the Ford Center.
"We knew this was going to be a good test. Huntington went to the national tournament last season and returned an All-American and have good shooters all the way around," Aces head coach David Ragland said. "Both teams made runs to take the lead and I am happy with how we responded. We are playing for each other and are working to get better."
Strawbridge recorded 18 points and 6 rebounds in the win. He was 4-for-6 from outside while adding four assists. Smith continued his efficient shooting, going 6-for-7 from the field on his way to 15 points. He also tied for the game-high with six caroms. Blaise Beauchamp added 12 points while Marvin Coleman II scored 11. Coleman also recorded six boards.
Sekou Kalle had the first bucket of the night before the Foresters scored five in a row to take their first lead of the game. Marvin Coleman II converted the first triple for the Aces to put them back in front at 6-5 before Huntington posted the next three to go back in front at 8-6.
Evansville regrouped and would go on an 11-0 run to take its largest lead at 17-8. Antoine Smith Jr. got things started with a runner to tie it up while Kenny Strawbridge Jr. took a pass from Smith and turned it into a triple for the next UE score. Smith added another triple while Strawbridge connected on another field goal to close the rally with the Aces up 17-8.
In the blink of an eye, Huntington stormed back. Scoring eight in a row, the Foresters made it a 1-point game at the midway point of the half and would continue to rally. What turned into a 12-2 rally, the Foresters went back in front by a 20-19 score with 8:49 remaining in the half.
Trailing by a 22-21 margin, Evansville reeled off ten in a row to help make it a 34-27 game at the half. After Gage Bobe opened the run with a layup, Preston Phillips launched a 3-pointer at the buzzer to make it a 26-22 game with 5:50 showing on the clock. Strawbridge also added a trey in the run. Strawbridge led all players with 12 points in the first half.
Out of the break, Bobe hit the opening attempt to push the lead back to nine, but the Foresters fought back with another run, outscoring UE by an 8-2 margin to get back within a possession. Huntington kept it within two possessions for the next sequence until Coleman and Strawbridge added buckets to push the lead to 57-49 with under eight minutes left.
After the Foresters got within six to make it a 57-51 score, the Aces made a statement. Knocking down nine out of ten field goal attempts, UE extended the lead to a game-high of 13 points when a shot by Blaise Beauchamp made it a 64-51 game inside of the 6-minute mark. The Foresters cut slightly into the deficit over the final moments but the Aces held strong, winning by a 74-64 final.
"It is always important to win – they (Huntington) are a good team and came ready to play. They had nothing to lose and shot well. We need to learn what we can from tonight and be ready for our next game," Coleman exclaimed following the victory. "We need to approach every game with the same mentality and work to get better each and every day."
UE wrapped up the game shooting an even 50%, hitting 30 out of 60 field goal tries. The defense held the Foresters to 39.7% shooting along with a 29.4% tally from outside. With seven players hauling in five or more rebounds, the Aces finished with a 45-31 edge in that statistic.
With two successful exhibition games under their belt, the Aces are set to open the regular season on Monday evening at Miami Ohio.
Submitted by Athletics
Contribute to AceNotes
To have content considered for inclusion in AceNotes, please submit a Marketing Request Form. Deadline for submission to AceNotes is 10:00 a.m. on the requested date of publication. Only articles concerning UE related/sponsored activities will be accepted. Articles submitted to AceNotes may be edited for length and clarity. Submitter contact information is at the end of each article.