| | |
| --- | --- |
| AceNotes Today | Monday, October 31, 2022 |
Nonprofit Career & Volunteer Fair
Roles within nonprofit organizations can and often look identical to roles in private (for-profit) and public sector counterparts. A common misconception is that nonprofits cannot generate revenue. The difference is non-profits reinvest surplus funds into the organization to continue the promotion of its mission rather than paying share holders.
Join us for a nonprofit fair on Thursday, November 3 from 12 -1pm in the SOBA Atrium.
You can learn more about job, internship, and volunteer opportunities or come to learn more from professionals about the structure and operation of their organization!
Participating nonprofits include:
Albion Fellows Bacon Center
Boys & Girls Club
Catholic Charities
Catholic Diocese of Evansville
Easter Seals
Habitat for Humanity
Junior Achievement
Koch Family Children's Museum of Evansville (cMoe)
Susan G. Komen
Vanderburgh County CASA
Wesselman Woods
WNIN
Submitted by Nick Bragin nb197@evansville.edu
Kent Parker speaks on being an Engineer and an Entrepreneurial Success - November 10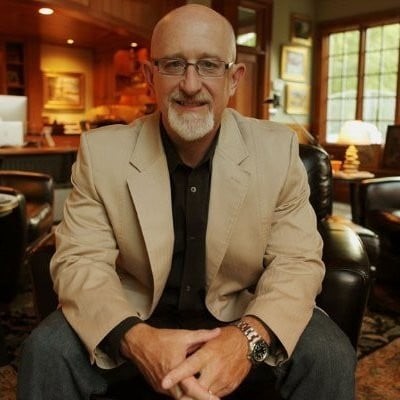 Kent Parker '83
University of Evansville - College of Business & Engineering Speaker Series
The Cross-Functional Fusion of Business & Engineering: Perspectives from an Engineer on Entrepreneurial Success
Thursday, November 10th, 6:00 p.m.
Schroeder School of Business Rm 170
Kent Parker is a business executive, entrepreneur, investor and engineer whose talent and passions have led to leadership positions in a wide range of industries, including business commerce network, software, and supply management services as well as manufacturing, strategic sourcing, and program management.
Reception and networking to follow.
A Zoom option will be provided for those that would like to attend virtually. The link will be sent via email within 48 hours of the start time of the event.
For questions or concerns please contact Nick Bragin at nb197@evansville.edu.
Submitted by Nicholas Bragin nb197@evansville.edu
SAA - Lunchbox Trivia
SAA Social Committee invites you to
Lunchbox Trivia!!!
Thursday, November 10th
12:00 – 1:00pm
Eykamp 252
Pack your lunches and test your knowledge!
There will be a total of five categories including UE/Harlaxton, Holidays, 90's, Movies, and Veteran's Day! Winning team will receive treats for their office and bragging rights.
Teams of up to 4 may register with Lori LeDuc at ll138@evansville.edu
Individuals wishing to participate that do not have a team will be assigned one at the event.
Submitted by Rebecca Oates ro32@evansville.edu
"Hopeless Resistance in Eastern Europe" is topic of Fiddick Lecture
Distinguished Indiana University Historian Padraic Kenney to deliver 2022 Fiddick Lecture on "Why Hopeless Resistance Matters. Lessons from Eastern Europe"
The University of Evansville's Department of History, Politics, and Social Change is proud to welcome Dr Padraic Kenney for the 20th annual Thomas C. Fiddick Memorial Lecture. The Lecture will be in Eykamp Hall in the Ridgway University Center at UE on Friday November 4 at 7pm. The event is free and open to the public.
In the decades from 1974 to 2014, dozens of opposition movements around the world brought about real political change. But in the more recent past, resistance in Russia, Iran, Hong Kong and elsewhere seems to have had little effect. In this lecture, Professor Padraic Kenney will draw insights from successful revolutionary movements in Eastern Europe, especially in the 1980s, but also more recent social mobilization in Ukraine, to consider what political resistance is and why it can work. At the same time, though, he will consider how conditions have become less conducive to the success of resistance.
Padraic Kenney is a Professor of both History and International Studies at Indiana University, where he teaches courses on global democracy movements and revolutions, communism, and Polish and Eastern European History. He is the author of six books, including Dance in Chains: Political Imprisonment in the Modern World (Oxford, 2017) and A Carnival of Revolution: Central Europe, 1989 (Princeton, 2002). In 2016, he was President of the Association for Slavic, East European, and Eurasian Studies (ASEEES). Before coming to Indiana University in 2007, he taught at the University of Colorado. He was educated at Harvard University, the University of Toronto, and the University of Michigan.
Submitted by James MacLeod jm224@evansville.edu
Dawn Murtaugh: Fiber Art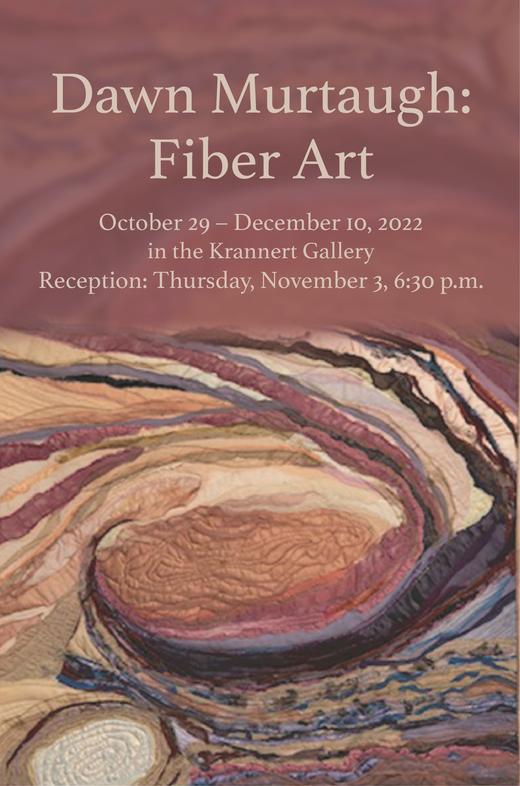 The Dawn Murtaugh: Fiber Art exhibit is open from October 29 through December 10, 2022 in the Krannert Gallery. Please plan to attend the artist reception on Thursday, November 3 at 6:30 p.m.
Submitted by Carol McCraney cm177@evansville.edu
2022 Flu Shots
Wednesday, November 2nd from 9am-3pm the Student Health Center will be providing Flu shots free of charge to the first 130 students. No appointment will be necessary. After the first 130 students, the cost will be $20 CASHLESS only.
Submitted by Benton Simpson bs361@evansville.edu
Are You Ready For Advising and Registration Week?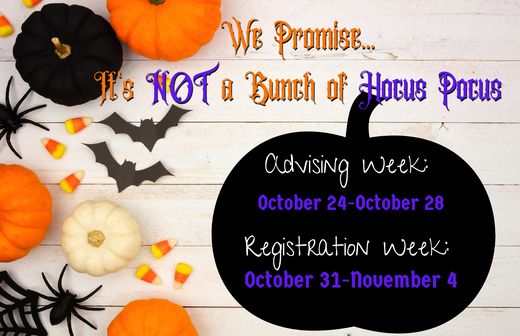 The time to plan your next semester is fast approaching! Advising Week is October 24-28 and Registration Week begins October 31-November 4. Make sure to schedule an appointment with your advisor NOW, to be ready for registration. Check your UE email! You'll receive your registration time in the coming weeks. As always, if you have questions or concerns visit Academic Services in Olmsted Hall 116 or email us at academicservices@evansville.edu.
Submitted by Jade S Shelby js818@evansville.edu
Apply for UELA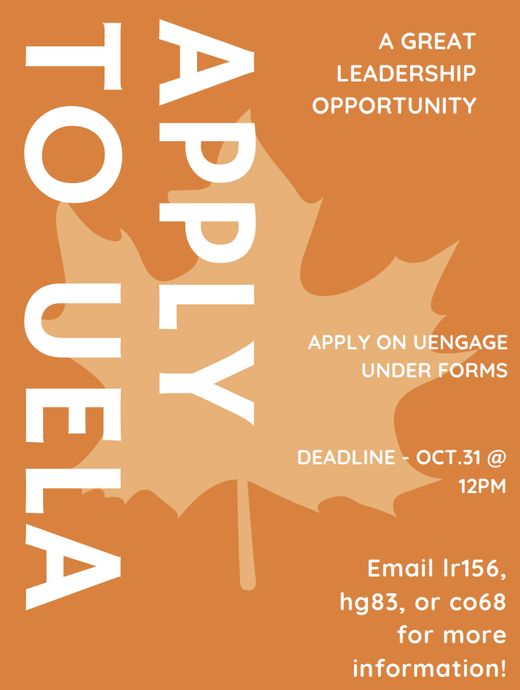 The University of Evansville Leadership Academy applications are now open! All students who have at least two years before graduation at UE are encouraged to apply. Applications will close on October 31st. Please reach out to Caitlin O'Donnell, Hannah Garrity, or Lily Renfro if you have any questions!
Submitted by Caitlin O'Donnell co68@evansville.edu
UE Participates in JobSpark
Junior Achievement of Southwest Indiana sponsored JobSpark for 8th grade students from southwest Indiana and southeast Illinois on Tuesday and Wednesday, October 25 and 26, at the Old National Events Plaza. Over 3,600 students attended and took part in hands-on experiential activities designed to "spark" an interest in a future career path. UE was well represented with faculty, staff, and students from the programs in the School of Education, Schroeder Family School of Business Administration, School of Engineering and Computer Science, Doctor of Physical Therapy, School of Nursing, Doctor of Nurse Anesthesia Practice, School of Health Sciences, and the Music Conservatory. Thanks to all who helped share the UE experience and our purple pride!
Submitted by Paula Heldt ph28@evansville.edu
UE defeats Oakland City in exhibition opener
Four players finished in double figured to lead the University of Evansville men's basketball team to an 81-56 victory over Oakland City in exhibition action inside the Ford Center.
Leading the Purple Aces was Antoine Smith Jr. with a game-high 17 points. He converted six of his seven field goal tries and all four 3-point attempts. Marvin Coleman II scored 12 points while Kenny Strawbridge Jr. and Blaise Beauchamp recorded 10 apiece. Strawbridge and Coleman led UE with eight rebounds.
"The whole process has been fun – we have been doing this with good people. We have a good coaching staff and a good group of players," UE head men's basketball coach David Ragland explained following the victory. "We played connected and I did not think there were many moments where we were disconnected. It is a team sport – everything we need to do must be done together."
Evansville finished the game shooting 47.8% from the field and 52.9% in the second half. Nine triples found the bottom of the net with Smith picking up four. The Aces outrebounded the Mighty Oaks by a 44-35 margin with 12 caroms coming on the offensive end.
Both teams struggled to find their offense in the early moments with both turning the ball over on three occasions in the opening three minutes. Kenny Strawbridge Jr. got the Aces on the board after Oakland City scored the opening basket. UE started the game 1-of-7 from the field before knocking down five of its next six attempts to go up 14-2.
Marvin Coleman II hit a layup and triple while Antoine Smith Jr. also scored from outside. Strawbridge added his second bucket to make it a 16-2 game. Gabe Spinelli excited the crowd with a dunk while Blaise Beauchamp drained the third 3-pointer of the night to make it a 21-3 game with 11:08 remaining in the half.
The Mighty Oaks regrouped and would stabilize the deficit over the final minutes of the half as they would go to the break trailing 36-20. Strawbridge led the Aces with 8 points and 7 rebounds in the opening period. OCU came out of the break on a run, outscoring UE by a 6-2 margin to get within 12 at 38-26.
Evansville countered with a 13-0 run to open up its largest lead of the game. Gage Bobe, Beauchamp and Smith each hit triples in the run that made it a 51-26 game at the 14:50 mark. Sekou Kalle took over late in the game, contributing three Aces baskets in a row before Coleman drained another triple to make it a 72-45 contest inside the 4-minute mark. UE would go on to finish with the 81-56 triumph.
"We have been practicing against each other for nearly a month so it felt good to play against another opponent," Antoine Smith Jr. said. "Attacking the boards has been a big emphasis for us and will continue to be that way."
Tyquez Priester led Oakland City with 16 points while DJ Redding picked up a game-high 10 rebounds. On Wednesday, UE welcomes Huntington University in the second and final exhibition game. Tip is set for 7 p.m. at the Ford Center.
Submitted by Athletics
Aces pick up huge road win at Valparaiso
Finishing with 12 service aces, the University of Evansville volleyball team earned a huge road victory at Valparaiso, defeating the Beacons by a 3-1 final on Friday evening at the ARC.
Alondra Vazquez added 19 more kills to her program record while tallying 24 digs in the victory. Giulia Cardona added 15 kills and 14 digs while Emilee Scheumann had a strong 11-kill performance. Kora Ruff and Blakeley Freeman added 14 digs each while Maddie Hawkins picked up 10 – her first double digit effort. Madisyn Steele added eight kills and three block assists. Ruff led the way with 49 assists and four aces while Laura Ruiz and Cardona picked up three apiece.
Set 1 – UE 25, VU 17
At the start, both teams duked it out leading to a 5-5 score. Evansville made the first significant run of the game, scoring four in a row to go up 9-5. Emilee Scheumann and Madisyn Steele posted a block during the stretch.
Following a time out, the Beacons stormed back to go in front at 12-11 as a 7-2 run put them in front. Steele quickly put the lead back in the Aces hands at 13-12 and Alondra Vazquez finished off a 4-0 rally with a kill to make it a 16-12 game. UE continued to add to the advantage with a Giulia Cardona ace extending the lead before Scheumann had the clinching kill in a 25-17 win.
Set 2 – VU 25, UE 21
Giulia Cardona was credited with a kill to give Evansville the first multi-point lead either team would enjoy to that point in the second frame when she made it 7-5. The Beacons countered with a 4-0 stretch to retake the lead.
With Valpo enjoying an 11-10 advantage, they would add to it with a 5-2 run to go up 16-12. Trailing 21-17, UE made a final rally when Vazquez recorded consecutive kills to cut the gap to a pair, but the Beacons finished the set with a 25-21 win to tie the match.
Set 3 – UE 25, VU 23
From start to finish, the Aces put together a strong performance in game three to take a 2-1 lead. Laura Ruiz and Kora Ruff picked up service aces that put the Aces in front at 7-3. Ruiz would add her second ace to stabilize a 13-10 Evansville edge.
Valparaiso rallied to tie the score at 13-13, but it was another ace that pushed the lead back to three as Ruff added her second one of the set. Once again, the Beacons fought back to tie the score, doing so at 21-21. Maddie Hawkins recorded an ace and it was Vazquez picking up the clinching kill.
Set 4 – UE 25, VU 20
Evansville utilized its serving to jump out to a 6-1 advantage to open game four. Ruiz added one before Ruff tallied two more in the early stretch. The lead for UE remained at five (11-6) when Valpo made its run, scoring five in a row to tie the score before Vazquez put UE back on top.
The definitive run came with the Aces up 15-14. Cardona registered a kill and helped UE go on a 7-1 run to go up 22-15. Valpo made a late run before UE clinched the match with a 25-20 win. Tomorrow, the Aces look for the weekend sweep as they take on UIC at 5 p.m.
Submitted by Athletics
Six Aces finish in double-figures as Evansville showcases up-tempo offense in exhibition win
In its lone exhibition of the preseason, the University of Evansville women's basketball team got up and down the floor quickly in a 101-57 victory over Roosevelt University (Ill.) on Saturday afternoon inside Meeks Family Fieldhouse in Evansville.
Six Aces finished in double-figures, including all five starters, with senior Abby Feit and fifth-year senior A'Niah Griffin leading the way with 15 points each. Feit finished just shy of a double-double, gathering nine boards in the win, while graduate guard Anna Newman paced the team with five assists and a trio of steals to go along with her 14 points. No Ace played more than 30 minutes with Evansville going 11 players deep into its bench and no starter seeing more than 24 minutes of action. For the Lakers, Jayla Turchin was the driving force behind Roosevelt on the afternoon, scoring 18 points and securing five boards.
Evansville opened the game with a bit of a cold streak from the field, but quickly got it adjusted near the conclusion of the opening quarter. A key string of possessions occurred in the final minutes of the first period as Elly Morgan hit a running lay-up, followed by Feit grabbing an offensive rebound and putting back in as the Aces scored the last six points of the quarter to grab a 22-17 lead.
The second and third quarters were all Evansville as the Aces out-scored Roosevelt, 58-31, in the periods. An increasingly aggressive Evansville defense helped force 23 turnovers, which the Aces turned into 32 points, helping build their lead as large as 44 late in the fourth quarter en route to the 101-57 win.
Evansville opens its regular season on November 7th with a trip to take on Eastern Kentucky in Richmond, Ky.
Submitted by Athletics
Volleyball completes weekend with another road win
Three University of Evansville players recorded double digit kills to lead the Purple Aces volleyball team to a 3-1 road victory at UIC on Saturday evening.
Alondra Vazquez led the way once again with 19 kills with Giulia Cardona adding 14 and Emilee Scheumann checking in with 10. Cardona paced the team with 11 digs while Kora Ruff added 10 to go along with 45 assists. Laura Ruiz registered four service aces while Hannah Watkins picked up two solo blocks.
Set 1 – UE 25, UIC 19
UIC came out hitting on all cylinders as they jumped out to a 6-1 lead. Kills from Kora Ruff, Giulia Cardona and Emilee Scheumann saw the Purple Aces storm back to cut the deficit to 8-7 before Cardona added an ace to tie the score at 9-9. The Flames wrestled a 13-11 edge and UE would take advantage of three UIC errors to take their first edge at 14-13.
Things continued to go Evansville's way down the stretch. With things knotted at 16-16, Scheumann picked up a pair of kills in a 3-0 that propelled the Aces to the 25-19 set win.
Set 2 – UIC 25, UE 15
Highlighted by an ace from Alondra Vazquez, Evansville had a strong start to the second set, going up 5-3. The Flames responded with a 6-1 rally to go up 9-6 before extending the lead to 15-8. They continued the dominant set and tied the match with a 25-15 decision.
Set 3 – UE 25, UIC 18
Alondra Vazquez registered four early kills as the Aces opened up a 7-5 lead. UIC made its first run of the set, jumping in front by a 10-8 score. Emilee Scheumann provided the offense for UE, recording three kills before Laura Ruiz added a pair of aces to give Evansville a 13-11 lead.
After calling a time out, the Flames posted a point to end the stretch before Vazquez notched a pair of kills to solidify a 16-12 advantage. Four errors in a row by the Flames pushed the Evansville lead to 22-16 and Giulia Cardona picked up the kill to give UE a 25-18 win and a 2-1 lead in the contest.
Set 4 – UE 25, UIC 23
Just as they did in the opening frame, the Flames took a 6-1 lead out of the gate. UE worked its way back into the game, taking advantage of UIC errors with Scheumann adding another kill to make it a 9-8 lead in favor of the Flames. It was another service ace that saw Evansville tie it up as Laura Ruiz picked up her fourth of the evening to tie the score at 11-11.
Evansville completed the comeback as they would go in front at 13-12. Consecutive kills from Cardona made it a 19-17 and UE would fend off a late challenge to clinch the match with a 25-23 win in the fourth frame.
Two road contests are on the slate next weekend when the Aces head to Missouri State and Southern Illinois.
Submitted by Athletics
UE's Helder Earns All-Conference Honors At MVC Championships
University of Evansville graduate student Melanie Helder (Hudsonville, Mich./Hudsonville) earned honorable mention all-Missouri Valley Conference honors Friday morning at the MVC Cross Country Championships, after posting the fourth-fastest 6-K time in school history at the LaVern Gibson Cross Country Course in Terre Haute, Indiana.
Helder finished 13th overall with a time of 21:55.2 to earn honorable mention all-Valley honors. She becomes the third UE female runner to earn all-Valley honors, joining former Purple Aces Kelby Jenkins (2012, 2013) and Anna Lowry (2018, 2019, 2020).
On the men's side, sophomore Adam Oulgout (St. Paul, Minn./Central) posted UE's top individual finish, posting a time of 26:56.7 to place 68th. Oulgout's time was 28 seconds faster than his time on the exact same course a little over a month ago, when UE opened the season in Terre Haute. Fifth-year runner Carson Kline (Terre Haute, Ind./South) ran second for UE in his final cross country race in a Purple Aces' uniform with a time of 28:21.2, while freshman Joey Taylor (Grove City, Ohio/Central Crossing) ran third with a season-best time of 28:52.0 – over a minute and a half faster than his time at the LaVern Gibson course on September 17. Juniors Luke Watts (Austin, Ind./Austin) and Jacob Moffat (Weston, Idaho/West Side) rounded out UE's scoring pack.
On the women's side, sophomore Ellie Stewart (Lombard, Ill./Glenbard South) ran second for UE in the 6-K with a time of 26:12.1, while junior Emma Denbo (French Lick, Ind./Springs Valley) cut over a minute and a half off of her best 6-K time with a mark of 26:53.7. Junior Hannah Bryan (Evansville, Ind./Reitz) and sophomore Kaitlyn Sansone (Fairfield, Ohio/Mercy McAuley) rounded out UE's top five.
The UE men placed 11th and the women finished 12th in the MVC.
Submitted by Athletics
Women's Basketball opens 2022-23 season with Saturday exhibition against Roosevelt
After a resurgent campaign a season ago, the University of Evansville women's basketball team embarks on its 2022-23 season on Saturday with a 1 PM tip-off in an exhibition contest against Roosevelt University (Ill.) inside Meeks Family Fieldhouse in Evansville.
The Aces are coming off a 2021-22 season that saw the team win its most games since 2016-17, in the first season with head coach Robyn Scherr-Wells at the helm. Evansville returns more than 75% of this scoring from last year, including all-MVC first-team and all-MVC preseason team selection Abby Feit, who led the team in points, rebounds, and minutes per game, three pointers made, steals, and blocks. Joining Feit are returning starters Myia Clark, Anna Newman, and Celine DuPont, while key members Jossie Hudson, A'Niah Griffin, Elly Morgan, and Kodie Myszka also are back for the 2022-23 season.
Adding to an already talented bunch are four newcomers, featuring two college basketball veterans and three talented freshmen. Redshirt junior Barbora Tomancova figures to feature for the Aces, having experience playing against some of the best teams in the nation at Minnesota before transferring to FIU. Sophomore Lexie Sinclair joins the white and purple after a season at St. Bonaventure where she played in 18 games and made two starts for the Bonnies. Three freshmen enter the fold with a pair of Indiana natives in Kynidi Mason Striverson and Rayah Kincer both looking to make an immediate impact and Irene Hernanz Pacios crossing the Atlantic Ocean from Spain to join the Aces and add a post presence.
Head Coach Scherr-Wells will see a familiar opponent on Saturday when the Lakers come to town. Scherr-Wells got her start at the downtown Chicago university, starting the program in 2009 and leading the Lakers to a top five ranking, conference championships, and an appearance in the NAIA National Championship.
Submitted by Athletics
Men's golf travels to Alabama A&M Fall Invite
Fall action comes to a close for the University of Evansville men's golf team with a trip to the Alabama A&M Fall Invite.
Playing a total of 3 rounds and 54 holes, the tournament opens Monday at Robert Trent Jones at Hampton Cove. Day one features the opening two rounds before the final 18 holes will be played on Tuesday.
Other participants in the event include Alabama A&M, Alabama State, Tennessee State, North Carolina Central, Lehigh, Arkansas-Pine Bluff, Bethune-Cookman, Prairie View A&M and Chicago State.
Masatoyo Kato and Michael Ikejiani led the Purple Aces last time out in the final round of the Bubba Barnett Intercollegiate. Kato and Ikejiani both finished the final 18 holes at 2-over-par with scores of 74. With a 3-round total of 224 strokes, Kato tied for the 24th spot. Ikejiani wrapped up the tournament one behind him with a 225 and came home tied for 28th.

Nicholas Gushrowski was third on the team. His 79 in round three gave him a 228, earning him a tie for 35th.
Submitted by Athletics
Contribute to AceNotes
To have content considered for inclusion in AceNotes, please submit a Marketing Request Form. Deadline for submission to AceNotes is 10:00 a.m. on the requested date of publication. Only articles concerning UE related/sponsored activities will be accepted. Articles submitted to AceNotes may be edited for length and clarity. Submitter contact information is at the end of each article.