| | |
| --- | --- |
| AceNotes Today | Friday, October 28, 2022 |
Olmsted Landscape Renewal
Beginning the week of October 24, a transformation of the exterior landscape areas of Olmsted Hall will take place. Crews have already begun the process, that will include replacement of much of the existing landscape. This upgrade will greatly improve the appearance of the one building all visitors and potential student families frequent, through multiple seasons of color while allowing the beauty of this iconic building to shine.
Project contractors have been advised to yield to all pedestrians while keeping the sidewalks open. The project is anticipated to take approximately two weeks.
Renderings of the front and back door portions of the project are displayed here for all to view. We look forward to seeing the progress and improvement this project brings to Olmsted Hall!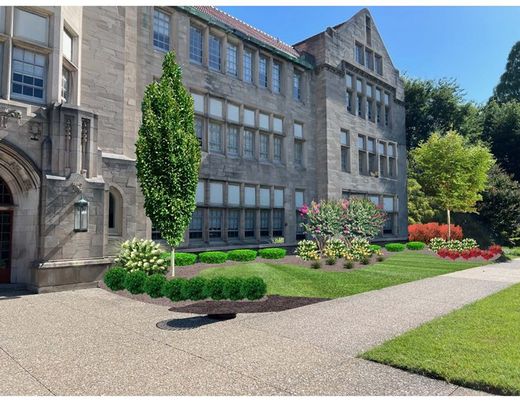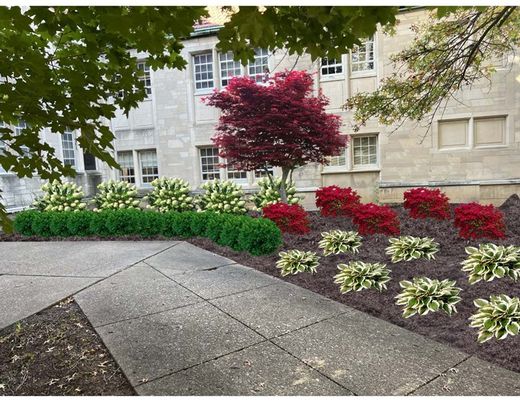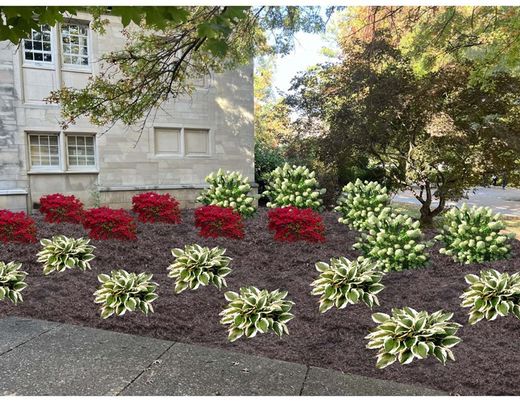 Submitted by Bob Dale bd22@evansville.edu
Nonprofit Career & Volunteer Fair
Roles within nonprofit organizations can and often look identical to roles in private (for-profit) and public sector counterparts. A common misconception is that nonprofits cannot generate revenue. The difference is non-profits reinvest surplus funds into the organization to continue the promotion of its mission rather than paying share holders.
Join us for a nonprofit fair on Thursday, November 3 from 12 -1pm in the SOBA Atrium.
You can learn more about job, internship, and volunteer opportunities or come to learn more from professionals about the structure and operation of their organization!
Participating nonprofits include:
Albion Fellows Bacon Center
Boys & Girls Club
Catholic Charities
Catholic Diocese of Evansville
Easter Seals
Habitat for Humanity
Junior Achievement
Koch Family Children's Museum of Evansville (cMoe)
Susan G. Komen
Vanderburgh County CASA
Wesselman Woods
WNIN
Submitted by Nick Bragin nb197@evansville.edu
Kent Parker speaks on being an Engineer and an Entrepreneurial Success - November 10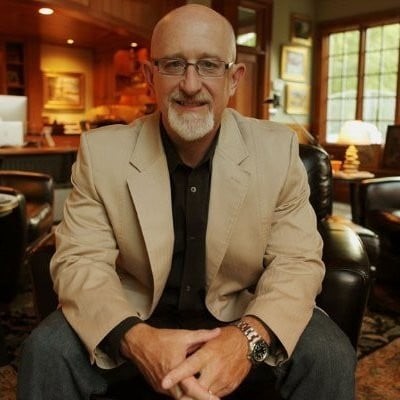 Kent Parker '83
University of Evansville - College of Business & Engineering Speaker Series
The Cross-Functional Fusion of Business & Engineering: Perspectives from an Engineer on Entrepreneurial Success
Thursday, November 10th, 6:00 p.m.
Schroeder School of Business Rm 170
Kent Parker is a business executive, entrepreneur, investor and engineer whose talent and passions have led to leadership positions in a wide range of industries, including business commerce network, software, and supply management services as well as manufacturing, strategic sourcing, and program management.
Reception and networking to follow.
A Zoom option will be provided for those that would like to attend virtually. The link will be sent via email within 48 hours of the start time of the event.
For questions or concerns please contact Nick Bragin at nb197@evansville.edu.
Submitted by Nicholas Bragin nb197@evansville.edu
Art Exhibit "Reflections" in Melvin Peterson Gallery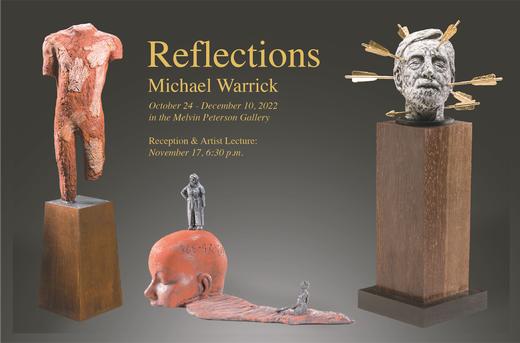 The University of Evansville presents "Reflections", an exhibit by Michael Warrick, on display at the Melvin Peterson Gallery through Saturday, December 10.
All are welcome to attend the reception and artist lecture on Thursday, November 17 at 6:30 PM in the Melvin Peterson Gallery.
The exhibit and reception are part of the Emerging Contemporary Artist Lecture Series sponsored by the Efroymson Family Fund and the UE Department of Art.
The hours for the Melvin Peterson Gallery are Monday 12–3pm; Tuesday 12–3pm; Wednesday 12–6pm; Thursday 12–6pm; Friday 12–3pm; and Saturday 12–3pm.
Submitted by Carol McCraney cm177@evansville.edu
"Hopeless Resistance in Eastern Europe" is topic of Fiddick Lecture
Distinguished Indiana University Historian Padraic Kenney to deliver 2022 Fiddick Lecture on "Why Hopeless Resistance Matters. Lessons from Eastern Europe"
The University of Evansville's Department of History, Politics, and Social Change is proud to welcome Dr Padraic Kenney for the 20th annual Thomas C. Fiddick Memorial Lecture. The Lecture will be in Eykamp Hall in the Ridgway University Center at UE on Friday November 4 at 7pm. The event is free and open to the public.
In the decades from 1974 to 2014, dozens of opposition movements around the world brought about real political change. But in the more recent past, resistance in Russia, Iran, Hong Kong and elsewhere seems to have had little effect. In this lecture, Professor Padraic Kenney will draw insights from successful revolutionary movements in Eastern Europe, especially in the 1980s, but also more recent social mobilization in Ukraine, to consider what political resistance is and why it can work. At the same time, though, he will consider how conditions have become less conducive to the success of resistance.
Padraic Kenney is a Professor of both History and International Studies at Indiana University, where he teaches courses on global democracy movements and revolutions, communism, and Polish and Eastern European History. He is the author of six books, including Dance in Chains: Political Imprisonment in the Modern World (Oxford, 2017) and A Carnival of Revolution: Central Europe, 1989 (Princeton, 2002). In 2016, he was President of the Association for Slavic, East European, and Eurasian Studies (ASEEES). Before coming to Indiana University in 2007, he taught at the University of Colorado. He was educated at Harvard University, the University of Toronto, and the University of Michigan.
Submitted by James MacLeod jm224@evansville.edu
UE T-Shirt Exchange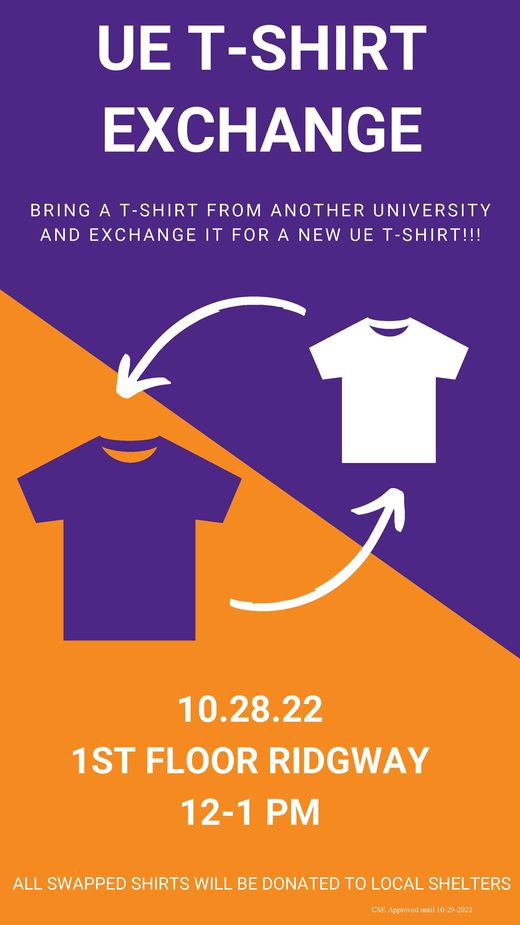 Need more purple in your closet? On October 28th from 12-1 bring a t-shirt from another college to the Collegiate Alumni Board Table in Ridgway and swap it for a UE t-shirt. All collected shirts will be donated
Submitted by Melanie Hawkins mh527@evansville.edu
2022 Flu Shots
Wednesday, November 2nd from 9am-3pm the Student Health Center will be providing Flu shots free of charge to the first 130 students. No appointment will be necessary. After the first 130 students, the cost will be $20 CASHLESS only.
Submitted by Benton Simpson bs361@evansville.edu
Chartwells is Hiring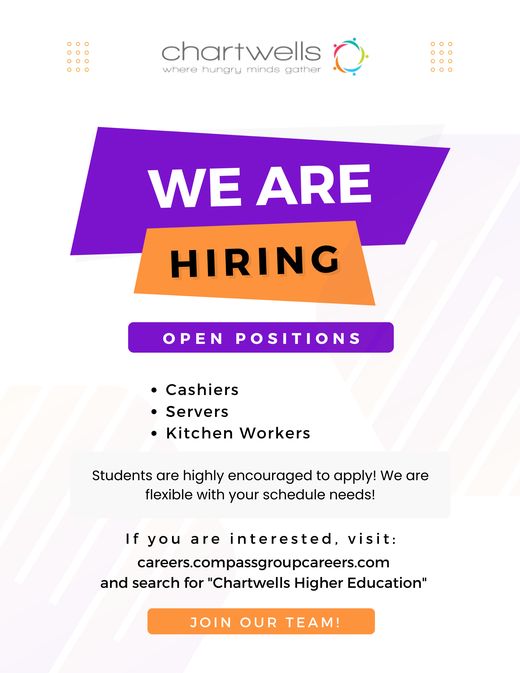 Hey Aces! Looking for a job? Come join our team in the Eatery! We are flexible with scheduling needs! We are looking for cashiers, kitchen workers, and servers. If you're interested, visit careers.compassgroupcareers.com and search for "Chartwells Higher Education" and enter Evansville in the location to get started!
Submitted by Ka'Bria Carr kc403@evansville.edu
Evansville Philharmonic Orchestra String Fellowship Announcement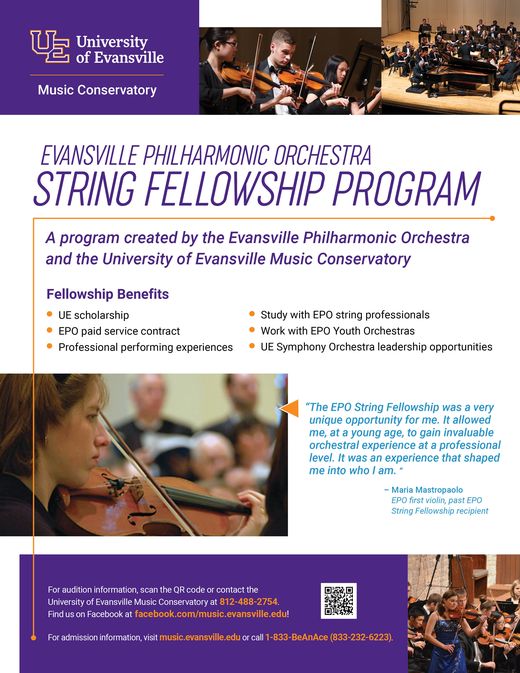 We are excited to announce the new Evansville Philharmonic Orchestra String Fellowship Program, a program created by the Evansville Philharmonic Orchestra and the University of Evansville Music Conservatory. The fellowship benefits include UE Scholarship, EPO Paid Service Contract, Professional Performing Experiences, and more! Please contact the University of Evansville Music Conservatory at music.evansville.edu for more information.
Submitted by Chun-Ming Chen cc319@evansville.edu
UE Participates in JobSpark
Junior Achievement of Southwest Indiana sponsored JobSpark for 8th grade students from southwest Indiana and southeast Illinois on Tuesday and Wednesday, October 25 and 26, at the Old National Events Plaza. Over 3,600 students attended and took part in hands-on experiential activities designed to "spark" an interest in a future career path. UE was well represented with faculty, staff, and students from the programs in the School of Education, Schroeder Family School of Business Administration, School of Engineering and Computer Science, Doctor of Physical Therapy, School of Nursing, Doctor of Nurse Anesthesia Practice, School of Health Sciences, and the Music Conservatory. Thanks to all who helped share the UE experience and our purple pride!
Submitted by Paula Heldt ph28@evansville.edu
Volleyball heads to Valparaiso and UIC
Two road contests are on the schedule this weekend when the University of Evansville volleyball team visits Valparaiso and UIC. Friday's opener against the Beacons is set for a 6 p.m. CT start while Saturday's match versus the Flames will get under way at 5 p.m. with both matches on ESPN3.
New Record
- On Oct. 22, Alondra Vazquez became the all-time program kills leader, breaking Jessica Kiefer's record of 1,706
- Vazquez officially set the record in the first set of the home contest against Drake and has continued to add to her number
- Her current tally of 1,735 kills is 6th in MVC history
1) 2,293 Lily Johnson, Missouri State, 2014-17
2) 1,948 Lindsay Stalzer, Bradley, 2002-05
3) 1,919 Michelle Witzke, Missouri State, 1994-97
4) 1,779 Molly O'Brien, UNI, 2000-03
5) 1,773 Chris Rehor, Illinois State, 1985-88
6) 1,735 Alondra Vazquez, Evansville, 2018-
7) 1,725 Cheryl Berg, Indiana State, 1998-01
8) 1,732 Jenny Pavlas, Bradley, 1993-97
9) 1,720 Kate Galer, UNI, 1993-96
10) 1,709 Karlie Taylor, UNI, 2016-19
Top Ten Nationally
- With an average of 4.67 kills per set, Alondra Vazquez leads the MVC and ranks 9th in the nation
- Over the last six matches, Vazquez has upped her efforts even more, posting a mark of 5.39 kills per frame
- In the home win over Missouri State, Vazquez recorded 31 kills, just one shy of her career-high and the highest total for a MVC player in 2022
Continued Efficiency
- With her season hitting percentage of .360, Madisyn Steele ranks second in the conference and 60th in the nation
- In 11 league matches, Steele has seen her average rise even higher to .383
- Steele is third on the team with 1.83 kills per set and has recorded six or more in 12 of the last 15 contests
- As was the case with her hitting, Steele's kills mark is also higher since the MVC slate began with her average standing at 2.07/set
Contributing In Every Way
- Despite hitting just .094 over the last five matches, Giulia Cardona has found other ways to have a positive impact on the team
- She is playing at the top defensive level of her career averaging 3.00 digs over the previous five contests while posting at least six digs in 10 of the last 11 matches
- Cardona recorded a career-high 24 kills in the road win at Indiana State, besting her previous mark of 23, which came in two contests against Bradley last season
Submitted by Athletics
UE golfers Petrova and Borisova earn MVC recognition
After leading the University of Evansville women's golf team on a furious rally in the final day of the Braun Intercollegiate, Magdalena Borisova and Kate Petrova were named Missouri Valley Conference Women's Golfers of the Week.
In Tuesday's final day of the Braun Intercollegiate, Borisova and Petrova helped the Purple Aces put forth a furious rally to come home in second place at Oak Meadow Country Club. Both earned ties for second place in the final individual standings.
Borisova tied for the low round on Tuesday, scoring a 1-over 73. Her first round on Monday finished at a 79. Petrova matched Borisova's 2-round tally of 152. Following a 78 in the first 18 holes, Petrova lowered her score by four strokes to finish with a 74 in the final round.
This is the first MVC Golfer of the Week recognition for both student-athletes.
Submitted by Athletics
Contribute to AceNotes
To have content considered for inclusion in AceNotes, please submit a Marketing Request Form. Deadline for submission to AceNotes is 10:00 a.m. on the requested date of publication. Only articles concerning UE related/sponsored activities will be accepted. Articles submitted to AceNotes may be edited for length and clarity. Submitter contact information is at the end of each article.