| | |
| --- | --- |
| AceNotes Today | Monday, October 24, 2022 |
Homecoming Week October 20-29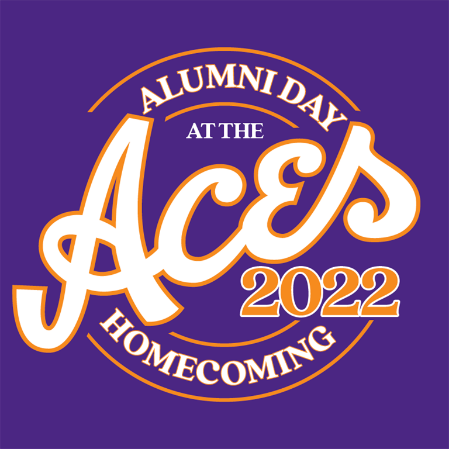 Homecoming Week is this week and there are lots of activities going on around campus.
Show your UE spirit by supporting our teams! You can get your own Homecoming t-shirt for just $15. Please contact Alumni and Engagement to get yours now alumni@evansville.edu.
Tuesday, October 25
Men's Soccer vs. IU
Arad McCutchan Stadium
6:00 p.m.
Tickets $3 per person
Friday, October 28
#SupportYourSport
Athletic Day of Giving
Saturday, October 29
Ace CARE's 5K Skelefun Run
Ridgway University Center, East Terrace Lawn
7:30 a.m. Check-in
9:00 a.m. AceBuddies Fun Run
9:30 a.m. Race starts
Women's Basketball vs. Roosevelt U.
Meeks Family Fieldhouse
1:00 p.m.
Tickets $3 per person
Alumni Board Sponsored Social
The Rooftop Restaurant
Walking distance to the Ford Center
Attendees responsible for their own food/drink
Giveaway Raffle
Wear Purple!
3:00 p.m.
Aces Party on Main/Alumni Day at the Aces
Main Street between MLK and 6th Street
Food Trucks and Band
4:30 p.m.
Men's Basketball vs. Oakland City
The Ford Center
(The Ford Center has a clear bag policy; bags must be smaller than 12" x 6" x 12")
7:00 p.m.
Tickets $5 per person
Submitted by Jaime Wilder jw663@evansville.edu
Employee Headshots on 10/27 and 11/2
Are you a new employee in need of a headshot for the UE website? Have you been here for a while and are now in need of an updated headshot?
During the campus-wide fall photoshoot, there will be two designated time frames for employees to have their headshot taken by photographer Chris Berneking. You can sign up now for a time that works best for you. The time frames are:
Thursday, October 27, from 2:15-2:45PM
Wednesday, November 2, from 9-9:30AM
Up to three people can sign up per five-minute time slot. Headshots will be taken near the southwest corner of the front oval lawn (highlighted in the campus map below). If you have questions, please contact Julie Beer at jb855.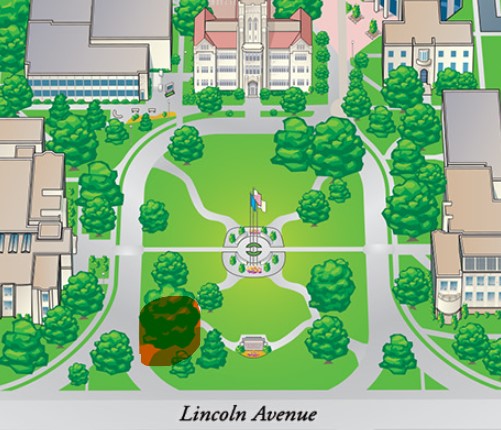 Submitted by Julie Beer / jb855@evansville.edu
UE T-Shirt Exchange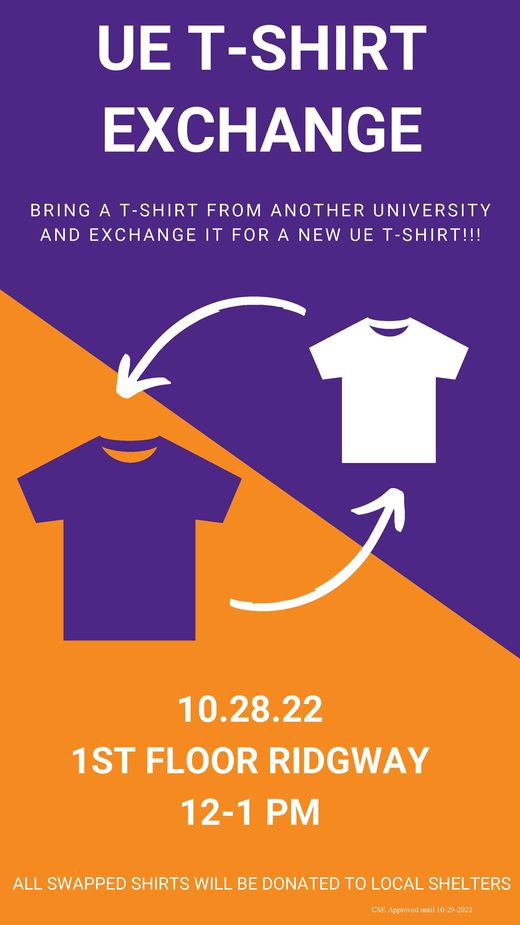 Need more purple in your closet? On October 28th from 12-1 bring a t-shirt from another college to the Collegiate Alumni Board Table in Ridgway and swap it for a UE t-shirt. All collected shirts will be donated
Submitted by Melanie Hawkins mh527@evansville.edu
UE Nursing Annual Haunted House this Thursday, 10/27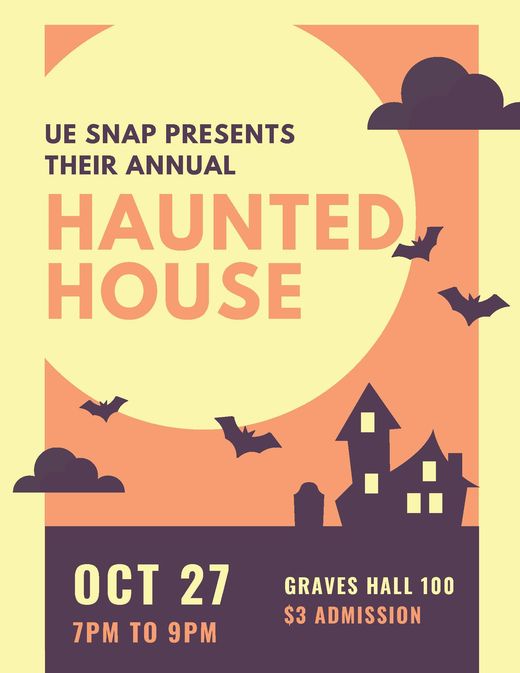 Please support our nursing organization, SNAP, by attending our Haunted House in the nursing lab on campus. Join us for a spooky walk through Graves Hall 105 in our nursing student-facilitated event. Admission is $3 per person and our event will last from 7-9PM. All are welcome - Prepare to be scared!
Submitted by Johnna Mitchell jm703@evansville.edu
Why Pro-Life?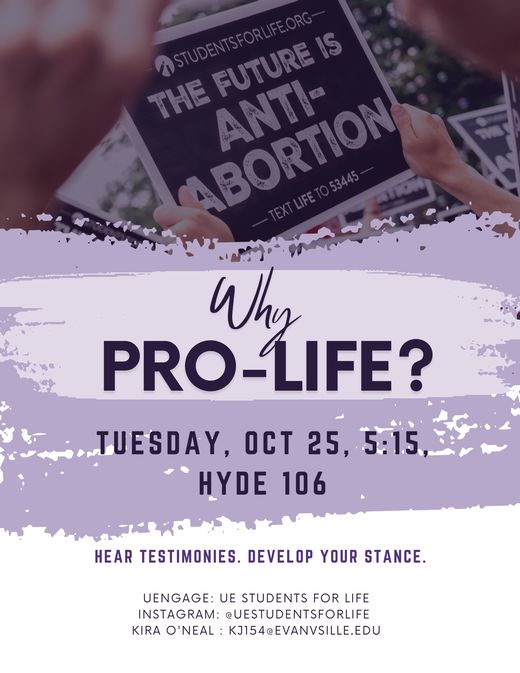 "Why Pro-Life?" Event will be held Tuesday October 25 at 5:15 in Koch 125
If someone asked you today, "Why are you Pro-Life?" would you be able to give an answer besides "I was raised that way" or "Abortion is murder"? This event is meant to help prepare our members to confidently, fully, and effectively answer that question. Our executive board will share testimonies about what has driven them to be young leaders in the Pro-Life movement and their own answers this question. There will also be a fair amount of time for discussion and for you to develop your personal answer to "Why are you Pro-Life?"
This event is open to anyone who is curious to learn more about what UE Students for Life stands for and why we stand for it. Please reach out with any questions.
Submitted by Kira O'Neal kj154@evansville.edu
Register Today!! Health Careers Fair
Don't miss the Health Careers Fair Tuesday, October 25 from 1pm-4pm in Eykamp.
More than 50 healthcare employers will be in attendance recruiting for part time, full time and internship opportunities. Come prepared in business professional attire and with multiple copies of your resume. We will be offering professional headshots from 12:30-3:30pm for use on your professional social media accounts.
Pre-Register in Handshake to save time at check in. Once registered, stop by our office to get your own professional resume paper. Questions? Contact the Center for Career Development at career@evansville.edu or 812-488-1083.
Submitted by Amanda Wood aw505@evansville.edu
Tonight at 6:00pm: Campus Speaker Discusses Racial Bias in Health Care
The Honors Program invites the campus community to join us tonight at 6:00pm for a presentation by author Linda Villarosa discussing her recently published book, Under the Skin: The Hidden Toll of Racism on American Lives and on the Health of Our Nation. This book was the common read for Honors Program freshmen this year.
Author and New York Times Magazine journalist, Linda Villarosa, has worked to shed light on the insidious race-based inequalities plaguing our medical and public health systems. Her newest book, Under the Skin: The Hidden Toll of Racism on American Lives and on the Health of Our Nation, lays bare the healthcare disparities between Black and white Americans, and calls out the huge toll racism takes on people of color and the costs this has for us as a Nation. In her pieces for The Times, Villarosa has focused on the consistent poorer health outcomes for Black Americans over their white and Latinx counterparts, including higher rates of maternal and infant mortality, higher rates of mortality for COVID and HIV/AIDS, and the shocking difference in life expectancy in predominantly Black vs. white Chicago neighborhoods. As a contributor to The New York Times' Pulitzer Prize-winning 1619 Project and The 1619 Project: A New Origin Story, she traced the race-based physiological myths that have endured since slavery and continue to plague medicine today. A former executive editor of Essence Magazine, Villarosa is a member of the Association of LGBTQ Journalists (NLGJA) Hall of Fame, and has been recognized with numerous awards from organizations including the American Medical Writers' Association, the New York Association of Black Journalists, the National Women's Political Caucus, and many others. Villarosa is a graduate of the Craig Newmark Graduate School of Journalism at CUNY and was a finalist for the National Magazine Award. She teaches journalism, English and Black Studies at the City College of New York.
Submitted by Jayme Williams jw504@evansville.edu
National Collegiate Alcohol Awareness Week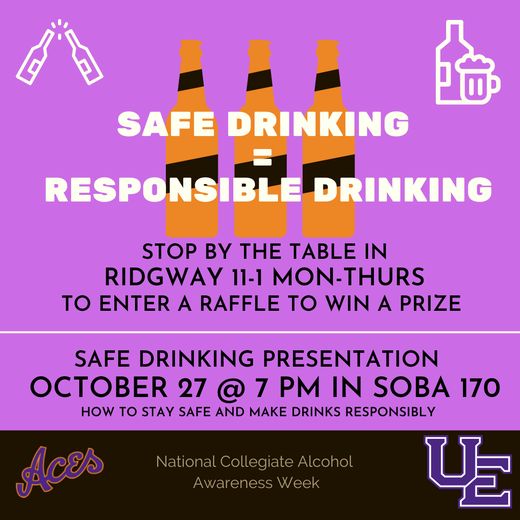 National Collegiate Alcohol Awareness Week is October 22-28. The goal of this week is to bring attention to issues posed by excessive, unsafe drinking among college students.
There will be tabling in Ridgway all week with some fun activities and the chance enter a raffle. The Health and Wellness Educator will also be hosting an alcohol safety presentation on Thursday Oct. 27th at 7pm in SOBA 170. This presentation is not just standing up and talking about how alcohol is bad – it's more realistic, he talks about how to drink safely.
Everyone is welcome to attend!
Submitted by Blake Johnson bj109@evansville.edu
Virtual Talk with Forensic Accounting Expert Tiffany Couch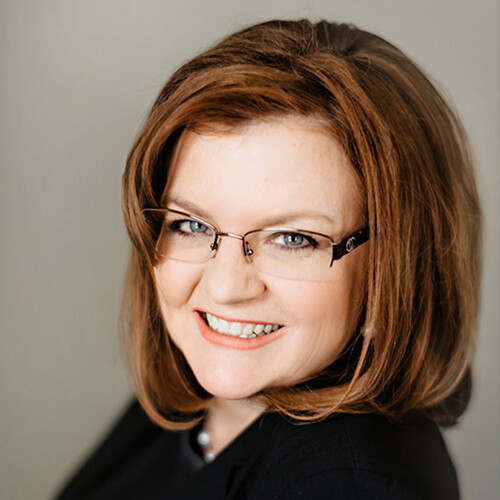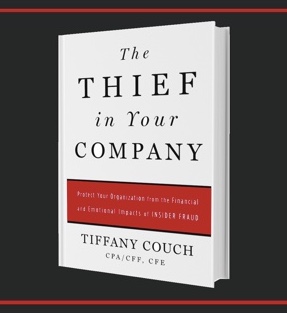 Rania Mousa, Associate Professor of Accounting and Mead Johnson Nutrition Endowed Chair in Business, would like to invite students to a Virtual Talk with Ms. Tiffany Couch. Ms. Couch is a nationally-recognized expert in forensic accounting. Her expertise is in matters involving fraud investigation, contract and regulatory compliance, internal control risk assessment, and complex litigation. Ms. Couch is a Certified Public Accountant, a Certified in Financial Forensics, a Certified Fraud Examiner and is the founder and principal of a forensic accounting firm, Acuity Forensics, in Vancouver, Washington. She is the former Chairwoman of the Association of Certified Fraud Examiners' (ACFE) Board of Regents and the winner of ACFE 2014 James R. Baker Speaker of the Year to honor an individual who has demonstrated the true spirit of leadership in communication, presentation, and quality instruction.
She has been described as an "energetic, engaging and thought-provoking speaker," who has more than 21 years of experience in conducting financial investigations and testifying as an expert witness in state and federal jurisdictions. Her expertise has been used by The New York Times, Forbes, CNBC, The Wall Street Journal, National Public Radio, and Fraud Magazine. She is also the book author of "The Thief in Your Company: Protect Your Organization from the Financial and Emotional Impacts of Insider Fraud," which has been highly rated on Amazon.
Day: Monday, October 24
Time: 4:00-6:00 pm
Virtual Talk Link: https://evansville-edu.zoom.us/j/9401122414
Submitted by Rania Mousa rm190@evansville.edu
Chartwells is Hiring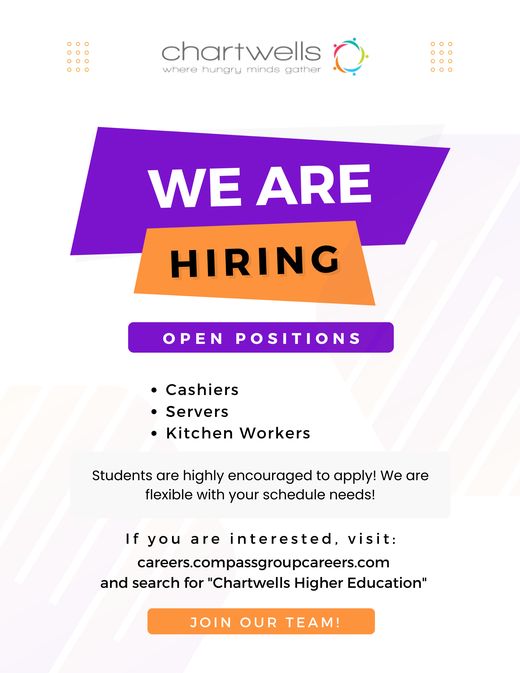 Hey Aces! Looking for a job? Come join our team in the Eatery! We are flexible with scheduling needs! We are looking for cashiers, kitchen workers, and servers. If you're interested, visit careers.compassgroupcareers.com and search for "Chartwells Higher Education" and enter Evansville in the location to get started!
Submitted by Ka'Bria Carr kc403@evansville.edu
Evansville Philharmonic Orchestra String Fellowship Announcement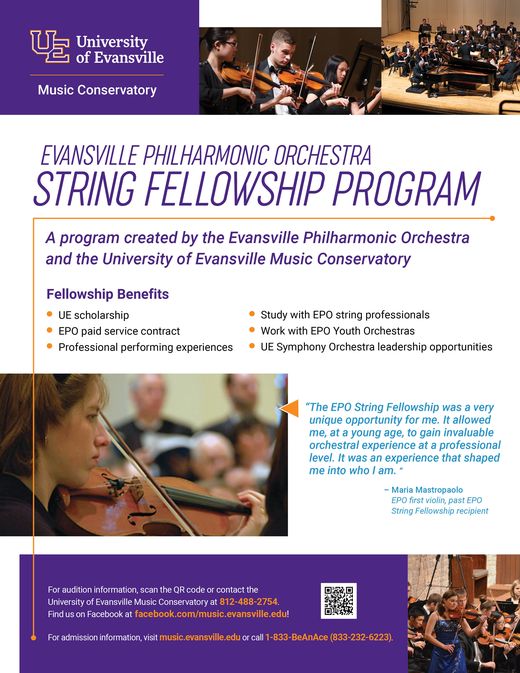 We are excited to announce the new Evansville Philharmonic Orchestra String Fellowship Program, a program created by the Evansville Philharmonic Orchestra and the University of Evansville Music Conservatory. The fellowship benefits include UE Scholarship, EPO Paid Service Contract, Professional Performing Experiences, and more! Please contact the University of Evansville Music Conservatory at music.evansville.edu for more information.
Submitted by Chun-Ming Chen cc319@evansville.edu
DPT Students to Complete Balance Assessments
Calling all adults over the age of 65!!!
Do you or a loved one suffer from poor balance? Have you noticed you aren't as steady as you used to be? Are you unable to stand on one leg for over 10 seconds without losing your balance? If you answered yes to any of the above questions, we are looking for your help!!
The UE DPT Class of 2024 is completing geriatric balance assessments at the Stone Family Center for Health Sciences on 10/25/2022 from 1:00-2:30 and 2:30-4:00. Each participant will be scheduled for one of the specified time above and will work with two DPT students to receive a simple health screen and appropriate balance screening assessments. The students will educate you on your performance and provide some suggestions on ways to improve your balance and/or reduce risk of falling.
You may email Dr. Charlene Nolen at ck39@evansville.edu if you have any questions about participating. More information will be sent out if you agree to participate.
Submitted by Charlene Nolen ck39@evansville.edu
Late Start Classes Are Here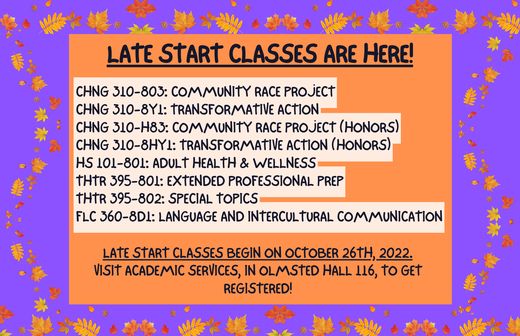 The moment many of you have been waiting for is finally here! Late Start classes, beginning October 26th, are here! If you're needing an extra course or credit hours and are thinking about adding a late start class, please visit Academic Services in Olmsted Hall 116 to get registered.
Submitted by Jade S Shelby js818@evansville.edu
UEPA Student Featured in Newsletter
Ian Clark was featured in the Indiana Association of Physician Assistants Student Board Newsletter as a Student Spotlight. He is a part of the UEPA Class of 2024 at the Stone Family Center for Health Sciences. Ian is a resident of Owensboro, KY, but has been all over for his job. We love having Ian as a part of the program, and his experience is so interesting to hear about! Read more about him and his time here and UEPA!
Submitted by Addison McKinley am684@evansville.edu
DPT Faculty Present at the IN APTA Fall Conference in Ft. Wayne
Several UE DPT faculty will present at the Indiana American Physical Therapy Association's Fall Conference held in Ft. Wayne, Indiana on Saturday, October 22nd. Dr. Mark Marchino will be presenting a platform presentation titled, "DPT Student Researchers: Key to Advancing the Physical Therapy Profession." Dr. Kate Schwartzkopf-Phifer will be presenting a platform presentation titled, "Comparison of Intervention Programs to Improve Trunk Stability for Active Females: A Randomized Control Trial." Dr. Hannah Lamar will be presenting a platform titled, "One Step at a Time: Outcomes of Evidence Implementation in a Community-based Inpatient Rehabilitation Facility After Stroke." Dr. Charlene Nolen will be presenting a poster presentation titled, "Treatment of a Patient with Chronic Venous Insufficiency Using Mulit-Layer Compression and Kinesiotaping: A Case Report. Dr. Bethany Huebner will be presenting an educational session titled, "Content is King, But Only if it Sits on a Worthy Throne." Congratulations to all the DPT faculty for their contribution to physical therapy research and an ongoing commitment to advancing the profession.
Submitted by Bethany Huebner bh212@evansville.edu
Aces fall short against Panthers
Taking on the undefeated Missouri Valley Conference leaders, the University of Evansville volleyball team put up a fierce challenge but fell to Northern Iowa by a 3-1 final on Saturday evening inside Meeks Family Fieldhouse.
Pacing UE was Alondra Vazquez, who totaled a match-best 19 kills. Giulia Cardona finished with 11. Maddie Hawkins led the Purple Aces with 8 digs while Kora Ruff posted 32 assists.
Set 1 – UNI 25, UE 14
After the Panthers took a 4-2 lead out of the gate, UE came back with Alondra Vazquez picking up a pair of kills in a 3-0 stretch to give the Aces a 5-4 lead. UNI stormed back in a big way as they outscored UE by a 13-2 score to go up 17-7. From there, the Panthers finished with a 25-14 win.
Set 2 – UE 25, UNI 23
Evansville turned another 4-2 deficit into a lead with a Northern Iowa error giving the Aces a 5-4 edge. Both teams enjoyed leads in the middle portion of the frame. Madisyn Steele posted a kill to solidify an 11-9 UE advantage before the Panthers countered to go up 17-14.
Still down by three points at 21-18, Evansville made its move with Alondra Vazquez doing the damage. Five kills over the final stretch saw her rally the squad to a 25-23 win to tie the match.
Set 3 – UNI 25, UE 15
Looking to retake the lead in the contest, Northern Iowa stormed out to a 7-1 lead. Evansville got as close as four points (8-4), but the Panthers answered once again as they extended the lead to 18-10 before winning the set by 10 tallies.
Set 4 – UNI 25, UE 19
Working to force a decisive fifth set, the Purple Aces had a nice start as they took multiple early 1-point leads and would take the first multi-point advantage when Vazquez picked up a kill to put UE up 9-7. The Panthers fended off the challenge and took their first edge at 10-9 and would push their lead to 15-10. From there, they held off a late challenge to take the match on the strength of a 25-19 decision.
Road matches at Valparaiso and UIC are up next for the Aces.
Submitted by Athletics
Support Your Sport to take place next week
For the first time, the University of Evansville will conduct an athletics-specific day of giving with the third annual Support Your Sport competition taking place between Monday, October 24 through Friday, October 28.
The #SupportYourSport competition involves all 17 Purple Aces athletic programs. The team that receives the most total donors ($10 minimum) between Monday and Friday of next week will receive the grand prize of $5,000 to use as needed for their program. Last year, baseball won #SupportYourSport and the $5,000 prize bringing in a staggering 436 gifts for over $21,000.
Through the entirety of the #SupportYourSport initiative last year, a total of over 1,000 gifts were received for $53,000. This year's winner will be announced on Monday, October 31.
Gifts can be given to the program of your choice or the AD's Aspire Fund via the following link: www.uealumnionline.com/supportyoursport. #SupportYourSport will coincide with UE's 2022 Homecoming Week. Athletics will continue to have a presence during Pep & Vim in April.
Submitted by Athletics
Vazquez breaks program kills record against Bulldogs
Alondra Vazquez became the University of Evansville program kills leader as the Purple Aces faced Drake on Friday evening inside Meeks Family Fieldhouse.
Entering the match with 1,703 kills in her career, Vazquez quickly broke the mark before finishing the night with 13 as the Aces dropped a 3-0 decision to the Bulldogs. Giulia Cardona added 12 kills, 11 digs and 4 service aces. Kora Ruff finished the night with 32 assists.
Set 1 – DU 27, UE 25
History was made in the opening frame when Alondra Vazquez recorded the 1,707th kill in her illustrious career. Right off the bat, Vazquez recorded three kills to put the Aces up 5-3. Drake countered to take their first lead at 6-5 and a competitive set would ensue. Multiple lead changes saw both squads try to take control.
Evansville went up 14-12 on a Cardona kill while the Bulldogs made their way back to go in front by a 16-14 margin. Cardona would come up big once again, recording an ace that knotted the score at 17-17. Drake retook a 22-21 edge, forcing the second Aces time out of the set. An ace from Kora Ruff, coupled with kills by Cardona and Vazquez, gave UE set point at 24-22. The Bulldogs took a time out and regrouped to storm back to finish the set with a 27-25 win.
Set 2 – DU 27, UE 25
An ace by Haley Bush saw Drake open the second game on a 7-4 run. That is when Giulia Cardona once again took control. Following a kill, Cardona recorded three aces in a row to put UE on top at 8-7. The teams battled to a 12-12 tie when Drake scored three in a row to retake the 3-point advantage.
Things continued to go Drake's way with a 21-17 edge, but Laura Ruiz added an ace to highlight a 3-0 stretch that cut the deficit to just one. After DU scored a pair, it was the Aces who had the big run. Scoring four in a row, Evansville had set point. Unfortunately, just as they did in the first set, the Bulldogs utilized a late rally to take the set.
Set 3 – DU 25, UE 15
Looking for an early finish to the evening, Drake was on fire to open the third frame, registering six of the first seven points. Kills from Vazquez and Hannah Watkins were followed by an ace from Kora Ruff to make it a 2-point game. Once again, the Bulldogs countered to extend their advantage to 20-9 before finishing with a 25-15 win to take the match.
At 5 p.m. on Saturday, UE welcomes Northern Iowa to Meeks Family Fieldhouse.
Submitted by Athletics
Baer Wins Again, UE Swimming & Diving With Six Podiums Saturday In Carbondale
University of Evansville junior Alon Baer (Gesher HaZiv, Israel) led the men's swimming & diving team with another individual victory Saturday in the 200-Yard Breaststroke, while the UE women's team posted four podium finishes, as the Purple Aces wrapped up a weekend of competition in Carbondale, Illinois.
On the men's side, Baer led UE in a triangular meet with Southern Illinois and Missouri State with a victory in the 200 Breast with a time of 2:05.61, winning by over a second. The UE men's 400 Free Relay Team also ended the meet on a high note with a second-place finish, as senior Riccardo Di Domenico (Johannesburg, South Africa) teamed up with sophomores Daniel Santos Lopez (Madrid, Spain), Jakob Grundbacher (Thalwil, Switzerland) and Benjamin Hasanovic (Innsburck, Austria) to post a time of 3:06.39.
UE also posted a fourth-place finish in the 200-Yard Medley Relay to start the day, as Baer, Di Domenico, Santos Lopez, and Hasanovic posted a time of 1:33.43. Junior Jackson Caudill (Mount Sterling, Ky./Montgomery County) also picked up a fourth-place finish in a hotly-contested 500-Yard Freestyle event with a time of 4:42.37. Sophomore Patrik Vilbergsson (Kopavogur, Iceland) finished just a second and a half behind Caudill (4:43.89) in the same event, but placed seventh.
Vilbergsson placed fifth in the 200-Yard Backstroke, posting UE's top time with a mark of 1:53.25. Fellow sophomore Carlos Souto (A Coruna, Spain) also placed fifth in the 200 Breast (2:09.03) and was UE's top finisher in the 200 IM (1:58.59), while Di Domenico was UE's top finisher in the 100-Yard Freestyle with a fifth-place time of 46.40. Meanwhile, senior Griffin Hammett (Loganville, Ga./Loganville) posted UE's top finish in the 200 Fly (1:58.39).
On the women's side, senior Sarah Jahns (Lilburn, Ga./Parkview) placed second in the 200-Yard Backstroke with a time of 2:06.17. Junior diver Madison Rollett (Evansville, Ind./Reitz) also placed second in the one-meter diving competition, as she was edged out by just 0.15 points with a score of 2:13.05. Sophomore Sveva Brugnoli (Rome, Italy) posted a pair of podium finishes by placing third in the 200-Yard IM with a time of 2:08.69, and also placing third in the 200-Yard Medley Relay with teammates Iryna Tsesiul (Minsk, Belarus), Sage Moore (Lexington, Ohio/Lexington) and Maya Cunningham (Yakima, Wash./Eisenhower) with a time of 1:48.39.
Brugnoli, Tsesiul, Cunningham and Jahns teamed up to place fourth in the 400-Yard Freestyle Relay with a mark of 3:40.21. Cunningham also placed fourth in the 200 Fly (2:06.18), while Jahns was UE's top finisher in the 500 Free with a fourth-place time of 5:16.04. Sophomore Mari Müller (Zurich, Switzerland) placed fifth in the 200-Yard Breaststroke in a time of 2:27.33, with Moore hot on her heels with a time of 2:29.96. Senior Sonsoles Aguayo (Jerez, Spain) also posted UE's best time in the 100-Yard Freestyle with a time of 55.50.
"We had a lot of gutsy swims today, as there was not a lot of rest from yesterday, and this is the first multi-day meet we have competed in this year," said UE head coach Stuart Wilson. "Overall, I saw a lot of positives this weekend. We faced some very good competition this weekend, and we had people step up."
As a team, the UE women placed fourth in the MVC Showcase event. The UE men, meanwhile, fell in the triangular meet to SIU (239-100) and Missouri State (240.50-108.50), although those teams finished second and third respectively in the Mid-American Conference last season.
UE will be off next weekend, before returning to action next on November 5 by hosting Illinois State and Eastern Illinois in a meet at the Deaconess Aquatic Center in Evansville. That meet begins at 1 p.m.
Submitted by Athletics
UE women to host Braun Intercollegiate
Fall action comes to a close for the University of Evansville women's golf team with the annual Braun Intercollegiate at Oak Meadow Country Club in Evansville.
Set for Monday and Tuesday, the tournament will feature one round of 18 holes each day. Play opens with a 10 a.m. shotgun start for each round. Par is 72 and the yardage is 6,032.
This year's field includes Austin Peay, Bellarmine, Chicago State, Eastern Illinois, Evansville, UIC, Indiana State, Lindenwood, Murray State, USI and Tennessee State.
Mallory Russell was the top performer for the Purple Aces in their last tournament. Russell recorded a 3-round score of 232 at the Coyote Creek Classic in Bartonville, Ill. on her way to a tie for 10th place.
Allison Enchelmayer scored a 240 to tie for 25th while Kate Petrova and Magdalena Borisova finished 34th and 35th, respectively. Enchelmayer and Borisova paced the team in the final day of action at the event, carding rounds of 78.
Submitted by Athletics
Contribute to AceNotes
To have content considered for inclusion in AceNotes, please submit a Marketing Request Form. Deadline for submission to AceNotes is 10:00 a.m. on the requested date of publication. Only articles concerning UE related/sponsored activities will be accepted. Articles submitted to AceNotes may be edited for length and clarity. Submitter contact information is at the end of each article.