| | |
| --- | --- |
| AceNotes Today | Friday, October 21, 2022 |
Employee Headshots on 10/27 and 11/2
Are you a new employee in need of a headshot for the UE website? Have you been here for a while and are now in need of an updated headshot?
During the campus-wide fall photoshoot, there will be two designated time frames for employees to have their headshot taken by photographer Chris Berneking. You can sign up now for a time that works best for you. The time frames are:
Thursday, October 27, from 2:15-2:45PM
Wednesday, November 2, from 9-9:30AM
Up to three people can sign up per five-minute time slot. Headshots will be taken near the southwest corner of the front oval lawn (highlighted in the campus map below). If you have questions, please contact Julie Beer at jb855.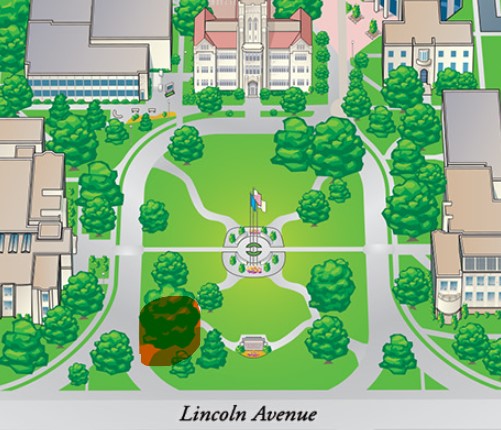 Submitted by Julie Beer / jb855@evansville.edu
PRIDE Tie Dye Event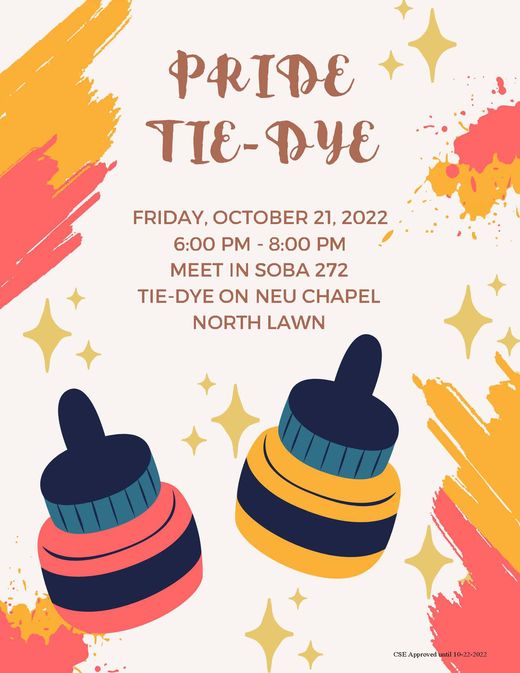 UE PRIDE will be holding a Tie Dye event this Friday from 6 to 8 pm. We will meet up in SOBA 272 and tie dye bandanas and crew socks on Neu Chapel Lawn. We will be wearing our tie dye Saturday during the PRIDE Parade event from 12 to 4 pm on East Terrace Lawn. There will be a drag show from 1:30 to 2:30 and local community groups tabling during the Saturday event. All are welcome, feel free to come out and celebrate PRIDE week with us!
Submitted by Shauna Mihalyo sm528@evansville.edu
National Collegiate Alcohol Awareness Week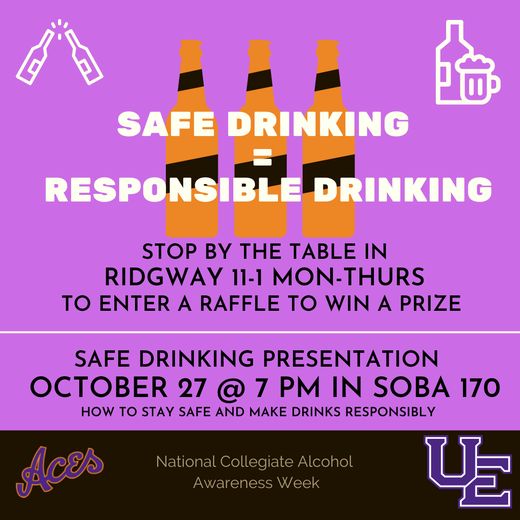 National Collegiate Alcohol Awareness Week is October 22-28. The goal of this week is to bring attention to issues posed by excessive, unsafe drinking among college students.
There will be tabling in Ridgway all week with some fun activities and the chance enter a raffle. The Health and Wellness Educator will also be hosting an alcohol safety presentation on Thursday Oct. 27th at 7pm in SOBA 170. This presentation is not just standing up and talking about how alcohol is bad – it's more realistic, he talks about how to drink safely.
Everyone is welcome to attend!
Submitted by Blake Johnson bj109@evansville.edu
Virtual Talk with Forensic Accounting Expert Tiffany Couch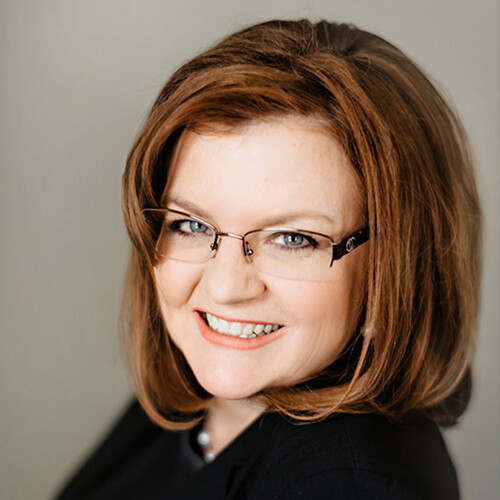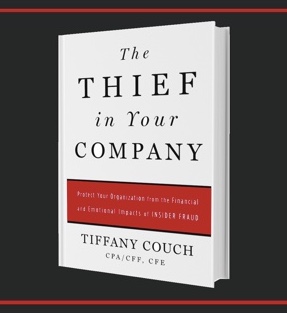 Rania Mousa, Associate Professor of Accounting and Mead Johnson Nutrition Endowed Chair in Business, would like to invite students to a Virtual Talk with Ms. Tiffany Couch. Ms. Couch is a nationally-recognized expert in forensic accounting. Her expertise is in matters involving fraud investigation, contract and regulatory compliance, internal control risk assessment, and complex litigation. Ms. Couch is a Certified Public Accountant, a Certified in Financial Forensics, a Certified Fraud Examiner and is the founder and principal of a forensic accounting firm, Acuity Forensics, in Vancouver, Washington. She is the former Chairwoman of the Association of Certified Fraud Examiners' (ACFE) Board of Regents and the winner of ACFE 2014 James R. Baker Speaker of the Year to honor an individual who has demonstrated the true spirit of leadership in communication, presentation, and quality instruction.
She has been described as an "energetic, engaging and thought-provoking speaker," who has more than 21 years of experience in conducting financial investigations and testifying as an expert witness in state and federal jurisdictions. Her expertise has been used by The New York Times, Forbes, CNBC, The Wall Street Journal, National Public Radio, and Fraud Magazine. She is also the book author of "The Thief in Your Company: Protect Your Organization from the Financial and Emotional Impacts of Insider Fraud," which has been highly rated on Amazon.
Day: Monday, October 24
Time: 4:00-6:00 pm
Virtual Talk Link: https://evansville-edu.zoom.us/j/9401122414
Submitted by Rania Mousa rm190@evansville.edu
Groundbreaking Ceremony for Lincoln Commons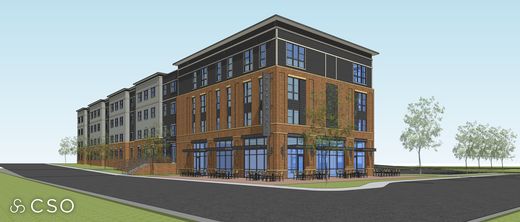 UPDATE 2022-11-14:
The groundbreaking for Lincoln Commons on November 17, 2022, will be rescheduled to spring 2023. More details to follow early next year.
Submitted by Holly Smith hh98@evansville.edu
Register today for the Health Careers Fair
Join us Tuesday, October 25 from 1pm-4pm in Eykamp Hall for this year's Health Careers Fair. We will be welcoming more than 50 employers to campus, all recruiting in a wide array of majors for part time positions, internships, and full time employment.
Register today in Handshake to receive these benefits:
- Nametag printed and ready when you arrive.
- Once registered, you are invited to stop by the Center for Career Development and pick up professional, quality resume paper.
- We will be offering free professional headshots at the event from 1-3:30pm. Use these for your professional social media profiles.
Any questions? Contact the Center for Career Development at career@evansville.edu or 812-488-1083.
Submitted by Amanda Wood aw505@evansville.edu
Campus Speaker to Discuss Racial Bias in Health Care on October 24
The campus community is invited to attend the Honors Program common read speaking event, a presentation by author Linda Villarosa, on Monday, October 24 at 6:00pm in Eykamp Hall. Ms. Villarosa will be discussing her recently published book, Under the Skin: The Hidden Toll of Racism on American Lives and on the Health of Our Nation, which was the common read for Honors Program freshmen this year.
We hope you will join us for this enlightening presentation. If you'd like to read Under the Skin in advance, copies are on reserve at the library.
About the book and author:
Journalist Linda Villarosa is a contributing writer for The New York Times Magazine, where she covers race, inequality and public health.
Under the Skin is a landmark book that tells the full story of racial health disparities in America by revealing the toll racism takes on individuals and public health. In this book, Villarosa lays bare the forces in the American health-care system and in American society that cause Black people to "live sicker and die quicker" compared to their white counterparts. Study after study of medical settings show worse treatment and outcomes for Black patients. Black people live in dirtier, more polluted communities due to environmental racism and neglect from all levels of government. And, most powerfully, Villarosa describes the new understanding that coping with the daily scourge of racism ages Black people prematurely. Anchored by unforgettable human stories and offering incontrovertible proof, Under the Skin is, according to Oprah Daily, "perhaps one of the most important and thought-provoking publications of the year."
Villarosa is a graduate of the Craig Newmark Graduate School of Journalism at CUNY, where she is an associate professor and journalist in residence. She also teaches journalism, English and Black Studies at the City College of New York.
(Source: https://www.lyceumagency.com/speakers/linda-villarosa/)
Submitted by Jayme Williams jw504@evansville.edu
Raising awareness for male sexual assault victims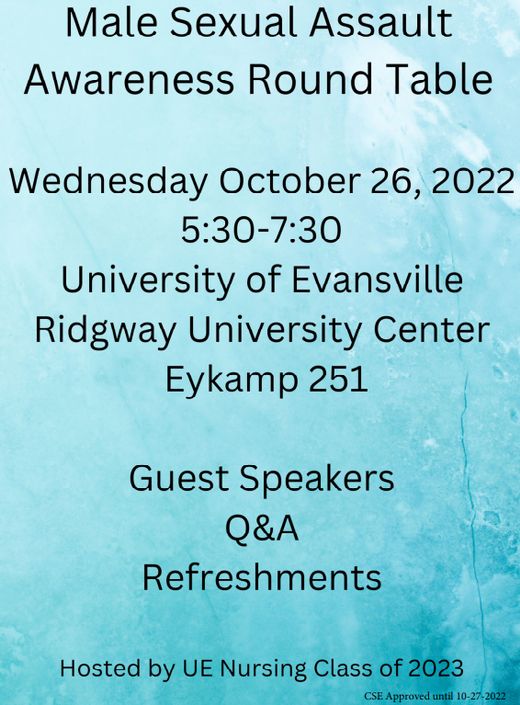 Join us for a round table discussion on October 26th from 5:30-7:30 in Eykamp 251 to raise awareness about resources available for male sexual assault victims.
Submitted by Marysa Bernard mb634@evansville.edu
Chartwells is Hiring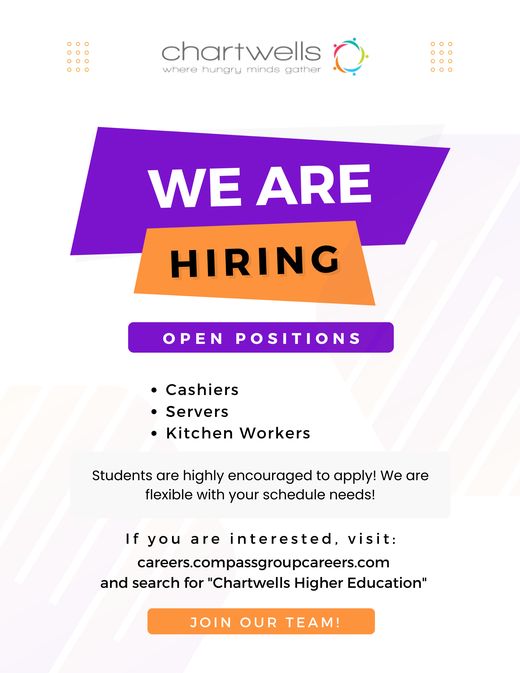 Hey Aces! Looking for a job? Come join our team in the Eatery! We are flexible with scheduling needs! We are looking for cashiers, kitchen workers, and servers. If you're interested, visit careers.compassgroupcareers.com and search for "Chartwells Higher Education" and enter Evansville in the location to get started!
Submitted by Ka'Bria Carr kc403@evansville.edu
DPT Students to Complete Balance Assessments
Calling all adults over the age of 65!!!
Do you or a loved one suffer from poor balance? Have you noticed you aren't as steady as you used to be? Are you unable to stand on one leg for over 10 seconds without losing your balance? If you answered yes to any of the above questions, we are looking for your help!!
The UE DPT Class of 2024 is completing geriatric balance assessments at the Stone Family Center for Health Sciences on 10/25/2022 from 1:00-2:30 and 2:30-4:00. Each participant will be scheduled for one of the specified time above and will work with two DPT students to receive a simple health screen and appropriate balance screening assessments. The students will educate you on your performance and provide some suggestions on ways to improve your balance and/or reduce risk of falling.
You may email Dr. Charlene Nolen at ck39@evansville.edu if you have any questions about participating. More information will be sent out if you agree to participate.
Submitted by Charlene Nolen ck39@evansville.edu
Are You Ready For Advising and Registration Week?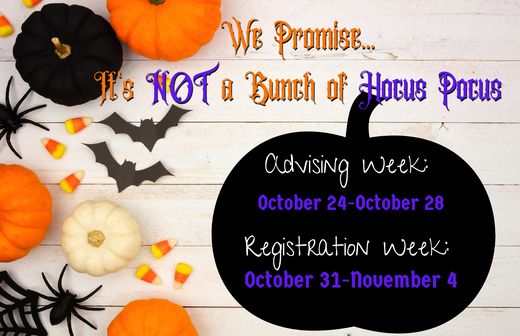 The time to plan your next semester is fast approaching! Advising Week is October 24-28 and Registration Week begins October 31-November 4. Make sure to schedule an appointment with your advisor NOW, to be ready for registration. Check your UE email! You'll receive your registration time in the coming weeks. As always, if you have questions or concerns visit Academic Services in Olmsted Hall 116 or email us at academicservices@evansville.edu.
Submitted by Jade S Shelby js818@evansville.edu
Want to Learn How to be More Interculturally Competent?
Did you know you can earn a certificate in Intercultural Competence while you're studying at UE?
By completing FLC 360 (late start), FLC 361 (Winter Intersession) and COMM 380 (a frequently offered General Education requirement) you can complete and earn a certificate in Intercultural Competence!
For more information or questions, please contact Academic Services at academicservices@evansville.edu or visit us in Olmsted Hall 116.
Submitted by Jade S Shelby js818@evansville.edu
Apply for UELA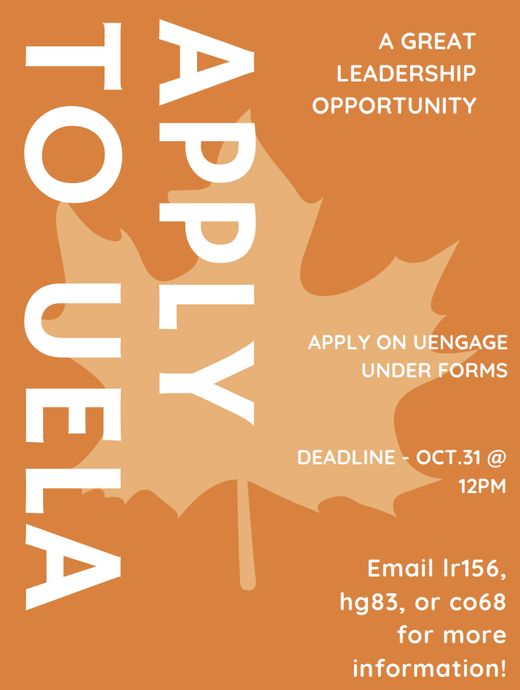 The University of Evansville Leadership Academy applications are now open! All students who have at least two years before graduation at UE are encouraged to apply. Applications will close on October 31st. Please reach out to Caitlin O'Donnell, Hannah Garrity, or Lily Renfro if you have any questions!
Submitted by Caitlin O'Donnell co68@evansville.edu
UE Jazz Band to Tour New Orleans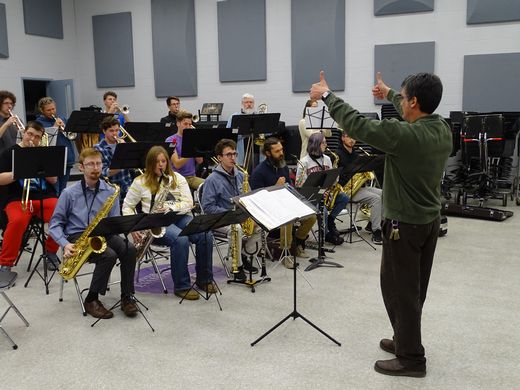 The UE Jazz Band is gearing up for their tour of New Orleans next week. This Sunday at 4:00 p.m. you can hear their tour repertoire in the Class of '59 Gallery in Ridgway. Under the direction of Dr. Timothy Zifer, the band will play New Orleans style jazz favorites.
Once in New Orleans, the students will visit several historical sites such as Louis Armstrong Park and Preservation Hall. They will also perform two concerts, including one on a river boat. A big thanks to the Friends of UE Music for funding this trip.
Come out and support the UE Jazz Band by attending this free concert!
Submitted by Amy Esche ae128@evansville.edu
DPT Faculty Present at the IN APTA Fall Conference in Ft. Wayne
Several UE DPT faculty will present at the Indiana American Physical Therapy Association's Fall Conference held in Ft. Wayne, Indiana on Saturday, October 22nd. Dr. Mark Marchino will be presenting a platform presentation titled, "DPT Student Researchers: Key to Advancing the Physical Therapy Profession." Dr. Kate Schwartzkopf-Phifer will be presenting a platform presentation titled, "Comparison of Intervention Programs to Improve Trunk Stability for Active Females: A Randomized Control Trial." Dr. Hannah Lamar will be presenting a platform titled, "One Step at a Time: Outcomes of Evidence Implementation in a Community-based Inpatient Rehabilitation Facility After Stroke." Dr. Charlene Nolen will be presenting a poster presentation titled, "Treatment of a Patient with Chronic Venous Insufficiency Using Mulit-Layer Compression and Kinesiotaping: A Case Report. Dr. Bethany Huebner will be presenting an educational session titled, "Content is King, But Only if it Sits on a Worthy Throne." Congratulations to all the DPT faculty for their contribution to physical therapy research and an ongoing commitment to advancing the profession.
Submitted by Bethany Huebner bh212@evansville.edu
Kim Smith named Associate AD for Compliance & Student-Athlete Services
Dr. Kenneth "Ziggy" Siegfried has announced the hiring of Kim Smith as the Associate Athletics Director for Compliance & Student-Athlete Services for the University of Evansville Athletics Department.
"Kim will be a difference-maker for the future growth of our department in the areas of compliance, student-athlete services, and leadership," Siegfried exclaimed. "I feel very fortunate that we were able to hire someone with her level of experience, and someone who understands what it means to be a Purple Ace."
Smith returns to the Purple Aces following a 4-year tenure at DePaul University where she was the Associate Athletics Director for Compliance. While overseeing the entire framework of the compliance department at DePaul, Smith was on the cutting edge when it came to the changing landscape of intercollegiate athletics. She introduced policies in fields that included Name, Image and Likeness, Alston academic incentives and more. As a member of the senior leadership team, she assisted in the implementation of a 5-year strategic plan for the department.
"I am so excited to have the opportunity to come back to UE, where I started my athletics administration journey with all that I have learned in my time away," Smith said. "I am mostly looking forward to working with our students on their academic success and development while continuing to advocate for an outstanding student-athlete experience."
Along with her duties within the Blue Demons Athletics Department, Smith was active in multiple facets within the NCAA. She participated in the NCAA investigation and adjudication of the NCAA Level II infractions case and new processes that were implemented. Additionally, Smith has participated in committees at DePaul, the Big East Conference, Valparaiso, the Missouri Valley Conference and the Horizon League.
Prior to her time at DePaul, Smith served in the Valparaiso University Athletics Department for over six years. Starting as the Assistant Director of Athletics for Compliance in May of 2012, she was promoted to the Associate Director of Athletics for Compliance/Senior Woman Administrator in April of 2015. She worked in that capacity until October of 2018. Along with being the primary compliance liaison within the department, she was a key member of the staff who presented and ultimately made the transition to the Missouri Valley Conference in 2017.
She worked as a sport supervisor for eight programs within the Valpo department in capacities that included mentorship, budget oversight, team development and annual review.
From 2008 through 2011, Smith was the Assistant Director of Compliance at Old Dominion University. Her initial experience in NCAA compliance came at the University of Evansville where she was the Assistant to the Director of Compliance from 2007-08. In her first two years at UE, she was a Graduate Assistant Swimming Coach.
Smith earned her Master of Science in Public Service Administration from UE after graduating with a Bachelor of Science in Sports Management from Valparaiso University.
Submitted by Athletics
UE Women's Soccer Cages Redbirds, 3-1, On "Senior Night"
The University of Evansville women's soccer team scored two first-half goals Thursday night, and reserve forward Abbi Lenk iced the match with her first career goal in the 82nd minute to give UE a 3-1 victory over visiting Illinois State on "Senior Night" at Arad McCutchan Stadium in Evansville.
Evansville (2-9-5, 1-6-3 MVC) jumped to an almost immediate lead, as in the fourth minute, junior defender Rachel Rosborough delivered a perfect cross to a streaking Hailey Autenrieb down the middle of the field, and she buried a shot into the lower-right 90 for her third goal of the season.
Illinois State (2-14-1, 0-8-1 MVC) would rebound to control possession, and fire five shots, including four on target, over the next 20 minutes, but UE senior goalkeeper Georgia Katsonouri turned away all four to keep UE up 1-0. Then, senior midfielder Monique Landrum came on, and helped turn the tide, as just 12 minutes into her first-half shift, Landrum trapped down a nifty pass from fifth-year forward Emily Ormson and beat the Illinois State keeper to the far post for her second goal of the year in the 36th minute to give UE a 2-0 cushion at halftime.
Illinois State would rebound coming out of the halftime locker room to score a goal by Hillary Griffin in the 49th minute to trim the UE lead to 2-1. But, this time, UE, which had been snake-bitten in Missouri Valley Conference play in the final 12 minutes of play, stood tall and built on the lead down the stretch.
It began with a Katsonouri full-extension save in the 79th minute of a low shot that was headed to the corner. Then, just over two minutes later, Lenk, who played just four minutes in the match, forced a loose ball in the penalty box on a back-pass to the goalkeeper, and laced a shot from a tough angle through the goalkeeper's out-stretched hands and into the back of the net for her first collegiate goal.
"This win is a real credit to our senior class," said UE head coach Chris Pfau. "I thought all year long, we have played some really good soccer, but it seemed like every match, we just ran into some unfortunate things here and there and didn't get the results that we wanted. But, our seniors have really stuck together, and continued to play hard, and they drove this team to the win tonight, and that really shows the character of that senior class."
Evansville honored eight seniors prior to tonight's match, including Ormson and fellow fifth-year members Reilly Paterson and Abby Phelps, as well as seniors Landrum, Kristen Harvey, Emilie Hill, Isabel Lynch and Sophia Rodil. While Ormson, Paterson, Phelps, Harvey and Hill are graduating, the Purple Aces could return 20 players who saw action this fall next season.
Submitted by Athletics
UE looks to make more history this weekend
Next up for the University of Evansville volleyball team is a pair of home matches against the top two teams in the Missouri Valley Conference with Drake and UNI coming to Meeks Family Fieldhouse. Friday evening will see the Purple Aces welcome the Bulldogs for a 6PM match with Saturday's contest against the Panthers slated for a 5PM start time; both matches will be carried on ESPN3.
Just Four Away
- Alondra Vazquez is just 4 kills away from setting the UE career program kills record
- Vazquez is second in program history with 1,703 kills and is approaching Jessica Kiefer's mark of 1,706...Kiefer played at UE from 1997-2001
- Her current total is 11th in MVC history
Win #1 in Normal
- For the first time in program history, the Aces defeated Illinois State on the road when UE earned a 3-0 sweep over the Redbirds on Oct. 15 inside Redbird Arena
- Evansville lost its first 29 road matches versus ISU before picking up the 3-0 win
Dominant Numbers
- Alondra Vazquez has been on an absolute roll over the last four matches, averaging 5.75 kills per set over that span
- Her season average of 4.68 per frame continues to pace the MVC while ranking 10th in the nation
- In the home win over Missouri State, Vazquez recorded 31 kills, just one shy of her career-high and the highest total for a MVC player in 2022
Putting up the Numbers
- Kora Ruff is putting up some of the top assist numbers in the nation as she continues to adjust to the college game
- In the last four matches, Ruff has recorded an average of 11.56 assists per set while raising her season average to 9.92/set (5th in the MVC)
- Ruff's MVC assist average is currently 10.37 per frame
- With a total of 853 helpers, she ranks 5th in the NCAA
- Ruff is averaging 2.21 digs per frame over the entirety of the season, but registered 2.71 in the conference outings while reaching double figures on six occasions and contributing at least eight each time
New Career-High
- Giulia Cardona recorded a career-high 24 kills in the road win at Indiana State, besting her previous mark of 23, which came in two contests against Bradley last season
- For the season, Cardona is third in the MVC with 4.06 kills per set while her total of 989 attacks is 8th-best in the NCAA
- Always one of the top servers in the sport, Cardona has a total of 41 service aces, which is 9th in the country...her average of 0.48 aces per set paces the league
Submitted by Athletics
UE Swimming & Diving Heads To MVC Showcase In Carbondale This Weekend
The University of Evansville swimming and diving teams will head to Carbondale, Illinois this weekend for a two-day meet. The women's team will take part in the four-team Missouri Valley Conference Showcase, while the men will battle tradition Valley members and Mid-American Conference swimming foes Southern Illinois and Missouri State. Action will begin Friday at 4 p.m. with the first day of activity, while Saturday's competition will begin at 10 a.m.
On the women's side, the Purple Aces will compete against swimmers from SIU, Missouri State and Valley swimming member Little Rock. There will be two heats in each event, with the top two swimmers from each school competing in one heat, while the next two in that event swimming in the second heat. The Carbondale meet will be the "southern half" of the MVC Showcase, as UNI, UIC, Indiana State and Illinois State are all scheduled to compete in the "northern half" of the MVC Showcase this weekend in Chicago, Illinois. Evansville is coming off of a 137-65 win at Valparaiso last week, in which senior Sarah Jahns (Lilburn, Ga./Parkview) was impressive in the distance freestyle events, winning by eight seconds in the 500-Yard Freestyle, and by over a minute in the 1,000-Free.
"This is a unique way to highlight Missouri Valley Conference swimming this weekend," said UE head swimming and diving coach Stuart Wilson. "It should be a fun competition and a nice way to see where we stack up in some different races at the beginning of the year against other Valley competition."
On the men's side, UE will face Southern Illinois and Missouri State in a similarly scored meet. The UE men posted a 149-56 dual-meet victory at Valparaiso last Friday. Senior Riccardo Di Domenico (Johannesburg, South Africa) dominated the competition, winning by nearly five seconds in the 200-Yard Freestyle with a time of 1:40.97, and wining by nearly three seconds in the 100-Yard Freestyle with a time of 46.40.
"Last week, I was really pleased with how we started the season on both the men's and women's sides," said Wilson. "This week, it will be good to get out and race against some fast competition, and see where we are at."
UE's divers also excelled last week in a competition against crosstown foe Southern Indiana in a non-team scored meet. Junior Madison Rollett (Evansville, Ind./Reitz) and sophomore Valorie Marx (Evansville, Ind./Reitz) both posted personal-best scores on the one-meter board to open the year, with Rollett winning both the one-meter and three-meter competitions on the women's side. Meanwhile, freshman Levi McKinney (Boonville, Ind./Boonville) impressed in his first collegiate meet, with wins on both the one-meter and three-meter boards on the men's side.
Friday's competition schedule begins at 4 p.m. with the 400-Yard Medley Relay, and continues with women's and men's races in the 400 IM, 200 Freestyle, 50-Yard Freestyle, 100 Butterfly, 100 Backstroke, 100 Breaststroke, 1,000-Yard Freestyle, and the 200 Free Relay. The women's three-meter diving competition and the men's one-meter diving competition will also be contested on Friday.
Submitted by Athletics
Contribute to AceNotes
To have content considered for inclusion in AceNotes, please submit a Marketing Request Form. Deadline for submission to AceNotes is 10:00 a.m. on the requested date of publication. Only articles concerning UE related/sponsored activities will be accepted. Articles submitted to AceNotes may be edited for length and clarity. Submitter contact information is at the end of each article.