| | |
| --- | --- |
| AceNotes Today | Thursday, October 20, 2022 |
Employee Headshots on 10/27 and 11/2
Are you a new employee in need of a headshot for the UE website? Have you been here for a while and are now in need of an updated headshot?
During the campus-wide fall photoshoot, there will be two designated time frames for employees to have their headshot taken by photographer Chris Berneking. You can sign up now for a time that works best for you. The time frames are:
Thursday, October 27, from 2:15-2:45PM
Wednesday, November 2, from 9-9:30AM
Up to three people can sign up per five-minute time slot. Headshots will be taken near the southwest corner of the front oval lawn (highlighted in the campus map below). If you have questions, please contact Julie Beer at jb855.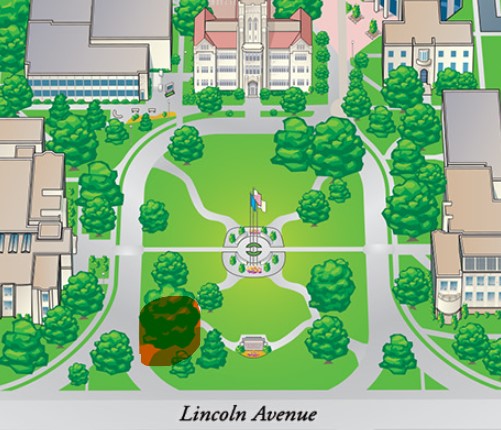 Submitted by Julie Beer / jb855@evansville.edu
Lunch Bunch for faculty and staff
The Eykamp Center for Teaching Excellence invites you to its monthly Lunch Bunch––informal lunches–– today, Thursday, October 20th from 12:00 p.m. to 1:00 p.m. First, check out the Annual Chili Bowl Sale, get yourself a clay bowl or two or more and some chili too. Then come and grab some cobbler and hang out in the Phillips Study Alcove in Ridgway (2nd floor). No need to RSVP. Stay as little or as long as your schedule allows. There is no agenda or presentation for these gatherings. Lunch Bunch is a way to offer faculty and staff a common place to get together. We hope to see you there!
Submitted by Diana Rodriguez Quevedo dr130@evansville.edu
Statement from the SGA Executive Board - Purple Thursday
Hello Aces!
As you learned Monday from our SGA President, Shane, this week is LGBTQ+ and Spirit Week! To show support for our campus and Evansville's LGBTQ+ community and to celebrate the diversity on our campus, please join the SGA Executive Board in wearing purple this Thursday for Purple Thursday!
As an Exec Board, we also wanted to take some time to remind you that we are here to encourage and promote a supportive, diverse, and safe environment for everyone in our UE family. We aim to continuously improve the UE student experience and maintain an open line of communication between you, the student body, and the administration. Our goal is to grow and enhance our UE community through diversity, involvement, innovation, and inclusion.
Please feel free to reach out to us at any time!
Sincerely,
The 2022-2023 SGA Exec Board
Shane Ranschaert, President
Grace Reisinger, Vice President
Rafay Karim, Chief Executive Officer
John Stewart, Cheif Operating Officer
Ariana Paredes. Chief Financial Officer
Mahwish Rehman, Chief Marketing Officer
Benton Simpson, Enhancement/Ombudsman Officer
Martin Everett, Academic Fund Board Chair
Zach Worley, Parliamentarian
John Erickson, Secretary
Submitted by Shane Ranschaert sr312@evansville.edu
Virtual Talk with Forensic Accounting Expert Tiffany Couch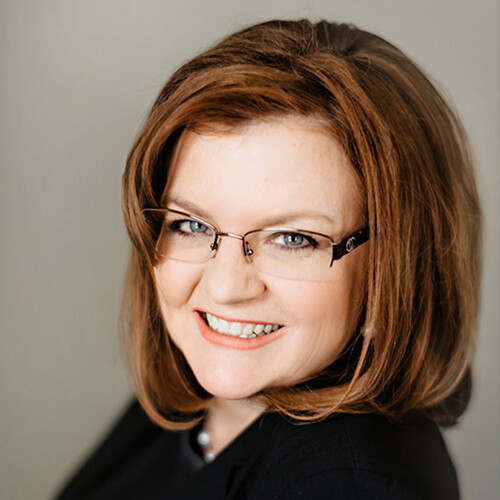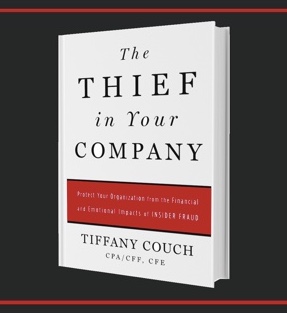 Rania Mousa, Associate Professor of Accounting and Mead Johnson Nutrition Endowed Chair in Business, would like to invite students to a Virtual Talk with Ms. Tiffany Couch. Ms. Couch is a nationally-recognized expert in forensic accounting. Her expertise is in matters involving fraud investigation, contract and regulatory compliance, internal control risk assessment, and complex litigation. Ms. Couch is a Certified Public Accountant, a Certified in Financial Forensics, a Certified Fraud Examiner and is the founder and principal of a forensic accounting firm, Acuity Forensics, in Vancouver, Washington. She is the former Chairwoman of the Association of Certified Fraud Examiners' (ACFE) Board of Regents and the winner of ACFE 2014 James R. Baker Speaker of the Year to honor an individual who has demonstrated the true spirit of leadership in communication, presentation, and quality instruction.
She has been described as an "energetic, engaging and thought-provoking speaker," who has more than 21 years of experience in conducting financial investigations and testifying as an expert witness in state and federal jurisdictions. Her expertise has been used by The New York Times, Forbes, CNBC, The Wall Street Journal, National Public Radio, and Fraud Magazine. She is also the book author of "The Thief in Your Company: Protect Your Organization from the Financial and Emotional Impacts of Insider Fraud," which has been highly rated on Amazon.
Day: Monday, October 24
Time: 4:00-6:00 pm
Virtual Talk Link: https://evansville-edu.zoom.us/j/9401122414
Submitted by Rania Mousa rm190@evansville.edu
Groundbreaking Ceremony for Lincoln Commons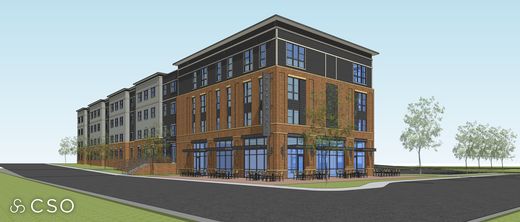 UPDATE 2022-11-14:
The groundbreaking for Lincoln Commons on November 17, 2022, will be rescheduled to spring 2023. More details to follow early next year.
Submitted by Holly Smith hh98@evansville.edu
Register today for the Health Careers Fair
Join us Tuesday, October 25 from 1pm-4pm in Eykamp Hall for this year's Health Careers Fair. We will be welcoming more than 50 employers to campus, all recruiting in a wide array of majors for part time positions, internships, and full time employment.
Register today in Handshake to receive these benefits:
- Nametag printed and ready when you arrive.
- Once registered, you are invited to stop by the Center for Career Development and pick up professional, quality resume paper.
- We will be offering free professional headshots at the event from 1-3:30pm. Use these for your professional social media profiles.
Any questions? Contact the Center for Career Development at career@evansville.edu or 812-488-1083.
Submitted by Amanda Wood aw505@evansville.edu
Chili Bowl Sale Today
The annual Chili Bowl Sale will be held today from 11:30 a.m.-1:30 p.m. on the East Terrace Lawn. The rain location is Eykamp Hall, Ridgway University Center.
For $10, customers can buy a one-of-a-kind ceramic bowl and fill it with chili. Lidded containers will be available for those who prefer not to put chili in their newly purchased bowls.
Larger bowls ranging from $15-$100 will also be for sale during the event.
Part of the proceeds from the sale will be donated to a local food organization to assist with fighting hunger. The rest will go to the UE Clay Club to be used to fund attendance at conferences, visiting artists, and studio/gallery visits.
Submitted by Carol McCraney cm177@evansville.edu
Campus Speaker to Discuss Racial Bias in Health Care on October 24
The campus community is invited to attend the Honors Program common read speaking event, a presentation by author Linda Villarosa, on Monday, October 24 at 6:00pm in Eykamp Hall. Ms. Villarosa will be discussing her recently published book, Under the Skin: The Hidden Toll of Racism on American Lives and on the Health of Our Nation, which was the common read for Honors Program freshmen this year.
We hope you will join us for this enlightening presentation. If you'd like to read Under the Skin in advance, copies are on reserve at the library.
About the book and author:
Journalist Linda Villarosa is a contributing writer for The New York Times Magazine, where she covers race, inequality and public health.
Under the Skin is a landmark book that tells the full story of racial health disparities in America by revealing the toll racism takes on individuals and public health. In this book, Villarosa lays bare the forces in the American health-care system and in American society that cause Black people to "live sicker and die quicker" compared to their white counterparts. Study after study of medical settings show worse treatment and outcomes for Black patients. Black people live in dirtier, more polluted communities due to environmental racism and neglect from all levels of government. And, most powerfully, Villarosa describes the new understanding that coping with the daily scourge of racism ages Black people prematurely. Anchored by unforgettable human stories and offering incontrovertible proof, Under the Skin is, according to Oprah Daily, "perhaps one of the most important and thought-provoking publications of the year."
Villarosa is a graduate of the Craig Newmark Graduate School of Journalism at CUNY, where she is an associate professor and journalist in residence. She also teaches journalism, English and Black Studies at the City College of New York.
(Source: https://www.lyceumagency.com/speakers/linda-villarosa/)
Submitted by Jayme Williams jw504@evansville.edu
Archery Club Callout Meeting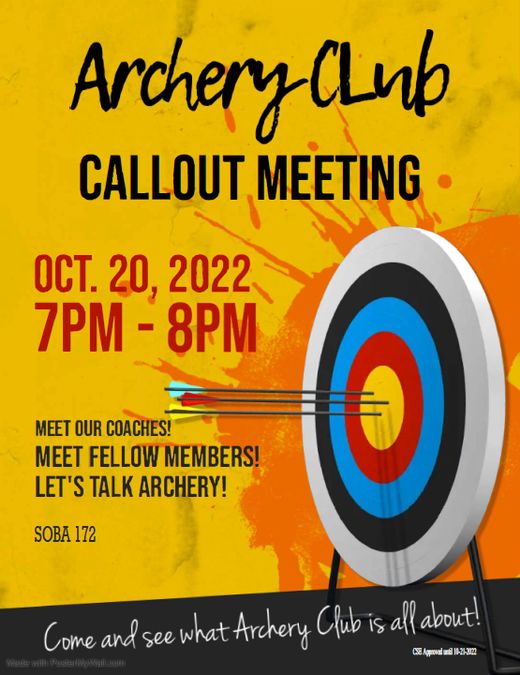 Archery Club is holding a callout meeting for prospective members on Thursday, October 20, 2022, in SOBA 172 from 7-8 pm. Come and join us to see what Archery Club is all about! Meet fellow club members and coaches and just hang out while bouncing some ideas around for the semester. Hope to see you there. If you have any questions or are just curious, please don't be afraid to contact me at pb136@evansville.edu.
Submitted by Peighton Brown pb136@evansville.edu
Late Start Classes Are Here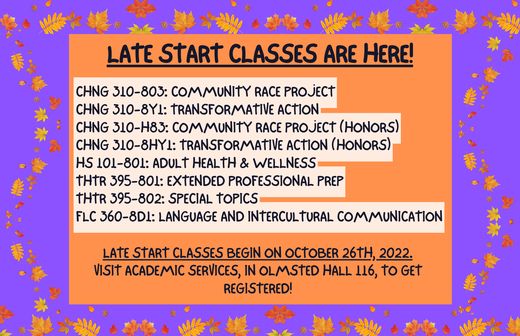 The moment many of you have been waiting for is finally here! Late Start classes, beginning October 26th, are here! If you're needing an extra course or credit hours and are thinking about adding a late start class, please visit Academic Services in Olmsted Hall 116 to get registered.
Submitted by Jade S Shelby js818@evansville.edu
UE Jazz Band to Tour New Orleans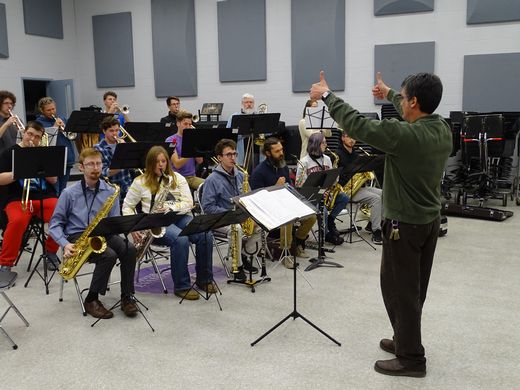 The UE Jazz Band is gearing up for their tour of New Orleans next week. This Sunday at 4:00 p.m. you can hear their tour repertoire in the Class of '59 Gallery in Ridgway. Under the direction of Dr. Timothy Zifer, the band will play New Orleans style jazz favorites.
Once in New Orleans, the students will visit several historical sites such as Louis Armstrong Park and Preservation Hall. They will also perform two concerts, including one on a river boat. A big thanks to the Friends of UE Music for funding this trip.
Come out and support the UE Jazz Band by attending this free concert!
Submitted by Amy Esche ae128@evansville.edu
UE Women's Soccer To Host Illinois State On 'Senior Night' Thursday
The University of Evansville women's soccer team will wrap up the 2022 season on Thursday night, as the Purple Aces will do battle with long-time Missouri Valley Conference rival Illinois State on "Senior Night" at Arad McCutchan Stadium. Kick-off is set for 6:05 p.m.
Evansville will honor eight members of the 2022 team with "Senior Night" festivities prior to Thursday's match. Fifth-year team members Emily Ormson, Reilly Paterson and Abby Phelps, along with seniors Kristen Harvey, Emilie Hill, Monique Landrum, Isabel Lynch, and Sophia Rodil will be honored prior to Thursday's match.
Ormson is wrapping up a storied career, as she enters Thursday's match ranked 11th all-time at Evansville in scoring with 18 goals. She needs just one more goal on Thursday night to move into a tie for ninth on UE's career goals chart, with eighth-place being just two goals away.
Paterson played in seven of UE's eight matches of the COVID-shortened spring season of 2021, but was hampered by injuries last fall. She has come back this year though to play in four matches for UE, firing a shot in UE's match at UIC earlier this month. Meanwhile, Phelps is wrapping up a career in which she has played 58 matches in UE's midfield, and has earned honorable mention all-MVC honors (Spring 2021) and MVC All-Freshman Team honors (2018) as a Purple Ace.
Harvey and Hill have been mainstays in the UE lineup over the last four years, with each planning to graduate this spring. Harvey earned MVC All-Freshman Team honors in 2019, and has played in 58 matches with 44 starts in the UE midfield. Hill, meanwhile, has started 56 matches in the UE defense over the last four years, while earning a pair of honorable mention all-MVC honors as a center back.
Landrum, Lynch and Rodil all have one more year of eligibility remaining due to the COVID year, and each is expected to return next fall, but they wanted to walk during "Senior Night" festivities with the group that they came in with.
Evansville will enter Thursday's match at 1-9-5 overall and 0-6-3 in the MVC after dropping a 2-1 decision on Sunday at Belmont. Playing close matches has been the theme for UE this year, as the Purple Aces have played 12 one-goal matches this season, the most in the MVC. UE's record could be much different if one or two bounces went Evansville's way, as the Purple Aces are 1-6-5 in those one-goal matches, with four of the six losses coming in the final 12 minutes of regulation. Ormson currently leads UE offensively with five goals, earning her fifth from the penalty spot at Belmont on Sunday.
Illinois State will enter Thursday's match at 2-13-1 overall and 0-7-1 in the Valley. Nine different Redbirds have scored so far this year, with junior forward Haley Glover and senior forward Allison Baker both notching three goals each to lead the way. Defense has been ISU's Achilles' heel this year, as the Redbirds have conceded 34 goals, the most in the MVC.
Thursday's game can be seen live on ESPN+.
Submitted by Athletics
Contribute to AceNotes
To have content considered for inclusion in AceNotes, please submit a Marketing Request Form. Deadline for submission to AceNotes is 10:00 a.m. on the requested date of publication. Only articles concerning UE related/sponsored activities will be accepted. Articles submitted to AceNotes may be edited for length and clarity. Submitter contact information is at the end of each article.