| | |
| --- | --- |
| AceNotes Today | Wednesday, October 19, 2022 |
Employee Headshots on 10/27 and 11/2
Are you a new employee in need of a headshot for the UE website? Have you been here for a while and are now in need of an updated headshot?
During the campus-wide fall photoshoot, there will be two designated time frames for employees to have their headshot taken by photographer Chris Berneking. You can sign up now for a time that works best for you. The time frames are:
Thursday, October 27, from 2:15-2:45PM
Wednesday, November 2, from 9-9:30AM
Up to three people can sign up per five-minute time slot. Headshots will be taken near the southwest corner of the front oval lawn (highlighted in the campus map below). If you have questions, please contact Julie Beer at jb855.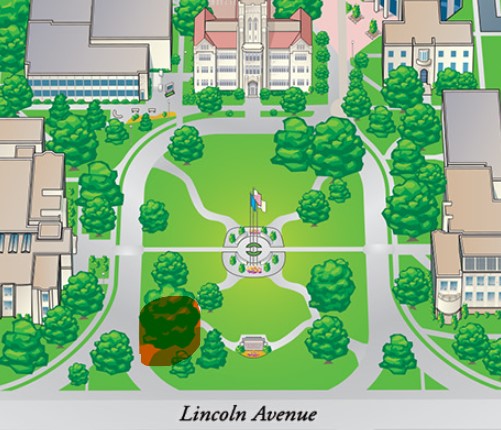 Submitted by Julie Beer / jb855@evansville.edu
Groundbreaking Ceremony for Lincoln Commons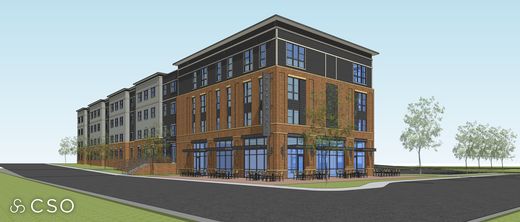 UPDATE 2022-11-14:
The groundbreaking for Lincoln Commons on November 17, 2022, will be rescheduled to spring 2023. More details to follow early next year.
Submitted by Holly Smith hh98@evansville.edu
Register today for the Health Careers Fair
Join us Tuesday, October 25 from 1pm-4pm in Eykamp Hall for this year's Health Careers Fair. We will be welcoming more than 50 employers to campus, all recruiting in a wide array of majors for part time positions, internships, and full time employment.
Register today in Handshake to receive these benefits:
- Nametag printed and ready when you arrive.
- Once registered, you are invited to stop by the Center for Career Development and pick up professional, quality resume paper.
- We will be offering free professional headshots at the event from 1-3:30pm. Use these for your professional social media profiles.
Any questions? Contact the Center for Career Development at career@evansville.edu or 812-488-1083.
Submitted by Amanda Wood aw505@evansville.edu
Countdown to the Chili Bowl Sale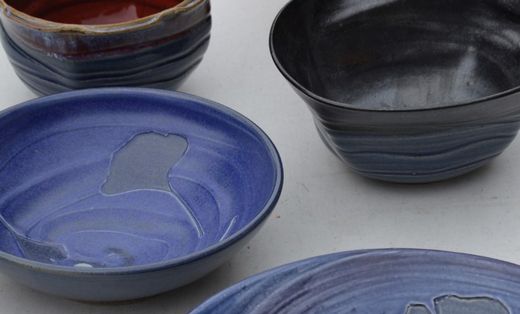 The annual Chili Bowl Sale will be held this Thursday, October 20 from 11:30 a.m.-1:30 p.m. on the East Terrace Lawn. The rain location is Eykamp Hall, Ridgway University Center.
For $10, customers can buy a one-of-a-kind ceramic bowl and fill it with chili. Lidded containers will be available for those who prefer not to put chili in their newly purchased bowls.
Larger bowls ranging from $15-$100 will also be for sale during the event.
Part of the proceeds from the sale will be donated to a local food organization to assist with fighting hunger. The rest will go to the UE Clay Club to be used to fund attendance at conferences, visiting artists, and studio/gallery visits.
Submitted by Carol McCraney cm177@evansville.edu
Campus Speaker to Discuss Racial Bias in Health Care on October 24
The campus community is invited to attend the Honors Program common read speaking event, a presentation by author Linda Villarosa, on Monday, October 24 at 6:00pm in Eykamp Hall. Ms. Villarosa will be discussing her recently published book, Under the Skin: The Hidden Toll of Racism on American Lives and on the Health of Our Nation, which was the common read for Honors Program freshmen this year.
We hope you will join us for this enlightening presentation. If you'd like to read Under the Skin in advance, copies are on reserve at the library.
About the book and author:
Journalist Linda Villarosa is a contributing writer for The New York Times Magazine, where she covers race, inequality and public health.
Under the Skin is a landmark book that tells the full story of racial health disparities in America by revealing the toll racism takes on individuals and public health. In this book, Villarosa lays bare the forces in the American health-care system and in American society that cause Black people to "live sicker and die quicker" compared to their white counterparts. Study after study of medical settings show worse treatment and outcomes for Black patients. Black people live in dirtier, more polluted communities due to environmental racism and neglect from all levels of government. And, most powerfully, Villarosa describes the new understanding that coping with the daily scourge of racism ages Black people prematurely. Anchored by unforgettable human stories and offering incontrovertible proof, Under the Skin is, according to Oprah Daily, "perhaps one of the most important and thought-provoking publications of the year."
Villarosa is a graduate of the Craig Newmark Graduate School of Journalism at CUNY, where she is an associate professor and journalist in residence. She also teaches journalism, English and Black Studies at the City College of New York.
(Source: https://www.lyceumagency.com/speakers/linda-villarosa/)
Submitted by Jayme Williams jw504@evansville.edu
Archery Club Callout Meeting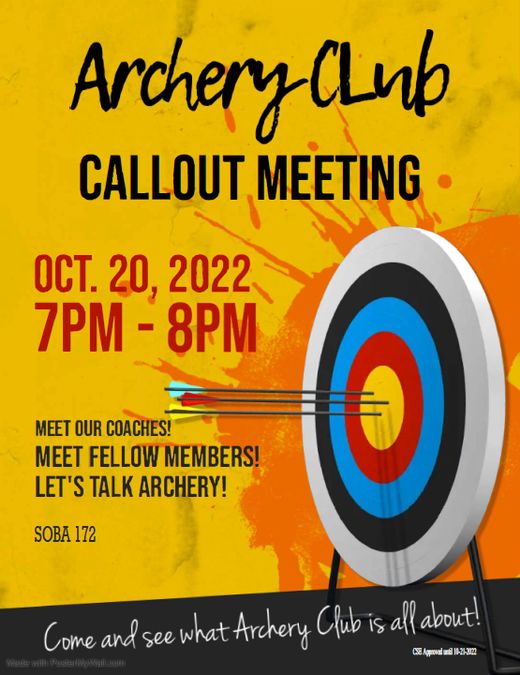 Archery Club is holding a callout meeting for prospective members on Thursday, October 20, 2022, in SOBA 172 from 7-8 pm. Come and join us to see what Archery Club is all about! Meet fellow club members and coaches and just hang out while bouncing some ideas around for the semester. Hope to see you there. If you have any questions or are just curious, please don't be afraid to contact me at pb136@evansville.edu.
Submitted by Peighton Brown pb136@evansville.edu
UE Jazz Band Tour To New Orleans
The UE Jazz Band will be taking a concert tour of New Orleans Louisiana October 24-27. They will host a free NOLA Tour Kick-Off Concert on Sunday October 23 at 4:00 PM in the Class of '59 Lounge on the second floor of Ridgway. The band will tour St. Louis Cathedral, French Market, Louis Armstrong Park, Preservation Hall among other NOLA landmarks. The UE Jazz Band will also perform on the Creole Queen Paddle Wheel riverboat, Outlook Collection at Riverwalk, and the Washington Artillery Park. This tour will allow UE students will to visit one of the birthplaces of jazz and experience a city with rich cultural traditions.
Submitted by Timothy Zifer tz3@evansville.edu
Raising awareness for male sexual assault victims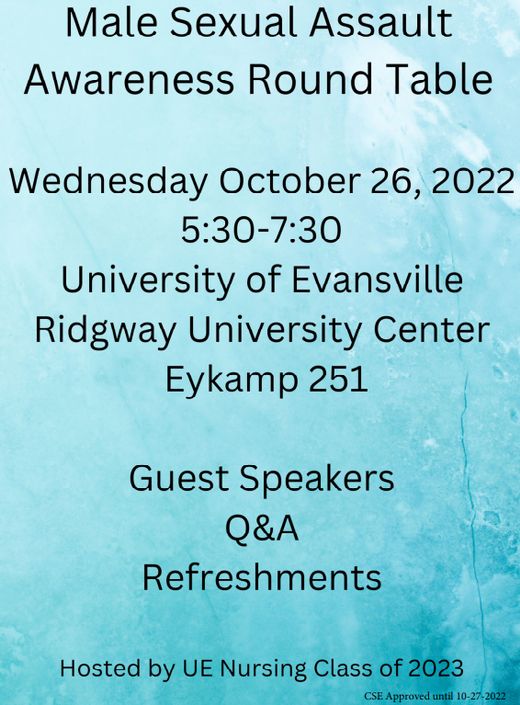 Join us for a round table discussion on October 26th from 5:30-7:30 in Eykamp 251 to raise awareness about resources available for male sexual assault victims.
Submitted by Marysa Bernard mb634@evansville.edu
Chipotle Fundraiser for UE Nursing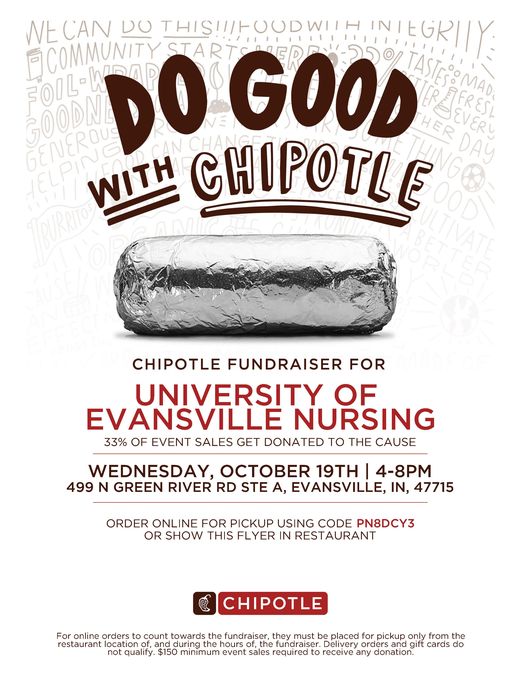 Senior nursing students will be hosting a giveback at Chipotle to benefit the Evansville Recovery Alliance.
Submitted by Anna Bury ab760@evansville.edu
Solution Station Wednesday: Thinking About Graduation?
Have you been thinking about graduation?
As the academic year moves forward, you might have questions about what happens next. Make sure you come to the Solution Station table in Ridgway today to talk about that next step – graduation!
If you have questions about applying to graduate, unresolved degree deficiencies, substitutions, or what to expect as you approach the end of your college journey, please come by! Have you already applied to graduate? Great! We'll be here to talk with you about any other questions you have or issues you're facing. We don't want any surprises to get in the way of you getting your degree.
Solution Station Wednesday
11:00 a.m. - 1:00 p.m.
Ridgway University Center
Can't make it? Make a Graduation/Degree Audit Consultation appointment or contact Kelsey Gordon directly at kg302@evansville.edu.
You're getting closer to the finish, Aces!
Submitted by Chad Hart ch299@evansville.edu
DPT Students to Complete Balance Assessments
Calling all adults over the age of 65!!!
Do you or a loved one suffer from poor balance? Have you noticed you aren't as steady as you used to be? Are you unable to stand on one leg for over 10 seconds without losing your balance? If you answered yes to any of the above questions, we are looking for your help!!
The UE DPT Class of 2024 is completing geriatric balance assessments at the Stone Family Center for Health Sciences on 10/25/2022 from 1:00-2:30 and 2:30-4:00. Each participant will be scheduled for one of the specified time above and will work with two DPT students to receive a simple health screen and appropriate balance screening assessments. The students will educate you on your performance and provide some suggestions on ways to improve your balance and/or reduce risk of falling.
You may email Dr. Charlene Nolen at ck39@evansville.edu if you have any questions about participating. More information will be sent out if you agree to participate.
Submitted by Charlene Nolen ck39@evansville.edu
Are You Ready For Advising and Registration Week?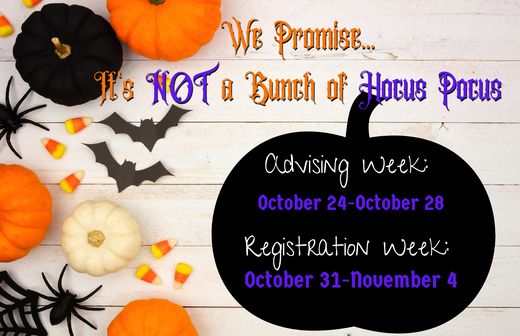 The time to plan your next semester is fast approaching! Advising Week is October 24-28 and Registration Week begins October 31-November 4. Make sure to schedule an appointment with your advisor NOW, to be ready for registration. Check your UE email! You'll receive your registration time in the coming weeks. As always, if you have questions or concerns visit Academic Services in Olmsted Hall 116 or email us at academicservices@evansville.edu.
Submitted by Jade S Shelby js818@evansville.edu
Want to Learn How to be More Interculturally Competent?
Did you know you can earn a certificate in Intercultural Competence while you're studying at UE?
By completing FLC 360 (late start), FLC 361 (Winter Intersession) and COMM 380 (a frequently offered General Education requirement) you can complete and earn a certificate in Intercultural Competence!
For more information or questions, please contact Academic Services at academicservices@evansville.edu or visit us in Olmsted Hall 116.
Submitted by Jade S Shelby js818@evansville.edu
Apply for UELA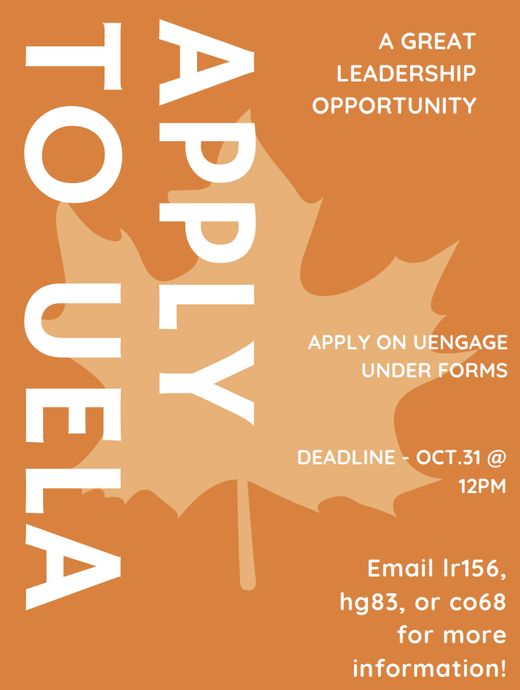 The University of Evansville Leadership Academy applications are now open! All students who have at least two years before graduation at UE are encouraged to apply. Applications will close on October 31st. Please reach out to Caitlin O'Donnell, Hannah Garrity, or Lily Renfro if you have any questions!
Submitted by Caitlin O'Donnell co68@evansville.edu
Contribute to AceNotes
To have content considered for inclusion in AceNotes, please submit a Marketing Request Form. Deadline for submission to AceNotes is 10:00 a.m. on the requested date of publication. Only articles concerning UE related/sponsored activities will be accepted. Articles submitted to AceNotes may be edited for length and clarity. Submitter contact information is at the end of each article.