| | |
| --- | --- |
| AceNotes Today | Saturday, October 15, 2022 |
Music Conservatory Hosts Army Brass Band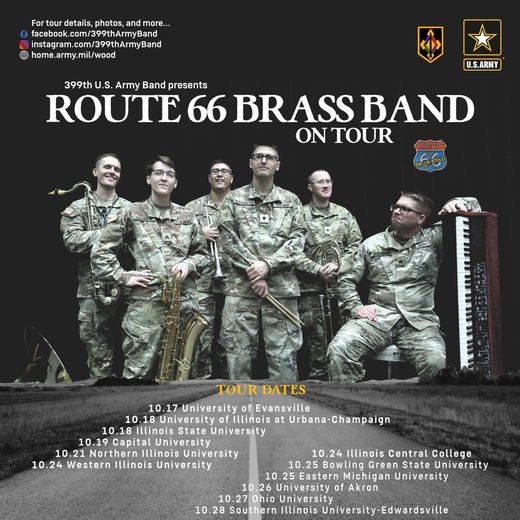 On Monday, October 17, the Music Conservatory will host an ensemble of the 399th Army Brass Band. The "Route 66 Brass Band" will perform in Neu Chapel at 7:30 p.m. They are comprised of 7 to 9 musicians that perform fun, high-energy music. They play everything from rock, Latin, funk, pop, and more. Admission is free and seating is first come, first served.
Submitted by Amy Esche ae128@evansville.edu
Final Three Performances of UE Theatre's MEASURE FOR MEASURE Slated for this Weekend
The University of Evansville Department of Theatre's production of William Shakespeare's MEASURE FOR MEASURE, in a modern verse translation by Aditi Brennan Kapil, in an ongoing collaboration with Play On! Shakespeare, runs for three more performances this weekend, at 7:30 p.m., on October 14 and 15, and at 2:00 p.m., on October 16.
This 400-year-old tale could be "ripped from the headlines" of today's world, as it examines themes central to human nature and our paradoxical relationship to justice and mercy. With all its high-spirited bawdiness, this tragicomedy reveals what can happen when sex, religion, and politics collide.
In following industry standards, as established by the Broadway League, all audience members must remain masked during the performance. It is our hope that these restrictions will allow our student actors to safely perform unmasked.
Adult ticket prices are $20 and $18 for senior adults, UE employees, and non-UE students. UE students may obtain one FREE ticket beginning at 12 p.m. on the day of the performance they wish to attend. Single tickets may be purchased online at theatre.evansville.edu or by calling the ticket office at 812.488.2031.
Submitted by Sharla Cowden sc75@evansville.edu
Archery Club Callout Meeting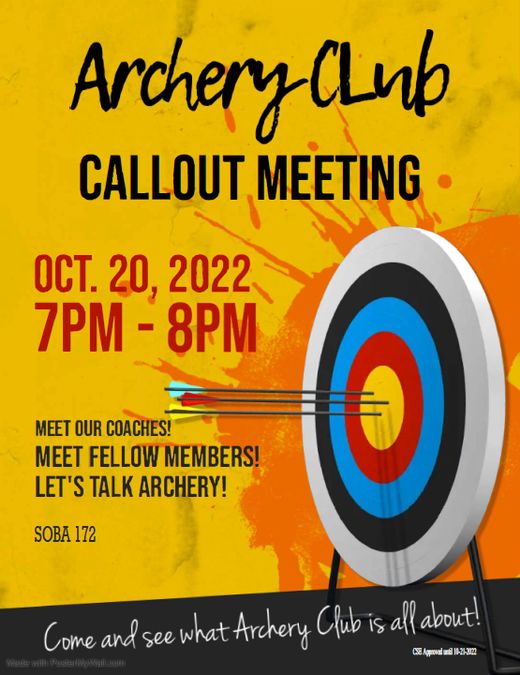 Archery Club is holding a callout meeting for prospective members on Thursday, October 20, 2022, in SOBA 172 from 7-8 pm. Come and join us to see what Archery Club is all about! Meet fellow club members and coaches and just hang out while bouncing some ideas around for the semester. Hope to see you there. If you have any questions or are just curious, please don't be afraid to contact me at pb136@evansville.edu.
Submitted by Peighton Brown pb136@evansville.edu
Participate in International Bazaar
Our Annual International Bazaar is coming up on November 18, in Eykamp, and we will love it if you can join us by holding a booth, doing a performance, selling items in the marketplace, or volunteering! The International Bazaar is a great way to get involved on campus, show pride of your country and culture, and connect with people of all different backgrounds on campus!
The sign-up links are all in the Linktree!
https://linktr.ee/ue_internationalclub
If you have any questions or want more information on Bazaar, please contact Akane Suzuki (as972).
Submitted by Akane Suzuki as972@evansville.edu
Guest Speaker from the US Secret Service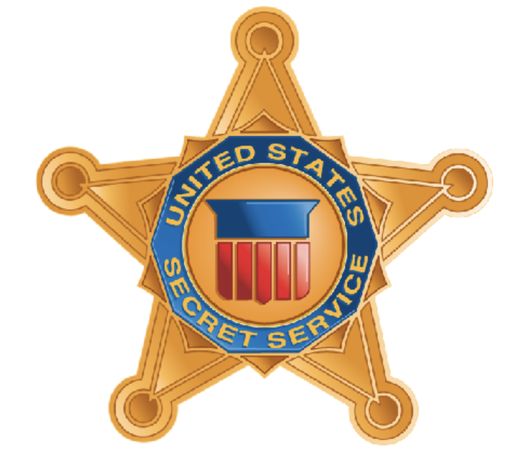 Rania Mousa, Associate Professor of Accounting and Mead Johnson Nutrition Endowed Chair in Business, would like to invite students to attend an upcoming talk with a guest speaker from the United States Secret Service. The US Secret Service is one of the federal law enforcement agencies overseen by the Department of Homeland Security. It has a mission of protecting the highest elected leaders and visiting foreign heads of state, safeguarding the integrity of the currency, and investigating crimes against the U.S. financial system committed by criminals around the world and in cyberspace.
The guest speaker is Special Agent Michael Moore. He serves as the USSS Evansville Domicile Agent. He earned his B.S. in Economics from Purdue University and an M.S. in Criminal Justice Administration from Sam Houston State University. He is specialized in suppressing criminal activities by investigating financial crimes, such as frauds against the government, counterfeiting currency and credit cards, embezzlement, bank and insurance scams, elder fraud, and money laundering. SSA Moore also implements security plans for dignitaries.
Day: Monday, October 17
Time: 4:00-6:00 pm
Location: Schroeder School of Business Building, SB 170 (Smythe Hall)
Submitted by Dr. Rania Mousa rm190@evansville.edu
College of Business & Engineering Speaker Series Women's Entrepreneurship Week: Lunch & Learn Panel A Celebration of Female Entrepreneurs
University of Evansville - College of Business & Engineering Speaker Series
Women's Entrepreneurship Week: Lunch & Learn Panel
A Celebration of Female Entrepreneurs!
Tuesday, October 18th, 12:15 p.m. - 1:30 p.m.
Schroeder School of Business Rm 170
Join us on October 18th for a lunch and learn panel featuring successful business founders: Gayla Bell (Gayla Cakes), Emily Conley (Emily Writes Well), and Alissa Paik (Thrive Marketing Strategies). Dean Beverly Brockman will provide a short introduction into the entrepreneurial process, followed by Q&A with the panel to hear about their entrepreneurial journey and tips for success.
A Zoom option will be provided for those that would like to attend virtually. The link will be sent via email within 48 hours of the start time of the event.
Box lunch of artisan sandwich or salad and side will be provided. Please let us know if you have any dietary restrictions.
For questions or concerns please contact Nick Bragin at nb197@evansville.edu.
Submitted by Nicholas Bragin nb197@evansville.edu
Annual Chili Bowl Sale Planned for October 20
The annual Chili Bowl Sale at the University of Evansville, hosted by the UE Clay Club and Department of Art, is planned for October 20 from 11:30 a.m.-1:30 p.m. The event will be set up on the East Terrace Lawn, outside of Ridgeway University Center, on UE's campus. The rain location for the event is Eykamp Hall, Ridgway University Center.
The UE Clay Club will be partnering with Chartwells again this year for the chili. It has been a hit in the previous years.
For $10, customers can buy a one-of-a-kind ceramic bowl and fill it with chili. Lidded containers will be available for those who prefer not to put chili in their newly purchased bowls.
Larger bowls ranging from $15-$100 will also be for sale during the event.
The bowls are being made this year by members of the UE Clay Club, faculty, alumni, and community members.
Part of the proceeds from the sale will be donated to a local food organization to assist with fighting hunger. The rest will go to the UE Clay Club to be used to fund attendance at conferences, visiting artists, and studio/gallery visits.
Submitted by Carol McCraney cm177@evansville.edu
Majors and Minors Fair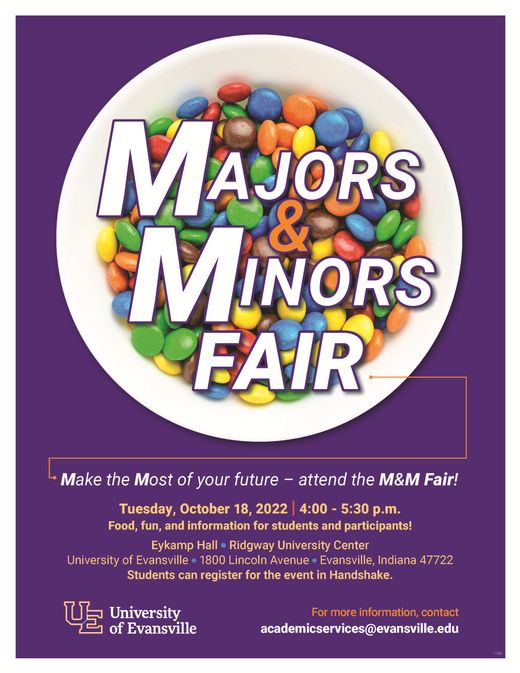 The Majors and Minors Fair is open to all students on Tuesday, October 18, from 4:00 - 5:30 p.m. in Eykamp Hall.
Thinking about changing or adding a major or minor? This is your chance to network with faculty, current students, and alumni from academic departments as well as student support services. Learn more about the classes, research opportunities, internships, and career outcomes.
For more information, contact academicservices@evansville.edu.
Submitted by Paula Heldt ph28@evansville.edu
Employee Fall Healthier Behavior Challenge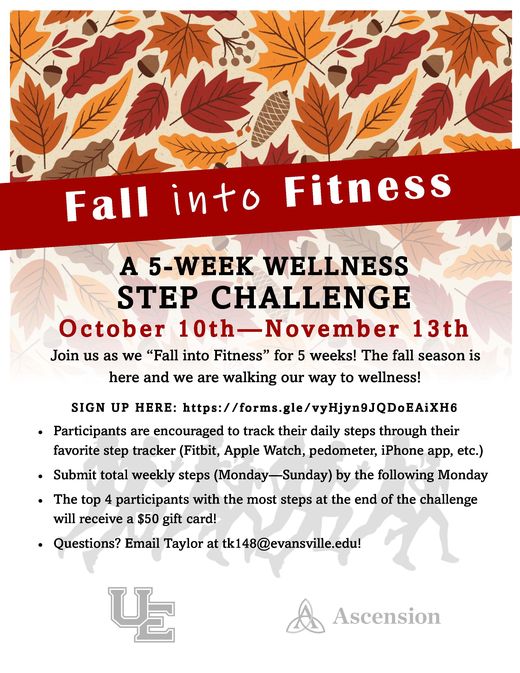 The UE Summer Healthy Behavior challenge is still in progress, but we will soon switch up the pace with our Fall Healthy Behavior Challenge! Introducing the Fall Into Fitness Step Challenge! Join us as we "Fall Into Fitness" for 5 weeks! The Fall season is here and we are walking our way to wellness! Earn a one-time $150 in HRA credits (if you are NOT participating in the Summer Healthy Behavior Challenge) for successfully completing the challenge!
This challenge will begin October 10th - November 13th. Follow the link below to sign up!! A link to submit your weekly steps will be emailed to you at the start of the challenge. See the flyer for additional information!
SIGN UP HERE: https://forms.gle/vyHjyn9JQDoEAiXH6
Submitted by Taylor Kollak tk148@evansville.edu
Department of Art Alumni Exhibition Returns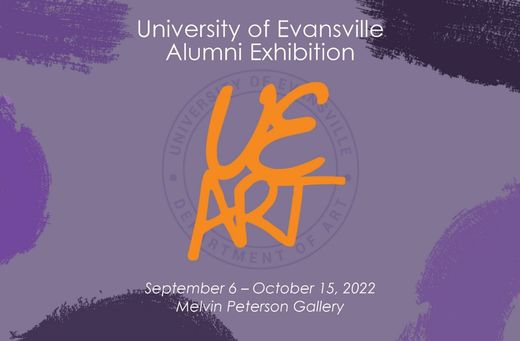 The Department of Art is pleased to announce the return of the UE Art Alumni Exhibition in the Melvin Peterson Gallery. Twenty alumni from around the country are participating in this exhibition. The artworks range from painting, sculpture, ceramics, batik, alcohol ink, and mixed media. All artwork is for sale and a portion of the sales will go to the establishment of an Art Scholarship. We welcome the entire community to visit the exhibition and support the
Department of Art as we welcome these alumni to campus. Some of these students you may even remember.
The Exhibition opens September 6 and runs through October 15. There is a public reception on Thursday, September 8 at 6:30 pm to celebrate the artists. We hope to see you there.
Melvin Peterson Gallery hours are:
Monday, Tuesday, and Friday 12-3
Wednesday and Thursday 12-6
Saturday 12-3
Submitted by Carol McCraney cm177@evansville.edu
Global Scholar, Professor Rania Mousa Presents Research at University of Bologna
Associate Professor of Accounting and Mead Johnson Nutrition Endowed Chair Rania Mousa has presented her research at the Sustainable and Socially Responsible Finance Conference held at The Yunus Social Business Center in the University of Bologna in Italy on Oct. 6-7, 2022. The University of Bologna is the oldest university in the Western World.
Professor Mousa presented her co-authored paper titled, Reimagining Financial Inclusion in the Post COVID-19 World: The Case of Grameen America. The paper identifies and examines the key initiatives undertaken by Grameen America in response to the COVID-19 pandemic using the Vulnerable Group Theory, the Special Agent Theory of Financial Inclusion, and the UN's Sustainability Development Goals Framework. The research findings revealed that Grameen America sacrificed its organizational self-interests to fulfill its ethical duties towards underbanked women in the U.S. It also prioritized financial inclusion by alleviating the financial hardships of its clients and creating strategic partnerships with external organizations thereby contributing to the UN's SDGs 1 & 17.
Professor Mousa is a recipient of the Global Scholar Award 2022-2023 offered by the Center for Innovation & Change.
Submitted by Andrew Carter ac116@evansville.edu
DPT Students to Complete Balance Assessments
Calling all adults over the age of 65!!!
Do you or a loved one suffer from poor balance? Have you noticed you aren't as steady as you used to be? Are you unable to stand on one leg for over 10 seconds without losing your balance? If you answered yes to any of the above questions, we are looking for your help!!
The UE DPT Class of 2024 is completing geriatric balance assessments at the Stone Family Center for Health Sciences on 10/25/2022 from 1:00-2:30 and 2:30-4:00. Each participant will be scheduled for one of the specified time above and will work with two DPT students to receive a simple health screen and appropriate balance screening assessments. The students will educate you on your performance and provide some suggestions on ways to improve your balance and/or reduce risk of falling.
You may email Dr. Charlene Nolen at ck39@evansville.edu if you have any questions about participating. More information will be sent out if you agree to participate.
Submitted by Charlene Nolen ck39@evansville.edu
Late Start Classes Are Here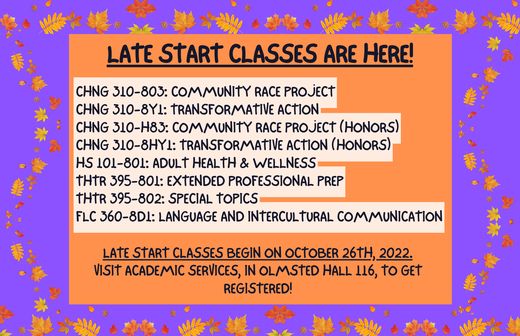 The moment many of you have been waiting for is finally here! Late Start classes, beginning October 26th, are here! If you're needing an extra course or credit hours and are thinking about adding a late start class, please visit Academic Services in Olmsted Hall 116 to get registered.
Submitted by Jade S Shelby js818@evansville.edu
New Accident Report Form - Fillable PDF
The Risk Management website in the UE Portal has a revised Accident Report Form available. The revised form is a fillable PDF but may also be printed and completed manually when necessary. For insurance purposes, anytime someone sustains even a minor injury and possibly refuses medical attention, this form should be completed and submitted to riskmanagement@evansville.edu or delivered to the Administrative Services offices in the General Services building on campus.
Submitted by Duane Martin dm359@evansville.edu
Dr. Matsel speaks at Colorado APTA Conference
Dr. Kyle Matsel, associate professor of Physical Therapy, was invited to speak at the Rocky Mountain Annual Conference and PT Expo in Breckenridge, CO this month. The presentation "Functional Movement Systems: Assessment through Discharge and Beyond," provided attendees with an overview of functional assessment using neurodevelopment biomarkers for individuals throughout their lifespan and demonstrated a connection between suboptimal performance outcomes at discharge and underlying movement quality limitations.
Submitted by Jennifer Simon js698@evansville.edu
Annual UE Cross Country Invitational Set For Saturday Morning
The University of Evansville cross country program will host the 20th-annual UE Cross Country Invitational on Saturday morning at the Angel Mounds Cross Country Course on Evansville's eastside. The men's 8-K race will kick off the meet at 10 a.m., with the women's 5-K race set to follow at 10:45. Admission is $5.
Saturday's race will feature 135 runners from eight different schools. The men's race will feature runners from UE, Austin Peay, Bethel (Ind.), Central State, Lane, Oakland City, Trinity Christian and crosstown foe USI. The women's race will feature runners from each of those schools, except for Lane College.
For Evansville, it will be their first race since competing at the Live In Lou Classic in Louisville, Kentucky on October 1. On that day, seven of the 10 Purple Aces who competed turned in collegiate-best times, with nine of the runners posting their fastest collegiate time of the season. Graduate student Melanie Helder (Hudsonville, Mich./Hudsonville) led the women's team by placing second overall with a 5-K time of 18:14.0. Meanwhile, on the men's side, sophomore Adam Oulgout (St. Paul, Minn./Central) cut over 40 seconds off of his best collegiate 8-K time with a mark of 26:30.9.
Saturday's race will be the final home race for fifth-year runner Carson Kline (Terre Haute, Ind./South) and senior Claire Griffy (Salem, Ill./Salem Community). It will also be UE's final race before the Missouri Valley Conference Championships on October 28.
There will not be live results available for Saturday's race, but race results will be posted on GoPurpleAces.com at the conclusion of the meet.
Submitted by Athletics
Landrum, Anslinger Score In UE Women's Soccer Draw With Drake, 2-2
University of Evansville senior Monique Landrum and sophomore Ryleigh Anslinger scored their first goals of the year Thursday night, as the Purple Aces' women's soccer team played to a 2-2 draw with the visiting Drake Bulldogs at Arad McCutchan Stadium in Evansville.
In a defensive-minded first half, it was UE's bench who provided a lift early, as Landrum and fellow reserve midfielder Chrysta Vasquez provided a spark offensively. Vasquez cracked a shot off the crossbar in the 36th minute, and was stopped on another opportunity in the 40th minute. Then, Landrum was able to volley home a cross from defender Rachel Rosborough at the start of the 44th minute to give UE a 1-0 advantage at the break.
At the start of the second half, Anslinger was able to record her first collegiate goal off a brilliant combination with sophomore Hailey Autenrieb and fifth-year forward Emily Ormson. In traffic near the center-line, Ormson was able to find Autenrieb, who quickly switched fields to a streaking Anslinger down the right flank. Anslinger then blasted the ball to the far left corner in the 50th minute to give UE a 2-0 cushion.
Drake would respond in the 64th minute off a corner-kick goal scored by Emma Nagel. The Bulldogs then found the equalizer in the 81st minute on a long ball that found the head of Megan Brown just outside of the six-yard box, and she flicked it in to tie the match at 2-2.
Evansville had one final run in the waning seconds to try and win, but Rosborough couldn't get a shot off to the right of the goal as time ticked down, and the final scoreline held at 2-2.
Offensively, each side fired 10 shots, with UE holding a 6-5 advantage in shots on goal. Nagel produced five of Drake's 10 shots on the night, while Landrum, Anslinger, Vasquez and Autenrieb had two shots each for UE.
With the draw, Drake stands at 2-7-6 overall and 1-2-4 in the Missouri Valley Conference, while Evansville is right behind in the standings at 1-8-5 and 0-5-3 in the Valley. UE will travel to Nashville, Tennessee on Sunday to battle the Belmont Bruins at 2 p.m. Sunday's match can be seen live on ESPN3.
Submitted by Athletics
UE Divers To Host USI, Swimmers To Travel To Valparaiso Friday
The 2022-23 season will get underway on Friday for the University of Evansville swimming and diving programs, as both groups will be in action. The divers will host crosstown University of Southern Indiana inside of Roy & Mary Wyttenbach Pool on the UE campus at 3 p.m., while the swimmers will travel to Valparaiso, Indiana to battle Missouri Valley Conference rival Valparaiso at 5 p.m.
"We are excited to get started," said UE head swimming coach Stuart Wilson. "Both teams have been putting in a lot of work in practice, and it will be good to get out and compete against someone else on Friday, and see where we are at to start the year."
Friday's diving meet will have a very local flavor, as four of the five competing divers have southern Indiana ties. Both UE female divers Valorie Marx and Madison Rollett attended Reitz High School in Evansville, while the two male divers in the competition – UE's Levi McKinney and USI's Lane Pollock – were high school teammates at nearby Boonville High School. Rollett is coming off a season in which she earned honorable mention all-Valley honors after placing sixth in the one-meter competition.
"Our divers are really excited to get started," said UE diving coach Dustin Bredemeier. "It should be a lot of fun, especially with competing against a crosstown school like USI. Hopefully, there will be a good crowd on hand as well."
Swimming-wise, the Purple Aces welcome back a veteran squad on both the men's and women's side this year. On the men's side, UE returns 13 letterwinners from a year ago, including second-team all-Mid-American Conference performers Alon Baer (Gesher HaZiv, Israel) and Patrik Vilbergsson (Kopavogur, Iceland) and nine men who competed in the 2022 CSCAA National Invitational Championships. On the women's side, the Purple Aces return 10 swimmers from a year ago, led by first-team all-MVC performer Maya Cunningham (Yakima, Wash./Eisenhower) and honorable mention all-Valley swimmers Sveva Brugnoli (Rome, Italy), Sarah Jahns (Lilburn, Ga./Parkview), Sage Moore (Lexington, Ohio/Lexington), and Iryna Tsesiul (Minsk, Belarus). Overall, four of the ten returning female swimmers for UE also competed in the CSCAA National Invitational Championships a year ago.
"On the men's side, I know that we lost some key performers, but I have a feeling that we will be even better this year, with our experience coming back and the newcomers that we have added," said Wilson. "On the women's side, we are a small group, but we have quality up and down our roster. I am really looking forward to this year, and I am looking forward to seeing us compete starting Friday."
Submitted by Athletics
Volleyball travels to Bradley and Illinois State
Ready to continue its recent win streak, the University of Evansville volleyball team is on the road this weekend at Bradley and Illinois State. The Purple Aces open against the Braves at 6 p.m. Friday at Renaissance Coliseum before facing the Redbirds at 7 p.m. Saturday inside Redbird Arena with both matches set to be on ESPN3.
Ready to Make a Statement
- This weekend provides UE with a chance to make a huge statement in the Missouri Valley Conference
- Evansville opens at Renaissance Coliseum where it has dropped its last seven matches with the last victory coming in 2013
- Weekend action wraps up at Redbird Arena with the Aces looking for their first-ever road win over Illinois State...UE is 0-29 in its trips to Normal
On the Cusp
- Alondra Vazquez is just 44 kills away from setting the UE career program kills record
- Vazquez is second in program history with 1,663 kills and is approaching Jessica Kiefer's mark of 1,706...Kiefer played at UE from 1997-2001
- Her current total is 13th in MVC history
New Career-High
- In Monday's win at Indiana State, Giulia Cardona reset her career mark with 24 kills
- It bested her previous high of 23, which came on two occasions (both against Bradley)
- Cardona continues to rank inside the top 10 nationally in service aces as her total of 37 ranks 8th
- Averaging 0.47 aces per set, Cardona paces the MVC and is 45th in the nation
- For the second time in her career, she was named MVC Player of the Week on 9/26
Adding the Defense
- It has been an impressive streak for Hannah Watkins, who has been credited with at least 3.0 total blocks in four consecutive matches
- Averaging 1.07 blocks/set on the season, her average has rocketed to 1.46 in MVC outings
- Watkins recorded two solo blocks and six block assists in the win over Missouri State before adding another solo and four assists at Indiana State
Taking Over
- Last Saturday against Missouri State, Alondra Vazquez absolutely took over, recording 31 kills while helping UE win in five sets
- Vazquez' 31 kills was one shy of her career-high of 32 and was her top total in 2022
- She missed eight non-conference matches but has regained her form while averaging 5.78 kills in the last two matches and continues to pace the MVC with 4.54 per set
- With an average of 2.73 digs per set, Vazquez continues to lead the Aces
Submitted by Athletics
Contribute to AceNotes
To have content considered for inclusion in AceNotes, please submit a Marketing Request Form. Deadline for submission to AceNotes is 10:00 a.m. on the requested date of publication. Only articles concerning UE related/sponsored activities will be accepted. Articles submitted to AceNotes may be edited for length and clarity. Submitter contact information is at the end of each article.