| | |
| --- | --- |
| AceNotes Today | Thursday, October 13, 2022 |
Participate in International Bazaar
Our Annual International Bazaar is coming up on November 18, in Eykamp, and we will love it if you can join us by holding a booth, doing a performance, selling items in the marketplace, or volunteering! The International Bazaar is a great way to get involved on campus, show pride of your country and culture, and connect with people of all different backgrounds on campus!
The sign-up links are all in the Linktree!
https://linktr.ee/ue_internationalclub
If you have any questions or want more information on Bazaar, please contact Akane Suzuki (as972).
Submitted by Akane Suzuki as972@evansville.edu
Guest Speaker from the US Secret Service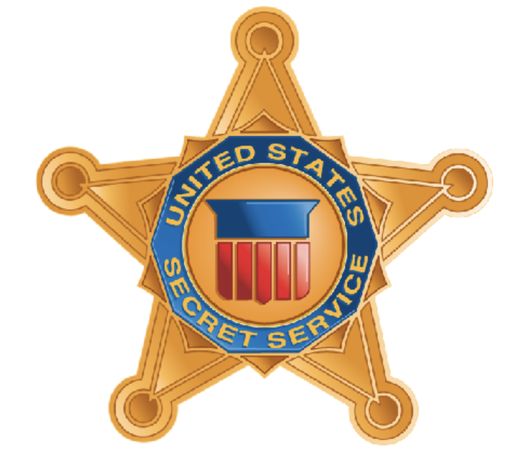 Rania Mousa, Associate Professor of Accounting and Mead Johnson Nutrition Endowed Chair in Business, would like to invite students to attend an upcoming talk with a guest speaker from the United States Secret Service. The US Secret Service is one of the federal law enforcement agencies overseen by the Department of Homeland Security. It has a mission of protecting the highest elected leaders and visiting foreign heads of state, safeguarding the integrity of the currency, and investigating crimes against the U.S. financial system committed by criminals around the world and in cyberspace.
The guest speaker is Special Agent Michael Moore. He serves as the USSS Evansville Domicile Agent. He earned his B.S. in Economics from Purdue University and an M.S. in Criminal Justice Administration from Sam Houston State University. He is specialized in suppressing criminal activities by investigating financial crimes, such as frauds against the government, counterfeiting currency and credit cards, embezzlement, bank and insurance scams, elder fraud, and money laundering. SSA Moore also implements security plans for dignitaries.
Day: Monday, October 17
Time: 4:00-6:00 pm
Location: Schroeder School of Business Building, SB 170 (Smythe Hall)
Submitted by Dr. Rania Mousa rm190@evansville.edu
Raising awareness for male sexual assault victims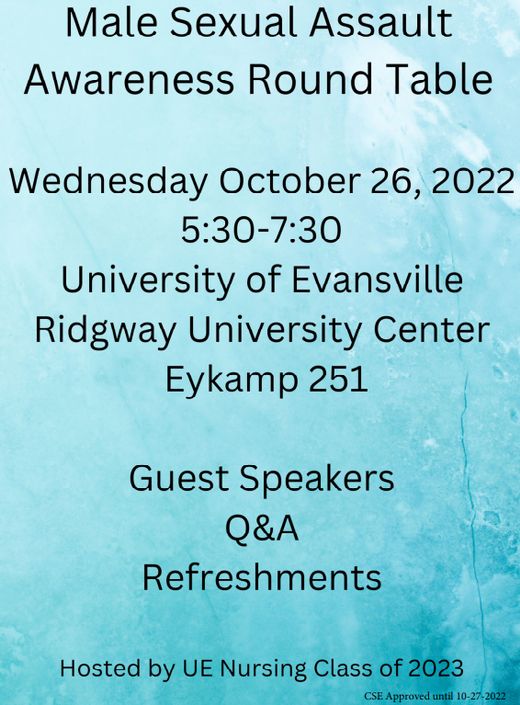 Join us for a round table discussion on October 26th from 5:30-7:30 in Eykamp 251 to raise awareness about resources available for male sexual assault victims.
Submitted by Marysa Bernard mb634@evansville.edu
Annual Chili Bowl Sale Planned for October 20
The annual Chili Bowl Sale at the University of Evansville, hosted by the UE Clay Club and Department of Art, is planned for October 20 from 11:30 a.m.-1:30 p.m. The event will be set up on the East Terrace Lawn, outside of Ridgeway University Center, on UE's campus. The rain location for the event is Eykamp Hall, Ridgway University Center.
The UE Clay Club will be partnering with Chartwells again this year for the chili. It has been a hit in the previous years.
For $10, customers can buy a one-of-a-kind ceramic bowl and fill it with chili. Lidded containers will be available for those who prefer not to put chili in their newly purchased bowls.
Larger bowls ranging from $15-$100 will also be for sale during the event.
The bowls are being made this year by members of the UE Clay Club, faculty, alumni, and community members.
Part of the proceeds from the sale will be donated to a local food organization to assist with fighting hunger. The rest will go to the UE Clay Club to be used to fund attendance at conferences, visiting artists, and studio/gallery visits.
Submitted by Carol McCraney cm177@evansville.edu
Majors and Minors Fair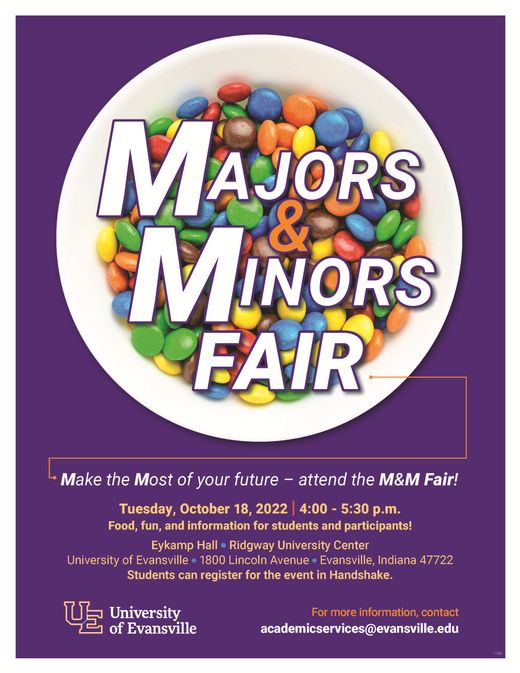 The Majors and Minors Fair is open to all students on Tuesday, October 18, from 4:00 - 5:30 p.m. in Eykamp Hall.
Thinking about changing or adding a major or minor? This is your chance to network with faculty, current students, and alumni from academic departments as well as student support services. Learn more about the classes, research opportunities, internships, and career outcomes.
For more information, contact academicservices@evansville.edu.
Submitted by Paula Heldt ph28@evansville.edu
Employee Fall Healthier Behavior Challenge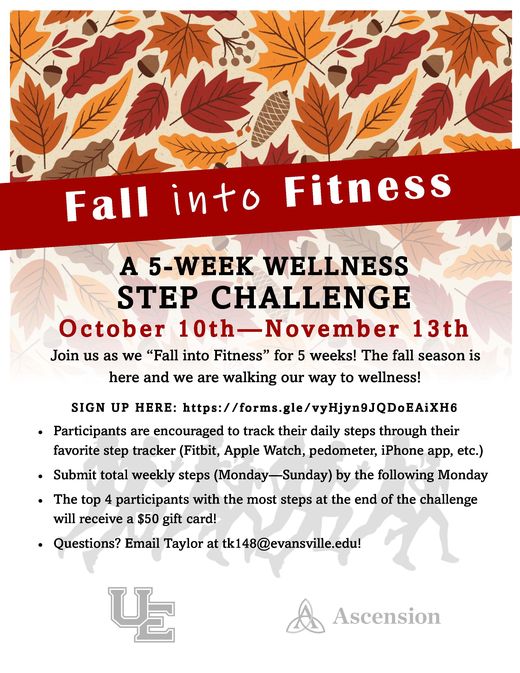 The UE Summer Healthy Behavior challenge is still in progress, but we will soon switch up the pace with our Fall Healthy Behavior Challenge! Introducing the Fall Into Fitness Step Challenge! Join us as we "Fall Into Fitness" for 5 weeks! The Fall season is here and we are walking our way to wellness! Earn a one-time $150 in HRA credits (if you are NOT participating in the Summer Healthy Behavior Challenge) for successfully completing the challenge!
This challenge will begin October 10th - November 13th. Follow the link below to sign up!! A link to submit your weekly steps will be emailed to you at the start of the challenge. See the flyer for additional information!
SIGN UP HERE: https://forms.gle/vyHjyn9JQDoEAiXH6
Submitted by Taylor Kollak tk148@evansville.edu
2022 Flu Shots
UE will host a two-day Flu Shot Clinic for students, employees, and employees' families. The clinic will be held in Room 251 of Eykamp Hall on the following dates:
Wednesday, October 12 / 7:30 a.m. – 9:30 a.m.
Thursday, October 13 – 4 p.m. – 6 p.m.
Employees and their family members covered by UE insurance can receive a flu shot at no cost. For non-insured employees, the cost is $20 and is cash only. Payment will be due at the time of your shot. Students will also pay $20 but must pay by debit or credit card. A credit card machine will be set up for both days of the Flu Shot Clinic.
Flu shots are not required by UE but are recommended. The Flu Shot Clinic will be walk-in only. For more info, visit https://www.evansville.edu/flu.
Submitted by Holly Lee Smith hh98@evansville.edu
Department of Art Alumni Exhibition Returns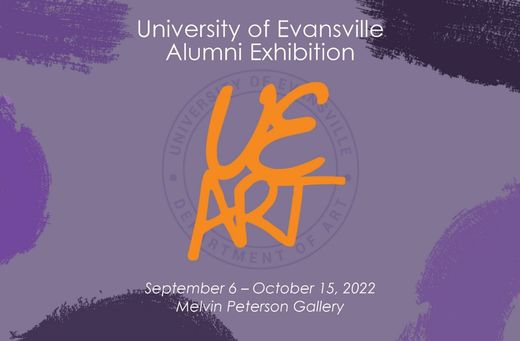 The Department of Art is pleased to announce the return of the UE Art Alumni Exhibition in the Melvin Peterson Gallery. Twenty alumni from around the country are participating in this exhibition. The artworks range from painting, sculpture, ceramics, batik, alcohol ink, and mixed media. All artwork is for sale and a portion of the sales will go to the establishment of an Art Scholarship. We welcome the entire community to visit the exhibition and support the
Department of Art as we welcome these alumni to campus. Some of these students you may even remember.
The Exhibition opens September 6 and runs through October 15. There is a public reception on Thursday, September 8 at 6:30 pm to celebrate the artists. We hope to see you there.
Melvin Peterson Gallery hours are:
Monday, Tuesday, and Friday 12-3
Wednesday and Thursday 12-6
Saturday 12-3
Submitted by Carol McCraney cm177@evansville.edu
Global Scholar, Professor Rania Mousa Presents Research at University of Bologna
Associate Professor of Accounting and Mead Johnson Nutrition Endowed Chair Rania Mousa has presented her research at the Sustainable and Socially Responsible Finance Conference held at The Yunus Social Business Center in the University of Bologna in Italy on Oct. 6-7, 2022. The University of Bologna is the oldest university in the Western World.
Professor Mousa presented her co-authored paper titled, Reimagining Financial Inclusion in the Post COVID-19 World: The Case of Grameen America. The paper identifies and examines the key initiatives undertaken by Grameen America in response to the COVID-19 pandemic using the Vulnerable Group Theory, the Special Agent Theory of Financial Inclusion, and the UN's Sustainability Development Goals Framework. The research findings revealed that Grameen America sacrificed its organizational self-interests to fulfill its ethical duties towards underbanked women in the U.S. It also prioritized financial inclusion by alleviating the financial hardships of its clients and creating strategic partnerships with external organizations thereby contributing to the UN's SDGs 1 & 17.
Professor Mousa is a recipient of the Global Scholar Award 2022-2023 offered by the Center for Innovation & Change.
Submitted by Andrew Carter ac116@evansville.edu
Global Changemaker Challenge Winner Donates Inclusion Equipment to UE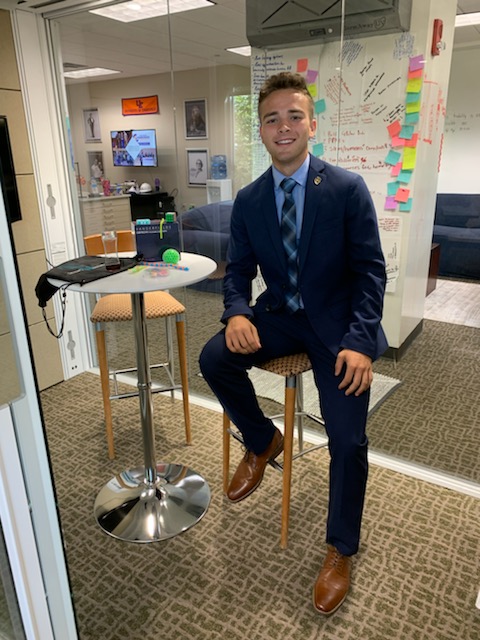 On October 7, Tyler Myers donated four bags of sensory-friendly equipment to the University of Evansville. The bags include noise-canceling headphones, sensory activities, and more, which can assist individuals with special needs such as Sensory Processing Disorder and Autism cope with overstimulating environments.
Tyler founded Driving for Change: Sensory Inclusion, coming in third in the Global Changemaker Challenge in 2022. The initiative strives to connect individuals with sensory-friendly locations and items throughout the community. Recently, he partnered with Evansville Vanderburgh Public Library to offer sensory-friendly bags for library users to utilize during their visits. He has also given bags to the Boys and Girls Club, Walthers Golf, Old National Events Plaza, and other locations.
At UE, the bags will be located in the University Libraries, Office of Counseling Services, and the Center for Innovation & Change's Escape Pod, a dedicated, virtual reality-mediated mental wellness space for UE students, faculty, and staff.
Submitted by Andrew Carter ac116@evansville.edu
DPT Students to Complete Balance Assessments
Calling all adults over the age of 65!!!
Do you or a loved one suffer from poor balance? Have you noticed you aren't as steady as you used to be? Are you unable to stand on one leg for over 10 seconds without losing your balance? If you answered yes to any of the above questions, we are looking for your help!!
The UE DPT Class of 2024 is completing geriatric balance assessments at the Stone Family Center for Health Sciences on 10/25/2022 from 1:00-2:30 and 2:30-4:00. Each participant will be scheduled for one of the specified time above and will work with two DPT students to receive a simple health screen and appropriate balance screening assessments. The students will educate you on your performance and provide some suggestions on ways to improve your balance and/or reduce risk of falling.
You may email Dr. Charlene Nolen at ck39@evansville.edu if you have any questions about participating. More information will be sent out if you agree to participate.
Submitted by Charlene Nolen ck39@evansville.edu
Want to Learn How to be More Interculturally Competent?
Did you know you can earn a certificate in Intercultural Competence while you're studying at UE?
By completing FLC 360 (late start), FLC 361 (Winter Intersession) and COMM 380 (a frequently offered General Education requirement) you can complete and earn a certificate in Intercultural Competence!
For more information or questions, please contact Academic Services at academicservices@evansville.edu or visit us in Olmsted Hall 116.
Submitted by Jade S Shelby js818@evansville.edu
Apply for UELA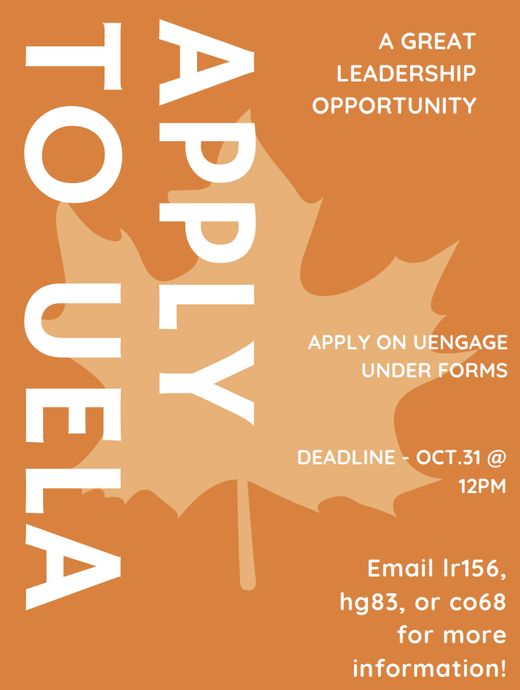 The University of Evansville Leadership Academy applications are now open! All students who have at least two years before graduation at UE are encouraged to apply. Applications will close on October 31st. Please reach out to Caitlin O'Donnell, Hannah Garrity, or Lily Renfro if you have any questions!
Submitted by Caitlin O'Donnell co68@evansville.edu
Contribute to AceNotes
To have content considered for inclusion in AceNotes, please submit a Marketing Request Form. Deadline for submission to AceNotes is 10:00 a.m. on the requested date of publication. Only articles concerning UE related/sponsored activities will be accepted. Articles submitted to AceNotes may be edited for length and clarity. Submitter contact information is at the end of each article.