| | |
| --- | --- |
| AceNotes Today | Wednesday, October 12, 2022 |
Participate in International Bazaar
Our Annual International Bazaar is coming up on November 18, in Eykamp, and we will love it if you can join us by holding a booth, doing a performance, selling items in the marketplace, or volunteering! The International Bazaar is a great way to get involved on campus, show pride of your country and culture, and connect with people of all different backgrounds on campus!
The sign-up links are all in the Linktree!
https://linktr.ee/ue_internationalclub
If you have any questions or want more information on Bazaar, please contact Akane Suzuki (as972).
Submitted by Akane Suzuki as972@evansville.edu
Guest Speaker from the US Secret Service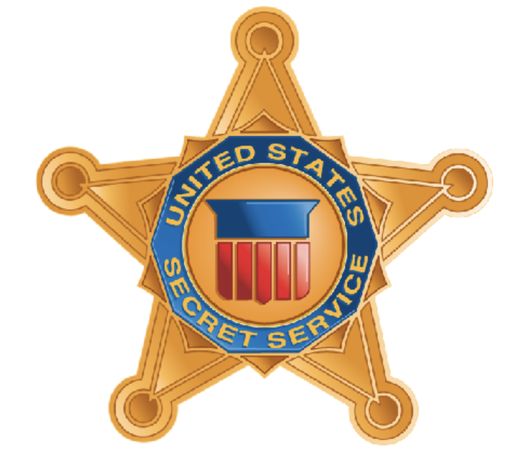 Rania Mousa, Associate Professor of Accounting and Mead Johnson Nutrition Endowed Chair in Business, would like to invite students to attend an upcoming talk with a guest speaker from the United States Secret Service. The US Secret Service is one of the federal law enforcement agencies overseen by the Department of Homeland Security. It has a mission of protecting the highest elected leaders and visiting foreign heads of state, safeguarding the integrity of the currency, and investigating crimes against the U.S. financial system committed by criminals around the world and in cyberspace.
The guest speaker is Special Agent Michael Moore. He serves as the USSS Evansville Domicile Agent. He earned his B.S. in Economics from Purdue University and an M.S. in Criminal Justice Administration from Sam Houston State University. He is specialized in suppressing criminal activities by investigating financial crimes, such as frauds against the government, counterfeiting currency and credit cards, embezzlement, bank and insurance scams, elder fraud, and money laundering. SSA Moore also implements security plans for dignitaries.
Day: Monday, October 17
Time: 4:00-6:00 pm
Location: Schroeder School of Business Building, SB 170 (Smythe Hall)
Submitted by Dr. Rania Mousa rm190@evansville.edu
Congressman Bob Inglis Speaks on Climate Change on Wednesday at 4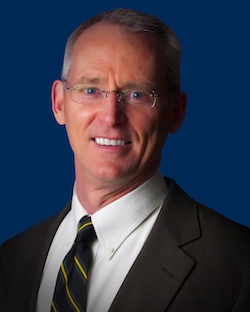 Former Congressman Bob Inglis (R-SC) will meet with members of the UE community on Wednesday, October 12, at 4 p.m. in Schroeder 273. His focus for the afternoon is free enterprise solutions to the challenges posed by climate change. Rep. Inglis served in Congress for six terms, representing the Greenville area of South Carolina. His efforts to generate conservative support for combating the effects of climate change earned him the John F. Kennedy Profile in Courage award in 2015. This event is free and open to the public. All are welcome to come and learn about how this conservative federal lawmaker became a climate change convert after years of being a skeptic.
Submitted by Robert Dion rd35@evansville.edu
It's Not Too Late to Register for Winter Intersession Courses
Get ahead by taking Winter Intersession online courses. Complete a missing required course, lighten your spring load, and take advantage of the winter break. Classes are held from December 16, 2022, through January 6, 2023. Students may take one class and register when registering for spring classes starting October 31, 2022.
For more information visit www.evansville.edu/wintersession.
Winter Intersession Course List: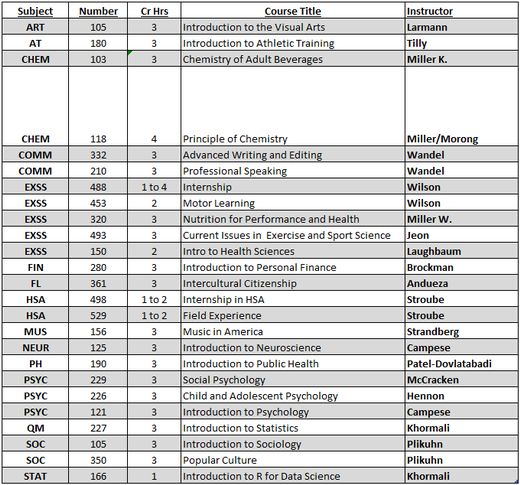 Submitted by Paula Heldt ph28@evansville.edu
College of Business & Engineering Speaker Series Women's Entrepreneurship Week: Lunch & Learn Panel A Celebration of Female Entrepreneurs
University of Evansville - College of Business & Engineering Speaker Series
Women's Entrepreneurship Week: Lunch & Learn Panel
A Celebration of Female Entrepreneurs!
Tuesday, October 18th, 12:15 p.m. - 1:30 p.m.
Schroeder School of Business Rm 170
Join us on October 18th for a lunch and learn panel featuring successful business founders: Gayla Bell (Gayla Cakes), Emily Conley (Emily Writes Well), and Alissa Paik (Thrive Marketing Strategies). Dean Beverly Brockman will provide a short introduction into the entrepreneurial process, followed by Q&A with the panel to hear about their entrepreneurial journey and tips for success.
A Zoom option will be provided for those that would like to attend virtually. The link will be sent via email within 48 hours of the start time of the event.
Box lunch of artisan sandwich or salad and side will be provided. Please let us know if you have any dietary restrictions.
For questions or concerns please contact Nick Bragin at nb197@evansville.edu.
Submitted by Nicholas Bragin nb197@evansville.edu
Gender and Women's Studies Information Drop-In Session
Are you interested in GWS at UE? Learn about the Gender and Women's Studies minor and program in time for advising week. You may have already completed courses that count towards the minor! At this informational drop-in session, you'll be able to learn about the program from affiliated faculty and get a preview of courses that will be offered in Winter Intercession and Spring Semester (at the Evansville and Harlaxton campuses).
October 12 from 3-5pm in the atrium of SOBA.
Submitted by Sara Petrosillo sp220@evansville.edu
Annual Chili Bowl Sale Planned for October 20
The annual Chili Bowl Sale at the University of Evansville, hosted by the UE Clay Club and Department of Art, is planned for October 20 from 11:30 a.m.-1:30 p.m. The event will be set up on the East Terrace Lawn, outside of Ridgeway University Center, on UE's campus. The rain location for the event is Eykamp Hall, Ridgway University Center.
The UE Clay Club will be partnering with Chartwells again this year for the chili. It has been a hit in the previous years.
For $10, customers can buy a one-of-a-kind ceramic bowl and fill it with chili. Lidded containers will be available for those who prefer not to put chili in their newly purchased bowls.
Larger bowls ranging from $15-$100 will also be for sale during the event.
The bowls are being made this year by members of the UE Clay Club, faculty, alumni, and community members.
Part of the proceeds from the sale will be donated to a local food organization to assist with fighting hunger. The rest will go to the UE Clay Club to be used to fund attendance at conferences, visiting artists, and studio/gallery visits.
Submitted by Carol McCraney cm177@evansville.edu
2022 Flu Shots
UE will host a two-day Flu Shot Clinic for students, employees, and employees' families. The clinic will be held in Room 251 of Eykamp Hall on the following dates:
Wednesday, October 12 / 7:30 a.m. – 9:30 a.m.
Thursday, October 13 – 4 p.m. – 6 p.m.
Employees and their family members covered by UE insurance can receive a flu shot at no cost. For non-insured employees, the cost is $20 and is cash only. Payment will be due at the time of your shot. Students will also pay $20 but must pay by debit or credit card. A credit card machine will be set up for both days of the Flu Shot Clinic.
Flu shots are not required by UE but are recommended. The Flu Shot Clinic will be walk-in only. For more info, visit https://www.evansville.edu/flu.
Submitted by Holly Lee Smith hh98@evansville.edu
Department of Art Alumni Exhibition Returns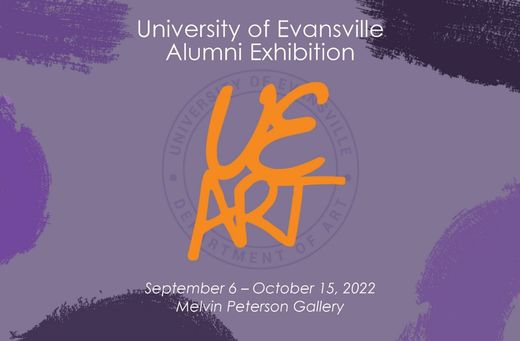 The Department of Art is pleased to announce the return of the UE Art Alumni Exhibition in the Melvin Peterson Gallery. Twenty alumni from around the country are participating in this exhibition. The artworks range from painting, sculpture, ceramics, batik, alcohol ink, and mixed media. All artwork is for sale and a portion of the sales will go to the establishment of an Art Scholarship. We welcome the entire community to visit the exhibition and support the
Department of Art as we welcome these alumni to campus. Some of these students you may even remember.
The Exhibition opens September 6 and runs through October 15. There is a public reception on Thursday, September 8 at 6:30 pm to celebrate the artists. We hope to see you there.
Melvin Peterson Gallery hours are:
Monday, Tuesday, and Friday 12-3
Wednesday and Thursday 12-6
Saturday 12-3
Submitted by Carol McCraney cm177@evansville.edu
Global Changemaker Challenge Winner Donates Inclusion Equipment to UE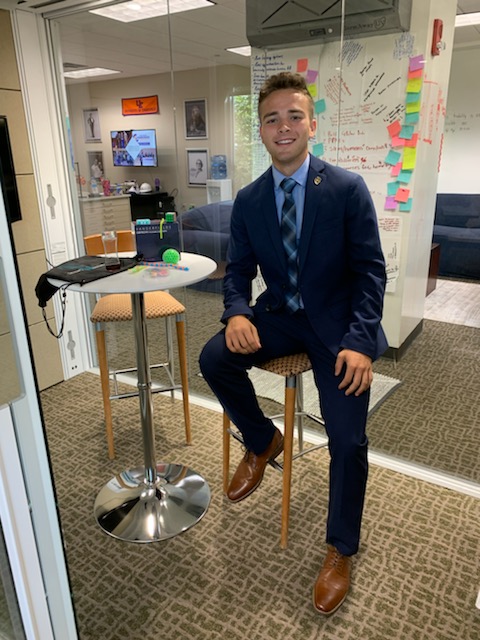 On October 7, Tyler Myers donated four bags of sensory-friendly equipment to the University of Evansville. The bags include noise-canceling headphones, sensory activities, and more, which can assist individuals with special needs such as Sensory Processing Disorder and Autism cope with overstimulating environments.
Tyler founded Driving for Change: Sensory Inclusion, coming in third in the Global Changemaker Challenge in 2022. The initiative strives to connect individuals with sensory-friendly locations and items throughout the community. Recently, he partnered with Evansville Vanderburgh Public Library to offer sensory-friendly bags for library users to utilize during their visits. He has also given bags to the Boys and Girls Club, Walthers Golf, Old National Events Plaza, and other locations.
At UE, the bags will be located in the University Libraries, Office of Counseling Services, and the Center for Innovation & Change's Escape Pod, a dedicated, virtual reality-mediated mental wellness space for UE students, faculty, and staff.
Submitted by Andrew Carter ac116@evansville.edu
Donations needed for Senior Nursing Community Project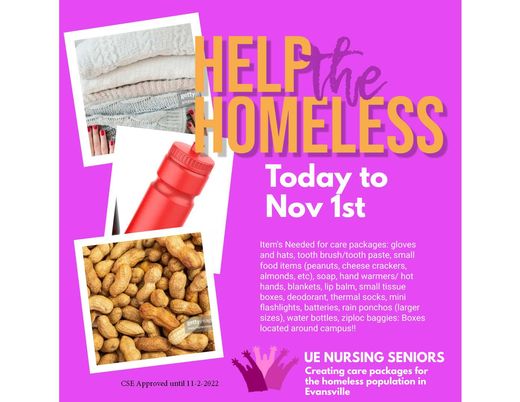 Help the Homeless (today through November 1st): A group of senior nursing students are collecting donations that will be given to the homeless population of Evansville in November. Donations needed include: gloves, hats, small food items, soap, hand warmers, blankets, lip balms, deodorant, socks, and ziplock baggies. Donation boxes can be found in all academic buildings.
Submitted by Johnna Mitchell jm703@evansville.edu
Late Start Classes Are Here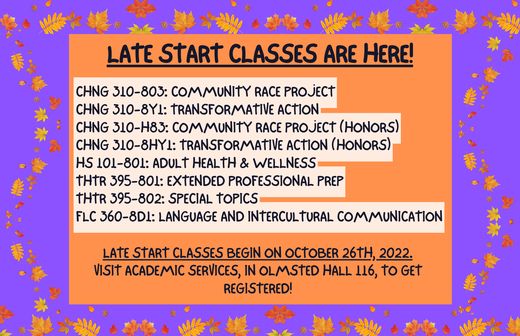 The moment many of you have been waiting for is finally here! Late Start classes, beginning October 26th, are here! If you're needing an extra course or credit hours and are thinking about adding a late start class, please visit Academic Services in Olmsted Hall 116 to get registered.
Submitted by Jade S Shelby js818@evansville.edu
Institute for Public Health Seeking Applications for the Scholar Program
The Institute for Public Health is now seeking applications for the Scholar Program. The Scholar Program provides a supportive infrastructure for meaningful physical and virtual collaborative exchanges. A critical part of the program's success is not relying on a one-size-fits-all approach. We are committed to a portfolio of strategies to suit scholars from across the university and community in various disciplines, at different stages in their careers, and with distinctive pathways toward success. We want to work with scholars to spark productive collaborations, remove barriers to collaboration, and make it easier for scholars to broaden their networks for their public health research, practice, advocacy, and teaching activities. Scholars should be interested in collaborating with other disciplines to help expand their own areas, refine research questions, enhance development of public health interventions, improve practice delivery, enrich teaching, etc. Scholars will be awarded $750 to support their proposed project.
There are three categories where individuals may apply to become a scholar:
Faculty scholar is for University of Evansville faculty
Student scholar is for University of Evansville students (undergraduate or graduate)
Community scholar is for Evansville community members
Benefits of Being a Scholar:
Help connecting one another, or to useful resources and networks, to solve public health challenges
Assistance planning and implementing unique scholar-driven activities related to public health practice, research, education, and advocacy
Support from the Institute's communication infrastructure to disseminate news about scholars' public health work through multiple channels including websites, email newsletter, social media, or other tailored approaches
Comprehensive communications about public health events and opportunities
If you are interested in applying for the Scholar Program, please contact Dr. Payal Patel-Dovlatabadi at pp42@evansville.edu or 812-488-2210. Deadline to apply is 11/11.
Submitted by Dr. Payal Patel-Dovlatabadi pp42@evansville.edu
New Accident Report Form - Fillable PDF
The Risk Management website in the UE Portal has a revised Accident Report Form available. The revised form is a fillable PDF but may also be printed and completed manually when necessary. For insurance purposes, anytime someone sustains even a minor injury and possibly refuses medical attention, this form should be completed and submitted to riskmanagement@evansville.edu or delivered to the Administrative Services offices in the General Services building on campus.
Submitted by Duane Martin dm359@evansville.edu
UE School of Education, EVSC Receive APR Grant of Nearly $1.5 Million
UE's School of Education, in partnership with EVSC, has been named a recipient of the Attract, Prepare, Retain Grant! It was awarded by the Indiana Department of Education (IDOE) in the amount of nearly $1.5 million.
The purpose of the grant is to attract, prepare and retain teachers in Indiana. The UE School of Education will partner with EVSC on four grant-funded activities that intend to draw in high-quality teacher candidates, prepare them to become effective teachers, and provide advancement opportunities for current area teachers.
IDOE shared that successful applications focused on increasing leadership and career advancement within the education profession, as well as increasing opportunities for high school students and underrepresented populations to pursue careers as educators.
Submitted by Julie Beer / jb855@evansville.edu
Dr. Matsel speaks at Colorado APTA Conference
Dr. Kyle Matsel, associate professor of Physical Therapy, was invited to speak at the Rocky Mountain Annual Conference and PT Expo in Breckenridge, CO this month. The presentation "Functional Movement Systems: Assessment through Discharge and Beyond," provided attendees with an overview of functional assessment using neurodevelopment biomarkers for individuals throughout their lifespan and demonstrated a connection between suboptimal performance outcomes at discharge and underlying movement quality limitations.
Submitted by Jennifer Simon js698@evansville.edu
UE Women's Soccer, Drake Battle Thursday Trying To Improve MVC Standing
The University of Evansville women's soccer team will look to get back into Missouri Valley Conference Tournament contention on Thursday night, as the Purple Aces will host the Drake Bulldogs at Arad McCutchan Stadium. Kick-off is set for 6:05 p.m.
Both Evansville and Drake enter Thursday night's match on the outside looking in towards the MVC Tournament field, as only the league's top eight will advance to the conference tournament this year. For both Drake and Evansville, a win on Thursday could catapult them back into the tournament field mix. Drake is just one point behind eighth-place UNI in the league standings, while UE sits five points behind UNI with three matches to play.
Evansville (1-8-4, 0-5-2 MVC) is trying to bounce back from Sunday's 3-0 loss to Valparaiso in which the Beacons used two first-half goals to lead the way to victory. For UE, it was a rare first-half showing defensively, as it marked just the third time in three years in which the Purple Aces conceded multiple first-half goals. Offensively, UE is also trying to snap a two-match scoreless streak, as the Purple Aces have not scored since fifth-year forward Emily Ormson's second-half goal against Southern Illinois in Evansville's last home match. UE has scored six of its seven goals at home this year, with Ormson leading the team and tying for the Valley lead with four goals scored.
Drake, meanwhile, stands at 2-7-5 overall and 1-2-3 in conference play. The Bulldogs dropped a 2-0 decision to UIC at home on Sunday. Like Evansville, generating opportunities offensively has been the biggest issue this year for the Bulldogs, as Drake ranks 11th in the conference in both shots (7.86) and shots on goal per game (3.50) in the Valley. Unlike Evansville, Drake has had success offensively on the road this year, as nine of its 13 goals have been scored away from Des Moines, Iowa.
All-time, Drake leads the series over Evansville, 14-10-2, including a 4-0-2 mark over the last six meetings. It has been a closely contested series over the years, as 23 of the 26 all-time meetings have been decided by one goal or less. Thursday night's contest can be seen live on ESPN+.
Submitted by Athletics
Early stifling defense not enough as Aces fall to No. 11 Louisville
Led by a strong defensive effort early, the University of Evansville men's soccer team held off the 11th-ranked Cardinals for the entirety of the first half before two second-half goals helped lead Louisville to a 2-0 win on Tuesday evening in Louisville, Ky.
"It was a great midweek battle for our guys this evening," said Aces head coach Marshall Ray. "For stretches of the game, we played toe-to-toe with the No. 11 team in the country. We were unfortunate not to go into half up 1-0, but our guys came out of the half and responded well and continued to put them under pressure. Unfortunate to give up the second goal, but we were pressing the game to try and find the equalizer. This match will benefit us later in the season, in the conference tournament, and as we face teams moving forward. I'm proud of the way the guys fought and battled, especially on a day's rest after a grueling game against Bradley on Sunday. Looking forward to getting back on the field with the guys soon and getting some points on the road in conference against SIUE."
Making his first collegiate start, redshirt freshman Landon Amick played all 90 minutes between the posts, making difficult save after difficult save, compiling seven saves. On the attack, senior Carlos Barcia paced the offense, recording a pair of shots, including one on frame.
Amick and Evansville's backline helped hold the Cardinals in check in the opening half as the Las Vegas native made four saves in the first 45 minutes. Louisville's best chances of the opening 45 minutes came just shy of the 40th minute when the Cardinals put a pair of shots on goal in quick succession, but Amick saved both to keep the match scoreless. Just before the half, Evansville earned what would be its best opportunity of the evening as freshman Tancredi Fadda was brought down just inside the 18 and the Aces were awarded a penalty. Oliver Hald stepped to the spot for the attempt, but the juniors shot was saved by the Cardinal keeper as the match trickled into half tied 0-0.
Evansville continued to battle with the 11th-ranked Cardinals in the second half, putting pressure on the home side. Louisville got its breakthrough in the 55th minute on a goal by Aboubacar Camara on a shot inside the six. In the 77th minute, the Cardinals added their second goal on the night as UE looked to equalize, this one off the foot of Brandon McManus as Louisville captured the 2-0 win.
Evansville remains on the road for its next match, an MVC matchup with SIUE in Saturday at 1 PM in Edwardsville, Ill.
Submitted by Athletics
Masatoyo Kato paces UE men in final round
Masatoyo Kato and Michael Ikejiani led the University of Evansville men's golf team in Tuesday's final round of the Bubba Barnett Intercollegiate.
Kato and Ikejiani both finished the final 18 holes at 2-over-par with scores of 74. With a 3-round total of 224 strokes, Kato tied for the 24th spot. Ikejiani wrapped up the tournament one behind him with a 225 and came home tied for 28th.
Nicholas Gushrowski was third on the team. His 79 in round three gave him a 228, earning him a tie for 35th. Luke Schneider carded an 82 on Tuesday and tied for 38th. His score finished at 230. Daniil Romashkin carded an 83 in the last round and completed the 54 holes with a 240. Individual Isaac Rohlder scored an 85 and wrapped up the event with a 241.
Evansville finished ninth in the team standings with a score of 906. UE was five behind Bradley and Texas A&M Commerce, who tied for 7th. Arkansas State finished strong on the way to sweeping the team and individual victories. With an 850, the Red Wolves defeated Oklahoma Christian by two strokes. Devyn Pappas wrapped up the final round with a 68 and defeated his nearest competition by six strokes. His 3-round tally finished at a 204.
Fall action comes to a close when the Aces travel to the Zaxby's Intercollegiate. Hosted by Alabama A&M, the tournament is set for October 30 through November 1.
Submitted by Athletics
Contribute to AceNotes
To have content considered for inclusion in AceNotes, please submit a Marketing Request Form. Deadline for submission to AceNotes is 10:00 a.m. on the requested date of publication. Only articles concerning UE related/sponsored activities will be accepted. Articles submitted to AceNotes may be edited for length and clarity. Submitter contact information is at the end of each article.