| | |
| --- | --- |
| AceNotes Today | Tuesday, October 11, 2022 |
Congressman Bob Inglis Speaks on Climate Change on Wednesday at 4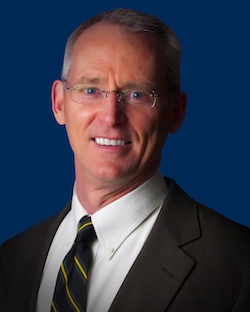 Former Congressman Bob Inglis (R-SC) will meet with members of the UE community on Wednesday, October 12, at 4 p.m. in Schroeder 273. His focus for the afternoon is free enterprise solutions to the challenges posed by climate change. Rep. Inglis served in Congress for six terms, representing the Greenville area of South Carolina. His efforts to generate conservative support for combating the effects of climate change earned him the John F. Kennedy Profile in Courage award in 2015. This event is free and open to the public. All are welcome to come and learn about how this conservative federal lawmaker became a climate change convert after years of being a skeptic.
Submitted by Robert Dion rd35@evansville.edu
It's Not Too Late to Register for Winter Intersession Courses
Get ahead by taking Winter Intersession online courses. Complete a missing required course, lighten your spring load, and take advantage of the winter break. Classes are held from December 16, 2022, through January 6, 2023. Students may take one class and register when registering for spring classes starting October 31, 2022.
For more information visit www.evansville.edu/wintersession.
Winter Intersession Course List: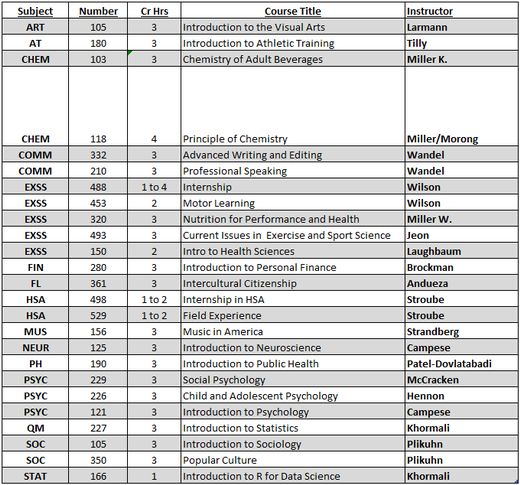 Submitted by Paula Heldt ph28@evansville.edu
Raising awareness for male sexual assault victims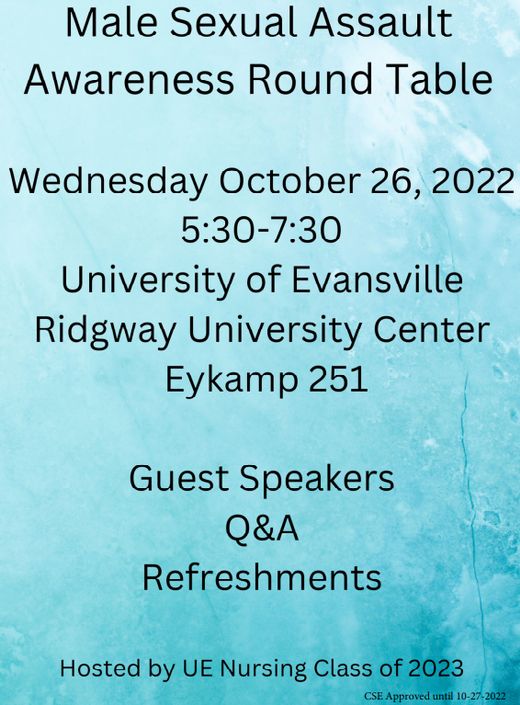 Join us for a round table discussion on October 26th from 5:30-7:30 in Eykamp 251 to raise awareness about resources available for male sexual assault victims.
Submitted by Marysa Bernard mb634@evansville.edu
UE T-Shirt Exchange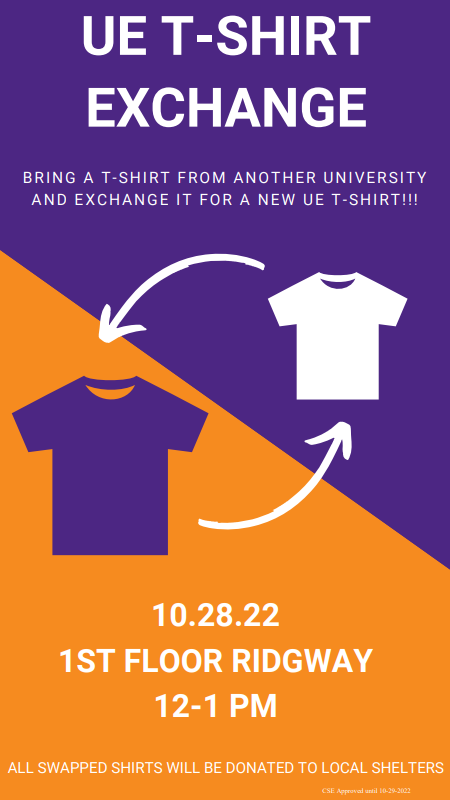 Need more purple in your closet? While on Fall Break bring back a t-shirt from another college. On October 28th from 12-1 bring your shirt to the Collegiate Alumni Board Table in Ridgway and swap it for a UE t-shirt. All collected shirts will be donated
Submitted by Melanie Hawkins mh527@evansville.edu
Majors and Minors Fair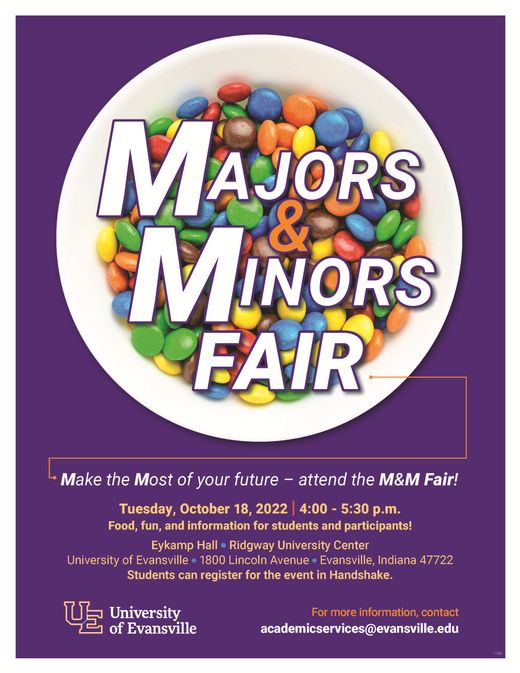 The Majors and Minors Fair is open to all students on Tuesday, October 18, from 4:00 - 5:30 p.m. in Eykamp Hall.
Thinking about changing or adding a major or minor? This is your chance to network with faculty, current students, and alumni from academic departments as well as student support services. Learn more about the classes, research opportunities, internships, and career outcomes.
For more information, contact academicservices@evansville.edu.
Submitted by Paula Heldt ph28@evansville.edu
Employee Fall Healthier Behavior Challenge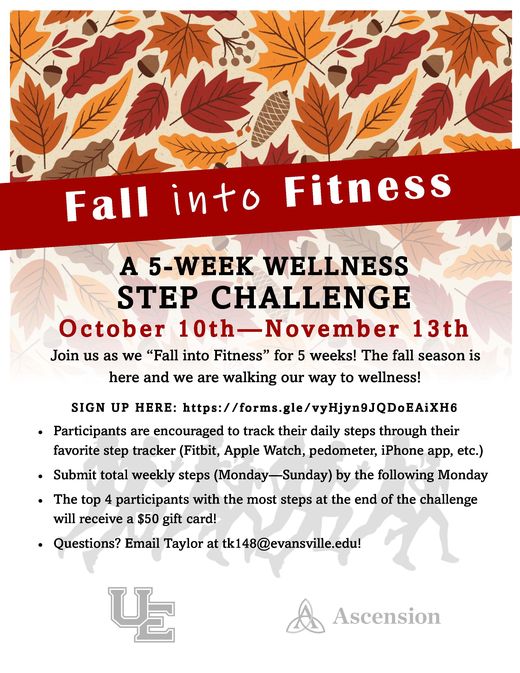 The UE Summer Healthy Behavior challenge is still in progress, but we will soon switch up the pace with our Fall Healthy Behavior Challenge! Introducing the Fall Into Fitness Step Challenge! Join us as we "Fall Into Fitness" for 5 weeks! The Fall season is here and we are walking our way to wellness! Earn a one-time $150 in HRA credits (if you are NOT participating in the Summer Healthy Behavior Challenge) for successfully completing the challenge!
This challenge will begin October 10th - November 13th. Follow the link below to sign up!! A link to submit your weekly steps will be emailed to you at the start of the challenge. See the flyer for additional information!
SIGN UP HERE: https://forms.gle/vyHjyn9JQDoEAiXH6
Submitted by Taylor Kollak tk148@evansville.edu
2022 Flu Shots
UE will host a two-day Flu Shot Clinic for students, employees, and employees' families. The clinic will be held in Room 251 of Eykamp Hall on the following dates:
Wednesday, October 12 / 7:30 a.m. – 9:30 a.m.
Thursday, October 13 – 4 p.m. – 6 p.m.
Employees and their family members covered by UE insurance can receive a flu shot at no cost. For non-insured employees, the cost is $20 and is cash only. Payment will be due at the time of your shot. Students will also pay $20 but must pay by debit or credit card. A credit card machine will be set up for both days of the Flu Shot Clinic.
Flu shots are not required by UE but are recommended. The Flu Shot Clinic will be walk-in only. For more info, visit https://www.evansville.edu/flu.
Submitted by Holly Lee Smith hh98@evansville.edu
Global Changemaker Challenge Winner Donates Inclusion Equipment to UE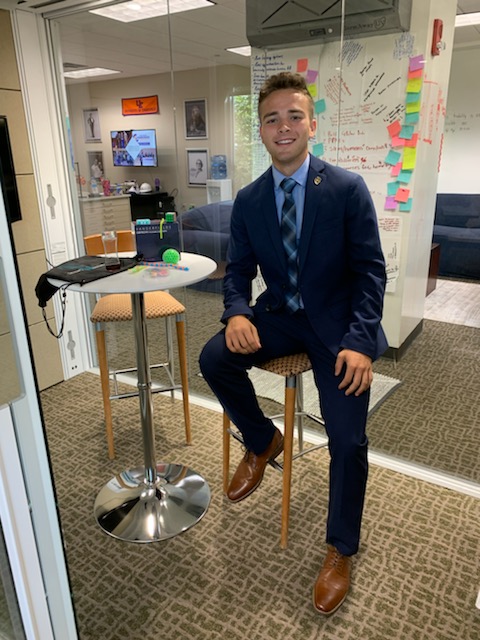 On October 7, Tyler Myers donated four bags of sensory-friendly equipment to the University of Evansville. The bags include noise-canceling headphones, sensory activities, and more, which can assist individuals with special needs such as Sensory Processing Disorder and Autism cope with overstimulating environments.
Tyler founded Driving for Change: Sensory Inclusion, coming in third in the Global Changemaker Challenge in 2022. The initiative strives to connect individuals with sensory-friendly locations and items throughout the community. Recently, he partnered with Evansville Vanderburgh Public Library to offer sensory-friendly bags for library users to utilize during their visits. He has also given bags to the Boys and Girls Club, Walthers Golf, Old National Events Plaza, and other locations.
At UE, the bags will be located in the University Libraries, Office of Counseling Services, and the Center for Innovation & Change's Escape Pod, a dedicated, virtual reality-mediated mental wellness space for UE students, faculty, and staff.
Submitted by Andrew Carter ac116@evansville.edu
Donations needed for Senior Nursing Community Project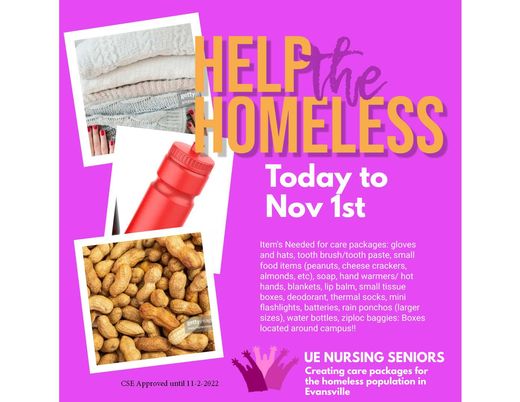 Help the Homeless (today through November 1st): A group of senior nursing students are collecting donations that will be given to the homeless population of Evansville in November. Donations needed include: gloves, hats, small food items, soap, hand warmers, blankets, lip balms, deodorant, socks, and ziplock baggies. Donation boxes can be found in all academic buildings.
Submitted by Johnna Mitchell jm703@evansville.edu
Want to Learn How to be More Interculturally Competent?
Did you know you can earn a certificate in Intercultural Competence while you're studying at UE?
By completing FLC 360 (late start), FLC 361 (Winter Intersession) and COMM 380 (a frequently offered General Education requirement) you can complete and earn a certificate in Intercultural Competence!
For more information or questions, please contact Academic Services at academicservices@evansville.edu or visit us in Olmsted Hall 116.
Submitted by Jade S Shelby js818@evansville.edu
Institute for Public Health Seeking Applications for the Scholar Program
The Institute for Public Health is now seeking applications for the Scholar Program. The Scholar Program provides a supportive infrastructure for meaningful physical and virtual collaborative exchanges. A critical part of the program's success is not relying on a one-size-fits-all approach. We are committed to a portfolio of strategies to suit scholars from across the university and community in various disciplines, at different stages in their careers, and with distinctive pathways toward success. We want to work with scholars to spark productive collaborations, remove barriers to collaboration, and make it easier for scholars to broaden their networks for their public health research, practice, advocacy, and teaching activities. Scholars should be interested in collaborating with other disciplines to help expand their own areas, refine research questions, enhance development of public health interventions, improve practice delivery, enrich teaching, etc. Scholars will be awarded $750 to support their proposed project.
There are three categories where individuals may apply to become a scholar:
Faculty scholar is for University of Evansville faculty
Student scholar is for University of Evansville students (undergraduate or graduate)
Community scholar is for Evansville community members
Benefits of Being a Scholar:
Help connecting one another, or to useful resources and networks, to solve public health challenges
Assistance planning and implementing unique scholar-driven activities related to public health practice, research, education, and advocacy
Support from the Institute's communication infrastructure to disseminate news about scholars' public health work through multiple channels including websites, email newsletter, social media, or other tailored approaches
Comprehensive communications about public health events and opportunities
If you are interested in applying for the Scholar Program, please contact Dr. Payal Patel-Dovlatabadi at pp42@evansville.edu or 812-488-2210. Deadline to apply is 11/11.
Submitted by Dr. Payal Patel-Dovlatabadi pp42@evansville.edu
Apply for UELA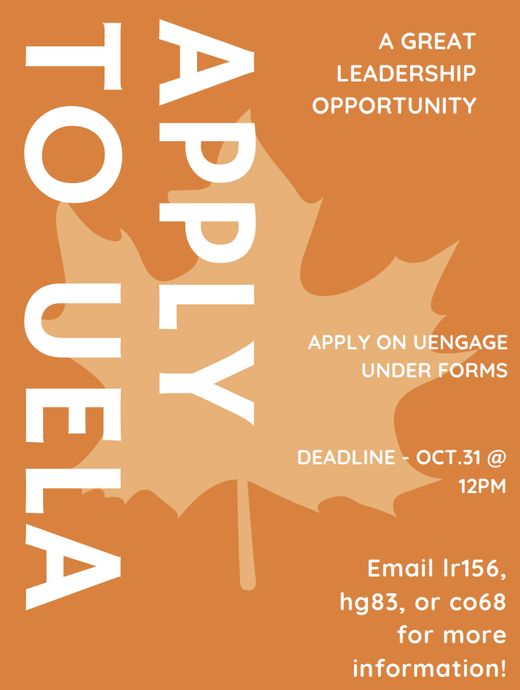 The University of Evansville Leadership Academy applications are now open! All students who have at least two years before graduation at UE are encouraged to apply. Applications will close on October 31st. Please reach out to Caitlin O'Donnell, Hannah Garrity, or Lily Renfro if you have any questions!
Submitted by Caitlin O'Donnell co68@evansville.edu
UE School of Education, EVSC Receive APR Grant of Nearly $1.5 Million
UE's School of Education, in partnership with EVSC, has been named a recipient of the Attract, Prepare, Retain Grant! It was awarded by the Indiana Department of Education (IDOE) in the amount of nearly $1.5 million.
The purpose of the grant is to attract, prepare and retain teachers in Indiana. The UE School of Education will partner with EVSC on four grant-funded activities that intend to draw in high-quality teacher candidates, prepare them to become effective teachers, and provide advancement opportunities for current area teachers.
IDOE shared that successful applications focused on increasing leadership and career advancement within the education profession, as well as increasing opportunities for high school students and underrepresented populations to pursue careers as educators.
Submitted by Julie Beer / jb855@evansville.edu
UE men tied for 6th in Arkansas
Luke Schneider posted scores of 75 and 73 to lead the University of Evansville men's golf team in the opening day of the Bubba Barnett Intercollegiate.
The freshman opened with a 75 before carding a 2-over 73 in the second 18 holes at RidgePointe Country Club. He is in the 27th position with a 148. Nicholas Gushrowski completed the day one behind Schneider with a 149. Following a 79 in the opening 18, Gushrowski scored a 2-under 70 to complete the day. His 149 is tied for 28th.
Masatoyo Kato had a consistent day. He started things off with a 76 while dropping two strokes in the second round to a 74. He is tied for 31st with a 150. Michael Ikejiani was fourth for UE, but just one shot behind Kato. His rounds on Monday finished at 74 and 77 and put him in a 35th-place tie. Daniil Romashkin made the most significant jump in between rounds. After starting the tournament with an 81, Romashkin scored a 76 in the second 18 on his way to a 157. He is tied for 56th.
Isaac Rohleder played as an individual and is tied for 54th. His scores on Monday finished at 79 and 77.
Arkansas State holds the team and individual lead. The Red Wolves 2-round team score of 560 has them in front of Oklahoma Christian by eight strokes. Belmont is in third place, 15 behind. Evansville is tied with Bradley for the sixth position with a score of 597. ASU's Devyn Pappas is the individual leader. His opening-round score of 67 set the tone for a dominant day that saw him finish with a 136. He leads the field by two shots.
On Tuesday, the teams will play the third and final round.
Submitted by Athletics
11th-ranked Louisville the next challenge for Evansville men's soccer
Facing a ranked opponent for the third time this season, the University of Evansville men's soccer team challenges No. 11 Louisville in non-conference action on Tuesday evening at 6 PM (CT) in Louisville, Ky.
The two midwest region foes meet for just the 15th time on Tuesday with Evansville owning an 11-3 advantage in the all-time series. A season ago, the Aces held a 1-0 lead in the 87th minute, but the Cardinals battled back with two goals late to steal a victory on August 30, 2021. Louisville comes into the midweek matchup with a 7-2-2 overall mark, having gone the last six matches without a loss. The Aces are 4-2-4 on the year and have relied on a steady defense as of late, recording back-to-back shutouts. With clean sheets against Belmont and Bradley, the season total rises to five for the Aces. The last time UE recorded five-or-more shutouts in a season was in 2017, when Matthew Keller and Frederik Reimer combined for seven clean sheets.
Despite not finding the back of the net in its last two matches, Evansville's attack has still been potent. The Aces have recorded double-digit shots in their last four contests, including 23 combined shots in the scoreless draws with Belmont and Bradley. Evansville's seven games with 10-or-more shots already matches its total from last seasonand is the most at this point in the year since 2018.
The Aces and Cards go live on ACC Network Xtra at 6 PM (CT) on Tuesday night with Matt Schumacker and Jeff Greer on the call from the Derby City.
Submitted by Athletics
Aces pick up MVC road win at Indiana State
Just four players recorded a kill for the University of Evansville volleyball team, but that was enough for the Purple Aces to record a 3-1 win over Indiana State on Monday night inside ISU Arena.
Giulia Cardona led all players with 24 kills while Alondra Vazquez finished the evening with 21. Madisyn Steele tallied 14 kills, finishing just one shy of her career mark. Vazquez picked up a game-high 19 digs with Blakeley Freeman posting 14 and Cardona chipping in 12. Kora Ruff had a solid match, registering 51 assists and 9 digs. Hannah Watkins and Vazquez each recorded one solo block and four block assists.
Set 1 – INS 25, UE 18
It was the Sycamores taking the early lead, going up 6-3. Madisyn Steele racked up a pair of kills to cut the deficit to a single point at 9-8. From that point, Indiana State slowly took control. A service ace extended the lead to 18-11 and ISU would take the set by a final score of 25-18.
Set 2 – UE 26, INS 24
Three kills by Alondra Vazquez saw the Purple Aces open the second set with a 4-0 lead. Indiana State turned the tables, reeling off six in a row to take their first lead of the frame. Giulia Cardona picked up a kill in a 6-2 rally that put Evansville in front at 10-8.
After ISU retook a 12-10 edge, Cardona added another kill as the Aces jumped back in front with a 17-13 advantage. In a set that featured significant runs by both squads, the Sycamores stormed back once again. Their latest run saw them go in front by a 22-20 score but once again – the Aces countered. Trailing 24-22, Vazquez picked up two kills before Cardona added two of her own to finish the set on a 4-0 run to tie the match up at 1-1.
Set 3 – UE 25, INS 18
Each team enjoyed an early lead in the third set before Evansville turned a 3-3 tie into a 7-4 lead. Laura Ruiz picked up an ace while Cardona and Steele capped off the stretch with kills. The Sycamores made their way back, retaking the lead at 12-11 on a UE error.
A pivotal rally ensued for UE. Four points in a row, including three Vazquez kills, changed the trajectory of the game. Indiana State got as close as two points before the Aces pulled away to take a 25-18 decision and a 2-1 lead in the match.
Set 4 – UE 25, INS 21
Out of the gate, it looked as if the Aces would win in a landslide as they opened the set with a 10-2 lead. Cardona was UE's biggest contributor to open the frame, adding four kills to her tally. ISU did not give up and used a pair of kills to cut the Aces lead to 13-10.
Vazquez ended the stretch with another kill and started a run that resulted in an 18-12 advantage. Evansville held strong from there, clinching the match on the strength of a 25-21 decision.
This weekend, the Aces remain on the road at Bradley and Illinois State.
Submitted by Athletics
Contribute to AceNotes
To have content considered for inclusion in AceNotes, please submit a Marketing Request Form. Deadline for submission to AceNotes is 10:00 a.m. on the requested date of publication. Only articles concerning UE related/sponsored activities will be accepted. Articles submitted to AceNotes may be edited for length and clarity. Submitter contact information is at the end of each article.