| | |
| --- | --- |
| AceNotes Today | Monday, October 10, 2022 |
Congressman Bob Inglis Speaks on Climate Change on Wednesday at 4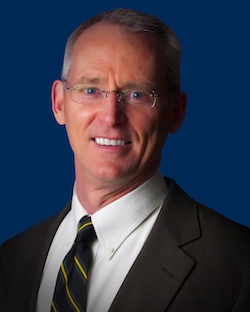 Former Congressman Bob Inglis (R-SC) will meet with members of the UE community on Wednesday, October 12, at 4 p.m. in Schroeder 273. His focus for the afternoon is free enterprise solutions to the challenges posed by climate change. Rep. Inglis served in Congress for six terms, representing the Greenville area of South Carolina. His efforts to generate conservative support for combating the effects of climate change earned him the John F. Kennedy Profile in Courage award in 2015. This event is free and open to the public. All are welcome to come and learn about how this conservative federal lawmaker became a climate change convert after years of being a skeptic.
Submitted by Robert Dion rd35@evansville.edu
It's Not Too Late to Register for Winter Intersession Courses
Get ahead by taking Winter Intersession online courses. Complete a missing required course, lighten your spring load, and take advantage of the winter break. Classes are held from December 16, 2022, through January 6, 2023. Students may take one class and register when registering for spring classes starting October 31, 2022.
For more information visit www.evansville.edu/wintersession.
Winter Intersession Course List: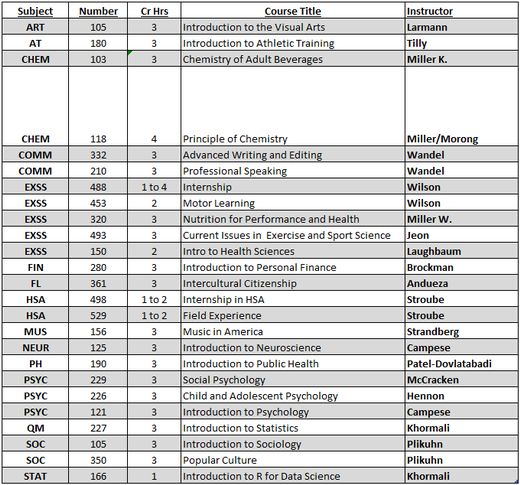 Submitted by Paula Heldt ph28@evansville.edu
College of Business & Engineering Speaker Series Women's Entrepreneurship Week: Lunch & Learn Panel A Celebration of Female Entrepreneurs
University of Evansville - College of Business & Engineering Speaker Series
Women's Entrepreneurship Week: Lunch & Learn Panel
A Celebration of Female Entrepreneurs!
Tuesday, October 18th, 12:15 p.m. - 1:30 p.m.
Schroeder School of Business Rm 170
Join us on October 18th for a lunch and learn panel featuring successful business founders: Gayla Bell (Gayla Cakes), Emily Conley (Emily Writes Well), and Alissa Paik (Thrive Marketing Strategies). Dean Beverly Brockman will provide a short introduction into the entrepreneurial process, followed by Q&A with the panel to hear about their entrepreneurial journey and tips for success.
A Zoom option will be provided for those that would like to attend virtually. The link will be sent via email within 48 hours of the start time of the event.
Box lunch of artisan sandwich or salad and side will be provided. Please let us know if you have any dietary restrictions.
For questions or concerns please contact Nick Bragin at nb197@evansville.edu.
Submitted by Nicholas Bragin nb197@evansville.edu
UE T-Shirt Exchange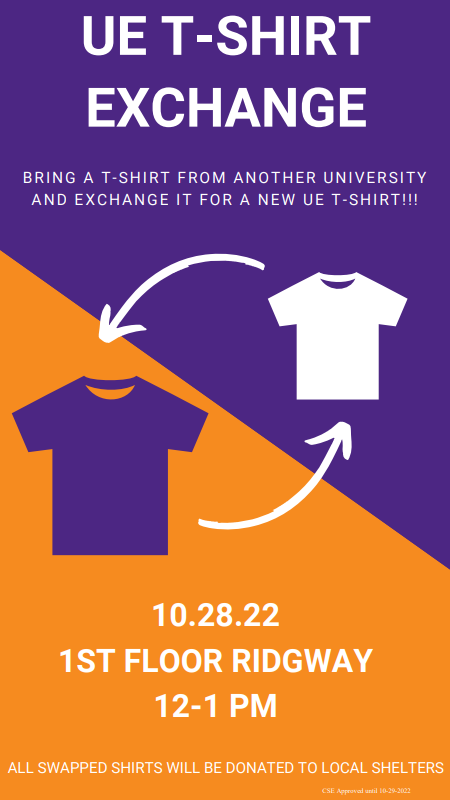 Need more purple in your closet? While on Fall Break bring back a t-shirt from another college. On October 28th from 12-1 bring your shirt to the Collegiate Alumni Board Table in Ridgway and swap it for a UE t-shirt. All collected shirts will be donated
Submitted by Melanie Hawkins mh527@evansville.edu
UE Nursing Azzip Giveback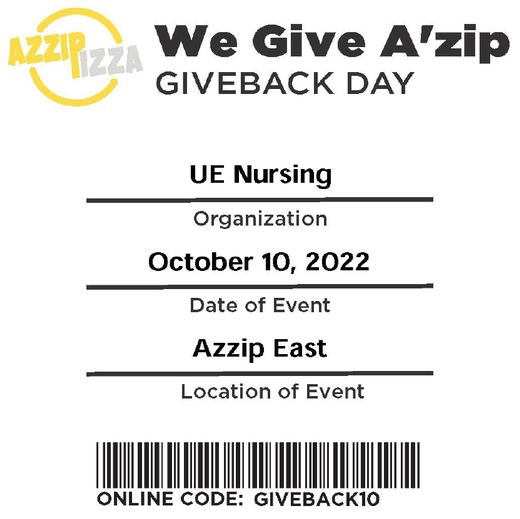 Senior nursing students will be hosting a giveback at Azzip on Green River Road to benefit the Evansville Recovery Alliance.
Submitted by Anna Bury ab760@evansville.edu
Gender and Women's Studies Information Drop-In Session
Are you interested in GWS at UE? Learn about the Gender and Women's Studies minor and program in time for advising week. You may have already completed courses that count towards the minor! At this informational drop-in session, you'll be able to learn about the program from affiliated faculty and get a preview of courses that will be offered in Winter Intercession and Spring Semester (at the Evansville and Harlaxton campuses).
October 12 from 3-5pm in the atrium of SOBA.
Submitted by Sara Petrosillo sp220@evansville.edu
2022 Flu Shots
UE will host a two-day Flu Shot Clinic for students, employees, and employees' families. The clinic will be held in Room 251 of Eykamp Hall on the following dates:
Wednesday, October 12 / 7:30 a.m. – 9:30 a.m.
Thursday, October 13 – 4 p.m. – 6 p.m.
Employees and their family members covered by UE insurance can receive a flu shot at no cost. For non-insured employees, the cost is $20 and is cash only. Payment will be due at the time of your shot. Students will also pay $20 but must pay by debit or credit card. A credit card machine will be set up for both days of the Flu Shot Clinic.
Flu shots are not required by UE but are recommended. The Flu Shot Clinic will be walk-in only. For more info, visit https://www.evansville.edu/flu.
Submitted by Holly Lee Smith hh98@evansville.edu
Department of Art Alumni Exhibition Returns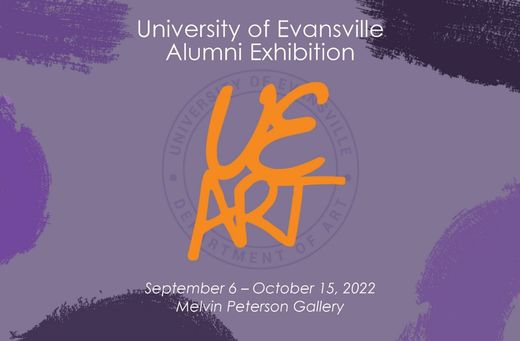 The Department of Art is pleased to announce the return of the UE Art Alumni Exhibition in the Melvin Peterson Gallery. Twenty alumni from around the country are participating in this exhibition. The artworks range from painting, sculpture, ceramics, batik, alcohol ink, and mixed media. All artwork is for sale and a portion of the sales will go to the establishment of an Art Scholarship. We welcome the entire community to visit the exhibition and support the
Department of Art as we welcome these alumni to campus. Some of these students you may even remember.
The Exhibition opens September 6 and runs through October 15. There is a public reception on Thursday, September 8 at 6:30 pm to celebrate the artists. We hope to see you there.
Melvin Peterson Gallery hours are:
Monday, Tuesday, and Friday 12-3
Wednesday and Thursday 12-6
Saturday 12-3
Submitted by Carol McCraney cm177@evansville.edu
Donations needed for Senior Nursing Community Project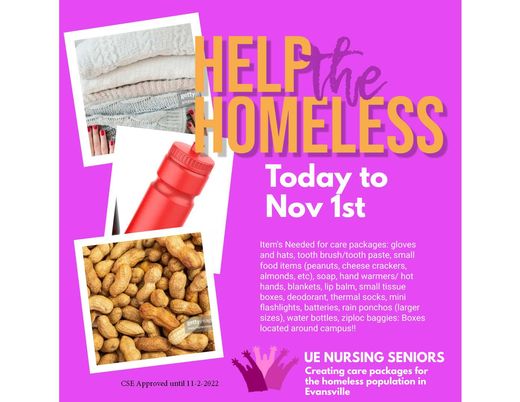 Help the Homeless (today through November 1st): A group of senior nursing students are collecting donations that will be given to the homeless population of Evansville in November. Donations needed include: gloves, hats, small food items, soap, hand warmers, blankets, lip balms, deodorant, socks, and ziplock baggies. Donation boxes can be found in all academic buildings.
Submitted by Johnna Mitchell jm703@evansville.edu
Late Start Classes Are Here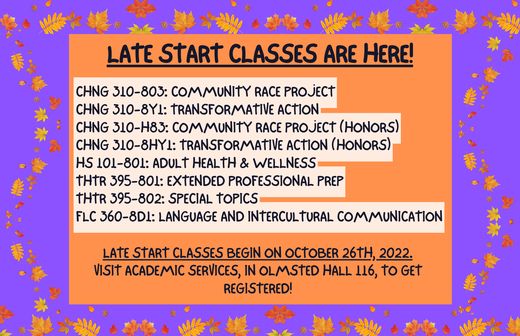 The moment many of you have been waiting for is finally here! Late Start classes, beginning October 26th, are here! If you're needing an extra course or credit hours and are thinking about adding a late start class, please visit Academic Services in Olmsted Hall 116 to get registered.
Submitted by Jade S Shelby js818@evansville.edu
Institute for Public Health Seeking Applications for the Scholar Program
The Institute for Public Health is now seeking applications for the Scholar Program. The Scholar Program provides a supportive infrastructure for meaningful physical and virtual collaborative exchanges. A critical part of the program's success is not relying on a one-size-fits-all approach. We are committed to a portfolio of strategies to suit scholars from across the university and community in various disciplines, at different stages in their careers, and with distinctive pathways toward success. We want to work with scholars to spark productive collaborations, remove barriers to collaboration, and make it easier for scholars to broaden their networks for their public health research, practice, advocacy, and teaching activities. Scholars should be interested in collaborating with other disciplines to help expand their own areas, refine research questions, enhance development of public health interventions, improve practice delivery, enrich teaching, etc. Scholars will be awarded $750 to support their proposed project.
There are three categories where individuals may apply to become a scholar:
Faculty scholar is for University of Evansville faculty
Student scholar is for University of Evansville students (undergraduate or graduate)
Community scholar is for Evansville community members
Benefits of Being a Scholar:
Help connecting one another, or to useful resources and networks, to solve public health challenges
Assistance planning and implementing unique scholar-driven activities related to public health practice, research, education, and advocacy
Support from the Institute's communication infrastructure to disseminate news about scholars' public health work through multiple channels including websites, email newsletter, social media, or other tailored approaches
Comprehensive communications about public health events and opportunities
If you are interested in applying for the Scholar Program, please contact Dr. Payal Patel-Dovlatabadi at pp42@evansville.edu or 812-488-2210. Deadline to apply is 11/11.
Submitted by Dr. Payal Patel-Dovlatabadi pp42@evansville.edu
New Accident Report Form - Fillable PDF
The Risk Management website in the UE Portal has a revised Accident Report Form available. The revised form is a fillable PDF but may also be printed and completed manually when necessary. For insurance purposes, anytime someone sustains even a minor injury and possibly refuses medical attention, this form should be completed and submitted to riskmanagement@evansville.edu or delivered to the Administrative Services offices in the General Services building on campus.
Submitted by Duane Martin dm359@evansville.edu
UE School of Education, EVSC Receive APR Grant of Nearly $1.5 Million
UE's School of Education, in partnership with EVSC, has been named a recipient of the Attract, Prepare, Retain Grant! It was awarded by the Indiana Department of Education (IDOE) in the amount of nearly $1.5 million.
The purpose of the grant is to attract, prepare and retain teachers in Indiana. The UE School of Education will partner with EVSC on four grant-funded activities that intend to draw in high-quality teacher candidates, prepare them to become effective teachers, and provide advancement opportunities for current area teachers.
IDOE shared that successful applications focused on increasing leadership and career advancement within the education profession, as well as increasing opportunities for high school students and underrepresented populations to pursue careers as educators.
Submitted by Julie Beer / jb855@evansville.edu
Dr. Matsel speaks at Colorado APTA Conference
Dr. Kyle Matsel, associate professor of Physical Therapy, was invited to speak at the Rocky Mountain Annual Conference and PT Expo in Breckenridge, CO this month. The presentation "Functional Movement Systems: Assessment through Discharge and Beyond," provided attendees with an overview of functional assessment using neurodevelopment biomarkers for individuals throughout their lifespan and demonstrated a connection between suboptimal performance outcomes at discharge and underlying movement quality limitations.
Submitted by Jennifer Simon js698@evansville.edu
Clark Kimberling Publishes Research Article
Clark Kimberling, Professor of Mathematics at UE, with Peter J. C. Moses (England), has an article in the Springer Nature journal (Switzerland) named Aequationes Mathematicae, an international journal of pure and applied mathematics, which emphasizes functional equations, dynamical systems, iteration theory, combinatorics, and geometry. Entitled "Line conjugates in the plane of a triangle", the article includes several newly discovered special points indexed in the Encyclopedia of Triangle Centers (https://faculty.evansville.edu/ck6/encyclopedia/etc.html).
You can view the article at https://rdcu.be/cTzKk. The recently updated Wikipedia page about the UE-based Encyclopedia (https://en.wikipedia.org/wiki/Encyclopedia_of_Triangle_Centers) notes that as of 15 July 2022, the Encyclopedia identifies 51,475 triangle centers, making it the world's largest collection of named points in the plane of an abstract triangle.
Submitted by Clark Kimberling ck6@evansville.edu
Volleyball rallies for 5-set win over Missouri State
Finishing with a total of 31 kills, Alondra Vazquez lifted the University of Evansville volleyball team to a 3-2 come-from-behind victory over Missouri State on Saturday night inside Meeks Family Fieldhouse.
Hitting .350, Vazquez tallied the highest number of kills this season for a Missouri Valley Conference player and was just one off her career high of 32. Giulia Cardona added 16 kills while Madisyn Steele finished the night with nine. Blakeley Freeman, Kora Ruff and Cardona paced UE with 11 digs while Ruff reset her career mark with 58 assists. Hannah Watkins had a strong evening, accounting for two solo blocks, six block assists and four kills. Emilee Scheumann recorded seven kills.
Set 1 – UE 25, MSU 17
Evansville opened the night scoring six of the first seven points. Alondra Vazquez recorded an early kill. Emily Scheumann contributed a kill before Laura Ruiz added an ace that made it an 8-2 game. Hannah Watkins and Vazquez added tallies to make the advantage even more at 16-7.
Trailing by their largest margin, the Bears cut into the deficit with four in a row before Giulia Cardona ended the stretch with a kill that made it a 17-11 game. Down the stretch, Ruiz registered two more aces and helped UE take the set by a score of 25-17.
Set 2 – MSU 25, UE 21
It was Missouri State's turn to grab the early momentum as they scored the first three to open game two. Watkins contributed a kill and block assist to help UE tie it right up at 3-3. Multiple ties ensued, but UE was unable to take the advantage. The Bears pulled away to a 12-8 lead prior to Kora Ruff registering consecutive aces to tie it once again at 12-12.
Despite the rally, Missouri State fought back to wrestle away a 20-15 lead. Evansville was able to get within a pair before MSU prevailed by a 25-21 score.
Set 3 – MSU 25, UE 21
Using the momentum from their win in the second frame, Missouri State grabbed a 4-0 lead in the third. An ace from Kora Ruff tied it for the first time at 5-5 before Ruiz added another to her tally to tie things back up at 12-12. Countering with a 5-1 rally, the Bears retook a 17-13 edge and pulled away to earn the 25-21 decision.
Set 4 – UE 27, MSU 25
Alondra Vazquez took matters into her own hands to open the fourth set. With the Aces trailing 2-1, Vazquez recorded four consecutive kills to put UE in front. Evansville's first six points in the set were kills by the fifth-year player. The early success in the set continued with UE going up 10-5.
The Bears chipped away at the deficit and eventually tied the set at 17-17. Following a time out, Cardona put the lead back in the hands of the Aces as they posted three in a row. Just when it looked like the Aces would force a fifth set, the Bears stormed back to take a 23-22 lead. UE did not give up as a Cardona kill gave her team a 26-25 lead before Madisyn Steele had the clincher to force a fifth set.
Set 5 – UE 17, MSU 15
Just as she did in the fourth set, Vazquez had the hot hand to open the fifth, notching two more kills to give the Aces a 4-1 lead. A quick stretch by the Bears put them in front for the first time at 5-4 before the 27th and 28th kills of the match by Vazquez gave Evansville the nod.
Three in a row by MSU solidified an 8-6 lead, but UE gave it another run. Maddie Hawkins picked up an ace that knotted the score at 11-11. The Bears would retake the lead and have match point at 14-12 before UE got life once again from Vazquez. Two more kills tied it up and it was Giulia Cardona putting the final touch on the match. Back-to-back kills clinched the match by a 17-15 final.
Monday evening will see the Aces travel to Indiana State for a 5 p.m. CT contest.
Submitted by Athletics
Valparaiso Tops UE Women's Soccer, 3-0
Preseason Missouri Valley Conference favorite Valparaiso notched two first-half goals to grab the early momentum on Sunday on its way to a 3-0 victory over the visiting University of Evansville women's soccer team at Brown Field in Valparaiso, Indiana.
Evansville came out the aggressor at the start, as UE sophomore midfielder Hailey Autenrieb challenged reigning MVC Goalkeeper of the Year Nikki Coryell in the first 40 seconds with a shot from eight-yards out, but Coryell punched it away. Then, seven minutes later, fifth-year midfielder Abby Phelps was denied on a free kick by a diving Coryell on another quality chance.
The two teams would battle back-and-forth in a wide-open first 25 minutes of action, until the Beacons would strike first. Midfielder Molly O'Rear was able to find the ball in the mixer off a free-kick, and slotted it into the bottom-right corner to give Valpo a 1-0 advantage.
The Beacons would add to their lead in the 35th minute, as reserve midfielder Addy Joiner struck from out top to record her team-leading fourth goal of the year and give Valpo a 2-0 lead. Valparaiso would then add the final score of the match in the 60th minute, as defender Abbey Hillman blasted a ball to the upper-corner from the right front of the penalty area to move the scoreline to 3-0.
Evansville nearly got a goal in the 87th minute, but Coryell denied Phelps on a penalty kick after a handball infraction to keep the final score intact.
Valparaiso remained a half-game behind league-leading Missouri State with Sunday's result, as the Beacons move to 5-6-3 overall and 4-1-1 in the MVC with the victory. Evansville moves to 1-8-4 overall and 0-5-2 with the loss. The Purple Aces will return home to Arad McCutchan Stadium on Thursday night, as UE will host Drake at 6 p.m.
Submitted by Athletics
UE Women's Soccer Continues Road Trip On Sunday At Valparaiso
The University of Evansville women's soccer team will travel to preseason Missouri Valley Conference favorite Valparaiso on Sunday to wrap up a weekend two-match road trip. Kick-off is set for 1 p.m. and Sunday's match can be seen live on ESPN3.
Evansville will look to reverse its Valley fortunes so far, as the Purple Aces stand at 0-4-2 in the league and 1-7-4 overall. The Purple Aces suffered another heartbreaking loss on Thursday night, as UIC scored in the 81st minute to grab a 1-0 victory over UE. So far this year in league play, all four match-winning goals conceded by UE have been scored in the match's final 12 minutes of play.
Fifth-year forward Emily Ormson continues to lead not only the UE attack, but also the Valley, with four goals on the season. Ormson scored arguably her biggest goal as a Purple Ace last November against Valparaiso, as she scored a game-winner in the 104th minute of the MVC Tournament semifinal matchup against the Beacons. In her career, Ormson has 17 goals as a Purple Ace, and needs just two more to crack into Evansville's career top 10.
Valparaiso will enter Sunday's match at 4-6-3 overall and 3-1-1 in the Valley, after playing to a scoreless tie against last-place Illinois State. The Beacons are anchored by reigning MVC Goalkeeper of the Year Nikki Coryell, who currently leads the Valley with six shutouts this season. Offensively, sophomore forward Addy Joiner leads the Valpo attack with three goals, and Joiner scored the Beacons' lone goal in UE's 2-1 double-overtime victory in the MVC Tournament semifinals last November.
UE leads the all-time series over Valparaiso, 11-4-4. Evansville and Valparaiso are the oldest teams in the Valley, as both programs began in 1993. In fact, UE beat Valpo, 3-0, in the series' first meeting on October 3, 1993.
Submitted by Athletics
Aces fall in weekend opener
Sophomore Giulia Cardona led the University of Evansville volleyball team with 11 kills in a 3-0 loss to Southern Illinois inside Meeks Family Fieldhouse on Friday evening.
Cardona added six digs. Alondra Vazquez and Madisyn Steele finished with nine kills apiece. Vazquez tied for the match-high with 10 digs. Kora Ruff recorded 27 assists and eight digs for the Purple Aces.
Set 1 – SIU 25, UE 22
Southern Illinois hit the ground running, scoring the first six points of the night before going up 8-1. UE got within five tallies on multiple occasions before the Salukis pushed the lead to 16-8 – the biggest lead to that point. Trailing 21-15, the Purple Aces stormed back.
Alondra Vazquez picked up consecutive service aces to help her team make it a 22-20 game. Despite the comeback, SIU fended off the challenge to take the 25-22 win.
Set 2 – SIU 25, UE 19
Another big start for Southern Illinois gave them a 4-1 edge to begin game two. Evansville took advantage of a handful of Saluki errors to tie the game at 5-5 before SIU responded to retake the advantage at 10-6. A kill from Emilee Scheumann was followed by a Laura Ruiz service ace that cut the SIU lead to 16-14.
Madisyn Steele recorded a kill that got her team even closer (18-17) before a game-ending run saw Southern Illinois win by a 25-19 score and go up 2-0.
Set 3 – SIU 25, UE 18
After opening on a 3-1 run, the Salukis added to their lead going up 10-5 forcing an Aces time out. Brooke Springer ended the SIU run with a kill, but the Salukis came right back to clinch the match with the 25-18 decision.
UE welcomes Missouri State on Saturday at 5 p.m.
Submitted by Athletics
Mallory Russell in second place at Coyote Creek Classic
With two rounds complete at the Coyote Creek Classic, University of Evansville junior Mallory Russell is in second place with 18 holes remaining.
Russell opened the day with a 1-over 73 before recording a 77 in the second 18 to wrap up the day with a 150. She goes into Sunday's round just one shot behind Avalon Woodward of Illinois State. The top three are separated by just two strokes.
Days after leading the Purple Aces at the Butler Fall Invitational, Kate Petrova ranks in the top 20. Scores of 80 and 77 have the freshman tied for 18th. Allison Enchelmayer began the day strong, carding a 76 in round one before dropping to an 86 in the second 18. Her 162 is tied for 34th.
Magdalena Borisova completed Saturday's rounds with tallies of 85 and 80. Her 165 is tied for 40th. Alyssa McMinn rounded out the team scores. Totals of 86 and 87 have her tied for 52nd with a 173. Carly Frazier paced the Aces' three individuals. Following a round of 83, Frazier lowered her score to a 78 to rank in a tie for 30th with a 161. Behind her was Destynie Sheridan. The freshman struggled in round one, carding a 90, but regrouped to shoot an 81 in round two. Caitlin O'Donnell completed the day two behind Sheridan with rounds of 88 and 85.
Leading the team standings entering the final round is Green Bay. With a 617, the Phoenix lead Butler by three strokes. Evansville is in 6th place with a 634. They lead UNI by three shots.
Submitted by Athletics
Both UE golf teams in action this weekend
This weekend, the University of Evansville men's and women's golf teams will be in action at multiple tournaments. The women will be in Bartonville, Ill. for the Coyote Creek Classic while the men travel to Jonesboro, Arkansas for the Bubba Barnett Intercollegiate.
Bradley is the host of the women's event at Coyote Creek Golf Club. Two rounds open play on Saturday before the final 18 holes on Sunday. Joining the Purple Aces in the event are Dayton, Western Illinois, Idaho State, Northern Iowa, Green Bay, Illinois State and Butler.
It has been a busy stretch for the ladies, who competed at the Butler Fall Invitational earlier this week. Kate Petrova recorded the top finish for UE, carding a 3-over 73 in the last round on her way to a tie for 21st. Her total score was a 234. Finishing five behind her was Mallory Russell. With a final-round tally of 77, Russell completed the tournament with a 239 and tied for 43rd.
RidgePointe Country Club in Jonesboro, Ark. is the host course for the Bubba Barnett Intercollegiate. The men are set to open on Monday with two rounds prior to a single round on Tuesday. Par is a 72 for the event.
Participants in the tournament include MVC foes Bradley, Valparaiso and Murray State along with Arkansas, Arkansas State, Green Bay, Southeastern Louisiana, Oklahoma Christian and Texas A&M Commerce.
Last time out, the guys traveled to the Valpo Fall Invitational in Chesterton, Ind. Luke Schneider picked up the top finish, posting a 1-under 71 in the last round on his way to a tie for 22nd. Nicholas Gushrowski was second on the squad. His final round checked in at a 75 while earning a tie for 32nd.
Submitted by Athletics
Contribute to AceNotes
To have content considered for inclusion in AceNotes, please submit a Marketing Request Form. Deadline for submission to AceNotes is 10:00 a.m. on the requested date of publication. Only articles concerning UE related/sponsored activities will be accepted. Articles submitted to AceNotes may be edited for length and clarity. Submitter contact information is at the end of each article.