| | |
| --- | --- |
| AceNotes Today | Friday, October 7, 2022 |
New Hall lot partial closure over Fall Break
The New Hall parking area, Lot "F", will have a partial closure over Fall Break. The parking spots on the east side of the lot, closest to New Hall, will be closed on Friday at 6:00pm. All vehicles must be moved by 6:00pm to allow for lot improvements. The closure will end after Fall Break.
Submitted by Jason Cullum jc647@evansville.edu
Demolition Notice: Hughes Hall
Questions or Concerns Regarding this Work:
Contact Mike Averett (812) 488-2050
Affected Dates:
Thursday, October 6, 2022 through
Monday, February 6, 2023
Description of Work:
A contractor will demolish Hughes Hall.
Impacts for Campus:
The driveway north of Hale Residence Hall will be closed during demolition activities
Access will be maintained around the work site
Action(s) Required:
Please use caution near construction crews, equipment, and activity.
Please follow posted signage and do not enter barricaded areas.
Thank you for your patience as we maintain our beautiful campus.
To report a facilities emergency, call (812) 488-2775
Submitted by Michael Averett ma479@evansville.edu
It's Not Too Late to Register for Winter Intersession Courses
Get ahead by taking Winter Intersession online courses. Complete a missing required course, lighten your spring load, and take advantage of the winter break. Classes are held from December 16, 2022, through January 6, 2023. Students may take one class and register when registering for spring classes starting October 31, 2022.
For more information visit www.evansville.edu/wintersession.
Winter Intersession Course List: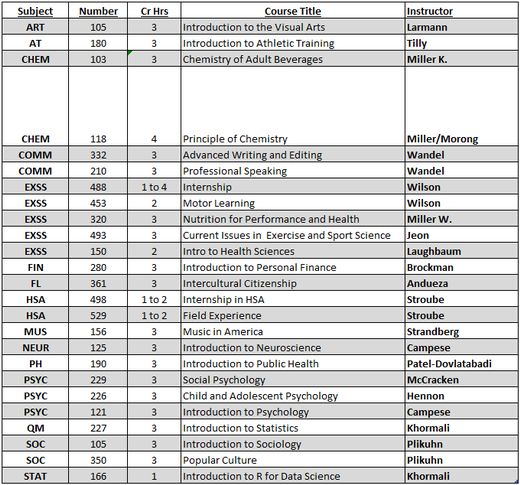 Submitted by Paula Heldt ph28@evansville.edu
College of Business & Engineering Speaker Series Women's Entrepreneurship Week: Lunch & Learn Panel A Celebration of Female Entrepreneurs
University of Evansville - College of Business & Engineering Speaker Series
Women's Entrepreneurship Week: Lunch & Learn Panel
A Celebration of Female Entrepreneurs!
Tuesday, October 18th, 12:15 p.m. - 1:30 p.m.
Schroeder School of Business Rm 170
Join us on October 18th for a lunch and learn panel featuring successful business founders: Gayla Bell (Gayla Cakes), Emily Conley (Emily Writes Well), and Alissa Paik (Thrive Marketing Strategies). Dean Beverly Brockman will provide a short introduction into the entrepreneurial process, followed by Q&A with the panel to hear about their entrepreneurial journey and tips for success.
A Zoom option will be provided for those that would like to attend virtually. The link will be sent via email within 48 hours of the start time of the event.
Box lunch of artisan sandwich or salad and side will be provided. Please let us know if you have any dietary restrictions.
For questions or concerns please contact Nick Bragin at nb197@evansville.edu.
Submitted by Nicholas Bragin nb197@evansville.edu
Raising awareness for male sexual assault victims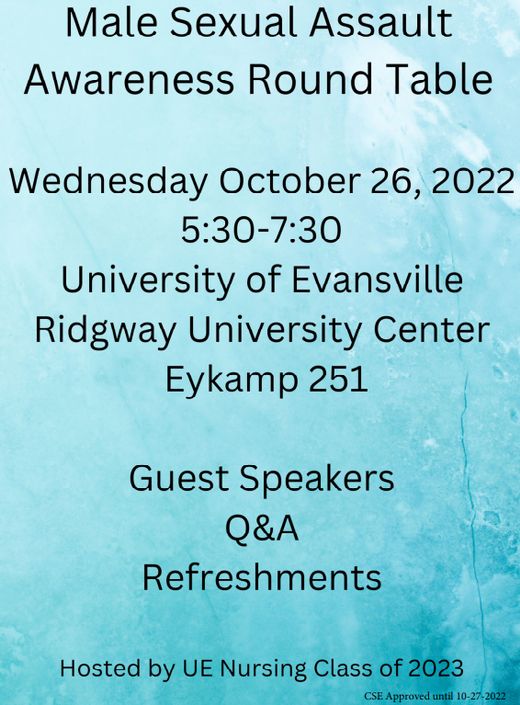 Join us for a round table discussion on October 26th from 5:30-7:30 in Eykamp 251 to raise awareness about resources available for male sexual assault victims.
Submitted by Marysa Bernard mb634@evansville.edu
Vanderburgh County Tox-Away Day
UE's environmental, health and safety manager Amber Elkins would like to let the UE Community know about the 2022 Tox-Away Day planned for Saturday, October 8th. The event is from 9:00 a.m.-1:00 p.m. at the Civic Center parking lot (Ninth and Walnut). This program is for Vanderburgh County households only. Help dispose of hazardous materials properly, so they don't end up entering local streams and rivers.
Items accepted include "oil-based paint, solvents & thinners, pesticides, herbicides, household chemicals, motor oil, antifreeze, gasoline, auto batteries and fluids, smoke detectors, fluorescent tube lights, and pharmaceuticals at this free disposal program. No latex paint, appliances or electronics please. Please load items into you trunk or truck bed for safe unloading."
For a complete list, and for items not accepted, see the Vanderburgh County website: https://www.evansvillegov.org/city/department/index.php?structureid=115
Submitted by Amber Elkins ae152@evansville.edu
UE Nursing Azzip Giveback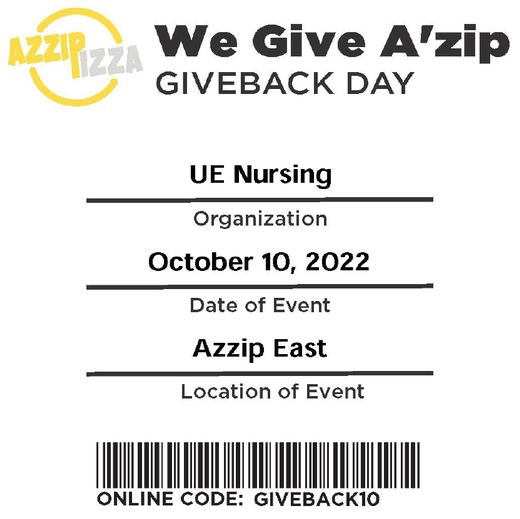 Senior nursing students will be hosting a giveback at Azzip on Green River Road to benefit the Evansville Recovery Alliance.
Submitted by Anna Bury ab760@evansville.edu
Gender and Women's Studies Information Drop-In Session
Are you interested in GWS at UE? Learn about the Gender and Women's Studies minor and program in time for advising week. You may have already completed courses that count towards the minor! At this informational drop-in session, you'll be able to learn about the program from affiliated faculty and get a preview of courses that will be offered in Winter Intercession and Spring Semester (at the Evansville and Harlaxton campuses).
October 12 from 3-5pm in the atrium of SOBA.
Submitted by Sara Petrosillo sp220@evansville.edu
October Vendor Takeover: Jim Loughrie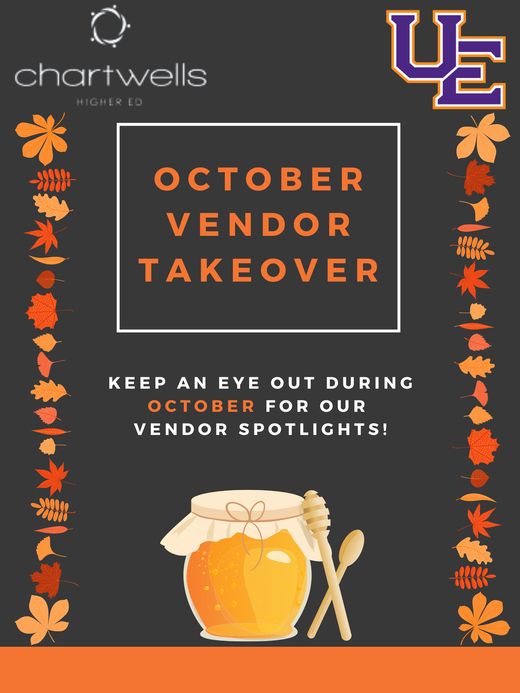 We're kicking off our October Vendor Takeover by featuring Jim Loughrie! Jim is a beekeeper located in Boonville who makes pure, unprocessed honey. We'll be featuring his incredible product in various dining locations on campus, so be on the lookout for opportunities to sample a sweet treat this week! Also, make sure to follow our socials for updates and new events!
Instagram + Twitter: @foodatue
Facebook: UE Dining
Submitted by Ka'Bria Carr kc403@evansville.edu
Rock for Riley Y2K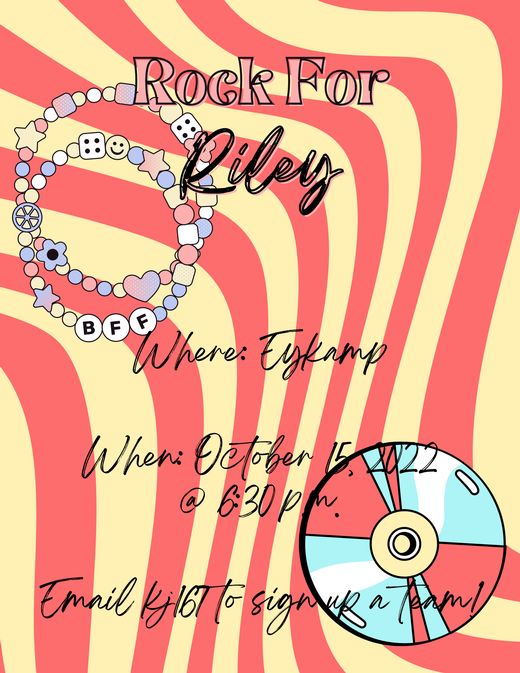 Phi Mu Delta Lambda is hosting the annual Rock for Riley lip syncing competition for the first time since COVID hit! We are searching for teams daring and willing to lip sync and dance to some music from the Year 2000! Email kj167@evansville.edu if interested!
Submitted by Micah Jesus kj167@evansville.edu
Majors and Minors Fair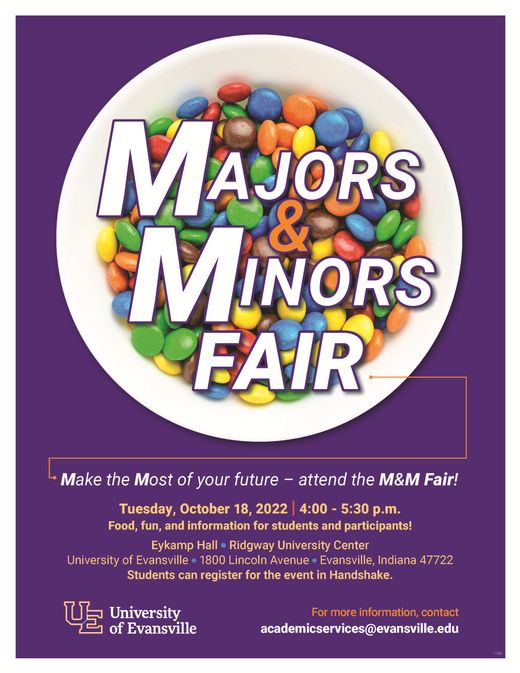 The Majors and Minors Fair is open to all students on Tuesday, October 18, from 4:00 - 5:30 p.m. in Eykamp Hall.
Thinking about changing or adding a major or minor? This is your chance to network with faculty, current students, and alumni from academic departments as well as student support services. Learn more about the classes, research opportunities, internships, and career outcomes.
For more information, contact academicservices@evansville.edu.
Submitted by Paula Heldt ph28@evansville.edu
Employee Fall Healthier Behavior Challenge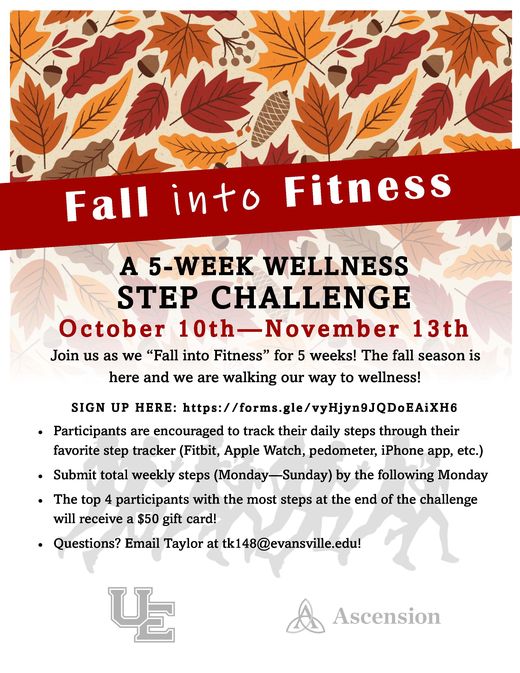 The UE Summer Healthy Behavior challenge is still in progress, but we will soon switch up the pace with our Fall Healthy Behavior Challenge! Introducing the Fall Into Fitness Step Challenge! Join us as we "Fall Into Fitness" for 5 weeks! The Fall season is here and we are walking our way to wellness! Earn a one-time $150 in HRA credits (if you are NOT participating in the Summer Healthy Behavior Challenge) for successfully completing the challenge!
This challenge will begin October 10th - November 13th. Follow the link below to sign up!! A link to submit your weekly steps will be emailed to you at the start of the challenge. See the flyer for additional information!
SIGN UP HERE: https://forms.gle/vyHjyn9JQDoEAiXH6
Submitted by Taylor Kollak tk148@evansville.edu
2022 Flu Shots
UE will host a two-day Flu Shot Clinic for students, employees, and employees' families. The clinic will be held in Room 251 of Eykamp Hall on the following dates:
Wednesday, October 12 / 7:30 a.m. – 9:30 a.m.
Thursday, October 13 – 4 p.m. – 6 p.m.
Employees and their family members covered by UE insurance can receive a flu shot at no cost. For non-insured employees, the cost is $20 and is cash only. Payment will be due at the time of your shot. Students will also pay $20 but must pay by debit or credit card. A credit card machine will be set up for both days of the Flu Shot Clinic.
Flu shots are not required by UE but are recommended. The Flu Shot Clinic will be walk-in only. For more info, visit https://www.evansville.edu/flu.
Submitted by Holly Lee Smith hh98@evansville.edu
Ace Care Skele-fun Run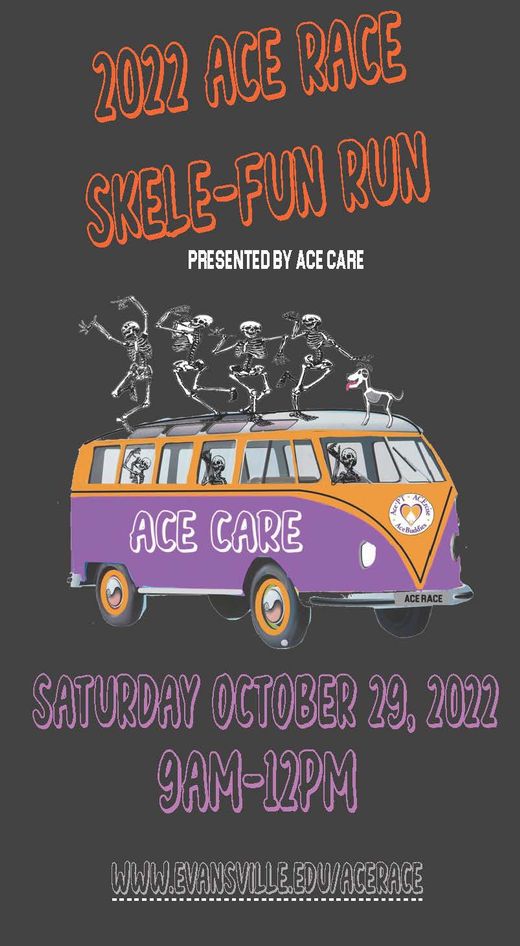 Ace Race is an event to raise money for Ace CARE. Ace CARE is the umbrella term for our three pro-bono student run programs, Ace+PT, ACErcise, and AceBuddies. Through these programs we are able to serve the vulnerable members of our community and to provide them with physical therapy care or wellness services. Ace+PT is an outpatient clinic for those with orthopedic injuries, while ACErcise focuses on exercise programs for individuals who have sustained neurologic injuries. Finally, AceBuddies strives to develop an exercise regime for children with varying disabilities. Student physical therapists treat our clients under the supervision of licensed physical therapists who volunteer their time and expertise to make a difference in our community.
Submitted by Caroline Haddad ch414@evansville.edu
Donations needed for Senior Nursing Community Project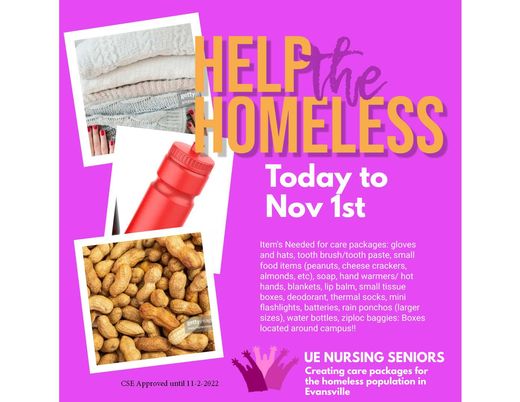 Help the Homeless (today through November 1st): A group of senior nursing students are collecting donations that will be given to the homeless population of Evansville in November. Donations needed include: gloves, hats, small food items, soap, hand warmers, blankets, lip balms, deodorant, socks, and ziplock baggies. Donation boxes can be found in all academic buildings.
Submitted by Johnna Mitchell jm703@evansville.edu
Institute for Public Health Seeking Applications for the Scholar Program
The Institute for Public Health is now seeking applications for the Scholar Program. The Scholar Program provides a supportive infrastructure for meaningful physical and virtual collaborative exchanges. A critical part of the program's success is not relying on a one-size-fits-all approach. We are committed to a portfolio of strategies to suit scholars from across the university and community in various disciplines, at different stages in their careers, and with distinctive pathways toward success. We want to work with scholars to spark productive collaborations, remove barriers to collaboration, and make it easier for scholars to broaden their networks for their public health research, practice, advocacy, and teaching activities. Scholars should be interested in collaborating with other disciplines to help expand their own areas, refine research questions, enhance development of public health interventions, improve practice delivery, enrich teaching, etc. Scholars will be awarded $750 to support their proposed project.
There are three categories where individuals may apply to become a scholar:
Faculty scholar is for University of Evansville faculty
Student scholar is for University of Evansville students (undergraduate or graduate)
Community scholar is for Evansville community members
Benefits of Being a Scholar:
Help connecting one another, or to useful resources and networks, to solve public health challenges
Assistance planning and implementing unique scholar-driven activities related to public health practice, research, education, and advocacy
Support from the Institute's communication infrastructure to disseminate news about scholars' public health work through multiple channels including websites, email newsletter, social media, or other tailored approaches
Comprehensive communications about public health events and opportunities
If you are interested in applying for the Scholar Program, please contact Dr. Payal Patel-Dovlatabadi at pp42@evansville.edu or 812-488-2210. Deadline to apply is 11/11.
Submitted by Dr. Payal Patel-Dovlatabadi pp42@evansville.edu
No Peer Tutoring on October 9-11
As a general reminder as we come up on Fall Break this weekend, peer tutoring is not held during breaks and holidays. All tutoring sessions scheduled for Sunday, Monday, and Tuesday, are cancelled, though some sessions may be moved to later in the week next week. For the most up-to-date information, please review the tutoring schedule here: https://www.evansville.edu/advising/.
If you have any questions in regards to tutoring, please direct them to Laci Rowe at lr152@evansville.edu / 812-488-5170 or stop into Academic Services (Olmsted 116).
Submitted by Laci Rowe lr152@evansville.edu
UE Theatre Introduces Pay What You Can Thursdays
To make productions more accessible to everyone, the University of Evansville Theatre is introducing Pay What You Can Thursdays for the 2022–2023 season. For Thursday performances, audiences can pay anywhere from $1 to $20 for a ticket to Shanklin Theatre productions. Kicking off this initiative is the 7:30 pm, Thursday, October 14, performance of MEASURE FOR MEASURE by William Shakespeare, in a modern verse translation by Aditi Brennan Kapil.
"The price of admission should not be a barrier to experience theatre, and we hope this new program will help make UE Theatre a more vital part of the Evansville community," says Sharla Cowden, Chair/Managing Director, UE Theatre.
To purchase tickets, visit theatre.evansville.edu, or call the ticket office at 812.488.2031. The ticket office hours are 12:00 to 5:00 pm, Monday through Friday
Submitted by Sharla Cowden sc75@evansville.edu
Baseball Managers Wanted
The Baseball Manager(s) report directly to the Head Baseball Coach and will be responsible for the keeping and management of daily practice charts and video, as well as assisting at practice where needed. Must be able to attend the majority of practices and games. Must be proficient in Microsoft Excel.
Submitted by Jared Morton jm877@evansville.edu
Dr. Matsel speaks at Colorado APTA Conference
Dr. Kyle Matsel, associate professor of Physical Therapy, was invited to speak at the Rocky Mountain Annual Conference and PT Expo in Breckenridge, CO this month. The presentation "Functional Movement Systems: Assessment through Discharge and Beyond," provided attendees with an overview of functional assessment using neurodevelopment biomarkers for individuals throughout their lifespan and demonstrated a connection between suboptimal performance outcomes at discharge and underlying movement quality limitations.
Submitted by Jennifer Simon js698@evansville.edu
Clark Kimberling Publishes Research Article
Clark Kimberling, Professor of Mathematics at UE, with Peter J. C. Moses (England), has an article in the Springer Nature journal (Switzerland) named Aequationes Mathematicae, an international journal of pure and applied mathematics, which emphasizes functional equations, dynamical systems, iteration theory, combinatorics, and geometry. Entitled "Line conjugates in the plane of a triangle", the article includes several newly discovered special points indexed in the Encyclopedia of Triangle Centers (https://faculty.evansville.edu/ck6/encyclopedia/etc.html).
You can view the article at https://rdcu.be/cTzKk. The recently updated Wikipedia page about the UE-based Encyclopedia (https://en.wikipedia.org/wiki/Encyclopedia_of_Triangle_Centers) notes that as of 15 July 2022, the Encyclopedia identifies 51,475 triangle centers, making it the world's largest collection of named points in the plane of an abstract triangle.
Submitted by Clark Kimberling ck6@evansville.edu
Flames Score Late To Burn UE Women's Soccer, 1-0
On a windy night in Chicago, the UIC women's soccer team scored a corner kick goal in the 80th minute on Thursday night to slip past the visiting University of Evansville Purple Aces at Flames Field in Chicago, Illinois.
UIC freshman midfielder Sophia Jaime was able to curl a corner kick into the goal that bounced off a Purple Ace as UE goalkeeper Georgia Katsonouri was unable to clear it away to give the Flames a 1-0 lead with just under ten minutes to play. Jaime was credited with the goal, her second in as many matches for UIC.
Evansville would earn a corner kick over a minute later to try and respond, but the Purple Aces could not build a shot towards goal, and UIC was able to hold on down the stretch to earn their second Missouri Valley Conference victory of the season at home.
For the match, UIC out-shot Evansville, 17-4, including an 8-0 edge in shots on goal. Katsonouri recorded a season-high six saves for UE in goal, and the Purple Aces had a team save.
With the victory, UIC improves to 2-5-4 overall and 2-1-2 in conference play. Evansville, meanwhile, falls to 1-7-4 overall and 0-4-2 in league play. The Purple Aces will continue on the road this weekend, as UE will travel to preseason MVC favorite Valparaiso (4-6-3, 3-1-1 MVC) on Sunday for a 1 p.m. contest. Sunday's match can be seen live on ESPN3.
Submitted by Athletics
Scott Peace named "3 Pillars at Work" program recipient
University of Evansville Senior Associate Athletics Director Scott Peace was recognized by the National Association of College Marketing Administrators (NACMA) as a selection for the 3 Pillars at Work program.
Peace was one of six recipients and is set to visit the University of Texas in November. Throughout the 2022-23 NACMA membership year, the six recipients will partake in an on-site experience with the 2022 Marketing Team of the Year finalists, Auburn University and University of Mississippi; along with the Marketing Team of the Year winner, University of Texas.
This year's program recipients will have the opportunity to gain behind-the-scenes access to championship caliber events and observe the game day marketing process at their host institution. The 3 Pillars at Work program aims to provide qualifying members a unique educational experience in conjunction with the Marketing Team of the Year Award presented by SuperFan.
"I am honored to be among the 6 that were selected for this impactful experience. I so look forward to visiting the staff at the University of Texas in November and bringing back some best practices and new ideas to campus here at UE," Peace exclaimed. "NACMA has continued to provide opportunities for growth for myself and the entire membership, and for that I am incredibly grateful."
Since joining UE in 2014, Peace has contributed to the department in multiple facets including ticketing, marketing and development.
Submitted by Athletics
Volleyball home on Friday and Saturday
With its sights set on keeping its home success intact, the University of Evansville volleyball team is back at Meeks Family Fieldhouse this weekend to face Southern Illinois and Missouri State. UE welcomes the Salukis on Friday for a 6 p.m. match before playing host to the Bears in a 5 p.m. game on Saturday with both games being carried on ESPN3.
#2 in the MVC
- For the second time in her career, Giulia Cardona earned MVC Player of the Week honors on Sept. 26
- In the opening two MVC matches, Cardona finished with 5.13 kills per set while hitting an efficient .275...she added 2.00 digs and 0.50 aces per set while matching her single-match kill total with 23 vs. Bradley
- Highlighting the second week of conference action was a 17-kill, 15-dig and 5-ace performance at Belmont before tallying 21 kills at Murray State
- Defensively, Cardona had a career-high 18 digs against Chicago State and has recorded 8 or more digs in 5 of the last 7 matches
- Her season average of 4.07 kills per set ranks 2nd in the MVC
Leading the Way
- Alondra Vazquez missed eight non-conference matches but was back in form to open the MVC schedule
- Averaging 4.13 kills in the first Valley weekend, Vazquez helped UE win both contests
- Despite a pair of losses last weekend, Vazquez had an exceptional 24-kill performance at Belmont and has registered three double-doubles in four league outings
- Vazquez leads the MVC with 4.38 kills per set and sits atop the team stats with 2.68 digs per game
Top 20
- With four MVC matches under her belt, Kora Ruff is averaging 9.44 assists per set with her season tally sitting a 9.57/set, which is 6th in the league
- Ruff's total of 641 helpers in 2022 ranks 20th nationally
- On Sept. 30 at Belmont, Ruff reset her career mark with 50 assists in the 5-set thriller
- She is averaging 2.01 digs per frame over the entirety of the season, but registered 2.50 in the four conference outings while reaching double figures on three occasions and contributing at least eight each time
Submitted by Athletics
Contribute to AceNotes
To have content considered for inclusion in AceNotes, please submit a Marketing Request Form. Deadline for submission to AceNotes is 10:00 a.m. on the requested date of publication. Only articles concerning UE related/sponsored activities will be accepted. Articles submitted to AceNotes may be edited for length and clarity. Submitter contact information is at the end of each article.