| | |
| --- | --- |
| AceNotes Today | Thursday, October 6, 2022 |
New Hall lot partial closure over Fall Break
The New Hall parking area, Lot "F", will have a partial closure over Fall Break. The parking spots on the east side of the lot, closest to New Hall, will be closed on Friday at 6:00pm. All vehicles must be moved by 6:00pm to allow for lot improvements. The closure will end after Fall Break.
Submitted by Jason Cullum jc647@evansville.edu
Demolition Notice: Hughes Hall
Questions or Concerns Regarding this Work:
Contact Mike Averett (812) 488-2050
Affected Dates:
Thursday, October 6, 2022 through
Monday, February 6, 2023
Description of Work:
A contractor will demolish Hughes Hall.
Impacts for Campus:
The driveway north of Hale Residence Hall will be closed during demolition activities
Access will be maintained around the work site
Action(s) Required:
Please use caution near construction crews, equipment, and activity.
Please follow posted signage and do not enter barricaded areas.
Thank you for your patience as we maintain our beautiful campus.
To report a facilities emergency, call (812) 488-2775
Submitted by Michael Averett ma479@evansville.edu
Vanderburgh County Tox-Away Day
UE's environmental, health and safety manager Amber Elkins would like to let the UE Community know about the 2022 Tox-Away Day planned for Saturday, October 8th. The event is from 9:00 a.m.-1:00 p.m. at the Civic Center parking lot (Ninth and Walnut). This program is for Vanderburgh County households only. Help dispose of hazardous materials properly, so they don't end up entering local streams and rivers.
Items accepted include "oil-based paint, solvents & thinners, pesticides, herbicides, household chemicals, motor oil, antifreeze, gasoline, auto batteries and fluids, smoke detectors, fluorescent tube lights, and pharmaceuticals at this free disposal program. No latex paint, appliances or electronics please. Please load items into you trunk or truck bed for safe unloading."
For a complete list, and for items not accepted, see the Vanderburgh County website: https://www.evansvillegov.org/city/department/index.php?structureid=115
Submitted by Amber Elkins ae152@evansville.edu
UE T-Shirt Exchange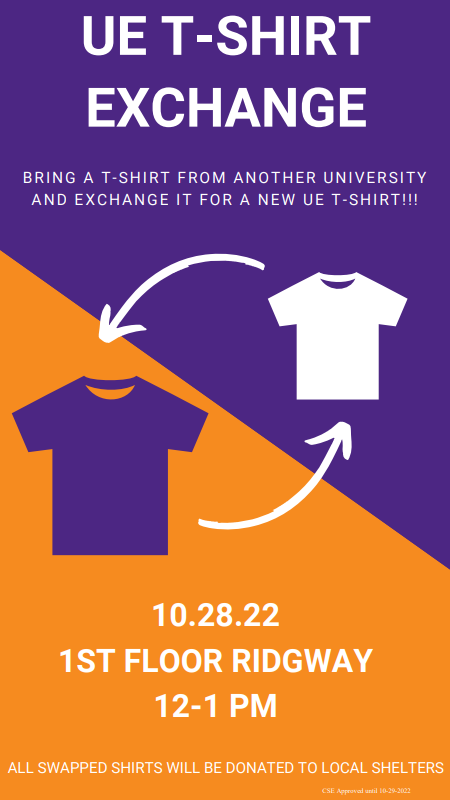 Need more purple in your closet? While on Fall Break bring back a t-shirt from another college. On October 28th from 12-1 bring your shirt to the Collegiate Alumni Board Table in Ridgway and swap it for a UE t-shirt. All collected shirts will be donated
Submitted by Melanie Hawkins mh527@evansville.edu
October Vendor Takeover: Jim Loughrie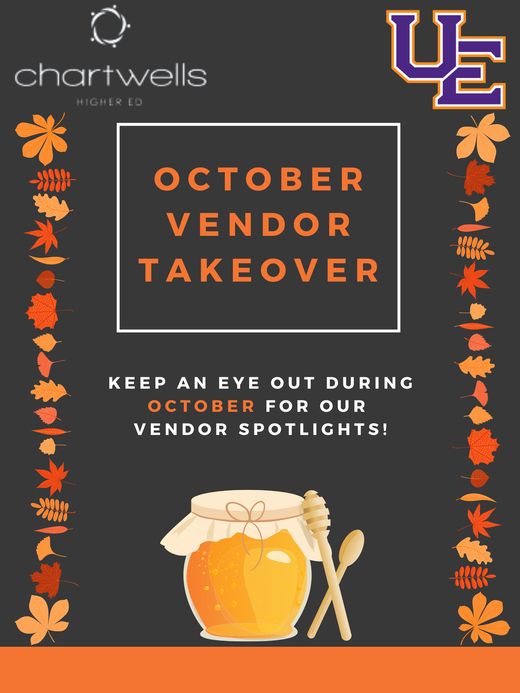 We're kicking off our October Vendor Takeover by featuring Jim Loughrie! Jim is a beekeeper located in Boonville who makes pure, unprocessed honey. We'll be featuring his incredible product in various dining locations on campus, so be on the lookout for opportunities to sample a sweet treat this week! Also, make sure to follow our socials for updates and new events!
Instagram + Twitter: @foodatue
Facebook: UE Dining
Submitted by Ka'Bria Carr kc403@evansville.edu
2022 Flu Shots
UE will host a two-day Flu Shot Clinic for students, employees, and employees' families. The clinic will be held in Room 251 of Eykamp Hall on the following dates:
Wednesday, October 12 / 7:30 a.m. – 9:30 a.m.
Thursday, October 13 – 4 p.m. – 6 p.m.
Employees and their family members covered by UE insurance can receive a flu shot at no cost. For non-insured employees, the cost is $20 and is cash only. Payment will be due at the time of your shot. Students will also pay $20 but must pay by debit or credit card. A credit card machine will be set up for both days of the Flu Shot Clinic.
Flu shots are not required by UE but are recommended. The Flu Shot Clinic will be walk-in only. For more info, visit https://www.evansville.edu/flu.
Submitted by Holly Lee Smith hh98@evansville.edu
Ace Care Skele-fun Run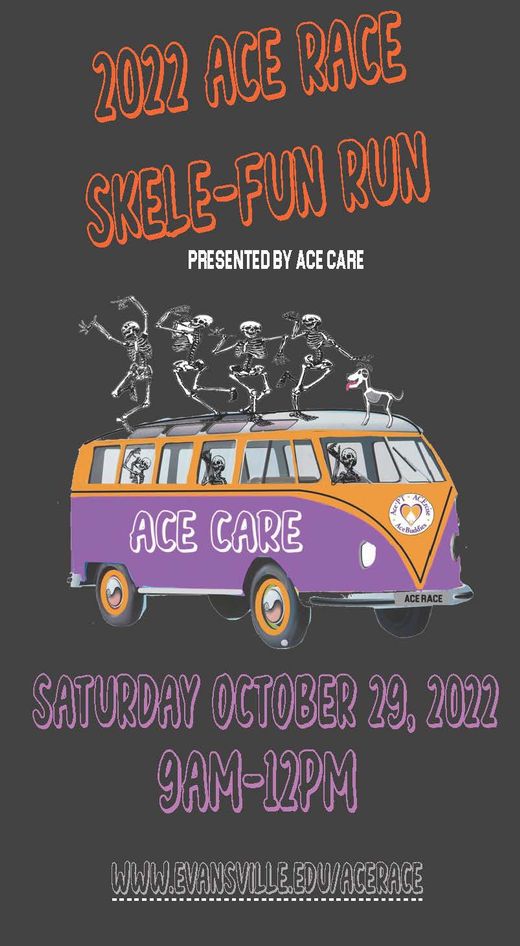 Ace Race is an event to raise money for Ace CARE. Ace CARE is the umbrella term for our three pro-bono student run programs, Ace+PT, ACErcise, and AceBuddies. Through these programs we are able to serve the vulnerable members of our community and to provide them with physical therapy care or wellness services. Ace+PT is an outpatient clinic for those with orthopedic injuries, while ACErcise focuses on exercise programs for individuals who have sustained neurologic injuries. Finally, AceBuddies strives to develop an exercise regime for children with varying disabilities. Student physical therapists treat our clients under the supervision of licensed physical therapists who volunteer their time and expertise to make a difference in our community.
Submitted by Caroline Haddad ch414@evansville.edu
Department of Art Alumni Exhibition Returns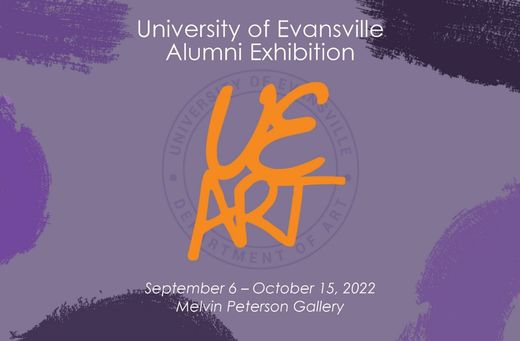 The Department of Art is pleased to announce the return of the UE Art Alumni Exhibition in the Melvin Peterson Gallery. Twenty alumni from around the country are participating in this exhibition. The artworks range from painting, sculpture, ceramics, batik, alcohol ink, and mixed media. All artwork is for sale and a portion of the sales will go to the establishment of an Art Scholarship. We welcome the entire community to visit the exhibition and support the
Department of Art as we welcome these alumni to campus. Some of these students you may even remember.
The Exhibition opens September 6 and runs through October 15. There is a public reception on Thursday, September 8 at 6:30 pm to celebrate the artists. We hope to see you there.
Melvin Peterson Gallery hours are:
Monday, Tuesday, and Friday 12-3
Wednesday and Thursday 12-6
Saturday 12-3
Submitted by Carol McCraney cm177@evansville.edu
Want to Learn How to be More Interculturally Competent?
Did you know you can earn a certificate in Intercultural Competence while you're studying at UE?
By completing FLC 360 (late start), FLC 361 (Winter Intersession) and COMM 380 (a frequently offered General Education requirement) you can complete and earn a certificate in Intercultural Competence!
For more information or questions, please contact Academic Services at academicservices@evansville.edu or visit us in Olmsted Hall 116.
Submitted by Jade S Shelby js818@evansville.edu
Late Start Classes Are Here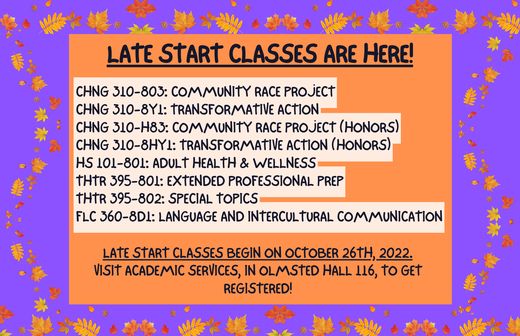 The moment many of you have been waiting for is finally here! Late Start classes, beginning October 26th, are here! If you're needing an extra course or credit hours and are thinking about adding a late start class, please visit Academic Services in Olmsted Hall 116 to get registered.
Submitted by Jade S Shelby js818@evansville.edu
Institute for Public Health Seeking Applications for the Scholar Program
The Institute for Public Health is now seeking applications for the Scholar Program. The Scholar Program provides a supportive infrastructure for meaningful physical and virtual collaborative exchanges. A critical part of the program's success is not relying on a one-size-fits-all approach. We are committed to a portfolio of strategies to suit scholars from across the university and community in various disciplines, at different stages in their careers, and with distinctive pathways toward success. We want to work with scholars to spark productive collaborations, remove barriers to collaboration, and make it easier for scholars to broaden their networks for their public health research, practice, advocacy, and teaching activities. Scholars should be interested in collaborating with other disciplines to help expand their own areas, refine research questions, enhance development of public health interventions, improve practice delivery, enrich teaching, etc. Scholars will be awarded $750 to support their proposed project.
There are three categories where individuals may apply to become a scholar:
Faculty scholar is for University of Evansville faculty
Student scholar is for University of Evansville students (undergraduate or graduate)
Community scholar is for Evansville community members
Benefits of Being a Scholar:
Help connecting one another, or to useful resources and networks, to solve public health challenges
Assistance planning and implementing unique scholar-driven activities related to public health practice, research, education, and advocacy
Support from the Institute's communication infrastructure to disseminate news about scholars' public health work through multiple channels including websites, email newsletter, social media, or other tailored approaches
Comprehensive communications about public health events and opportunities
If you are interested in applying for the Scholar Program, please contact Dr. Payal Patel-Dovlatabadi at pp42@evansville.edu or 812-488-2210. Deadline to apply is 11/11.
Submitted by Dr. Payal Patel-Dovlatabadi pp42@evansville.edu
Apply for UELA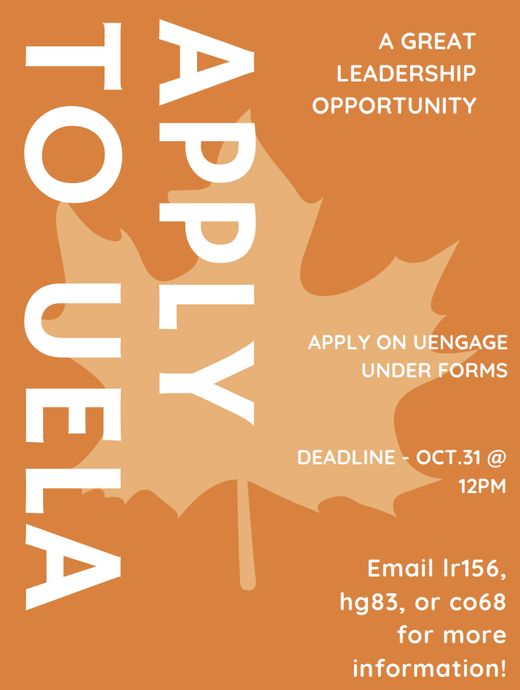 The University of Evansville Leadership Academy applications are now open! All students who have at least two years before graduation at UE are encouraged to apply. Applications will close on October 31st. Please reach out to Caitlin O'Donnell, Hannah Garrity, or Lily Renfro if you have any questions!
Submitted by Caitlin O'Donnell co68@evansville.edu
No Peer Tutoring on October 9-11
As a general reminder as we come up on Fall Break this weekend, peer tutoring is not held during breaks and holidays. All tutoring sessions scheduled for Sunday, Monday, and Tuesday, are cancelled, though some sessions may be moved to later in the week next week. For the most up-to-date information, please review the tutoring schedule here: https://www.evansville.edu/advising/.
If you have any questions in regards to tutoring, please direct them to Laci Rowe at lr152@evansville.edu / 812-488-5170 or stop into Academic Services (Olmsted 116).
Submitted by Laci Rowe lr152@evansville.edu
UE Theatre Introduces Pay What You Can Thursdays
To make productions more accessible to everyone, the University of Evansville Theatre is introducing Pay What You Can Thursdays for the 2022–2023 season. For Thursday performances, audiences can pay anywhere from $1 to $20 for a ticket to Shanklin Theatre productions. Kicking off this initiative is the 7:30 pm, Thursday, October 14, performance of MEASURE FOR MEASURE by William Shakespeare, in a modern verse translation by Aditi Brennan Kapil.
"The price of admission should not be a barrier to experience theatre, and we hope this new program will help make UE Theatre a more vital part of the Evansville community," says Sharla Cowden, Chair/Managing Director, UE Theatre.
To purchase tickets, visit theatre.evansville.edu, or call the ticket office at 812.488.2031. The ticket office hours are 12:00 to 5:00 pm, Monday through Friday
Submitted by Sharla Cowden sc75@evansville.edu
New Accident Report Form - Fillable PDF
The Risk Management website in the UE Portal has a revised Accident Report Form available. The revised form is a fillable PDF but may also be printed and completed manually when necessary. For insurance purposes, anytime someone sustains even a minor injury and possibly refuses medical attention, this form should be completed and submitted to riskmanagement@evansville.edu or delivered to the Administrative Services offices in the General Services building on campus.
Submitted by Duane Martin dm359@evansville.edu
Clark Kimberling Publishes Research Article
Clark Kimberling, Professor of Mathematics at UE, with Peter J. C. Moses (England), has an article in the Springer Nature journal (Switzerland) named Aequationes Mathematicae, an international journal of pure and applied mathematics, which emphasizes functional equations, dynamical systems, iteration theory, combinatorics, and geometry. Entitled "Line conjugates in the plane of a triangle", the article includes several newly discovered special points indexed in the Encyclopedia of Triangle Centers (https://faculty.evansville.edu/ck6/encyclopedia/etc.html).
You can view the article at https://rdcu.be/cTzKk. The recently updated Wikipedia page about the UE-based Encyclopedia (https://en.wikipedia.org/wiki/Encyclopedia_of_Triangle_Centers) notes that as of 15 July 2022, the Encyclopedia identifies 51,475 triangle centers, making it the world's largest collection of named points in the plane of an abstract triangle.
Submitted by Clark Kimberling ck6@evansville.edu
Honors Program Students Volunteer at Cardio for Canines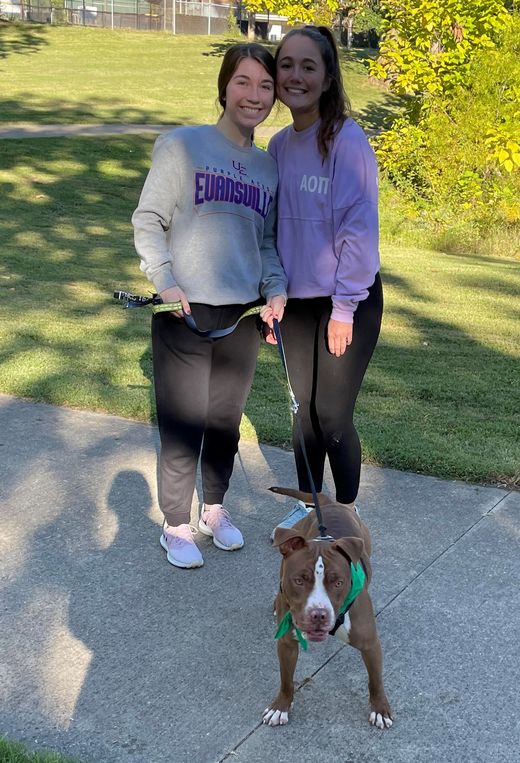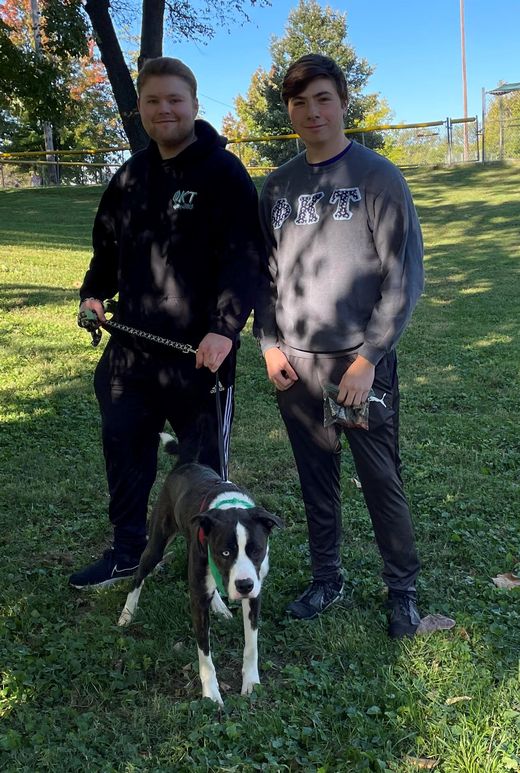 On Saturday, October 1, students from UE's Honors Program spent a beautiful morning walking dogs with the Cardio for Canines program at the Vanderburgh Humane Society. The volunteer efforts were coordinated by HACER, the community service branch of the Honors Program. We had an amazing turnout for this event and wish to thank the 40 students who volunteered!
Submitted by Jayme Williams jw504@evansville.edu
UE Women's Soccer Travels To UIC On Thursday Night
The University of Evansville women's soccer team will travel north to Chicago, Illinois on Thursday night to take on Missouri Valley Conference newcomer UIC. The Purple Aces and Flames will kick-off at 6:05 p.m. at Flames Field in a match that can be seen live on ESPN+.
The match-up will mark the first-ever meeting between the two women's soccer programs. It will also be a key match standings-wise for both teams, with the MVC Tournament coming up in three weeks. UIC currently sits in a four-team tie for sixth-place in the Valley standings with five points (1-5-4 overall, 1-1-2 MVC). Evansville, meanwhile, sits in tenth place with two points (1-6-4 overall, 0-3-2), but a win on Thursday would tie the two sides in the standings, with the potential to move UE into eighth in the league standings. Only the top eight teams will advance on to the conference tournament beginning on October 27.
Evansville will be trying to bounce back from a heartbreaking 2-1 loss to Southern Illinois on Sunday, in which the Salukis scored in the 89th minute to earn the victory. UE fifth-year forward Emily Ormson (Folsom, Calif./Vista del Lago) scored the Aces' lone goal on the afternoon to move into a tie for the league-lead in goals with four. Ormson also leads all of Division I college soccer (both men's and women's) in shot accuracy this year, as she has put 80.8 percent of her shots on target this year (21 of 26).
UIC, meanwhile, played to a 1-1 draw at Murray State on Sunday. Freshman midfielder Sophia Jaime scored in the 82nd minute to help the Flames earn a point on the road against the Racers. Five different Flames have scored one goal each this year, as no UIC player has scored multiple goals this year. Redshirt sophomore Lauren Keiser has posted a 1.13 goals-against average in nine matches played to lead the way in goal for the Flames.
Submitted by Athletics
Vidizzoni helps Aces secure road result with fourth clean sheet
Facing nine shots on the night, graduate goalkeeper Alex Vidizzoni helped lead the University of Evansville men's soccer team to a point on the road in Missouri Valley Conference action in a 0-0 draw with Belmont in Nashville on Wednesday night.
"It's a good result in conference play for us on the road. I think we were unfortunate not to get a goal in the first half, but created chances and were on top of the game and I think were able to dictate the pace," said Aces head men's soccer coach Marshall Ray. " The second half, they came out with a little more energy and put us under some pressure. Belmont created a few good chances, but our guys were organized and did a good job man marking on set pieces and didn't allow any goals and that's something we've been working on and something we need to continue to get better at."
Vidizzoni notched his fourth clean sheet of the season in the draw, facing nine total shots, including six on frame, saving all six. Offensively, Evansville bested the Bruins by one, recording 10 shots with senior Carlos Barcia leading the UE contingent with four shots on the evening. Also recording multiple shots were sophomore Nacho Diaz with three and fellow sophomore Jose Vivas with a pair.
Evansville's attack got its first opportunity inside the opening minute with Barcia launching a shot that missed over the top. The first chance on goal from UE came in the ninth minute as junior Kai Phillip slipped a well-placed through ball to Diaz, who's attempt from an acute angle was saved. Positioning was key on the night for Vidizzoni, who again found himself placed well for a Belmont attempt late in the opening half, making the save as the match trickled into the half in a scoreless lock.
The second half opened relatively quietly with the Aces and Bruins combining for just one shot each in the first 20 minutes of the half, both putting an attempt on goal, but both seeing it subsequently saved.
One of the highlights of the night came by the way of freshman defender Marc Vila. Vila came into the match having played just one minute this season against UIW and made his first collegiate start, playing all 90 minutes in the shutout. Vila nearly won the match for Evansville in the final 10 minutes, launching a volley towards goal that just missed over the bar.
"I think the last 10 or 15 minutes we created some opportunities. Marc (Vila) came in this evening and played a great match for us and stepped-up after not playing many minutes this year and almost got the winner late for us," said Ray on freshman Marc Vila.
In the final five minutes, Belmont generated a late chance on a cross into the box that was headed from close range, but Vidizzoni was in position to make the save as Evansville captured the point on the road in the 0-0 draw.
"Now we've got to get ready for a tough Bradley team at home on Sunday and look forward to getting into that match and continuing in The Valley," said Ray.
The Aces return to Arad McCutcan Stadium on Sunday against MVC foe Bradley with kick-off at 2 PM in Evansville.
Submitted by Athletics
Contribute to AceNotes
To have content considered for inclusion in AceNotes, please submit a Marketing Request Form. Deadline for submission to AceNotes is 10:00 a.m. on the requested date of publication. Only articles concerning UE related/sponsored activities will be accepted. Articles submitted to AceNotes may be edited for length and clarity. Submitter contact information is at the end of each article.