| | |
| --- | --- |
| AceNotes Today | Tuesday, October 4, 2022 |
Demolition Notice: Hughes Hall
Questions or Concerns Regarding this Work:
Contact Mike Averett (812) 488-2050
Affected Dates:
Thursday, October 6, 2022 through
Monday, February 6, 2023
Description of Work:
A contractor will demolish Hughes Hall.
Impacts for Campus:
The driveway north of Hale Residence Hall will be closed during demolition activities
Access will be maintained around the work site
Action(s) Required:
Please use caution near construction crews, equipment, and activity.
Please follow posted signage and do not enter barricaded areas.
Thank you for your patience as we maintain our beautiful campus.
To report a facilities emergency, call (812) 488-2775
Submitted by Michael Averett ma479@evansville.edu
Vanderburgh County Tox-Away Day
UE's environmental, health and safety manager Amber Elkins would like to let the UE Community know about the 2022 Tox-Away Day planned for Saturday, October 8th. The event is from 9:00 a.m.-1:00 p.m. at the Civic Center parking lot (Ninth and Walnut). This program is for Vanderburgh County households only. Help dispose of hazardous materials properly, so they don't end up entering local streams and rivers.
Items accepted include "oil-based paint, solvents & thinners, pesticides, herbicides, household chemicals, motor oil, antifreeze, gasoline, auto batteries and fluids, smoke detectors, fluorescent tube lights, and pharmaceuticals at this free disposal program. No latex paint, appliances or electronics please. Please load items into you trunk or truck bed for safe unloading."
For a complete list, and for items not accepted, see the Vanderburgh County website: https://www.evansvillegov.org/city/department/index.php?structureid=115
Submitted by Amber Elkins ae152@evansville.edu
UE T-Shirt Exchange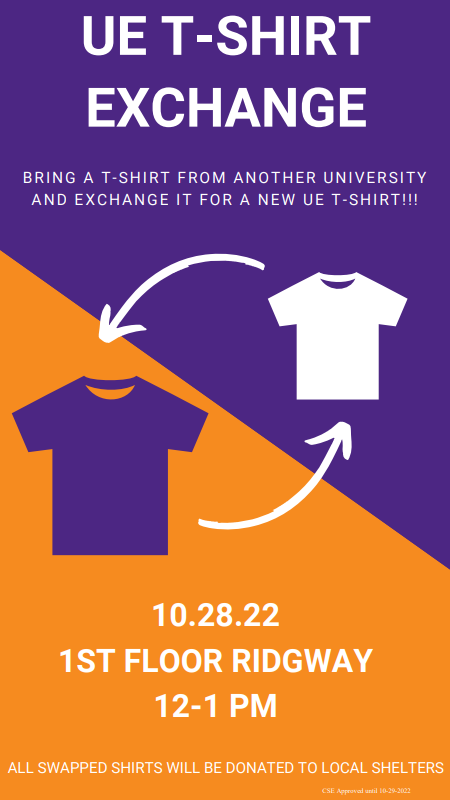 Need more purple in your closet? While on Fall Break bring back a t-shirt from another college. On October 28th from 12-1 bring your shirt to the Collegiate Alumni Board Table in Ridgway and swap it for a UE t-shirt. All collected shirts will be donated
Submitted by Melanie Hawkins mh527@evansville.edu
Gender and Women's Studies Information Drop-In Session
Are you interested in GWS at UE? Learn about the Gender and Women's Studies minor and program in time for advising week. You may have already completed courses that count towards the minor! At this informational drop-in session, you'll be able to learn about the program from affiliated faculty and get a preview of courses that will be offered in Winter Intercession and Spring Semester (at the Evansville and Harlaxton campuses).
October 12 from 3-5pm in the atrium of SOBA.
Submitted by Sara Petrosillo sp220@evansville.edu
Annual Chili Bowl Sale Planned for October 20
The annual Chili Bowl Sale at the University of Evansville, hosted by the UE Clay Club and Department of Art, is planned for October 20 from 11:30 a.m.-1:30 p.m. The event will be set up on the East Terrace Lawn, outside of Ridgeway University Center, on UE's campus. The rain location for the event is Eykamp Hall, Ridgway University Center.
The UE Clay Club will be partnering with Chartwells again this year for the chili. It has been a hit in the previous years.
For $10, customers can buy a one-of-a-kind ceramic bowl and fill it with chili. Lidded containers will be available for those who prefer not to put chili in their newly purchased bowls.
Larger bowls ranging from $15-$100 will also be for sale during the event.
The bowls are being made this year by members of the UE Clay Club, faculty, alumni, and community members.
Part of the proceeds from the sale will be donated to a local food organization to assist with fighting hunger. The rest will go to the UE Clay Club to be used to fund attendance at conferences, visiting artists, and studio/gallery visits.
Submitted by Carol McCraney cm177@evansville.edu
October Vendor Takeover: Jim Loughrie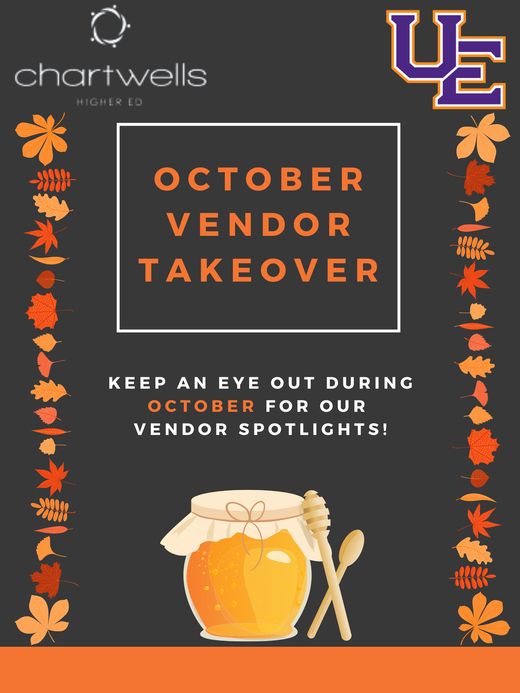 We're kicking off our October Vendor Takeover by featuring Jim Loughrie! Jim is a beekeeper located in Boonville who makes pure, unprocessed honey. We'll be featuring his incredible product in various dining locations on campus, so be on the lookout for opportunities to sample a sweet treat this week! Also, make sure to follow our socials for updates and new events!
Instagram + Twitter: @foodatue
Facebook: UE Dining
Submitted by Ka'Bria Carr kc403@evansville.edu
CDEI Presents: Keynote Speaker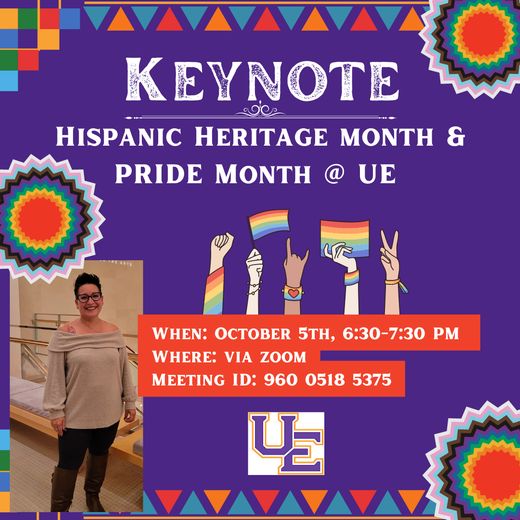 The Center for Diversity Equity and Inclusion, invites everyone to a virtual keynote with Ida Balderrama- Trudell the current Director of Equity & Innovation at the Overture Center for the Arts in Madison, Wisconsin.
This keynote address serves for both Hispanic Heritage Month (9/15-10/15) AND PRIDE Month @ UE (October)! The University of Evansville celebrates October's LGBTQ+ History Month as PRIDE Month @ UE with celebrations, trainings, and other programs!
We are excited to welcome Ida (virtually) to our campus to share her experiences as an individual with intersectional identities!
Please register for the Keynote using this link: https://evansville-edu.zoom.us/meeting/register/tJItd-yppj4pHdGgfaDBjaKn6-_OFotcFuhQ
You can find Ida's Bio below! We look forward to seeing you all virtually on October 5th!
---
Ida Balderrama-Trudell, M.S. is an experienced social justice, diversity, equity, and inclusion professional with over 20 years of experience in higher education spaces. In her roles, she has worked with students in pre-college, undergraduate, and graduate realms and has been integral to transitions in a variety of student affairs units at the University of Wisconsin-Madison. During her time at UW, Ida served in inaugural roles, on committees and groups that support social justice efforts, and as a champion for women of color in education. Her identities as a queer Latina, mom, partner, and Girl Scout leader are integral to her work in DEI and she is never afraid to have the hard conversations.
She has created, facilitated, and participated in a wide variety of workshops, trainings, and conferences related to social justice, diversity, equity, and inclusion during her tenure at UW-Madison and in her current role with Overture Center for the Arts. Ida has served as a special assistant and chief of staff to senior leadership, director of multiple centers/departments, an advisor, and a student. Her approach to DEI and social justice is rooted in human development and growth mindset.
Ida is currently completing her EdD in Student Affairs Administration from UW-LaCrosse, her dissertation is titled, "Self-care, Wellbeing, and Mentoring related to transitions: Experiences of Womxn of Color in Student Affairs". She is also an avid reader, lover of all kinds of music and nature, mom to two amazing young women, and partner to a local business owner.
Submitted by Abagail Catania ac532@evansville.edu
2022 Flu Shots
UE will host a two-day Flu Shot Clinic for students, employees, and employees' families. The clinic will be held in Room 251 of Eykamp Hall on the following dates:
Wednesday, October 12 / 7:30 a.m. – 9:30 a.m.
Thursday, October 13 – 4 p.m. – 6 p.m.
Employees and their family members covered by UE insurance can receive a flu shot at no cost. For non-insured employees, the cost is $20 and is cash only. Payment will be due at the time of your shot. Students will also pay $20 but must pay by debit or credit card. A credit card machine will be set up for both days of the Flu Shot Clinic.
Flu shots are not required by UE but are recommended. The Flu Shot Clinic will be walk-in only. For more info, visit https://www.evansville.edu/flu.
Submitted by Holly Lee Smith hh98@evansville.edu
Ace Care Skele-fun Run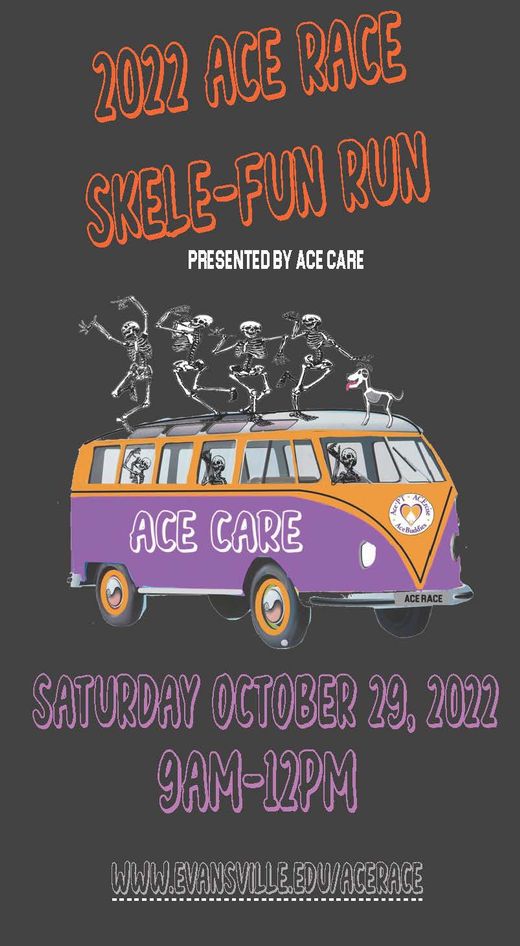 Ace Race is an event to raise money for Ace CARE. Ace CARE is the umbrella term for our three pro-bono student run programs, Ace+PT, ACErcise, and AceBuddies. Through these programs we are able to serve the vulnerable members of our community and to provide them with physical therapy care or wellness services. Ace+PT is an outpatient clinic for those with orthopedic injuries, while ACErcise focuses on exercise programs for individuals who have sustained neurologic injuries. Finally, AceBuddies strives to develop an exercise regime for children with varying disabilities. Student physical therapists treat our clients under the supervision of licensed physical therapists who volunteer their time and expertise to make a difference in our community.
Submitted by Caroline Haddad ch414@evansville.edu
Department of Art Alumni Exhibition Returns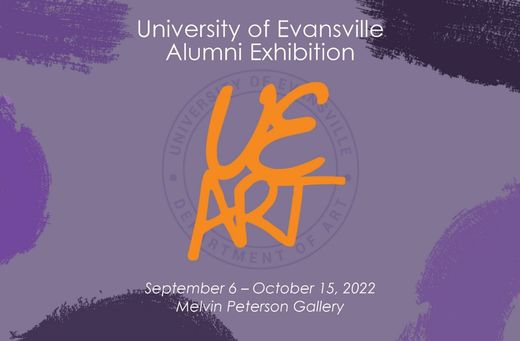 The Department of Art is pleased to announce the return of the UE Art Alumni Exhibition in the Melvin Peterson Gallery. Twenty alumni from around the country are participating in this exhibition. The artworks range from painting, sculpture, ceramics, batik, alcohol ink, and mixed media. All artwork is for sale and a portion of the sales will go to the establishment of an Art Scholarship. We welcome the entire community to visit the exhibition and support the
Department of Art as we welcome these alumni to campus. Some of these students you may even remember.
The Exhibition opens September 6 and runs through October 15. There is a public reception on Thursday, September 8 at 6:30 pm to celebrate the artists. We hope to see you there.
Melvin Peterson Gallery hours are:
Monday, Tuesday, and Friday 12-3
Wednesday and Thursday 12-6
Saturday 12-3
Submitted by Carol McCraney cm177@evansville.edu
New Accident Report Form - Fillable PDF
The Risk Management website in the UE Portal has a revised Accident Report Form available. The revised form is a fillable PDF but may also be printed and completed manually when necessary. For insurance purposes, anytime someone sustains even a minor injury and possibly refuses medical attention, this form should be completed and submitted to riskmanagement@evansville.edu or delivered to the Administrative Services offices in the General Services building on campus.
Submitted by Duane Martin dm359@evansville.edu
People for Pollinators ChangeLab Packed Eykamp on October 1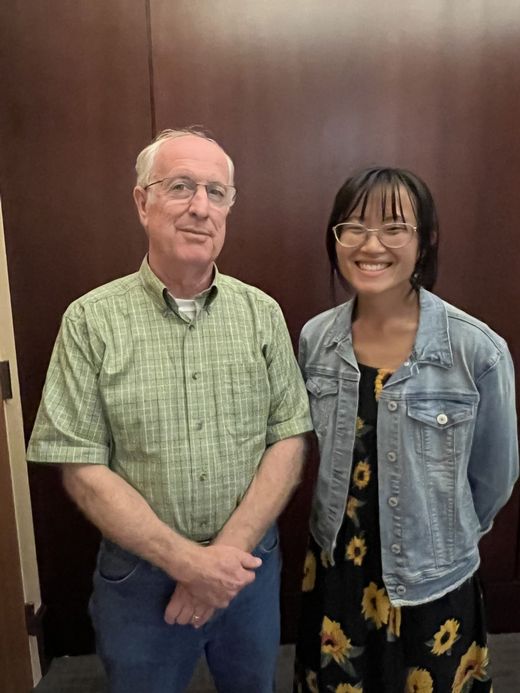 Elyse Talley's ChangeLab "People for Pollinators" was an important part of a successful weekend event. Elyse had the opportunity to introduce Dr. Douglas Tallamy to a room of more than 300 people as he give an illuminating talk on the importance of native plants and how every person can take steps to "put the plants back."
Tallamy's visit was made possible through a collaboration with ChangeLab, student groups ECO and BiSci, Vanderburgh and Warrick County Soil and Water Conservation Districts, and the Southwest Chapter of Indiana Native Plant Society.
Dr. Tallamy has published several influential books about how homeowners across the nation can take action to conserve native wildlife (including pollinators) in our own backyards. This event included a presentation, Q&A, book giveaway, and book sale and signing.
The People for Pollinators ChangeLab is a student-led community outreach initiative with a mission of educating people about the importance of native plants and pollinators so they can feel empowered to take action to support native species in their own yards. Follow People for Pollinators on Facebook at www.facebook.com/ueforthebees for weekly "What Native Wednesday." This is a weekly series of posts that will highlight which native plants are the best pollinator-friendly additions to grow in your backyard, as well as which bee and butterfly friends are most attracted to them!
Submitted by Andrew Carter ac116@evansville.edu
Spring Housing Cancellation Deadline
The deadline for students to cancel their UE housing contract for the spring semester is October 5. Students can cancel a UE housing contract without penalty for the spring semester if you will be:
Attending Harlaxton or studying abroad (if already approved for Harlaxton or study abroad, you do not need to do anything to cancel your housing for the spring semester)
In an internship, co-op, or clinical outside of the Evansville area
Moving into a fraternity house (for the spring semester)
Transferring, withdrawing, or graduating
Requests not falling in the above categories are typically not granted. Requests to move off campus to live with friends or move into an apartment are not sufficient reasons to cancel a UE housing contract. Entering into any other housing agreement or lease with a private landlord will have no effect upon the conditions of your contract with the University of Evansville.
Housing Cancellation forms are available on our website at - www.evansville.edu/residencelife/housingapplyreturn/cancellationsAndRefunds.cfm.
For more information, please contact the Office of Residence Life.
Submitted by Brian Conner bc32@evansville.edu
UE's Own Catie Taylor Named to National Leadership Position in NACAC
Catie Taylor, Senior Associate Director of Admission in the Office of Admission, has been elected to a position of national prominence in the National Association for College Admission Counseling (NACAC). This organization is the premier organization for admission professionals around the country, with over 25,000 members. Catie is the Immediate Past President and member of the board of Indiana's affiliate of this national organization, the Indiana Association for College Admission Counseling (INACAC). She also serves on the Affiliate Presidents Council (APC) at the national level with NACAC.
At the NACAC Conference held in Houston, Texas this past week, Catie was elected to serve as the APC Coordinator-Elect for the council where she will serve a 3-year term, one of those years serving as a member of the NACAC Board of Directors. In this role, she will serve as the liaison between NACAC and its Affiliate Presidents, coordinating professional development opportunities, training, and the yearly LEAD events.
This is a big honor and places Catie, UE, and Indiana in a position of prominence in this significant national organization.
Congratulations and thanks for your tremendous leadership, Catie!
Submitted by Shelby Roscoe mr410@evansville.edu
Archaeology Alumna Publishes on Research with UE Students
Congratulations to Department of Archaeology alumna Dr. Meg Hagseth for publishing an article about her analysis of several ancient lamps owned by the Evansville Museum of Arts, History, and Science. Dr. Hagseth worked with UE archaeology students during the spring of 2021 to create 3D virtual models of the museum's lamp collection using a process called photogrammetry. While creating the models, Dr. Hagseth discovered fingerprints that were nearly two millennia old. The article can be found in the latest edition of the journal Collections.
Submitted by Alan Kaiser ak58@evansville.edu
UE Gives Back - Success!
Thank you to all the volunteers who helped with UE Gives Back on Friday, September 30! They completed a variety of beautification and organization projects across. campus.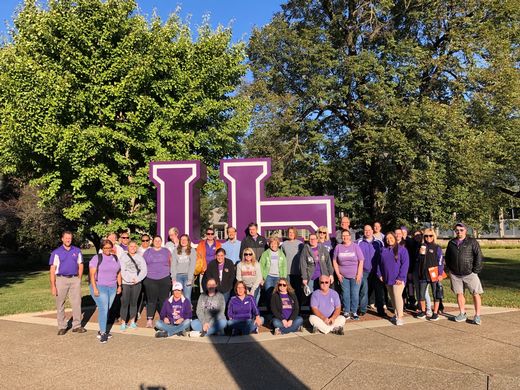 Submitted by Julie Beer / jb855@evansville.edu
Megan Sicard Farewell Celebration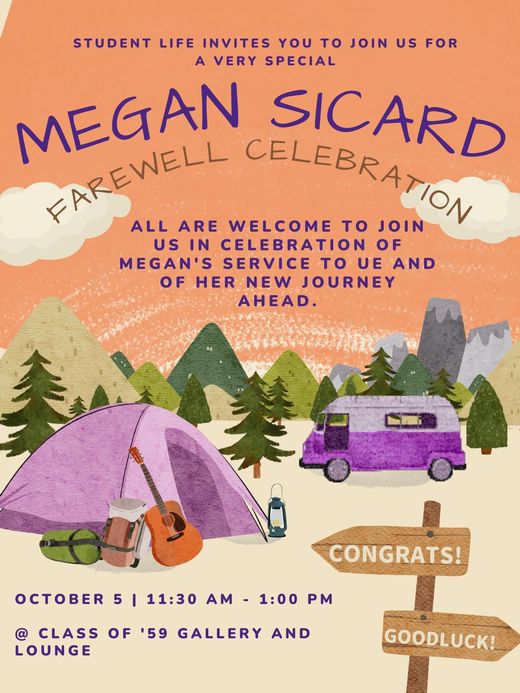 Student life invites you to join us for a very special Megan Sicard Farewell Celebration. All are welcome to join us in celebration of Megan's service to UE and of her new journey ahead. No RSVP necessary. October 5 | 11:30 AM - 1:00 PM @ Class of '59 gallery and lounge. You are encouraged to bring a card, and to submit any photos you may have with Megan to @kr286@evansville.edu for the SlideShow!
Submitted by Shelby Gardner sg293@evansville.edu
Enchelmayer paces UE women at Butler
Allison Enchelmayer and Kate Petrova were the top performers for the University of Evansville women's golf team in the opening day of the Butler Fall Invitational at Highland Country Club.
Enchelmayer opened the day with a 79 and tallied an 81 in round two. Her 160 is tied for the 42nd position. Petrova wrapped up Monday's action with a 161. After carding an 81 in the opening 18 holes, she scored an 80 to finish the day. Her score is tied for 46th. Mallory Russell enters the final round third on the team and tied for 52nd on the leaderboard. She tied Enchelmayer's team-low of 79 in the first round and wrapped up the second 18 with an 83.
Magdalena Borisova tallied scores of 82 and 81 en route to a 163. She is tied for 59th. Destynie Sheridan rounded out the team scores with a 172. Sheridan completed both rounds with an 86. Carly Frazier competed as an individual and opened with an 81 before totaling an 89.
Evansville stands in 14th in the team standings but is primed to make a run on Tuesday. The Purple Aces are just five outside of the top 12 and nine strokes away from the top ten.
With a score of 609, Austin Peay holds the team lead by two shots over Youngstown State and six in front of UIC. Dasa Urbankova of the Flames is the individual leader with a 147. A 1-over 71 to open play was the low round of the tournament. Taylor Dedmen of APSU is second with a 148.
The final round of play is set for Tuesday morning.
Submitted by Athletics
Contribute to AceNotes
To have content considered for inclusion in AceNotes, please submit a Marketing Request Form. Deadline for submission to AceNotes is 10:00 a.m. on the requested date of publication. Only articles concerning UE related/sponsored activities will be accepted. Articles submitted to AceNotes may be edited for length and clarity. Submitter contact information is at the end of each article.