| | |
| --- | --- |
| AceNotes Today | Monday, October 3, 2022 |
Demolition Notice: Hughes Hall
Questions or Concerns Regarding this Work:
Contact Mike Averett (812) 488-2050
Affected Dates:
Thursday, October 6, 2022 through
Monday, February 6, 2023
Description of Work:
A contractor will demolish Hughes Hall.
Impacts for Campus:
The driveway north of Hale Residence Hall will be closed during demolition activities
Access will be maintained around the work site
Action(s) Required:
Please use caution near construction crews, equipment, and activity.
Please follow posted signage and do not enter barricaded areas.
Thank you for your patience as we maintain our beautiful campus.
To report a facilities emergency, call (812) 488-2775
Submitted by Michael Averett ma479@evansville.edu
Annual Chili Bowl Sale Planned for October 20
The annual Chili Bowl Sale at the University of Evansville, hosted by the UE Clay Club and Department of Art, is planned for October 20 from 11:30 a.m.-1:30 p.m. The event will be set up on the East Terrace Lawn, outside of Ridgeway University Center, on UE's campus. The rain location for the event is Eykamp Hall, Ridgway University Center.
The UE Clay Club will be partnering with Chartwells again this year for the chili. It has been a hit in the previous years.
For $10, customers can buy a one-of-a-kind ceramic bowl and fill it with chili. Lidded containers will be available for those who prefer not to put chili in their newly purchased bowls.
Larger bowls ranging from $15-$100 will also be for sale during the event.
The bowls are being made this year by members of the UE Clay Club, faculty, alumni, and community members.
Part of the proceeds from the sale will be donated to a local food organization to assist with fighting hunger. The rest will go to the UE Clay Club to be used to fund attendance at conferences, visiting artists, and studio/gallery visits.
Submitted by Carol McCraney cm177@evansville.edu
October Vendor Takeover: Jim Loughrie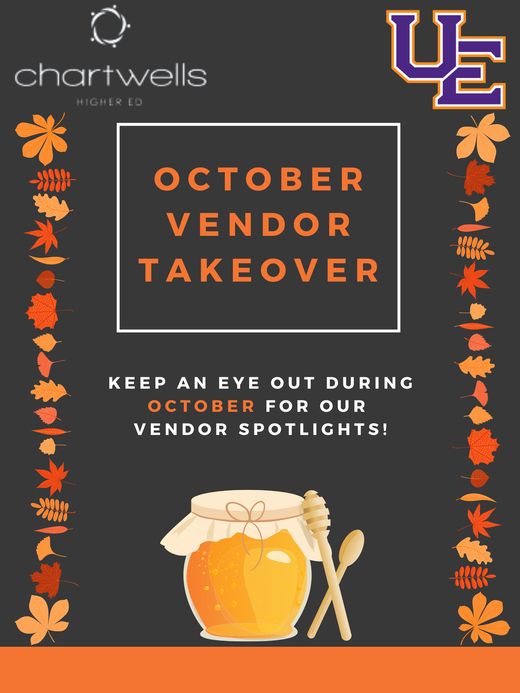 We're kicking off our October Vendor Takeover by featuring Jim Loughrie! Jim is a beekeeper located in Boonville who makes pure, unprocessed honey. We'll be featuring his incredible product in various dining locations on campus, so be on the lookout for opportunities to sample a sweet treat this week! Also, make sure to follow our socials for updates and new events!
Instagram + Twitter: @foodatue
Facebook: UE Dining
Submitted by Ka'Bria Carr kc403@evansville.edu
Save the Date - Campus Speaker to Discuss Racial Bias in Health Care
The campus community is invited to attend the Honors Program common read speaking event, a presentation by author Linda Villarosa, on Monday, October 24 at 6:00pm in Eykamp Hall. Ms. Villarosa will be discussing her recently published book, Under the Skin: The Hidden Toll of Racism on American Lives and on the Health of Our Nation, which was the common read for Honors Program freshmen this year.
We hope you will join us for this enlightening presentation. If you'd like to read Under the Skin in advance, copies are on reserve at the library.
About the book and author:
Journalist Linda Villarosa is a contributing writer for The New York Times Magazine, where she covers race, inequality and public health.
Under the Skin is a landmark book that tells the full story of racial health disparities in America by revealing the toll racism takes on individuals and public health. In this book, Villarosa lays bare the forces in the American health-care system and in American society that cause Black people to "live sicker and die quicker" compared to their white counterparts. Study after study of medical settings show worse treatment and outcomes for Black patients. Black people live in dirtier, more polluted communities due to environmental racism and neglect from all levels of government. And, most powerfully, Villarosa describes the new understanding that coping with the daily scourge of racism ages Black people prematurely. Anchored by unforgettable human stories and offering incontrovertible proof, Under the Skin is, according to Oprah Daily, "perhaps one of the most important and thought-provoking publications of the year."
Villarosa is a graduate of the Craig Newmark Graduate School of Journalism at CUNY, where she is an associate professor and journalist in residence. She also teaches journalism, English and Black Studies at the City College of New York.
(Source: https://www.lyceumagency.com/speakers/linda-villarosa/)
Submitted by Jayme Williams jw504@evansville.edu
CDEI Presents: Keynote Speaker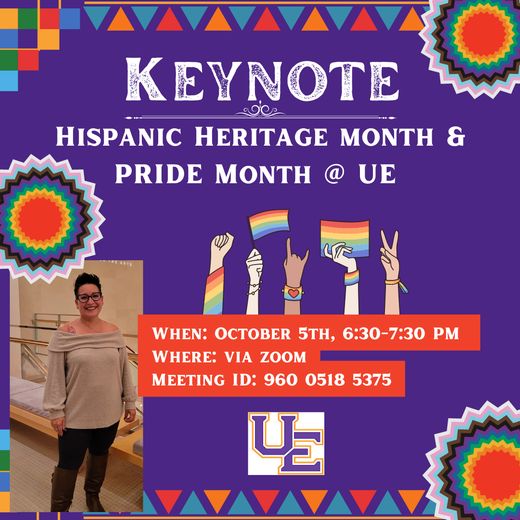 The Center for Diversity Equity and Inclusion, invites everyone to a virtual keynote with Ida Balderrama- Trudell the current Director of Equity & Innovation at the Overture Center for the Arts in Madison, Wisconsin.
This keynote address serves for both Hispanic Heritage Month (9/15-10/15) AND PRIDE Month @ UE (October)! The University of Evansville celebrates October's LGBTQ+ History Month as PRIDE Month @ UE with celebrations, trainings, and other programs!
We are excited to welcome Ida (virtually) to our campus to share her experiences as an individual with intersectional identities!
Please register for the Keynote using this link: https://evansville-edu.zoom.us/meeting/register/tJItd-yppj4pHdGgfaDBjaKn6-_OFotcFuhQ
You can find Ida's Bio below! We look forward to seeing you all virtually on October 5th!
---
Ida Balderrama-Trudell, M.S. is an experienced social justice, diversity, equity, and inclusion professional with over 20 years of experience in higher education spaces. In her roles, she has worked with students in pre-college, undergraduate, and graduate realms and has been integral to transitions in a variety of student affairs units at the University of Wisconsin-Madison. During her time at UW, Ida served in inaugural roles, on committees and groups that support social justice efforts, and as a champion for women of color in education. Her identities as a queer Latina, mom, partner, and Girl Scout leader are integral to her work in DEI and she is never afraid to have the hard conversations.
She has created, facilitated, and participated in a wide variety of workshops, trainings, and conferences related to social justice, diversity, equity, and inclusion during her tenure at UW-Madison and in her current role with Overture Center for the Arts. Ida has served as a special assistant and chief of staff to senior leadership, director of multiple centers/departments, an advisor, and a student. Her approach to DEI and social justice is rooted in human development and growth mindset.
Ida is currently completing her EdD in Student Affairs Administration from UW-LaCrosse, her dissertation is titled, "Self-care, Wellbeing, and Mentoring related to transitions: Experiences of Womxn of Color in Student Affairs". She is also an avid reader, lover of all kinds of music and nature, mom to two amazing young women, and partner to a local business owner.
Submitted by Abagail Catania ac532@evansville.edu
Rock for Riley Y2K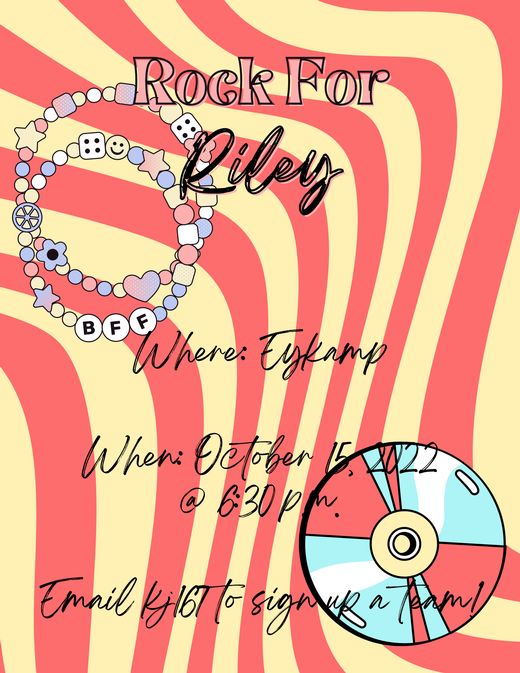 Phi Mu Delta Lambda is hosting the annual Rock for Riley lip syncing competition for the first time since COVID hit! We are searching for teams daring and willing to lip sync and dance to some music from the Year 2000! Email kj167@evansville.edu if interested!
Submitted by Micah Jesus kj167@evansville.edu
Majors and Minors Fair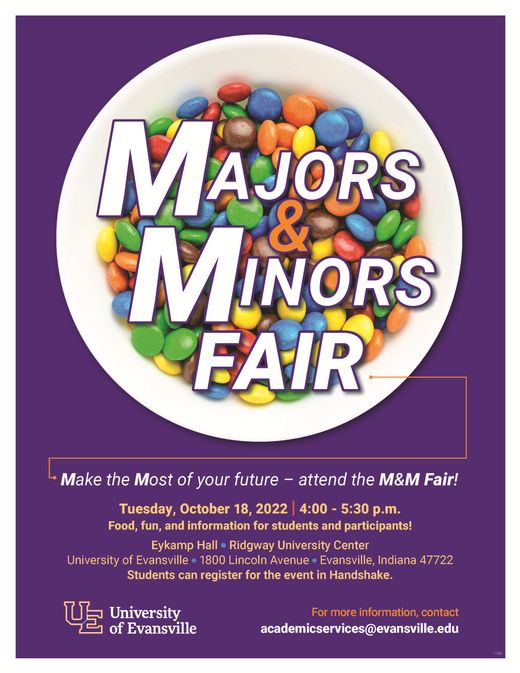 The Majors and Minors Fair is open to all students on Tuesday, October 18, from 4:00 - 5:30 p.m. in Eykamp Hall.
Thinking about changing or adding a major or minor? This is your chance to network with faculty, current students, and alumni from academic departments as well as student support services. Learn more about the classes, research opportunities, internships, and career outcomes.
For more information, contact academicservices@evansville.edu.
Submitted by Paula Heldt ph28@evansville.edu
Employee Fall Healthier Behavior Challenge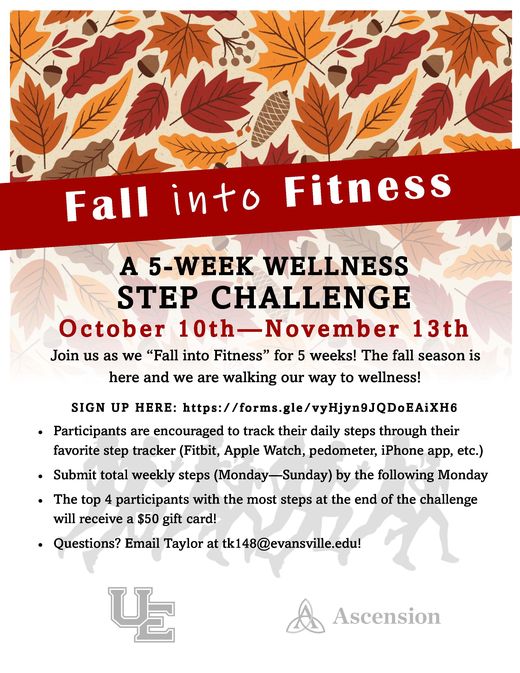 The UE Summer Healthy Behavior challenge is still in progress, but we will soon switch up the pace with our Fall Healthy Behavior Challenge! Introducing the Fall Into Fitness Step Challenge! Join us as we "Fall Into Fitness" for 5 weeks! The Fall season is here and we are walking our way to wellness! Earn a one-time $150 in HRA credits (if you are NOT participating in the Summer Healthy Behavior Challenge) for successfully completing the challenge!
This challenge will begin October 10th - November 13th. Follow the link below to sign up!! A link to submit your weekly steps will be emailed to you at the start of the challenge. See the flyer for additional information!
SIGN UP HERE: https://forms.gle/vyHjyn9JQDoEAiXH6
Submitted by Taylor Kollak tk148@evansville.edu
2022 Flu Shots
UE will host a two-day Flu Shot Clinic for students, employees, and employees' families. The clinic will be held in Room 251 of Eykamp Hall on the following dates:
Wednesday, October 12 / 7:30 a.m. – 9:30 a.m.
Thursday, October 13 – 4 p.m. – 6 p.m.
Employees and their family members covered by UE insurance can receive a flu shot at no cost. For non-insured employees, the cost is $20 and is cash only. Payment will be due at the time of your shot. Students will also pay $20 but must pay by debit or credit card. A credit card machine will be set up for both days of the Flu Shot Clinic.
Flu shots are not required by UE but are recommended. The Flu Shot Clinic will be walk-in only. For more info, visit https://www.evansville.edu/flu.
Submitted by Holly Lee Smith hh98@evansville.edu
People for Pollinators ChangeLab Packed Eykamp on October 1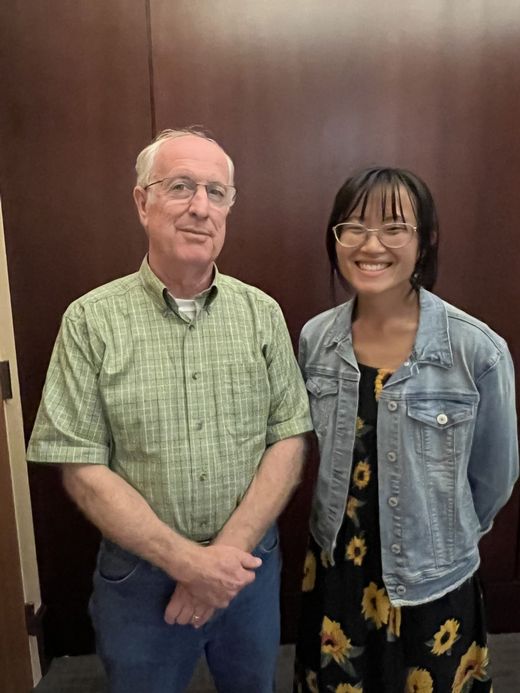 Elyse Talley's ChangeLab "People for Pollinators" was an important part of a successful weekend event. Elyse had the opportunity to introduce Dr. Douglas Tallamy to a room of more than 300 people as he give an illuminating talk on the importance of native plants and how every person can take steps to "put the plants back."
Tallamy's visit was made possible through a collaboration with ChangeLab, student groups ECO and BiSci, Vanderburgh and Warrick County Soil and Water Conservation Districts, and the Southwest Chapter of Indiana Native Plant Society.
Dr. Tallamy has published several influential books about how homeowners across the nation can take action to conserve native wildlife (including pollinators) in our own backyards. This event included a presentation, Q&A, book giveaway, and book sale and signing.
The People for Pollinators ChangeLab is a student-led community outreach initiative with a mission of educating people about the importance of native plants and pollinators so they can feel empowered to take action to support native species in their own yards. Follow People for Pollinators on Facebook at www.facebook.com/ueforthebees for weekly "What Native Wednesday." This is a weekly series of posts that will highlight which native plants are the best pollinator-friendly additions to grow in your backyard, as well as which bee and butterfly friends are most attracted to them!
Submitted by Andrew Carter ac116@evansville.edu
FREE STUDENT TICKETS TO UE THEATRE'S MEASURE FOR MEASURE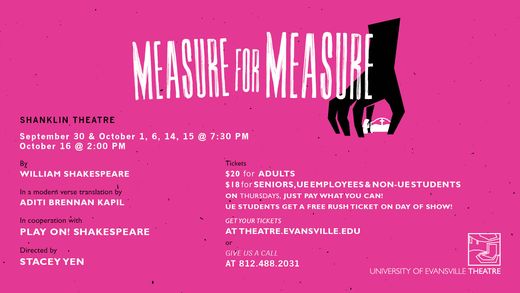 UE students get a FREE ticket to all UE Theatre productions, starting with MEASURE FOR MEASURE, running September 30, October 1, October 6, October 14, October 15, at 7:30 pm, and October 16, at 2:00 pm, in Shanklin Theatre. Students should bring their ID to the ticket office on the day of the show they wish to attend. The ticket office is located in Hyde Hall and is open Monday through Friday, 12 noon to 5:00 pm, and until curtain on performance dates.
Submitted by Sharla Cowden sc75@evansville.edu
Baseball Managers Wanted
The Baseball Manager(s) report directly to the Head Baseball Coach and will be responsible for the keeping and management of daily practice charts and video, as well as assisting at practice where needed. Must be able to attend the majority of practices and games. Must be proficient in Microsoft Excel.
Submitted by Jared Morton jm877@evansville.edu
Spring Housing Cancellation Deadline
The deadline for students to cancel their UE housing contract for the spring semester is October 5. Students can cancel a UE housing contract without penalty for the spring semester if you will be:
Attending Harlaxton or studying abroad (if already approved for Harlaxton or study abroad, you do not need to do anything to cancel your housing for the spring semester)
In an internship, co-op, or clinical outside of the Evansville area
Moving into a fraternity house (for the spring semester)
Transferring, withdrawing, or graduating
Requests not falling in the above categories are typically not granted. Requests to move off campus to live with friends or move into an apartment are not sufficient reasons to cancel a UE housing contract. Entering into any other housing agreement or lease with a private landlord will have no effect upon the conditions of your contract with the University of Evansville.
Housing Cancellation forms are available on our website at - www.evansville.edu/residencelife/housingapplyreturn/cancellationsAndRefunds.cfm.
For more information, please contact the Office of Residence Life.
Submitted by Brian Conner bc32@evansville.edu
UE's Own Catie Taylor Named to National Leadership Position in NACAC
Catie Taylor, Senior Associate Director of Admission in the Office of Admission, has been elected to a position of national prominence in the National Association for College Admission Counseling (NACAC). This organization is the premier organization for admission professionals around the country, with over 25,000 members. Catie is the Immediate Past President and member of the board of Indiana's affiliate of this national organization, the Indiana Association for College Admission Counseling (INACAC). She also serves on the Affiliate Presidents Council (APC) at the national level with NACAC.
At the NACAC Conference held in Houston, Texas this past week, Catie was elected to serve as the APC Coordinator-Elect for the council where she will serve a 3-year term, one of those years serving as a member of the NACAC Board of Directors. In this role, she will serve as the liaison between NACAC and its Affiliate Presidents, coordinating professional development opportunities, training, and the yearly LEAD events.
This is a big honor and places Catie, UE, and Indiana in a position of prominence in this significant national organization.
Congratulations and thanks for your tremendous leadership, Catie!
Submitted by Shelby Roscoe mr410@evansville.edu
Archaeology Alumna Publishes on Research with UE Students
Congratulations to Department of Archaeology alumna Dr. Meg Hagseth for publishing an article about her analysis of several ancient lamps owned by the Evansville Museum of Arts, History, and Science. Dr. Hagseth worked with UE archaeology students during the spring of 2021 to create 3D virtual models of the museum's lamp collection using a process called photogrammetry. While creating the models, Dr. Hagseth discovered fingerprints that were nearly two millennia old. The article can be found in the latest edition of the journal Collections.
Submitted by Alan Kaiser ak58@evansville.edu
UE Gives Back - Success!
Thank you to all the volunteers who helped with UE Gives Back on Friday, September 30! They completed a variety of beautification and organization projects across. campus.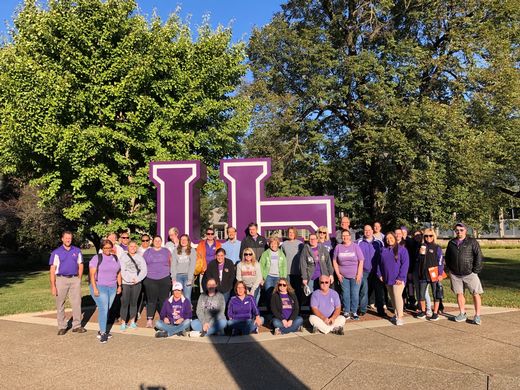 Submitted by Julie Beer / jb855@evansville.edu
Megan Sicard Farewell Celebration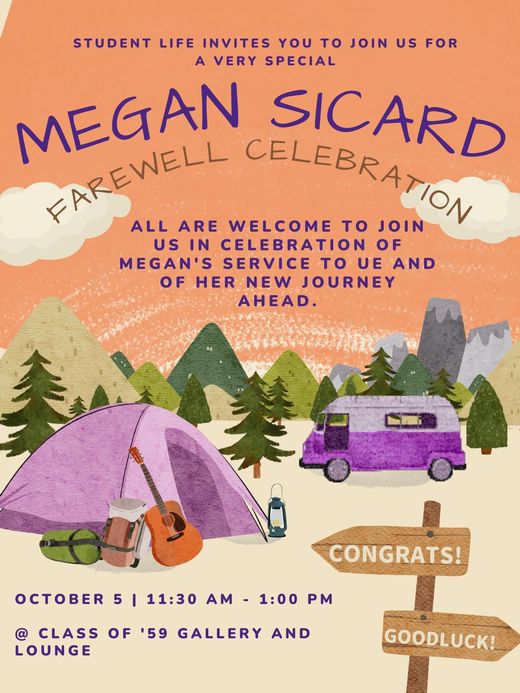 Student life invites you to join us for a very special Megan Sicard Farewell Celebration. All are welcome to join us in celebration of Megan's service to UE and of her new journey ahead. No RSVP necessary. October 5 | 11:30 AM - 1:00 PM @ Class of '59 gallery and lounge. You are encouraged to bring a card, and to submit any photos you may have with Megan to @kr286@evansville.edu for the SlideShow!
Submitted by Shelby Gardner sg293@evansville.edu
Southern Illinois Slips Past UE Women's Soccer, 2-1
Southern Illinois reserve forward Emma Spotak took advantage of a bad-bounce breakaway to net the match-winning goal with less than two minutes remaining Sunday to propel the visiting Salukis to a 2-1 victory over the University of Evansville women's soccer team at Arad McCutchan Stadium in Evansville, Indiana.
Spotak gathered a ball that bounced by an Evansville defender and began the match-winning run just into her own offensive zone. She finished just over a lunging UE goalkeeper to snap a 1-1 tie with her second goal of the year with 1:49 left in regulation.
Spotak's goal spoiled a strong second-half showing by the Purple Aces, as once again, wind played a major factor on a Sunday in Evansville. With a gusting 20 mile-per-hour wind coming straight out of the north, both teams struggled going into the wind offensively.
In the first half, SIU took an early 1-0 lead in the 12th minute on a set piece, as midfielder Christy Murauskis headed home her second goal of the year off a free kick by McKinley Stiff. The Salukis would hold a 5-4 edge in shots in the first half, playing with the wind at their backs.
In the second half, UE took advantage of the wind to create a 10-7 advantage in shots. UE fifth-year forward Emily Ormson equalized the match just minutes into the second stanza, as she blasted a ball off a partial clearance from SIU to the back of the net for her fourth goal of the year in the 48th minute.
Evansville would nearly take the lead in the 83rd minute, as sophomore Ryleigh Anslinger was denied an opportunity from out top by SIU goalkeeper Maddy Alaluf, and senior Monique Landrum's follow attempt was blocked away by the Salukis. Overall, UE out-shot SIU, 14-12, and held a 9-5 advantage in corner kicks, including an 8-2 edge after halftime.
With the victory, Southern Illinois improves to 5-3-2 overall and 2-1-1 in the Missouri Valley Conference. Evansville, meanwhile, falls to 1-6-4 and 0-3-2 in the Valley. The Purple Aces will now hit the road to Chicago on Thursday night, as UE will face UIC for the first time as a league member. Kick-off on Thursday is set for 6 p.m. and the match can be seen live on ESPN+.
Submitted by Athletics
Aces drop wild 5-set match at Belmont
An exciting match for the duration of the evening saw a late run in the fifth set give Belmont a 3-2 victory over the University of Evansville volleyball team on Friday evening at the Curb Event Center.
Alondra Vazquez led the way with 24 kills and 16 digs. Giulia Cardona added 17 kills, 15 digs and 5 service aces. Kora Ruff tallied 50 assists and 12 digs while Blakeley Freeman had a strong night with 7 digs, 5 assists and 2 aces.
Set 1 – BU 25, UE 21
Momentum was on Belmont's side early on with the Bruins taking a 2-0 lead before extending it to 5-2. Back-to-back service aces by Guilia Cardona knotted the score up at 6-6 before a pair of Belmont errors put the Aces in front at 11-9.
Madisyn Steele added a kill to set the Aces up with a 15-12 lead, but following the media time out, the Bruins reeled off five in a row to go back in front – 17-15. UE responded to tie it up at 18-18. Three more ties led to a 21-21 score when Belmont scored two in a row. Following a challenge, the Bruins finished with the last two points to take the 25-21 win.
Set 2 – UE 27, BU 25
Once again, the Bruins had a strong start, using a 3-0 rally to take an 8-5 advantage. It was Cardona brining the Aces back with consecutive service aces to tie the score at 8-8. Kora Ruff picked up an ace while Vazquez registered a kill to set Evansville up with a 15-12 lead.
After a Bruin error gave the Aces a 17-13 edge, the home team rallied. A 7-1 run turned the tides towards Belmont at 20-18. UE countered with a 5-1 stretch that put them in front – 23-21. In a wild finish, the Bruins knotted the score at 23-all with two more ties ensuing. That is when Giulia Cardona took over. Consecutive kills from the reigning MVC Player of the Week gave Evansville the win to tie the match at 1-1.
Set 3 – BU 26, UE 24
Evansville rolled to a 4-0 edge to begin game three with Vazquez recording two more kills. Just as fast as the Aces started, the Bruins battled back, tying it up at 5-5 before jumping in front at 8-6. The Aces took over the next segment with a pair of Vazquez kills leading to a 14-11 advantage.
As the set moved forward, Evansville continued to lead at 20-17, but the Bruins took control, tying the score at 22-22 and scoring the final two points in a 26-24 victory to go up 2-1.
Set 4 – UE 26, BU 24
Action was once again back-and-forth with multiple ties early on. Belmont took the first 2-point lead at 9-7 before the Aces stormed back with a huge run. UE tied it at 12-12 and utilized an 8-2 stretch to take a 20-14 advantage. Blakeley Freeman and Cardona picked up service aces in to take the lead.
With Evansville looking to force a decisive set, the Bruins made the biggest rally of the night. A 10-0 stretch saw Belmont have match point with a 24-20 lead. Just when it looked like Belmont would win the match, Evansville made its most important run of the night. Hannah Watkins picked up two block assists and a kill to pace a 6-0 run that gave UE a 26-24 decision.
Set 5 – BU 15, UE 10
Cardona tied the score early at 2-2 when Belmont countered with two in a row. They extended the lead to three for the first time at 6-3. Following a time out, Evansville made its run, scoring two in a row before Freeman tied it at 7-7 with an ace.
Vazquez recorded a block that would put Evansville in front at 9-8. On a night that featured runs by both squads, the Bruins answered once again. Three in a row put BU in front by a score of 11-9. An ace extended the lead to three before the Bruins finished with a 15-10 win.
Tomorrow, the Aces are at Murray State for a 5 p.m. contest.
Submitted by Athletics
Helder Second, PRs Abound For UE Cross Country At Live In Lou Classic
University of Evansville graduate student Melanie Helder (Hudsonville, Mich./Hudsonville) finished second Saturday in the women's 5,000-meter silver race, and seven out of ten Purple Aces posted personal or season-best times, to pace the UE cross country teams at the Live In Lou Classic at E.P. "Tom" Sawyer State Park in Louisville, Kentucky.
Helder, running in her first race as a Purple Ace, placed just five seconds behind individual champion Allison Sherman of Detroit Mercy with a 5-K time of 18:14.0. It was just the second collegiate 5-K race for Helder, who ran mainly 6-K events during her time at Michigan State, but it was 35 seconds faster than her previous 5-K and ranks as the fastest time in the Missouri Valley Conference entering this weekend's action.
"Melanie had a solid debut for us," said UE Director of Cross Country/Track & Field Brooks LeCompte. "Even though the second mile slowed substantially, the race picked back up in the third mile, and she finished strong."
On the women's side, Helder was one of three Purple Aces to post personal-best times, as juniors Emma Denbo (French Lick, Ind./Springs Valley) and Hannah Bryan (Evansville, Ind./Reitz) both raced to PR marks of 21:58.3 and 22:44.8, respectively.

Meanwhile, on the men's side, four of the five competing Purple Aces posted personal-best times, led by sophomore Adam Oulgout (St. Paul, Minn./Central), who cut over 40 seconds off of his best collegiate 8-K time with a mark of 26:30.9 to place 50th out of 412 runners. Fifth-year runner Carson Kline (Terre Haute, Ind./South) cut over 55 seconds off his personal-best time by clocking in with a time of 27:25.8, while freshman Joey Taylor (Grove City, Ohio/Central Crossing) ran over a minute and a half faster than his first collegiate 8-K with a time of 28:54.1. Junior Luke Watts (Austin, Ind./Austin) also cut over 25 seconds off his personal-best time on Saturday.

"After the first meet, we are no longer looking at last season, but instead, we are looking at how we are progressing through the fall," said LeCompte. "The men took a big step forward today, with most running massive PRs or season-best times.

"Overall, I am a little disappointed in the women's overall performance. What I am seeing in training, they cannot seem to bring to the meet, and we need to learn how to come out and race instead of going through the motions. We will have to overcome those mental barriers to show the true fruits of our labor."

As teams, Evansville placed 30th out of 52 teams on the women's side, and 38th out of 54 teams on the men's side in the silver division. Evansville will take this week off to recover before hosting the 20th-Annual University of Evansville Invitational on Saturday, October 15 at Angel Mounds Cross Country Course in Evansville.
Submitted by Athletics
Aces capture 2-1 win over Lindenwood behind big save from Vidizzoni
Led by goals from junior Kai Phillip and senior Carlos Barcia and an important late save from graduate keeper Alex Vidizzoni, the University of Evansville men's soccer team captured a 2-1 win in non-conference action over Lindenwood on Saturday night at Arad McCutchan Stadium in Evansville.
Finding the back of the net for the third time in two matches, Phillip got the Aces attack rolling early with Evansville's first goal. Barcia earned an assist on the first goal before scoring one of his own in the 50th minute. In goal, Vidizzoni earned his fifth victory of the season, tallying three saves.
Phillip's aforementioned opener started Evansville's scoring before the end of the first quarter-hour. A long cross from Barcia was launched into the box where Jose Vivas met the ball and clipped it across the face of goal, which Phillip finished past the keeper. Evansville generated plenty of chances over the following 34 minutes of the opening half, but the Aces could not find the back of the net again in the first half despite recording six shots. Evansville was strong defensively in the opening stanza, not allowing a single shot from the Lions.
Evansville did not wait long in the second half to get its second of the match as it was Barcia who doubled the Aces lead. In the 50th minute, Evansville earned a free kick 25 yards out from goal and Barcia stepped up and curled it in, up and over the wall to make it 2-0 UE. The Aces would generate multiple other opportunities in the second half, but could not add a third. Lindenwood got its first great chance of the match in the 78th minute when a penalty was awarded to the Lions following a ball into the box. Lindenwood would not capitalize as the attempt sailed wide and high of goal with the Aces preserving their two-goal lead.
Lindenwood would find the breakthrough less than three minutes later when Cooper Wilson snuck the ball past Vidizzoni to get back within a goal. Despite a game which was dominated by the Aces for much of the 90 minutes, Lindenwood had a chance to equalize it late, but Vidizzoni made a diving save to help Evansville secure the 2-1 win.
The Aces make a midweek trip to Nashville, Tenn. to challenge Belmont in MVC action on Wednesday at 6:30 PM.
Submitted by Athletics
Butler Fall Invitational up next for UE women
A busy stretch continues for the University of Evansville women's golf team, who will compete at the Butler Fall Invitational on Monday and Tuesday.
Highland Country Club in Indianapolis will host the 54-hole tournament. Two rounds are set for Monday with the final 18 to take place on Tuesday. Par is 70 and the yardage is set at 6,040.
Along with the Purple Aces, the participants include Austin Peay, Ball State, Bellarmine, Butler, Chicago State, Dayton, UIC, Indiana State, IUPUI, Marshall, Northern Kentucky, Tennessee State, Valparaiso and Youngstown State.
Earlier this week, UE split to play in two events. At the Golfweek Red Sky Classic, it was Mallory Russell earning the top finish for the team, tying for 73rd. Her score of 230 was capped off by a final-round score of 74. Alyssa McMinn had the top round for UE on Wednesday, carding a 1-over 73. All five Aces had their lowest round on the final day.
Four individuals made the trip to Schereville, Ind. for the Briar Ridge Invitational. A pair of freshmen led the way with Kate Petrova and Destynia Sheridan earning Evansville's top finishes. Petrova tied for 23rd with a 157 while Sheridan improved by nine strokes between rounds one and two on her way to a 161. She finished 33rd.
Submitted by Athletics
Contribute to AceNotes
To have content considered for inclusion in AceNotes, please submit a Marketing Request Form. Deadline for submission to AceNotes is 10:00 a.m. on the requested date of publication. Only articles concerning UE related/sponsored activities will be accepted. Articles submitted to AceNotes may be edited for length and clarity. Submitter contact information is at the end of each article.