| | |
| --- | --- |
| AceNotes Today | Friday, September 30, 2022 |
Oval Closure
The Front Oval will be closed to all vehicle traffic on Friday, September 30. The closure is being done to ensure the safety of the volunteers who will be re-painting curbs as part of UE Gives Back Day. The oval will re-open later in the day once the painting work has been completed.
Submitted by Michael Averett ma479@evansville.edu
Save the Date - Campus Speaker to Discuss Racial Bias in Health Care
The campus community is invited to attend the Honors Program common read speaking event, a presentation by author Linda Villarosa, on Monday, October 24 at 6:00pm in Eykamp Hall. Ms. Villarosa will be discussing her recently published book, Under the Skin: The Hidden Toll of Racism on American Lives and on the Health of Our Nation, which was the common read for Honors Program freshmen this year.
We hope you will join us for this enlightening presentation. If you'd like to read Under the Skin in advance, copies are on reserve at the library.
About the book and author:
Journalist Linda Villarosa is a contributing writer for The New York Times Magazine, where she covers race, inequality and public health.
Under the Skin is a landmark book that tells the full story of racial health disparities in America by revealing the toll racism takes on individuals and public health. In this book, Villarosa lays bare the forces in the American health-care system and in American society that cause Black people to "live sicker and die quicker" compared to their white counterparts. Study after study of medical settings show worse treatment and outcomes for Black patients. Black people live in dirtier, more polluted communities due to environmental racism and neglect from all levels of government. And, most powerfully, Villarosa describes the new understanding that coping with the daily scourge of racism ages Black people prematurely. Anchored by unforgettable human stories and offering incontrovertible proof, Under the Skin is, according to Oprah Daily, "perhaps one of the most important and thought-provoking publications of the year."
Villarosa is a graduate of the Craig Newmark Graduate School of Journalism at CUNY, where she is an associate professor and journalist in residence. She also teaches journalism, English and Black Studies at the City College of New York.
(Source: https://www.lyceumagency.com/speakers/linda-villarosa/)
Submitted by Jayme Williams jw504@evansville.edu
CDEI Presents: Keynote Speaker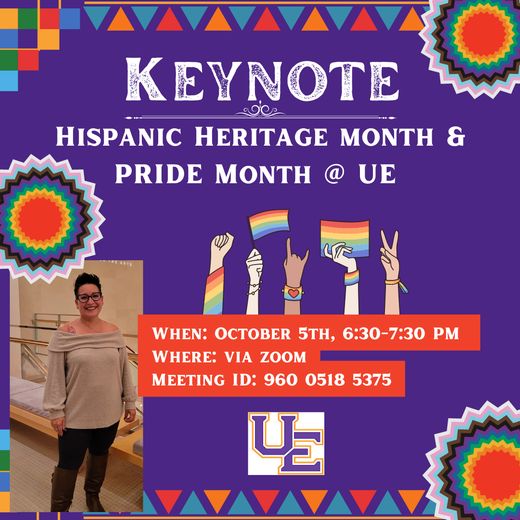 The Center for Diversity Equity and Inclusion, invites everyone to a virtual keynote with Ida Balderrama- Trudell the current Director of Equity & Innovation at the Overture Center for the Arts in Madison, Wisconsin.
This keynote address serves for both Hispanic Heritage Month (9/15-10/15) AND PRIDE Month @ UE (October)! The University of Evansville celebrates October's LGBTQ+ History Month as PRIDE Month @ UE with celebrations, trainings, and other programs!
We are excited to welcome Ida (virtually) to our campus to share her experiences as an individual with intersectional identities!
Please register for the Keynote using this link: https://evansville-edu.zoom.us/meeting/register/tJItd-yppj4pHdGgfaDBjaKn6-_OFotcFuhQ
You can find Ida's Bio below! We look forward to seeing you all virtually on October 5th!
---
Ida Balderrama-Trudell, M.S. is an experienced social justice, diversity, equity, and inclusion professional with over 20 years of experience in higher education spaces. In her roles, she has worked with students in pre-college, undergraduate, and graduate realms and has been integral to transitions in a variety of student affairs units at the University of Wisconsin-Madison. During her time at UW, Ida served in inaugural roles, on committees and groups that support social justice efforts, and as a champion for women of color in education. Her identities as a queer Latina, mom, partner, and Girl Scout leader are integral to her work in DEI and she is never afraid to have the hard conversations.
She has created, facilitated, and participated in a wide variety of workshops, trainings, and conferences related to social justice, diversity, equity, and inclusion during her tenure at UW-Madison and in her current role with Overture Center for the Arts. Ida has served as a special assistant and chief of staff to senior leadership, director of multiple centers/departments, an advisor, and a student. Her approach to DEI and social justice is rooted in human development and growth mindset.
Ida is currently completing her EdD in Student Affairs Administration from UW-LaCrosse, her dissertation is titled, "Self-care, Wellbeing, and Mentoring related to transitions: Experiences of Womxn of Color in Student Affairs". She is also an avid reader, lover of all kinds of music and nature, mom to two amazing young women, and partner to a local business owner.
Submitted by Abagail Catania ac532@evansville.edu
Music and Food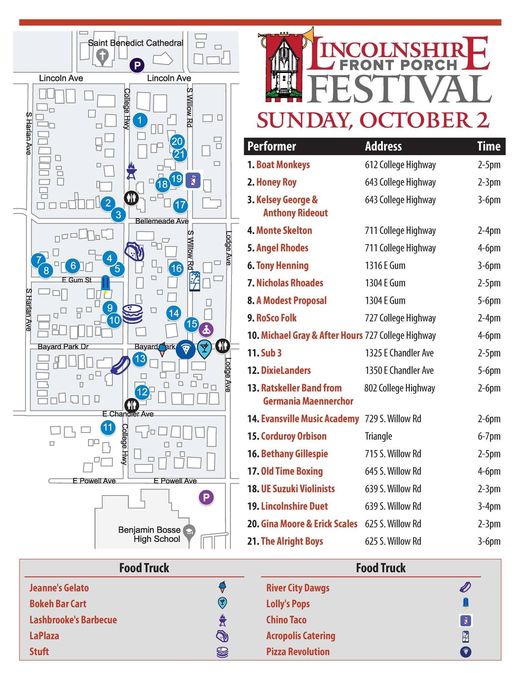 The Greater Lincolnshire Neighborhood Association (GLNA) will be hosting their 6th annual Front Porch Festival. The GLNA neighborhood is only blocks away from the UE campus (College Highway and S. Willow Road). The festival will feature over 20 music groups and have numerous food trucks throughout the neighborhood. See the attached map for more detailed information. A great way to spend your Sunday afternoon and evening.
Submitted by Timothy Zifer tz3@evansville.edu
Rock for Riley Y2K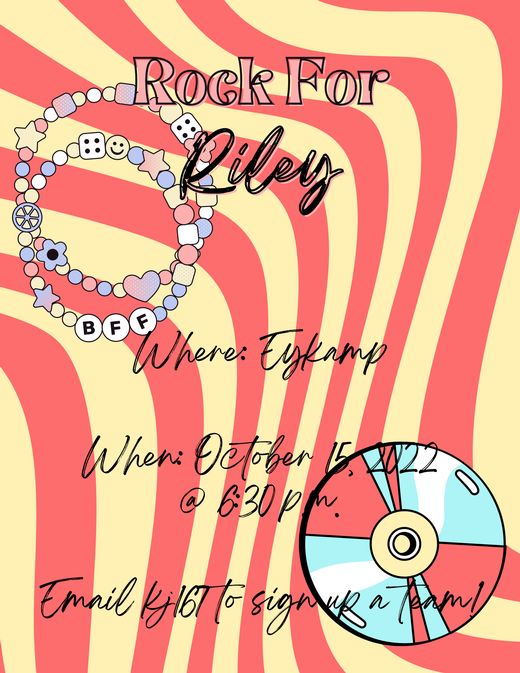 Phi Mu Delta Lambda is hosting the annual Rock for Riley lip syncing competition for the first time since COVID hit! We are searching for teams daring and willing to lip sync and dance to some music from the Year 2000! Email kj167@evansville.edu if interested!
Submitted by Micah Jesus kj167@evansville.edu
University of Evansville Theatre Presents MEASURE FOR MEASURE
The University of Evansville Theatre opens their fall 2022 season with William Shakespeare's MEASURE FOR MEASURE, in a modern verse translation by Aditi Brennan Kapil, in an ongoing collaboration with Play On! Shakespeare. Being presented on the UE campus for the first time ever, this production opens at 7:30 pm, Friday, September 30, in Shanklin Theatre. Additional performances are at 7:30 p.m., on October 1, 6, 14, 15, and at 2:00 p.m., on October 16. This 400-year-old tale could be "ripped from the headlines" of today's world, as it examines themes central to human nature and our paradoxical relationship to justice and mercy. With all its high-spirited bawdiness, this tragicomedy reveals what can happen when sex, religion, and politics collide.
MEASURE FOR MEASURE is directed by Visiting Assistant Professor Stacey Yen. Rebecca Conaway, a senior theatre studies major from Wellsburg W. Va., serves as the associate director; Associate Professor Eric Renschler '83, serves as the scenic designer; Assistant Professor Sarah J. Smith is the costume designer; Jamey Pearson, a junior design and technology major from Moody, Texas, is the lighting designer; Maya Barry, a sophomore stage management major from Marietta, Ga., serves as the sound designer; Devyn Jolgren, a junior performance major from Louisville, Ky., is the dramaturg; Zoe Paraskevopoulos, a senior stage management major from Flower Mound, Texas, is the stage manager, and Assistant Professor Mitchell L. Critel serves as the technical director.
The cast features McAllister Reed Stowell, a senior performance major from Lakewood, Colo., as Duke; Tatiana Robledo, a junior performance major from Houston, Texas, as Escalus; Adam Techmanski, a sophomore performance major from Richmond, Texas, as Angelo; Delaney Ross, a sophomore performance major from Keller, Texas, as Isabella; Alijah Roberson, a first-year performance major from Atlanta, Ga., as Claudio; Aibhlinn Rose, a senior performance major from Clackamas, Ore., as Juliet; Garrett Hale, a junior performance major from Haslet, Texas, as Lucio; Jacovia Young, a first-year performance major from Houston, Texas, as Provost; Sarah Tuma, a sophomore performance major from Henderson, Ky., as Mariana; Christina Tinde Jesenski, a junior performance major from Rancho Santa Margarita, Calif., as Mistress Overdone; Jeff Parkinson, a senior performance major from Mercer Island, Wash., as Pompey; Jack Cory, a senior performance major from Southlake, Texas, as Elbow; Antonio Corte?s Roma?n, a first-year performance major from Metepec, Mexico, as Froth; Drake J. Susuras, a junior performance major from Broomfield, Colo., as Friar Thomas; Umbra Person, a first-year performance major from Jonesboro, Ga., as Francisca; Gavin Ramirez, a first-year performance major from McKinney, Texas, as Abhorson; Benjamin Bravard, a senior performance major from Batavia, Ohio, as Barnardine; J. Kenneth Guzman, a first-year performance major from Brighton, Colo., as First Gentleman; Hauson Anderson, a first-year performance major from Columbia, Md., as Second Gentleman; Trace Levens, a first-year performance major from Bryan, Texas, as Officer; Josie Madzik, a first-year theatre studies major from Howell, Mich., as Officer; Arturo Quepons, a first-year performance major from San Antonio, Texas, as Duke's Attendant; Andrea Vargas, a first-year performance major from Missouri City, Texas, as Duke's Attendant; and William Cooper Sanders, a first-year performance major from Jeffersonville, Ind., as Angelo's Attendant.
In following industry standards, as established by the Broadway League, all audience members must remain masked during the performance. It is our hope that these restrictions will allow our student actors to safely perform unmasked.
Adult ticket prices are $20 and $18 for senior adults, UE employees, and non-UE students. UE students may obtain one free student rush ticket beginning at 12 p.m. on the day of the performance they wish to attend. In addition, UE Theatre is excited to introduce a new "Pay What You Can" initiative. Every Thursday evening performance in Shanklin Theatre is available for any person to pay any price that best fits their budget.
Season subscriptions for the 2022–2023 Shanklin Theatre season are also available and are $50 for an adult subscription and $44 for a discount subscription. This three-play season includes MEASURE FOR MEASURE, the smash–hit musical CABARET, and the hilarious NOISES OFF. A May Studio Theatre Discovery Package can be purchased for $18 and includes CIRCLE MIRROR TRANSFORMATION and THE MOORS. Subscriptions may be purchased by calling the ticket office at 812.488.2031, Monday through Friday, 12:00 to 5:00 p.m. Single tickets may be purchased online at theatre.evansville.edu or by calling the ticket office at 812.488.2031.
Submitted by Sharla Cowden sc75@evansville.edu
Bestselling Author to Present on Native Plants
We are very pleased to announce that Dr. Douglas Tallamy will be presenting on October 1, 2022, 6:00 p.m. in Eykamp Hall, Ridgway University center.
Join New York Times Best Seller author Dr. Douglas Tallamy to learn how the small actions we take as individuals can make a big environmental impact. Sponsored by the Warrick and Vanderburgh County Soil and Water Conservation Districts and the Southwest Chapter of Indiana Native Plant Society in collaboration with the University of Evansville's People for Pollinators ChangeLab and the Environmental Concerns Organization (ECO).
Doug Tallamy is Professor of Agriculture and Natural Resources for the Department of Entomology and Wildlife Ecology at the University of Delaware. His first book, Bringing Nature Home, awakened thousands of readers to an urgent situation: wildlife populations are in decline because the native plants they depend on are fast disappearing. His solution? Plant more natives. In his second book, Nature's Best Hope, Tallamy takes the next step and outlines his vision for a grassroots approach to conservation. In his latest book, The Nature of Oaks, he is turning his advocacy to one of the most important species of the plant kingdom—oak trees.
This is a free event that is open to the public. Space is limited and registration is required. Register online at https://www.eventbrite.com/e/dr-doug-tallamy-presentation-tickets-398905155057.
Submitted by Andrew Carter ac116@evansville.edu
2022 Flu Shots
UE will host a two-day Flu Shot Clinic for students, employees, and employees' families. The clinic will be held in Room 251 of Eykamp Hall on the following dates:
Wednesday, October 12 / 7:30 a.m. – 9:30 a.m.
Thursday, October 13 – 4 p.m. – 6 p.m.
Employees and their family members covered by UE insurance can receive a flu shot at no cost. For non-insured employees, the cost is $20 and is cash only. Payment will be due at the time of your shot. Students will also pay $20 but must pay by debit or credit card. A credit card machine will be set up for both days of the Flu Shot Clinic.
Flu shots are not required by UE but are recommended. The Flu Shot Clinic will be walk-in only. For more info, visit https://www.evansville.edu/flu.
Submitted by Holly Lee Smith hh98@evansville.edu
Ace Care Skele-fun Run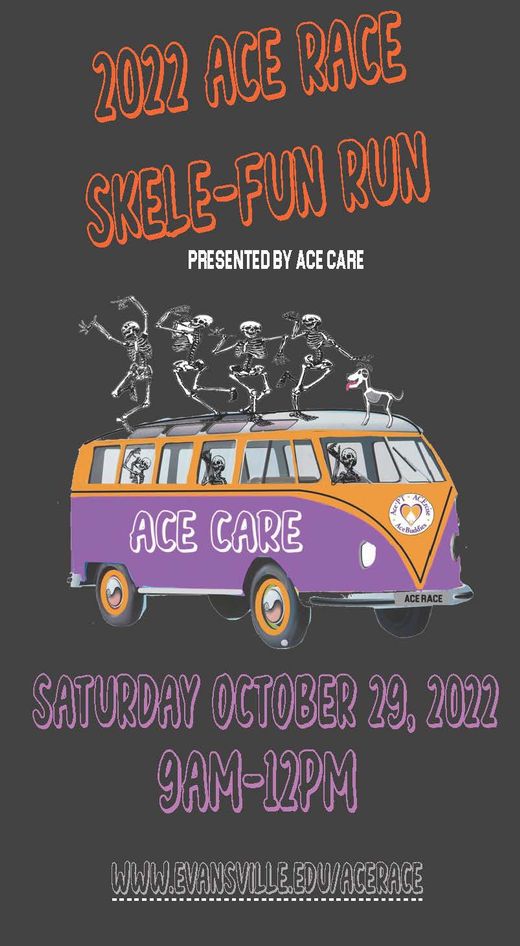 Ace Race is an event to raise money for Ace CARE. Ace CARE is the umbrella term for our three pro-bono student run programs, Ace+PT, ACErcise, and AceBuddies. Through these programs we are able to serve the vulnerable members of our community and to provide them with physical therapy care or wellness services. Ace+PT is an outpatient clinic for those with orthopedic injuries, while ACErcise focuses on exercise programs for individuals who have sustained neurologic injuries. Finally, AceBuddies strives to develop an exercise regime for children with varying disabilities. Student physical therapists treat our clients under the supervision of licensed physical therapists who volunteer their time and expertise to make a difference in our community.
Submitted by Caroline Haddad ch414@evansville.edu
Department of Art Alumni Exhibition Returns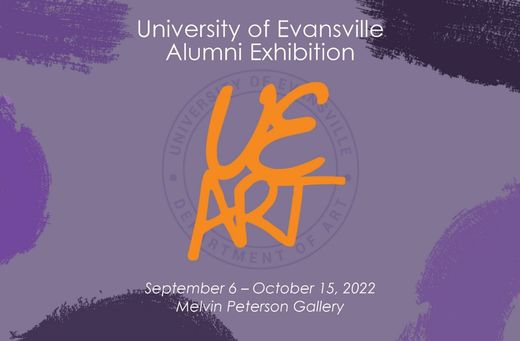 The Department of Art is pleased to announce the return of the UE Art Alumni Exhibition in the Melvin Peterson Gallery. Twenty alumni from around the country are participating in this exhibition. The artworks range from painting, sculpture, ceramics, batik, alcohol ink, and mixed media. All artwork is for sale and a portion of the sales will go to the establishment of an Art Scholarship. We welcome the entire community to visit the exhibition and support the
Department of Art as we welcome these alumni to campus. Some of these students you may even remember.
The Exhibition opens September 6 and runs through October 15. There is a public reception on Thursday, September 8 at 6:30 pm to celebrate the artists. We hope to see you there.
Melvin Peterson Gallery hours are:
Monday, Tuesday, and Friday 12-3
Wednesday and Thursday 12-6
Saturday 12-3
Submitted by Carol McCraney cm177@evansville.edu
FREE STUDENT TICKETS TO UE THEATRE'S MEASURE FOR MEASURE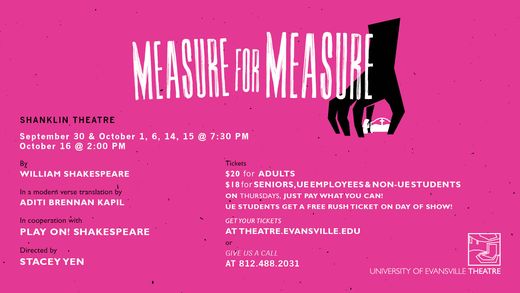 UE students get a FREE ticket to all UE Theatre productions, starting with MEASURE FOR MEASURE, running September 30, October 1, October 6, October 14, October 15, at 7:30 pm, and October 16, at 2:00 pm, in Shanklin Theatre. Students should bring their ID to the ticket office on the day of the show they wish to attend. The ticket office is located in Hyde Hall and is open Monday through Friday, 12 noon to 5:00 pm, and until curtain on performance dates.
Submitted by Sharla Cowden sc75@evansville.edu
Julie Beer Appointed Assistant Director of Marketing and Communications
Julie Beer has recently taken on a new role at UE as Assistant Director for the Department of Marketing and Communications. She first joined the University nearly two and a half years ago (June 2020) as University Relations Coordinator.
Julie is currently enrolled in the Master of Science in Leadership program at UE and will graduate this December.
"I'm so thankful to work at UE and be able to take on this new role," Julie said. "I'm really looking forward to developing new and existing connections across our campus and growing in my abilities to support the UE community."
Submitted by Holly Smith / hh98@evansville.edu
New Counselor
Counseling Services would like to introduce Erin Baum, LSW to the Counseling Team. Erin is the new Disability Services Counselor. She will be working with both Counseling Services and Disability Services to provide support to our students. We are very happy to have Erin join us!
Submitted by Sarah O'Leary so83@evansville.edu
Baseball Managers Wanted
The Baseball Manager(s) report directly to the Head Baseball Coach and will be responsible for the keeping and management of daily practice charts and video, as well as assisting at practice where needed. Must be able to attend the majority of practices and games. Must be proficient in Microsoft Excel.
Submitted by Jared Morton jm877@evansville.edu
Spring Housing Cancellation Deadline
The deadline for students to cancel their UE housing contract for the spring semester is October 5. Students can cancel a UE housing contract without penalty for the spring semester if you will be:
Attending Harlaxton or studying abroad (if already approved for Harlaxton or study abroad, you do not need to do anything to cancel your housing for the spring semester)
In an internship, co-op, or clinical outside of the Evansville area
Moving into a fraternity house (for the spring semester)
Transferring, withdrawing, or graduating
Requests not falling in the above categories are typically not granted. Requests to move off campus to live with friends or move into an apartment are not sufficient reasons to cancel a UE housing contract. Entering into any other housing agreement or lease with a private landlord will have no effect upon the conditions of your contract with the University of Evansville.
Housing Cancellation forms are available on our website at - www.evansville.edu/residencelife/housingapplyreturn/cancellationsAndRefunds.cfm.
For more information, please contact the Office of Residence Life.
Submitted by Brian Conner bc32@evansville.edu
Wanted: Women's Basketball Manager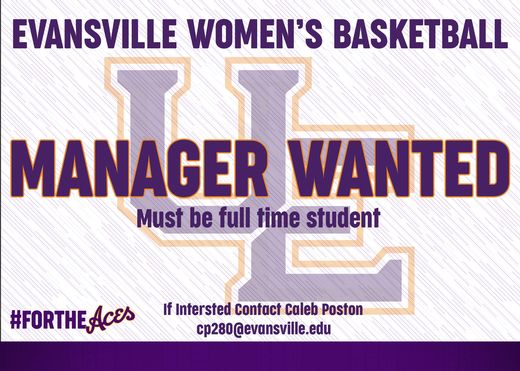 The Women's Basketball team is looking for one more student manager.
You must be a full time student and available to be at practice and home games. This is a great opportunity to work with the team and staff and be a part of Ace's Athletics. Prior basketball knowledge is beneficial but not required.
If you are interested please reach out to Coach Caleb at cp280@evansville.edu.
Submitted by Caleb Poston cp280@evansville.edu
Archaeology Alumna Publishes on Research with UE Students
Congratulations to Department of Archaeology alumna Dr. Meg Hagseth for publishing an article about her analysis of several ancient lamps owned by the Evansville Museum of Arts, History, and Science. Dr. Hagseth worked with UE archaeology students during the spring of 2021 to create 3D virtual models of the museum's lamp collection using a process called photogrammetry. While creating the models, Dr. Hagseth discovered fingerprints that were nearly two millennia old. The article can be found in the latest edition of the journal Collections.
Submitted by Alan Kaiser ak58@evansville.edu
Dr. Payal Patel-Dovlatabadi Receives Rotary's 20 Under 40 Award
On Wednesday evening, the Evansville Rotary presented the 20 Under 40 Awards to the Class of 2022. These awards recognize local individuals who demonstrate leadership within the community. Congratulations to Dr. Payal Patel-Dovlatabadi, Associate Professor of Public Health, who was named to the list!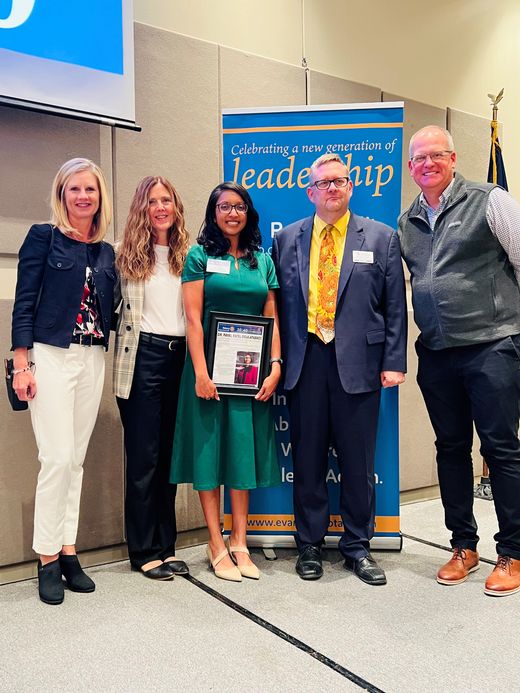 Submitted by Julie Beer / jb855@evansville.edu
Dr. Matsel Presents for American Academy of Sports Physical Therapy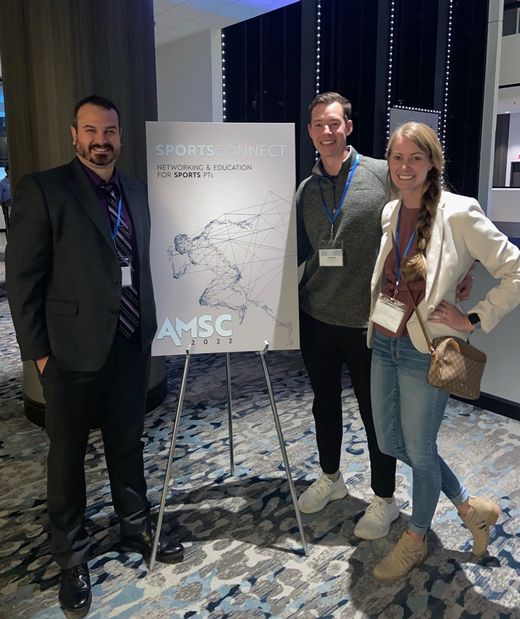 Dr. Kyle Matsel, DPT associate professor and director of sports residency, presented his PhD dissertation research "How to implement field expedient arm care screening to identify risk factors in baseball players," at the American Academy of Sports Physical Therapy (AASPT) annual meeting in Indianapolis. He was joined by his PhD committee chairs Dr. Tim Uhl and Terry Malone. UE DPT student Zac Blaydes and alum Meghan Lucskowski, DPT '20 were also in attendance.
Submitted by Jennifer Simon js698@evansville.edu
Megan Sicard Farewell Celebration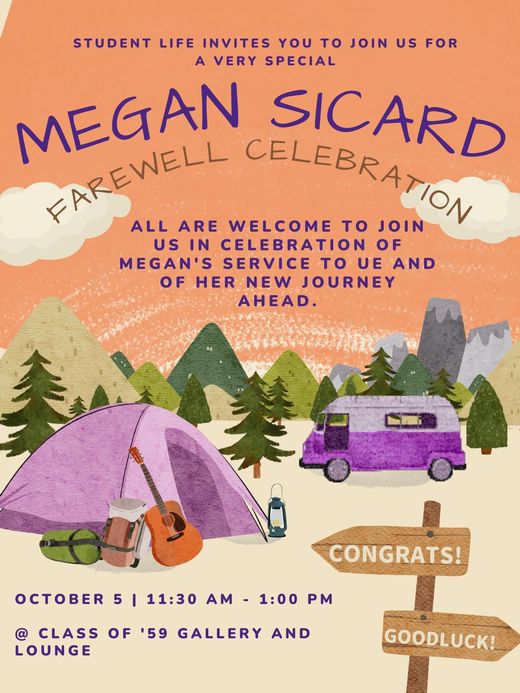 Student life invites you to join us for a very special Megan Sicard Farewell Celebration. All are welcome to join us in celebration of Megan's service to UE and of her new journey ahead. No RSVP necessary. October 5 | 11:30 AM - 1:00 PM @ Class of '59 gallery and lounge. You are encouraged to bring a card, and to submit any photos you may have with Megan to @kr286@evansville.edu for the SlideShow!
Submitted by Shelby Gardner sg293@evansville.edu
UE Women's Soccer Wraps Up Homestand Sunday Against Southern Illinois
The University of Evansville women's soccer team will wrap up a three-game homestand on Sunday afternoon when the Purple Aces host the Southern Illinois Salukis in a pivotal Missouri Valley Conference match. Kick-off is set for 1 p.m.
Sunday's match will be the first part of the second-annual Jimmy John's Cup between UE and SIU. The Jimmy John's Cup is competed for in nine different team sports, spanning 13 different matches. The winner of Sunday's match will earn a point for its school towards the cup standings.
Sunday's match will also be an important match for seeding in the MVC, as the final month of the regular-season begins. Southern Illinois currently sits in a four-way tie for sixth place in the league standings with a 4-3-2 overall record and 1-1-1 conference mark. Evansville, meanwhile, sits in tenth place, but UE is just two points behind the Salukis with a 1-5-4 overall mark and 0-2-2 Valley record. A win on Sunday would catapult Evansville into the thick of the Valley race, as only three points separate fourth place from tenth place currently in the league. Seeding is important, as only the top eight teams will advance to the 2022 MVC Tournament.
Evansville earned its second point of league play Thursday night, as fifth-year forward Emily Ormson headed home the equalizer in the 88th minute to help UE earn a 2-2 tie with visiting Northern Iowa. For Ormson, it was her team-leading third goal of the year, and 16th career goal for the native of Folsom, California. Ormson needs just three more goals to crack UE's career Top 10.
Southern Illinois, meanwhile, saw a program-best six-match unbeaten streak come to an end on Thursday night, as the Salukis suffered a 2-0 loss to Missouri State. The Salukis have been the surprise team of the Valley so far, as SIU has bounced back from a 0-15-1 season a year ago to rank second in the league in overall victories with four. Nine different Salukis have found the back of the net so far this year.
"I thought that we played some of our best soccer of the year in the second half on Thursday against UNI," said UE head coach Chris Pfau. "Now, we need to build on that and continue to play at that level on Sunday. There is still a lot of soccer left in this season, and I think that we showed what we are capable of last night with the way that we played in the second half."
Sunday's match will also be International Day at UE, as the International Club on campus will be in attendance and help decorate McCutchan Stadium for the match. Sunday's match can be seen live on ESPN3.
Submitted by Athletics
Ormson's Late Goal Earns UE Women's Soccer 2-2 Tie With UNI
University of Evansville fifth-year forward Emily Ormson (Folsom, Calif./Vista del Lago) scored in the 88th minute Thursday night to help the Purple Aces earn a 2-2 tie with the visiting University of Northern Iowa Panthers at Arad McCutchan Stadium in Evansville, Indiana.
Ormson headed home a cross from junior defender Rachel Rosborough (Mt. Brydges, Ontario, Canada) in the waning moments to help Evansville earn its second-straight tie in Missouri Valley Conference play.
"I was extremely proud of the way the team battled and played in the second half tonight," said UE head coach Chris Pfau. "I felt like we really controlled the second half of play, and I think it was big for us to get two goals, because we were creating chance after chance, and sometimes you do that and things don't go your way and you get frustrated. Tonight, we created chance after chance, and we were able to get two good goals out of it, which will hopefully give us a boost of confidence going down the stretch in league play."
UNI struck first in the 16th minute on a rebound goal by Lizzie Mewes inside of the six-yard box. The Panthers would take the 1-0 lead to the halftime locker room, but that was when Evansville came alive.
Pressing a majority of the second half, Evansville controlled much of the possession of the final 45 minutes. UE was able to equalize at 1-1 on the second goal of the year by Hailey Autenrieb (Cincinnati, Ohio/Seton) in the 69th minute, as teammates Monique Landrum (Escondido, Calif./San Pasqual) and Nicole Benati (London, Ontario, Canada) combined to play a ball to Autenrieb, who chipped the cross over the keeper from eight yards out.
Evansville kept the pressure on, but the high press bit the Purple Aces, as on a counter-attack, UNI was awarded a penalty kick in the 77th minute, which Lauren Heinsch converted on for her fourth goal of the year.
The Purple Aces were not done yet though, as UE continued to pressure the Panthers, with Ormson finally earning the draw with the header in the 88th minute. For the match, UE's pressure led to a 16-9 advantage in shots, including a 12-6 edge in shots on goal. Ormson put five of her match-high six shots on goal to lead the UE attack.
With the tie, Evansville moves to 1-5-4 overall and 0-2-2 in MVC play, while UNI shifts to 4-5-2 overall and 1-2-1 in Valley play. Evansville will wrap up a three-match homestand on Sunday afternoon at 1 p.m. on International Day at Arad McCutchan Stadium. Sunday's match can be seen live on ESPN3.
Submitted by Athletics
UE Cross Country To Compete At Live In Lou Classic On Saturday
The University of Evansville cross country teams will take part in one of the nation's largest cross country meets on Saturday morning, as the Purple Aces will take part in the 2022 Live In Lou Classic at E.P. "Tom" Sawyer State Park in Louisville, Kentucky.
Over 130 schools from across the NCAA, NAIA and junior college ranks will compete in three different races on Saturday morning. The men will compete in the standard 8-K race, while the women will compete in the 5-K event.
For Evansville, it will mark the Purple Aces' second meet of the year, and first since the season-opening John McNichols Invitational on September 17. Sophomore Adam Oulgout (St. Paul, Minn./Central) paced the UE men's team, while sophomore Ellie Stewart (Lombard, Ill./Glenbard South) led UE's women's team. Overall, five of the seven returning team members who competed in the McNichols Invite both in 2021 and 2022 improved their times on September 17 from the year prior.
"What I am looking for on Saturday is to see that continued improvement that I saw in our first race, and I have seen since in practice," said first-year Director of Cross Country/Track & Field Brooks LeCompte. "The course in Louisville on Saturday is a very fast one, and I think that we could see some of our runners go faster than they ever have before this weekend."
The men's Gold race will kick off the Live In Lou Classic at 8:30 central time on Saturday morning. Evansville will compete in the Silver races, which are set for 11 a.m. central (men) and 11:45 (women) central respectively. Saturday's Live In Lou Classic can be seen live on Flo Sports.
Submitted by Athletics
UE Athletics announces rebranded Purple Aces Club
University of Evansville Director of Athletics Dr. Kenneth "Ziggy" Siegfried announced the return of the "Purple Aces Club" on Thursday. The PAC provides a streamlined way of supporting Purple Aces athletics in multiple ways.
"We are very excited to announce the return of the Purple Aces Club. Becoming a member of the PAC is the best way for our supporters to help our department grow. Our goal is to increase the support and resources for all our programs and the PAC gives us the opportunity to take that to a new level," Siegfried said. "Being able to bring something back that our fans embraced in the past was very important throughout this process. I also want to specifically thank all of those over the years who have made PAC successful."
"As we move forward, there are plans in place that include additional benefits for supporters, events throughout the entire year and more. This is an exciting announcement that will have a positive impact on our entire department."
The Purple Aces Club is a key component to the success of UE Athletics. It is the umbrella of all our athletics funds we have here on campus. It provides a way for our alumni, donors, families, and friends to partner with our coaches as well as our student-athletes to provide the resources our programs need to help move our department FORWARD and compete at the highest level to win championships.
Its main focus is supporting UE student-athletes to excel in the classroom, in competition, and in the community. Members of the Purple Aces Club are critical in addressing funding challenges, enhancing opportunities, and ultimately allowing UE student-athletes the ability to compete at a high-level in the Missouri Valley Conference, regionally, and nationally.
HOW DO I BECOME A MEMBER OF THE PURPLE ACES CLUB?
An individual can become a member of the Purple Aces Club, by contributing to one or many of our athletic funds. Those being:
AD's Aspire Fund
Aces Assist Club (Men's Basketball)
Buckets Club (Women's Basketball)
Spikers Club (Volleyball)
Baseball Excellence Fund (Baseball)
Men's & Women's Track & Field/XC Excellence Fund (Track & Field/Cross Country)
UEFC (Men's Soccer)
Women's Soccer Excellence Fund (Women's Soccer)
Softball Excellence Fund (Softball)
Men's & Women's Swimming & Diving Excellence Fund (Swimming & Diving)
Men's & Women's Golf Excellence Fund
Aces Spirit Excellence Fund
Anyone that has donated to any of our clubs listed from the
beginning of this fiscal year (June 1) will receive the benefits in whatever benefit subsection they fall into.
For more information or to join the Purple Aces Club, please contact Logan Belz at 812-488-2623 or email lb334@evansville.edu.
Submitted by Athletics
Volleyball looks to continue strong MVC start
Riding the momentum of its best Missouri Valley Conference start in over 20 years, the University of Evansville volleyball team takes to the road this weekend for a pair of road matches. UE opens the weekend at Belmont on Friday evening before heading to Murray State on Saturday with both matches carried on ESPN3.
Starting Strong
- For the first time since 2000, the Purple Aces started MVC play at 2-0 following victories over Illinois State and Bradley last weekend
- It marks just the third time UE has opened at 2-0 since joining the MVC in 1994 - the other times were 1998 and 2000
- In 1998, UE started at 4-0 before completing the Valley season with an 8-10 record
Returning to Form
- Alondra Vazquez missed eight non-conference matches but was back in form to open the MVC schedule
- Averaging 4.13 kills, 3.38 digs and 1.00 blocks per set, Vazquez led UE to a pair of league victories
- She picked up a double-double in both contests while setting her career mark with four solo blocks in the win over the Braves and is the Valley leader with 4.56 kills/set
- Her top match of 2022 came at Marshall where she had 26 kills and 12 digs...she recorded a 25-kill effort against Chicago State
Player of the Week
- For the second time in her career, Giulia Cardona earned MVC Player of the Week honors on Sept. 26
- In the opening two MVC matches, Cardona finished with 5.13 kills per set while hitting an efficient .275...she added 2.00 digs and 0.50 aces per set while matching her single-match kill total with 23 vs. Bradley
- Defensively, Cardona had a career-high 18 digs against Chicago State and is averaging 2.65 per set over the last five matches while finishing with 8 or more on four occasions
- Her season average of 3.98 kills per set ranks 2nd in the MVC
Stepping It Up
- Two of the most efficient matches for Emilee Scheumann came last weekend when UE defeated Illinois State and Bradley
- Scheumann recorded eight kills in both matches while hitting .538 and .375, respectively
- After totaling three kills in the opening four matches, she has notched 78 kills in the last 13 contests...she averaged 0.60 kills in the first four matches but has seen that average rise to 1.77 since that time including a career-high of 11 against Tennessee State
Submitted by Athletics
Contribute to AceNotes
To have content considered for inclusion in AceNotes, please submit a Marketing Request Form. Deadline for submission to AceNotes is 10:00 a.m. on the requested date of publication. Only articles concerning UE related/sponsored activities will be accepted. Articles submitted to AceNotes may be edited for length and clarity. Submitter contact information is at the end of each article.