| | |
| --- | --- |
| AceNotes Today | Wednesday, September 28, 2022 |
Oval Closure
The Front Oval will be closed to all vehicle traffic on Friday, September 30. The closure is being done to ensure the safety of the volunteers who will be re-painting curbs as part of UE Gives Back Day. The oval will re-open later in the day once the painting work has been completed.
Submitted by Michael Averett ma479@evansville.edu
ECTE – Lunch Bunch
The Eykamp Center for Teaching Excellence invites faculty and staff to its monthly Lunch Bunch––informal lunches––this fall.
Come and gather for Lunch Bunch this Thursday, September 29th from 12:00 p.m. to 1:00 p.m. in the Phillips Study Alcove in Ridgway (2nd floor). We'll have chips & salsa, and you can bring your own lunch or get lunch downstairs in Ridgway. No need to RSVP. Stay as little or as long as your schedule allows. There is no agenda or presentation for these gatherings. Lunch Bunch is a way to offer faculty and staff a common place to get together. We hope to see you there!
Submitted by Diana Rodriguez Quevedo dr130@evansville.edu
CDEI Presents: Keynote Speaker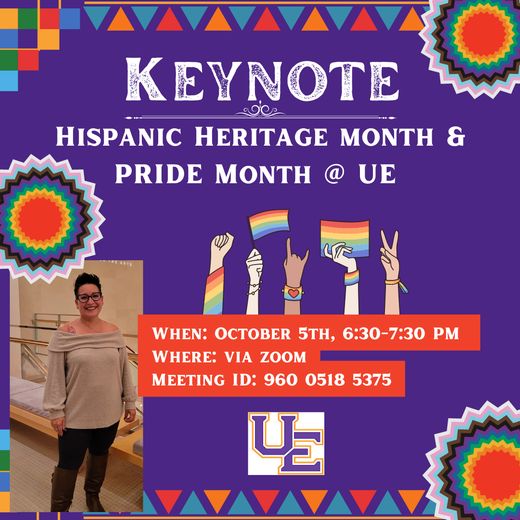 The Center for Diversity Equity and Inclusion, invites everyone to a virtual keynote with Ida Balderrama- Trudell the current Director of Equity & Innovation at the Overture Center for the Arts in Madison, Wisconsin.
This keynote address serves for both Hispanic Heritage Month (9/15-10/15) AND PRIDE Month @ UE (October)! The University of Evansville celebrates October's LGBTQ+ History Month as PRIDE Month @ UE with celebrations, trainings, and other programs!
We are excited to welcome Ida (virtually) to our campus to share her experiences as an individual with intersectional identities!
Please register for the Keynote using this link: https://evansville-edu.zoom.us/meeting/register/tJItd-yppj4pHdGgfaDBjaKn6-_OFotcFuhQ
You can find Ida's Bio below! We look forward to seeing you all virtually on October 5th!
---
Ida Balderrama-Trudell, M.S. is an experienced social justice, diversity, equity, and inclusion professional with over 20 years of experience in higher education spaces. In her roles, she has worked with students in pre-college, undergraduate, and graduate realms and has been integral to transitions in a variety of student affairs units at the University of Wisconsin-Madison. During her time at UW, Ida served in inaugural roles, on committees and groups that support social justice efforts, and as a champion for women of color in education. Her identities as a queer Latina, mom, partner, and Girl Scout leader are integral to her work in DEI and she is never afraid to have the hard conversations.
She has created, facilitated, and participated in a wide variety of workshops, trainings, and conferences related to social justice, diversity, equity, and inclusion during her tenure at UW-Madison and in her current role with Overture Center for the Arts. Ida has served as a special assistant and chief of staff to senior leadership, director of multiple centers/departments, an advisor, and a student. Her approach to DEI and social justice is rooted in human development and growth mindset.
Ida is currently completing her EdD in Student Affairs Administration from UW-LaCrosse, her dissertation is titled, "Self-care, Wellbeing, and Mentoring related to transitions: Experiences of Womxn of Color in Student Affairs". She is also an avid reader, lover of all kinds of music and nature, mom to two amazing young women, and partner to a local business owner.
Submitted by Abagail Catania ac532@evansville.edu
Music and Food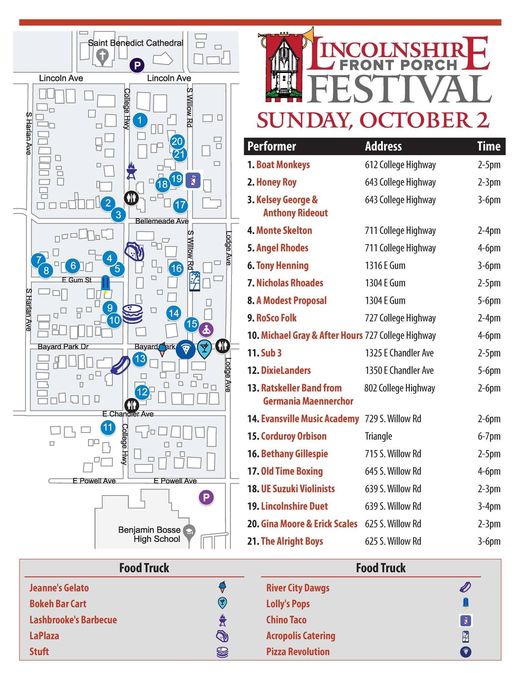 The Greater Lincolnshire Neighborhood Association (GLNA) will be hosting their 6th annual Front Porch Festival. The GLNA neighborhood is only blocks away from the UE campus (College Highway and S. Willow Road). The festival will feature over 20 music groups and have numerous food trucks throughout the neighborhood. See the attached map for more detailed information. A great way to spend your Sunday afternoon and evening.
Submitted by Timothy Zifer tz3@evansville.edu
Rock for Riley Y2K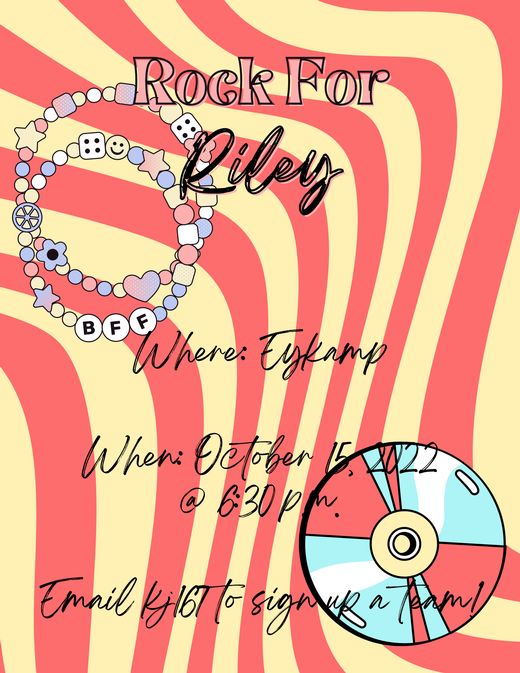 Phi Mu Delta Lambda is hosting the annual Rock for Riley lip syncing competition for the first time since COVID hit! We are searching for teams daring and willing to lip sync and dance to some music from the Year 2000! Email kj167@evansville.edu if interested!
Submitted by Micah Jesus kj167@evansville.edu
Annual Chili Bowl Sale Planned for October 20
The annual Chili Bowl Sale at the University of Evansville, hosted by the UE Clay Club and Department of Art, is planned for October 20 from 11:30 a.m.-1:30 p.m. The event will be set up on the East Terrace Lawn, outside of Ridgeway University Center, on UE's campus. The rain location for the event is Eykamp Hall, Ridgway University Center.
The UE Clay Club will be partnering with Chartwells again this year for the chili. It has been a hit in the previous years.
For $10, customers can buy a one-of-a-kind ceramic bowl and fill it with chili. Lidded containers will be available for those who prefer not to put chili in their newly purchased bowls.
Larger bowls ranging from $15-$100 will also be for sale during the event.
The bowls are being made this year by members of the UE Clay Club, faculty, alumni, and community members.
Part of the proceeds from the sale will be donated to a local food organization to assist with fighting hunger. The rest will go to the UE Clay Club to be used to fund attendance at conferences, visiting artists, and studio/gallery visits.
Submitted by Carol L McCraney cm177@evansville.edu
Reception for Harlaxton staff visitor Rachel Davis
We are excited to welcome Rachel Davis, custom programs and travel coordinator in the student engagement office at Harlaxton College, to UE this week! There will be a reception for her in the Multicultural Student Commons in Ridgway University Center on Wednesday, September 28, 2-4pm. If you have been to Harlaxton recently and know Rachel, come and say hello; or if you are planning to go to Harlaxton or just want to come help welcome her to Evansville, she would love to meet you too!
Submitted by Kaylynn McCalister kc205@evansville.edu
University of Evansville Theatre Presents MEASURE FOR MEASURE
The University of Evansville Theatre opens their fall 2022 season with William Shakespeare's MEASURE FOR MEASURE, in a modern verse translation by Aditi Brennan Kapil, in an ongoing collaboration with Play On! Shakespeare. Being presented on the UE campus for the first time ever, this production opens at 7:30 pm, Friday, September 30, in Shanklin Theatre. Additional performances are at 7:30 p.m., on October 1, 6, 14, 15, and at 2:00 p.m., on October 16. This 400-year-old tale could be "ripped from the headlines" of today's world, as it examines themes central to human nature and our paradoxical relationship to justice and mercy. With all its high-spirited bawdiness, this tragicomedy reveals what can happen when sex, religion, and politics collide.
MEASURE FOR MEASURE is directed by Visiting Assistant Professor Stacey Yen. Rebecca Conaway, a senior theatre studies major from Wellsburg W. Va., serves as the associate director; Associate Professor Eric Renschler '83, serves as the scenic designer; Assistant Professor Sarah J. Smith is the costume designer; Jamey Pearson, a junior design and technology major from Moody, Texas, is the lighting designer; Maya Barry, a sophomore stage management major from Marietta, Ga., serves as the sound designer; Devyn Jolgren, a junior performance major from Louisville, Ky., is the dramaturg; Zoe Paraskevopoulos, a senior stage management major from Flower Mound, Texas, is the stage manager, and Assistant Professor Mitchell L. Critel serves as the technical director.
The cast features McAllister Reed Stowell, a senior performance major from Lakewood, Colo., as Duke; Tatiana Robledo, a junior performance major from Houston, Texas, as Escalus; Adam Techmanski, a sophomore performance major from Richmond, Texas, as Angelo; Delaney Ross, a sophomore performance major from Keller, Texas, as Isabella; Alijah Roberson, a first-year performance major from Atlanta, Ga., as Claudio; Aibhlinn Rose, a senior performance major from Clackamas, Ore., as Juliet; Garrett Hale, a junior performance major from Haslet, Texas, as Lucio; Jacovia Young, a first-year performance major from Houston, Texas, as Provost; Sarah Tuma, a sophomore performance major from Henderson, Ky., as Mariana; Christina Tinde Jesenski, a junior performance major from Rancho Santa Margarita, Calif., as Mistress Overdone; Jeff Parkinson, a senior performance major from Mercer Island, Wash., as Pompey; Jack Cory, a senior performance major from Southlake, Texas, as Elbow; Antonio Corte?s Roma?n, a first-year performance major from Metepec, Mexico, as Froth; Drake J. Susuras, a junior performance major from Broomfield, Colo., as Friar Thomas; Umbra Person, a first-year performance major from Jonesboro, Ga., as Francisca; Gavin Ramirez, a first-year performance major from McKinney, Texas, as Abhorson; Benjamin Bravard, a senior performance major from Batavia, Ohio, as Barnardine; J. Kenneth Guzman, a first-year performance major from Brighton, Colo., as First Gentleman; Hauson Anderson, a first-year performance major from Columbia, Md., as Second Gentleman; Trace Levens, a first-year performance major from Bryan, Texas, as Officer; Josie Madzik, a first-year theatre studies major from Howell, Mich., as Officer; Arturo Quepons, a first-year performance major from San Antonio, Texas, as Duke's Attendant; Andrea Vargas, a first-year performance major from Missouri City, Texas, as Duke's Attendant; and William Cooper Sanders, a first-year performance major from Jeffersonville, Ind., as Angelo's Attendant.
In following industry standards, as established by the Broadway League, all audience members must remain masked during the performance. It is our hope that these restrictions will allow our student actors to safely perform unmasked.
Adult ticket prices are $20 and $18 for senior adults, UE employees, and non-UE students. UE students may obtain one free student rush ticket beginning at 12 p.m. on the day of the performance they wish to attend. In addition, UE Theatre is excited to introduce a new "Pay What You Can" initiative. Every Thursday evening performance in Shanklin Theatre is available for any person to pay any price that best fits their budget.
Season subscriptions for the 2022–2023 Shanklin Theatre season are also available and are $50 for an adult subscription and $44 for a discount subscription. This three-play season includes MEASURE FOR MEASURE, the smash–hit musical CABARET, and the hilarious NOISES OFF. A May Studio Theatre Discovery Package can be purchased for $18 and includes CIRCLE MIRROR TRANSFORMATION and THE MOORS. Subscriptions may be purchased by calling the ticket office at 812.488.2031, Monday through Friday, 12:00 to 5:00 p.m. Single tickets may be purchased online at theatre.evansville.edu or by calling the ticket office at 812.488.2031.
Submitted by Sharla Cowden sc75@evansville.edu
Bestselling Author to Present on Native Plants
We are very pleased to announce that Dr. Douglas Tallamy will be presenting on October 1, 2022, 6:00 p.m. in Eykamp Hall, Ridgway University center.
Join New York Times Best Seller author Dr. Douglas Tallamy to learn how the small actions we take as individuals can make a big environmental impact. Sponsored by the Warrick and Vanderburgh County Soil and Water Conservation Districts and the Southwest Chapter of Indiana Native Plant Society in collaboration with the University of Evansville's People for Pollinators ChangeLab and the Environmental Concerns Organization (ECO).
Doug Tallamy is Professor of Agriculture and Natural Resources for the Department of Entomology and Wildlife Ecology at the University of Delaware. His first book, Bringing Nature Home, awakened thousands of readers to an urgent situation: wildlife populations are in decline because the native plants they depend on are fast disappearing. His solution? Plant more natives. In his second book, Nature's Best Hope, Tallamy takes the next step and outlines his vision for a grassroots approach to conservation. In his latest book, The Nature of Oaks, he is turning his advocacy to one of the most important species of the plant kingdom—oak trees.
This is a free event that is open to the public. Space is limited and registration is required. Register online at https://www.eventbrite.com/e/dr-doug-tallamy-presentation-tickets-398905155057.
Submitted by Andrew Carter ac116@evansville.edu
Ace Care Skele-fun Run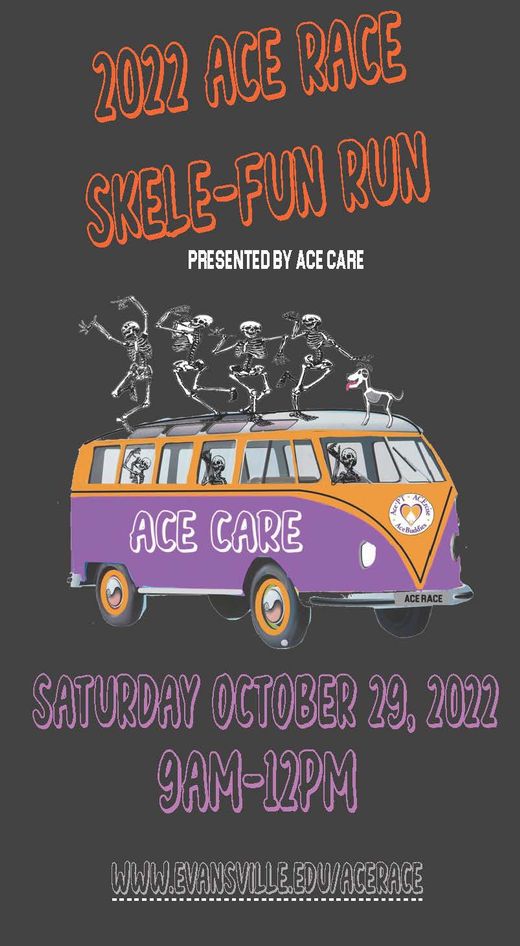 Ace Race is an event to raise money for Ace CARE. Ace CARE is the umbrella term for our three pro-bono student run programs, Ace+PT, ACErcise, and AceBuddies. Through these programs we are able to serve the vulnerable members of our community and to provide them with physical therapy care or wellness services. Ace+PT is an outpatient clinic for those with orthopedic injuries, while ACErcise focuses on exercise programs for individuals who have sustained neurologic injuries. Finally, AceBuddies strives to develop an exercise regime for children with varying disabilities. Student physical therapists treat our clients under the supervision of licensed physical therapists who volunteer their time and expertise to make a difference in our community.
Submitted by Caroline Haddad ch414@evansville.edu
Department of Art Alumni Exhibition Returns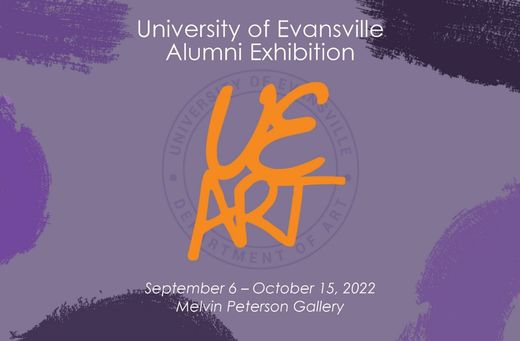 The Department of Art is pleased to announce the return of the UE Art Alumni Exhibition in the Melvin Peterson Gallery. Twenty alumni from around the country are participating in this exhibition. The artworks range from painting, sculpture, ceramics, batik, alcohol ink, and mixed media. All artwork is for sale and a portion of the sales will go to the establishment of an Art Scholarship. We welcome the entire community to visit the exhibition and support the
Department of Art as we welcome these alumni to campus. Some of these students you may even remember.
The Exhibition opens September 6 and runs through October 15. There is a public reception on Thursday, September 8 at 6:30 pm to celebrate the artists. We hope to see you there.
Melvin Peterson Gallery hours are:
Monday, Tuesday, and Friday 12-3
Wednesday and Thursday 12-6
Saturday 12-3
Submitted by Carol McCraney cm177@evansville.edu
New Counselor
Counseling Services would like to introduce Erin Baum, LSW to the Counseling Team. Erin is the new Disability Services Counselor. She will be working with both Counseling Services and Disability Services to provide support to our students. We are very happy to have Erin join us!
Submitted by Sarah O'Leary so83@evansville.edu
Baseball Managers Wanted
The Baseball Manager(s) report directly to the Head Baseball Coach and will be responsible for the keeping and management of daily practice charts and video, as well as assisting at practice where needed. Must be able to attend the majority of practices and games. Must be proficient in Microsoft Excel.
Submitted by Jared Morton jm877@evansville.edu
Athletic Training Adds Performing Arts to Clinical Site Opportunities
The Master of Science in Athletic Training (MSAT) program at UE has added Mercy Health Hospital in Cincinnati as a new site for immersive clinical education. With this location, students in the program now have the opportunity to work in a performing arts environment with the Cincinnati Ballet. The rotation is already available for students completing clinicals this fall, and it will continue into the coming semesters.
Adding Mercy Health Hospital will provide a new avenue for clinical rotations, as MSAT students haven't previously been able to work with performing arts.
In addition to Mercy Health Hospital in Cincinnati, UE also has partnerships with other universities and organizations across the nation. Current locations include Kentucky Wesleyan College, Louisville City Football Club, Northwestern University, University of Florida, Vanderbilt University, and Western Kentucky University. Classes can be completed online, so there are no geographic restrictions when it comes to a student's rotations.
Submitted by Julie Beer / jb855@evansville.edu
Flag Football Refs Needed! $9 Per Game
Intramural Flag Football is coming up, and we need people to help us referee the games! Earn up to $9.00 per game, no experience necessary. Referee trainings will be on Tuesday September 27th, and Wednesday September 28th at 5:00pm. If you are interested or have any questions, email Josh Isaacs at ji35@evansville.edu for more information! We hope to see you out there!
Submitted by Joshua Isaacs ji35@evansville.edu
Spring Housing Cancellation Deadline
The deadline for students to cancel their UE housing contract for the spring semester is October 5. Students can cancel a UE housing contract without penalty for the spring semester if you will be:
Attending Harlaxton or studying abroad (if already approved for Harlaxton or study abroad, you do not need to do anything to cancel your housing for the spring semester)
In an internship, co-op, or clinical outside of the Evansville area
Moving into a fraternity house (for the spring semester)
Transferring, withdrawing, or graduating
Requests not falling in the above categories are typically not granted. Requests to move off campus to live with friends or move into an apartment are not sufficient reasons to cancel a UE housing contract. Entering into any other housing agreement or lease with a private landlord will have no effect upon the conditions of your contract with the University of Evansville.
Housing Cancellation forms are available on our website at - www.evansville.edu/residencelife/housingapplyreturn/cancellationsAndRefunds.cfm.
For more information, please contact the Office of Residence Life.
Submitted by Brian Conner bc32@evansville.edu
Student Accounts Closing Soon at Bookstore
Do you still need textbooks for your courses and plan to get them from the campus bookstore, paying with your student account? You need to do it soon, as student accounts are closing at the end of September!
Friday, September 30th is the last day to charge to your account. Unless we receive special permission from Financial Services to reopen your account after that date, you will not be able to use it for the rest of the semester.
*Please note that students on Athletic Scholarship have until Friday, October 28th to make any final purchases.
Submitted by Becky Lamont bl164@evansville.edu
Wanted: Women's Basketball Manager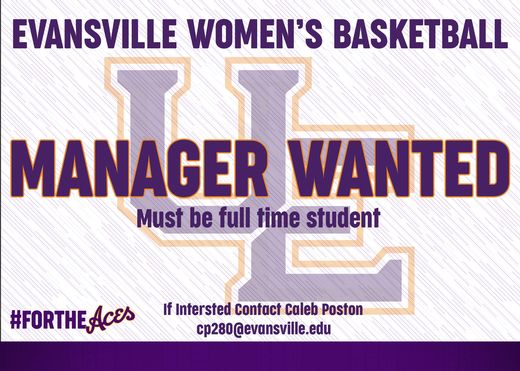 The Women's Basketball team is looking for one more student manager.
You must be a full time student and available to be at practice and home games. This is a great opportunity to work with the team and staff and be a part of Ace's Athletics. Prior basketball knowledge is beneficial but not required.
If you are interested please reach out to Coach Caleb at cp280@evansville.edu.
Submitted by Caleb Poston cp280@evansville.edu
Dr. Matsel Presents for American Academy of Sports Physical Therapy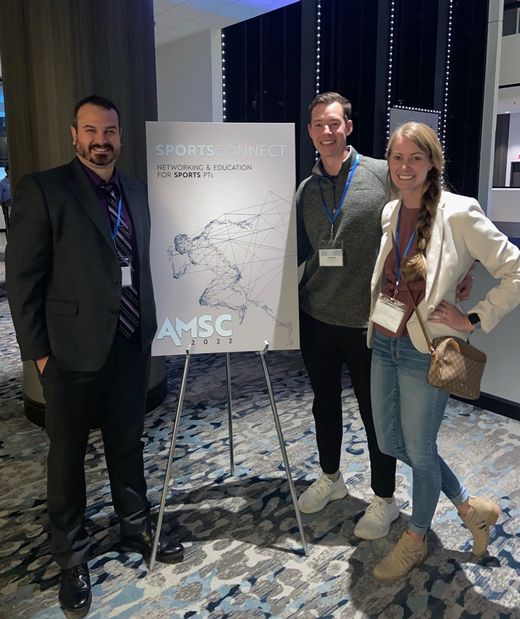 Dr. Kyle Matsel, DPT associate professor and director of sports residency, presented his PhD dissertation research "How to implement field expedient arm care screening to identify risk factors in baseball players," at the American Academy of Sports Physical Therapy (AASPT) annual meeting in Indianapolis. He was joined by his PhD committee chairs Dr. Tim Uhl and Terry Malone. UE DPT student Zac Blaydes and alum Meghan Lucskowski, DPT '20 were also in attendance.
Submitted by Jennifer Simon js698@evansville.edu
Russell leads UE in round two of Golfweek Red Sky Classic
On Tuesday, the University of Evansville women's golf team completed the second round of the Golfweek Red Sky Classic in Wolcott, Colorado.
Leading the Purple Aces in the second round of 18 was Mallory Russell. A 4-over 76 saw her tally the low score of the day for UE. She stands in a tie for 75th entering the final round. Behind her was Alyssa McMinn. After carding the top round of the day on Monday (74), McMinn shot an 86 to complete Tuesday's action. She is tied for 86th with a 160.
Allison Enchelmayer is next for the Aces. Her round of 84 gives her a 2-round score of 165. Carly Frazier matched Enchelmayer's round for the day. After opening the event with an 88, Frazier shot four strokes better on Tuesday to finish with an 84. Her score checks in at a 172. Caitlin O'Donnell recorded a 98 in round two.
Pepperdine continues to lead the team standings while boasting the top two individuals. With a team score of 279 on Tuesday, they are 11 in front of Colorado while sitting 17 strokes in front of a third-place tie. Lauren Gomez paces the field with a 2-round score of 138. She is one in front of teammate Lion Higo.
Wednesday will mark the final round of the tournament.
Submitted by Athletics
UE Students Can Win Nintendo Switch At Thursday's Women's Soccer Match
University of Evansville students can enter a raffle on Thursday night for a chance to win a Nintendo Switch gaming console at the UE women's soccer match against the University of Northern Iowa Panthers at Arad McCutchan Stadium. Kick-off is set for 6:05 p.m.
All current UE students are eligible to enter the raffle. Students must show their UE I.D. card at the raffle table at Thursday's match to receive a raffle ticket for a chance to win. The raffle winner will be selected in a blind draw in the Arad McCutchan Stadium press box late in the second half, and the winner will be announced towards the end of the match. Students must be present to win.
For the UE women's soccer team, Thursday's match will continue a three-match homestand for the Purple Aces (1-5-3, 0-2-1 MVC). Evansville is coming off a draw with Murray State on Sunday in which senior goalkeeper Georgia Katsonouri posted her third career shutout for the Purple Aces. Fifth-year forward Emily Ormson continues to lead the UE offense with two goals, and she is one of the most accurate strikers in NCAA Division I women's soccer currently, as she has posted a 76.5 percent shot accuracy this year. That mark would lead the country, but Ormson is not currently eligible, as her 1.9 shots per game average just falls below the NCAA minimum of 2.0 shots per game to qualify for the rankings.
UNI, meanwhile, will enter Thursday's match with a 4-5-1 overall record and 1-2 MVC mark after dropping a 2-0 decision to Missouri State on Sunday. The Panthers have been a streaky team so far this year, as UNI has scored 12 goals in its four victories, but has been outscored 15-0 in the other six matches combined. Seven different Panthers have scored so far this year, led by junior forward Lauren Heinsch's three goals.
UE leads the all-time series over UNI, 16-5-3, and the Purple Aces have won the last three matches in the series. Last year, fifth-year midfielder Abby Phelps scored two goals to power Evansville to a 2-0 victory over UNI in Cedar Falls, Iowa.
Submitted by Athletics
Meeks Madness to kick off UE Basketball season on Oct. 15
The unofficial kickoff to basketball season at the University of Evansville will take place on Saturday, October 15 when Meeks Madness returns to campus inside Meeks Family Fieldhouse.
Admission is $5 with and the first 100 UE students who get tickets from the Carson Center Ticket Office will receive free admission. To purchase your ticket to Meeks Madness, click here (https://gopurpleaces.com/sports/2021/8/3/womens-basketball-single-game-tickets.aspx).
Festivities are set to begin at 6 PM. with the doors opening at 5 PM. The event features the Purple Aces men's and women's basketball teams and spirit squad and will include exciting contests, a dunk exhibition, scrimmages, autographs, giveaways and more!
Season tickets for both programs are currently available and can be purchased by calling 812-488-2237.
Submitted by Athletics
Contribute to AceNotes
To have content considered for inclusion in AceNotes, please submit a Marketing Request Form. Deadline for submission to AceNotes is 10:00 a.m. on the requested date of publication. Only articles concerning UE related/sponsored activities will be accepted. Articles submitted to AceNotes may be edited for length and clarity. Submitter contact information is at the end of each article.