| | |
| --- | --- |
| AceNotes Today | Monday, September 26, 2022 |
Reception for Harlaxton staff visitor Rachel Davis
We are excited to welcome Rachel Davis, custom programs and travel coordinator in the student engagement office at Harlaxton College, to UE this week! There will be a reception for her in the Multicultural Student Commons in Ridgway University Center on Wednesday, September 28, 2-4pm. If you have been to Harlaxton recently and know Rachel, come and say hello; or if you are planning to go to Harlaxton or just want to come help welcome her to Evansville, she would love to meet you too!
Submitted by Kaylynn McCalister kc205@evansville.edu
University of Evansville Theatre Announces 2022–2023 Season
The University of Evansville Theatre announces five productions for the 2022–2023 season in Shanklin Theatre and the May Studio Theatre. The Shanklin Theatre season kicks off with MEASURE FOR MEASURE, Sept. 30 through Oct. 16. In an ongoing collaboration with Play On! Shakespeare and with an exciting and insightful modern verse translation by Aditi Brennan Kapil, this Shakespearean play is being presented in Shanklin Theatre for the first time ever. The 400-year-old tale could be "ripped from the headlines" of today's world, as it examines themes central to human nature and our paradoxical relationship to justice and mercy. With all its high-spirited bawdiness, this tragicomedy reveals what can happen when sex, religion, and politics collide. Visiting Assistant Professor Stacey Yen serves as director for this debut performance.
Assistant Professor Wes Grantom adds CABARET to his directing credits, Nov. 11 through 19, in Shanklin Theatre. CABARET was inspired by the play by John Van Druten, stories by Christopher Isherwood, music by John Kander and lyrics by Fred Ebb. Set against the tumult and sheer chaos of Germany's 1929 Berlin, the alluring emcee invites all to engage in willful ignorance and revel in the lustful delights inside the legendary Kit Kat Club. "Here…life is beautiful." With hedonistic abandon, these riveting characters live life as a carnival of debauchery and despair. Winning Tony
Awards for Best Musical for the 1966 Broadway premiere and for Best Revival of a Musical in 1998, this provocative and challenging style of storytelling packs a potent punch on the dangers of mass indifference in the face of injustice and atrocities and asks audiences to either act now or say "so what?" The UE production also features music direction by guest artist Tyler Simpson and choreography by New York-based guest artist Chad Goodridge.
The spring season begins with two student directed productions in the May Studio Theatre. Jimmy Guest, a senior theatre studies major from Bettendorf, Iowa, directs CIRCLE MIRROR TRASNFORMATION, in the May Studio Theatre, Feb. 2 through 5. This witty and insightful work, from Pulitzer Prize-winning playwright Annie Baker, explores why the arts are important in our lives and proves that theory one transformation at a time.
Hannah Tarr, a theatre studies major from Floyds Knobbs, Indiana, directs THE MOORS, in the May Studio Theatre, Feb. 23 through 26. The exciting playwright, Jen Silverman, gives us a new take on Gothic romance, where the rules of both the genre and the world defy tradition and expectation in this darkly comic play.
Assistant Professor Amelia McClain takes the helm of the final production of the season, Michael Frayn's NOISES OFF, in Shanklin Theatre, April 14 through 23. Easily considered the funniest farce ever written, this classic comedy follows a troupe of assiduous actors as they blunder from a disastrous dress rehearsal to complete pandemonium when they embark upon an ill-fated tour. Hilarity ensues! With screwball shenanigans, mounting mayhem, slamming doors, and even flying sardines, this rip-roaring romp is the perfect outing for anyone ready to leave reality behind and indulge in
the life-affirming and mood-altering benefits of good, old-fashioned belly laughs. This multiple Tony Award-nominated gem of a play will leave audiences in stitches.
Subscription tickets for the three-play Shanklin Theatre series are available for $50 adult and $44 for senior adults, UE employees, and any non-UE student. Patrons can also purchase a two-play May Studio Theatre subscription for $18. Single tickets for MEASURE FOR MEASURE, CABARET, and NOISES OFF are $20 for adults and $18 for senior adults, UE employees, and any non-UE student. Single tickets for CIRCLE MIRROR TRANSFORMATION and THE MOORS are $12 for all patrons. UE students may obtain one free student rush ticket beginning at 12:00 p.m. on the day of the performance they wish to attend for all Shanklin Theatre and May Studio productions. Season subscriptions may be purchased by calling 812.488.2747, Monday through Friday, 12:00 p.m. to 5:00 p.m. Single tickets may be purchased by calling the ticket office or online at theatre.evansville.edu.
Submitted by Sharla Cowden sc75@evansville.edu
Employees - Sign Up Now for UE Gives Back
Our UE Gives Back event is quickly approaching! UE Gives Back provides employees with an opportunity to step away from their desks and come together to refresh our campus! With the approval of immediate supervisors and as schedules permit, employees may choose to volunteer on UE's campus without scheduling a day of vacation. UE Gives Back is Friday, September 30, and we hope to see you there! Please register using this link Registration. Thank you!
Submitted by Jenni Sauls js944@evansville.edu
Bestselling Author to Present on Native Plants
We are very pleased to announce that Dr. Douglas Tallamy will be presenting on October 1, 2022, 6:00 p.m. in Eykamp Hall, Ridgway University center.
Join New York Times Best Seller author Dr. Douglas Tallamy to learn how the small actions we take as individuals can make a big environmental impact. Sponsored by the Warrick and Vanderburgh County Soil and Water Conservation Districts and the Southwest Chapter of Indiana Native Plant Society in collaboration with the University of Evansville's People for Pollinators ChangeLab and the Environmental Concerns Organization (ECO).
Doug Tallamy is Professor of Agriculture and Natural Resources for the Department of Entomology and Wildlife Ecology at the University of Delaware. His first book, Bringing Nature Home, awakened thousands of readers to an urgent situation: wildlife populations are in decline because the native plants they depend on are fast disappearing. His solution? Plant more natives. In his second book, Nature's Best Hope, Tallamy takes the next step and outlines his vision for a grassroots approach to conservation. In his latest book, The Nature of Oaks, he is turning his advocacy to one of the most important species of the plant kingdom—oak trees.
This is a free event that is open to the public. Space is limited and registration is required. Register online at https://www.eventbrite.com/e/dr-doug-tallamy-presentation-tickets-398905155057.
Submitted by Andrew Carter ac116@evansville.edu
Business Majors & Certificates Fair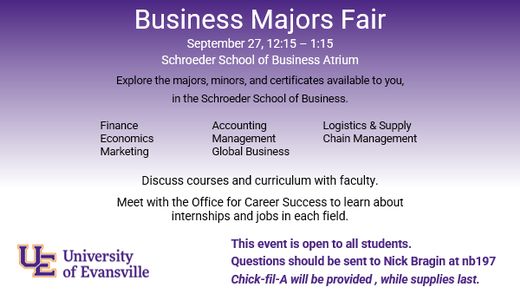 The Schroeder Family School of Business Administration is hosting a Business Majors & Certificates Fair on Tuesday, September 27 from 12:15 - 1:15pm.
This event is a great opportunity for you to learn more about the majors and certificates offered in SOBA, connect with faculty, and learn more about career pathways related to different majors.
Chick-Fil-A will be provided while supplies last. In order to ensure enough lunch is ordered, please RSVP on Handshake by 9/22/2022: https://evansville.joinhandshake.com/events/1116710
Submitted by Nick Bragin nb197@evansville.edu
Ace Care Skele-fun Run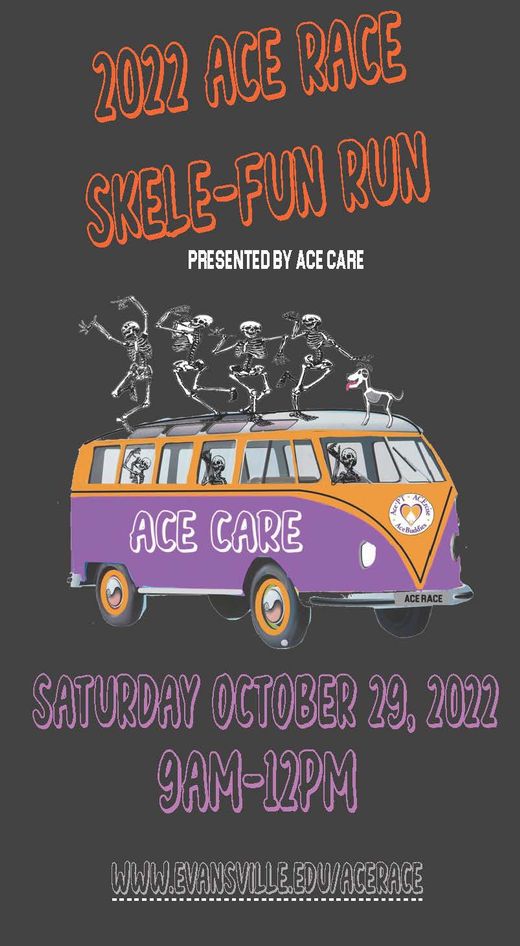 Ace Race is an event to raise money for Ace CARE. Ace CARE is the umbrella term for our three pro-bono student run programs, Ace+PT, ACErcise, and AceBuddies. Through these programs we are able to serve the vulnerable members of our community and to provide them with physical therapy care or wellness services. Ace+PT is an outpatient clinic for those with orthopedic injuries, while ACErcise focuses on exercise programs for individuals who have sustained neurologic injuries. Finally, AceBuddies strives to develop an exercise regime for children with varying disabilities. Student physical therapists treat our clients under the supervision of licensed physical therapists who volunteer their time and expertise to make a difference in our community.
Submitted by Caroline Haddad ch414@evansville.edu
Department of Art Alumni Exhibition Returns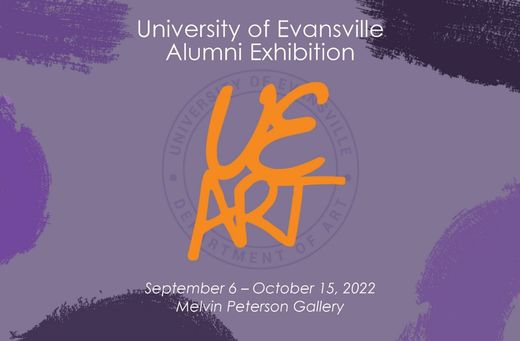 The Department of Art is pleased to announce the return of the UE Art Alumni Exhibition in the Melvin Peterson Gallery. Twenty alumni from around the country are participating in this exhibition. The artworks range from painting, sculpture, ceramics, batik, alcohol ink, and mixed media. All artwork is for sale and a portion of the sales will go to the establishment of an Art Scholarship. We welcome the entire community to visit the exhibition and support the
Department of Art as we welcome these alumni to campus. Some of these students you may even remember.
The Exhibition opens September 6 and runs through October 15. There is a public reception on Thursday, September 8 at 6:30 pm to celebrate the artists. We hope to see you there.
Melvin Peterson Gallery hours are:
Monday, Tuesday, and Friday 12-3
Wednesday and Thursday 12-6
Saturday 12-3
Submitted by Carol McCraney cm177@evansville.edu
Hot Meal Exchange Window Closed Monday 9/26
The hot meal exchange window in Ace's Place will be closed Monday, 9/26 and will reopen Tuesday 9/27. All cold items will still be provided for meal exchange options. Please visit Dining Services office to the right of Chick Fil A if you have any questions or concerns.
Submitted by Samantha Williams sw342@evansville.edu
Flag Football Refs Needed! $9 Per Game
Intramural Flag Football is coming up, and we need people to help us referee the games! Earn up to $9.00 per game, no experience necessary. Referee trainings will be on Tuesday September 27th, and Wednesday September 28th at 5:00pm. If you are interested or have any questions, email Josh Isaacs at ji35@evansville.edu for more information! We hope to see you out there!
Submitted by Joshua Isaacs ji35@evansville.edu
Spring Housing Cancellation Deadline
The deadline for students to cancel their UE housing contract for the spring semester is October 5. Students can cancel a UE housing contract without penalty for the spring semester if you will be:
Attending Harlaxton or studying abroad (if already approved for Harlaxton or study abroad, you do not need to do anything to cancel your housing for the spring semester)
In an internship, co-op, or clinical outside of the Evansville area
Moving into a fraternity house (for the spring semester)
Transferring, withdrawing, or graduating
Requests not falling in the above categories are typically not granted. Requests to move off campus to live with friends or move into an apartment are not sufficient reasons to cancel a UE housing contract. Entering into any other housing agreement or lease with a private landlord will have no effect upon the conditions of your contract with the University of Evansville.
Housing Cancellation forms are available on our website at - www.evansville.edu/residencelife/housingapplyreturn/cancellationsAndRefunds.cfm.
For more information, please contact the Office of Residence Life.
Submitted by Brian Conner bc32@evansville.edu
Student Accounts Closing Soon at Bookstore
Do you still need textbooks for your courses and plan to get them from the campus bookstore, paying with your student account? You need to do it soon, as student accounts are closing at the end of September!
Friday, September 30th is the last day to charge to your account. Unless we receive special permission from Financial Services to reopen your account after that date, you will not be able to use it for the rest of the semester.
*Please note that students on Athletic Scholarship have until Friday, October 28th to make any final purchases.
Submitted by Becky Lamont bl164@evansville.edu
Wanted: Women's Basketball Manager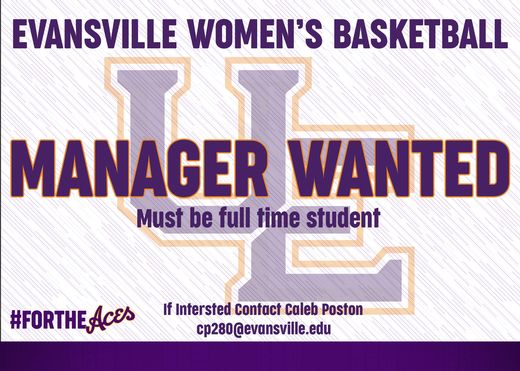 The Women's Basketball team is looking for one more student manager.
You must be a full time student and available to be at practice and home games. This is a great opportunity to work with the team and staff and be a part of Ace's Athletics. Prior basketball knowledge is beneficial but not required.
If you are interested please reach out to Coach Caleb at cp280@evansville.edu.
Submitted by Caleb Poston cp280@evansville.edu
UE Women's Golf Fairs Well On First Day At Briar Ridge Invitational
Four members of the University of Evansville women's golf team had a strong showing on the first day of action Sunday at the Briar Ridge Invitational hosted by UIC at the Briar Ridge Country Club in Schererville, Indiana.
Freshman Kate Petrova led UE's contingent with a first-round, four-over-par 76 to tie for 13th out of 73 individuals. Petrova came home in a one-over-par 37 on the back-nine, and recorded five birdies in her round to sit five shots back of first-place.
Sophomore Magdalena Borisova was just two shots behind Petrova on the day, with a first-round score of 78 to sit in a tie for 22nd overall. Freshman Destinye Sheridan (Fort Branch, Ind./North) was third among UE's contingent, carding a first-round score of 85. Fellow freshman Grace Vandenburg (Mishawaka, Ind./Mishawaka) rounded out UE's pack with a first-round 105.
All four UE players played as individuals in the tournament. Green Bay's Isabelle Maleki and UIC's Megan Tang are currently tied for first-place after recording identical one-under-par 71 scores today. The Briar Ridge Invitational will wrap up Monday with 18 holes of competition.
Submitted by Athletics
UE Women's Soccer Earns First Valley Point Of 2022 With Draw Against Murray State
University of Evansville senior goalkeeper Georgia Katsonouri (Paphos, Cyprus) recorded her third career clean sheet on Sunday, as Katsonouri and the Purple Aces played to a 0-0 draw with Murray State at Arad McCutchan Stadium in Evansville, Indiana.
With a 20-mile-per-hour northwest wind causing problems for both teams offensively, defense was the name of the game for both sides. With the wind at their back in the first half, Murray State had the more threatening opportunities in the first 45 minutes, but Katsonouri and the UE defense stood tall. Katsonouri recorded her only save of the match on a shot at the top of the six-yard box off a scrum following a corner kick in the 21st minute to keep the match scoreless.
In the second half, UE was the more dangerous side offensively, as the Purple Aces out-shot the Racers, 4-2, after halftime. This time, it was Murray State goalkeeper Jenna Villacres who played the hero, as she denied UE fifth-year forward Emily Ormson on a half-volley attempt from the penalty spot in the 83rd minute. Overall, UE put three shots on target, with two coming off of the foot of Ormson, but Villacres recorded saves on all three.
"Overall, I thought we did a good job of competing today," said UE head coach Chris Pfau. "We got back to some of the things that we want to do defensively, and I really liked the fight the team showed today. We still have a lot to work on, but we are young, and I think that if we can just get that one bounce to go our way, there is a lot of potential with this team."
Evansville (1-5-3 overall, 0-2-1 MVC) will return home on Thursday night at 6 p.m. to host the University of Northern Iowa Panthers (4-5-1, 1-2 MVC) in a match that can be seen live on ESPN+.
Submitted by Athletics
Aces defeat Bradley to earn best MVC start since 2000
For the first time since 2000, the University of Evansville volleyball team is 2-0 in Missouri Valley Conference play. On Saturday, the Purple Aces defeated Bradley by a final of 3-1 inside Meeks Family Fieldhouse.
Leading the way for UE was Giulia Cardona. A 23-kill, 8-dig performance also saw the sophomore add two service aces. Alondra Vazquez recorded a double-double with 17 kills and 11 digs. She picked up four block assists and a solo. Emilee Scheumann and Madisyn Steele picked up eight kills each. Maddie Hawkins totaled three aces and nine digs while Kora Ruff registered 43 assists and 10 digs. Blakeley Freeman also had a strong outing, picking up 10 digs.
Set 1: UE 25, BU 18
After the Purple Aces jumped out to a 4-1 edge, the Braves recorded consecutive service aces to take their first advantage at 5-4. UE came back to tie things at 7-7 before going on a 6-1 run to make it a 14-8 game. Giulia Cardona picked up back-to-back kills in the rally.
Bradley stayed within striking distance, cutting their gap to three (18-15), but it was freshman Maddie Hawkins putting the momentum back on the Aces side. Three consecutive aces made it a 22-15 game and UE cruised to take the opening set, 25-18.
Set 2: UE 25, BU 14
It was another solid performance from Evansville, who took a 5-3 lead on a Laura Ruiz service ace. Still holding the edge at 8-7, UE scored the next four to take its largest lead to that point. The Braves struck back, getting within three at 12-9, but a 7-2 run grew the lead even more.
Two Cardona kills, along with points from Kate Tsironis and Vazquez made it a 19-11 game. It was Cardona striking again, picking up the clinching kill in a 25-14 win.
Set 3: BU 27, UE 25
Emilee Scheumann recorded a kill that gave the Aces a 6-4 edge to open the set when the Braves battled back. Bradley used an ace to tie it at 12-12 before another one gave them a 15-14 lead. They added two more tallies, forcing an Evansville timeout.
Alondra Vazquez stopped the BU rally with a kill, marking the first of three straight points to knot the set back up at 17-17. Vazquez added another to her total to put the Aces on top – 19-18. UE took two more 1-point leads before the Braves took their turn, going back in front by a 23-22 tally. Taking their second timeout, Evansville got back on track with Cardona and Steele registering kills to turn the tides and put UE up 24-23. Unfortunately, BU countered and recorded the set win by a final of 27-25.
Set 4: UE 25, BU 21
A close call on a serve saw Bradley go up 2-1, Evansville responded with five in a row. Kate Tsironis picked up a solo block to highlight the stretch. The Braves scored two before Madisyn Steele recorded a pair of kills to make it a 10-4 game. They put an end to the stretch after using their second timeout before Evansville was able to push its lead to 12-5.
UE continued to hold the advantage and looked ready to clinch the match, going up 24-18. Bradley had other ideas, scoring three in a row to make things interesting before Vazquez picked up kill #17 to finish the match.
Next weekend, UE returns to the road with road contests at Belmont and Murray State.
Submitted by Athletics
Wild MVC showdown ends with loss to No. 17 Missouri State
A wild night on the road in Valley competition ended in a narrow defeat for the University of Evansville men's soccer team in a 4-3 loss to No. 17 Missouri State on Saturday night in Springfield, Mo.
"We've got to look each other in the eyes and realize we lost an opportunity tonight to get a result on the road," said Aces head men's soccer coach Marshall Ray. "We battled and competed and played and the effort and everything was there. It's just the organization and willingness to defend set pieces and the second phase of those set pieces that made the game difficult. The positive you take out of it that within a week we've played two teams that are ranked inside the top 20 and it's looked like we belong on the field. As I've said before, the next step is finding ways to get results in these games. We've got a week in-between matches now, which is good for us because we can get our legs back under us. We can watch some video and hopefully improve on both ends of the field, attacking and defending set pieces, while continuing to maintain the level of play we've had. This group's got a lot in front of them and we need to learn from this and keep moving forward."
Junior Kai Phillip burst onto the scene for the Aces on the night, scoring twice to lead the attack for Evansville. Joining Phillip on the scoresheet was senior Oliver Hald, who scored in tremendous fashion off a corner kick for his first of the season and second of his UE career.
In the tamer of the two halves, it was Missouri State who opened the scoring. The Bears struck first in the 13th minute as Lewis Green scored for MSU off an assist from Kian Yari. From the 20th minute on, Evansville started to see its attack find success, continuing to put balls into the box and create opportunities against a Missouri State defense that had allowed just four goals on the year coming in. That persistence paid off in the 30th minute as a ball into the box from junior Tobias Bak bounced around and eventually floated near Phillip. The Trinidad & Tobago native positioned himself and flipped, bicycling the ball past the keeper and into the net to equalize the match. The Aces would go on to out-shoot the home side, 7-5, at the half with the match tied at a goal each.
For the first 15 minutes of the second half it was status quo with the two sides remaining in a deadlock. Beginning in the 60th minute, the goal deluge unfolded. Missouri State retook the lead in the 61st minute as Daniel Normann found the back of the net off an assist from Green. Just over a minute later, Hald answered for the Aces, curling a corner kick in on his own to tie the match at two. The teeter-totter tipped back in the Bears favor in the 64th minute with Green scoring his second of the night. In the 67th minute, Evansville struck again, this time capitalizing off a defensive miscue forced by the pressure of Nacho Diaz with the ball bouncing back to Phillip at the top of the 18. Phillip took a dribble and calmly spun the ball past the keeper to tie the match again, this time at three goals each.
The match's final act came in the 81st minute as Nicolo Mulatero looked to cross a ball into the box when it was deflected into the net off the foot of an Ace in what would end up being a 4-3 Bears win.
Evansville takes a week away from competition before returning to action on Saturday, October 1 against Lindenwood at 6 PM at Arad McCutchan Stadium.
Submitted by Athletics
Volleyball defeats preseason favorite in MVC opener
Giulia Cardona and Alondra Vazquez recorded 18 and 16 kills, respectively, to lift the University of Evansville volleyball team to a 3-1 victory over preseason Missouri Valley Conference favorite Illinois State in Friday's league opener inside Meeks Family Fieldhouse.
Cardona his .333 for the Purple Aces while Vazquez was just behind, finishing at .310. Emilee Scheumann and Madisyn Steele were equally impressive – totaling eight kills each. Vazquez led all players with 16 digs while Kora Ruff chipped in 33 assists.
Set 1: UE 25, ISU 12
Putting together one of the most efficient sets of the season, the Purple Aces began the night with a huge set victory. Behind six Emilee Scheumann kills, UE earned a 25-12 win. After the Redbirds took a 2-1 lead, Evansville rallied back to take its first advantage at 4-3 on a Schuemann kill. It grew to 8-5 when Alondra Vazquez recorded her first kill.
ISU kept it close at 12-9 before UE changed the course of the set. Kills from Vazquez and Scheumann helped to extend the lead to 16-9 and it would be the start of a longer 12-2 run that made it a 24-11 game. Giulia Cardona added an ace while Scheumann picked up two more kills. Cardona put the exclamation mark on the set with her fourth kill to cap off the set.
Set 2: ISU 25, UE 23
Multiple ties ensued before the Redbirds took a 9-6 lead on a service ace. Illinois State doubled that advantage to six points at 18-12, but Evansville stormed back. A 6-1 run cut the deficit down to just a point.
UE took advantage of four Redbird errors while Vazquez and Cardona picked up kills. Things continued to remain within 1-2 points, but the Aces could not tie the score as the Redbirds knotted the match with a 25-23 win.
Set 3: UE 25, ISU 20
Early in the frame, it was UE opening up a 7-5 lead when ISU utilized an 8-2 stretch to go in front 13-9. That is when the tides turned. Evansville put together a huge run to jump in front. Scoring eight in a row, the Aces turned the deficit into a 17-13 lead. Kora Ruff picked up an ace while Cardona and Vazquez registered kills.
Two aces by Illinois State saw them get ack within one at 19-18. With the pressure on, the Aces responded. Cardona added another kill that righted the ship and saw UE win by a 25-20 final to go up 2-1 in the match.
Set 4: 25, ISU 18
Looking to clinch the match, the Aces came out strong, taking a 9-6 lead. After ISU fought back to tie it at 10-10, Cardona picked up back-to-back kills before Kate Tsironis and Vazquez added one apiece to put UE in front at 14-10. ISU responded with a 5-1 run to tie it up.
It was Cardona providing the response, picking up two more kills with Steele adding another to cap a 4-0 run that made it a 19-15 game. The offense continued its run with three more kills leading to a 24-17 score. Following an Illinois State point, the Aces recorded the clinching point to win the match.
On Saturday, UE is back in action with a 5 p.m. match against Bradley inside Meeks Family Fieldhouse.
Submitted by Athletics
UE women ready for upcoming tournaments
Beginning on Sunday, the University of Evansville women's golf team will be participating in a pair of tournaments. Four individuals open the Briar Ridge Invitational on Sunday before the remainder of the squad travels to Wolcott, Colorado for the Golfweek Red Sky Classic.
Destynie Sheridan, Grace Vandenburg, Kate Petrova and Magdalena Borisova will be taking part in the Briar Ridge Invitational as individuals. Briar Ridge Country Club in Schereville, Ind. hosts the event on Sunday and Monday. Eighteen holes will be played each day with par set for 72.
Teams taking part in that event include UIC, Western Michigan, Purdue Fort Wayne, Chicago State, Cleveland State, Morehead State, UNI, Northern Kentucky and IUPUI.
On Monday, the remainder of the team will be in Wolcott, Colo. to take part in the Golfweek Red Sky Classic. Red Sky Golf Club consists of the Tom Fazio and Greg Norman courses. This tournament will be played on the Fazio Course. For fifth-year senior Caitlin O'Donnell, this marks a homecoming. A native of Centennial, Colo., O'Donnell will have the opportunity to play in front of family and friends in her final collegiate season.
O'Donnell will be joined by teammates Mallory Russell, Alyssa McMinn, Allison Enchelmayer and Carly Frazier. An impressive field includes Central Arkansas, Colorado, Delaware, Eastern Michigan, Fresno State, Idaho, Incarnate Word, Kennesaw State, Mercer, New Mexico State, Northern Arizona, Northern Colorado, Pepperdine, Rutgers, Southern Illinois, Washington State and Xavier.
Running from Monday through Wednesday, 18 holes will be played each day.
Submitted by Athletics
Contribute to AceNotes
To have content considered for inclusion in AceNotes, please submit a Marketing Request Form. Deadline for submission to AceNotes is 10:00 a.m. on the requested date of publication. Only articles concerning UE related/sponsored activities will be accepted. Articles submitted to AceNotes may be edited for length and clarity. Submitter contact information is at the end of each article.