| | |
| --- | --- |
| AceNotes Today | Friday, September 23, 2022 |
University of Evansville Theatre Announces 2022–2023 Season
The University of Evansville Theatre announces five productions for the 2022–2023 season in Shanklin Theatre and the May Studio Theatre. The Shanklin Theatre season kicks off with MEASURE FOR MEASURE, Sept. 30 through Oct. 16. In an ongoing collaboration with Play On! Shakespeare and with an exciting and insightful modern verse translation by Aditi Brennan Kapil, this Shakespearean play is being presented in Shanklin Theatre for the first time ever. The 400-year-old tale could be "ripped from the headlines" of today's world, as it examines themes central to human nature and our paradoxical relationship to justice and mercy. With all its high-spirited bawdiness, this tragicomedy reveals what can happen when sex, religion, and politics collide. Visiting Assistant Professor Stacey Yen serves as director for this debut performance.
Assistant Professor Wes Grantom adds CABARET to his directing credits, Nov. 11 through 19, in Shanklin Theatre. CABARET was inspired by the play by John Van Druten, stories by Christopher Isherwood, music by John Kander and lyrics by Fred Ebb. Set against the tumult and sheer chaos of Germany's 1929 Berlin, the alluring emcee invites all to engage in willful ignorance and revel in the lustful delights inside the legendary Kit Kat Club. "Here…life is beautiful." With hedonistic abandon, these riveting characters live life as a carnival of debauchery and despair. Winning Tony
Awards for Best Musical for the 1966 Broadway premiere and for Best Revival of a Musical in 1998, this provocative and challenging style of storytelling packs a potent punch on the dangers of mass indifference in the face of injustice and atrocities and asks audiences to either act now or say "so what?" The UE production also features music direction by guest artist Tyler Simpson and choreography by New York-based guest artist Chad Goodridge.
The spring season begins with two student directed productions in the May Studio Theatre. Jimmy Guest, a senior theatre studies major from Bettendorf, Iowa, directs CIRCLE MIRROR TRASNFORMATION, in the May Studio Theatre, Feb. 2 through 5. This witty and insightful work, from Pulitzer Prize-winning playwright Annie Baker, explores why the arts are important in our lives and proves that theory one transformation at a time.
Hannah Tarr, a theatre studies major from Floyds Knobbs, Indiana, directs THE MOORS, in the May Studio Theatre, Feb. 23 through 26. The exciting playwright, Jen Silverman, gives us a new take on Gothic romance, where the rules of both the genre and the world defy tradition and expectation in this darkly comic play.
Assistant Professor Amelia McClain takes the helm of the final production of the season, Michael Frayn's NOISES OFF, in Shanklin Theatre, April 14 through 23. Easily considered the funniest farce ever written, this classic comedy follows a troupe of assiduous actors as they blunder from a disastrous dress rehearsal to complete pandemonium when they embark upon an ill-fated tour. Hilarity ensues! With screwball shenanigans, mounting mayhem, slamming doors, and even flying sardines, this rip-roaring romp is the perfect outing for anyone ready to leave reality behind and indulge in
the life-affirming and mood-altering benefits of good, old-fashioned belly laughs. This multiple Tony Award-nominated gem of a play will leave audiences in stitches.
Subscription tickets for the three-play Shanklin Theatre series are available for $50 adult and $44 for senior adults, UE employees, and any non-UE student. Patrons can also purchase a two-play May Studio Theatre subscription for $18. Single tickets for MEASURE FOR MEASURE, CABARET, and NOISES OFF are $20 for adults and $18 for senior adults, UE employees, and any non-UE student. Single tickets for CIRCLE MIRROR TRANSFORMATION and THE MOORS are $12 for all patrons. UE students may obtain one free student rush ticket beginning at 12:00 p.m. on the day of the performance they wish to attend for all Shanklin Theatre and May Studio productions. Season subscriptions may be purchased by calling 812.488.2747, Monday through Friday, 12:00 p.m. to 5:00 p.m. Single tickets may be purchased by calling the ticket office or online at theatre.evansville.edu.
Submitted by Sharla Cowden sc75@evansville.edu
Employees - Sign Up Now for UE Gives Back
Our UE Gives Back event is quickly approaching! UE Gives Back provides employees with an opportunity to step away from their desks and come together to refresh our campus! With the approval of immediate supervisors and as schedules permit, employees may choose to volunteer on UE's campus without scheduling a day of vacation. UE Gives Back is Friday, September 30, and we hope to see you there! Please register using this link Registration. Thank you!
Submitted by Jenni Sauls js944@evansville.edu
Bestselling Author to Present on Native Plants
We are very pleased to announce that Dr. Douglas Tallamy will be presenting on October 1, 2022, 6:00 p.m. in Eykamp Hall, Ridgway University center.
Join New York Times Best Seller author Dr. Douglas Tallamy to learn how the small actions we take as individuals can make a big environmental impact. Sponsored by the Warrick and Vanderburgh County Soil and Water Conservation Districts and the Southwest Chapter of Indiana Native Plant Society in collaboration with the University of Evansville's People for Pollinators ChangeLab and the Environmental Concerns Organization (ECO).
Doug Tallamy is Professor of Agriculture and Natural Resources for the Department of Entomology and Wildlife Ecology at the University of Delaware. His first book, Bringing Nature Home, awakened thousands of readers to an urgent situation: wildlife populations are in decline because the native plants they depend on are fast disappearing. His solution? Plant more natives. In his second book, Nature's Best Hope, Tallamy takes the next step and outlines his vision for a grassroots approach to conservation. In his latest book, The Nature of Oaks, he is turning his advocacy to one of the most important species of the plant kingdom—oak trees.
This is a free event that is open to the public. Space is limited and registration is required. Register online at https://www.eventbrite.com/e/dr-doug-tallamy-presentation-tickets-398905155057.
Submitted by Andrew Carter ac116@evansville.edu
Business Majors & Certificates Fair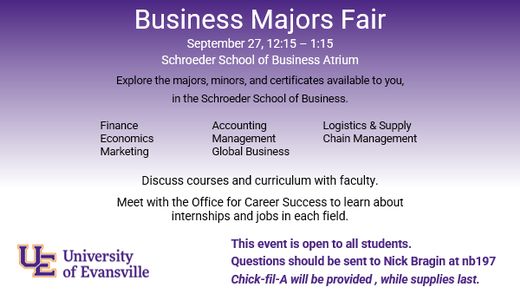 The Schroeder Family School of Business Administration is hosting a Business Majors & Certificates Fair on Tuesday, September 27 from 12:15 - 1:15pm.
This event is a great opportunity for you to learn more about the majors and certificates offered in SOBA, connect with faculty, and learn more about career pathways related to different majors.
Chick-Fil-A will be provided while supplies last. In order to ensure enough lunch is ordered, please RSVP on Handshake by 9/22/2022: https://evansville.joinhandshake.com/events/1116710
Submitted by Nick Bragin nb197@evansville.edu
Electronic Recycling Saturday at the Civic Center
Did you know that the Vanderburgh District contracts with C&I Electronics to conduct a fall electronic recycling drop-off at the Civic Center parking lot (9th & Walnut Street)? The 2022 fall electronic recycling day is Saturday, September 24 from 8:00 am – 12 pm. More information is available at https://www.evansvillegov.org/city/department/division.php?structureid=258
During the fall 2022 Vanderburgh Co. recycling day, a variety of electronic materials will be accepted at no charge. The items will include, but are not limited to computers and computer related equipment, laptops, printers, scanners, TVs, DVD players, DVR devices, digital cameras and fax machines.
Copy machines and appliances, including microwaves, will not be accepted. This program is for Vanderburgh County households only. Items from businesses will not be accepted.
Submitted by Amber Elkins ae152@evansville.edu
Majors and Minors Fair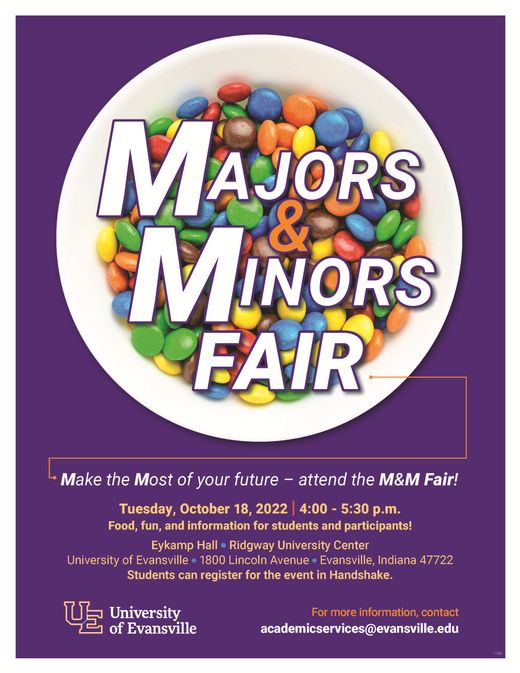 The Majors and Minors Fair is open to all students on Tuesday, October 18, from 4:00 - 5:30 p.m. in Eykamp Hall.
Thinking about changing or adding a major or minor? This is your chance to network with faculty, current students, and alumni from academic departments as well as student support services. Learn more about the classes, research opportunities, internships, and career outcomes.
For more information, contact academicservices@evansville.edu.
Submitted by Paula Heldt ph28@evansville.edu
Employee Fall Healthier Behavior Challenge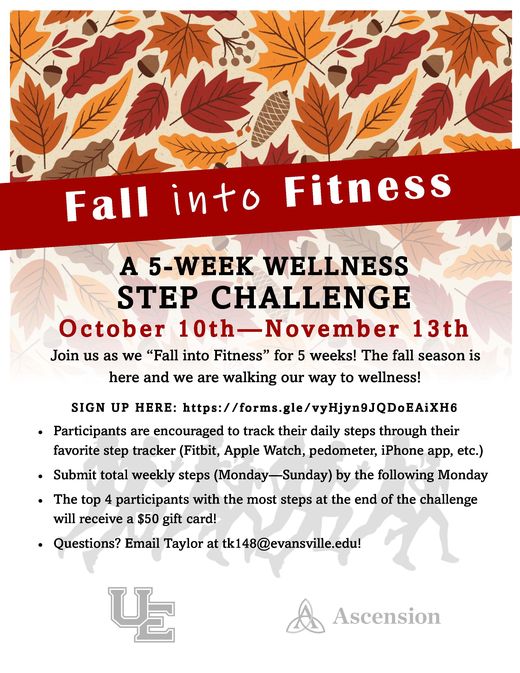 The UE Summer Healthy Behavior challenge is still in progress, but we will soon switch up the pace with our Fall Healthy Behavior Challenge! Introducing the Fall Into Fitness Step Challenge! Join us as we "Fall Into Fitness" for 5 weeks! The Fall season is here and we are walking our way to wellness! Earn a one-time $150 in HRA credits (if you are NOT participating in the Summer Healthy Behavior Challenge) for successfully completing the challenge!
This challenge will begin October 10th - November 13th. Follow the link below to sign up!! A link to submit your weekly steps will be emailed to you at the start of the challenge. See the flyer for additional information!
SIGN UP HERE: https://forms.gle/vyHjyn9JQDoEAiXH6
Submitted by Taylor Kollak tk148@evansville.edu
Flag Football Refs Needed! $9 Per Game
Intramural Flag Football is coming up, and we need people to help us referee the games! Earn up to $9.00 per game, no experience necessary. Referee trainings will be on Tuesday September 27th, and Wednesday September 28th at 5:00pm. If you are interested or have any questions, email Josh Isaacs at ji35@evansville.edu for more information! We hope to see you out there!
Submitted by Joshua Isaacs ji35@evansville.edu
Student Accounts Closing Soon at Bookstore
Do you still need textbooks for your courses and plan to get them from the campus bookstore, paying with your student account? You need to do it soon, as student accounts are closing at the end of September!
Friday, September 30th is the last day to charge to your account. Unless we receive special permission from Financial Services to reopen your account after that date, you will not be able to use it for the rest of the semester.
*Please note that students on Athletic Scholarship have until Friday, October 28th to make any final purchases.
Submitted by Becky Lamont bl164@evansville.edu
Late Start ChangeLab - History of the UE African-American Alumni Association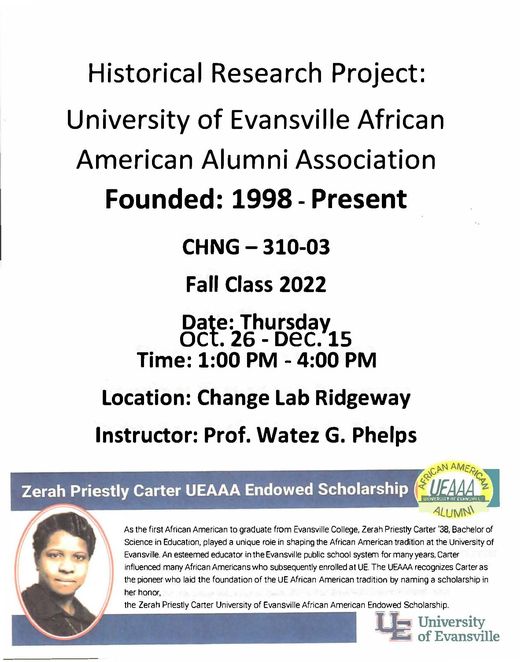 Calling all student historians! If you are looking for a late start course this semester, consider joining this ChangeLab to document and preserve a vital piece of UE history. CHG310-03 students will research and record the history of the UE African-American Alumni Association. This work may ultimately be collected as part of a published book. Please contact this ChangeLab's Coach, Prof. Watez Phelps, with any questions at wp2@evansville.edu.
Submitted by Derek Jones dj4@evansville.edu
Want to be part of the Aces of UE?
Would you like to have your own profile on our Aces of UE webpage? We're looking for students across all majors to share their story!
To be featured in Aces of UE, please email Julie Beer, university relations coordinator, at jb855@evansville.edu. You can also complete this Google Form with some basic information to be contacted at a later date.
Submitted by Julie Beer / jb855@evansville.edu
UE Men's Basketball Manager Sign Up
Interested in doing a work study for the Men's Basketball Team?! Job description and pay will all be on the website. Please follow the directions below to sign up and be a member of the Aces!
https://www.evansville.edu/student-financial-services/student-employment.cfm
Scroll down to "Applying for Student Employment" and Click "WebAdvisor"
Login using your UE username and password
Click "Students" on the right-hand side
Under "Student Employment" click "Student Employment Positions Listing"
Click "Men's Basketball Student Manager"
Click "Submit"
Submitted by Roosevelt Jones rj110@evansville.edu
Indiana State Rallies Past UE Women's Soccer, 2-1
The home-standing Indiana State Sycamores used a pair of second-half goals Thursday night to rally past the University of Evansville women's soccer team, 2-1, at Memorial Stadium in Terre Haute, Indiana.
Evansville took an early 1-0 lead in the 11th minute, as sophomore midfielder Hailey Autenrieb (Cincinnati, Ohio/Seton HS) scored her first career goal on a strike from the top of the penalty area off of feed from fifth-year forward Emily Ormson (Folsom, Calif./Vista del Lago HS). Evansville would take that lead to the halftime locker room, as the Purple Aces controlled much of the half, out-shooting Indiana State, 6-3, through the first 45 minutes.
The complexion of the match would change just 58 seconds into the second half though, as Indiana State's CeCe Wahlberg looped a shot over UE goalkeeper Sophie Lindner (Vienna, Austria) from 30 yards out on the right-hand side to tie the contest at 1-1. The Sycamores would put pressure on for the next 15 minutes, before Evansville would regain its footing and nearly retake the lead twice in the final 10 minutes.
In the 82nd minute, UE senior defender Emilie Hill (Franklin, Ind./Franklin Central HS) was robbed of a goal on a header attempt off a corner kick by a diving ISU keeper Maddie Alexander. Then, two minutes later, senior Monique Landrum (Escondido, Calif./San Pasqual HS) had a shot off a corner kick headed away by an ISU defender on the far post. On the ensuing counter-attack, ISU's Ella Gorrie rocketed a ball to the upper-right 90 from 30 yards out in the 84th minute to give the Sycamores a 2-1 victory.
Evansville out-shot Indiana State, 13-9, including putting seven shots on goal. The Purple Aces also created eight corner kicks to just three for ISU.
With the result, both teams stand at 1-5-2 overall, with Indiana State moving to 1-0-1 in the Missouri Valley Conference, while Evansville sits at 0-2 in league play. Evansville will return home to Arad McCutchan Stadium on Sunday afternoon at 1 p.m. when UE will host Murray State on "Women In Sports Day." It will be the first home contest for UE since beating Morehead State, 2-1, on August 28, a span of 28 days.
Submitted by Athletics
UE Women's Soccer Welcomes Murray State Sunday For First Valley Meeting
The University of Evansville women's soccer team will return home to Arad McCutchan Stadium for the first time since August 28 on Sunday afternoon, as the Purple Aces will take on Missouri Valley Conference newcomer Murray State. Kick-off is set for 1:05 p.m. on "Women In Sports Day" at UE.
Sunday will be a celebration of the successes of women in sports over the last 50 years in conjunction with the 50th anniversary year of Title IX. There will be informational reads about the women's soccer pioneers at UE, and there will be a special ticket discount for those fans who attend either UE volleyball match this weekend (Friday vs Illinois State, Saturday vs Bradley). Fans who attend either match should hold onto their ticket, as it can be redeemed on Sunday for a $3 ticket to the UE women's soccer match against Murray State.
Sunday's match will be a homecoming for UE, as the Purple Aces have not played at home since picking up a 2-1 victory over Morehead State on August 28. Heavy rains forced the cancellation of UE's regularly-scheduled home match with Northern Kentucky on September 4, which turned the Purple Aces' road trip into a five-match road trip, the second-longest in program history.
UE (1-5-2, 0-2-0 MVC) wrapped up the five-match road trip Thursday night in heartbreaking fashion with a 2-1 loss at Indiana State. The Sycamores scored in the 85th minute, after two UE chances were knocked away just minutes earlier on corner kicks, to snap a 1-1 tie and give ISU the victory. Sophomore midfielder Hailey Autenrieb (Cincinnati, Ohio/Seton) scored her first career goal in the first half to help spark the UE attack.
Murray State (1-7-1 overall, 0-1 MVC) will enter Sunday's match after dropping a 3-1 decision on Thursday to Belmont in the Racers' first-ever MVC contest. Freshman Mary Hardy scored MSU's first-ever Valley goal just 6:17 into the contest, but Belmont rallied for three goals to pick up the victory in Murray, Kentucky. Overall, seven different Racers have scored so far this year offensively, but MSU has conceded 20 goals on the season.
Sunday's match will mark the first-ever meeting between UE and Murray State in Missouri Valley Conference play in any sport. Overall, UE leads the all-time series with the Racers, 7-2, although the two schools have not met since the 2013 season. Sunday's match can be seen live on ESPN3.
Submitted by Athletics
Men's Soccer set for clash with 17th-ranked Missouri State
Facing its second straight ranked opponent, the University of Evansville men's soccer team returns to Missouri Valley Conference competition with a trip to 17th-ranked Missouri State on Saturday at 7 PM in Springfield, Mo.
A rematch of the 2021 MVC Championship, Evansville and Missouri State are meeting for the 41st time in series history with the Bears owning a 26-10-4 advantage in the all-time series. In the most recent meeting in the conference championship match, the top-seeded Bears ended Evansville's miraculous run with a 3-0 win to advance to the NCAA Tournament. Both the Aces and Bears enter the weekend after suffering their first loss of the season on Tuesday night. UE dropped a 3-1 decision to #19 Xavier, while Missouri State fell 3-0 to Tulsa, who received votes in the most recent United Soccer Coaches poll.
Evansville sophomore forward Nacho Diaz maintained his spot atop the national statistical rankings with his seventh goal of the season against Xavier. Diaz sits in first in NCAA Division I in points per match (2.50) and goals per match (1.17), while his seven goals on the year are third-best nationally. Coming-off the bench as of late, senior winger Nkosi Graham has made quite the impact for the Aces. Graham is first in the MVC and 25th in the nation in assists per match (0.67) and also leads The Valley in total assists with four through six matches.
Submitted by Athletics
Volleyball opens MVC schedule with two home matches
Missouri Valley Conference play opens with two huge tests when the University of Evansville volleyball team welcomes Illinois State and Bradley to Meeks Family Fieldhouse. The weekend opens on Friday with a 6PM match versus the Redbirds before the Purple Aces face the Braves on Saturday at 5PM.
Back on the Floor
- On Friday, Alondra Vazquez made her return to the floor after missing seven matches due to injury
- She made an immediate impact in her first match back, picking up 25 kills against Chicago State while leading the Aces to a 3-1 win...she hit .364 while picking up 14 digs and 4 assists
- Through the opening stages of the 2022 season, Vazquez was already setting some of the top numbers in the NCAA
Pinpoint Accuracy
- Continuing her accuracy in the 2022 season, Madisyn Steele ranks second in the MVC, hitting .337 on the season
- The sophomore is coming off the top offensive contest of her career, accumulating her top total of 15 kills versus Oakland
- Steele has hit .387 or higher in three of the last five matches
- She has posted at least three kills in all 14 matches thus far and checks in with an average of 1.63 per set
- On the defensive side, Steele recorded at least one block in all but one match and set her season mark with 8.0 total blocks against Chicago State
All-Around Effort
- Evansville's trip to the Green & White Classic at Michigan State saw sophomore Giulia Cardona record an average of 4.25 kills and 3.08 digs per set, both team bests
- In the win over Chicago State, Cardona picked up her first double-double of the season as she recorded 18 kills and a career-high 18 digs
- It did not take long for her to notch another double-double as she began Saturday with a season-high 22 kills along with 17 digs versus Oakland
- Her season average of 3.80 kills per set ranks 4th in the MVC
Adjusting to the new level
- Through her first six matches, Maddie Hawkins played a total of 14 sets while picking up six digs, an average of 0.43
- Since then, Hawkins has adjusted well, totaling 36 kills over her last 24 frames, an average of 1.5 per set
- Included in that time was her to total of 9 digs in the win over Chicago State; Hawkins added seven digs in the home contest versus Tennessee State
Submitted by Athletics
Contribute to AceNotes
To have content considered for inclusion in AceNotes, please submit a Marketing Request Form. Deadline for submission to AceNotes is 10:00 a.m. on the requested date of publication. Only articles concerning UE related/sponsored activities will be accepted. Articles submitted to AceNotes may be edited for length and clarity. Submitter contact information is at the end of each article.