| | |
| --- | --- |
| AceNotes Today | Wednesday, September 21, 2022 |
Bestselling Author to Present on Native Plants
We are very pleased to announce that Dr. Douglas Tallamy will be presenting on October 1, 2022, 6:00 p.m. in Eykamp Hall, Ridgway University center.
Join New York Times Best Seller author Dr. Douglas Tallamy to learn how the small actions we take as individuals can make a big environmental impact. Sponsored by the Warrick and Vanderburgh County Soil and Water Conservation Districts and the Southwest Chapter of Indiana Native Plant Society in collaboration with the University of Evansville's People for Pollinators ChangeLab and the Environmental Concerns Organization (ECO).
Doug Tallamy is Professor of Agriculture and Natural Resources for the Department of Entomology and Wildlife Ecology at the University of Delaware. His first book, Bringing Nature Home, awakened thousands of readers to an urgent situation: wildlife populations are in decline because the native plants they depend on are fast disappearing. His solution? Plant more natives. In his second book, Nature's Best Hope, Tallamy takes the next step and outlines his vision for a grassroots approach to conservation. In his latest book, The Nature of Oaks, he is turning his advocacy to one of the most important species of the plant kingdom—oak trees.
This is a free event that is open to the public. Space is limited and registration is required. Register online at https://www.eventbrite.com/e/dr-doug-tallamy-presentation-tickets-398905155057.
Submitted by Andrew Carter ac116@evansville.edu
Alumni Zoom Lecture: Archaeology of Enslaved and Free Labor in Maryland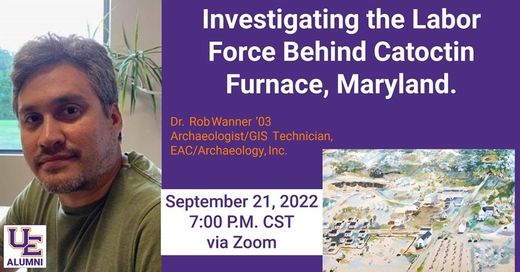 Please join us for our next installment in the UE Archaeology and Art History Alumni Lecture Series Wednesday, September 21 at 7:00 P.M. CST via Zoom. Dr. Rob Wanner, Archaeologist/GIS Technician, EAC/Archaeology, Inc. (UE Archaeology '03) will give a lecture titled, "Investigating the labor force behind Catoctin Furnace, Maryland." Although there is a long history of archaeology at Catoctin Furnace, a historic ironmaking village in western Maryland, only in the last decade have investigations begun to focus on the lives of free and enslaved workers who toiled there from day to day over 150 years.
Submitted by Alan Kaiser ak58@evansville.edu
Business Majors & Certificates Fair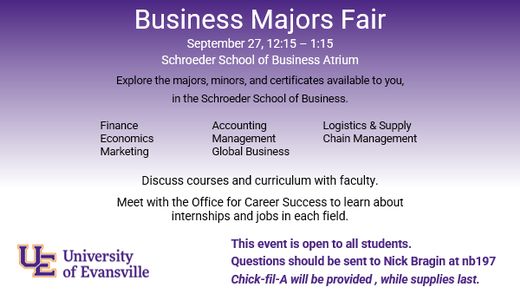 The Schroeder Family School of Business Administration is hosting a Business Majors & Certificates Fair on Tuesday, September 27 from 12:15 - 1:15pm.
This event is a great opportunity for you to learn more about the majors and certificates offered in SOBA, connect with faculty, and learn more about career pathways related to different majors.
Chick-Fil-A will be provided while supplies last. In order to ensure enough lunch is ordered, please RSVP on Handshake by 9/22/2022: https://evansville.joinhandshake.com/events/1116710
Submitted by Nick Bragin nb197@evansville.edu
Electronic Recycling Saturday at the Civic Center
Did you know that the Vanderburgh District contracts with C&I Electronics to conduct a fall electronic recycling drop-off at the Civic Center parking lot (9th & Walnut Street)? The 2022 fall electronic recycling day is Saturday, September 24 from 8:00 am – 12 pm. More information is available at https://www.evansvillegov.org/city/department/division.php?structureid=258
During the fall 2022 Vanderburgh Co. recycling day, a variety of electronic materials will be accepted at no charge. The items will include, but are not limited to computers and computer related equipment, laptops, printers, scanners, TVs, DVD players, DVR devices, digital cameras and fax machines.
Copy machines and appliances, including microwaves, will not be accepted. This program is for Vanderburgh County households only. Items from businesses will not be accepted.
Submitted by Amber Elkins ae152@evansville.edu
Blair Doneske to Speak to Students Interested in Computer Science
To honor the formation of the Association for Computer Science, the Computer Science department has invited Blair Doneske from IBM to speak to students and others interested in Computer Science. The presentation will be Thursday, September 22, at 6 p.m. in Koch Center room 133. Mr. Doneske will be talking about the "roles in the tech industry and the skills needed for those jobs." All are invited.
Submitted by Bruce Mabis bm339@evansville.edu
Majors and Minors Fair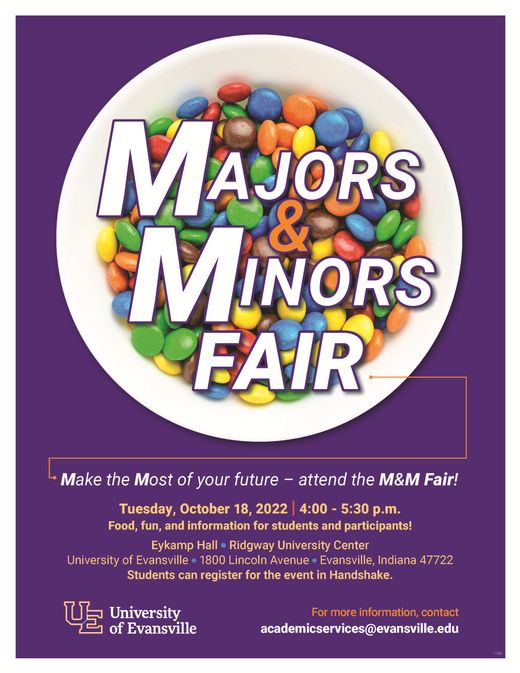 The Majors and Minors Fair is open to all students on Tuesday, October 18, from 4:00 - 5:30 p.m. in Eykamp Hall.
Thinking about changing or adding a major or minor? This is your chance to network with faculty, current students, and alumni from academic departments as well as student support services. Learn more about the classes, research opportunities, internships, and career outcomes.
For more information, contact academicservices@evansville.edu.
Submitted by Paula Heldt ph28@evansville.edu
Sigma Alpha Iota Informal Recruitment
Informal Recruitment for Sigma Alpha Iota, a music fraternity for women and non-binary individuals, is taking place Tuesday, September 20th through Thursday, September 22nd. This is an opportunity to learn about SAI, meet other music lovers, and enjoy fun events with other students! We will be partnering with Phi Mu Alpha Sinfonia, our neighboring music fraternity on campus, on Tuesday and Thursday. The event date and times are:
Tuesday, September 20th: 6pm in New Hall Courtyard (outdoor area)
Wednesday, September 21st: 8:45pm in Grabill Lounge (basement of Neu Chapel)
Thursday, September 22nd: 7pm at Franklin Lanes (bowling)
During all of these events, we will provide you with any and all information you want to know about being in SAI. These events will be very low-key, social events to get to know other music lovers on campus. Come to any or all of the events that you would like, we look forward to meeting you!
For more information about Sigma Alpha Iota or our recruitment events, please email President Allison Enchelmayer (ae162@evansville.edu) or Vice President Membership Emma Fergus (ef140@evansville.edu).
Submitted by Allison Enchelmayer ae162@evansville.edu
Employee Fall Healthier Behavior Challenge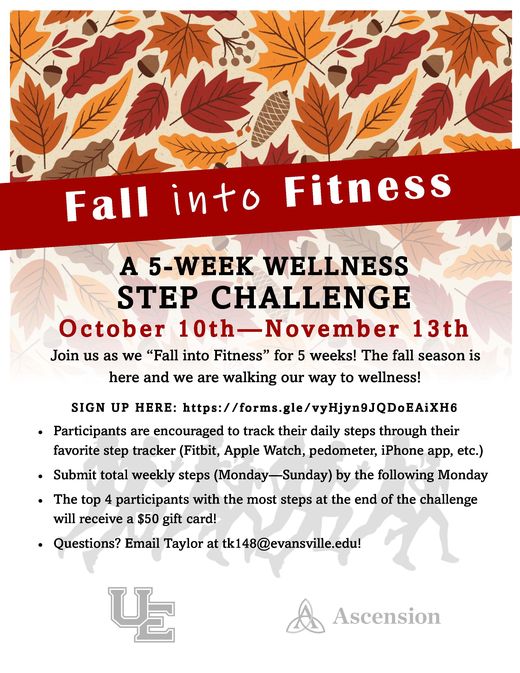 The UE Summer Healthy Behavior challenge is still in progress, but we will soon switch up the pace with our Fall Healthy Behavior Challenge! Introducing the Fall Into Fitness Step Challenge! Join us as we "Fall Into Fitness" for 5 weeks! The Fall season is here and we are walking our way to wellness! Earn a one-time $150 in HRA credits (if you are NOT participating in the Summer Healthy Behavior Challenge) for successfully completing the challenge!
This challenge will begin October 10th - November 13th. Follow the link below to sign up!! A link to submit your weekly steps will be emailed to you at the start of the challenge. See the flyer for additional information!
SIGN UP HERE: https://forms.gle/vyHjyn9JQDoEAiXH6
Submitted by Taylor Kollak tk148@evansville.edu
Island BBQ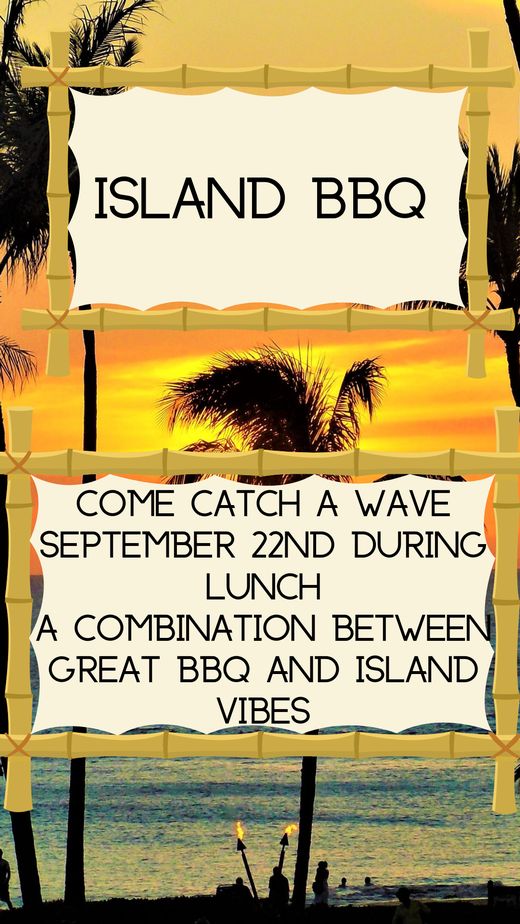 Come catch a wave in The Eatery on Thursday, September 22 for an Island BBQ! Delicious food, mocktails, and island vibes galore!
Submitted by Ka'Bria Carr kc403@evansville.edu
US Air Force Chaplain Corps representative on campus
Interested in finding out more about the United States Air Force Chaplain Corps? A representative will be on campus Wednesday, September 21 from 10am until 2pm in Ridgway University Center. Stop by to find information about part time and full time ministries, graduate level student opportunities, volunteer opportunities as well as education benefits.
Submitted by Amanda Wood aw505@evansville.edu
Student Accounts Closing Soon at Bookstore
Do you still need textbooks for your courses and plan to get them from the campus bookstore, paying with your student account? You need to do it soon, as student accounts are closing at the end of September!
Friday, September 30th is the last day to charge to your account. Unless we receive special permission from Financial Services to reopen your account after that date, you will not be able to use it for the rest of the semester.
*Please note that students on Athletic Scholarship have until Friday, October 28th to make any final purchases.
Submitted by Becky Lamont bl164@evansville.edu
Late Start ChangeLab - History of the UE African-American Alumni Association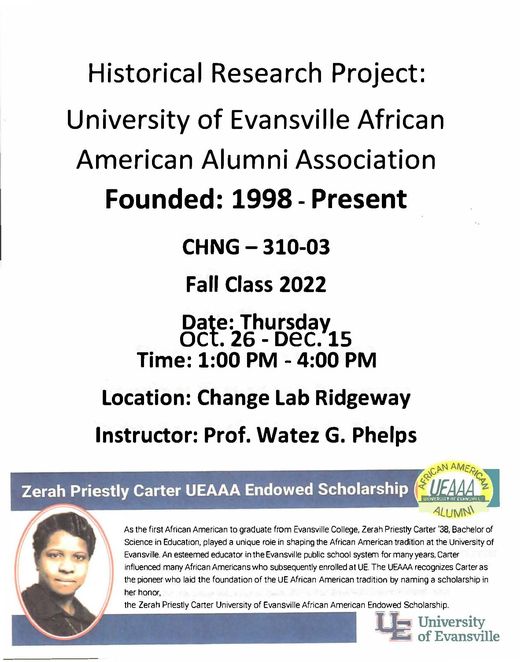 Calling all student historians! If you are looking for a late start course this semester, consider joining this ChangeLab to document and preserve a vital piece of UE history. CHG310-03 students will research and record the history of the UE African-American Alumni Association. This work may ultimately be collected as part of a published book. Please contact this ChangeLab's Coach, Prof. Watez Phelps, with any questions at wp2@evansville.edu.
Submitted by Derek Jones dj4@evansville.edu
Want to be part of the Aces of UE?
Would you like to have your own profile on our Aces of UE webpage? We're looking for students across all majors to share their story!
To be featured in Aces of UE, please email Julie Beer, university relations coordinator, at jb855@evansville.edu. You can also complete this Google Form with some basic information to be contacted at a later date.
Submitted by Julie Beer / jb855@evansville.edu
UE Women's Soccer Wraps Up Road Trip Thursday At Indiana State
The University of Evansville women's soccer team will wrap up a season-long five-match road trip on Thursday night, as the Purple Aces will travel north to Terre Haute to battle in-state rival Indiana State. Kick-off is set for 6:05 p.m. central and Thursday's game can be seen live on ESPN+.
Originally, UE's road trip was scheduled to be a four-game trip, but due to heavy rains cancelling the September 4 home match against Northern Kentucky, the Purple Aces have been away for five matches. The road trip ranks as the second-longest regular-season road trip in program history, with the longest being a seven-match trip in 1997.
Evansville will be looking to end the road swing on a high note, as UE has dropped the last three contests, after a road trip-opening tie at SIUE on September 1. UE suffered a tough 1-0 loss at Missouri State on Sunday to open Missouri Valley Conference play, as the Bears scored a tough-angle goal in the 79th minute to break a scoreless tie.
Fifth-year forward Emily Ormson leads the UE offense so far this year with two goals. Meanwhile, junior Myia Danek has posted a team-best 1.25 goals-against average while splitting time this year with sophomore Sophie Lindner (1.33 goals-against average). Overall, UE is 1-4-2 and 0-1 in the MVC this year.
Indiana State, meanwhile, is 0-5-2 overall and 0-0-1 in Valley play after tying Belmont, 0-0, last Friday. Three different Sycamores have scored a goal each for ISU, while freshman Adelaide Wolfe has anchored the Sycamore defense this year, as she has played a full 90 minutes in each of the last six matches in defense, while earning MVC Defensive Player of the Week honors on Tuesday.
All-time, Evansville leads the series over Indiana State, 14-10-3. Last season, Evansville dropped a regular-season meeting in Terre Haute in early October, but bounced back to earn a 1-1 tie at ISU in the 2021 MVC Tournament, with the Purple Aces advancing 5-3 on penalty kicks.
Submitted by Athletics
Three second half goals help 19th-ranked Xavier top UE
Up at the break, the University of Evansville men's soccer team saw three goals find the back of the net for 19th-ranked Xavier in a 3-1 loss to the Musketeers on Tuesday evening at Arad McCutchan Stadium in Evansville.
Sophomore forward Nacho Diaz added to his season account, scoring his seventh goal of the year on a penalty kick in the 12th minute. The Spaniard also led the Aces in shots, recording three of Evansville's four attempts on the night. In goal, graduate goalkeeper Alex Vidizzoni was unlucky in his sixth start of the season for Evansville. While Xavier scored three goals, one was scored on a deflection, another an own goal, and the final by an unmarked man on a corner kick. Vidizzoni set a new season mark, making nine saves between the posts.
After a ball into the box ricocheted off the hand of a Xavier defender, Evansville was awarded a PK, which Diaz took and calmly finished past the keeper to give the Aces a 1-0 advantage in the opening half. Evansville's defense was able to stave off an aggressive Musketeers attack with Vidizzoni making seven first half saves to keep Xavier off the scoreboard at the break.
Xavier found its breakthrough in the 49th minute as a shot from 25 yards out bounced into the box and deflected off the foot of Makel Rasheed and into goal to equal the match at one. In the 73rd minute, Xavier took the lead after a cross into the box was deflected off an Ace into the back of the net. Finally, Xavier scored its third on a corner in the 87th minute as Rasheed knocked home his second of the night in the Musketeer's 3-1 win.
Evansville goes on the road this weekend to continue MVC competition with a trip to take on 17th-ranked Missouri State on Saturday at 7 PM in Springfield, Mo.
Submitted by Athletics
Big finish gives UE men a top 10 finish
Tying for the 5th-lowest team score of the day, the University of Evansville men's golf team earned a 10th place finish at the Valpo Fall Invitational at Sand Creek Country Club on Tuesday.
Evansville's lowest round of the day belonged to Luke Schneider. A 1-under 71 gave him a 223 for the 3-round event. He tied for the 22nd position. Taking second on the team was Nicholas Gushrowski. His 75 in the third round set his final score at 227, which was good for a 32nd-place tie. One spot behind him was Daniil Romashkin. Posting his low round of the event in the final 18, Romashkin carded a 74. His score checked in at 228.
Michael Ikejiani was next for the Purple Aces. He posted his low round of the weekend on Tuesday, finishing with a 76. Ikejiani lowered his score in each round of the tournament to finish with a 236. Henry Kiel was three strokes behind Ikejiani. His 83 in the final round gave him a 239. Playing as an individual, Carson Parker finished with scores of 77-76-77 to tally a 230. He tied for 50th. Mason Taylor had his best round of the year, scoring a 75 on Tuesday to finish with a 239.
Valparaiso clinched the team and individual championships. A 278 in the final 18 gave the Beacons the lowest team round of the entire tournament while seeing them finish with an 848. They finished 34 strokes in front of Loyola. Anthony Delisanti of the Beacons defeated teammate Caleb VanArragon by one shot to earn medalist. Rounds of 70-69-69 saw him post a 208.
UE wrapped up its three rounds with a 909 to jump into the top ten. Their final score of 909 came in two shots in front of IUPUI. The Aces continue their fall season on October 10 with a trip to Jonesboro, Arkansas for the Bubba Barnett Intercollegiate.
Submitted by Athletics
Contribute to AceNotes
To have content considered for inclusion in AceNotes, please submit a Marketing Request Form. Deadline for submission to AceNotes is 10:00 a.m. on the requested date of publication. Only articles concerning UE related/sponsored activities will be accepted. Articles submitted to AceNotes may be edited for length and clarity. Submitter contact information is at the end of each article.