| | |
| --- | --- |
| AceNotes Today | Monday, September 19, 2022 |
Faculty Recital: Elizabeth Robertson and Leanne Hampton
Dr. Elizabeth Robertson, oboe, and Dr. Leanne Hampton, flute, will perform classical and contemporary works on Tuesday, September 20, at 7:30 pm in Neu Chapel. Kristin Jones will accompany on piano. Other featured performers are Tom Drury on piano and Charles du Preez on clarinet.
Submitted by Amy Esche ae128@evansville.edu
Blair Doneske to Speak to Students Interested in Computer Science
To honor the formation of the Association for Computer Science, the Computer Science department has invited Blair Doneske from IBM to speak to students and others interested in Computer Science. The presentation will be Thursday, September 22, at 6 p.m. in Koch Center room 133. Mr. Doneske will be talking about the "roles in the tech industry and the skills needed for those jobs." All are invited.
Submitted by Bruce Mabis bm339@evansville.edu
Majors and Minors Fair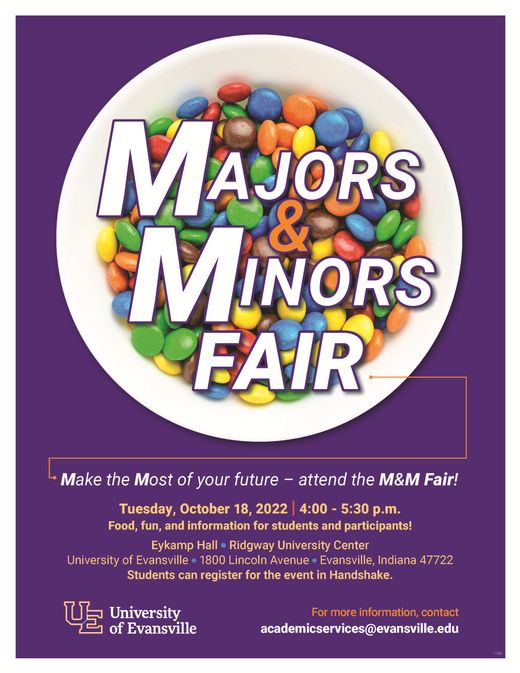 The Majors and Minors Fair is open to all students on Tuesday, October 18, from 4:00 - 5:30 p.m. in Eykamp Hall.
Thinking about changing or adding a major or minor? This is your chance to network with faculty, current students, and alumni from academic departments as well as student support services. Learn more about the classes, research opportunities, internships, and career outcomes.
For more information, contact academicservices@evansville.edu.
Submitted by Paula Heldt ph28@evansville.edu
Sigma Alpha Iota Informal Recruitment
Informal Recruitment for Sigma Alpha Iota, a music fraternity for women and non-binary individuals, is taking place Tuesday, September 20th through Thursday, September 22nd. This is an opportunity to learn about SAI, meet other music lovers, and enjoy fun events with other students! We will be partnering with Phi Mu Alpha Sinfonia, our neighboring music fraternity on campus, on Tuesday and Thursday. The event date and times are:
Tuesday, September 20th: 6pm in New Hall Courtyard (outdoor area)
Wednesday, September 21st: 8:45pm in Grabill Lounge (basement of Neu Chapel)
Thursday, September 22nd: 7pm at Franklin Lanes (bowling)
During all of these events, we will provide you with any and all information you want to know about being in SAI. These events will be very low-key, social events to get to know other music lovers on campus. Come to any or all of the events that you would like, we look forward to meeting you!
For more information about Sigma Alpha Iota or our recruitment events, please email President Allison Enchelmayer (ae162@evansville.edu) or Vice President Membership Emma Fergus (ef140@evansville.edu).
Submitted by Allison Enchelmayer ae162@evansville.edu
Employee Fall Healthier Behavior Challenge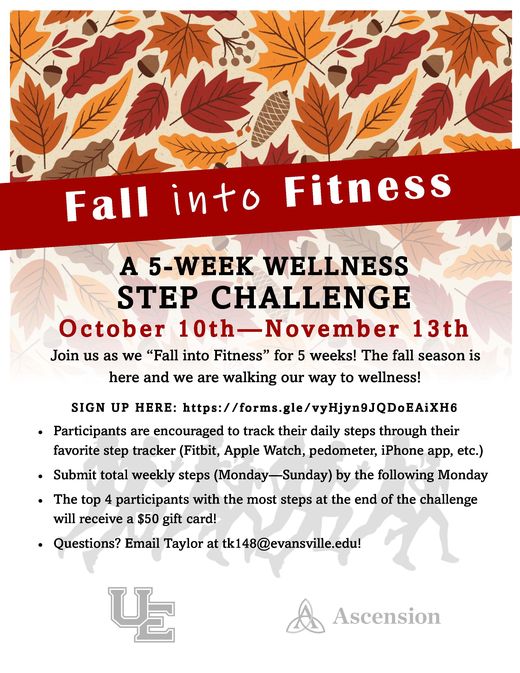 The UE Summer Healthy Behavior challenge is still in progress, but we will soon switch up the pace with our Fall Healthy Behavior Challenge! Introducing the Fall Into Fitness Step Challenge! Join us as we "Fall Into Fitness" for 5 weeks! The Fall season is here and we are walking our way to wellness! Earn a one-time $150 in HRA credits (if you are NOT participating in the Summer Healthy Behavior Challenge) for successfully completing the challenge!
This challenge will begin October 10th - November 13th. Follow the link below to sign up!! A link to submit your weekly steps will be emailed to you at the start of the challenge. See the flyer for additional information!
SIGN UP HERE: https://forms.gle/vyHjyn9JQDoEAiXH6
Submitted by Taylor Kollak tk148@evansville.edu
Luis Fraga to Lecture on Voting Rights for Constitution Day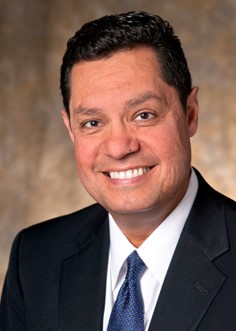 Dr. Luis Fraga will deliver a Constitution Day lecture on Tuesday, September 20, at 7 p.m. in Smythe Lecture Hall in the Schroeder School of Business. His topic for the evening is "Looking Back to Move Forward: Voting Rights in the United States." Fraga is a distinguished member of the Political Science faculty at the University of Notre Dame, where he serves as the Rev. Donald P. McNeill Professor of Transformative Latino Leadership and the Director of the Institute for Latino Studies. His visit to the UE campus is part of the Hesburgh Lecture Series of the University of Notre Dame, and his speech will be based on his expert testimony to the House Judiciary Committee in 2021 on the history of voter disenfranchisement. The event is free and open to the public.
Submitted by Carol L. McCraney cm177@evansville.edu
Island BBQ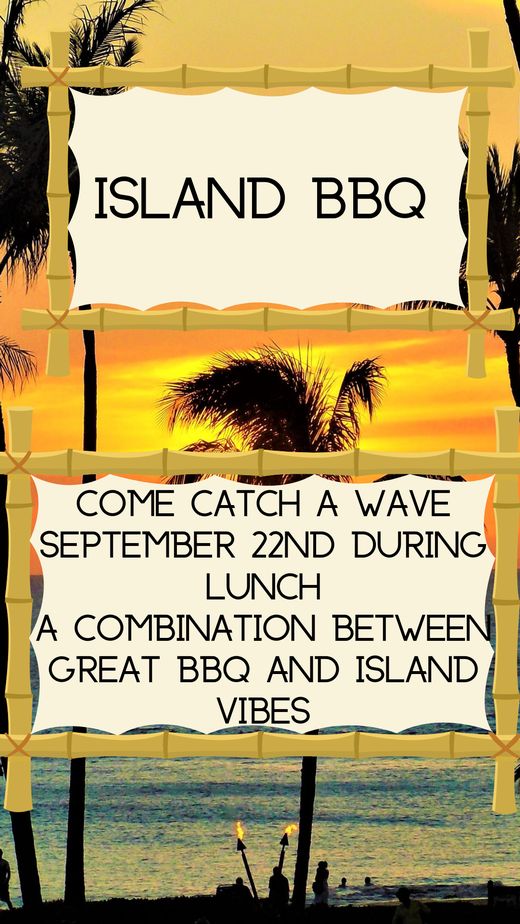 Come catch a wave in The Eatery on Thursday, September 22 for an Island BBQ! Delicious food, mocktails, and island vibes galore!
Submitted by Ka'Bria Carr kc403@evansville.edu
Dr. Luis Fraga to Lecture on Voting Rights for Constitution Day
Dr. Luis Fraga will deliver a Constitution Day lecture on Tuesday, September 20, at 7 p.m. in Smythe Lecture Hall in the Schroeder School of Business. HIs topic for the evening is "Looking Back to Move Forward: Voting Rights in the United States." Fraga is a distinguished member of the Political Science faculty at the University of Notre Dame, where he serves as the Rev. Donald P. McNeill Professor of Transformative Latino Leadership and the Director of the Institute for Latino Studies. His visit to the UE campus is part of the Hesburgh Lecture Series of the University of Notre Dame, and his speech will be based on his expert testimony to the House Judiciary Committee in 2021 on the history of voter disenfranchisement. The event is free and open to the public, and light refreshments will be served.
Submitted by Robert Dion rd35@evansville.edu
Fall Health Risk Assessment
Employee Fall Health Risk Assessments will take place September 20th-21st in Eykamp Hall from 7:00AM-10:45AM each day. Complete your health risk assessment and earn HRA credits. This health risk assessment is for UE employees and their spouses on the UE medical insurance plan. Please remember, fasting 8-10 hours is recommended. Water and Black coffee are allowed. Please take maintenance medications as prescribed, as long as they are not required to be taken with food. Please click the link below to sign up today!
https://acelink.evansville.edu/Areas/MedicalClinic/Appointments/
Submitted by Haley Walker hw164@evansville.edu
Student Accounts Closing Soon at Bookstore
Do you still need textbooks for your courses and plan to get them from the campus bookstore, paying with your student account? You need to do it soon, as student accounts are closing at the end of September!
Friday, September 30th is the last day to charge to your account. Unless we receive special permission from Financial Services to reopen your account after that date, you will not be able to use it for the rest of the semester.
*Please note that students on Athletic Scholarship have until Friday, October 28th to make any final purchases.
Submitted by Becky Lamont bl164@evansville.edu
Late Start ChangeLab - History of the UE African-American Alumni Association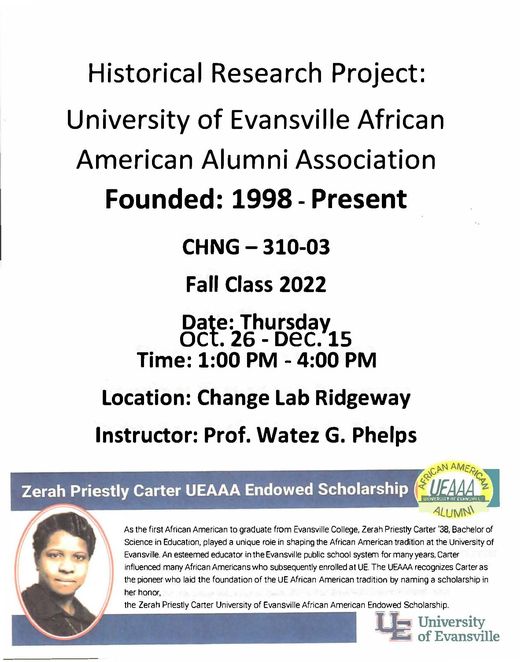 Calling all student historians! If you are looking for a late start course this semester, consider joining this ChangeLab to document and preserve a vital piece of UE history. CHG310-03 students will research and record the history of the UE African-American Alumni Association. This work may ultimately be collected as part of a published book. Please contact this ChangeLab's Coach, Prof. Watez Phelps, with any questions at wp2@evansville.edu.
Submitted by Derek Jones dj4@evansville.edu
Want to be part of the Aces of UE?
Would you like to have your own profile on our Aces of UE webpage? We're looking for students across all majors to share their story!
To be featured in Aces of UE, please email Julie Beer, university relations coordinator, at jb855@evansville.edu. You can also complete this Google Form with some basic information to be contacted at a later date.
Submitted by Julie Beer / jb855@evansville.edu
Interested in the Peace Corps?
Interested in or have questions about the Peace Corps? Our Peace Corps representative, Erica Ward, will be on campus Tuesday, September 20 with an informational table in Ridgway University Center. Stop by the first floor and look for her table from 11am until 3pm.
Submitted by Amanda Wood aw505@evansville.edu
Plisky Presents to NHL Pittsburgh Penguins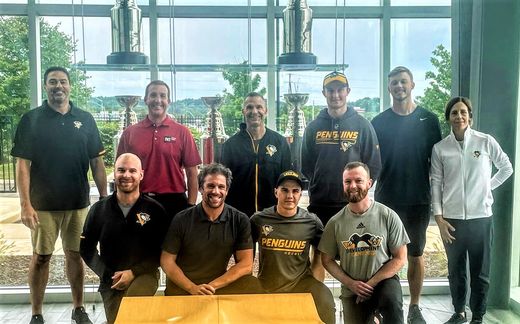 Dr. Phil Plisky, Associate Professor of Physical Therapy in the Doctor of Physical Therapy Program, was a guest educator for the NHL's Pittsburgh Penguins. He presented a hands-on workshop on implementing Functional Movement Systems within a professional hockey team to aid in player development, performance, and injury prevention.
Dr. Plisky worked with the Integrated Performance Team, which includes performance specialists and rehabilitation providers that work with athletes in all phases, from injury prevention to performance programming. This team worked together to systematize a holistic approach to developing the athlete across interprofessional disciplines, emphasizing consistent, reliable communication regarding the athlete's daily and long-term status and where each provider can be the most beneficial in the athlete's recovery.
Submitted by Jennifer Simon js698@evansville.edu
Professor Todd A. Matteson Exhibits Artwork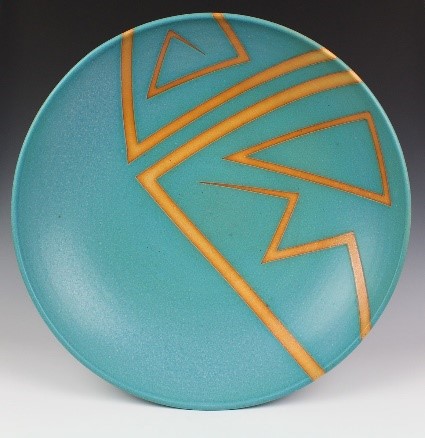 Professor Todd A. Matteson had his artwork, 'Mountainous Journey', accepted into the 29th Annual Juried Art Exhibit of the Thyen-Clark Cultural Center. The competition was open to any artist who is a current or former resident of Indiana, Illinois, Kentucky, Michigan or Ohio. The juror was Amy De Lap, artist and former professor of painting and design at Vincennes University for 32 years.
Submitted by Carol L. McCraney cm177@evansville.edu
UE wraps up Green & White Classic
Saturday's final day of the Green & White Classic saw the University of Evansville volleyball team drop a hard-fought 5-set match over Oakland before putting up a fight against Michigan State in the finale.
Match 1 – Oakland 3, UE 2
Sophomore Giulia Cardona recorded 22 kills while Madisyn Steele and Alondra Vazquez added 15 and 12, respectively, in a 5-set contest against Oakland. Steele hit .387 while setting her career mark with the 15 kills. Kora Ruff had 45 assists while Cardona led the way with 17 digs. Steele and Cardona added two block assists apiece
Set 1 – UE 25, OU 20
Both squads battled back and forth in the opening moments before Giulia Cardona recorded three service aces in a row to cap off a 5-0 run that turned a 6-6 tie into an 11-6 lead. Oakland worked its way back, cutting the deficit to just two points at 20-18.
Madisyn Steele recorded a kill to push the lead back to three and her point swung the momentum back in the Aces favor as they picked up a 25-20 win.
Set 2 – OU 25, UE 15
Oakland took control early in the second set, jumping out to a 9-2 lead. The Grizzlies lead reached double digits for the first time at 17-7 and the Aces were unable to overcome the deficit with Oakland knotting the match with a 25-15 decision.
Set 3 – OU 25, UE 18
Early in the set, Alondra Vazquez registered a kill that knotted things up at 7-7. Three points in a row by Oakland turned into a larger run as they scored 10 of the next 12 points to go up 17-9. Trailing by an 18-10 score, the Purple Aces refused to give up. The defense forced three consecutive errors while Steele posted a pair of kills to cut the deficit to three – 19-16. Cardona capped it off with another ace to close the gap.
Just when UE looked to make its way back, the Grizzlies countered with three in a row before taking a 25-18 win to earn a 2-1 match lead.
Set 4 – UE 27, OU 25
Another quick start by Oakland gave them a 4-1 advantage before Evansville rallied to tie it up for the first time at 6-6. With the score knotted at 10-10, UE scored three in a row to take their largest edge of the frame. OU stormed back to tie it at 14-14, but UE countered with a 4-0 stretch that included an ace from Laura Ruiz.
UE continued to hold the lead, going up 23-20, but things were far from over. Oakland fought back once again with three in a row to tie it up. As the set moved to extra points, UE never let Oakland take a lead and the work would pay off in the form of a 27-25 win to force a decisive fifth set.
Set 5 – OU 17, UE 15
It was another close game in the fifth. Oakland took multiple leads, but the Aces answered each time. The largest edge for OU came when they matched their 3-point lead at 14-11. Down to its final point, the Aces rallied. Two kills from Steele, combined with a Ruiz service ace tied it up.
Vazquez added a kill that gave Evansville match point at 15-14, but the Grizzlies had the final answer, scoring the final three points to clinch the win.
Match 2 – Michigan State 3, UE 0
Hannah Watkins recorded seven kills while Giulia Cardona led the Purple Aces with 11 in the weekend finale against Michigan State. Blakeley Freeman paced the team with 8 digs while Kora Ruff added 25 assists.
Set 1 – MSU 25, UE 19
Evansville got into an early hole in the opening frame with the Spartans scoring the first four points before going up 10-2. MSU made it a 10-point game at 16-6 before taking it largest lead at 21-10.
The Aces chipped away at the deficit with Hannah Watkins coming up big down the stretch. Three consecutive kills helped UE get within five at 24-19 before the Spartans scored the decisive point to take game one.
Set 5 – MSU 25, UE 17
A much better start for UE saw them go up 5-3 with Cardona picking up an early kill. Michigan State came back to jump in front at 8-7 before the teams swapped the lead multiple times before UE turned an 11-11 tie into a 13-11 lead.
The Spartans worked their way back and utilized a 4-0 stretch to take the lead for good. The run gave them a 16-14 edge and after UE ended the run, they scored five more to extend the lead. What turned out to be a 9-1 run saw MSU go up 21-16 before taking the set, 25-17.
Set 3 – MSU 25, UE 13
After Michigan State took an 8-3 lead to open the set, Evansville stormed back with five in a row to tie it up. Maddie Hawkins had an ace while Madisyn Steele picked up a kill. As fast as UE came back, the Spartans had an answer of their own. Following a Kora Ruff kill that made it a 10-9 game in favor of MSU, the Spartans hit on all cylinders, scoring the next 13 points before winning by a 25-13 final.
UE opens MVC action on Friday against Illinois State inside Meeks Family Fieldhouse.
Submitted by Athletics
Brace for Diaz, another clean sheet for Vidizzoni propel Aces to 2-0 win
Opening Missouri Valley Conference play, the University of Evansville men's soccer tapped into a familiar gameplan en route to a 2-0 win over SIUE on Saturday night at Arad McCutchan Stadium in Evansville.
Sophomore forward Nacho Diaz continued his tear of a first collegiate season in the US, scoring twice in the win for his fifth and sixth goals of the season. Diaz's six goals on the year are already the most by an Ace in a season since Ian McGrath scored 12 during the 2017 season. In goal, graduate keeper Alex Vidizzoni tallied his third-straight clean sheet and his fourth of the season, pushing his shutout streak to 307 minutes, dating back to a 53rd minute goal by IUPUI on August 28th.
Diaz proved to be much of the Aces attack on the night, not just in terms of goals, but also in opportunities. The Almeria, Spain native finished the match with six shots with five coming in the opening 45 minutes. Diaz nearly opened the scoring in the first minute, but Diaz had his close-range shot saved by the Cougars. The sophomore would eventually get the breakthrough in the 33rd minute setup by a perfect ball from senior Carlos Barcia. The long range pass over the top was chested down by senior Nkosi Graham as the ball bounced into the box and Diaz quickly slipped it left of the keeper into the back of the net.
In the second half, it was Graham and Diaz again getting in on the attack to double Evansville's lead. Graham clipped a ball down the right side to junior Tobias Bak, who whipped a ball into the box. Lurking just behind the Cougars backline, Diaz snuck his way into the six-yard box and headed the ball past the keeper for the brace, recording multiple goals for the second time this season. The Aces defense was stifling much of the night, but especially in the final half hour of play. After SIUE recorded six shots in the opening hour of play, Evansville did not allow the Cougars to record a shot in the final 27 minutes of the match as UE earned the 2-0 win.
Evansville faces a quick turnaround as the Aces close their three-match homestand on Tuesday night against 24th-ranked Xavier at 6 PM at Arad McCutchan Stadium in Evansville.
Submitted by Athletics
Valley Play Opens Sunday For UE Women's Soccer
Missouri Valley Conference play will get underway on Sunday afternoon at 1 p.m. for the University of Evansville women's soccer team, as they will travel to Springfield, Missouri to take on the Missouri State University Bears. Sunday's match can be seen live on-line on ESPN3.
For Evansville, the Purple Aces will be trying to continue a trend of starting league play on the front foot, as UE is 14-8-4 all-time in conference openers. In fact, UE has not lost a road conference opener since dropping a 2-1 decision at Drake in 2010.
UE will enter Sunday's match at 1-3-2 overall. Sunday's match will be the fourth of a season-long five-match road trip, after the September 4 home match with Northern Kentucky was cancelled due to weather. So far, UE is 0-2-1 on the road trip, and has not yet scored away from Arad McCutchan Stadium. 2021 all-MVC forward Emily Ormson leads the UE attack with two goals so far.
Missouri State will enter Sunday's match at 3-4-1 overall after knocking off Kansas City, 1-0, last Sunday. The Bears are under the direction of first-year head coach Kirk Nelson, who served as MSU's associate head coach for the past eight seasons. Kaeli Benedict and Gracie English both have two goals this year for the Bears.
"This past week has been good for us," said UE head coach Chris Pfau. "We were able to get back to training this week, and get back to some basics of what we want to do. It also allowed us to heal up some people who had been banged up a little bit, so that has been great to have everyone back and feeling healthy.
"League play is what we have been focused on all season long. Hopefully, we can start out on the front foot tomorrow."
All-time, UE leads the series 15-10-8 over Missouri State. The Evansville-Missouri State series is the second-most played series in MVC women's soccer history.
Submitted by Athletics
Nichols, Denbo Set New PRs At McNichols Invitational For UE Cross Country
University of Evansville sophomore Justin Nichols (Lewis Center, Ohio/Olentangy Orange) and junior Emma Denbo (French Lick, Ind./Springs Valley) both cut over more than 30 seconds off of their previous-best 8-K and 5-K times, respectively, on Saturday as the UE cross country teams opened the season at the John McNichols Invitational in Terre Haute, Indiana.
Nichols dropped 30 seconds off of his personal-best 8-K time in the men's race, and ran almost two minutes faster than he did on the same course a year ago, as he finished second on the team to fellow sophomore Adam Oulgout (St. Paul, Minn./Central) with a time of 28:53. Denbo, meanwhile, dropped over a minute and five seconds off of her previous-best 5-K time in the women's race with a time of 22:07, which also was over two minutes faster than her time on the same course last season.
"I saw some good things today that we can build on," said UE Director of Cross Country/Track & Field Brooks LeCompte after his first race as head coach of the Purple Aces. "I know they're still adjusting, and it will not fully translate until later in the year, but it was nice to see some big improvements from what they ran here last year, especially considering today was our first race of the year."
On the men's side, all four returning runners for UE ran at least 25 seconds faster than they did a year ago on the exact same course. Oulgout led UE's men's effort with an 8-K time of 27:24, which was 26 seconds faster than a year ago. Fifth-year runner Carson Kline (Terre Haute, Ind./South) was just three seconds behind Nichols to run third on the team, while posting his fastest 8-K time since his sophomore year with a time of 28:56. Freshman Joey Taylor (Grove City, Ohio/Central Crossing) and junior Luke Watts (Austin, Ind./Austin) rounded out UE's scoring pack, with Watts' time being 50 seconds faster than a year ago.
On the women's side, sophomore Ellie Stewart (Lombard, Ill./Glenbard South) led UE's efforts in the 5-K with a time of 21:53. Fellow sophomore Kaitlyn Sansone (Fairfield, Ohio/Mercy McAuley) finished 30 seconds behind Denbo to race third for UE, while junior Hannah Bryan (Evansville, Ind./Reitz) was just two seconds off of her personal-best time with a mark of 23:26. Senior Claire Griffy (Salem, Ill./Salem Community) ran fifth for UE, posting her fastest time since her freshman year.
Overall, the UE women finished 17th overall, while the UE men finished 18th. The Purple Aces will take the next two weeks off before returning to competition on Saturday, October 1, when UE will take part in the annual Live In Lou Classic beginning at 9:45 a.m. central.
Submitted by Athletics
UE Swimming & Diving To Host Alumni Meet On Saturday
The University of Evansville swimming and diving program will host its first meet of the 2022-23 season on Saturday, as the Purple Aces will welcome back a group of alumni to compete in UE's Alumni Meet. The meet warm-up will begin at 11:30 a.m. and the meet will begin at 1 p.m. at UE's Roy & Mary Wyttenbach Pool on campus.
Both the men and women will compete both with and against a group of 15 UE alumni who are returning to Evansville to take part in the meet. The alumni group includes Samad Abu-Shanab ('20), Ashton Adams ('20), Paul Cozzens ('20), Nick Davlantis ('14), Josh Graves ('22), Brandt Hudson ('20), Eli James ('21), Zeke Metz ('22), Aulden Nance ('22), Andrea Ruiz Ramis ('21), Zack Sagan ('20), Jacob Sampson ('20), Austin Smith ('21), Ee Tan ('22), and Kyle Tiemann ('13). The alumni will be combined with the current UE swimming rosters in mixed relays, while there will also be head-to-head sprints in the various disciplines.
"Saturday should be a lot of fun," said UE head swimming coach Stuart Wilson. "It will be good to see a lot of familiar faces return, and it will be fun for them to race against our current teams. Both teams have been working really hard, and it will be good to be able to race a little on Saturday.
In conjunction with the Alumni Meet, fans can also take part in the first-ever UE Swimming & Diving Silent Auction. Items will be available for bid in the Carson Center ticket lobby, and fans can also place bids on-line at the following website until 6 p.m. central time on Saturday: https://ueswim.travelpledgeauctions.com/event/1068
Over 78 different items are available to bid on, with all proceeds from the silent auction going to benefit the Jason D. Morse '98 Memorial Scholarship at UE, which honors former UE swimmer Jason Morse, who passed away in 2017 after a three-and-a-half-year battle with Adult Recurrent Wilms Cancer. Morse competed for the UE swimming and diving program from 1994 through 1998, and he left the program as UE's school record-holder in the 500-yard freestyle. Jason was heavily involved on campus, and was a member of the Lambda Chi Alpha fraternity during his time at UE.
The initial fundraising goal for the Jason D. Morse '98 Memorial Scholarship is $50,000. The fund will be restricted solely for an athletics scholarship given annually to a member of the men's or women's swimming and diving program.
Anyone with questions on how they can help contribute to the Jason D. Morse '98 Memorial Scholarship fund should contact Senior Associate Athletic Director for Development & External Operations Scott Peace either by phone (812-488-4073) or via email (sp166@evansville.edu).
Submitted by Athletics
Volleyball gets back on track with 3-1 win
Making an immediate impact after missing the last two weekends, Alondra Vazquez registered a match-high 25 kills to lead the University of Evansville volleyball team to a 3-1 victory over Chicago State in Friday's Green & White Classic contest inside the Breslin Center.
Vazquez hit an impressive .364 in her return while adding 14 digs and four assists. Giulia Cardona added 18 kills and a match-best 18 digs. Kora Ruff set a new career mark with 47 assists while Madisyn Steele set a career mark with seven block assists. Maddie Hawkins also had a notable performance, tallying her top mark of nine digs.
Set 1 – UE 25, CSU 20
Evansville made a late run to pick up the win in the opening frame. It was the Cougars who grabbed the early 4-2 advantage before extending that lead to 9-5. The Aces chipped away at the lead before Alondra Vazquez took matters into her own hands. Three kills in a row highlighted a 7-2 run that put UE up 12-11. Kora Ruff capped off the rally with an ace.
Continuing its run, the Aces saw their lead grow to three points (17-14), but Chicago State responded to tie it up at 19-19. The pivotal sequence came when Madisyn Steele registered a kill to begin a 4-0 stretch that led to a 25-20 UE win.
Set 2 – CSU 25, UE 13
Things went the Cougars way in the second game from the outset. After going up by a score of 8-3, CSU continued to roll on their way to a 14-5 lead. Two in a row by the Aces cut the deficit to seven points (15-8), but the Cougars would pull away for the 25-13 decision to tie the match.
Set 3 – UE 25, CSU 20
Out of the gate, it was the Purple Aces jumping out to a 4-1 lead with Vazquez and Kate Tsironis recording kills. After the Cougars cut the lead to 5-4, UE countered with four in a row to push the lead to 9-4. Things continued to go the Aces way as another ace from Ruff was followed by a Vazquez kill to make it an 18-11 game.
Chicago State closed the gap in the final moments, but it was another kill from Vazquez that was the clincher in a 25-20 win that gave UE a 2-1 match lead.
Set 4 – UE 25, CSU 20
In a repeat of the third set, Evansville scooted out to a 4-1 advantage with three Vazquez kills anchoring the run. UE's lead stood at 13-10 when Chicago State rallied with a 5-1 run to go in front by a 15-14 score. The Aces jumped back in front at 17-16 and would not let the Cougars take another lead.
The stellar outing by Vazquez continued when her 25th kill of the afternoon pushed the lead back to 22-19. Giulia Cardona put the finishing touches on the win, recording a kill to cement a 25-20 nod that gave Evansville a 3-1 match victory.
On Saturday, the Aces take on Oakland and Michigan State.
Submitted by Athletics
Valpo Fall Invitational up next for UE men
Set for their second tournament of the season, the University of Evansville men's golf team travels to Chesterton, Indiana for the Valpo Fall Invitational.
Featuring a total of 54 holes, the Purple Aces will play two rounds on Monday with an 8 a.m. CT start before Tuesday's final round opens with tee times ranging from 7:30 a.m. until 9 a.m. CT. Sand Creek Country Club is the host course for the event and teams will be playing the Creek/Marsh rotation at the club. Yardage is 7,052 and the par is set for 72.
Seventeen teams are slated to play in the event including DePaul, Purdue Fort Wayne, Youngstown State, Utah State, Green Bay, Bradley, Evansville, Missouri State, Cleveland State, IUPUI, Western Illinois, Loyola, Robert Morris, Detroit Mercy, Northern Kentucky, North Dakota and Valparaiso.
Nicholas Gushrowski was the top finisher for UE in its first event of the season as the Aces competed in the Earl Yestingsmeier Invitational two weeks ago. Gushrowski came home in the 16th position and shot a low score of 70 in the second out of three rounds. His 3-round total was a 218. Five strokes behind him was Carson Parker. A consistent start to the season saw his scores finish at 73-74-76.
Michael Ikejiani and Caleb Wassmer rounded out UE's top four players. Ikejiani tallied 228 strokes over the three rounds while Wassmer checked in with a 230.
Submitted by Athletics
Contribute to AceNotes
To have content considered for inclusion in AceNotes, please submit a Marketing Request Form. Deadline for submission to AceNotes is 10:00 a.m. on the requested date of publication. Only articles concerning UE related/sponsored activities will be accepted. Articles submitted to AceNotes may be edited for length and clarity. Submitter contact information is at the end of each article.