| | |
| --- | --- |
| AceNotes Today | Friday, September 16, 2022 |
In Memory of Jack Barner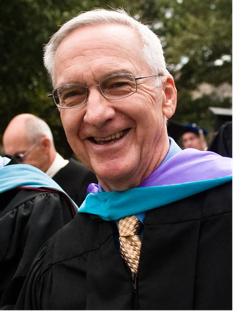 A Memorial Service to honor Jack Barner's life and his impact on so many people, both in the University community and beyond, will be held in Neu Chapel on the University of Evansville campus on Saturday, September 17, at 11:00 AM with Rev. Mitch Gieselman officiating. Jack's obituary is available online with an opportunity for colleagues and friends to share a memory.
Visitation will be Friday, September 16, from 5:30 – 7:00 p.m. at Alexander East Chapel, 2115 Lincoln Avenue.
Please keep Pat and their family in your thoughts and prayers.
Submitted by Holly Lee Smith hh98@evansville.edu
Employee Fall Healthier Behavior Challenge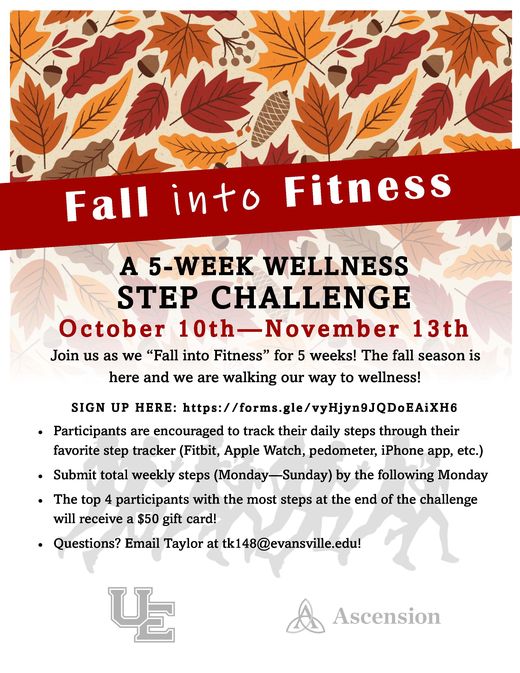 The UE Summer Healthy Behavior challenge is still in progress, but we will soon switch up the pace with our Fall Healthy Behavior Challenge! Introducing the Fall Into Fitness Step Challenge! Join us as we "Fall Into Fitness" for 5 weeks! The Fall season is here and we are walking our way to wellness! Earn a one-time $150 in HRA credits (if you are NOT participating in the Summer Healthy Behavior Challenge) for successfully completing the challenge!
This challenge will begin October 10th - November 13th. Follow the link below to sign up!! A link to submit your weekly steps will be emailed to you at the start of the challenge. See the flyer for additional information!
SIGN UP HERE: https://forms.gle/vyHjyn9JQDoEAiXH6
Submitted by Taylor Kollak tk148@evansville.edu
Luis Fraga to Lecture on Voting Rights for Constitution Day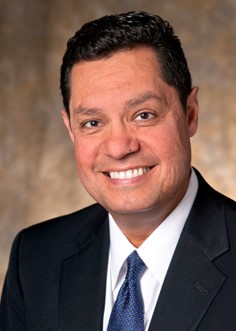 Dr. Luis Fraga will deliver a Constitution Day lecture on Tuesday, September 20, at 7 p.m. in Smythe Lecture Hall in the Schroeder School of Business. His topic for the evening is "Looking Back to Move Forward: Voting Rights in the United States." Fraga is a distinguished member of the Political Science faculty at the University of Notre Dame, where he serves as the Rev. Donald P. McNeill Professor of Transformative Latino Leadership and the Director of the Institute for Latino Studies. His visit to the UE campus is part of the Hesburgh Lecture Series of the University of Notre Dame, and his speech will be based on his expert testimony to the House Judiciary Committee in 2021 on the history of voter disenfranchisement. The event is free and open to the public.
Submitted by Carol L. McCraney cm177@evansville.edu
SAB Pre-Game Rally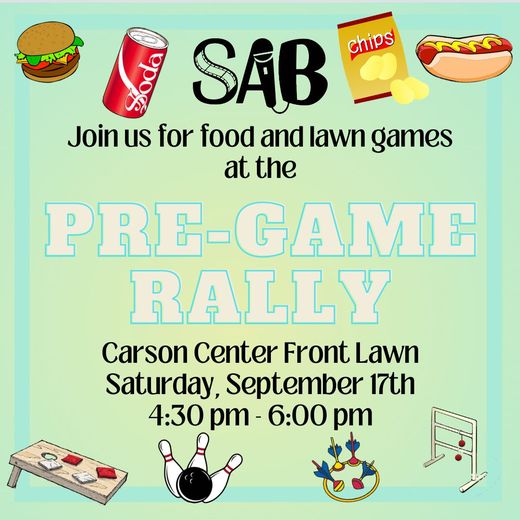 Join SAB on the Carson Center Lawn for Food, Lawn Games, and Music before the Soccer Game this Saturday! Students and their families are welcome to join us in the pre-game festivities from 4:30 - 6:00 pm!
Submitted by Auberi Grubb ag334@evansville.edu
Lambda Chi Alpha Watermelon Bust Philanthropy
Watermelon Bust is an annual philanthropy event to raise donations for the Feeding America charity through an Olympic style watermelon competition. Teams consisting of 5 people compete against one another in various ways of watermelon destruction like Piñata Smash, Shot Put, and Baseball! Sign-ups with an admission cost of $25 can be found in Lambda Chi Alpha's Instagram bio, or by contacting jo123@evansville.edu.
The event will take place at Lambda Chi Alpha's house at 5:00pm September 16th (This Friday!)
Submitted by Jacob Overstreet jo123@evansville.edu
Dr. Luis Fraga to Lecture on Voting Rights for Constitution Day
Dr. Luis Fraga will deliver a Constitution Day lecture on Tuesday, September 20, at 7 p.m. in Smythe Lecture Hall in the Schroeder School of Business. HIs topic for the evening is "Looking Back to Move Forward: Voting Rights in the United States." Fraga is a distinguished member of the Political Science faculty at the University of Notre Dame, where he serves as the Rev. Donald P. McNeill Professor of Transformative Latino Leadership and the Director of the Institute for Latino Studies. His visit to the UE campus is part of the Hesburgh Lecture Series of the University of Notre Dame, and his speech will be based on his expert testimony to the House Judiciary Committee in 2021 on the history of voter disenfranchisement. The event is free and open to the public, and light refreshments will be served.
Submitted by Robert Dion rd35@evansville.edu
Special Purple Friday
In honor and memorial for Jack Barner, this Friday, September 16 will be the official "Jack Barner Purple Friday." Please take a moment Friday to wear your Purple in honor and remember Jack Barner who gave his time and commitment to the University. He started this special day and his legacy lives on!
Submitted by Holly Lee Smith hh98@evansville.edu
Ace Care Skele-fun Run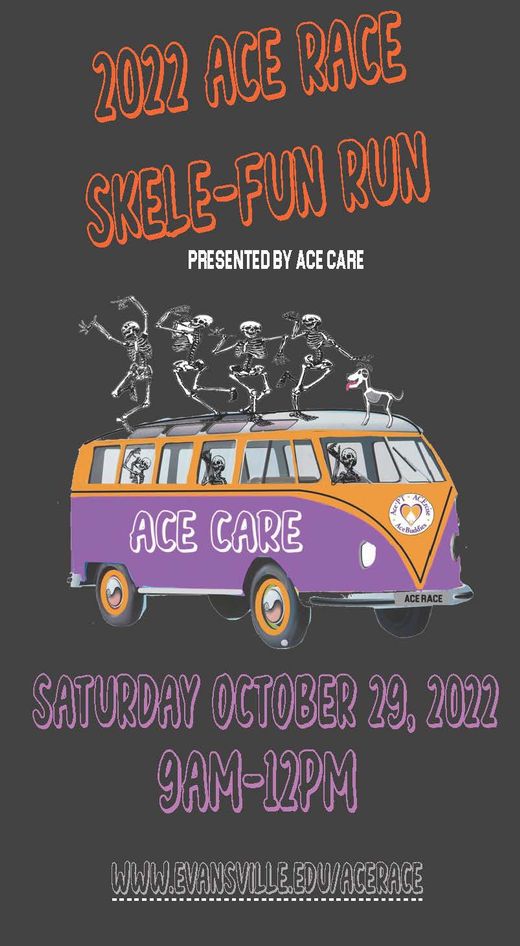 Ace Race is an event to raise money for Ace CARE. Ace CARE is the umbrella term for our three pro-bono student run programs, Ace+PT, ACErcise, and AceBuddies. Through these programs we are able to serve the vulnerable members of our community and to provide them with physical therapy care or wellness services. Ace+PT is an outpatient clinic for those with orthopedic injuries, while ACErcise focuses on exercise programs for individuals who have sustained neurologic injuries. Finally, AceBuddies strives to develop an exercise regime for children with varying disabilities. Student physical therapists treat our clients under the supervision of licensed physical therapists who volunteer their time and expertise to make a difference in our community.
Submitted by Caroline Haddad ch414@evansville.edu
Student Leadership Day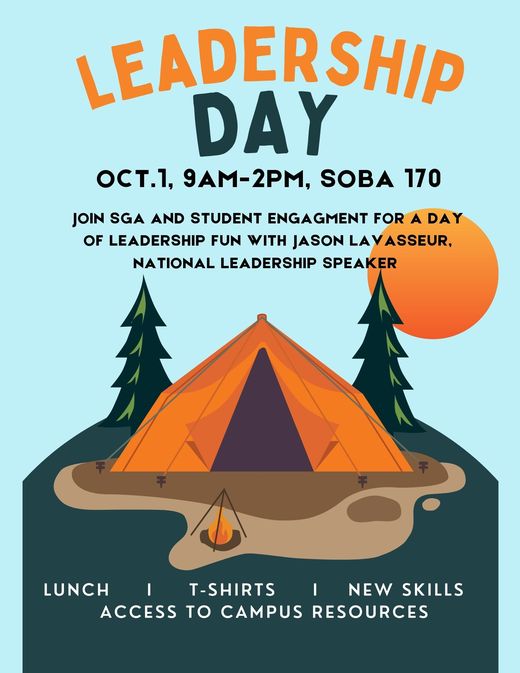 Join SGA and Student Engagement for a day of Leadership Fun with national leadership speaker, Jason LeVasseur on October 1st from 9am-2pm in SOBA 170! Sign up on UEngage!
Submitted by Lily A Renfro lr156@evansville.edu
Interested in Learning Archery On Campus?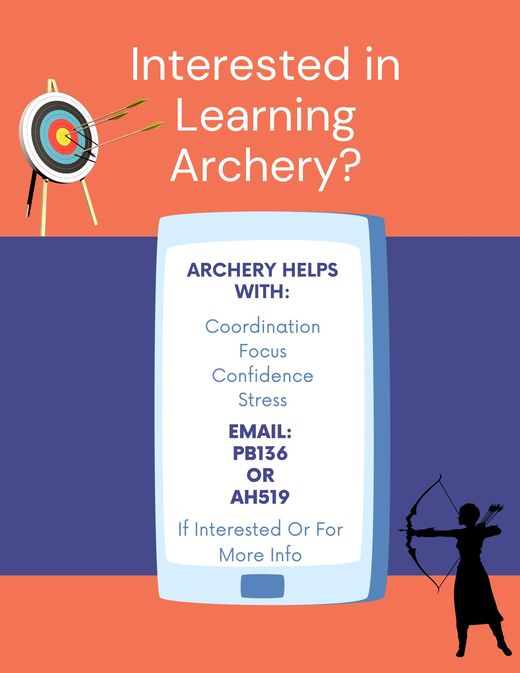 Have you ever been interested in learning how to shoot a bow and arrow? Well, now is your chance! Archery Club is looking for prospective students to join and shoot. If interested or if you have any questions contact Peighton Brown (pb136) or Andrew Hawkins (ah519).
Submitted by Peighton Emma Brown pb136@evansville.edu
Fall Health Risk Assessment
Employee Fall Health Risk Assessments will take place September 20th-21st in Eykamp Hall from 7:00AM-10:45AM each day. Complete your health risk assessment and earn HRA credits. This health risk assessment is for UE employees and their spouses on the UE medical insurance plan. Please remember, fasting 8-10 hours is recommended. Water and Black coffee are allowed. Please take maintenance medications as prescribed, as long as they are not required to be taken with food. Please click the link below to sign up today!
https://acelink.evansville.edu/Areas/MedicalClinic/Appointments/
Submitted by Haley Walker hw164@evansville.edu
Want to be part of the Aces of UE?
Would you like to have your own profile on our Aces of UE webpage? We're looking for students across all majors to share their story!
To be featured in Aces of UE, please email Julie Beer, university relations coordinator, at jb855@evansville.edu. You can also complete this Google Form with some basic information to be contacted at a later date.
Submitted by Julie Beer / jb855@evansville.edu
Interested in the Peace Corps?
Interested in or have questions about the Peace Corps? Our Peace Corps representative, Erica Ward, will be on campus Tuesday, September 20 with an informational table in Ridgway University Center. Stop by the first floor and look for her table from 11am until 3pm.
Submitted by Amanda Wood aw505@evansville.edu
Federal Work-Study Jobs Still Available
Need a Job? On-campus jobs are still available. Job postings are available on the Student menu of WebAdvisor under Student Employment.
Campus Employment Tips for Students
Student Employment Positions Listing - All Positions / All Departments
Required Employment Forms
Student Employment Applications
Late Timesheet Payment Request Form
Student Employment Pay Schedule
Student Employment Guidelines
First Job Internship Guidelines
The Student Employment Application should be completed and sent to the supervisor as shown in the job posting. Not awarded federal work-study? Check with the Office of Student Financial Services to see if you are eligible.
Student Financial Services staff are available to answer questions you may have about the process.
In person: Olmsted rm. 105
Phone: 812-488-2364
Submitted by Heather Richards hr103@evansville.edu
Wanted: Women's Basketball Manager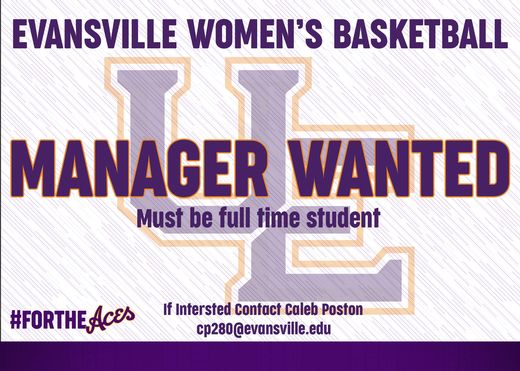 The Women's Basketball team is looking for one more student manager.
You must be a full time student and available to be at practice and home games. This is a great opportunity to work with the team and staff and be a part of Ace's Athletics. Prior basketball knowledge is beneficial but not required.
If you are interested please reach out to Coach Caleb at cp280@evansville.edu.
Submitted by Caleb Poston cp280@evansville.edu
Children of Fallen Heroes Scholarship
On March 23, 2018, the President signed Public Law 115-141, the Consolidated Appropriations Act, 2018, which included an amendment to Section 473(b) of the Higher Education Act, authorizing the Children of Fallen Heroes Scholarship.
Under this scholarship, a Pell-eligible student whose parent or guardian died in the line of duty while performing as a public safety officer is eligible to receive a maximum Pell Grant for the award year for which the determination of eligibility is made.
Eligibility:
Student must be Pell-eligible and have a Pell-eligible EFC
Student must be less than 24 years of age or enrolled at an institution of higher education at the time of his or her parent's or guardian's death
For purposes of the Children of Fallen Heroes Scholarship, a public safety officer is:

As defined in section 1204 of title I of the Omnibus Crime Control and Safe Streets Act of 1968 (42 U.S.C. 3796b); or
A firefighter or police officer, defined as an individual who is serving in accordance with State or local law as an officially recognized or designated member of a legally organized public safety agency and provides scene security or directs traffic in response to any fire drill, fire call, or other fire, rescue, or police emergency, or at a planned special event.
If you believe you are eligible for this, please contact the Office of Student Financial Services.
Submitted by Amy Sowders as560@evansville.edu
JEDI Council
The Center for Diversity, Equity, and Inclusion invites employees and students to attend an information meeting for the Justice, Equity, Diversity, and Inclusion (JEDI) Council on Monday, September 19, at 3:00 pm in SOBA 272.
The JEDI Council consists of teams focused on people & personnel, campus culture, student voices, policies, practices, and procedures, programming and events, funding and development, and research.
Submitted by Rob Shelby rs262@evansville.edu
Snacks, Coffee, Drink and Relaxation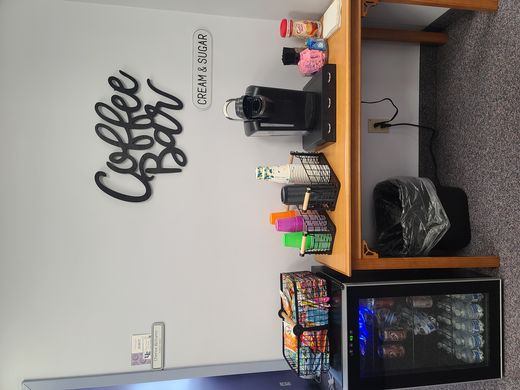 "Do you need a break from studying? Are you in need of a pick-me-up? Look no further!
Academic Services' Coffee Bar and Snacks is back and BETTER than ever!
Stop by the office--Olmsted Hall, Rm 116--for a chat, a cup of coffee or tea, or a Capri Sun and a snack!
Tell us what you're excited about, ask us questions, or just hang out on our comfy couch.
Everyone needs a change of scenery and a positive environment to be authentically you, and Academic Services is the place to be!"
Submitted by Jade S Shelby js818@evansville.edu
Help Academic Services Spread Good Vibes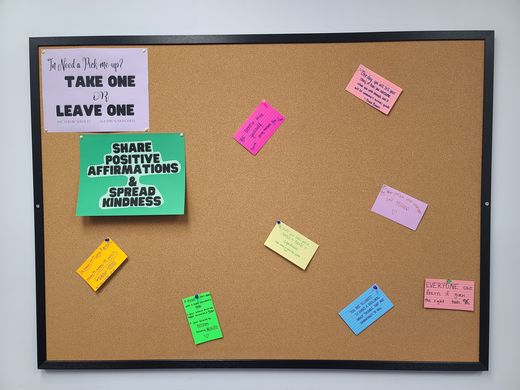 At the University of Evansville, we are dedicated to creating and maintaining a diverse, supportive and sustainable environment for ALL students. In Academic Services, we are taking that one step further! Students are invited, and encouraged, to LEAVE a positive note or word of encouragement or TAKE one for themselves. Visit Olmsted Hall, Room 116 and help us spread good vibes! #AcademicServices #UESpreadsKindness
Submitted by Jade Shelby js818@evansville.edu
Passport to Inclusion Open Enrollment
The Passport to Inclusion diversity certificate program for employees of the University of Evansville is now open for enrollment for the 2022-2023 program year. If you are an employee of the University and interested in taking part in this program, please fill out this form no later than noon on Friday, September 16th: https://forms.gle/3cqa2sefK5M2BSxL6.
Passport to Inclusion was developed to promote engagement with diversity and inclusion across the University of Evansville campus. The certificate program achieves this through a thoughtful curriculum that dissects contemporary issues and events facing students, faculty and staff, and the Evansville community.
If you have any questions, please email Center4DEI@evansville.edu
Submitted by Abagail Christine Catania ac532@evansville.edu
UE Men's Basketball Manager Sign Up
Interested in doing a work study for the Men's Basketball Team?! Job description and pay will all be on the website. Please follow the directions below to sign up and be a member of the Aces!
https://www.evansville.edu/student-financial-services/student-employment.cfm
Scroll down to "Applying for Student Employment" and Click "WebAdvisor"
Login using your UE username and password
Click "Students" on the right-hand side
Under "Student Employment" click "Student Employment Positions Listing"
Click "Men's Basketball Student Manager"
Click "Submit"
Submitted by Roosevelt Jones rj110@evansville.edu
Plisky Presents to NHL Pittsburgh Penguins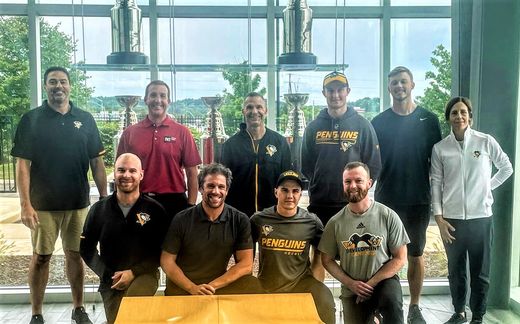 Dr. Phil Plisky, Associate Professor of Physical Therapy in the Doctor of Physical Therapy Program, was a guest educator for the NHL's Pittsburgh Penguins. He presented a hands-on workshop on implementing Functional Movement Systems within a professional hockey team to aid in player development, performance, and injury prevention.
Dr. Plisky worked with the Integrated Performance Team, which includes performance specialists and rehabilitation providers that work with athletes in all phases, from injury prevention to performance programming. This team worked together to systematize a holistic approach to developing the athlete across interprofessional disciplines, emphasizing consistent, reliable communication regarding the athlete's daily and long-term status and where each provider can be the most beneficial in the athlete's recovery.
Submitted by Jennifer Simon js698@evansville.edu
Professor Todd A. Matteson Exhibits Artwork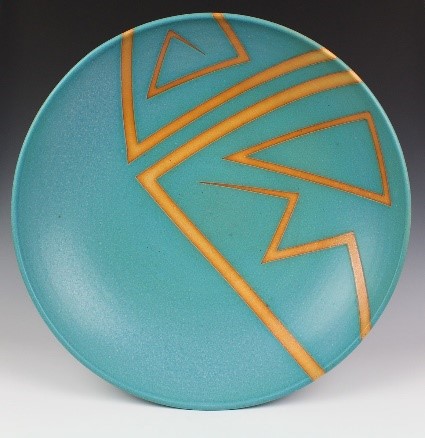 Professor Todd A. Matteson had his artwork, 'Mountainous Journey', accepted into the 29th Annual Juried Art Exhibit of the Thyen-Clark Cultural Center. The competition was open to any artist who is a current or former resident of Indiana, Illinois, Kentucky, Michigan or Ohio. The juror was Amy De Lap, artist and former professor of painting and design at Vincennes University for 32 years.
Submitted by Carol L. McCraney cm177@evansville.edu
UE Cross Country Opens Season Saturday At John McNichols Invitational
The 2022 cross country season will officially get underway on Saturday morning for the University of Evansville cross country teams, as the Purple Aces will take part in the John McNichols Invitational in Terre Haute, Indiana.
The meet will be the first meet at UE for new Director of Cross Country/Track & Field Brooks LeCompte. LeCompte previously served as the head cross country coach at Western Kentucky University, before being named the Director of Cross Country/Track & Field at UE on July 5. He will lead a UE program which features six male runners and seven female runners into Saturday's meet.
The John McNichols Invitational will feature 21 different teams, including 14 Division I programs on Saturday. The men's 8-K race will kick off the meet at 9 a.m. eastern, with the women's race following at 9:45 eastern. The Division I teams scheduled to compete alongside UE include Belmont, Illinois, Indiana State, IUPUI, Louisville, Milwaukee, Missouri, Missouri State, Purdue, Purdue Fort Wayne, Southern Illinois, Toledo, and UIC.
"I think that our runners have adjusted well to our running program over the last month," said LeCompte. "I am sure that some of them will be a little tired tomorrow when they race, but there is also no doubt in my mind that a lot of them will also go faster than they ever have before."
Saturday's meet will be the first of three regular-season meets for UE, as the Purple Aces will also compete in the annual Live In Lou Classic on October 1 and the 20th-annual UE Invitational on October 15. The post-season will begin for UE with the Missouri Valley Conference Championships on October 28.
Submitted by Athletics
Aces to complete non-conference slate at Michigan State
With Missouri Valley Conference play set to open next week, the University of Evansville volleyball team completes its non-conference slate at the Green & White Classic. UE faces Chicago State on Friday before taking on Oakland and Michigan State on Saturday. All three matches will be carried by Big Ten Plus and a subscription fee is required to view.
National Rankings
- Since the start of the 2022 season, multiple UE players have been near the top of the national statistical rankings
- Freshman Kora Ruff has accumulated 372 assists, which ranks 14th in the NCAA
- Giulia Cardona continues to rack up the aces at an impressive rate - her total of 22 is 8th in the nation while her average of 0.56 per set is 36th in the country and tops in the MVC
Top Three in Efficiency
- With a season hitting tally of .368, Madisyn Steele sits in third place in the MVC
- Steele hit .588 in the last two outings versus Arizona State and #15 Baylor...she recorded 10 kills in 17 attempts with no errors
- Over the last five matches, Steele is hitting an impressive .418 with 26 kills in 55 tries with just three errors
- She has posted at least three kills in all 11 matches thus far and checks in with an average of 1.44 per set
- On the defensive side, Steele recorded at least one block in all but one match and set her season mark with 5.0 total blocks against Big Ten foe Northwestern...she paces the UE regulars with 0.72 per game
Still Putting up the Numbers
- While injuries have impacted the UE offense, freshman Kora Ruff continues to put up solid assist numbers
- With a season total of 372 helpers, Ruff is 14th in the nation
- Her average of 9.54 assists per set remains 5th in the Valley
- Ruff's top assist tally came in the opener against Wright State where she registered 45 assists along with a season mark of 10 digs on the way to her first UE double-double and has a pair of 2-kill efforts thus far
- She had three service aces in the sweep at Marshall and has a season total of seven
- Defensively, Ruff has chipped in 1.95 digs per set and has chipped in at least 5 digs in 9 out of 11 matches
Leading the Offense
- With two of her teammates out, Giulia Cardona has been the primary offensive weapon for the Aces in recent weeks
- She tallied nine or more kills in each of the first 10 matches of the season and is 6th in the MVC with an average of 3.67 per set
- Between Sept. 2 and 6, she posted 18 kills in three consecutive matches, which calculated to an average of 4.5 per set during that span
- Last year's MVC leader in service aces paces the league once again with 0.56 per set and a total of 22 (36th in the NCAA)
- She became the first player in program history to earn one of the MVC specialty awards when she was named the 2021 MVC Freshman of the Year
Long-term Goals
- This weekend, Evansville will be without the services of two of their top weapons - Alondra Vazquez and Melanie Feliciano
- Both are battling injury but are on track to return when the Aces open Missouri Valley Conference play on September 23
- In their absence, the younger players will have the opportunity to play against top competition while gaining valuable experience heading into the league slate
Submitted by Athletics
Men's basketball announces 2022-23 schedule
Set to begin his first season at the helm of the University of Evansville men's basketball program, head coach David Ragland has announced the Purple Aces 2022-23 schedule. A challenging slate includes two exhibition games, 11 non-conference games and 20 Missouri Valley Conference contests.
Aces fans will have their first opportunity to watch live action this season on Saturday, October 29 when UE welcomes Oakland City for an exhibition contest. Huntington University visits the Ford Center on November 2 in another exhibition contest. Regular season play begins on Monday, Nov. 7 with a trip to Miami Ohio. This will be the 9th meeting between the programs since 2009.
Five days later, the Aces will travel to Saint Louis for their first game against the Billikens since 1998. The teams were slated to play two years ago before the game was canceled due to a COVID outbreak. SLU was 23-12 last season and played in the NIT. Southeast Missouri State will be the first home game of the regular season. Evansville welcomes the Redhawks on Wednesday, Nov. 16.
The next stretch for UE opens on the 19th with a trip to SMU. The Mustangs were 24-9 last year on their way to a spot in the NIT. Evansville hosted the Mustangs in 2019, dropping a hard-fought 59-57 game. Another American Athletic Conference foe follows as the Aces travel to Orlando to face UCF on the 23rd. In last seasons meeting at the Ford Center, the Knights picked up a 75-59 win.
In their annual MTE (multiple team event), Evansville travels to Savannah, Ga. For the Hostilo Hoops Community Classic. Taking place from Nov. 25-27, UE will take on South Alabama, Robert Morris and Fairfield.
Missouri Valley Conference play opens in the final game of November when the Aces host Southern Illinois on the 30th. With the additions to the MVC, all teams will play a total of 20 games. Following the conference opener, the Aces travel to Cedar Falls, Iowa to take on UNI. That game opens the month of December on the 3rd. The Panthers won 20 games a season ago and opened up the NIT with a road win at Saint Louis.
Non-conference play wraps up with games against Campbell, Ball State and Bellarmine. UE hosts the Camels at the Ford Center on Dec. 7 before returning to the road in Muncie, Ind. on the 10th to play the Cardinals. On Dec. 21, Evansville squares off against Bellarmine to complete the pre-Christmas slate.
On Dec. 29, the MVC calendar resumes with a trip to Indiana State before the new year opens with a home contest against Murray State on New Year's Day. Other notable home games include Drake (Jan. 21), Belmont (Jan. 25), Indiana State (Feb. 1) and Senior Day against UIC on Feb. 22.
Submitted by Athletics
Contribute to AceNotes
To have content considered for inclusion in AceNotes, please submit a Marketing Request Form. Deadline for submission to AceNotes is 10:00 a.m. on the requested date of publication. Only articles concerning UE related/sponsored activities will be accepted. Articles submitted to AceNotes may be edited for length and clarity. Submitter contact information is at the end of each article.