| | |
| --- | --- |
| AceNotes Today | Thursday, September 15, 2022 |
In Memory of Jack Barner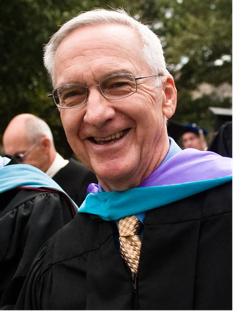 A Memorial Service to honor Jack Barner's life and his impact on so many people, both in the University community and beyond, will be held in Neu Chapel on the University of Evansville campus on Saturday, September 17, at 11:00 AM with Rev. Mitch Gieselman officiating. Jack's obituary is available online with an opportunity for colleagues and friends to share a memory.
Visitation will be Friday, September 16, from 5:30 – 7:00 p.m. at Alexander East Chapel, 2115 Lincoln Avenue.
Please keep Pat and their family in your thoughts and prayers.
Submitted by Holly Lee Smith hh98@evansville.edu
Luis Fraga to Lecture on Voting Rights for Constitution Day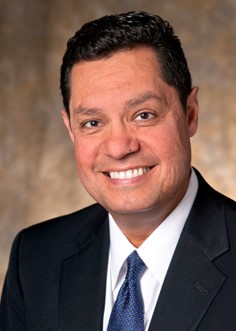 Dr. Luis Fraga will deliver a Constitution Day lecture on Tuesday, September 20, at 7 p.m. in Smythe Lecture Hall in the Schroeder School of Business. His topic for the evening is "Looking Back to Move Forward: Voting Rights in the United States." Fraga is a distinguished member of the Political Science faculty at the University of Notre Dame, where he serves as the Rev. Donald P. McNeill Professor of Transformative Latino Leadership and the Director of the Institute for Latino Studies. His visit to the UE campus is part of the Hesburgh Lecture Series of the University of Notre Dame, and his speech will be based on his expert testimony to the House Judiciary Committee in 2021 on the history of voter disenfranchisement. The event is free and open to the public.
Submitted by Carol L. McCraney cm177@evansville.edu
SAB Pre-Game Rally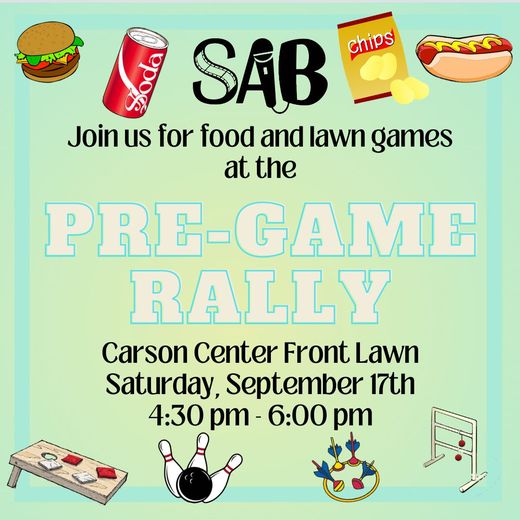 Join SAB on the Carson Center Lawn for Food, Lawn Games, and Music before the Soccer Game this Saturday! Students and their families are welcome to join us in the pre-game festivities from 4:30 - 6:00 pm!
Submitted by Auberi Grubb ag334@evansville.edu
Lambda Chi Alpha Watermelon Bust Philanthropy
Watermelon Bust is an annual philanthropy event to raise donations for the Feeding America charity through an Olympic style watermelon competition. Teams consisting of 5 people compete against one another in various ways of watermelon destruction like Piñata Smash, Shot Put, and Baseball! Sign-ups with an admission cost of $25 can be found in Lambda Chi Alpha's Instagram bio, or by contacting jo123@evansville.edu.
The event will take place at Lambda Chi Alpha's house at 5:00pm September 16th (This Friday!)
Submitted by Jacob Overstreet jo123@evansville.edu
Chili Cook-Off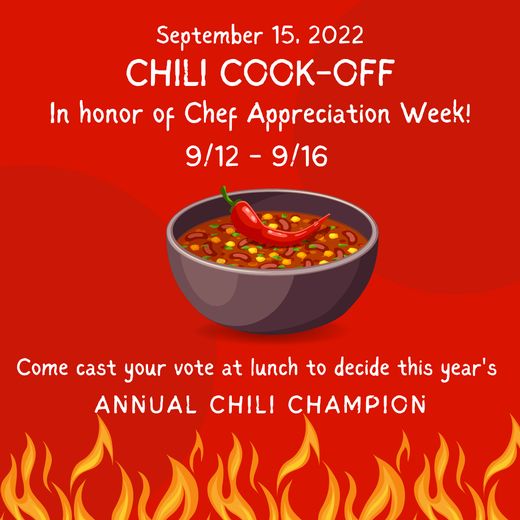 In honor of Chef Appreciation Week, we are hosting a chili cook-off between Chef James and Chef Donielle! Come cast your vote during lunch on Thursday, September 15 to determine this year's Annual Chili Champion!
Submitted by Ka'Bria Carr kc403@evansville.edu
Special Purple Friday
In honor and memorial for Jack Barner, this Friday, September 16 will be the official "Jack Barner Purple Friday." Please take a moment Friday to wear your Purple in honor and remember Jack Barner who gave his time and commitment to the University. He started this special day and his legacy lives on!
Submitted by Holly Lee Smith hh98@evansville.edu
Reception for Rev Tim Dorsey Exhibit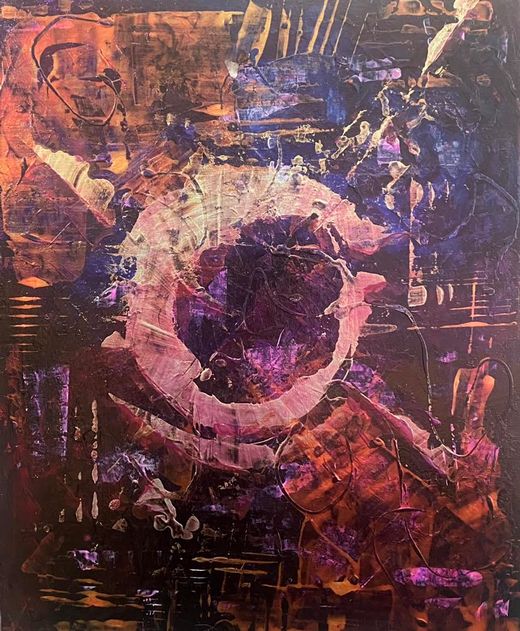 "Summer Eclipse" by Timothy Dorsey"
The University of Evansville is excited to begin the academic year with Abstracts, Music and Nature: A Glimpse Into The Art of Rev. Tim Dorsey in the newly renovated Krannert Gallery September 6 – October 22.
Dorsey is an Evansville native and resident. He is a life-long, primarily self-taught, artist whose abstract paintings are inspired by music and nature.
A public reception for the artist will be hosted in the Krannert Gallery, located in the Krannert Hall of Art & Music, on Thursday, September 15 at 6:30pm.
Krannert Gallery Hours are Monday through Saturday 8am – 8pm and Sunday noon – 8pm.
This exhibit is part of the "Emerging Contemporary Artist Lecture Series" sponsored by the Efroymson Family Fund and the UE Department of Art. For information, contact the UE Dept of Art, 812-488-2043 or art@evansville.edu.
Submitted by Carol McCraney cm177@evansville.edu
Canoeing with the Venturing Crew
Spend the day canoeing and exploring one of Blue Grass's most beautiful lakes.
The Crew will provide free food, games and all equipment needed to provide a fun and safe outdoor experience.
If you don't know how to canoe, not to worry, we will teach you the proper way to use a paddle, as well as entering and exiting the canoe.
Life jackets will be provided and required while on the water.
We will provide bus transportation to and from Blue Grass which is approximately 20 minutes from campus.
We will spend about 4 hours enjoying the lake and have you back in plenty of time to study for your class on Monday.
Sign up at one of our tables in Ridgway this week (Tuesday, Wednesday or Thursday).
Submitted by Fred Wilson fw2@evansville.edu
Student Leadership Day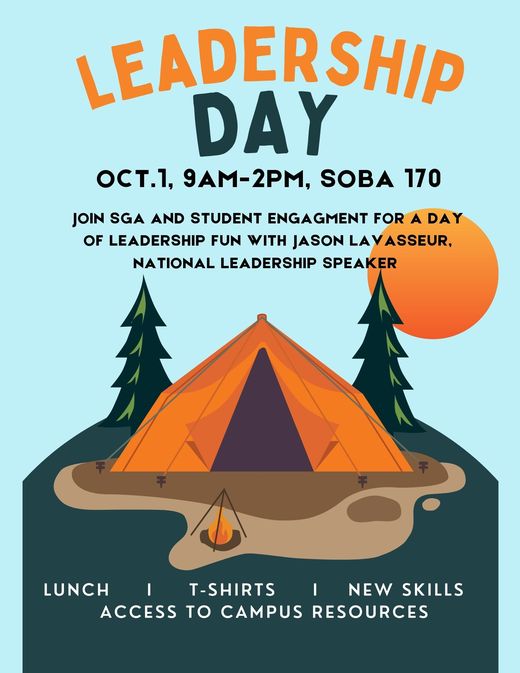 Join SGA and Student Engagement for a day of Leadership Fun with national leadership speaker, Jason LeVasseur on October 1st from 9am-2pm in SOBA 170! Sign up on UEngage!
Submitted by Lily A Renfro lr156@evansville.edu
Department of Art Alumni Exhibition Returns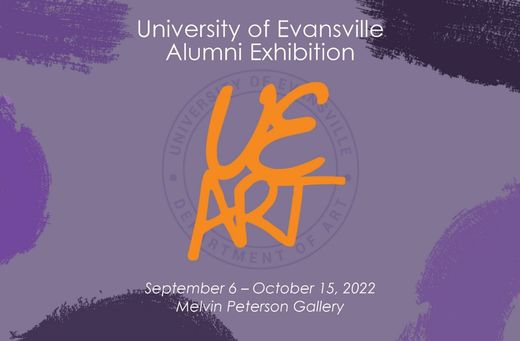 The Department of Art is pleased to announce the return of the UE Art Alumni Exhibition in the Melvin Peterson Gallery. Twenty alumni from around the country are participating in this exhibition. The artworks range from painting, sculpture, ceramics, batik, alcohol ink, and mixed media. All artwork is for sale and a portion of the sales will go to the establishment of an Art Scholarship. We welcome the entire community to visit the exhibition and support the
Department of Art as we welcome these alumni to campus. Some of these students you may even remember.
The Exhibition opens September 6 and runs through October 15. There is a public reception on Thursday, September 8 at 6:30 pm to celebrate the artists. We hope to see you there.
Melvin Peterson Gallery hours are:
Monday, Tuesday, and Friday 12-3
Wednesday and Thursday 12-6
Saturday 12-3
Submitted by Carol McCraney cm177@evansville.edu
Want to be part of the Aces of UE?
Would you like to have your own profile on our Aces of UE webpage? We're looking for students across all majors to share their story!
To be featured in Aces of UE, please email Julie Beer, university relations coordinator, at jb855@evansville.edu. You can also complete this Google Form with some basic information to be contacted at a later date.
Submitted by Julie Beer / jb855@evansville.edu
Andrew Carter Appointed Associate Director of Center for Innovation & Change
After nearly 13 years of writing and editing in the Office of Enrollment and Marketing, Andrew Carter has been appointed as the associate director for the Center for Innovation & Change.
Andrew was hired at the University of Evansville in January 2010 as copy editor for the Office of Publications. Previously, he completed many hours as a student intern in the same office under the mentorship of his predecessor, Cindy Knudson. Andrew is a proud UE graduate, earning his Bachelor of Fine Arts in creative writing in 2007 and Master of Science in public service administration in 2014. During his time here, Andrew has grown the position's scope and responsibility to better serve the evolving needs of the institution, creating and earning the role of senior writer and editor.
After graduating in 2007 and before coming back to work in 2010, Andrew spent several years as proofreader for a local marketing agency, providing services to local and national healthcare and pharmaceutical companies.
At UE, Andrew has been honored to serve on several committees, including the HLC Reaccreditation Steering Committee, the Healthy Lifestyles Committee, and as an Advisory Board Member for the Center for Innovation & Change. He was also an advisor for the Venturing Crew, a student club focused on outdoor activities. He currently plays violin for the UE Music Conservatory's Symphony Orchestra.
Throughout his time at UE, Andrew has made meaningful connections with amazing people at every level and department in the institution. These connections are his motivation and inspiration for telling the remarkable story of the University's history, present, and future. As diverse constituencies increasingly connect with UE changemaker stories across all colleges, we are excited to have Andrew's leadership and expertise as a resource for sharing those stories with external audiences.
Andrew stated, "The Center for Innovation & Change is a place for dreamers to realize their dreams. A place where challenges and roadblocks become the beginning of a journey in innovative problem solving. It is a privilege for me to step into a space where students learn that opportunities are limitless and where they can grow and practice skills they never imagined experiencing. I am thrilled to be a part of this."
Please join us in welcoming him to this new role!
Submitted by Erin Lewis el131@evansville.edu
Federal Work-Study Jobs Still Available
Need a Job? On-campus jobs are still available. Job postings are available on the Student menu of WebAdvisor under Student Employment.
Campus Employment Tips for Students
Student Employment Positions Listing - All Positions / All Departments
Required Employment Forms
Student Employment Applications
Late Timesheet Payment Request Form
Student Employment Pay Schedule
Student Employment Guidelines
First Job Internship Guidelines
The Student Employment Application should be completed and sent to the supervisor as shown in the job posting. Not awarded federal work-study? Check with the Office of Student Financial Services to see if you are eligible.
Student Financial Services staff are available to answer questions you may have about the process.
In person: Olmsted rm. 105
Phone: 812-488-2364
Submitted by Heather Richards hr103@evansville.edu
JEDI Council
The Center for Diversity, Equity, and Inclusion invites employees and students to attend an information meeting for the Justice, Equity, Diversity, and Inclusion (JEDI) Council on Monday, September 19, at 3:00 pm in SOBA 272.
The JEDI Council consists of teams focused on people & personnel, campus culture, student voices, policies, practices, and procedures, programming and events, funding and development, and research.
Submitted by Rob Shelby rs262@evansville.edu
Snacks, Coffee, Drink and Relaxation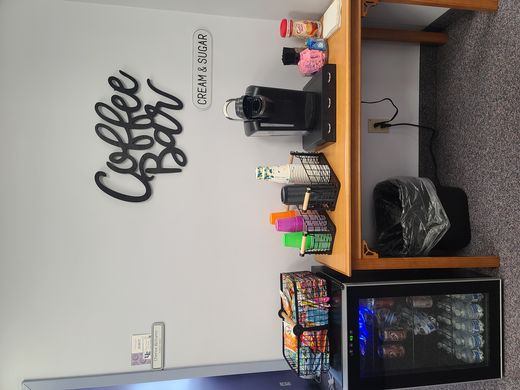 "Do you need a break from studying? Are you in need of a pick-me-up? Look no further!
Academic Services' Coffee Bar and Snacks is back and BETTER than ever!
Stop by the office--Olmsted Hall, Rm 116--for a chat, a cup of coffee or tea, or a Capri Sun and a snack!
Tell us what you're excited about, ask us questions, or just hang out on our comfy couch.
Everyone needs a change of scenery and a positive environment to be authentically you, and Academic Services is the place to be!"
Submitted by Jade S Shelby js818@evansville.edu
Passport to Inclusion Open Enrollment
The Passport to Inclusion diversity certificate program for employees of the University of Evansville is now open for enrollment for the 2022-2023 program year. If you are an employee of the University and interested in taking part in this program, please fill out this form no later than noon on Friday, September 16th: https://forms.gle/3cqa2sefK5M2BSxL6.
Passport to Inclusion was developed to promote engagement with diversity and inclusion across the University of Evansville campus. The certificate program achieves this through a thoughtful curriculum that dissects contemporary issues and events facing students, faculty and staff, and the Evansville community.
If you have any questions, please email Center4DEI@evansville.edu
Submitted by Abagail Christine Catania ac532@evansville.edu
Plisky Presents to NHL Pittsburgh Penguins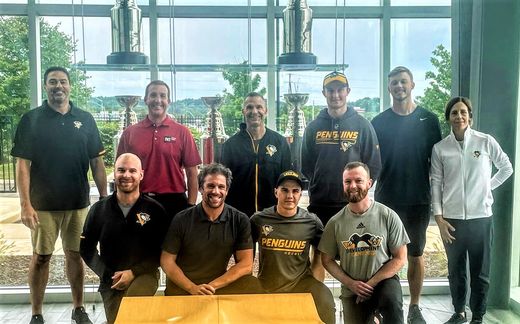 Dr. Phil Plisky, Associate Professor of Physical Therapy in the Doctor of Physical Therapy Program, was a guest educator for the NHL's Pittsburgh Penguins. He presented a hands-on workshop on implementing Functional Movement Systems within a professional hockey team to aid in player development, performance, and injury prevention.
Dr. Plisky worked with the Integrated Performance Team, which includes performance specialists and rehabilitation providers that work with athletes in all phases, from injury prevention to performance programming. This team worked together to systematize a holistic approach to developing the athlete across interprofessional disciplines, emphasizing consistent, reliable communication regarding the athlete's daily and long-term status and where each provider can be the most beneficial in the athlete's recovery.
Submitted by Jennifer Simon js698@evansville.edu
Professor Todd A. Matteson Exhibits Artwork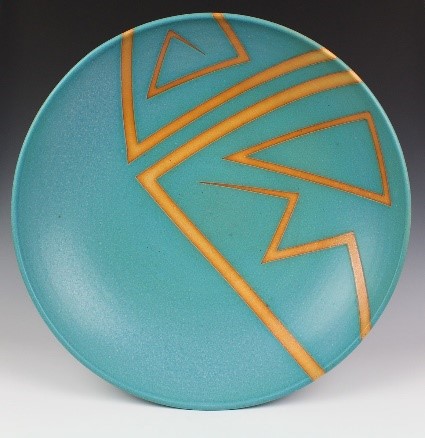 Professor Todd A. Matteson had his artwork, 'Mountainous Journey', accepted into the 29th Annual Juried Art Exhibit of the Thyen-Clark Cultural Center. The competition was open to any artist who is a current or former resident of Indiana, Illinois, Kentucky, Michigan or Ohio. The juror was Amy De Lap, artist and former professor of painting and design at Vincennes University for 32 years.
Submitted by Carol L. McCraney cm177@evansville.edu
Contribute to AceNotes
To have content considered for inclusion in AceNotes, please submit a Marketing Request Form. Deadline for submission to AceNotes is 10:00 a.m. on the requested date of publication. Only articles concerning UE related/sponsored activities will be accepted. Articles submitted to AceNotes may be edited for length and clarity. Submitter contact information is at the end of each article.