| | |
| --- | --- |
| AceNotes Today | Wednesday, September 14, 2022 |
In Memory of Jack Barner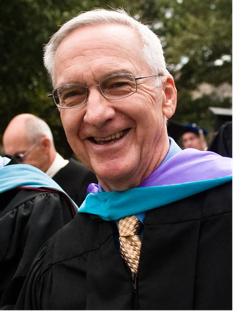 A Memorial Service to honor Jack Barner's life and his impact on so many people, both in the University community and beyond, will be held in Neu Chapel on the University of Evansville campus on Saturday, September 17, at 11:00 AM with Rev. Mitch Gieselman officiating. Jack's obituary is available online with an opportunity for colleagues and friends to share a memory.
Visitation will be Friday, September 16, from 5:30 – 7:00 p.m. at Alexander East Chapel, 2115 Lincoln Avenue.
Please keep Pat and their family in your thoughts and prayers.
Submitted by Holly Lee Smith hh98@evansville.edu
Lambda Chi Alpha Watermelon Bust Philanthropy
Watermelon Bust is an annual philanthropy event to raise donations for the Feeding America charity through an Olympic style watermelon competition. Teams consisting of 5 people compete against one another in various ways of watermelon destruction like Piñata Smash, Shot Put, and Baseball! Sign-ups with an admission cost of $25 can be found in Lambda Chi Alpha's Instagram bio, or by contacting jo123@evansville.edu.
The event will take place at Lambda Chi Alpha's house at 5:00pm September 16th (This Friday!)
Submitted by Jacob Overstreet jo123@evansville.edu
Chili Cook-Off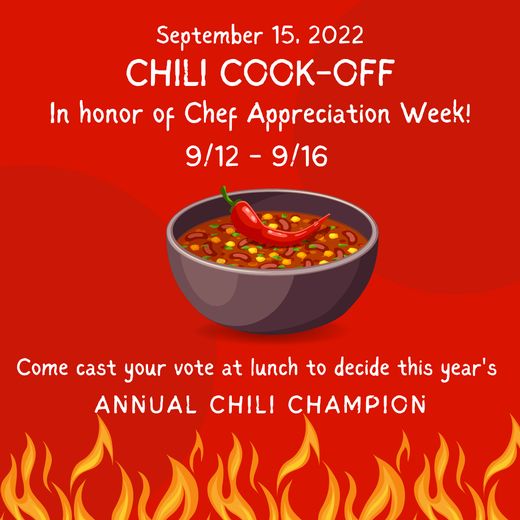 In honor of Chef Appreciation Week, we are hosting a chili cook-off between Chef James and Chef Donielle! Come cast your vote during lunch on Thursday, September 15 to determine this year's Annual Chili Champion!
Submitted by Ka'Bria Carr kc403@evansville.edu
Special Purple Friday
In honor and memorial for Jack Barner, this Friday, September 16 will be the official "Jack Barner Purple Friday." Please take a moment Friday to wear your Purple in honor and remember Jack Barner who gave his time and commitment to the University. He started this special day and his legacy lives on!
Submitted by Holly Lee Smith hh98@evansville.edu
Reception for Rev Tim Dorsey Exhibit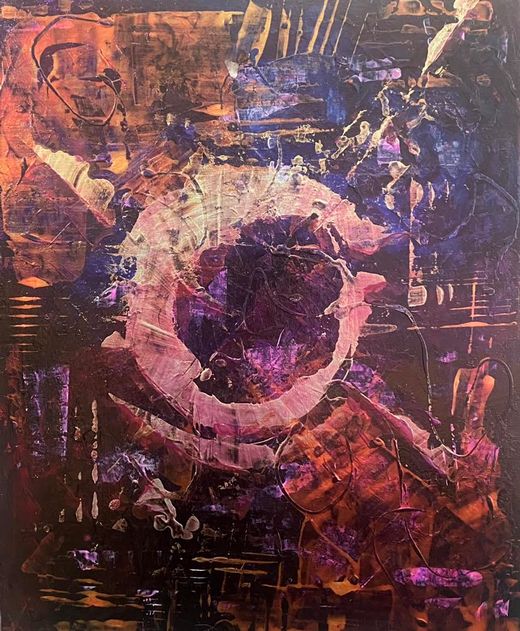 "Summer Eclipse" by Timothy Dorsey"
The University of Evansville is excited to begin the academic year with Abstracts, Music and Nature: A Glimpse Into The Art of Rev. Tim Dorsey in the newly renovated Krannert Gallery September 6 – October 22.
Dorsey is an Evansville native and resident. He is a life-long, primarily self-taught, artist whose abstract paintings are inspired by music and nature.
A public reception for the artist will be hosted in the Krannert Gallery, located in the Krannert Hall of Art & Music, on Thursday, September 15 at 6:30pm.
Krannert Gallery Hours are Monday through Saturday 8am – 8pm and Sunday noon – 8pm.
This exhibit is part of the "Emerging Contemporary Artist Lecture Series" sponsored by the Efroymson Family Fund and the UE Department of Art. For information, contact the UE Dept of Art, 812-488-2043 or art@evansville.edu.
Submitted by Carol McCraney cm177@evansville.edu
Canoeing with the Venturing Crew
Spend the day canoeing and exploring one of Blue Grass's most beautiful lakes.
The Crew will provide free food, games and all equipment needed to provide a fun and safe outdoor experience.
If you don't know how to canoe, not to worry, we will teach you the proper way to use a paddle, as well as entering and exiting the canoe.
Life jackets will be provided and required while on the water.
We will provide bus transportation to and from Blue Grass which is approximately 20 minutes from campus.
We will spend about 4 hours enjoying the lake and have you back in plenty of time to study for your class on Monday.
Sign up at one of our tables in Ridgway this week (Tuesday, Wednesday or Thursday).
Submitted by Fred Wilson fw2@evansville.edu
Ace Care Skele-fun Run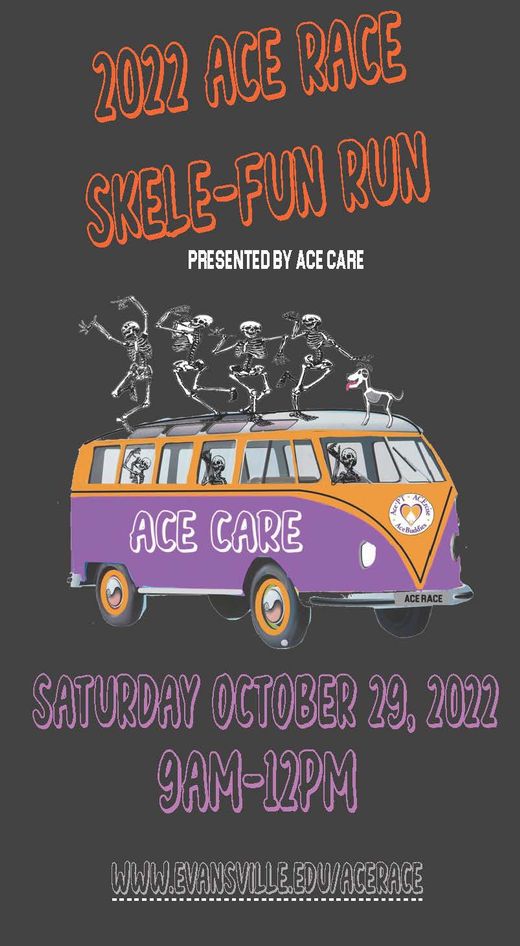 Ace Race is an event to raise money for Ace CARE. Ace CARE is the umbrella term for our three pro-bono student run programs, Ace+PT, ACErcise, and AceBuddies. Through these programs we are able to serve the vulnerable members of our community and to provide them with physical therapy care or wellness services. Ace+PT is an outpatient clinic for those with orthopedic injuries, while ACErcise focuses on exercise programs for individuals who have sustained neurologic injuries. Finally, AceBuddies strives to develop an exercise regime for children with varying disabilities. Student physical therapists treat our clients under the supervision of licensed physical therapists who volunteer their time and expertise to make a difference in our community.
Submitted by Caroline Haddad ch414@evansville.edu
Student Leadership Day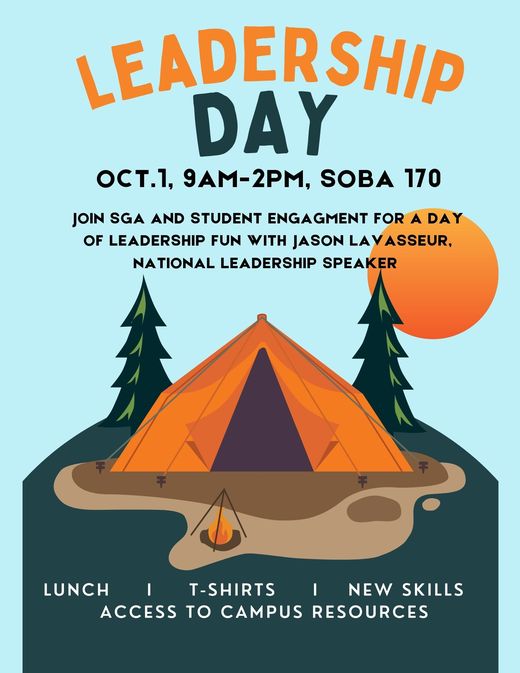 Join SGA and Student Engagement for a day of Leadership Fun with national leadership speaker, Jason LeVasseur on October 1st from 9am-2pm in SOBA 170! Sign up on UEngage!
Submitted by Lily A Renfro lr156@evansville.edu
Interested in Learning Archery On Campus?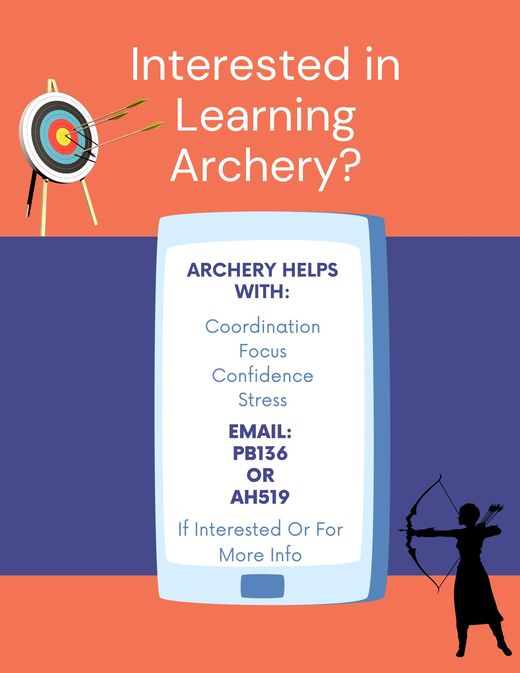 Have you ever been interested in learning how to shoot a bow and arrow? Well, now is your chance! Archery Club is looking for prospective students to join and shoot. If interested or if you have any questions contact Peighton Brown (pb136) or Andrew Hawkins (ah519).
Submitted by Peighton Emma Brown pb136@evansville.edu
Fall Health Risk Assessment
Employee Fall Health Risk Assessments will take place September 20th-21st in Eykamp Hall from 7:00AM-10:45AM each day. Complete your health risk assessment and earn HRA credits. This health risk assessment is for UE employees and their spouses on the UE medical insurance plan. Please remember, fasting 8-10 hours is recommended. Water and Black coffee are allowed. Please take maintenance medications as prescribed, as long as they are not required to be taken with food. Please click the link below to sign up today!
https://acelink.evansville.edu/Areas/MedicalClinic/Appointments/
Submitted by Haley Walker hw164@evansville.edu
Employees - UE Gives Back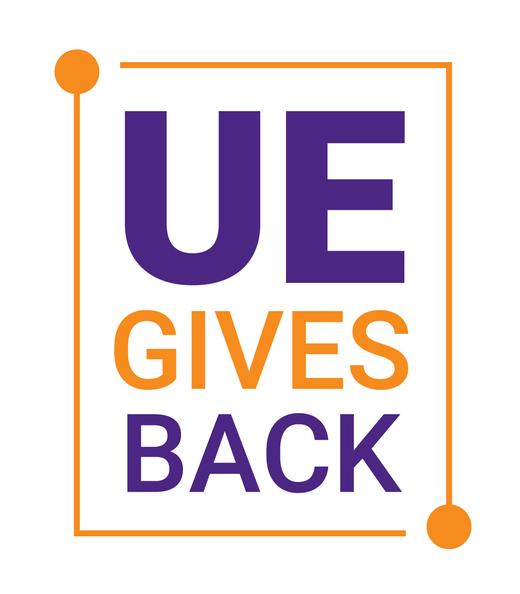 The University of Evansville is excited to announce the return of UE Gives Back for employees! With the approval of immediate supervisors and as schedules permit, employees may choose to volunteer on UE's campus without scheduling a day of vacation. Mark your calendars for Friday, September 30, and sign up today with the UE Gives Back Survey. With the gift of your time and talents, we can create Positively Purple change on campus!
Submitted by Jenni Sauls / js944@evansville.edu
Andrew Carter Appointed Associate Director of Center for Innovation & Change
After nearly 13 years of writing and editing in the Office of Enrollment and Marketing, Andrew Carter has been appointed as the associate director for the Center for Innovation & Change.
Andrew was hired at the University of Evansville in January 2010 as copy editor for the Office of Publications. Previously, he completed many hours as a student intern in the same office under the mentorship of his predecessor, Cindy Knudson. Andrew is a proud UE graduate, earning his Bachelor of Fine Arts in creative writing in 2007 and Master of Science in public service administration in 2014. During his time here, Andrew has grown the position's scope and responsibility to better serve the evolving needs of the institution, creating and earning the role of senior writer and editor.
After graduating in 2007 and before coming back to work in 2010, Andrew spent several years as proofreader for a local marketing agency, providing services to local and national healthcare and pharmaceutical companies.
At UE, Andrew has been honored to serve on several committees, including the HLC Reaccreditation Steering Committee, the Healthy Lifestyles Committee, and as an Advisory Board Member for the Center for Innovation & Change. He was also an advisor for the Venturing Crew, a student club focused on outdoor activities. He currently plays violin for the UE Music Conservatory's Symphony Orchestra.
Throughout his time at UE, Andrew has made meaningful connections with amazing people at every level and department in the institution. These connections are his motivation and inspiration for telling the remarkable story of the University's history, present, and future. As diverse constituencies increasingly connect with UE changemaker stories across all colleges, we are excited to have Andrew's leadership and expertise as a resource for sharing those stories with external audiences.
Andrew stated, "The Center for Innovation & Change is a place for dreamers to realize their dreams. A place where challenges and roadblocks become the beginning of a journey in innovative problem solving. It is a privilege for me to step into a space where students learn that opportunities are limitless and where they can grow and practice skills they never imagined experiencing. I am thrilled to be a part of this."
Please join us in welcoming him to this new role!
Submitted by Erin Lewis el131@evansville.edu
Federal Work-Study Jobs Still Available
Need a Job? On-campus jobs are still available. Job postings are available on the Student menu of WebAdvisor under Student Employment.
Campus Employment Tips for Students
Student Employment Positions Listing - All Positions / All Departments
Required Employment Forms
Student Employment Applications
Late Timesheet Payment Request Form
Student Employment Pay Schedule
Student Employment Guidelines
First Job Internship Guidelines
The Student Employment Application should be completed and sent to the supervisor as shown in the job posting. Not awarded federal work-study? Check with the Office of Student Financial Services to see if you are eligible.
Student Financial Services staff are available to answer questions you may have about the process.
In person: Olmsted rm. 105
Phone: 812-488-2364
Submitted by Heather Richards hr103@evansville.edu
Wanted: Women's Basketball Manager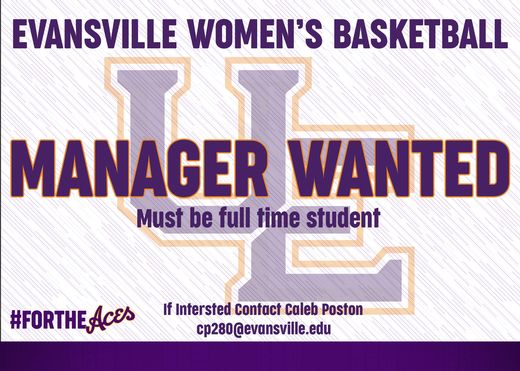 The Women's Basketball team is looking for one more student manager.
You must be a full time student and available to be at practice and home games. This is a great opportunity to work with the team and staff and be a part of Ace's Athletics. Prior basketball knowledge is beneficial but not required.
If you are interested please reach out to Coach Caleb at cp280@evansville.edu.
Submitted by Caleb Poston cp280@evansville.edu
Children of Fallen Heroes Scholarship
On March 23, 2018, the President signed Public Law 115-141, the Consolidated Appropriations Act, 2018, which included an amendment to Section 473(b) of the Higher Education Act, authorizing the Children of Fallen Heroes Scholarship.
Under this scholarship, a Pell-eligible student whose parent or guardian died in the line of duty while performing as a public safety officer is eligible to receive a maximum Pell Grant for the award year for which the determination of eligibility is made.
Eligibility:
Student must be Pell-eligible and have a Pell-eligible EFC
Student must be less than 24 years of age or enrolled at an institution of higher education at the time of his or her parent's or guardian's death
For purposes of the Children of Fallen Heroes Scholarship, a public safety officer is:

As defined in section 1204 of title I of the Omnibus Crime Control and Safe Streets Act of 1968 (42 U.S.C. 3796b); or
A firefighter or police officer, defined as an individual who is serving in accordance with State or local law as an officially recognized or designated member of a legally organized public safety agency and provides scene security or directs traffic in response to any fire drill, fire call, or other fire, rescue, or police emergency, or at a planned special event.
If you believe you are eligible for this, please contact the Office of Student Financial Services.
Submitted by Amy Sowders as560@evansville.edu
JEDI Council
The Center for Diversity, Equity, and Inclusion invites employees and students to attend an information meeting for the Justice, Equity, Diversity, and Inclusion (JEDI) Council on Monday, September 19, at 3:00 pm in SOBA 272.
The JEDI Council consists of teams focused on people & personnel, campus culture, student voices, policies, practices, and procedures, programming and events, funding and development, and research.
Submitted by Rob Shelby rs262@evansville.edu
Help Academic Services Spread Good Vibes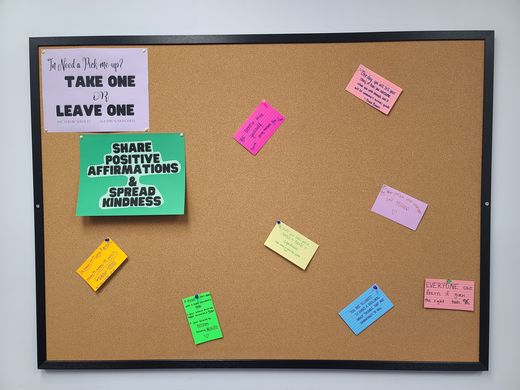 At the University of Evansville, we are dedicated to creating and maintaining a diverse, supportive and sustainable environment for ALL students. In Academic Services, we are taking that one step further! Students are invited, and encouraged, to LEAVE a positive note or word of encouragement or TAKE one for themselves. Visit Olmsted Hall, Room 116 and help us spread good vibes! #AcademicServices #UESpreadsKindness
Submitted by Jade Shelby js818@evansville.edu
Passport to Inclusion Open Enrollment
The Passport to Inclusion diversity certificate program for employees of the University of Evansville is now open for enrollment for the 2022-2023 program year. If you are an employee of the University and interested in taking part in this program, please fill out this form no later than noon on Friday, September 16th: https://forms.gle/3cqa2sefK5M2BSxL6.
Passport to Inclusion was developed to promote engagement with diversity and inclusion across the University of Evansville campus. The certificate program achieves this through a thoughtful curriculum that dissects contemporary issues and events facing students, faculty and staff, and the Evansville community.
If you have any questions, please email Center4DEI@evansville.edu
Submitted by Abagail Christine Catania ac532@evansville.edu
UE Men's Basketball Manager Sign Up
Interested in doing a work study for the Men's Basketball Team?! Job description and pay will all be on the website. Please follow the directions below to sign up and be a member of the Aces!
https://www.evansville.edu/student-financial-services/student-employment.cfm
Scroll down to "Applying for Student Employment" and Click "WebAdvisor"
Login using your UE username and password
Click "Students" on the right-hand side
Under "Student Employment" click "Student Employment Positions Listing"
Click "Men's Basketball Student Manager"
Click "Submit"
Submitted by Roosevelt Jones rj110@evansville.edu
UE Named #5 Best Regional University in the Midwest by U.S. News & World Report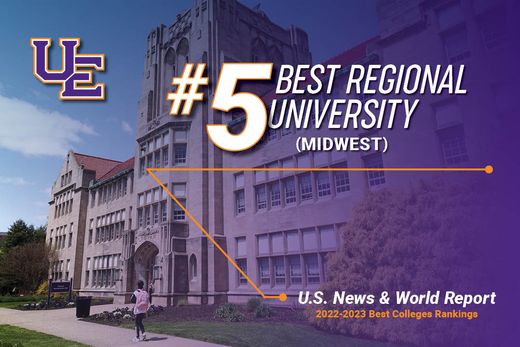 We are so proud to announce that the University of Evansville has been named the #5 Best Regional University in the Midwest by U.S. News & World Report! The 2022-2023 Best Colleges rankings were released today.
The report, published annually by U.S. News & World Report, recognizes public and private higher education institutions across the nation. To calculate the rankings, U.S. News focuses on academic quality and places emphasis on outcome measures, including graduation rates, retention rates, and social mobility. Outcomes contribute to 40 percent of each school's overall score.
This recognition is a true testament to our high-quality education, and it is possible only because of the dedication of our staff and faculty in creating an exceptional student experience!
The complete ranking of the Best Regional Universities in the Midwest can be found at usnews.com/colleges.
Submitted by Julie Beer / jb855@evansville.edu
Contribute to AceNotes
To have content considered for inclusion in AceNotes, please submit a Marketing Request Form. Deadline for submission to AceNotes is 10:00 a.m. on the requested date of publication. Only articles concerning UE related/sponsored activities will be accepted. Articles submitted to AceNotes may be edited for length and clarity. Submitter contact information is at the end of each article.