| | |
| --- | --- |
| AceNotes Today | Tuesday, September 13, 2022 |
In Memory of Jack Barner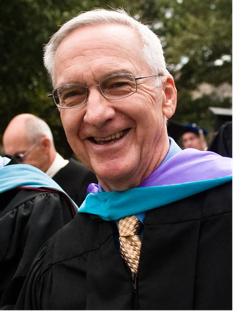 A Memorial Service to honor Jack Barner's life and his impact on so many people, both in the University community and beyond, will be held in Neu Chapel on the University of Evansville campus on Saturday, September 17, at 11:00 AM with Rev. Mitch Gieselman officiating. Jack's obituary is available online with an opportunity for colleagues and friends to share a memory.
Visitation will be Friday, September 16, from 5:30 – 7:00 p.m. at Alexander East Chapel, 2115 Lincoln Avenue.
Please keep Pat and their family in your thoughts and prayers.
Submitted by Holly Lee Smith hh98@evansville.edu
Special Purple Friday
In honor and memorial for Jack Barner, this Friday, September 16 will be the official "Jack Barner Purple Friday." Please take a moment Friday to wear your Purple in honor and remember Jack Barner who gave his time and commitment to the University. He started this special day and his legacy lives on!
Submitted by Holly Lee Smith hh98@evansville.edu
Reception for Rev Tim Dorsey Exhibit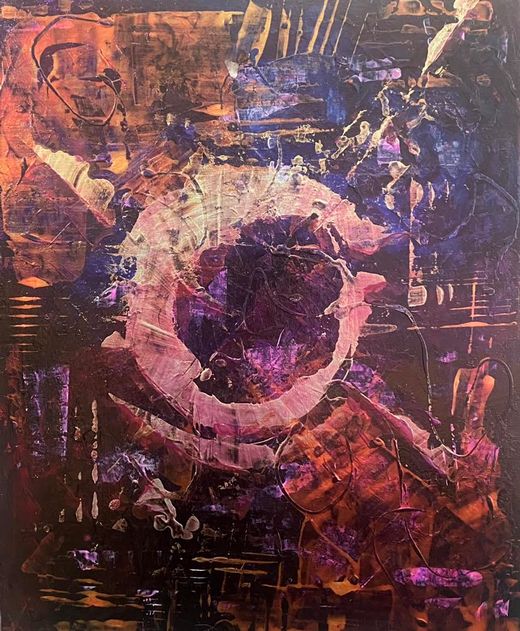 "Summer Eclipse" by Timothy Dorsey"
The University of Evansville is excited to begin the academic year with Abstracts, Music and Nature: A Glimpse Into The Art of Rev. Tim Dorsey in the newly renovated Krannert Gallery September 6 – October 22.
Dorsey is an Evansville native and resident. He is a life-long, primarily self-taught, artist whose abstract paintings are inspired by music and nature.
A public reception for the artist will be hosted in the Krannert Gallery, located in the Krannert Hall of Art & Music, on Thursday, September 15 at 6:30pm.
Krannert Gallery Hours are Monday through Saturday 8am – 8pm and Sunday noon – 8pm.
This exhibit is part of the "Emerging Contemporary Artist Lecture Series" sponsored by the Efroymson Family Fund and the UE Department of Art. For information, contact the UE Dept of Art, 812-488-2043 or art@evansville.edu.
Submitted by Carol McCraney cm177@evansville.edu
Canoeing with the Venturing Crew
Spend the day canoeing and exploring one of Blue Grass's most beautiful lakes.
The Crew will provide free food, games and all equipment needed to provide a fun and safe outdoor experience.
If you don't know how to canoe, not to worry, we will teach you the proper way to use a paddle, as well as entering and exiting the canoe.
Life jackets will be provided and required while on the water.
We will provide bus transportation to and from Blue Grass which is approximately 20 minutes from campus.
We will spend about 4 hours enjoying the lake and have you back in plenty of time to study for your class on Monday.
Sign up at one of our tables in Ridgway this week (Tuesday, Wednesday or Thursday).
Submitted by Fred Wilson fw2@evansville.edu
REMINDER! Career Fair is Tuesday, 9/13/22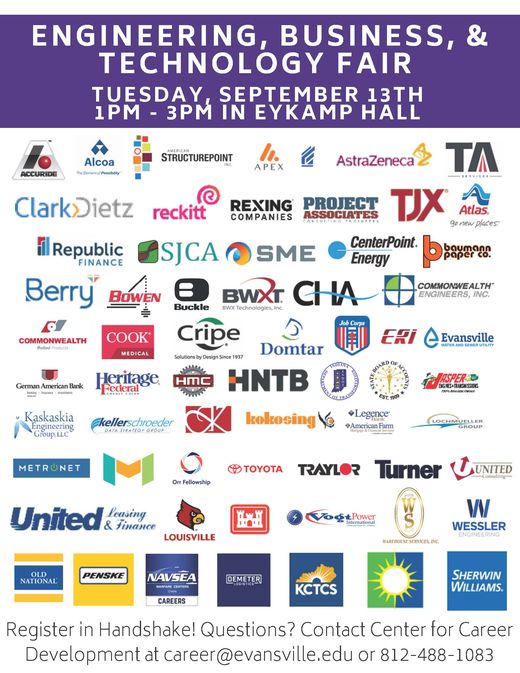 Join us Tuesday, September 13 from 1pm-3pm in Eykamp Hall for the opportunity to meet employers in the Engineering, Business, and Technology fields. More than 50 employers will be on campus recruiting for internships, and full time positions in a variety of fields. Please see attachment for a quick look at the employers scheduled to attend.
We encourage you to pre-register in Handshake. This will save you time at check in on the day of the event. Any questions? Contact the Center for Career Development! 812-488-1083 or career@evansville.edu
Submitted by Amanda Wood aw505@evansville.edu
Student Leadership Day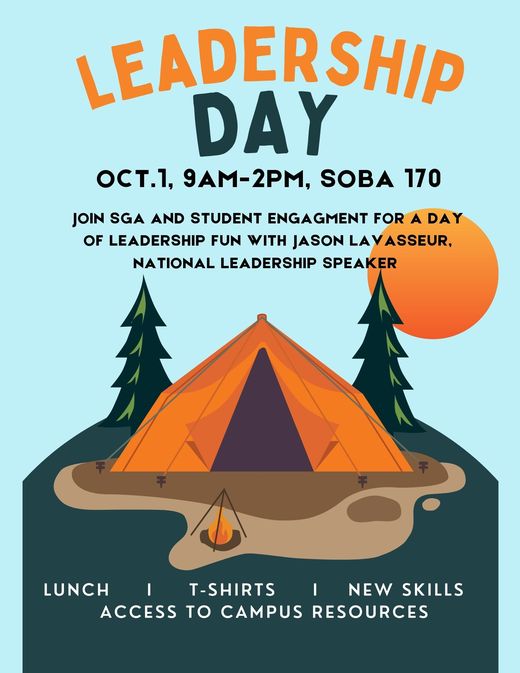 Join SGA and Student Engagement for a day of Leadership Fun with national leadership speaker, Jason LeVasseur on October 1st from 9am-2pm in SOBA 170! Sign up on UEngage!
Submitted by Lily A Renfro lr156@evansville.edu
Employees - UE Gives Back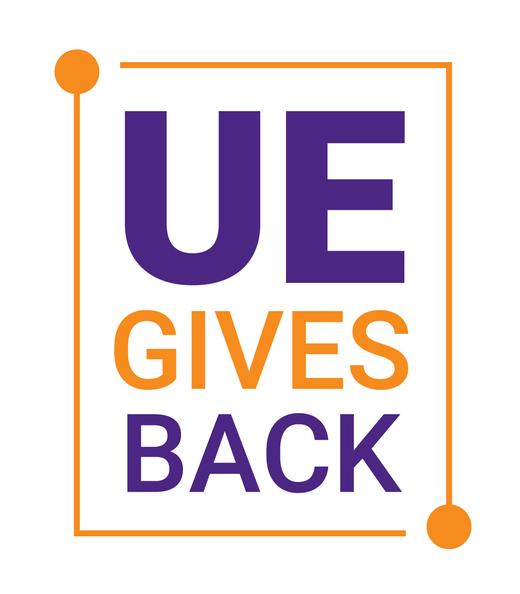 The University of Evansville is excited to announce the return of UE Gives Back for employees! With the approval of immediate supervisors and as schedules permit, employees may choose to volunteer on UE's campus without scheduling a day of vacation. Mark your calendars for Friday, September 30, and sign up today with the UE Gives Back Survey. With the gift of your time and talents, we can create Positively Purple change on campus!
Submitted by Jenni Sauls / js944@evansville.edu
Department of Art Alumni Exhibition Returns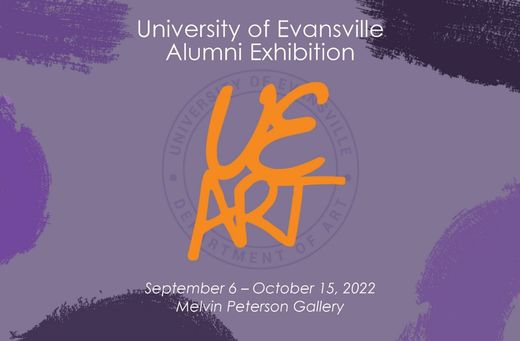 The Department of Art is pleased to announce the return of the UE Art Alumni Exhibition in the Melvin Peterson Gallery. Twenty alumni from around the country are participating in this exhibition. The artworks range from painting, sculpture, ceramics, batik, alcohol ink, and mixed media. All artwork is for sale and a portion of the sales will go to the establishment of an Art Scholarship. We welcome the entire community to visit the exhibition and support the
Department of Art as we welcome these alumni to campus. Some of these students you may even remember.
The Exhibition opens September 6 and runs through October 15. There is a public reception on Thursday, September 8 at 6:30 pm to celebrate the artists. We hope to see you there.
Melvin Peterson Gallery hours are:
Monday, Tuesday, and Friday 12-3
Wednesday and Thursday 12-6
Saturday 12-3
Submitted by Carol McCraney cm177@evansville.edu
Andrew Carter Appointed Associate Director of Center for Innovation & Change
After nearly 13 years of writing and editing in the Office of Enrollment and Marketing, Andrew Carter has been appointed as the associate director for the Center for Innovation & Change.
Andrew was hired at the University of Evansville in January 2010 as copy editor for the Office of Publications. Previously, he completed many hours as a student intern in the same office under the mentorship of his predecessor, Cindy Knudson. Andrew is a proud UE graduate, earning his Bachelor of Fine Arts in creative writing in 2007 and Master of Science in public service administration in 2014. During his time here, Andrew has grown the position's scope and responsibility to better serve the evolving needs of the institution, creating and earning the role of senior writer and editor.
After graduating in 2007 and before coming back to work in 2010, Andrew spent several years as proofreader for a local marketing agency, providing services to local and national healthcare and pharmaceutical companies.
At UE, Andrew has been honored to serve on several committees, including the HLC Reaccreditation Steering Committee, the Healthy Lifestyles Committee, and as an Advisory Board Member for the Center for Innovation & Change. He was also an advisor for the Venturing Crew, a student club focused on outdoor activities. He currently plays violin for the UE Music Conservatory's Symphony Orchestra.
Throughout his time at UE, Andrew has made meaningful connections with amazing people at every level and department in the institution. These connections are his motivation and inspiration for telling the remarkable story of the University's history, present, and future. As diverse constituencies increasingly connect with UE changemaker stories across all colleges, we are excited to have Andrew's leadership and expertise as a resource for sharing those stories with external audiences.
Andrew stated, "The Center for Innovation & Change is a place for dreamers to realize their dreams. A place where challenges and roadblocks become the beginning of a journey in innovative problem solving. It is a privilege for me to step into a space where students learn that opportunities are limitless and where they can grow and practice skills they never imagined experiencing. I am thrilled to be a part of this."
Please join us in welcoming him to this new role!
Submitted by Erin Lewis el131@evansville.edu
Federal Work-Study Jobs Still Available
Need a Job? On-campus jobs are still available. Job postings are available on the Student menu of WebAdvisor under Student Employment.
Campus Employment Tips for Students
Student Employment Positions Listing - All Positions / All Departments
Required Employment Forms
Student Employment Applications
Late Timesheet Payment Request Form
Student Employment Pay Schedule
Student Employment Guidelines
First Job Internship Guidelines
The Student Employment Application should be completed and sent to the supervisor as shown in the job posting. Not awarded federal work-study? Check with the Office of Student Financial Services to see if you are eligible.
Student Financial Services staff are available to answer questions you may have about the process.
In person: Olmsted rm. 105
Phone: 812-488-2364
Submitted by Heather Richards hr103@evansville.edu
JEDI Council
The Center for Diversity, Equity, and Inclusion invites employees and students to attend an information meeting for the Justice, Equity, Diversity, and Inclusion (JEDI) Council on Monday, September 19, at 3:00 pm in SOBA 272.
The JEDI Council consists of teams focused on people & personnel, campus culture, student voices, policies, practices, and procedures, programming and events, funding and development, and research.
Submitted by Rob Shelby rs262@evansville.edu
Snacks, Coffee, Drink and Relaxation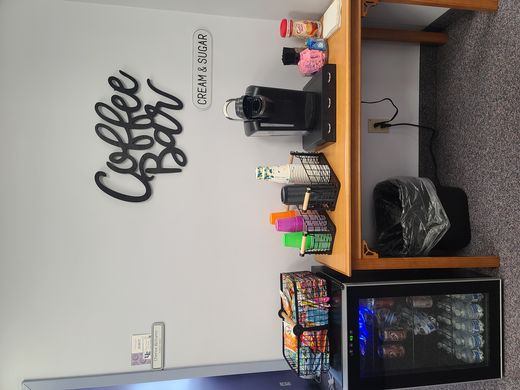 "Do you need a break from studying? Are you in need of a pick-me-up? Look no further!
Academic Services' Coffee Bar and Snacks is back and BETTER than ever!
Stop by the office--Olmsted Hall, Rm 116--for a chat, a cup of coffee or tea, or a Capri Sun and a snack!
Tell us what you're excited about, ask us questions, or just hang out on our comfy couch.
Everyone needs a change of scenery and a positive environment to be authentically you, and Academic Services is the place to be!"
Submitted by Jade S Shelby js818@evansville.edu
Passport to Inclusion Open Enrollment
The Passport to Inclusion diversity certificate program for employees of the University of Evansville is now open for enrollment for the 2022-2023 program year. If you are an employee of the University and interested in taking part in this program, please fill out this form no later than noon on Friday, September 16th: https://forms.gle/3cqa2sefK5M2BSxL6.
Passport to Inclusion was developed to promote engagement with diversity and inclusion across the University of Evansville campus. The certificate program achieves this through a thoughtful curriculum that dissects contemporary issues and events facing students, faculty and staff, and the Evansville community.
If you have any questions, please email Center4DEI@evansville.edu
Submitted by Abagail Christine Catania ac532@evansville.edu
Women's golf jumps two spots in final day at ISU
Finishing with the 7th-best team score of the day, the University of Evansville women's golf team jumped two positions to finish in 11th place at the Redbird Fall Invitational.
Picking up the top finish for the Purple Aces was freshman Destynie Sheridan. Following rounds of 77 and 80 on Sunday, Sheridan wrapped up Monday's round at Weibring Golf Club with a 76 and earned a 36th-place tie with a 233.
Mallory Russell registered UE's low round on Monday, shooting a 3-over 75. The junior improved in each round, making the jump from an 83 to a 77 before her effort in the final round. Her final tally of 235 put her in 46th. Finishing one behind her was Kate Petrova. Taking part in her first collegiate tournament, Petrova tied for 47th with a 236. Her top round came in Sunday's opener when she paced Evansville with a 75. Petrova totaled 78 strokes in the final round.
Allison Enchelmayer was next for UE. Her low round of the weekend saw her record a 77 to finish the three rounds with a 240. She tied for 60th. Magdalena Borisova carded an 83 in the final round and completed the tournament with a score of 252.
Evansville came home in 11th place in the team standings after jumping fellow Missouri Valley Conference teams Northern Iowa and Indiana State.
Butler took the top team and individual honors. The Bulldogs finished just one shot ahead of Eastern Kentucky with an 898. EKU made a charge in the final round, scoring a 302, but a 304 by the Bulldogs in the final day clinched the victory. Reese Wilson of Butler was the medalist. A 1-over 73 on Monday saw her finish with a 215, which was three in front of her nearest competition.
In two weeks, the Aces will be back in action at the UIC Fall Invite. It will take place on Sept. 25-26.
Submitted by Athletics
UE Swimming & Diving Silent Auction Now Live On-Line Through Saturday
The first-ever University of Evansville swimming and diving on-line silent auction is now live through Saturday, September 17 at 6 p.m. central time. Over 78 different items are available to bid on, with all proceeds from the silent auction going to benefit the Jason D. Morse '98 Memorial Scholarship at UE.
People interested in taking part in the silent auction can go to the following website: https://ueswim.travelpledgeauctions.com/event/1068
The Jason D. Morse '98 Memorial Scholarship is honoring former UE swimmer Jason Morse, who passed away in 2017 after a three-and-a-half-year battle with Adult Recurrent Wilms Cancer. Morse competed for the UE swimming and diving program from 1994 through 1998, and he left the program as UE's school record-holder in the 500-yard freestyle. Jason was heavily involved on campus, and was a member of the Lambda Chi Alpha fraternity during his time at UE.
The initial fundraising goal for the Jason D. Morse '98 Memorial Scholarship is $50,000. The fund will be restricted solely for an athletics scholarship given annually to a member of the men's or women's swimming and diving program.
Anyone with questions on how they can help contribute to the Jason D. Morse '98 Memorial Scholarship fund should contact Senior Associate Athletic Director for Development & External Operations Scott Peace either by phone (812-488-4073) or via email (sp166@evansville.edu).
Submitted by Athletics
UE Named #5 Best Regional University in the Midwest by U.S. News & World Report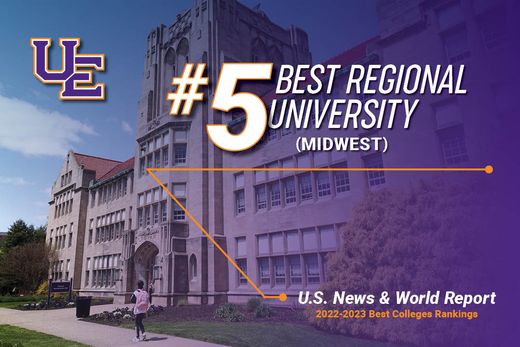 We are so proud to announce that the University of Evansville has been named the #5 Best Regional University in the Midwest by U.S. News & World Report! The 2022-2023 Best Colleges rankings were released today.
The report, published annually by U.S. News & World Report, recognizes public and private higher education institutions across the nation. To calculate the rankings, U.S. News focuses on academic quality and places emphasis on outcome measures, including graduation rates, retention rates, and social mobility. Outcomes contribute to 40 percent of each school's overall score.
This recognition is a true testament to our high-quality education, and it is possible only because of the dedication of our staff and faculty in creating an exceptional student experience!
The complete ranking of the Best Regional Universities in the Midwest can be found at usnews.com/colleges.
Submitted by Julie Beer / jb855@evansville.edu
Contribute to AceNotes
To have content considered for inclusion in AceNotes, please submit a Marketing Request Form. Deadline for submission to AceNotes is 10:00 a.m. on the requested date of publication. Only articles concerning UE related/sponsored activities will be accepted. Articles submitted to AceNotes may be edited for length and clarity. Submitter contact information is at the end of each article.