| | |
| --- | --- |
| AceNotes Today | Monday, September 12, 2022 |
Canoeing with the Venturing Crew
Spend the day canoeing and exploring one of Blue Grass's most beautiful lakes.
The Crew will provide free food, games and all equipment needed to provide a fun and safe outdoor experience.
If you don't know how to canoe, not to worry, we will teach you the proper way to use a paddle, as well as entering and exiting the canoe.
Life jackets will be provided and required while on the water.
We will provide bus transportation to and from Blue Grass which is approximately 20 minutes from campus.
We will spend about 4 hours enjoying the lake and have you back in plenty of time to study for your class on Monday.
Sign up at one of our tables in Ridgway this week (Tuesday, Wednesday or Thursday).
Submitted by Fred Wilson fw2@evansville.edu
REMINDER! Career Fair is Tuesday, 9/13/22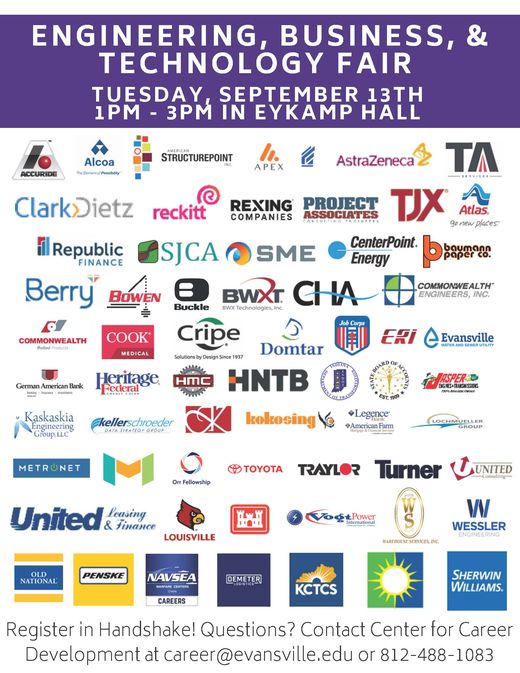 Join us Tuesday, September 13 from 1pm-3pm in Eykamp Hall for the opportunity to meet employers in the Engineering, Business, and Technology fields. More than 50 employers will be on campus recruiting for internships, and full time positions in a variety of fields. Please see attachment for a quick look at the employers scheduled to attend.
We encourage you to pre-register in Handshake. This will save you time at check in on the day of the event. Any questions? Contact the Center for Career Development! 812-488-1083 or career@evansville.edu
Submitted by Amanda Wood aw505@evansville.edu
Ace Care Skele-fun Run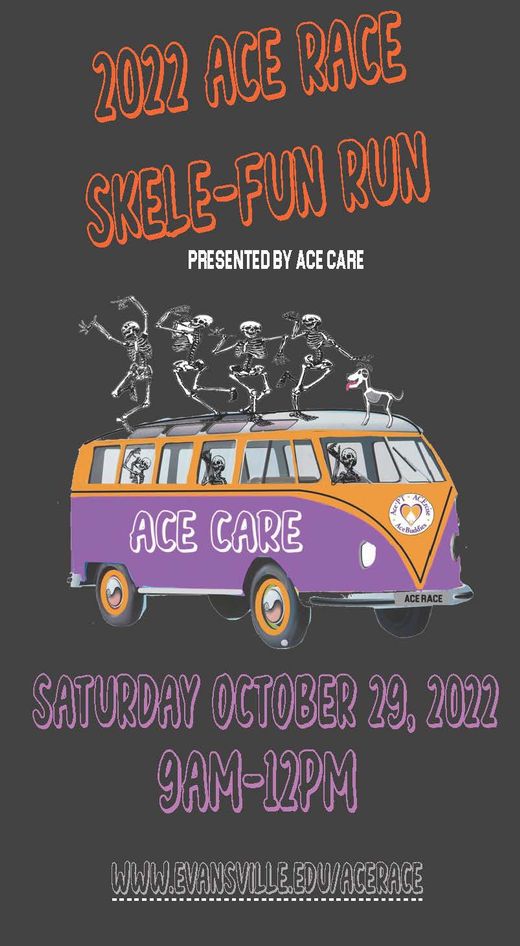 Ace Race is an event to raise money for Ace CARE. Ace CARE is the umbrella term for our three pro-bono student run programs, Ace+PT, ACErcise, and AceBuddies. Through these programs we are able to serve the vulnerable members of our community and to provide them with physical therapy care or wellness services. Ace+PT is an outpatient clinic for those with orthopedic injuries, while ACErcise focuses on exercise programs for individuals who have sustained neurologic injuries. Finally, AceBuddies strives to develop an exercise regime for children with varying disabilities. Student physical therapists treat our clients under the supervision of licensed physical therapists who volunteer their time and expertise to make a difference in our community.
Submitted by Caroline Haddad ch414@evansville.edu
Student Leadership Day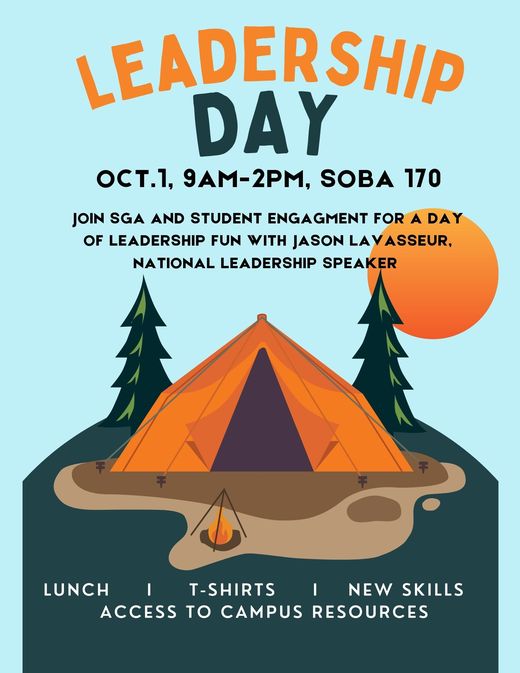 Join SGA and Student Engagement for a day of Leadership Fun with national leadership speaker, Jason LeVasseur on October 1st from 9am-2pm in SOBA 170! Sign up on UEngage!
Submitted by Lily A Renfro lr156@evansville.edu
Interested in Learning Archery On Campus?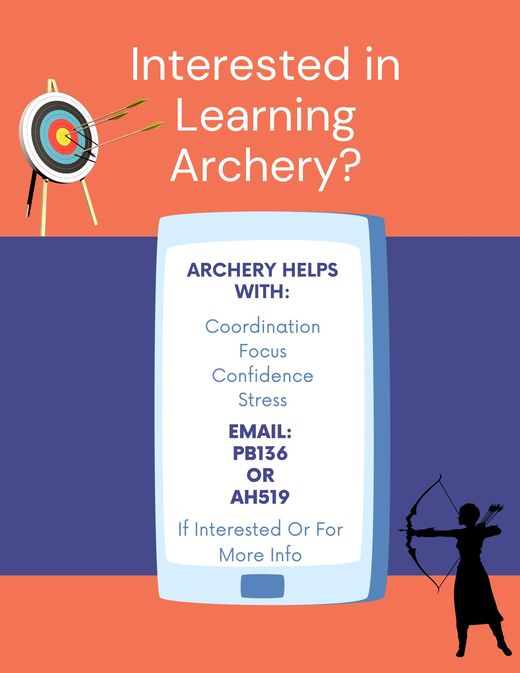 Have you ever been interested in learning how to shoot a bow and arrow? Well, now is your chance! Archery Club is looking for prospective students to join and shoot. If interested or if you have any questions contact Peighton Brown (pb136) or Andrew Hawkins (ah519).
Submitted by Peighton Emma Brown pb136@evansville.edu
Fall Health Risk Assessment
Employee Fall Health Risk Assessments will take place September 20th-21st in Eykamp Hall from 7:00AM-10:45AM each day. Complete your health risk assessment and earn HRA credits. This health risk assessment is for UE employees and their spouses on the UE medical insurance plan. Please remember, fasting 8-10 hours is recommended. Water and Black coffee are allowed. Please take maintenance medications as prescribed, as long as they are not required to be taken with food. Please click the link below to sign up today!
https://acelink.evansville.edu/Areas/MedicalClinic/Appointments/
Submitted by Haley Walker hw164@evansville.edu
Employees - UE Gives Back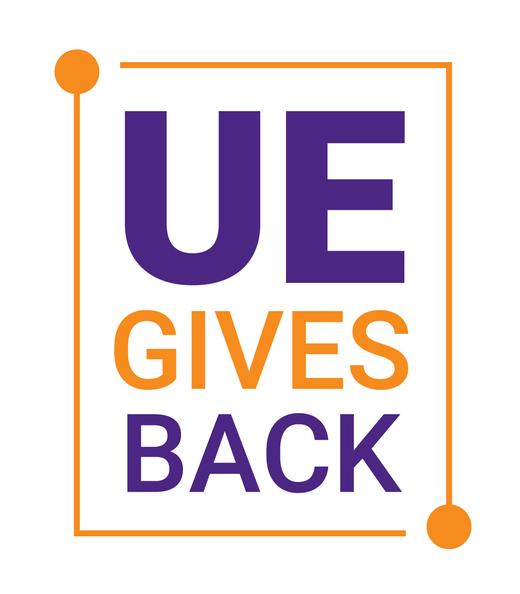 The University of Evansville is excited to announce the return of UE Gives Back for employees! With the approval of immediate supervisors and as schedules permit, employees may choose to volunteer on UE's campus without scheduling a day of vacation. Mark your calendars for Friday, September 30, and sign up today with the UE Gives Back Survey. With the gift of your time and talents, we can create Positively Purple change on campus!
Submitted by Jenni Sauls / js944@evansville.edu
Andrew Carter Appointed Associate Director of Center for Innovation & Change
After nearly 13 years of writing and editing in the Office of Enrollment and Marketing, Andrew Carter has been appointed as the associate director for the Center for Innovation & Change.
Andrew was hired at the University of Evansville in January 2010 as copy editor for the Office of Publications. Previously, he completed many hours as a student intern in the same office under the mentorship of his predecessor, Cindy Knudson. Andrew is a proud UE graduate, earning his Bachelor of Fine Arts in creative writing in 2007 and Master of Science in public service administration in 2014. During his time here, Andrew has grown the position's scope and responsibility to better serve the evolving needs of the institution, creating and earning the role of senior writer and editor.
After graduating in 2007 and before coming back to work in 2010, Andrew spent several years as proofreader for a local marketing agency, providing services to local and national healthcare and pharmaceutical companies.
At UE, Andrew has been honored to serve on several committees, including the HLC Reaccreditation Steering Committee, the Healthy Lifestyles Committee, and as an Advisory Board Member for the Center for Innovation & Change. He was also an advisor for the Venturing Crew, a student club focused on outdoor activities. He currently plays violin for the UE Music Conservatory's Symphony Orchestra.
Throughout his time at UE, Andrew has made meaningful connections with amazing people at every level and department in the institution. These connections are his motivation and inspiration for telling the remarkable story of the University's history, present, and future. As diverse constituencies increasingly connect with UE changemaker stories across all colleges, we are excited to have Andrew's leadership and expertise as a resource for sharing those stories with external audiences.
Andrew stated, "The Center for Innovation & Change is a place for dreamers to realize their dreams. A place where challenges and roadblocks become the beginning of a journey in innovative problem solving. It is a privilege for me to step into a space where students learn that opportunities are limitless and where they can grow and practice skills they never imagined experiencing. I am thrilled to be a part of this."
Please join us in welcoming him to this new role!
Submitted by Erin Lewis el131@evansville.edu
Federal Work-Study Jobs Still Available
Need a Job? On-campus jobs are still available. Job postings are available on the Student menu of WebAdvisor under Student Employment.
Campus Employment Tips for Students
Student Employment Positions Listing - All Positions / All Departments
Required Employment Forms
Student Employment Applications
Late Timesheet Payment Request Form
Student Employment Pay Schedule
Student Employment Guidelines
First Job Internship Guidelines
The Student Employment Application should be completed and sent to the supervisor as shown in the job posting. Not awarded federal work-study? Check with the Office of Student Financial Services to see if you are eligible.
Student Financial Services staff are available to answer questions you may have about the process.
In person: Olmsted rm. 105
Phone: 812-488-2364
Submitted by Heather Richards hr103@evansville.edu
Wanted: Women's Basketball Manager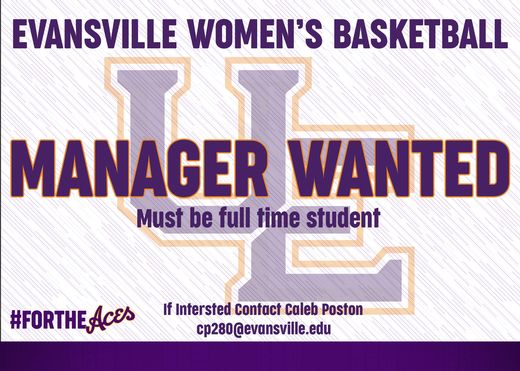 The Women's Basketball team is looking for one more student manager.
You must be a full time student and available to be at practice and home games. This is a great opportunity to work with the team and staff and be a part of Ace's Athletics. Prior basketball knowledge is beneficial but not required.
If you are interested please reach out to Coach Caleb at cp280@evansville.edu.
Submitted by Caleb Poston cp280@evansville.edu
Children of Fallen Heroes Scholarship
On March 23, 2018, the President signed Public Law 115-141, the Consolidated Appropriations Act, 2018, which included an amendment to Section 473(b) of the Higher Education Act, authorizing the Children of Fallen Heroes Scholarship.
Under this scholarship, a Pell-eligible student whose parent or guardian died in the line of duty while performing as a public safety officer is eligible to receive a maximum Pell Grant for the award year for which the determination of eligibility is made.
Eligibility:
Student must be Pell-eligible and have a Pell-eligible EFC
Student must be less than 24 years of age or enrolled at an institution of higher education at the time of his or her parent's or guardian's death
For purposes of the Children of Fallen Heroes Scholarship, a public safety officer is:

As defined in section 1204 of title I of the Omnibus Crime Control and Safe Streets Act of 1968 (42 U.S.C. 3796b); or
A firefighter or police officer, defined as an individual who is serving in accordance with State or local law as an officially recognized or designated member of a legally organized public safety agency and provides scene security or directs traffic in response to any fire drill, fire call, or other fire, rescue, or police emergency, or at a planned special event.
If you believe you are eligible for this, please contact the Office of Student Financial Services.
Submitted by Amy Sowders as560@evansville.edu
JEDI Council
The Center for Diversity, Equity, and Inclusion invites employees and students to attend an information meeting for the Justice, Equity, Diversity, and Inclusion (JEDI) Council on Monday, September 19, at 3:00 pm in SOBA 272.
The JEDI Council consists of teams focused on people & personnel, campus culture, student voices, policies, practices, and procedures, programming and events, funding and development, and research.
Submitted by Rob Shelby rs262@evansville.edu
Help Academic Services Spread Good Vibes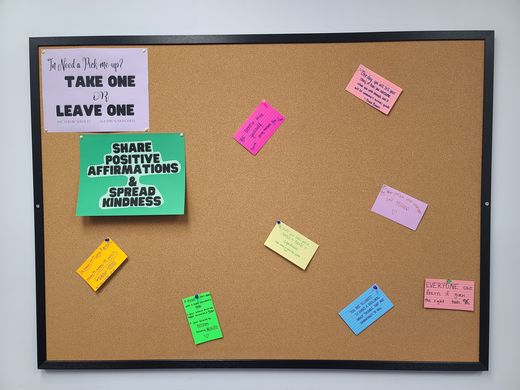 At the University of Evansville, we are dedicated to creating and maintaining a diverse, supportive and sustainable environment for ALL students. In Academic Services, we are taking that one step further! Students are invited, and encouraged, to LEAVE a positive note or word of encouragement or TAKE one for themselves. Visit Olmsted Hall, Room 116 and help us spread good vibes! #AcademicServices #UESpreadsKindness
Submitted by Jade Shelby js818@evansville.edu
Passport to Inclusion Open Enrollment
The Passport to Inclusion diversity certificate program for employees of the University of Evansville is now open for enrollment for the 2022-2023 program year. If you are an employee of the University and interested in taking part in this program, please fill out this form no later than noon on Friday, September 16th: https://forms.gle/3cqa2sefK5M2BSxL6.
Passport to Inclusion was developed to promote engagement with diversity and inclusion across the University of Evansville campus. The certificate program achieves this through a thoughtful curriculum that dissects contemporary issues and events facing students, faculty and staff, and the Evansville community.
If you have any questions, please email Center4DEI@evansville.edu
Submitted by Abagail Christine Catania ac532@evansville.edu
Positions Open for Advancement Services
The Office of Advancement Services is currently looking to hire 2 student workers for the upcoming school year.
Student workers are a part of the University Advancement team, freely sharing new ideas, holding themselves accountable for their work, and preparing themselves for a real-world work experience. The department of University Advancement has dedicated itself to aiding the student in reaching this goal. Student duties include typing, filing, copying, organizing, preparing mailings, and maintaining the alumni database with regards to email addresses, telephone number, and event attendance. Student-workers may be asked to write class notes for the UE Magazine, answer phones, and prepare name tags, labels, table tents, and supplies for events.
Applications can be downloaded from WebAdvisor. Completed applications and availability can be emailed to lw274@evansville.edu.
Submitted by Lisa Willis lw274@evansville.edu
UE Men's Basketball Manager Sign Up
Interested in doing a work study for the Men's Basketball Team?! Job description and pay will all be on the website. Please follow the directions below to sign up and be a member of the Aces!
https://www.evansville.edu/student-financial-services/student-employment.cfm
Scroll down to "Applying for Student Employment" and Click "WebAdvisor"
Login using your UE username and password
Click "Students" on the right-hand side
Under "Student Employment" click "Student Employment Positions Listing"
Click "Men's Basketball Student Manager"
Click "Submit"
Submitted by Roosevelt Jones rj110@evansville.edu
Aces earn another result as Mayor's Cup ends in scoreless draw
In front of a packed house of 1,620 fans, the University of Evansville men's soccer team battled to a scoreless draw with Southern Indiana on Saturday evening at Arad McCutchan Stadium in Evansville.
The match marked the second-straight clean sheet for graduate goalkeeper Alex Vidizzoni, who faced six shots total and two on goal, saving both. Much of the attack came from sophomore Jose Vivas, who tallied a career-high six shots on the night, putting three on frame. On the evening, the Aces out-shot the Screaming Eagles, 15-6.
Evansville's best chance of the opening half came just four minutes into the match as Vivas streaked down the left side and into the box and had his shot just tipped away by Eagles goalkeeper Alec Meissner. USI had a chance to move in front just before the break in the 43rd minute with a shot from Zach Barton that Vidizzoni saved.
The Aces came out of the half as the aggressors, quickly firing three shots inside the first eight minutes of the half. Late in the match, Evansville continued to put the pressure on the Screaming Eagles backline. UE's best chance of the night came in the 85th minute as a ball found the feet of sophomore forward Nacho Diaz, who flicked a ball towards goal that ricocheted off the left post and was knocked in off the chest of Vivas, but the goal was called off as Vivas was offside. Despite the late flurry of shots from Evansville, the defenses won the night in the 0-0 draw.
Evansville returns to action next Saturday, September 17th as the three-match homestand hits its midpoint with the Aces Missouri Valley Conference opener against SIUE at 6 PM at Arad McCutchan Stadium.
Submitted by Athletics
Second-Half Strikes Send IUPUI Past UE Women's Soccer, 2-0
The IUPUI women's soccer team used two goals just minutes apart in the second-half to remain unbeaten on Sunday, as the Jaguars knocked off the visiting University of Evansville Purple Aces, 2-0, at Michael A. Carroll Stadium in Indianapolis.
After the two sides played to a scoreless first-half, IUPUI freshman midfielder Emma Frey put the Jaguars in the lead, 1-0, in the 52nd minute with her second goal of the year off an assist Makenna Collins. Just two minutes and 25 seconds later, IUPUI senior Maya Lacognato would net her team-leading fourth goal of the season to give the Jaguars a 2-0 cushion.
Evansville fifth-year forward Emily Ormson and sophomore Hailey Autenrieb tried to get UE back into the contest in the 68th and 69th minutes with shots on goal, but IUPUI goalkeeper Ashton Kudlo denied both shots. UE put four of its seven shots on goal in the match, but Kudlo recorded four saves, as IUPUI posted its fifth-consecutive shutout to move to 4-0-3. UE sophomore goalkeeper Sophie Lindner recorded a season-high six saves for the Purple Aces.
Sunday's match concluded the non-conference portion of the schedule for UE, as the Purple Aces closed the non-conference slate with a 1-3-2 record. Evansville will open Missouri Valley Conference play next Sunday, September 18 at 1 p.m. when the Purple Aces travel to Springfield, Missouri to take on the Missouri State Bears (3-4-1). Sunday's UE-Missouri State match can be seen live on ESPN3.
Submitted by Athletics
Aces complete opening two rounds at Illinois State
It was a pair of newcomers leading the way for the University of Evansville women's golf team in the opening two rounds of the Redbird Fall Invitational at Weibring Golf Club on Sunday.
Evansville's low score of the day belonged to freshman Destynie Sheridan. After opening the day with a 5-over 77, Sheridan carded an 80 in round two. Her score of 157 is tied for 51st on the leaderboard. One behind her was Kate Petrova. In her first collegiate action, Petrova led the Purple Aces with a 3-over 75 in the first 18 holes before an 83 gave her a score of 158. Entering the final round, she is tied for 53rd.
Mallory Russell completed the day with a 2-round tally of 160. She began play with an 83 but rebounded to shoot a 77 in the second 18. She is tied for 64th. Fourth on the UE squad was Allison Enchelmayer. Her consistent day included an 81 in the first round before carding an 82. Her score finished at 163.
Magdalena Borisova rounded out the scoring. After completing the first round with an 86, Borisova wrapped up the second 18 holes in 83 strokes.
The team standings feature a close battle at the top with the top five teams separated by nine shots. Butler leads the way with a 594 with Eastern Kentucky three behind in second. Loyola and IUPUI are tied for third with scores of 601 while Northern Illinois rounds out the top five with a 603. UE is in 13th with a 638 and is just one behind Indiana State for 12th.
Butler's Reese Wilson and Annaliese Fox of IUPUI are tied for the individual lead. Both lead the field with scores of 142.
On Monday, the final round of 18 gets underway at 8:30 a.m.
Submitted by Athletics
UE tripped up at #15 Baylor
Facing one of the top teams in the nation, the University of Evansville volleyball team dropped a 3-0 contest at #15 Baylor on Saturday evening. Without two of its top offensive weapons, the Purple Aces gave its younger players valuable experience against some of the top competition in the nation.
Giulia Cardona paced the offense with seven kills while Madisyn Steele finished with six. Kora Ruff tallied 17 assists while Cardona led UE with four digs.
Set 1- BU 25, UE 12
Hitting .778 in the opening frame, Baylor took a 1-0 lead on the strength of a 25-12 win. After a Kora Ruff kill made it a 4-3 Baylor lead, the Bears posted the next five tallies to extend the lead to 9-3. Back-to-back aces helped their lead grow to 13-4 before a Giulia Cardona kill halted the rally. From there, the Bears would finish strong to take the early nod.
Set 2 – BU 25, UE 10
Madisyn Steele recorded two early kills as UE kept it close in the early moments. Her second kill cut the UE deficit to 4-3 and that is when the Bears made their run. Five in a row extended the lead to 9-3. Baylor continued to keep the pressure on as they extended their lead to finish with a 25-10 decision and pick up a 2-0 advantage.
Set 3 – BU 25, UE 10
Things got off to a very quick start for the Bears, who scooted out to a 7-1 lead. Cardona and Steele picked up kills that made it an 8-3 game, but the potent Bears attack continued to put it all together, earning a 25-10 to secure the 3-0 sweep.
Evansville travels to East Lansing, Michigan for the Green & White Classic next weekend. In its final non-conference tournament, the Aces face Chicago State, Oakland and Michigan State before opening the Missouri Valley Conference slate in two weeks.
Submitted by Athletics
UE Women's Soccer Travels To IUPUI Sunday
The University of Evansville women's soccer team will close out the non-conference portion of its schedule on Sunday afternoon, as the Purple Aces will travel to Indianapolis, Indiana to battle the undefeated IUPUI Jaguars. Kick-off is set for 3 p.m. central time, and there is no streaming of Sunday's match.
For Evansville, it will be the third match of a season-long five-match road trip on Sunday. UE dropped to 1-2-2 on the season on Thursday night, as the Purple Aces dropped a 1-0 decision at Southeast Missouri State. UE was unable to overcome an early goal by the Redhawks, as the Purple Aces saw a three-match unbeaten streak come to an end.
Defense has been UE's calling card this year, as the Purple Aces have allowed just six goals through the first five matches. Only 31.6 percent of UE's opponents' shots have even made it on goal, which ranks as the seventh-lowest shot accuracy in NCAA Division I women's soccer currently. Reigning Missouri Valley Conference honorable mention all-conference defenders Emilie Hill (Franklin, Ind./Franklin Community HS) and Rachel Rosborough (Mt. Brydges, Ontario) have anchored UE's defense this year, as Hill has played every minute so far this year, while Rosborough ranks second on the team in minutes played.
IUPUI will enter Sunday's match at 3-0-3 on the season after knocking off Murray State, 2-0, on Thursday in Indianapolis. The Jaguars were predicted to finish seventh in the Horizon League preseason poll, but IUPUI has opened the year with its second-best start in program history. Sophomore goalkeeper Ashton Kudlo has allowed just two goals this year, while posting a 0.41 goals-against average to anchor the IUPUI defense. Senior forward Maya Lacognato has scored a team-high three goals in six matches.
Sunday's match will be the first meeting between UE and IUPUI since 2019, when the Jaguars picked up a 1-0 victory in Evansville. All-time, IUPUI holds a slim 6-4-1 advantage in the series over UE.
Submitted by Athletics
Volleyball completes opening day in Texas
Friday's opening day at the Baylor Invitational saw the University of Evansville volleyball team square off against Colorado State and Arizona State. Playing without Alondra Vazquez and Melanie Feliciano, the Purple Aces put up a fight in both contests before falling by finals of 3-0. UE completes the trip on Saturday with a 7 p.m. contest at #15 Baylor.
Match 1 – Colorado State 3, UE 0
Taking on a strong Colorado State squad, the Purple Aces fell by a 3-0 final to open the Baylor Invitational on Friday morning. Giulia Cardona led the way with 14 kills while totaling six digs. Laura Ruiz paced the team with 7 digs and a pair of service aces. Kora Ruff recorded 24 assists. Chloe Bongrager and Emilee Scheumann finished with five kills apiece.
Set 1- CSU 25, UE 15
Seven early ties led to a 7-7 score to open the match. Both teams held early leads, including an ace by Laura Ruiz and a kill from Chloe Bontrager that put UE up 3-2. The tides would turn when a 6-0 run saw the Rams go up 13-7.
Kills by Kate Tsironis and Bontrager put a stop to the rally, but Colorado State continued to add to its lead, adding the third service ace of the game to extend the lead to 17-9. From there, CSU would take a 1-0 lead thanks to a 25-15 victory.
Set 2 – CSU 25, UE 21
Giulia Cardona picked up two early kills to give UE a 3-0 lead before two more extended the lead to 6-2. The Rams chipped away at the lead and would tie the set at 10-10 following back-to-back kills from Annie Sullivan. Evansville countered with a run of its own, scoring three in a row to retake the lead. Scheumann and Tsironis had kills to put the Aces back on top.
With UE up 14-11, Colorado State stormed back with five in a row to go up 16-14. Evansville came back to tie it at 17-17 on a service ace from Laura Ruiz and the teams continued to battle, leading to a 20-20 score. That is when CSU made its run, recording five of the final six tallies to finish with a 25-21 win and go up 2-0.
Set 3 – CSU 25, UE 13
Looking to complete the opener with a 3-0 win, Colorado State reeled off the first six points before extending the lead to 8-1. Evansville closed the deficit as few as five points, but the Rams fended off the challenge and picked up game three by a 25-13 final to sweep the match.
Match 2 – Arizona State 3, UE 0
Giulia Cardona and Emilee Scheumann recorded 12 and 8 kills, respectively, but a team hitting percentage of .419 saw Arizona State earn a 3-0 victory in the second contest in Waco. Maddie Hawkins paced UE with four digs while Kora Ruff tallied 27 helpers.
Set 1 – ASU 25, UE 15
Two quick kills from Cardona saw UE go up 3-1 before the Sun Devils took their first lead of the match at 5-2. Evansville was able to cut its deficit to just one at 8-7 when Scheumann racked up another kill, but the big ASU run came as they held a 12-9 lead.
Five in a row pushed the lead to 17-9 and following a UE point, ASU added five more to their total to go up 22-10. Evansville closed in the final moments, but it was the Sun Devils finishing with the 25-15 nod to take a 1-0 edge.
Set 2 – ASU 25, UE 17
Once again, it was the Aces picking up an early lead, using a Madisyn Steele kill to pace the Sun Devils by a score of 3-1. After ASU took its first edge at 4-3, Steele picked up her second kill to help UE retake the lead at 7-5. Arizona State used a 9-4 rally to go up 14-11 before a 6-0 stretch pushed the lead to 20-11.
Cardona added a late kill to cut the ASU advantage to seven points before the Sun Devils were able to complete the set with a 25-17 win.
Set 3 – ASU 25, UE 9
Arizona State utilized a fast start to open a 7-3 lead, however, UE kept it close when a Kora Ruff service ace made it a 2-point game at 9-7. Up 10-8, the Sun Devils quickly put things out of reach. After scoring 11 in a row to go up 21-8, ASU clinched he match with a 25-9 victory.
Submitted by Athletics
UE Named #5 Best Regional University in the Midwest by U.S. News & World Report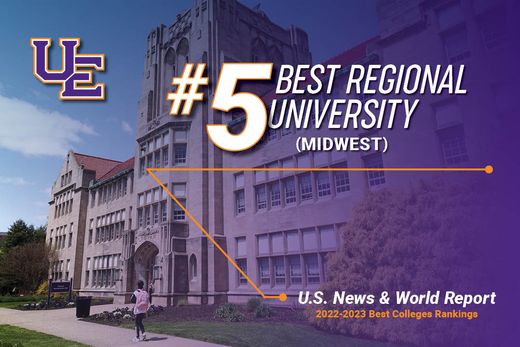 We are so proud to announce that the University of Evansville has been named the #5 Best Regional University in the Midwest by U.S. News & World Report! The 2022-2023 Best Colleges rankings were released today.
The report, published annually by U.S. News & World Report, recognizes public and private higher education institutions across the nation. To calculate the rankings, U.S. News focuses on academic quality and places emphasis on outcome measures, including graduation rates, retention rates, and social mobility. Outcomes contribute to 40 percent of each school's overall score.
This recognition is a true testament to our high-quality education, and it is possible only because of the dedication of our staff and faculty in creating an exceptional student experience!
The complete ranking of the Best Regional Universities in the Midwest can be found at usnews.com/colleges.
Submitted by Julie Beer / jb855@evansville.edu
Contribute to AceNotes
To have content considered for inclusion in AceNotes, please submit a Marketing Request Form. Deadline for submission to AceNotes is 10:00 a.m. on the requested date of publication. Only articles concerning UE related/sponsored activities will be accepted. Articles submitted to AceNotes may be edited for length and clarity. Submitter contact information is at the end of each article.