| | |
| --- | --- |
| AceNotes Today | Friday, September 9, 2022 |
REMINDER! Career Fair is Tuesday, 9/13/22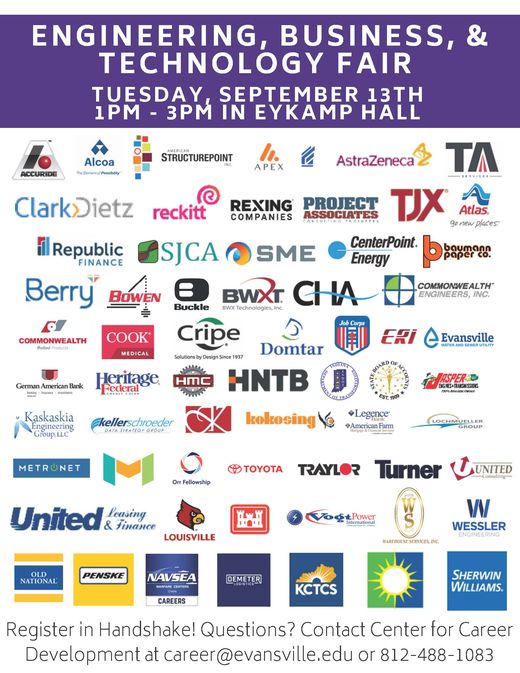 Join us Tuesday, September 13 from 1pm-3pm in Eykamp Hall for the opportunity to meet employers in the Engineering, Business, and Technology fields. More than 50 employers will be on campus recruiting for internships, and full time positions in a variety of fields. Please see attachment for a quick look at the employers scheduled to attend.
We encourage you to pre-register in Handshake. This will save you time at check in on the day of the event. Any questions? Contact the Center for Career Development! 812-488-1083 or career@evansville.edu
Submitted by Amanda Wood aw505@evansville.edu
Student Leadership Day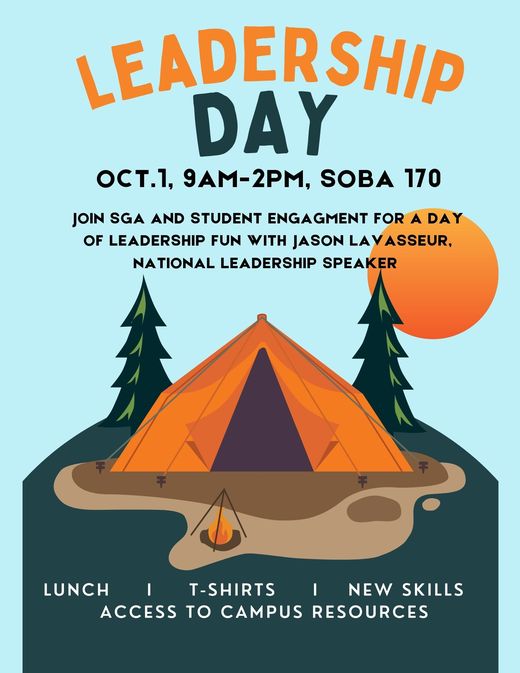 Join SGA and Student Engagement for a day of Leadership Fun with national leadership speaker, Jason LeVasseur on October 1st from 9am-2pm in SOBA 170! Sign up on UEngage!
Submitted by Lily A Renfro lr156@evansville.edu
Save a Life: Give Blood to the Red Cross 9/12 in Eykamp
Meet the Need, Save a Life, Win the Challenge! UE Blood Drive Monday September 12 (Eykamp)
UE's Center for Innovation & Change has partnered with the Red Cross and Alpha Phi Omega, our Co-Ed Service Fraternity, to help meet desperate need for blood in our community. Make plans now to donate blood on Monday, September 12 anytime between 9am and 3pm! To make your appointment, go to www.redcrossblood.org and type "UE" in the code, or stop by the Red Cross table in Ridgway.
All participating UE staff, students, faculty, athletes and others will be entered into a drawing for a pizza party for their department / team. Please help us fill the slots and let's show up for the Red Cross!
UE only needs 19 more donors to completely fill the 9/12 Red Cross Blood drive! Thank you to all who have already signed up.

Submitted by Erin Lewis el131@evansville.edu
Employees - UE Gives Back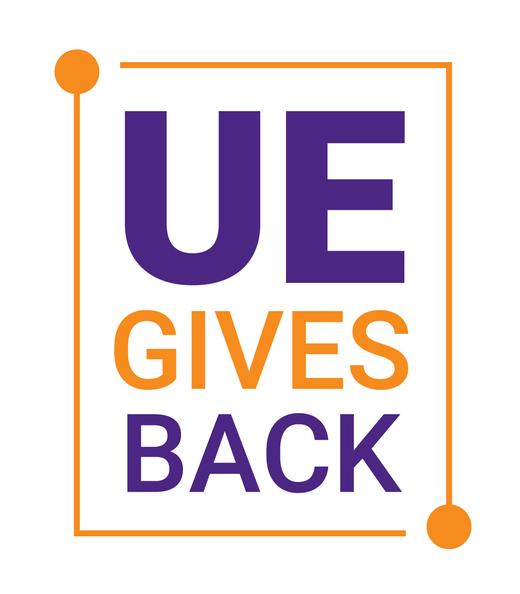 The University of Evansville is excited to announce the return of UE Gives Back for employees! With the approval of immediate supervisors and as schedules permit, employees may choose to volunteer on UE's campus without scheduling a day of vacation. Mark your calendars for Friday, September 30, and sign up today with the UE Gives Back Survey. With the gift of your time and talents, we can create Positively Purple change on campus!
Submitted by Jenni Sauls / js944@evansville.edu
UE Shepard Brass at Allen Family Amphitheater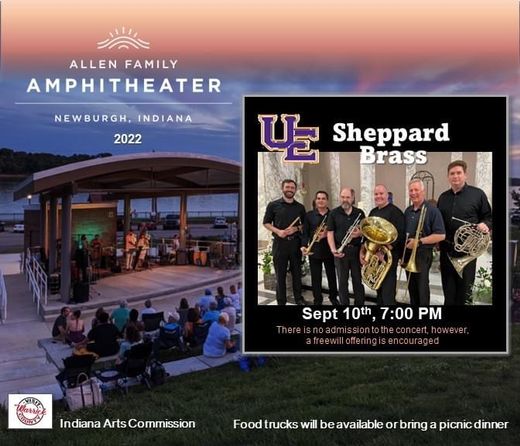 The University of Evansville Music Conservatory's Shepard Brass will perform a free concert at the Allen Family Amphitheater in Newburgh Indiana on Saturday September 10th at 7:00 PM. The concert is free and open to the public. They will be featuring Baroque, Patriotic, Jazz, and Popular music on the program.
Submitted by Timothy Zifer tz3@evansville.edu
JEDI Council
The Center for Diversity, Equity, and Inclusion invites employees and students to attend an information meeting for the Justice, Equity, Diversity, and Inclusion (JEDI) Council on Monday, September 19, at 3:00 pm in SOBA 272.
The JEDI Council consists of teams focused on people & personnel, campus culture, student voices, policies, practices, and procedures, programming and events, funding and development, and research.
Submitted by Rob Shelby rs262@evansville.edu
Snacks, Coffee, Drink and Relaxation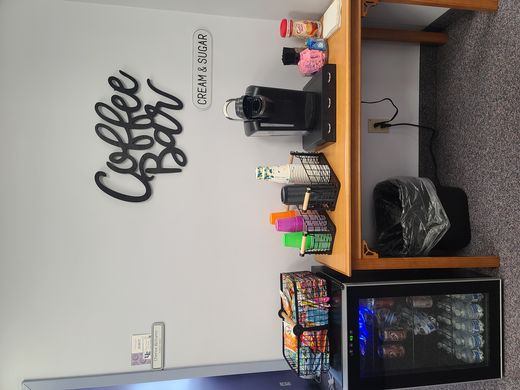 "Do you need a break from studying? Are you in need of a pick-me-up? Look no further!
Academic Services' Coffee Bar and Snacks is back and BETTER than ever!
Stop by the office--Olmsted Hall, Rm 116--for a chat, a cup of coffee or tea, or a Capri Sun and a snack!
Tell us what you're excited about, ask us questions, or just hang out on our comfy couch.
Everyone needs a change of scenery and a positive environment to be authentically you, and Academic Services is the place to be!"
Submitted by Jade S Shelby js818@evansville.edu
Passport to Inclusion Open Enrollment
The Passport to Inclusion diversity certificate program for employees of the University of Evansville is now open for enrollment for the 2022-2023 program year. If you are an employee of the University and interested in taking part in this program, please fill out this form no later than noon on Friday, September 16th: https://forms.gle/3cqa2sefK5M2BSxL6.
Passport to Inclusion was developed to promote engagement with diversity and inclusion across the University of Evansville campus. The certificate program achieves this through a thoughtful curriculum that dissects contemporary issues and events facing students, faculty and staff, and the Evansville community.
If you have any questions, please email Center4DEI@evansville.edu
Submitted by Abagail Christine Catania ac532@evansville.edu
We're getting the Band back together - Aces Pep Band
Please join us on Monday, September 12 at 4:00pm in Krannert 110 for an informational meeting for the new Aces Pep Band. September 12 is an organizational meeting. Regular rehearsals will be Mondays 4:00-5:00pm. We can provide you an instrument. Members will also get some cool Aces-wear.
Join us on September 12 for some fun and snacks as we get organized for the upcoming season. For more information, contact Dr. Kenneth Steinsultz, ks306@evansville.edu
Go Aces!
Submitted by Kenneth Steinsultz ks306@evansville.edu
CDEI Is Hiring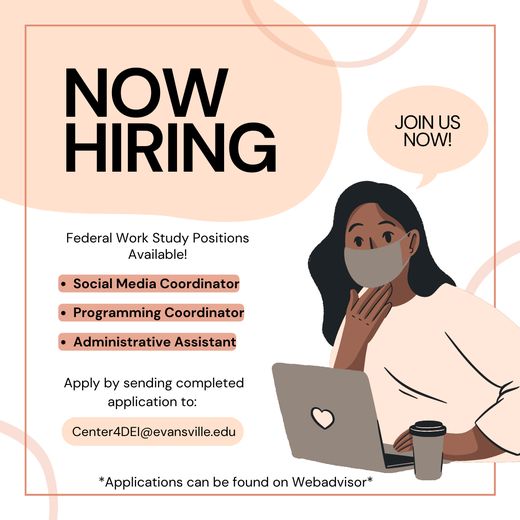 We're Hiring!
Are you interested in learning more about DEI or helping your fellow students become more culturally ware? Then a federal work study position in the CDEI might just be for you!
We have three (3) federal work study positions open that will focus on different duties! We'd love to see an application if any of these interest you!
Apply today!
*federal work study eligibility is required*
Submitted by Abagail Catania ac532@evansville.edu
Join the CDEI Programming Committee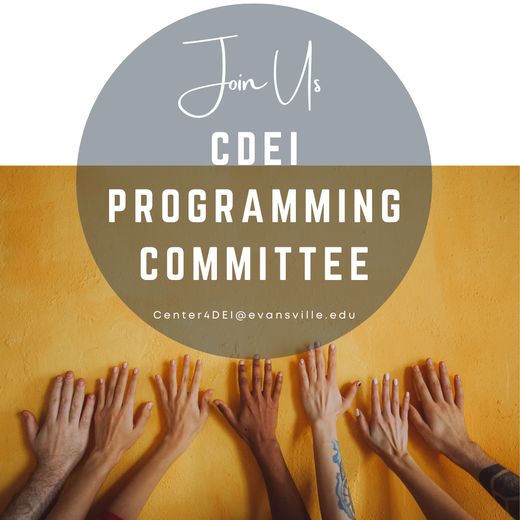 The CDEI invites students and employees to apply to be part of the CDEI Programming Committee!
The primary duty of the Programming Committee is to aid in the administrative responsibilities associated with events through the Center. Some of these events include MLK Day, Hispanic History Month, Women's Appreciation Month, Disability Awareness Month and more. In the CDEI, we want to create programming our community not only needs but wants. What better way to have your voice heard by channeling your inner changemaker and being part of the planning process?
Time commitment includes weekly meetings for one hour, as well as assigned responsibilities based on event/ program happenings not to exceed four hours in total per week.
Being part of the Programming Committee is completely voluntary.
If you or someone you know would be a great addition to this committee please send an email of interest to Center4DEI@evansville.edu
Submitted by Abagail Catania ac532@evansville.edu
Check Out the "Need Help?" Student Resources Webpage!
The UE website has several webpages that can be of assistance to students - or even faculty and staff who want to help students. But the webpages are in various departments and may not be easily located. Students may not even know what resources are available to them, such as campus departments and services. Thank you to an Ethics & Social Change ChangeLab, led by Dr. Valerie Stein, that proposed a student resources webpage!
For a one-stop shop of student services and support, visit the Need Help? webpage. You can find an orange button under the Student Life menu item or simply visit evansville.edu/needhelp. The webpage has links and information pertaining to food pantries, tutoring, scheduling advice, counseling and disability services, and much more.
Submitted by Julie Beer / jb855@evansville.edu
Deans' List
The Spring 2022 Deans' List is currently on display at the library. Congratulations!
Submitted by Meg Atwater-Singer ma35@evansville.edu
Condolences to the Family of Dr. James Lott
The School of Engineering and Computer Science extends our condolences to the family of Dr. James Lewis Lott, a retired Professor of Civil Engineering (UE 1998). Dr. Lott passed away on August 30, 2022 surrounded by his family. A celebration of Jim's life will be held at 2:00 pm on Saturday, September 17, 2022 at Alexander Newburgh Chapel, 5333 State St #261, Newburgh, IN 47630. Family and friends may visit Saturday from 11:00 a.m. until service time at the funeral home.
More details and an obituary can be found at:
https://www.dignitymemorial.com/obituaries/newburgh-in/james-lott-10909715
Submitted by Tonya Albright ta58@evansville.edu
Early Goal Sinks UE Women's Soccer In 1-0 Loss At SEMO
An early goal by Southeast Missouri State freshman midfielder Alayna Jakul was too much to overcome Thursday night for the visiting University of Evansville women's soccer team, as the host Redhawks held on for a 1-0 victory over UE at Houck Field in Cape Girardeau, Missouri.
In the fifth minute, SEMO junior midfielder Maddie Paulson was able to send a ball across goal from the right side that just alluded the lunge of Evansville sophomore goalkeeper Sophie Lindner and found Jakul inside the six-yard box, who headed it home for her first career goal.
SEMO would mount constant pressure through the first 30 minutes, before Evansville was able to respond, and put three shots on goal in the final 15 minutes, but SEMO freshman goalkeeper Sophia Elfrink stopped all three to maintain a 1-0 advantage.
In the second half, UE was the aggressor, firing 10 shots in the final 45 minutes, including three more on goal, but Elfrink and the SEMO defense stood tall. Evansville had a near miss with just over 12 minutes to play, as senior Kristen Harvey just missed wide on a nice back-heel combination play with fifth-year midfielder Nicole Benati. Elfrink also made a diving save of a low missile from fifth-year forward Emily Ormson in the 85th minute to preserve the final scoreline.
"I think that we came out flat tonight, and SEMO did a good job of starting the game on the front foot and putting us under pressure," said UE head coach Chris Pfau. "I thought in the second half, we did a better job of not waiting for things to happen. We got forward better and did some nice things, but could not find the equalizer."
With the loss, Evansville falls to 1-2-2 on the season, while SEMO improves to 4-3 overall. Evansville will try to bounce back on Sunday afternoon at 3 p.m. central time, as the Purple Aces will travel to Indianapolis, Indiana to take on IUPUI.
Submitted by Athletics
Women's golf opens 2022-23 season on Sunday
Action gets underway this weekend for the University of Evansville women's golf team, who opens the 2022-23 campaign at the Redbird Invitational in Normal, Ill.
Weibring Golf Club is the host course for the event with Sunday's opening day beginning with an 8 a.m. shotgun start and 36 holes of play. Monday's final found commences at 8:30 a.m. Par will be 72 and the yardage is set at 6,010.
Joining the Purple Aces in the event will be Eastern Kentucky, Illinois State, Northern Illinois, IUPUI, Bradley, Butler, Drake, Loyola, Bowling Green, Indiana State, Ball State, UNI, Valparaiso and Southern Indiana.
Last season saw the Aces finish on a high note, earning their second-best finish at the Missouri Valley Conference Championship. Led by Mallory Russell, UE finished in fifth place in the tournament. Russell tied for 4th place in the event, marking her highest finish of the season. She led the team with a 78.46 stroke average.
Seniors Allison Enchelmayer and Alyssa McMinn completed last year with averages of 79.63 and 79.74, respectively. For Enchelmayer, this weekend marks a homecoming as she is a native of Bloomington, Ill. Her junior season was highlighted by a strong outing at the Indiana State Invitational where a final-round score of 75 helped her secure an 8th place finish.
McMinn was playing her best golf as last season concluded, earning top 20 finishes in each of the final three events. After tying for 9th at the Murray State Invite, McMinn tied for 19th at the MVC Championship. Caitlin O'Donnell returns for her 5th season with the program. The 2021-22 season saw her record a pair of top 10 efforts last fall including a 7th place outing at the Butler Fall Invitational.
Magdalena Borisova put forth a solid freshman campaign last year and improved as the season moved along. After posting an 84.20 average in the fall, Borisova wrapped up the spring with an 80.21. Her top finish was a tie for the 4th position at the Indiana State Invitational. Carly Frazier was another who evolved as the season progressed. Her spring was highlighted by a season-low round of 76 at the Golfweek/AGT Intercollegiate.
Three freshmen join the UE squad this year including Kate Petrova (Moscow, Russia), Destynie Sheridan (Fort Branch, Ind.) and Grace Vandenburg (Mishawaka, Ind.).
Submitted by Athletics
UE-USI to meet in men's soccer clash on Saturday at Arad McCutchan Stadium
For the first time in its rich history, the Mayor's Cup featuring the University of Evansville men's soccer team and Southern Indiana will be held during the regular season on Saturday, September 10th at 6 PM at Arad McCutchan Stadium in Evansville.
Saturday's game is presented by ProRehab and Tri-State Orthopedics as the Aces and Eagles partner with the YMCA to help support youth sports programs. Fans attending the match are encouraged to donate $2 to the YMCA when entering Arad McCutchan Stadium. Fans will also be treated to a deal at the concessions stand with hot dogs for just $1.
Submitted by Athletics
Contribute to AceNotes
To have content considered for inclusion in AceNotes, please submit a Marketing Request Form. Deadline for submission to AceNotes is 10:00 a.m. on the requested date of publication. Only articles concerning UE related/sponsored activities will be accepted. Articles submitted to AceNotes may be edited for length and clarity. Submitter contact information is at the end of each article.