| | |
| --- | --- |
| AceNotes Today | Wednesday, September 7, 2022 |
988: National Suicide Prevention Lifeline
National Suicide Prevention Week is September 4-10, and this week is focused on informing the public about warning signs of suicide and how to prevent it. The University of Evansville is committed to supporting students not only academically but also mentally and emotionally. We can all help prevent suicide, so it's important that each of us is aware of the information and resources to do so.
The University would like to share an important update that impacts our nation as a whole. For people in distress, you can now text or call 988 for 24/7, free and confidential support. This is an easy number to use, share, and remember – just like 911. When you dial 988, your call will be directed to a local suicide prevention/lifeline center. This operates the same as emergency dispatch, so no matter where you are, you can reach 988.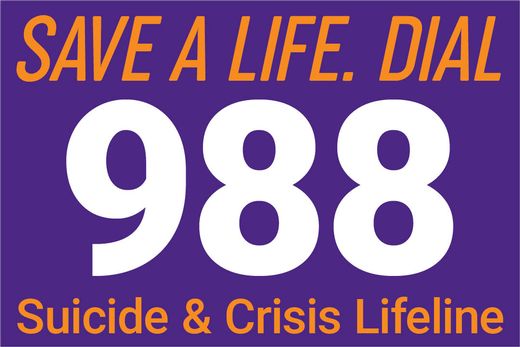 The new number replaces 1-800-273-TALK, which has been the National Suicide Prevention Lifeline for many years. This number will continue to function indefinitely, but anyone who dials it will be routed to the new 988 number.
For more information about suicide prevention, visit 988lifeline.org. You may also visit Indiana Suicide Prevention for additional resources pertaining to veterans, LGBTQ+, and more.
Submitted by Julie Beer / jb855@evansville.edu
Rave Guardian: Enhanced Campus Emergency Notification System
The UE Office of Public Safety has implemented Rave Guardian, a campus safety app that transforms your phone into a personal safety device. This enhances your safety on campus through a virtual network of friends, family, and even Public Safety. When you download the app, you'll find some helpful features:
UE Emergency Line: direct immediate connection to Public Safety with GPS location and personal profile information. It's a Bluelight Emergency Phone in the palm of your hand!
Personal Guardians: Students can identify friends, roommates, and family as 'guardians'.
Safety Timers: Guardians can check the status of a student. If the Rave Guardian timer is not deactivated before it expires, the selected guardian can contact Public Safety and provide the start location and end destination. Officers will check the area for the student.
Chat: Text the Public Safety Dispatch Center at any time.
This app is available through both the Apple App Store and Google Play. Just scan one of the QR codes below to start your download if you haven't already.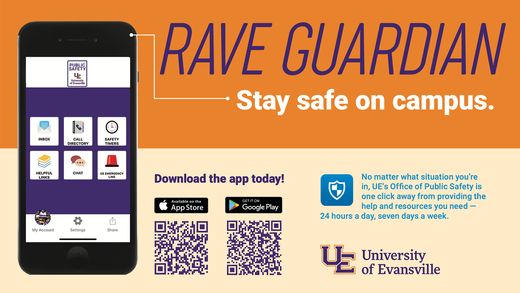 Have questions? A list of frequently asked questions is posted to our website (scroll about halfway down to the FAQ section). You can also contact the Office of Public Safety at any time by emailing security@evansville.edu or calling 812-488-2051 (non-emergency).
Submitted by Julie Beer / jb855@evansville.edu
Venturing Crew Open House
Looking for an adventure? Interested in the outdoors? Want to get away from campus?
We are the group for you!
Come find out what the Venturing Crew is all about on Thursday, Sept 8th in Ridgway 251 at 6:30pm where we will be talking about our group and the exciting adventures we have planned this year.
We will be canoeing, hiking, visiting the Smokey Mountains, camping, visiting a pumpkin patch, climbing and that's just the fall semester.
https://uengage.evansville.edu/event/8160465
Submitted by Fred Wilson fw2@evansville.edu
Student Leadership Day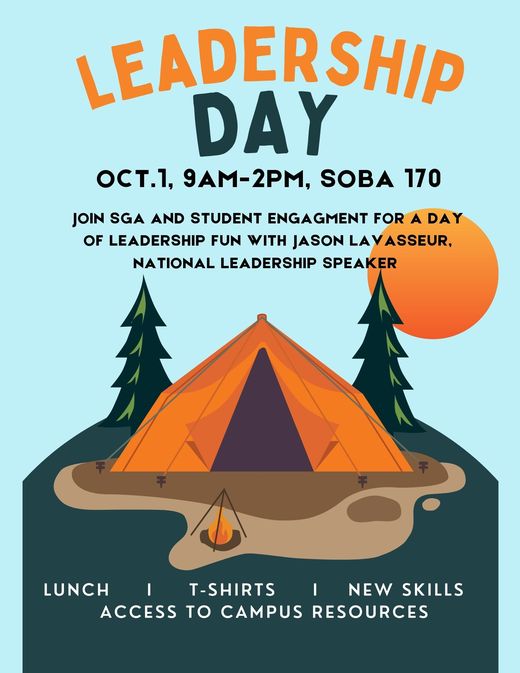 Join SGA and Student Engagement for a day of Leadership Fun with national leadership speaker, Jason LeVasseur on October 1st from 9am-2pm in SOBA 170! Sign up on UEngage!
Submitted by Lily A Renfro lr156@evansville.edu
Academic Services "IDENTIFY YOUR WHY" Workshop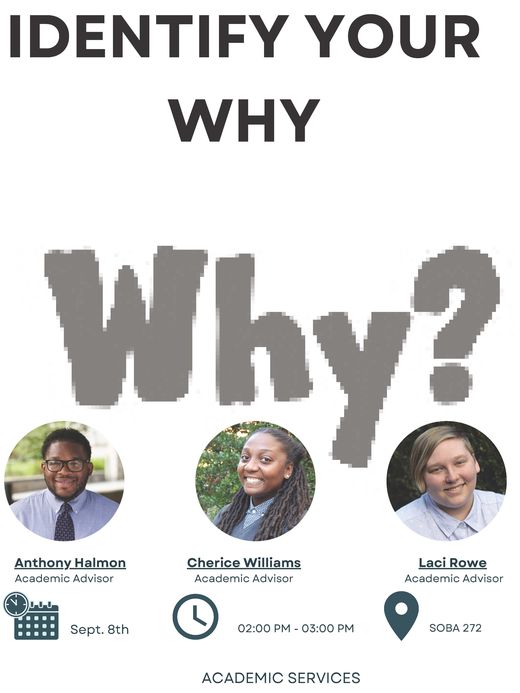 Academic Services presents: IDENTIFY YOUR WHY Workshop. This workshop will help students discover their perspective of college, their purpose in college, and their plans after college.
Submitted by Anthony Halmon ah679@evansville.edu
ECTE Lunch & Learn
Join us on Thursday, September 8th in the Philips Alcove (Ridgway 2nd floor) from 12:15-1:00 p.m. for two great Lunch and Learn presentations!
The annual Teaching Professor Conference affords faculty members the opportunity to explore multiple areas related to pedagogy and student engagement. Kristie Hochwender will be presenting on three or four of the most intriguing ideas she picked up from the recent conference in Atlanta, with an emphasis on specifications grading and how she's implementing it this semester.
Omid Khormali will present on student engagement, which deals with student attention, curiosity, interest, and eagerness in the learning process and influences increasing student motivation (edglossary.org). This part of the talk addresses some types of student engagement with some practical engagement strategies that can be used to engage students.
Pizza and salad will be provided.
Hope to see you there!
Submitted by Stephanie Knust sk306@evansville.edu
Register today for the Career Fair
Register today! Our first career event of the year is on Tuesday, September 13. The Engineering, Business, and Technology Career Fair will be held in Eykamp Hall from 1pm-3pm. Over 50 employers will be here looking to fill internship and full time positions in a wide variety of areas. Don't miss this opportunity to network with employers in your field!
Look in Handshake to see a full list of employers that will be present. This year's sponsoring employers include: Berry, BWXT, Keller Schroeder, Penske, Republic Finance, and Traylor Brothers.
Students are encouraged to register for this event in Handshake. Pre-registering will save you time at check in on the day of the event. BONUS to registering in Handshake- once you are registered, stop by the Center for Career Development to pick up professional quality resume paper and a portfolio to bring your prepared resume with you for employers.
Any questions, contact the Center for Career Development.
812-488-1083
career@evansvile.edu
Submitted by Amanda Wood aw505@evansville.edu
Save a Life: Give Blood to the Red Cross 9/12 in Eykamp
Meet the Need, Save a Life, Win the Challenge! UE Blood Drive Monday September 12 (Eykamp)
UE's Center for Innovation & Change has partnered with the Red Cross and Alpha Phi Omega, our Co-Ed Service Fraternity, to help meet desperate need for blood in our community. Make plans now to donate blood on Monday, September 12 anytime between 9am and 3pm! To make your appointment, go to www.redcrossblood.org and type "UE" in the code, or stop by the Red Cross table in Ridgway.
All participating UE staff, students, faculty, athletes and others will be entered into a drawing for a pizza party for their department / team. Please help us fill the slots and let's show up for the Red Cross!
UE only needs 19 more donors to completely fill the 9/12 Red Cross Blood drive! Thank you to all who have already signed up.

Submitted by Erin Lewis el131@evansville.edu
Employees - UE Gives Back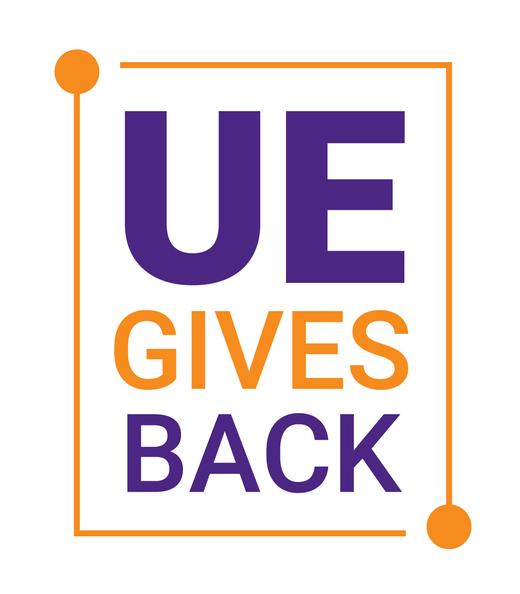 The University of Evansville is excited to announce the return of UE Gives Back for employees! With the approval of immediate supervisors and as schedules permit, employees may choose to volunteer on UE's campus without scheduling a day of vacation. Mark your calendars for Friday, September 30, and sign up today with the UE Gives Back Survey. With the gift of your time and talents, we can create Positively Purple change on campus!
Submitted by Jenni Sauls / js944@evansville.edu
UE Shepard Brass at Allen Family Amphitheater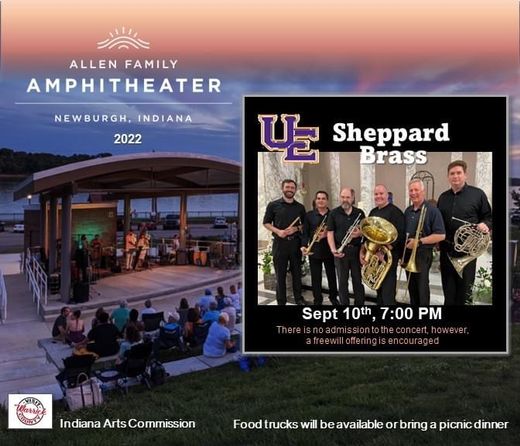 The University of Evansville Music Conservatory's Shepard Brass will perform a free concert at the Allen Family Amphitheater in Newburgh Indiana on Saturday September 10th at 7:00 PM. The concert is free and open to the public. They will be featuring Baroque, Patriotic, Jazz, and Popular music on the program.
Submitted by Timothy Zifer tz3@evansville.edu
What's it like to discover a lost, underwater castle?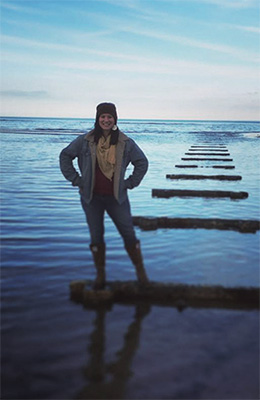 If you've ever wondered what it was like to work as an underwater archaeologist? Join Dr. Emily Stammitti, British Faculty Member and MA Programme Director at Harlaxton College. She is a British- American underwater archaeologist and community activist, as she explores the discovery of an underwater castle in Scotland and the treasures it revealed.
September 8, 2022
12:15 p.m. – 1:00 p.m.
COST: Free Via Zoom
Learn more an register at: https://www.evansville.edu/lostcastle/index.cfm
Submitted by Holly Lee Smith hh98@evansville.edu
JEDI Council
The Center for Diversity, Equity, and Inclusion invites employees and students to attend an information meeting for the Justice, Equity, Diversity, and Inclusion (JEDI) Council on Monday, September 19, at 3:00 pm in SOBA 272.
The JEDI Council consists of teams focused on people & personnel, campus culture, student voices, policies, practices, and procedures, programming and events, funding and development, and research.
Submitted by Rob Shelby rs262@evansville.edu
Fall Tutoring Is Here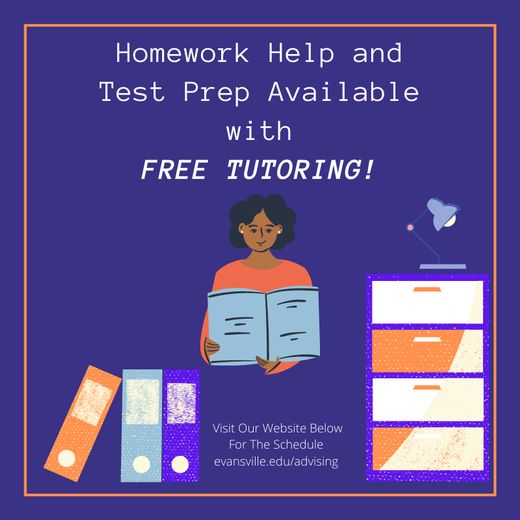 Fall tutoring is here! The tutoring schedule can be found by visiting https://www.evansville.edu/advising/ and navigating to the "Academic Peer Tutoring" tab.
Peer tutoring is a free service managed by Academic Services that is open to all current UE students. Each session is run by peer tutors—fellow students—who are familiar with the course material, having gone through it all themselves before. This is a great resource for if you have questions, want to refresh yourself on information, or even if you need a space that will help you focus on studying and other work.
If you have any questions in regards to tutoring, please direct them to Laci Rowe at lr152@evansville.edu / 812-488-5170 or by stopping into Academic Services (Olmsted 116)!
Submitted by Laci Rowe lr152@evansville.edu
Snacks, Coffee, Drink and Relaxation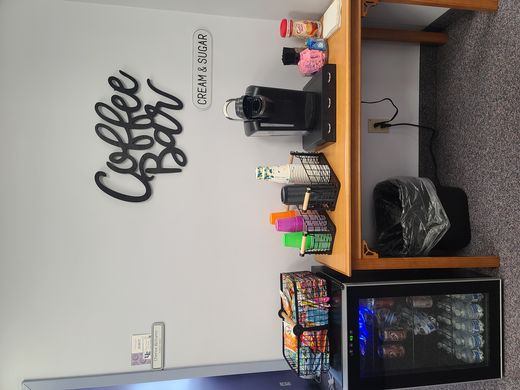 "Do you need a break from studying? Are you in need of a pick-me-up? Look no further!
Academic Services' Coffee Bar and Snacks is back and BETTER than ever!
Stop by the office--Olmsted Hall, Rm 116--for a chat, a cup of coffee or tea, or a Capri Sun and a snack!
Tell us what you're excited about, ask us questions, or just hang out on our comfy couch.
Everyone needs a change of scenery and a positive environment to be authentically you, and Academic Services is the place to be!"
Submitted by Jade S Shelby js818@evansville.edu
Passport to Inclusion Open Enrollment
The Passport to Inclusion diversity certificate program for employees of the University of Evansville is now open for enrollment for the 2022-2023 program year. If you are an employee of the University and interested in taking part in this program, please fill out this form no later than noon on Friday, September 16th: https://forms.gle/3cqa2sefK5M2BSxL6.
Passport to Inclusion was developed to promote engagement with diversity and inclusion across the University of Evansville campus. The certificate program achieves this through a thoughtful curriculum that dissects contemporary issues and events facing students, faculty and staff, and the Evansville community.
If you have any questions, please email Center4DEI@evansville.edu
Submitted by Abagail Christine Catania ac532@evansville.edu
Hiring Writing Consultants
The Writing Center is hiring consultants for the fall semester. Faculty can recommend students, or students can contact the Writing Center director at kg76@evansville.edu. Writing Consultants work directly with students to improve overall student writing. Training is provided.
Submitted by Kristina Groves kg76@evansville.edu
We're getting the Band back together - Aces Pep Band
Please join us on Monday, September 12 at 4:00pm in Krannert 110 for an informational meeting for the new Aces Pep Band. September 12 is an organizational meeting. Regular rehearsals will be Mondays 4:00-5:00pm. We can provide you an instrument. Members will also get some cool Aces-wear.
Join us on September 12 for some fun and snacks as we get organized for the upcoming season. For more information, contact Dr. Kenneth Steinsultz, ks306@evansville.edu
Go Aces!
Submitted by Kenneth Steinsultz ks306@evansville.edu
CDEI Is Hiring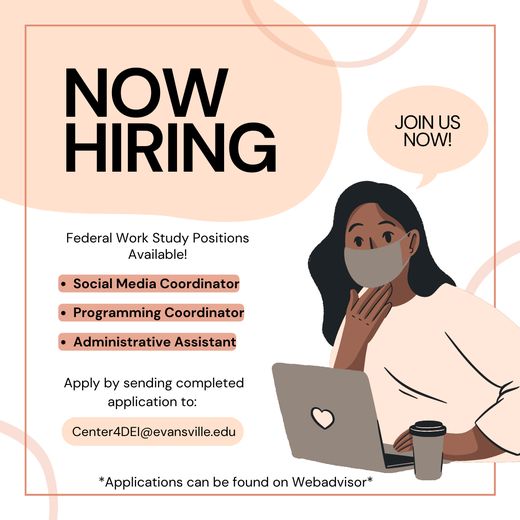 We're Hiring!
Are you interested in learning more about DEI or helping your fellow students become more culturally ware? Then a federal work study position in the CDEI might just be for you!
We have three (3) federal work study positions open that will focus on different duties! We'd love to see an application if any of these interest you!
Apply today!
*federal work study eligibility is required*
Submitted by Abagail Catania ac532@evansville.edu
Join the CDEI Programming Committee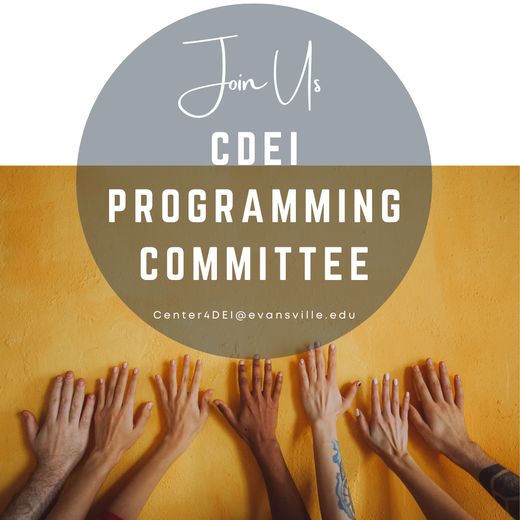 The CDEI invites students and employees to apply to be part of the CDEI Programming Committee!
The primary duty of the Programming Committee is to aid in the administrative responsibilities associated with events through the Center. Some of these events include MLK Day, Hispanic History Month, Women's Appreciation Month, Disability Awareness Month and more. In the CDEI, we want to create programming our community not only needs but wants. What better way to have your voice heard by channeling your inner changemaker and being part of the planning process?
Time commitment includes weekly meetings for one hour, as well as assigned responsibilities based on event/ program happenings not to exceed four hours in total per week.
Being part of the Programming Committee is completely voluntary.
If you or someone you know would be a great addition to this committee please send an email of interest to Center4DEI@evansville.edu
Submitted by Abagail Catania ac532@evansville.edu
Check Out the "Need Help?" Student Resources Webpage!
The UE website has several webpages that can be of assistance to students - or even faculty and staff who want to help students. But the webpages are in various departments and may not be easily located. Students may not even know what resources are available to them, such as campus departments and services. Thank you to an Ethics & Social Change ChangeLab, led by Dr. Valerie Stein, that proposed a student resources webpage!
For a one-stop shop of student services and support, visit the Need Help? webpage. You can find an orange button under the Student Life menu item or simply visit evansville.edu/needhelp. The webpage has links and information pertaining to food pantries, tutoring, scheduling advice, counseling and disability services, and much more.
Submitted by Julie Beer / jb855@evansville.edu
Deans' List
The Spring 2022 Deans' List is currently on display at the library. Congratulations!
Submitted by Meg Atwater-Singer ma35@evansville.edu
Condolences to the Family of Dr. James Lott
The School of Engineering and Computer Science extends our condolences to the family of Dr. James Lewis Lott, a retired Professor of Civil Engineering (UE 1998). Dr. Lott passed away on August 30, 2022 surrounded by his family. A celebration of Jim's life will be held at 2:00 pm on Saturday, September 17, 2022 at Alexander Newburgh Chapel, 5333 State St #261, Newburgh, IN 47630. Family and friends may visit Saturday from 11:00 a.m. until service time at the funeral home.
More details and an obituary can be found at:
https://www.dignitymemorial.com/obituaries/newburgh-in/james-lott-10909715
Submitted by Tonya Albright ta58@evansville.edu
UE's Valdez Named MVC Women's Soccer Freshman Of The Week
The University of Evansville women's soccer team picked up its second Missouri Valley Conference weekly award in as many weeks on Tuesday, as UE freshman defender Isa Valdez (Phoenix, Ariz./Desert Vista HS) was named the MVC Freshman of the Week.
Making her first start of the season last Thursday at Southern Illinois-Edwardsville, Valdez helped Evansville pick up its first shutout of the 2022 season in a 0-0 tie at the 2021 NCAA Tournament participant. Valdez played a full 90 minutes as UE's left back, and she used her speed to ensure that the Cougars did not get in behind UE's defense on the left side. She also helped the UE defense limit SIUE to just five shots on goal out of the 16 total shots the Cougars mustered on the night.
For Evansville, it marked the second MVC award winner of the season, as fifth-year forward Emily Ormson (Folsom, Calif./Vista del Lago HS) was named the MVC Offensive Player of the Week last week.
Valdez, Ormson and the Purple Aces stand at 1-1-2 on the season. Unbeaten in its last three matches, UE will travel to Cape Girardeau, Missouri on Thursday night to battle the Southeast Missouri State University Redhawks (3-3-0). Kick-off is set for 6:05 p.m. and Thursday's match can be seen live on ESPN+.
Submitted by Athletics
Aces fall to Tennessee State
Giulia Cardona recorded 18 kills, 6 digs and 5 aces on Tuesday night in a 3-1 loss to Tennessee State inside Meeks Family Fieldhouse.
Cardona led all players with her kill and ace tallies. Emilee Scheumann totaled 11 kills for the University of Evansville volleyball team while Melanie Feliciano finished with 8. Blakeley Freeman and Feliciano led the way with 11 digs while Kora Ruff added 37 assists.
Set 1 – TSU 25, UE 22
Eight ties in the opening sequence led to an 8-8 tie. The Tigers converted three consecutive kills to open an 11-8 advantage before Kate Tsironis ended the run with a kill of her own. Moments later, Emilee Scheumann recorded a kill that tied it and a TSU error gave UE a 15-14 edge.
Tennessee State countered, turning a 17-17 tie into a 19-17 lead. They would go back up by three tallies (23-20), but UE did not throw in the towel. Giulia Cardona served up an ace that cut the gap to just one before TSU rebounded to win by a 25-22 final.
Set 2 – UE 25, TSU 19
Evansville had a better start in the second game, opening a 5-1 lead. Cardona recorded a pair of kills in the stretch as UE would hold the lead until Tennessee State rallied to tie it up at 11-11. After the Tigers picked up a 16-15 edge, the Purple Aces responded in a big way.
Five in a row by the Aces pushed the lead back to four tallies. Cardona added three more kills to her total to push the lead back out and her squad would hold strong from there, earning a 25-19 win to knot the match.
Set 3 – TSU 25, UE 18
It was the Tigers who grabbed the momentum to open game three. Taking a lead of 11-3, Tennessee State was primed to run away with the set. That appeared to be the case as the Tigers pushed their advantage to as many as 12 points at 22-10.
Showing their fight, the Aces battled back. Two aces by Cardona spearheaded a 6-0 stretch and UE would get within five at 23-18. Unfortunately, the deficit was too much to overcome with TSU taking the set and grabbing a 2-1 lead in the match.
Set 4 – TSU 25, UE 14
Out of the gate, it was the Tigers who took control. After jumping out to a 4-1 lead, the Tigers gradually added to the advantage. After doubling up the Aces at 14-7, TSU cruised to a 25-14 win to clinch the match.
This weekend, the Aces head to the Baylor Classic where they face Arizona State, Colorado State and the host Bears in Waco, Texas.
Submitted by Athletics
Contribute to AceNotes
To have content considered for inclusion in AceNotes, please submit a Marketing Request Form. Deadline for submission to AceNotes is 10:00 a.m. on the requested date of publication. Only articles concerning UE related/sponsored activities will be accepted. Articles submitted to AceNotes may be edited for length and clarity. Submitter contact information is at the end of each article.