| | |
| --- | --- |
| AceNotes Today | Tuesday, September 6, 2022 |
988: National Suicide Prevention Lifeline
National Suicide Prevention Week is September 4-10, and this week is focused on informing the public about warning signs of suicide and how to prevent it. The University of Evansville is committed to supporting students not only academically but also mentally and emotionally. We can all help prevent suicide, so it's important that each of us is aware of the information and resources to do so.
The University would like to share an important update that impacts our nation as a whole. For people in distress, you can now text or call 988 for 24/7, free and confidential support. This is an easy number to use, share, and remember – just like 911. When you dial 988, your call will be directed to a local suicide prevention/lifeline center. This operates the same as emergency dispatch, so no matter where you are, you can reach 988.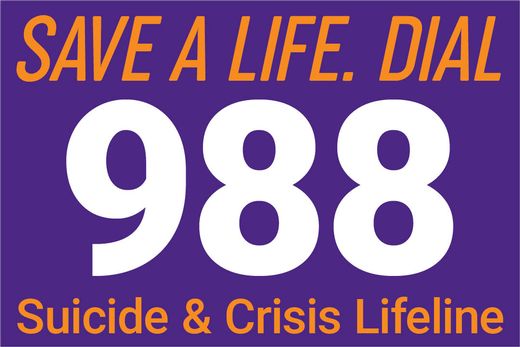 The new number replaces 1-800-273-TALK, which has been the National Suicide Prevention Lifeline for many years. This number will continue to function indefinitely, but anyone who dials it will be routed to the new 988 number.
For more information about suicide prevention, visit 988lifeline.org. You may also visit Indiana Suicide Prevention for additional resources pertaining to veterans, LGBTQ+, and more.
Submitted by Julie Beer / jb855@evansville.edu
Interested in Learning Archery On Campus?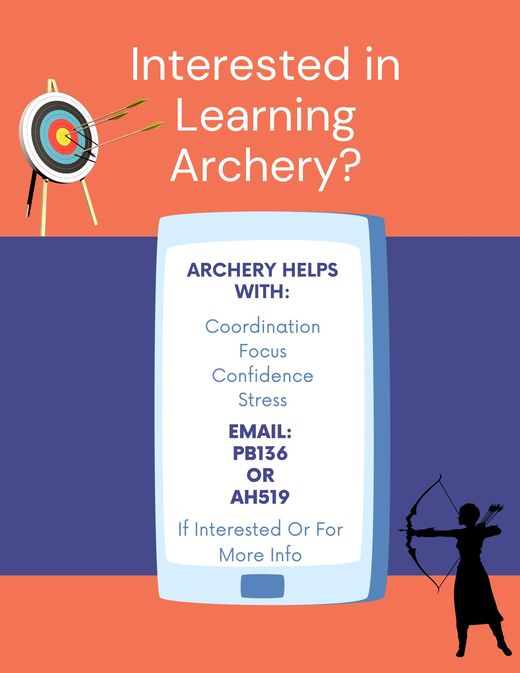 Have you ever been interested in learning how to shoot a bow and arrow? Well, now is your chance! Archery Club is looking for prospective students to join and shoot. If interested or if you have any questions contact Peighton Brown (pb136) or Andrew Hawkins (ah519).
Submitted by Peighton Emma Brown pb136@evansville.edu
Academic Services "IDENTIFY YOUR WHY" Workshop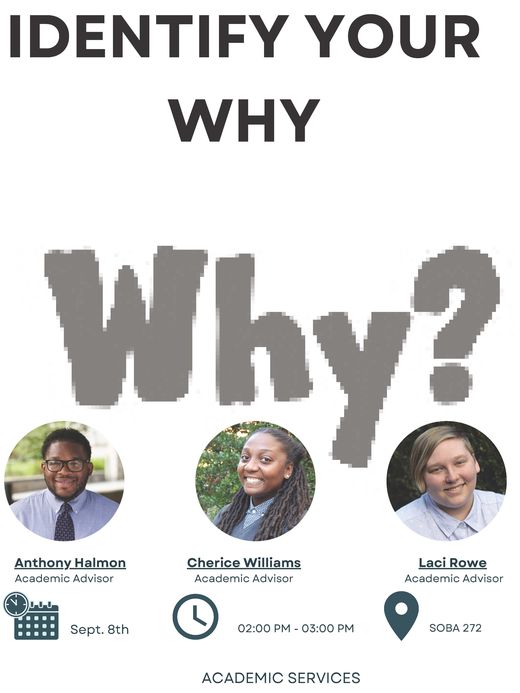 Academic Services presents: IDENTIFY YOUR WHY Workshop. This workshop will help students discover their perspective of college, their purpose in college, and their plans after college.
Submitted by Anthony Halmon ah679@evansville.edu
Fall Health Risk Assessment
Employee Fall Health Risk Assessments will take place September 20th-21st in Eykamp Hall from 7:00AM-10:45AM each day. Complete your health risk assessment and earn HRA credits. This health risk assessment is for UE employees and their spouses on the UE medical insurance plan. Please remember, fasting 8-10 hours is recommended. Water and Black coffee are allowed. Please take maintenance medications as prescribed, as long as they are not required to be taken with food. Please click the link below to sign up today!
https://acelink.evansville.edu/Areas/MedicalClinic/Appointments/
Submitted by Haley Walker hw164@evansville.edu
ECTE Lunch & Learn
Join us on Thursday, September 8th in the Philips Alcove (Ridgway 2nd floor) from 12:15-1:00 p.m. for two great Lunch and Learn presentations!
The annual Teaching Professor Conference affords faculty members the opportunity to explore multiple areas related to pedagogy and student engagement. Kristie Hochwender will be presenting on three or four of the most intriguing ideas she picked up from the recent conference in Atlanta, with an emphasis on specifications grading and how she's implementing it this semester.
Omid Khormali will present on student engagement, which deals with student attention, curiosity, interest, and eagerness in the learning process and influences increasing student motivation (edglossary.org). This part of the talk addresses some types of student engagement with some practical engagement strategies that can be used to engage students.
Pizza and salad will be provided.
Hope to see you there!
Submitted by Stephanie Knust sk306@evansville.edu
Register today for the Career Fair
Register today! Our first career event of the year is on Tuesday, September 13. The Engineering, Business, and Technology Career Fair will be held in Eykamp Hall from 1pm-3pm. Over 50 employers will be here looking to fill internship and full time positions in a wide variety of areas. Don't miss this opportunity to network with employers in your field!
Look in Handshake to see a full list of employers that will be present. This year's sponsoring employers include: Berry, BWXT, Keller Schroeder, Penske, Republic Finance, and Traylor Brothers.
Students are encouraged to register for this event in Handshake. Pre-registering will save you time at check in on the day of the event. BONUS to registering in Handshake- once you are registered, stop by the Center for Career Development to pick up professional quality resume paper and a portfolio to bring your prepared resume with you for employers.
Any questions, contact the Center for Career Development.
812-488-1083
career@evansvile.edu
Submitted by Amanda Wood aw505@evansville.edu
Save a Life: Give Blood to the Red Cross 9/12 in Eykamp
Meet the Need, Save a Life, Win the Challenge! UE Blood Drive Monday September 12 (Eykamp)
UE's Center for Innovation & Change has partnered with the Red Cross and Alpha Phi Omega, our Co-Ed Service Fraternity, to help meet desperate need for blood in our community. Make plans now to donate blood on Monday, September 12 anytime between 9am and 3pm! To make your appointment, go to www.redcrossblood.org and type "UE" in the code, or stop by the Red Cross table in Ridgway.
All participating UE staff, students, faculty, athletes and others will be entered into a drawing for a pizza party for their department / team. Please help us fill the slots and let's show up for the Red Cross!
UE only needs 19 more donors to completely fill the 9/12 Red Cross Blood drive! Thank you to all who have already signed up.

Submitted by Erin Lewis el131@evansville.edu
Employees - UE Gives Back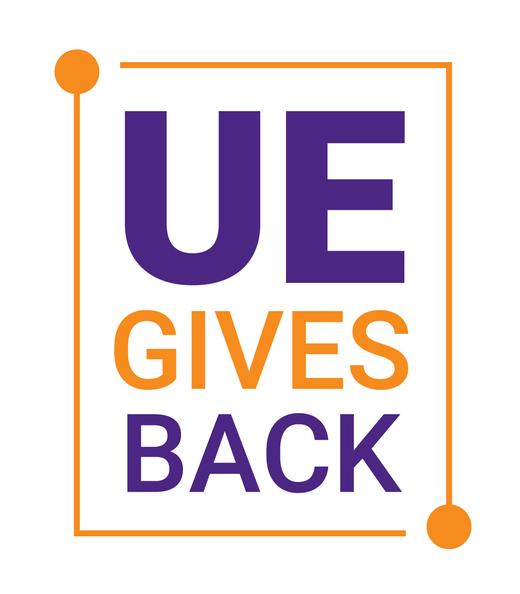 The University of Evansville is excited to announce the return of UE Gives Back for employees! With the approval of immediate supervisors and as schedules permit, employees may choose to volunteer on UE's campus without scheduling a day of vacation. Mark your calendars for Friday, September 30, and sign up today with the UE Gives Back Survey. With the gift of your time and talents, we can create Positively Purple change on campus!
Submitted by Jenni Sauls / js944@evansville.edu
Save the Date - UE Majors and Minors Fair
Save the date for the UE Majors and Minors Fair on Tuesday, October 18, 2022, from 4:00 to 5:30 p.m. in Eykamp Hall.
Faculty, students, and alumni along with campus support teams will provide information about their discipline, professional outcomes, education programs, academic support, social innovation, and much more.
Watch for additional information coming soon. Contact Paula Heldt at ph28@evansville.edu or 812-488-2479 with questions.
Submitted by Paula Heldt ph28@evansville.edu
UE Shepard Brass at Allen Family Amphitheater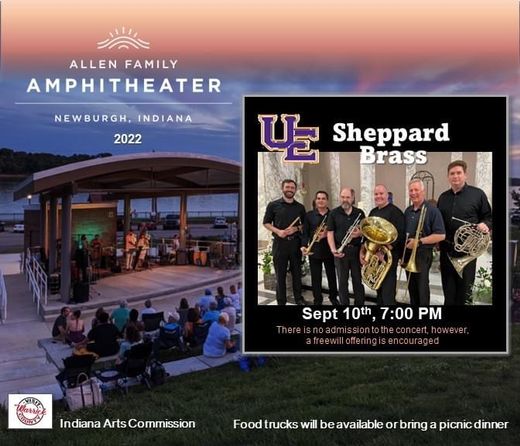 The University of Evansville Music Conservatory's Shepard Brass will perform a free concert at the Allen Family Amphitheater in Newburgh Indiana on Saturday September 10th at 7:00 PM. The concert is free and open to the public. They will be featuring Baroque, Patriotic, Jazz, and Popular music on the program.
Submitted by Timothy Zifer tz3@evansville.edu
Department of Art Alumni Exhibition Returns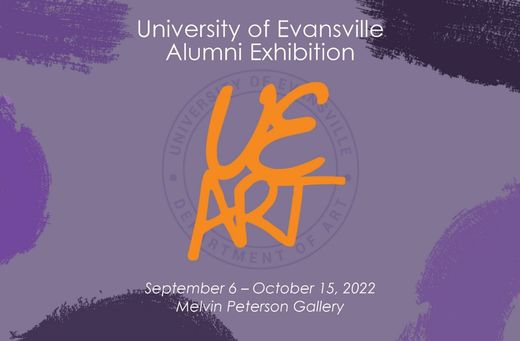 The Department of Art is pleased to announce the return of the UE Art Alumni Exhibition in the Melvin Peterson Gallery. Twenty alumni from around the country are participating in this exhibition. The artworks range from painting, sculpture, ceramics, batik, alcohol ink, and mixed media. All artwork is for sale and a portion of the sales will go to the establishment of an Art Scholarship. We welcome the entire community to visit the exhibition and support the
Department of Art as we welcome these alumni to campus. Some of these students you may even remember.
The Exhibition opens September 6 and runs through October 15. There is a public reception on Thursday, September 8 at 6:30 pm to celebrate the artists. We hope to see you there.
Melvin Peterson Gallery hours are:
Monday, Tuesday, and Friday 12-3
Wednesday and Thursday 12-6
Saturday 12-3
Submitted by Carol McCraney cm177@evansville.edu
AceBuddies Hosting Zoo Day on September 24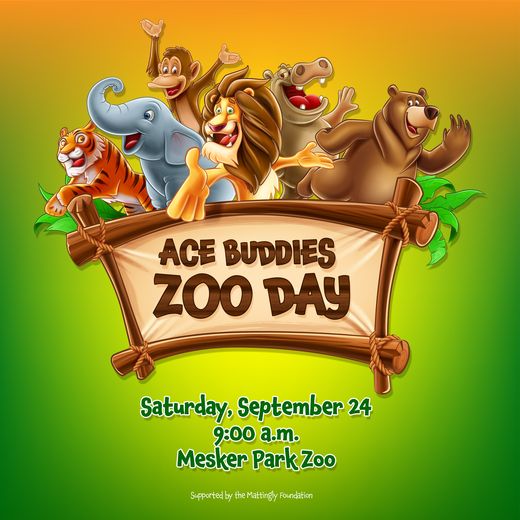 AceBuddies, a group fitness program for individuals with disabilities that is operated by Doctor of Physical Therapy students, will host AceBuddies Zoo Day on Saturday, September 24, at Mesker Park Zoo. The event will be held from 9:00 a.m. until noon and is open to 50 individuals on a first come, first served basis. To register, please visit evansville.edu/ZooDay.
During the event, participants will travel to various animal exhibits where they will then complete an exercise or activity based on the animal. Each participant will be paired with one DPT student who will assist with each exercise. Participants can bring one guardian with them to Zoo Day, who will follow the group throughout the event.
The registration deadline is September 10, so parents or guardians are encouraged to sign up soon at evansville.edu/ZooDay. The event is generously sponsored by the Mattingly Foundation.
Submitted by Julie Beer / jb855@evansville.edu
What's it like to discover a lost, underwater castle?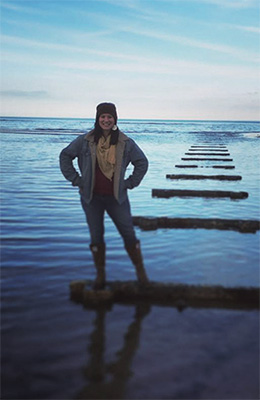 If you've ever wondered what it was like to work as an underwater archaeologist? Join Dr. Emily Stammitti, British Faculty Member and MA Programme Director at Harlaxton College. She is a British- American underwater archaeologist and community activist, as she explores the discovery of an underwater castle in Scotland and the treasures it revealed.
September 8, 2022
12:15 p.m. – 1:00 p.m.
COST: Free Via Zoom
Learn more an register at: https://www.evansville.edu/lostcastle/index.cfm
Submitted by Holly Lee Smith hh98@evansville.edu
Fall Tutoring Is Here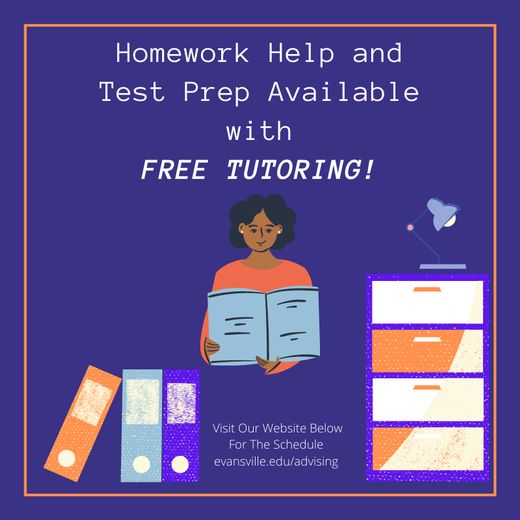 Fall tutoring is here! The tutoring schedule can be found by visiting https://www.evansville.edu/advising/ and navigating to the "Academic Peer Tutoring" tab.
Peer tutoring is a free service managed by Academic Services that is open to all current UE students. Each session is run by peer tutors—fellow students—who are familiar with the course material, having gone through it all themselves before. This is a great resource for if you have questions, want to refresh yourself on information, or even if you need a space that will help you focus on studying and other work.
If you have any questions in regards to tutoring, please direct them to Laci Rowe at lr152@evansville.edu / 812-488-5170 or by stopping into Academic Services (Olmsted 116)!
Submitted by Laci Rowe lr152@evansville.edu
Snacks, Coffee, Drink and Relaxation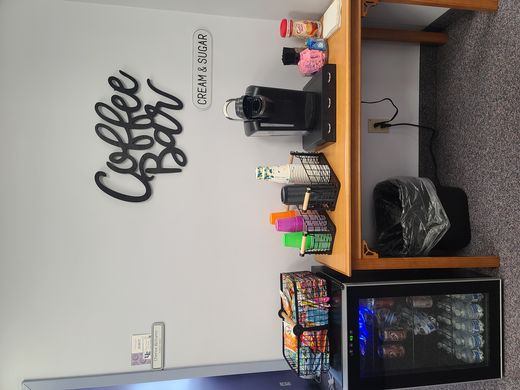 "Do you need a break from studying? Are you in need of a pick-me-up? Look no further!
Academic Services' Coffee Bar and Snacks is back and BETTER than ever!
Stop by the office--Olmsted Hall, Rm 116--for a chat, a cup of coffee or tea, or a Capri Sun and a snack!
Tell us what you're excited about, ask us questions, or just hang out on our comfy couch.
Everyone needs a change of scenery and a positive environment to be authentically you, and Academic Services is the place to be!"
Submitted by Jade S Shelby js818@evansville.edu
Help Academic Services Spread Good Vibes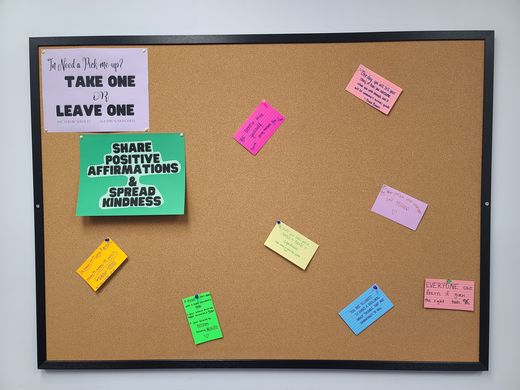 At the University of Evansville, we are dedicated to creating and maintaining a diverse, supportive and sustainable environment for ALL students. In Academic Services, we are taking that one step further! Students are invited, and encouraged, to LEAVE a positive note or word of encouragement or TAKE one for themselves. Visit Olmsted Hall, Room 116 and help us spread good vibes! #AcademicServices #UESpreadsKindness
Submitted by Jade Shelby js818@evansville.edu
Passport to Inclusion Open Enrollment
The Passport to Inclusion diversity certificate program for employees of the University of Evansville is now open for enrollment for the 2022-2023 program year. If you are an employee of the University and interested in taking part in this program, please fill out this form no later than noon on Friday, September 16th: https://forms.gle/3cqa2sefK5M2BSxL6.
Passport to Inclusion was developed to promote engagement with diversity and inclusion across the University of Evansville campus. The certificate program achieves this through a thoughtful curriculum that dissects contemporary issues and events facing students, faculty and staff, and the Evansville community.
If you have any questions, please email Center4DEI@evansville.edu
Submitted by Abagail Christine Catania ac532@evansville.edu
OTS Help Desk Now Hiring Student Workers
The Office of Technology Services is currently seeking Student Workers to assist at our Help Desk during business hours! No experience necessary, as we hope to provide you with the tools and confidence in technology use beyond our Help Desk! Duties include but not limited to answering calls, taking down information, greeting visitors, and growing your confidence in technology use during your employment!
Please email nm169@evansville.edu for more information!
Submitted by Nick Messer nm169@evansville.edu
Table and Chair Requests
Starting today, September 1, Facilities Management will be responsible for table and chair requests for the campus, apart from Ridgway and Eykamp.
When filling out requests on resource scheduler, please indicate if tables and chairs are required for your event.
Additionally, email Fred Wilson at fw2 with the location, number of tables, chairs, time, and date of the event.
Please do this at least 14 days prior to your event to ensure we are able to add the request into our schedule.
HES will continue with responsibility for tables and chairs if events are located in Ridgway and Eykamp.
Submitted by Fred Wilson fw2@evansville.edu
Hiring Writing Consultants
The Writing Center is hiring consultants for the fall semester. Faculty can recommend students, or students can contact the Writing Center director at kg76@evansville.edu. Writing Consultants work directly with students to improve overall student writing. Training is provided.
Submitted by Kristina Groves kg76@evansville.edu
Positions Open for Advancement Services
The Office of Advancement Services is currently looking to hire 2 student workers for the upcoming school year.
Student workers are a part of the University Advancement team, freely sharing new ideas, holding themselves accountable for their work, and preparing themselves for a real-world work experience. The department of University Advancement has dedicated itself to aiding the student in reaching this goal. Student duties include typing, filing, copying, organizing, preparing mailings, and maintaining the alumni database with regards to email addresses, telephone number, and event attendance. Student-workers may be asked to write class notes for the UE Magazine, answer phones, and prepare name tags, labels, table tents, and supplies for events.
Applications can be downloaded from WebAdvisor. Completed applications and availability can be emailed to lw274@evansville.edu.
Submitted by Lisa Willis lw274@evansville.edu
UE Men's Basketball Manager Sign Up
Interested in doing a work study for the Men's Basketball Team?! Job description and pay will all be on the website. Please follow the directions below to sign up and be a member of the Aces!
https://www.evansville.edu/student-financial-services/student-employment.cfm
Scroll down to "Applying for Student Employment" and Click "WebAdvisor"
Login using your UE username and password
Click "Students" on the right-hand side
Under "Student Employment" click "Student Employment Positions Listing"
Click "Men's Basketball Student Manager"
Click "Submit"
Submitted by Roosevelt Jones rj110@evansville.edu
Library Display Cases
Looking for a great place to show off what is happening in your area of UE campus?
Then I have the perfect place for you.
The library has two display cases with great views, open all year round, and the 2022-2023 schedule is open for the taking. If you are interested in taking advantage of the space, then all you have to do is call ext. 1062 and let Julie know dates, an email of the person reserving the display case, if you want both cases or just one, and what you want to display.
Submitted by Julie Wilson jw223@evansville.edu
Deans' List
The Spring 2022 Deans' List is currently on display at the library. Congratulations!
Submitted by Meg Atwater-Singer ma35@evansville.edu
Condolences to the Family of Dr. James Lott
The School of Engineering and Computer Science extends our condolences to the family of Dr. James Lewis Lott, a retired Professor of Civil Engineering (UE 1998). Dr. Lott passed away on August 30, 2022 surrounded by his family. A celebration of Jim's life will be held at 2:00 pm on Saturday, September 17, 2022 at Alexander Newburgh Chapel, 5333 State St #261, Newburgh, IN 47630. Family and friends may visit Saturday from 11:00 a.m. until service time at the funeral home.
More details and an obituary can be found at:
https://www.dignitymemorial.com/obituaries/newburgh-in/james-lott-10909715
Submitted by Tonya Albright ta58@evansville.edu
Volleyball welcomes Tennessee State on Tuesday
Looking to remain perfect at home, the University of Evansville volleyball team will face Tennessee State at 6 p.m. on Tuesday inside Meeks Family Fieldhouse.
Facing crosstown squad USI in last week's home opener, the Purple Aces finished with a 3-0 victory. As a team, UE hit .409 with the defense holding the Screaming Eagles to .236. Alondra Vazquez led the way with 13 kills while Giulia Cardona and Melanie Feliciano recorded 12 and 11, respectively.
Feliciano led the way with 10 digs while Kora Ruff finished with 38 assists and nine digs.
Over the weekend, UE competed in the Golden Eagle Invitational in Cookeville, Tenn. Without the services of Vazquez, the Aces dropped their three matches in the event. Evansville put up an impressive fight in Friday's match against Big Ten foe Northwestern. Six kills by Cardona helped UE earn a win in the first set before the Wildcats were able to fend off the challenge.
UE also picked up a set victory in Saturday's match against Tennessee Tech.
Submitted by Athletics
Aces men's soccer contest with Dayton canceled due to inclement weather
Unable to continue after a weather delay in the 33rd minute, the University of Evansville men's soccer team's contest with Dayton was canceled due to inclement weather and deteriorating field conditions on Sunday evening in Dayton, Ohio.
When the match was called, Evansville and Dayton were locked in a scoreless tie with the Aces having to defend much of the half with just 10 men after a red card in the fifth minute.
"To go down a man to a team like Dayton, asked a lot of questions about our guys and I think they stood up and answered them," said Aces head men's soccer coach Marshall Ray. "We created a few chances off the counter and during the run of play and also limited the chances Dayton had playing a man down. They're a good team; they're going to have a lot of wins this year and we were fortunate to hold on. Unlucky for the weather today, but with just the amount of rain we had today, there was no way to go back out and finish the match. It would have been a great college soccer game to watch. We're looking forward to getting back on the bus, getting home, and getting ready for some home matches. USI's next and that's what we'll be preparing for this week."
The Aces return home for three-straight matches, beginning with a Mayor's Cup matchup with USI on Saturday, September 10 at 6 PM at Arad McCutchan Stadium with just $1 hot dogs available at the concession stand.
Submitted by Athletics
Sunday's UE-Northern Kentucky Women's Soccer Match Canceled Due To Conditions
Due to wet field conditions and the expectation for rain and thunderstorms most of the afternoon in the Evansville area, Sunday afternoon's women's soccer match between the University of Evansville and Northern Kentucky has been canceled.
On Saturday, the Evansville area received over three inches of rain in less than a two-hour period, to create an already wet situation. Then, with thunderstorms already rolling into the area by 9 a.m. and the forecast calling for rain and thunderstorms off and on throughout the day, the decision was made to cancel the match.
Evansville (1-1-2 overall) will now embark on a four-match road trip beginning on Thursday, as the Purple Aces will travel to Cape Girardeau, Missouri to take on Southeast Missouri State. Kick-off on Thursday is set for 6 p.m. and Thursday's match can be seen live on ESPN+.
Submitted by Athletics
Aces finish Golden Eagle Invitational
Facing host Tennessee Tech in the final match of the Golden Eagle Invitational, the University of Evansville volleyball team dropped a 3-1 contest.
Giulia Cardona was strong in all facets on Saturday, recording 18 kills, 8 digs, 2 service aces and 2 blocks. Melanie Feliciano added 10 kills. Kora Ruff registered 39 assists and 9 digs, both team highs. Ruff added four blocks, tying Madisyn Steele for the top mark.
Set 1 – UE 25, TTU 22
Game one was an all-out battle. Kate Tsironis and Kora Ruff combined on a block to put the Purple Aces up 8-6 before a 4-0 run by the Golden Eagles saw them take an 11-9 edge. Neither team would lead by more than two points until the final tallies.
Knotted at 21-21, an ace by Giulia Cardona and block from Ruff and Madisyn Steele saw UE reel off three in a row to make it set point. Following a TTU point, Cardona knocked down kill #7 of the game to give UE a 1-0 lead on the strength of a 25-22 decision.
Set 2 – TTU 25, UE 20
Another back-and-forth contest ensued in the second frame. Both teams enjoyed slight leads but could not extend the lead past two points. That changed midway through the game. After a kill from Cardona tied things up at 12-12, the Golden Eagles slowly pulled away.
After going up 18-15, Tennessee Tech added to its advantage to finish with a 25-20 win to knot the match at 1-1.
Set 3 – TTU 25, UE 13
Evansville picked up the first two points of the day, but Tennessee Tech stormed back with five in a row. The TTU run continued as a 12-3 run saw them go up 12-5. From there, the Golden Eagles pulled away for the 25-13 win.
Set 4 – TTU 25, UE 15
In the fourth set, the Golden Eagles charged out to an 11-4 lead out of the gate. After leading by as many as 11 points, they clinched the match, winning by a 25-15 final.
UE returns home on Tuesday for a 6 p.m. match versus Tennessee State
Submitted by Athletics
Gushrowski and Wassmer post low scores on Saturday
Shooting the low scores of the day for the University of Evansville men's golf team were Nicholas Gushrowski and Caleb Wassmer. Both finished with rounds of 73 in Saturday's final round of the Earl Yestingsmeier Invitational at Delaware Country Club.
Gushrowski was Evansville's top finisher, tying for 16th. His 3-over 73 in the final 18 gave him a 218 over the three rounds. Friday's second round saw him post his low score with an even 70. Finishing with a 223 for the tournament was Carson Parker. He carded a 76 on the final day to tie for 44th on the leaderboard. His top two rounds of 73 and 74 came on Friday.
Michael Ikejiani tied for the 60th position with a final tally of 228. After finishing strong on Friday with a 71, he carded a 78 in round three. Taking fourth on the team was Caleb Wassmer. He tied Gushrowski's low round on Saturday with a 73. His final total of 230 strokes tied him for 67th. Luke Schneider wrapped up the tournament with a 79. Highlighting his first collegiate tournament was an even 70 in round two on Friday.
UE took 14th in the final standings with a score of 895 but was just six shots outside of the top ten. Six teams were separated by just six strokes in the standings.
Wright State took top team honors with a score of 846. They bested host Ball State by 13 strokes. Joey Wiseman (BSU) and Mikkel Mathiesen (WSU) tied for the top individual spot with scores of 208.
Next up on the schedule for the men is the Valpo Fall Invitational on Sept. 19-20.
Submitted by Athletics
Potent attack continues as Aces overwhelm Incarnate Word
For the second-straight match, the University of Evansville men's soccer team scored often in the opening half, en route to a 3-0 win over Incarnate Word on Friday afternoon in the opener of the Dayton Flyers Classic in Dayton, Ohio.
The attack was again powered by the Spanish trio of Jose Vivas, Carlos Barcia, and Nacho Diaz, who each found the back of the net on the day, continuing the streak to start the season with all eight UE goals in 2022 scored by student-athletes from Spain. In goal, it was another stellar performance by graduate keeper Alex Vidizzoni, who recorded his first shutout as an Ace, making four saves in the 3-0 victory.
Evansville wasted little time imposing itself in the match with Diaz and Barcia putting a combined three shots on frame inside the first 12 minutes action, but each was saved by Cardinals keeper Hugo Constant. The Aces found the breakthrough in the 19th minute when Evan Dekker found Jose Vivas who converted to give UE the lead at 1-0. Just over five minutes later, Barcia doubled the Evansville advantage with assists coming from Oliver Hald and Ethan Garvey. Capping-off an incredible opening half hour, Diaz continued his tear, scoring his fourth goal in three collegiate games, this time off assists from Barcia and Nkosi Graham.
The Aces showed poise in the second half, maintaining its three-goal advantage and holding UIW at bay as the two sides combined for just four shots in the final 45 minutes.
Submitted by Athletics
UE volleyball completes first day in Tennessee
Day one of the Golden Eagle Invitational saw the University of Evansville volleyball team drop contests against Western Carolina and Northwestern. The Purple Aces look to finish the weekend on a winning note on Saturday when they face Tennessee Tech at 2 p.m.
MATCH 2 – Northwestern 3, UE 1
Leading the way with 18 kills was Giulia Cardona. Melanie Feliciano and Emilee Scheumann followed with 10 and 9 kills, respectively. Kora Ruff topped the team with 11 digs while Blakely Freeman had 10. Ruff led UE with 35 assists.
Set 1 – UE 25, NU 19
Giulia Cardona and Melanie Feliciano recorded 6 and 5 kills, respectively, to push the Purple Aces to a win in the first set. Northwestern had the momentum early in the set, going up by as many as five points at 13-8. Three in a row, including an ace by Kora Ruff, cut the deficit to a pair.
Trailing 15-13, UE reeled off seven in a row to take control. Pinpoint serving from Laura Ruiz set the Aces up while Cardona and Feliciano added kills during the run. Evansville never let the Wildcats back in it, finishing with a 25-19 win with Ruff and Hannah Watkins clinching with a block assist.
Set 2 – NU 25, UE 19
It was Northwestern jumping out to a 7-4 lead in the early going before Feliciano added an ace and Cardona registered two kills in a 4-0 stretch that gave UE its first lead at 8-7. Scoring 8 of the next 11 points, the Wildcats saw things swing in their favor, going up 16-10.
Evansville refused to give in. Down 18-12, UE stormed back with six in a row to tie it up. Two more Feliciano kills highlighted the sequence. Northwestern regained its composure and finished the frame on a 7-2 run to knot the match with a 25-19 win.
Set 3 – NU 25, UE 14
Early on, it was the Aces who jumped out in front, scoring the first three points. Still in front by a 5-3 score, the Aces saw the Wildcats post six tallies in a row to jump on top 9-5. The run continued for Northwestern, who extended their run to take a 14-6 advantage before winning by a 25-14 score.
Set 4 – NU 25, UE 15
Just as they did in the third game, Evansville led early in the fourth. Maddie Hawkins registered an ace as UE took a 6-2 lead. Northwestern rallied to tie it up at 7-7 and would clinch the match with a huge finish. After falling behind, the Wildcats completed the set by outscoring UE, 23-9, to win the match.
MATCH 1 – Western Carolina 3, UE 0
Melanie Feliciano had 14 kills and hit .542, but a 13-kill effort by Bailey Hartsough lifted Western Carolina to a 3-0 win in Friday's Golden Eagle Invitational opener. Giulia Cardona added 10 kills and two ace. Feliciano and Blakeley Freeman tied for the team lead with eight digs while Kora Ruff had 33 assists.
Set 1 – WCU 25, UE 16
Western Carolina jumped out to a 9-3 lead right out of the gate, completing the stretch on a 5-0 run. Melanie Feliciano ended the rally with a kill before a solo block from Madisyn Steele and a service ace by Giulia Cardona got UE within a pair at 9-7.
Evansville stayed within striking distance over the middle stretch of the set, but a late Catamount run proved to be the dagger. Up 20-16, WCU scored the final five points to clinch the set by a 25-16 final.
Set 2 – WCU 25, UE 22
Kills by Emilee Scheumann and Hannah Watkins helped Evansville go up 3-0 before Western Carolina made its first run of the set, scoring five out of six points to go up 5-4. Four Feliciano kills, coupled with two from Steele, spearheaded a 6-1 run that turned a 5-4 deficit into a 10-6 lead.
After the Catamounts used an ace to cut their deficit to 12-10, UE countered with four in a row to take its largest lead. Scheumann and Watkins combined on a block to highlight the run. The Aces looked to be in good shape when another Feliciano kill pushed the lead to 18-12, but the Catamounts stormed back. Six scores in a row knotted the score at 18-18 and the run set the stage for an exciting finish. Evansville took four 1-point leads, but WCU had the answer each time and with the score tied at 22-22, the Catamounts posted the final three points to take the set along with a 2-0 match lead.
Set 3 – WCU 25, UE 18
Blakeley Freeman picked up a service ace to lift the Aces to a 2-0 lead before the Catamounts responded to go up 4-3. A 9-1 Western Carolina stretch saw them overcome a 3-1 deficit to take a 10-4 lead.
Facing an early hole, Evansville chipped away at the lead as a block assist from Kora Ruff and Madisyn Steele got UE back within a pair at 12-10. Unfortunately, WCU regained control to go back up by five at 16-11 before pulling away to clinch the match with a 25-18 decision.
Submitted by Athletics
Men's golf tied for 9th in Muncie
Ranking in 14th place following the opening round of the Earl Yestingsmeier Invitational, the University of Evansville men's golf team jumped five positions in the second round to stand in a 9th place tie at Delaware Country Club.
In the first 18 holes, the Purple Aces scored a 309 before a complete team effort saw the score drop 24 strokes to a 286 in the second round. Leading the way for UE is Nicholas Gushrowski. He carded a 75 to open play before shooting an even 70. His 145 is tied for 17th.
Two behind him was Carson Parker, who had a consistent 36 holes. Parker began with a 73 and completed the second round with a 74. With a 147, Parker is tied for 29th. Michael Ikejiani was third on the team. He made Evansville's second-largest jump in between rounds. Ikejiani scored a 79 before his final 18 holes finished with a 71. With a 150, he is tied for 50th.
Making his debut at UE, Luke Schneider had one of the most dramatic turnarounds in the field on Friday. Schneider opened the day with an 85 before lowering his score all the way to a 70 in the second round. With a 155, he is tied for 66th. Caleb Wassmer was next for UE. He also had a nice drop in his score, going from an 82 to a 75.
Wright State holds the team lead with a 2-round score of 560. The Raiders are five on top of Ball State and 21 strokes in front of a third-place tie. The Purple Aces are tied for 9th in the team standings with a 594. They are seven behind 8th-place Marshall.
Dayton's Jacob Garland paces the individual leaderboard. Rounds of 71 and 67 put him on top with a 138. He is one in front of a 2nd-place tie.
The final 18 holes are set for Saturday morning.
Submitted by Athletics
Contribute to AceNotes
To have content considered for inclusion in AceNotes, please submit a Marketing Request Form. Deadline for submission to AceNotes is 10:00 a.m. on the requested date of publication. Only articles concerning UE related/sponsored activities will be accepted. Articles submitted to AceNotes may be edited for length and clarity. Submitter contact information is at the end of each article.