| | |
| --- | --- |
| AceNotes Today | Friday, September 2, 2022 |
Fall Health Risk Assessment
Employee Fall Health Risk Assessments will take place September 20th-21st in Eykamp Hall from 7:00AM-10:45AM each day. Complete your health risk assessment and earn HRA credits. This health risk assessment is for UE employees and their spouses on the UE medical insurance plan. Please remember, fasting 8-10 hours is recommended. Water and Black coffee are allowed. Please take maintenance medications as prescribed, as long as they are not required to be taken with food. Please click the link below to sign up today!
https://acelink.evansville.edu/Areas/MedicalClinic/Appointments/
Submitted by Haley Walker hw164@evansville.edu
ECTE Lunch & Learn
Join us on Thursday, September 8th in the Philips Alcove (Ridgway 2nd floor) from 12:15-1:00 p.m. for two great Lunch and Learn presentations!
The annual Teaching Professor Conference affords faculty members the opportunity to explore multiple areas related to pedagogy and student engagement. Kristie Hochwender will be presenting on three or four of the most intriguing ideas she picked up from the recent conference in Atlanta, with an emphasis on specifications grading and how she's implementing it this semester.
Omid Khormali will present on student engagement, which deals with student attention, curiosity, interest, and eagerness in the learning process and influences increasing student motivation (edglossary.org). This part of the talk addresses some types of student engagement with some practical engagement strategies that can be used to engage students.
Pizza and salad will be provided.
Hope to see you there!
Submitted by Stephanie Knust sk306@evansville.edu
Employees - UE Gives Back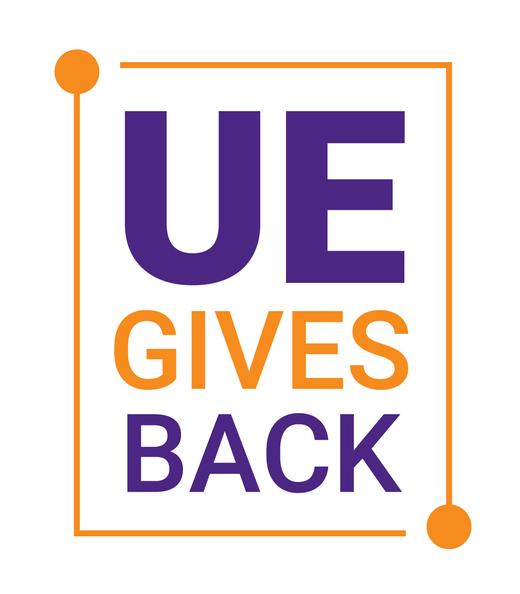 The University of Evansville is excited to announce the return of UE Gives Back for employees! With the approval of immediate supervisors and as schedules permit, employees may choose to volunteer on UE's campus without scheduling a day of vacation. Mark your calendars for Friday, September 30, and sign up today with the UE Gives Back Survey. With the gift of your time and talents, we can create Positively Purple change on campus!
Submitted by Jenni Sauls / js944@evansville.edu
Save the Date - UE Majors and Minors Fair
Save the date for the UE Majors and Minors Fair on Tuesday, October 18, 2022, from 4:00 to 5:30 p.m. in Eykamp Hall.
Faculty, students, and alumni along with campus support teams will provide information about their discipline, professional outcomes, education programs, academic support, social innovation, and much more.
Watch for additional information coming soon. Contact Paula Heldt at ph28@evansville.edu or 812-488-2479 with questions.
Submitted by Paula Heldt ph28@evansville.edu
UE Shepard Brass at Allen Family Amphitheater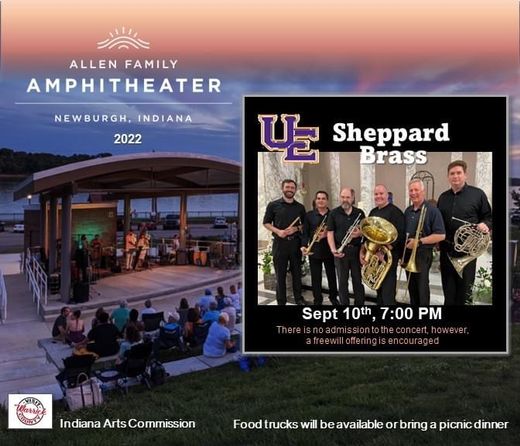 The University of Evansville Music Conservatory's Shepard Brass will perform a free concert at the Allen Family Amphitheater in Newburgh Indiana on Saturday September 10th at 7:00 PM. The concert is free and open to the public. They will be featuring Baroque, Patriotic, Jazz, and Popular music on the program.
Submitted by Timothy Zifer tz3@evansville.edu
Department of Art Alumni Exhibition Returns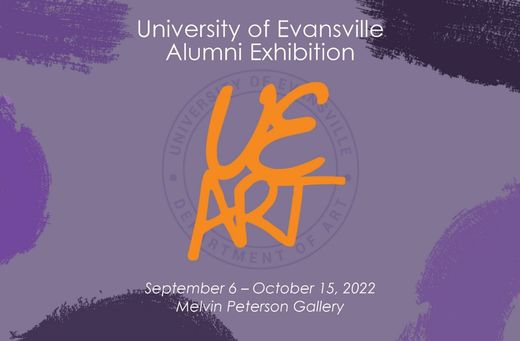 The Department of Art is pleased to announce the return of the UE Art Alumni Exhibition in the Melvin Peterson Gallery. Twenty alumni from around the country are participating in this exhibition. The artworks range from painting, sculpture, ceramics, batik, alcohol ink, and mixed media. All artwork is for sale and a portion of the sales will go to the establishment of an Art Scholarship. We welcome the entire community to visit the exhibition and support the
Department of Art as we welcome these alumni to campus. Some of these students you may even remember.
The Exhibition opens September 6 and runs through October 15. There is a public reception on Thursday, September 8 at 6:30 pm to celebrate the artists. We hope to see you there.
Melvin Peterson Gallery hours are:
Monday, Tuesday, and Friday 12-3
Wednesday and Thursday 12-6
Saturday 12-3
Submitted by Carol McCraney cm177@evansville.edu
Krannert Gallery Exhibit Opens September 6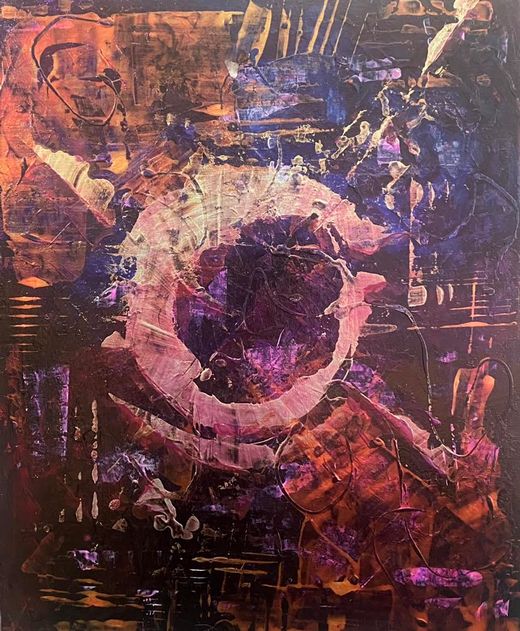 "Summer Eclipse" by Timothy Dorsey"
The University of Evansville is excited to begin the academic year with Abstracts, Music and Nature: A Glimpse Into The Art of Rev. Tim Dorsey in the newly renovated Krannert Gallery September 6 – October 22.
Dorsey is an Evansville native and resident. He is a life-long, primarily self-taught, artist whose abstract paintings are inspired by music and nature.
A public reception for the artist will be hosted in the Krannert Gallery, located in the Krannert Hall of Art & Music, on Thursday, September 15 at 6:30pm.
Krannert Gallery Hours are Monday through Saturday 8am – 8pm and Sunday noon – 8pm.
This exhibit is part of the "Emerging Contemporary Artist Lecture Series" sponsored by the Efroymson Family Fund and the UE Department of Art. For information, contact the UE Dept of Art, 812-488-2043 or art@evansville.edu.
Submitted by Carol McCraney cm177@evansville.edu
Engineering, Business, & Technology Career Fair- Register today
Join us on Tuesday, September 13 from 1pm-3pm in Eykamp Hall for the opportunity to meet with dozens of employers in the Engineering, Business, and Technology fields. Don't miss the chance to meet regional employers, network in your field, and get information on internships and job openings. Look in Handshake to see a list of all employers planning to be in attendance. This year's sponsors include: Berry, BWXT, Keller Schroeder, Penske, Republic Finance, and Traylor Brothers.
Preregister for this event in Handshake!! Preregistering will save you time at check in.
Submitted by Amanda Wood aw505@evansville.edu
Spikeball Tournament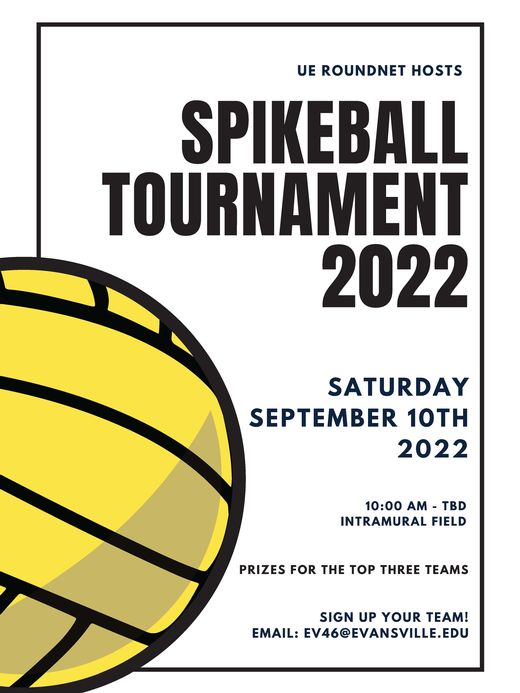 UE roundnet club is hosting a spikeball tournament September 10th at 10 am on the intramural fields! All skill levels are welcome, and we are happy to teach first time players! Find a partner and we will see you there. If you want to play and need help finding a partner, email me at ev46@evansville.edu. We are looking forward to seeing who the best spikeball players on campus are! Top three teams will win prizes!
Submitted by Emily Vasquez ev46@evansville.edu
AceBuddies Hosting Zoo Day on September 24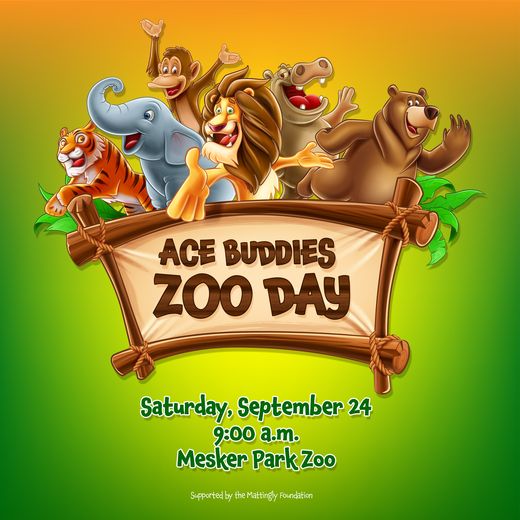 AceBuddies, a group fitness program for individuals with disabilities that is operated by Doctor of Physical Therapy students, will host AceBuddies Zoo Day on Saturday, September 24, at Mesker Park Zoo. The event will be held from 9:00 a.m. until noon and is open to 50 individuals on a first come, first served basis. To register, please visit evansville.edu/ZooDay.
During the event, participants will travel to various animal exhibits where they will then complete an exercise or activity based on the animal. Each participant will be paired with one DPT student who will assist with each exercise. Participants can bring one guardian with them to Zoo Day, who will follow the group throughout the event.
The registration deadline is September 10, so parents or guardians are encouraged to sign up soon at evansville.edu/ZooDay. The event is generously sponsored by the Mattingly Foundation.
Submitted by Julie Beer / jb855@evansville.edu
What's it like to discover a lost, underwater castle?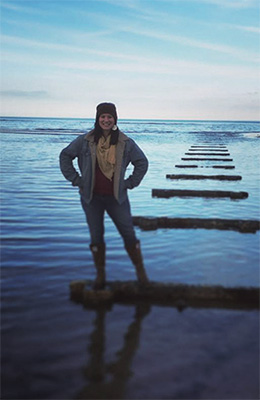 If you've ever wondered what it was like to work as an underwater archaeologist? Join Dr. Emily Stammitti, British Faculty Member and MA Programme Director at Harlaxton College. She is a British- American underwater archaeologist and community activist, as she explores the discovery of an underwater castle in Scotland and the treasures it revealed.
September 8, 2022
12:15 p.m. – 1:00 p.m.
COST: Free Via Zoom
Learn more an register at: https://www.evansville.edu/lostcastle/index.cfm
Submitted by Holly Lee Smith hh98@evansville.edu
OTS Help Desk Now Hiring Student Workers
The Office of Technology Services is currently seeking Student Workers to assist at our Help Desk during business hours! No experience necessary, as we hope to provide you with the tools and confidence in technology use beyond our Help Desk! Duties include but not limited to answering calls, taking down information, greeting visitors, and growing your confidence in technology use during your employment!
Please email nm169@evansville.edu for more information!
Submitted by Nick Messer nm169@evansville.edu
Table and Chair Requests
Starting today, September 1, Facilities Management will be responsible for table and chair requests for the campus, apart from Ridgway and Eykamp.
When filling out requests on resource scheduler, please indicate if tables and chairs are required for your event.
Additionally, email Fred Wilson at fw2 with the location, number of tables, chairs, time, and date of the event.
Please do this at least 14 days prior to your event to ensure we are able to add the request into our schedule.
HES will continue with responsibility for tables and chairs if events are located in Ridgway and Eykamp.
Submitted by Fred Wilson fw2@evansville.edu
Facilities Maintenance Work Requests
Faculty, Staff and Students can find the link to the new Work Request system on the My UE portal page. The "Preferred Links" portion at the right of the page has a link for Facilities Work Requests located in the second row. Once you have successfully accessed the page, you can save it in your bookmarks or favorites.
There is a mobile app available that is listed under Asset Essentials by Brightly. The client id is evansville and then enter your UE password to enter our work request site. If you have any questions or concerns, please contact Lisa Cresci, Work Control Coordinator for Facilities Management & Planning at 488-2567 or email lc70@evansville.edu
Submitted by LISA M CRESCI lc70@evansville.edu
Solution Station: 2022-2023 UE Planners are HERE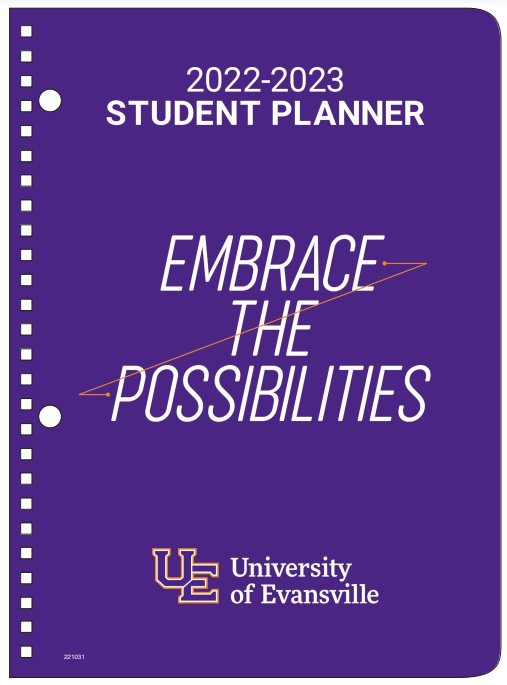 The 2022-2023 UE Planner books are HERE! Keep track of your assignments, important to-do list items, and organize your busy social and personal life with this FREE tool. The UE Planner book also includes a student resource guide and pre-printed university deadlines and event dates.
Do you need more time? More organization? The UE Planner is the solution you're looking for!
Get your FREE planner at the Solution Station table in Ridgway at one these times:
Wednesday, August 31 – 11:00 AM - 1:00 PM
Thursday, September 1 – 9:00 AM - 11:00 AM
Friday, September 2 – 9:00 AM - 11:00 AM
Or stop by Academic Services (Olmsted 116) and just ask for one!
Submitted by Chad Hart / ch299@evansville.edu / retention@evansville.edu
Submitted by Chad Hart ch299@evansville.edu
Hiring Writing Consultants
The Writing Center is hiring consultants for the fall semester. Faculty can recommend students, or students can contact the Writing Center director at kg76@evansville.edu. Writing Consultants work directly with students to improve overall student writing. Training is provided.
Submitted by Kristina Groves kg76@evansville.edu
We're getting the Band back together - Aces Pep Band
Please join us on Monday, September 12 at 4:00pm in Krannert 110 for an informational meeting for the new Aces Pep Band. September 12 is an organizational meeting. Regular rehearsals will be Mondays 4:00-5:00pm. We can provide you an instrument. Members will also get some cool Aces-wear.
Join us on September 12 for some fun and snacks as we get organized for the upcoming season. For more information, contact Dr. Kenneth Steinsultz, ks306@evansville.edu
Go Aces!
Submitted by Kenneth Steinsultz ks306@evansville.edu
Positions Open for Advancement Services
The Office of Advancement Services is currently looking to hire 2 student workers for the upcoming school year.
Student workers are a part of the University Advancement team, freely sharing new ideas, holding themselves accountable for their work, and preparing themselves for a real-world work experience. The department of University Advancement has dedicated itself to aiding the student in reaching this goal. Student duties include typing, filing, copying, organizing, preparing mailings, and maintaining the alumni database with regards to email addresses, telephone number, and event attendance. Student-workers may be asked to write class notes for the UE Magazine, answer phones, and prepare name tags, labels, table tents, and supplies for events.
Applications can be downloaded from WebAdvisor. Completed applications and availability can be emailed to lw274@evansville.edu.
Submitted by Lisa Willis lw274@evansville.edu
Fall Meal Plan Changes
Students can adjust meal plans for the Fall semester until Friday, September 2, 2022 at 5:00 p.m.
Submitted by Brian Conner bc32@evansville.edu
UE Men's Basketball Manager Sign Up
Interested in doing a work study for the Men's Basketball Team?! Job description and pay will all be on the website. Please follow the directions below to sign up and be a member of the Aces!
https://www.evansville.edu/student-financial-services/student-employment.cfm
Scroll down to "Applying for Student Employment" and Click "WebAdvisor"
Login using your UE username and password
Click "Students" on the right-hand side
Under "Student Employment" click "Student Employment Positions Listing"
Click "Men's Basketball Student Manager"
Click "Submit"
Submitted by Roosevelt Jones rj110@evansville.edu
Only 4 Spots Left for Purple Patrol!
Purple Patrol is once again returning this fall! We now need your help filling up the 15 Fridays throughout the semester!
You can sign up for Purple Patrol through SignUpGenius. Join your coworkers, department, or team and volunteer for the Friday of your choosing. Please sign up for one week only so everyone has a chance to participate. Those who sign up will travel around campus on Fridays (preferably morning or lunchtime) and hand out giveaways to Aces showing their purple pride!
If you have questions, please contact Julie Beer, university relations coordinator, at jb855@evansville.edu.
Submitted by Julie Beer / jb855@evansville.edu
Dr. Nikolidakis' Publishes Memoir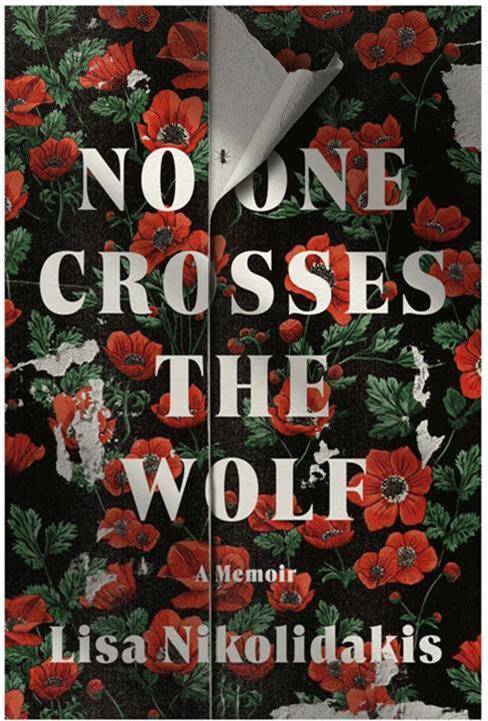 Please join us in congratulating Dr. Nikolidakis on the release and success of her memoir, No One Crosses the Wolf, which is currently #1 on Amazon in Survival Biographies & Memoirs
The book was selected for the prestigious "Amazon First Reads," which made it available to Kindle subscribers in the month of August.
No One Crosses the Wolf received a starred review from Library Journal, which writes, "This memoir holds nothing back. It is brutally honest, heart-wrenching, evocative, and soul-searching. While Nikolidakis is honest about the darkness she's endured, she also opens up the metaphorical window and gives the readers light…A gripping, brutally honest memoir that deals with some heavy themes but will leave readers feeling hopeful and reflective by the end. Readers who enjoy examining the human spirit will be drawn to this book."
Kirkus Review writes, "In this frank and often searing narrative, Nikolidakis examines what she describes as monstrous abuses perpetrated by her father, who, after leaving her family, murdered his new girlfriend and her daughter before committing suicide…With compelling clarity and eloquence, she anatomizes his ability to manipulate…A brave and inspiring account of a movement through pain to a complex reckoning and self-recovery."
Its full release date is September 1st, and it's now available everywhere books are sold.
Submitted by Lisa Nikolidakis ln43@evansville.edu
Deans' List
The Spring 2022 Deans' List is currently on display at the library. Congratulations!
Submitted by Meg Atwater-Singer ma35@evansville.edu
Biology major presents at international conference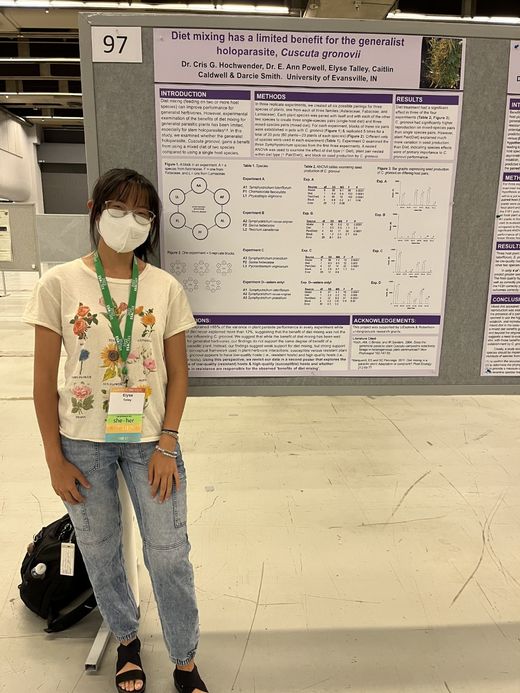 Senior Biology Major, Elyse Talley, presented research entitled "Diet mixing has a limited benefit for the generalist holoparasite, Cuscuta gronovii" at the joint meetings of the Ecological Society of America and the Canadian Society for Ecology and Evolution in Montreal, Canada. This research was a collaborative project with Dr. Cris G. Hochwender, Dr. E. Ann Powell and two UE graduates—Caitlin Caldwell & Darcie Smith.
A native plant parasite in SW Indiana, Cuscuta gronovii feeds on a range of native plants, including multiple species found in UE's native plant garden (NPG). This research project took place in the experimental area of the NPG. UE's NPG provides a venue where over 100 species of native flowers, grasses, shrubs, and trees can be viewed. This native plant diversity has great value for several reasons, including support for native insects (including insect herbivores and pollinators). Elyse has extended her research to examine the bee and butterfly species associated with the native plant diversity found in the NPG. Next spring, Elyse will use her research experiences to lead an educational outreach experience via a changelab class—People for Pollinators. If you are interested in her changelab, in UE's NPG, or in ecological restoration, please contact Dr. Cris Hochwender (ch81@evansville.edu) or Elyse Talley (et128@evansville.edu).
Submitted by Cris Hochwender ch81@evansville.edu
Clark Kimberling Publishes Research Article
Clark Kimberling, Professor of Mathematics at UE, along with with co-authors Kiminari Shinagawa (Japan) and Peter J. C. Moses (England), has an article entitled "Euler Coordinates in the Plane of a Triangle" in the current volume of the International Journal of Computer Discovered Mathematics. In contrast to the most common coordinate system for triangle geometry (the 3-dimensional barycentric coordinate system), this article introduces a 2-dimensional system in which one of the axes is the famous Euler line (https://en.wikipedia.org/wiki/Euler_line).
Submitted by Clark Kimbelring ck6@evansville.edu
Condolences to the Family of Dr. James Lott
The School of Engineering and Computer Science extends our condolences to the family of Dr. James Lewis Lott, a retired Professor of Civil Engineering (UE 1998). Dr. Lott passed away on August 30, 2022 surrounded by his family. A celebration of Jim's life will be held at 2:00 pm on Saturday, September 17, 2022 at Alexander Newburgh Chapel, 5333 State St #261, Newburgh, IN 47630. Family and friends may visit Saturday from 11:00 a.m. until service time at the funeral home.
More details and an obituary can be found at:
https://www.dignitymemorial.com/obituaries/newburgh-in/james-lott-10909715
Submitted by Tonya Albright ta58@evansville.edu
Harlaxton Walled Garden Project Update
Greetings from Harlaxton!
We have some news on the Walled Garden project that may of interest to AceNotes readers.
On 9th August 2022 we submitted a planning application to our local council for formal approval.
The full planning application can be viewed on the SKDC Planning website - Planning search - s22/1636
The application includes various detailed plans and reports including:
This is a major step forward in the life of the project and we look forward to a positive response from the planners!
Submitted by Ian Welsh iwelsh@harlaxton.ac.uk
UE Women's Soccer To Host Northern Kentucky Sunday On Youth/HS Soccer Day
The University of Evansville women's soccer team will host its final non-conference home match of the year on Sunday, as the Purple Aces will battle Northern Kentucky University at Arad McCutchan Stadium. Kick-off is set for 1:05 p.m. and Sunday's match is Youth/High School Soccer Day at UE.
Youth players (8th grade and under) just need to wear their team's jersey to get free admission to Sunday's match. High school-aged players just need to have their club or high school team submit a team roster to UE External Operations Coordinator Nick Schommer (ns425@evansville.edu) by 9 a.m. on Sunday to receive free admission to the contest.
Evansville will enter Sunday's match unbeaten in its last three matches after earning a 0-0 draw at SIU-Edwardsville on Thursday night. Junior goalkeeper Myia Danek (Laingsburg, Mich./Laingsburg) recorded five saves, and she teamed up with the UE defense to post her first shutout as a Purple Ace to help UE avenge a 2-0 defeat at the hands of SIUE last season. After conceding three goals in the season-opener against Vanderbilt, UE has allowed just two goals over the last three matches.
"Thursday night was a good, tough match for us," said UE head coach Chris Pfau. "SIUE challenged us in a lot of ways, and we definitely weren't at our best, but we found a way to grind out a result on the road, which is not easy to do with a young team. The potential for this team is high, and as we play more games, I think we will start to see that potential come out with this team."
Northern Kentucky will enter Sunday's match at 0-3-1 after playing to a 0-0 draw against Bellarmine on Thursday night. The Norse were picked to finish third in the Horizon League preseason poll. UE and NKU played to a 1-1 tie in Kentucky last September.
Submitted by Athletics
UE Swimming & Diving To Host Car Wash Saturday
The University of Evansville swimming and diving team will host a car wash Saturday at the G.D. Ritzy's parking lot located at 601 North Green River Road. The event will start at 11 a.m. and last until between 4 and 5 p.m. The cost is free, but donations to the program would be gladly accepted and appreciated. All are welcome to attend and meet this year's swimming and diving team.
Submitted by Athletics
UE Women's Soccer Ties SIUE, 0-0
University of Evansville junior goalkeeper Myia Danek (Laingsburg, Mich./Laingsburg) recorded five saves Thursday night to post her first career shutout as a Purple Ace, as the UE women's soccer team earned a 0-0 draw at Southern Illinois-Edwardsville.
Evansville created one of its best offensive chances of the night in the early going, drawing a foul right off the left edge of the penalty area in the sixth minute. On the ensuing free-kick, senior Kristen Harvey (Decatur, Ind./Bellmont Senior) tried to curl a ball to the far post, but just missed wide as the match remained scoreless.
The next 20 minutes would be played in the midfield, as neither side was able to mount any sustained pressure offensively. SIUE would muster an attack late in the first half, but Danek recorded two first-half saves to keep the match scoreless at halftime.
In the second half, SIUE continued to mount pressure, but Danek and the UE defense stood tall for the remaining 45 minutes to stymie the Cougars. SIUE would fire 12 second-half shots, but only three were on goal, and Danek was up to the task on all three shots. Evansville would mount a threat over the final 20 minutes offensively, but UE was unable to get a shot on target, as the two teams played to the 0-0 draw.
With the tie, Evansville now stands at 1-1-2 on the 2022 season, and is unbeaten in its last three matches. SIUE, meanwhile, sits at 1-3-1. UE will return home to Arad McCutchan Stadium on Sunday afternoon to host Northern Kentucky University on Youth/High School Day at UE. Kick-off is set for 1:05 p.m. and Sunday's game can also be seen live on ESPN3.
Submitted by Athletics
Contribute to AceNotes
To have content considered for inclusion in AceNotes, please submit a Marketing Request Form. Deadline for submission to AceNotes is 10:00 a.m. on the requested date of publication. Only articles concerning UE related/sponsored activities will be accepted. Articles submitted to AceNotes may be edited for length and clarity. Submitter contact information is at the end of each article.