| | |
| --- | --- |
| AceNotes Today | Tuesday, August 30, 2022 |
Rave Guardian: Enhanced Campus Emergency Notification System
The UE Office of Public Safety has implemented Rave Guardian, a campus safety app that transforms your phone into a personal safety device. This enhances your safety on campus through a virtual network of friends, family, and even Public Safety. When you download the app, you'll find some helpful features:
UE Emergency Line: direct immediate connection to Public Safety with GPS location and personal profile information. It's a Bluelight Emergency Phone in the palm of your hand!
Personal Guardians: Students can identify friends, roommates, and family as 'guardians'.
Safety Timers: Guardians can check the status of a student. If the Rave Guardian timer is not deactivated before it expires, the selected guardian can contact Public Safety and provide the start location and end destination. Officers will check the area for the student.
Chat: Text the Public Safety Dispatch Center at any time.
This app is available through both the Apple App Store and Google Play. Just scan one of the QR codes below to start your download if you haven't already.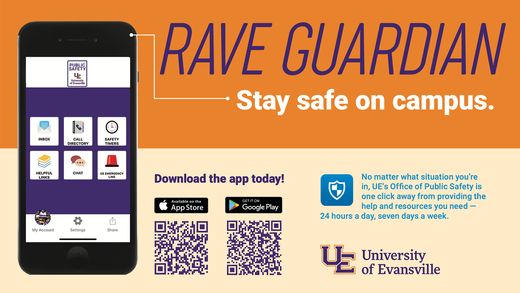 Have questions? A list of frequently asked questions is posted to our website (scroll about halfway down to the FAQ section). You can also contact the Office of Public Safety at any time by emailing security@evansville.edu or calling 812-488-2051 (non-emergency).
Submitted by Julie Beer / jb855@evansville.edu
Student Organization Fair
Please join us for the Student Organization Fair on Thursday, September 1 at 5:30 - 7:00 pm. Location : Outside Ridgway University Center and Memorial Plaza. It is a great chance to find out about student organizations, make friends, get involved, and try something new.
Submitted by Jane Meyer jm727@evansville.edu
Krannert Gallery Exhibit Opens September 6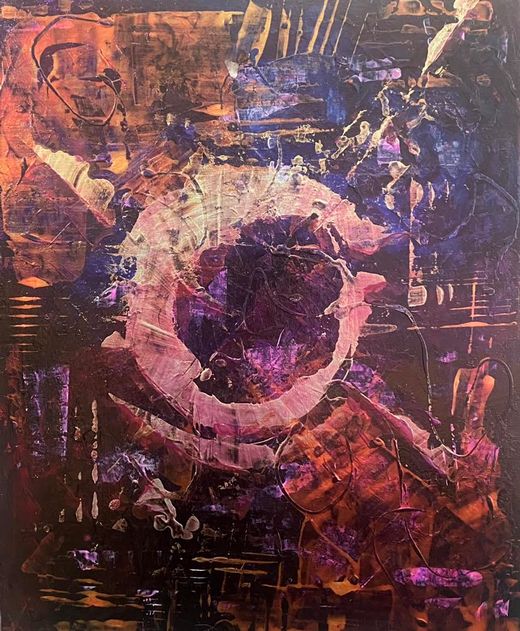 "Summer Eclipse" by Timothy Dorsey"
The University of Evansville is excited to begin the academic year with Abstracts, Music and Nature: A Glimpse Into The Art of Rev. Tim Dorsey in the newly renovated Krannert Gallery September 6 – October 22.
Dorsey is an Evansville native and resident. He is a life-long, primarily self-taught, artist whose abstract paintings are inspired by music and nature.
A public reception for the artist will be hosted in the Krannert Gallery, located in the Krannert Hall of Art & Music, on Thursday, September 15 at 6:30pm.
Krannert Gallery Hours are Monday through Saturday 8am – 8pm and Sunday noon – 8pm.
This exhibit is part of the "Emerging Contemporary Artist Lecture Series" sponsored by the Efroymson Family Fund and the UE Department of Art. For information, contact the UE Dept of Art, 812-488-2043 or art@evansville.edu.
Submitted by Carol McCraney cm177@evansville.edu
Welcome Back Game Night
Come enjoy the night with us on August 31st from 5:30 pm - 8 pm. We will be located in the sitting area in front of Chick-Fil-A. We'll have card games, board games, snacks, and more. Bring a friend! Can't wait to see you there!
Submitted by Ka'Bria Carr kc403@evansville.edu
Spikeball Tournament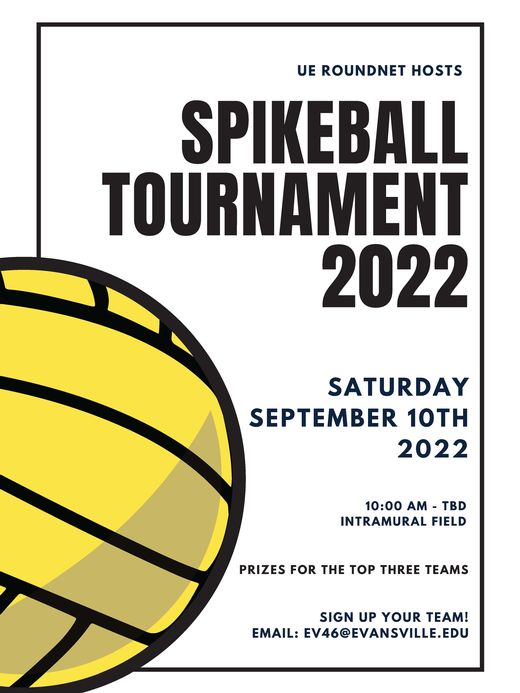 UE roundnet club is hosting a spikeball tournament September 10th at 10 am on the intramural fields! All skill levels are welcome, and we are happy to teach first time players! Find a partner and we will see you there. If you want to play and need help finding a partner, email me at ev46@evansville.edu. We are looking forward to seeing who the best spikeball players on campus are! Top three teams will win prizes!
Submitted by Emily Vasquez ev46@evansville.edu
What's it like to discover a lost, underwater castle?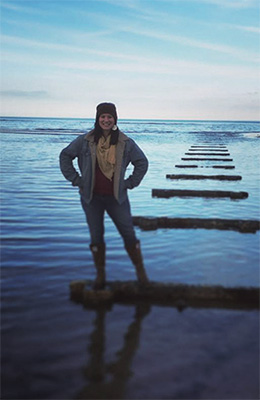 If you've ever wondered what it was like to work as an underwater archaeologist? Join Dr. Emily Stammitti, British Faculty Member and MA Programme Director at Harlaxton College. She is a British- American underwater archaeologist and community activist, as she explores the discovery of an underwater castle in Scotland and the treasures it revealed.
September 8, 2022
12:15 p.m. – 1:00 p.m.
COST: Free Via Zoom
Learn more an register at: https://www.evansville.edu/lostcastle/index.cfm
Submitted by Holly Lee Smith hh98@evansville.edu
Honors Program Welcomes New Students at Annual Retreat
The Honors Program is excited to welcome 75 new freshmen and 3 transfer students to the program this fall. On Sunday, August 28, these students took part in the annual honors retreat at Audubon State Park. While at Audubon, the students completed a team-building challenge course, brainstormed ChangeLab ideas, and played a mini-version of the Nerd Wars trivia competition.
Students also participated in a book discussion of this year's honors common read, Under The Skin by Linda Villarosa. Special thanks to the faculty who shared their expertise during the discussion – Dr. Dan Byrne, Dr. Su Jin Jeong, Dr. Julie Merkle, and Dr. Valerie Stein. The Honors Program invites the campus community to join in reading the book in advance of other events taking place this semester, including a campus visit and presentation by the author on October 24. Copies of the book are on reserve in the library.
Submitted by Jayme Williams jw504@evansville.edu
We're getting the Band back together - Aces Pep Band
Please join us on Monday, September 12 at 4:00pm in Krannert 110 for an informational meeting for the new Aces Pep Band. September 12 is an organizational meeting. Regular rehearsals will be Mondays 4:00-5:00pm. We can provide you an instrument. Members will also get some cool Aces-wear.
Join us on September 12 for some fun and snacks as we get organized for the upcoming season. For more information, contact Dr. Kenneth Steinsultz, ks306@evansville.edu
Go Aces!
Submitted by Kenneth Steinsultz ks306@evansville.edu
Alumni and Engagement is hiring Student Workers
The Office of Alumni and Engagement is currently looking to hire 5 student workers for the upcoming school year.
Student workers are a part of the Alumni and Engagement team, freely sharing new ideas, holding themselves accountable for their work, and preparing themselves for a real-world work experience. The department of University Advancement has dedicated itself to aiding the student to reach this goal. Student duties include typing, filing, copying, organizing, preparing mailings, maintaining the alumni database with regards to email addresses, telephone number, and event attendance. Student-workers may be asked to write class notes for the UE Magazine, answer phones, and prepare name tags, labels, table tents, and supplies for events. Student-workers may also attend and work at alumni events.
Applications can be downloaded from WebAdvisor. Completed applications and availability can be emailed to alumni@evansville.edu.
Submitted by Megan McCombs mm825@evansville.edu
CDEI Is Hiring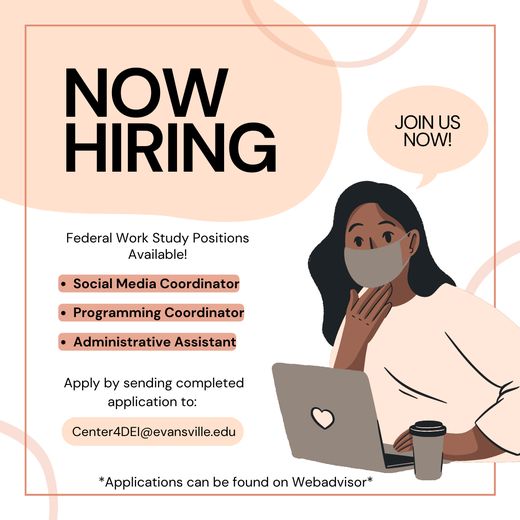 We're Hiring!
Are you interested in learning more about DEI or helping your fellow students become more culturally ware? Then a federal work study position in the CDEI might just be for you!
We have three (3) federal work study positions open that will focus on different duties! We'd love to see an application if any of these interest you!
Apply today!
*federal work study eligibility is required*
Submitted by Abagail Catania ac532@evansville.edu
Join the CDEI Programming Committee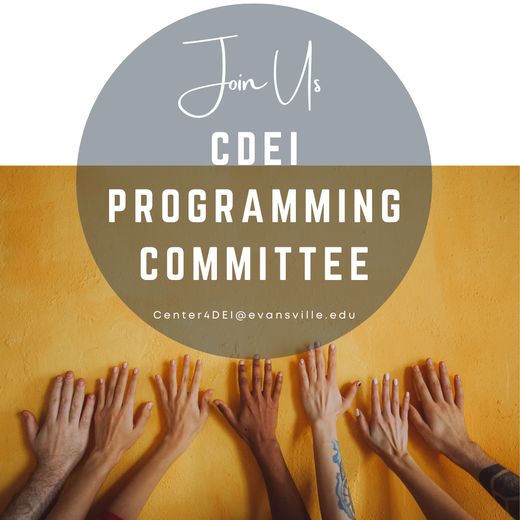 The CDEI invites students and employees to apply to be part of the CDEI Programming Committee!
The primary duty of the Programming Committee is to aid in the administrative responsibilities associated with events through the Center. Some of these events include MLK Day, Hispanic History Month, Women's Appreciation Month, Disability Awareness Month and more. In the CDEI, we want to create programming our community not only needs but wants. What better way to have your voice heard by channeling your inner changemaker and being part of the planning process?
Time commitment includes weekly meetings for one hour, as well as assigned responsibilities based on event/ program happenings not to exceed four hours in total per week.
Being part of the Programming Committee is completely voluntary.
If you or someone you know would be a great addition to this committee please send an email of interest to Center4DEI@evansville.edu
Submitted by Abagail Catania ac532@evansville.edu
Fall Meal Plan Changes
Students can adjust meal plans for the Fall semester until Friday, September 2, 2022 at 5:00 p.m.
Submitted by Brian Conner bc32@evansville.edu
Library Display Cases
Looking for a great place to show off what is happening in your area of UE campus?
Then I have the perfect place for you.
The library has two display cases with great views, open all year round, and the 2022-2023 schedule is open for the taking. If you are interested in taking advantage of the space, then all you have to do is call ext. 1062 and let Julie know dates, an email of the person reserving the display case, if you want both cases or just one, and what you want to display.
Submitted by Julie Wilson jw223@evansville.edu
Check Out the "Need Help?" Student Resources Webpage!
The UE website has several webpages that can be of assistance to students - or even faculty and staff who want to help students. But the webpages are in various departments and may not be easily located. Students may not even know what resources are available to them, such as campus departments and services. Thank you to an Ethics & Social Change ChangeLab, led by Dr. Valerie Stein, that proposed a student resources webpage!
For a one-stop shop of student services and support, visit the Need Help? webpage. You can find an orange button under the Student Life menu item or simply visit evansville.edu/needhelp. The webpage has links and information pertaining to food pantries, tutoring, scheduling advice, counseling and disability services, and much more.
Submitted by Julie Beer / jb855@evansville.edu
Alondra Vazquez named MVC Player of the Week
Finishing the opening weekend with an average of 5.25 kills per set, University of Evansville 5th-year star Alondra Vazquez was named the Missouri Valley Conference Player of the Week on Monday afternoon.
It is the fourth Player of the Week honor for Vazquez, who earned the accolade twice last fall and once in the spring of 2021.
An unbelievable start to the season saw Vazquez average 5.25 kills per set as Evansville competed in the Marshall Invitational. Her average has her ranked third in the nation in that statistic while her total of 63 kills is currently second in the NCAA.
Vazquez completed Friday's opener against Wright State with a match-high 21 kills. She added seven digs and a block assist. In a 5-set contest versus Marshall on Friday evening, Vazquez once again led all players, recording 26 kills to go along with 12 digs, 3 service aces and a pair of block assists. Her most efficient outing of the weekend came in Saturday's finale where she hit .367 with 16 kills in a 3-set road sweep of the Thundering Herd. She added 8 digs.

Adding to the impressive weekend was her continued rise in the UE record book. Over the weekend, she took over the top spot in program history with 4,440 career attempts. She surpassed the previous record of 4,401, which was held by Julie Groves. With a final tally of 63 kills in the opening three matches, Vazquez moved from fifth to third on the Aces all-time list. Currently standing with 1,490, Vazquez is just 33 kills out of the #2 spot, which is also held by Groves.

Submitted by Athletics
Robbe Tarver elevated to Associate Head Men's Soccer Coach
After serving two seasons as lead assistant, Head Men's Soccer Coach, Marshall Ray, has announced the promotion of Robbe Tarver to Associate Head Coach.

Tarver, entering his third year on staff, will continue to assist with all aspects of the Evansville men's soccer program with an emphasis on recruiting and training sessions.

"Coach Tarver has been a tremendous addition to our program and in a short amount of time has had a significant impact on and off the field. He loves the grind of college soccer and has been on two great staffs before coming to Evansville. It was an easy decision to promote him to Associate Head Coach and I look forward to the seasons ahead."

Tarver joined Evansville in 2020 right before the pandemic and immediately made a mark in recruiting, helping bring the Spring 2021 MVC Freshmen of the Year, Pablo Guillen, to Evansville. In Fall 2021, Tarver continued the recruiting success as Jose Vivas was named MVC Freshmen of the Year, and Jon Varela was named to the All-Freshman team.

On the field, Tarver helped the turnaround from the Spring 2021 season to the Fall 2021 season, which saw the Aces return to the MVC Championship game for the first time since 2009. Primarily running the day-to-day aspects of training, he works closely on the game model and tactical approach for the Aces.

Tarver joined the Aces' staff after spending three seasons as the volunteer assistant at University of Louisville. A 2014 graduate of Centre College, Tarver played 2010-2013 for the Colonels captaining the program's return to the NCAA tournament.
Submitted by Athletics
UE's Ormson Named MVC Offensive Player of the Week
After helping spark the University of Evansville women's soccer team to a 2-1 victory over Morehead State on Sunday, UE fifth-year forward Emily Ormson has been named the Missouri Valley Conference Offensive Player of the Week by the conference office.
Ormson helped UE overcome a 1-0 deficit Sunday by scoring her second goal of the year just minutes after Morehead State took the lead. Ormson fired a shot from just above the 18-yard box into the far corner to give UE the equalizer. Evansville would then earn the advantage and the eventual match-winner just six minutes later.
Ormson led UE with four shots, including three on goal Sunday against Morehead State. Overall, Ormson leads UE in both shots (seven) and goals (two) through three matches, while ranking in the Valley's top 10 in both categories as well.
UE stands at 1-1-1 entering this week's action. The Purple Aces will travel to Edwardsville, Illinois on Thursday to take on the SIUE Cougars in UE's first road contest of the year. Kick-off is set for 7 p.m.
Submitted by Athletics
UE volleyball welcomes USI for home opener
For the first time as Division I opponents, the University of Evansville and the University of Southern Indiana will square off in competition on Tuesday evening when the Purple Aces volleyball team faces the Screaming Eagles inside Meeks Family Fieldhouse at 6 p.m.
Facing USI
- Tuesday's contest marks the first "official" meeting between the teams since 1992 when the Aces took a 3-1 win on Oct. 6
- In 24 meetings, UE has picked up 18 wins
Opening Weekend
- On Friday, the 2022 season opened at the Marshall Invitational
- Despite winning the first set in both contests on Friday, UE came out on the losing end in a 3-1 setback to Wright State and a 5-set defeat at Marshall
- The Aces came back strong on Saturday, earning a 3-0 road sweep over the Thundering Herd
- Alondra Vazquez led all players in kills in each of the first three matches
New Record
- UE's opening weekend saw Alondra Vazquez move past Julie Groves for the most attempts in program history
- Vazquez currently has 4,440, which surpassed Groves' mark of 4,401
- Groves played at UE from 1997-2000
Top Three Nationally
- Accumulating 63 kills and an average of 5.25 per set, Alondra Vazquez has established herself as one of the best in the NCAA
- Her total of 63 kills ranks second in the country while her average of 5.25 is third nationally...both lead the MVC
- She set an early season mark of 26 kills in Friday's 5-set contest at Marshall before hitting .367 with 16 more
Making her Debut
- Freshman Kora Ruff opened her collegiate career at the Marshall Invitational and completed the weekend with 10.17 assists per set
- Her total of 122 kills ranks 24th in the NCAA
- Ruff posted 45 assists in her debut against Wright State while contributing 10 digs on the defensive side
- Over the weekend, she registered four service aces, second on the UE team
Submitted by Athletics
Contribute to AceNotes
To have content considered for inclusion in AceNotes, please submit a Marketing Request Form. Deadline for submission to AceNotes is 10:00 a.m. on the requested date of publication. Only articles concerning UE related/sponsored activities will be accepted. Articles submitted to AceNotes may be edited for length and clarity. Submitter contact information is at the end of each article.