| | |
| --- | --- |
| AceNotes Today | Friday, August 26, 2022 |
EXSS 427 Exercise Testing and Leadership Student-Led Health/Fitness Program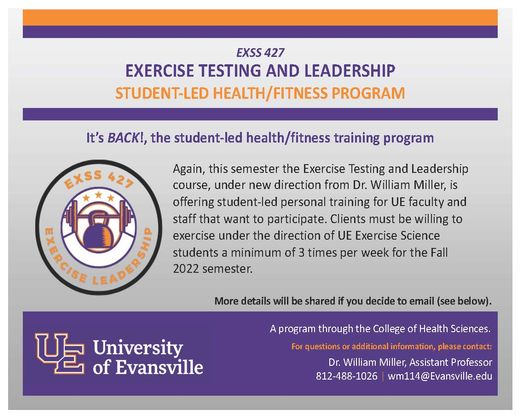 It's BACK!, the student-led health/fitness training program
Again, this semester the Exercise Testing and Leadership course, under new direction from Dr. William Miller, is offering student-led personal training for UE faculty and staff that want to participate. Clients must be willing to exercise under the direction of UE Exercise Science students a minimum of 3 times per week for the Fall 2022 semester.
More details will be shared if you decide to email (see below).
A program through the College of Health Sciences.
For questions or additional information, please contact:
Dr. William Miller, Assistant Professor, 812-488-1026, wm114@Evansville.edu
Submitted by William Miller wm114@evansville.edu
AceBuddies Hosting Zoo Day on September 24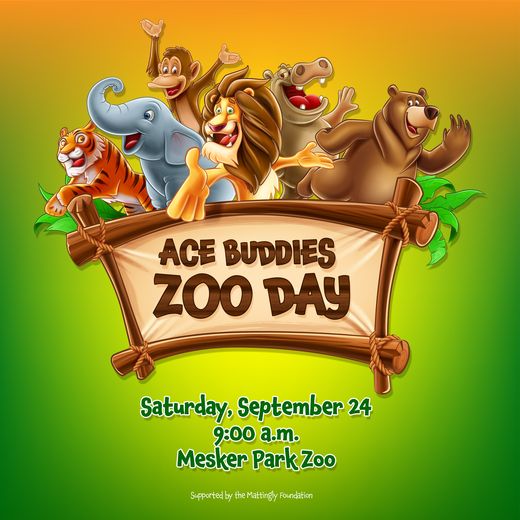 AceBuddies, a group fitness program for individuals with disabilities that is operated by Doctor of Physical Therapy students, will host AceBuddies Zoo Day on Saturday, September 24, at Mesker Park Zoo. The event will be held from 9:00 a.m. until noon and is open to 50 individuals on a first come, first served basis. To register, please visit evansville.edu/ZooDay.
During the event, participants will travel to various animal exhibits where they will then complete an exercise or activity based on the animal. Each participant will be paired with one DPT student who will assist with each exercise. Participants can bring one guardian with them to Zoo Day, who will follow the group throughout the event.
The registration deadline is September 10, so parents or guardians are encouraged to sign up soon at evansville.edu/ZooDay. The event is generously sponsored by the Mattingly Foundation.
Submitted by Julie Beer / jb855@evansville.edu
Are You Registered to Vote November 2022?
Members of the League of Women Voters of Southwestern Indiana will be in the Ridgeway Center, UE campus, Monday, August 29th, 11:00am to 1:00 pm at Table 3 (near the cafeteria). If you are a new student, faculty, or staff, or you have a new address please stop by the table to register or learn where to register/change your address so you can vote in the November election.
Submitted by Tatyana Mason tm278@evansville.edu
CDEI Is Hiring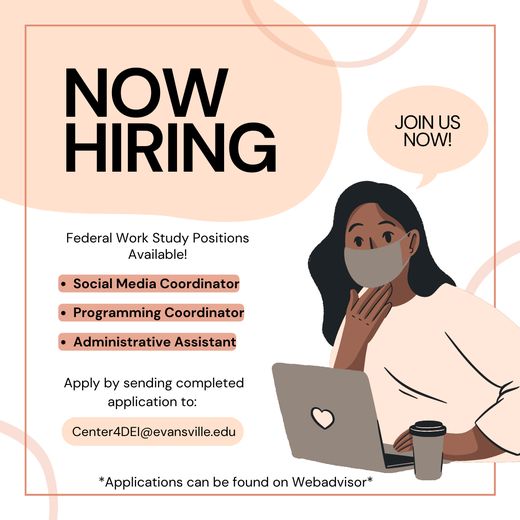 We're Hiring!
Are you interested in learning more about DEI or helping your fellow students become more culturally ware? Then a federal work study position in the CDEI might just be for you!
We have three (3) federal work study positions open that will focus on different duties! We'd love to see an application if any of these interest you!
Apply today!
*federal work study eligibility is required*
Submitted by Abagail Catania ac532@evansville.edu
Join the CDEI Programming Committee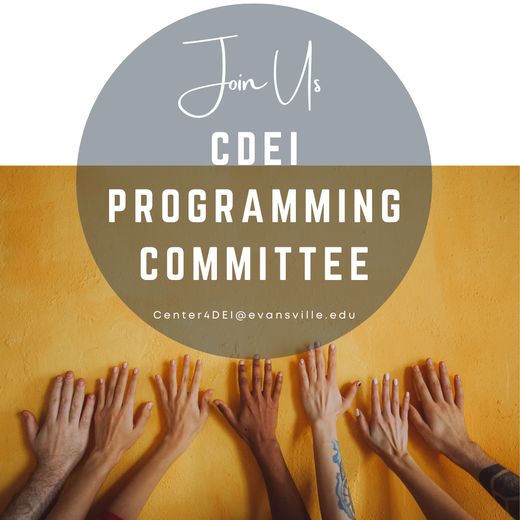 The CDEI invites students and employees to apply to be part of the CDEI Programming Committee!
The primary duty of the Programming Committee is to aid in the administrative responsibilities associated with events through the Center. Some of these events include MLK Day, Hispanic History Month, Women's Appreciation Month, Disability Awareness Month and more. In the CDEI, we want to create programming our community not only needs but wants. What better way to have your voice heard by channeling your inner changemaker and being part of the planning process?
Time commitment includes weekly meetings for one hour, as well as assigned responsibilities based on event/ program happenings not to exceed four hours in total per week.
Being part of the Programming Committee is completely voluntary.
If you or someone you know would be a great addition to this committee please send an email of interest to Center4DEI@evansville.edu
Submitted by Abagail Catania ac532@evansville.edu
Fall Meal Plan Changes
Students can adjust meal plans for the Fall semester until Friday, September 2, 2022 at 5:00 p.m.
Submitted by Brian Conner bc32@evansville.edu
Library Display Cases
Looking for a great place to show off what is happening in your area of UE campus?
Then I have the perfect place for you.
The library has two display cases with great views, open all year round, and the 2022-2023 schedule is open for the taking. If you are interested in taking advantage of the space, then all you have to do is call ext. 1062 and let Julie know dates, an email of the person reserving the display case, if you want both cases or just one, and what you want to display.
Submitted by Julie Wilson jw223@evansville.edu
Order Up: The Eatery!
We're pleased to announce that Café Court has been rebranded to The Eatery! Our dining center will have the same location and stations inside, but it's a new and improved place with some great features around the corner, including:
Cold and hot items in Aces Place! Now you can use a meal swipe for more than just refrigerated foods and snacks. Aces Place will now have menu items such as burgers, chicken tenders, and more.
Your music selections! The Eatery is excited to offer Rockbot to students, an app that will allow you to request songs from your table. Think of it as a modern jukebox.
Self-service kiosks for no-contact ordering! These will be installed in October at Rademacher's and Chick-fil-A.
And more…to be revealed at a later date!
There are also new and revamped stations in The Eatery:
Pasta - Our new location for build-your-own pasta
Innovate - This is the Mongolian grill area that will feature stir fry and other "action" items
Kitchen - Think comfort food that reminds you of home!
Deli - A build-your-own sandwich station
Pizza - Here, you can find pizzas, flatbreads, calzones, and more
Grill - Classic grill items
Desserts - Our daily menu of made from scratch desserts
Salad - A station for creating your own salad
Avoiding Gluten - This station has gluten-free options that include waffles, toast, muffins, cookies, and more
Your Chartwells family is excited about these new developments and can't wait for students to experience them, too. For continued updates, you can follow @FoodatUE on Facebook, Instagram, and Twitter.

Submitted by Julie Beer / jb855@evansville.edu
Only 4 Spots Left for Purple Patrol!
Purple Patrol is once again returning this fall! We now need your help filling up the 15 Fridays throughout the semester!
You can sign up for Purple Patrol through SignUpGenius. Join your coworkers, department, or team and volunteer for the Friday of your choosing. Please sign up for one week only so everyone has a chance to participate. Those who sign up will travel around campus on Fridays (preferably morning or lunchtime) and hand out giveaways to Aces showing their purple pride!
If you have questions, please contact Julie Beer, university relations coordinator, at jb855@evansville.edu.
Submitted by Julie Beer / jb855@evansville.edu
Check Out the "Need Help?" Student Resources Webpage!
The UE website has several webpages that can be of assistance to students - or even faculty and staff who want to help students. But the webpages are in various departments and may not be easily located. Students may not even know what resources are available to them, such as campus departments and services. Thank you to an Ethics & Social Change ChangeLab, led by Dr. Valerie Stein, that proposed a student resources webpage!
For a one-stop shop of student services and support, visit the Need Help? webpage. You can find an orange button under the Student Life menu item or simply visit evansville.edu/needhelp. The webpage has links and information pertaining to food pantries, tutoring, scheduling advice, counseling and disability services, and much more.
Submitted by Julie Beer / jb855@evansville.edu
Congratulations Passport To Inclusion Recipients
The Center for Diversity Equity and Inclusion (CDEI) would like to congratulate the following University of Evansville Employees for successfully completing Passport to Inclusion and becoming our inaugural recipients!
Passport to Inclusion is a diversity certificate program created by Changelab students and ran through the CDEI! The purpose of this program is to increase awareness surrounding the diverse cultural identities and experiences of our UE community in order to better inform the work we do on and off campus. The certificate is not only earned once but must be maintained over time by completing select requirements each year.
Congratulations to the individuals that completed the program in its first year and will be receiving their initial Passport to Inclusion Certificate!
- Ms. Marisa Knox
- Dr. Lisa Hale (Education)
- Dr. Mike Slade (Chemistry)
- Dr. Valerie Stein (Ethics and Social Change)
- Dr. Amy McBride (Education)
- Dr. Shari Milikan
- Dr. Theresa Price
- Dr. Kate Schwartzkopf- Phifer
- Dr. Kristina Hochwender
- Dr. Diane Brewer
- Dr. Sharon Gieselmann
If you are a UE Employee and interested in participating in the second year of Passport to Inclusion (2022-2023) be on the look out for open enrollment in the following week!
Submitted by Abagail Catania ac532@evansville.edu
Kevin Smith Retirement
After 7 years with HES (WFF) at University of Evansville, Kevin Smith will be retiring on 8/26/22.
If you happen to see Kevin this week, please pass along your well wishes and congratulations!
Submitted by Bob Dale bd22@evansville.edu
Summer Ceramics potters say Thank you
The potters in the Summer Ceramics Workshop say Thank You to the UE community for their support at the sale on August 6. Nearly 500 people came to campus to peruse and buy the wonderful ceramics. Thanks to the potters that were involved: Eric Renschler, Kristie Hochwender, Cris Hochwender, Kyle Darnell, Todd Matteson, Susan Wilkie, Hannah Girten, and Makayla Stewart.
Submitted by Todd Matteson tm8@evansville.edu
UE Volleyball opens 2022 season on Friday
Looking to build on the success of the 2021 fall season, the University of Evansville volleyball team opens its 2022 campaign this weekend at the Marshall Invitational in Huntington, W.Va. After opening on Friday morning at 11AM versus Wright State, the Purple Aces face Marshall at 5PM CT on both Friday and Saturday. Both contests versus the Thundering Herd will be streamed on ESPN+.
Top Pick
- Earning its highest-ever preseason ranking since joining the Missouri Valley Conference in 1994, UE was chosen to finish second in the preseason coaches poll
- Alondra Vazquez and Melanie Feliciano both received MVC Preseason All-Conference Team recognition
One More Time
- Alondra Vazquez returns for her fifth season with the Purple Aces on the cusp of back-to-back spots on the All-MVC First Team
- Last fall, Vazquez set the UE single-season record with 494 kills, which led the MVC and was 15th in the nation
- Her 4.22 kills per set finished 32nd in the NCAA while other statistical national rankings included total kills (15th), total points (15th), total attacks (22nd), points per set (29th) and service aces (59th)
Another First Teamer
- For the first time in her UE career, Melanie Feliciano was named to the All-MVC First Team in 2021
- She finished the year with 380 kills, an average of 3.28 per set, which ranked 6th in the Valley
- Her final hitting tally of .273 was 11th in the league
- Playing in 116 out of 118 possible sets, Feliciano posted 2.52 digs per set, which was third on the squad
Freshman of the Year
- Giulia Cardona became the first player in program history to earn one of the MVC specialty awards when she was named the 2021 MVC Freshman of the Year
- In one of the top freshman campaigns in program history, Cardona led the MVC with 0.50 service aces per set and completed the season ranked 8th in the NCAA and tops among all freshmen nationally
- Over the final 20 matches last fall, Cardona recorded double digit kills in each contest and finished with a season average of 3.99 per set, which was second in the MVC
- Other national rankings in 2021 included total points (25th), total kills (31st), points per set (42nd), kills per set (48th) and total attacks (55th)
Submitted by Athletics
UE Women Kick Off Soccer Doubleheader Sunday At 2 PM Against Morehead State
After a week off to begin the school year, the University of Evansville women's soccer team will kick off a soccer doubleheader at 2 p.m. on Sunday at Arad McCutchan Stadium in Evansville, as the Purple Aces will host Morehead State University. The UE men will follow at 5 p.m. with a match against in-state rival IUPUI.
The UE women (0-1-1) have spent the last week on the training grounds and also preparing for the start of the 2022-23 school year. UE last saw the game field of Arad McCutchan Stadium last Sunday, when Evansville earned a 1-1 draw with Austin Peay. Sophomore Ryleigh Anslinger (Evansville, Ind./Memorial/Indiana Univ.) found fifth-year senior forward Emily Ormson (Folsom, Calif./Vista Del Lago) to produce UE's first goal of the year, as Ormson headed home her 14th career goal as a Purple Ace. Ormson, who led UE with seven goals a year ago, now stands just five goals shy of UE's career top 10.
Morehead State, meanwhile, is coming off of a 2-0 loss at Marshall on Thursday night. The Eagles stand at 1-2-0 on the 2022 season, after knocking off Central Michigan, 1-0, in the season-opener on August 18. Junior forward Kate Larbes has fired a team-best six shots, including four on goal, this year for the Eagles, while sophomore defender Anna Lohrer has MSU's lone goal of the season.
"This week has been good for us," said UE women's soccer coach Chris Pfau. "We have been able to work on a lot of things in training, and it has been nice to allow the ladies to get situated school-wise as well. Now, we will see if we can take what we have been working on all week and have it carry over to a match."
Sunday's doubleheader will feature drink specials at McCutchan Stadium. Fans can purchase two sodas for just $3, or two beers for $6. Admission is $8 for adults and $6 for youth (ages 2-17) and seniors (ages 65+).
Submitted by Athletics
Contribute to AceNotes
To have content considered for inclusion in AceNotes, please submit a Marketing Request Form. Deadline for submission to AceNotes is 10:00 a.m. on the requested date of publication. Only articles concerning UE related/sponsored activities will be accepted. Articles submitted to AceNotes may be edited for length and clarity. Submitter contact information is at the end of each article.