| | |
| --- | --- |
| AceNotes Today | Thursday, August 25, 2022 |
EXSS 427 Exercise Testing and Leadership Student-Led Health/Fitness Program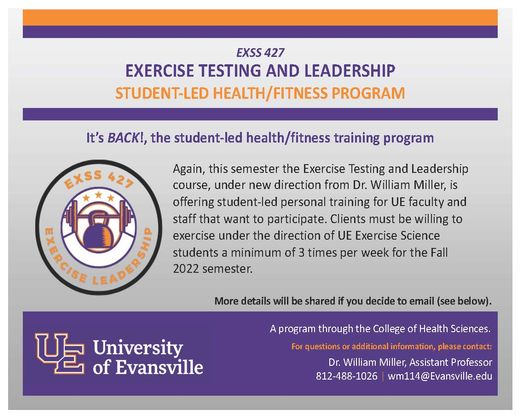 It's BACK!, the student-led health/fitness training program
Again, this semester the Exercise Testing and Leadership course, under new direction from Dr. William Miller, is offering student-led personal training for UE faculty and staff that want to participate. Clients must be willing to exercise under the direction of UE Exercise Science students a minimum of 3 times per week for the Fall 2022 semester.
More details will be shared if you decide to email (see below).
A program through the College of Health Sciences.
For questions or additional information, please contact:
Dr. William Miller, Assistant Professor, 812-488-1026, wm114@Evansville.edu
Submitted by William Miller wm114@evansville.edu
AceBuddies Hosting Zoo Day on September 24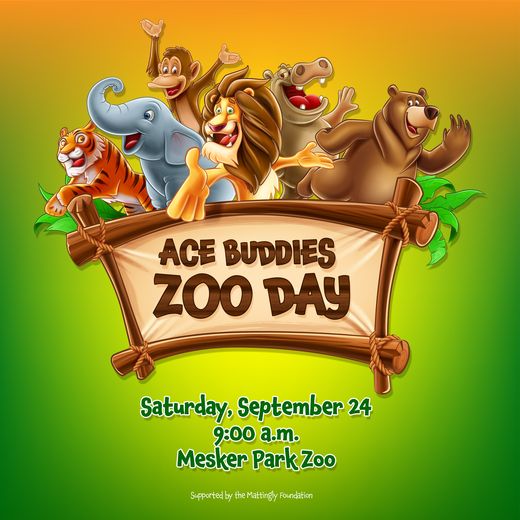 AceBuddies, a group fitness program for individuals with disabilities that is operated by Doctor of Physical Therapy students, will host AceBuddies Zoo Day on Saturday, September 24, at Mesker Park Zoo. The event will be held from 9:00 a.m. until noon and is open to 50 individuals on a first come, first served basis. To register, please visit evansville.edu/ZooDay.
During the event, participants will travel to various animal exhibits where they will then complete an exercise or activity based on the animal. Each participant will be paired with one DPT student who will assist with each exercise. Participants can bring one guardian with them to Zoo Day, who will follow the group throughout the event.
The registration deadline is September 10, so parents or guardians are encouraged to sign up soon at evansville.edu/ZooDay. The event is generously sponsored by the Mattingly Foundation.
Submitted by Julie Beer / jb855@evansville.edu
CDEI Presents: Diversity Fest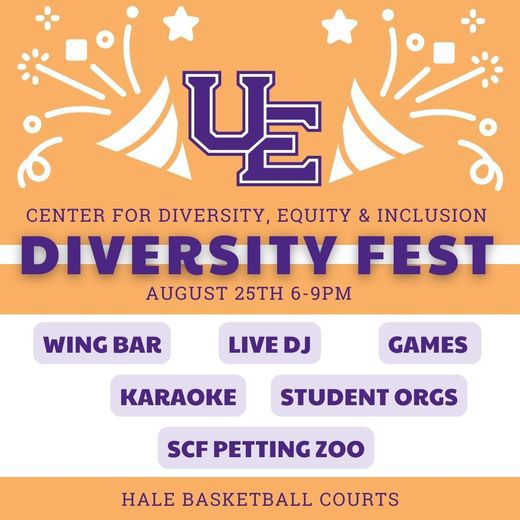 The CDEI invites you to join us at the first ever welcome back Diversity Fest this Thursday!
Diversity Fest will take place at the Hale Basketball Courts and East Terrace Lawn on Thursday, August 25th from 6-9pm! There will be a live DJ, wing bar, games and as a special treat Student Christian Fellowship is sponsoring a mobile petting zoo!!
Come join us for food, fellowship and fun! We cannot wait to see you there!!
Submitted by Abagail Catania ac532@evansville.edu
Are You Registered to Vote November 2022?
Members of the League of Women Voters of Southwestern Indiana will be in the Ridgeway Center, UE campus, Monday, August 29th, 11:00am to 1:00 pm at Table 3 (near the cafeteria). If you are a new student, faculty, or staff, or you have a new address please stop by the table to register or learn where to register/change your address so you can vote in the November election.
Submitted by Tatyana Mason tm278@evansville.edu
Fall Meal Plan Changes
Students can adjust meal plans for the Fall semester until Friday, September 2, 2022 at 5:00 p.m.
Submitted by Brian Conner bc32@evansville.edu
UE Men's Basketball Manager Sign Up
Interested in doing a work study for the Men's Basketball Team?! Job description and pay will all be on the website. Please follow the directions below to sign up and be a member of the Aces!
https://www.evansville.edu/student-financial-services/student-employment.cfm
Scroll down to "Applying for Student Employment" and Click "WebAdvisor"
Login using your UE username and password
Click "Students" on the right-hand side
Under "Student Employment" click "Student Employment Positions Listing"
Click "Men's Basketball Student Manager"
Click "Submit"
Submitted by Roosevelt Jones rj110@evansville.edu
Order Up: The Eatery!
We're pleased to announce that Café Court has been rebranded to The Eatery! Our dining center will have the same location and stations inside, but it's a new and improved place with some great features around the corner, including:
Cold and hot items in Aces Place! Now you can use a meal swipe for more than just refrigerated foods and snacks. Aces Place will now have menu items such as burgers, chicken tenders, and more.
Your music selections! The Eatery is excited to offer Rockbot to students, an app that will allow you to request songs from your table. Think of it as a modern jukebox.
Self-service kiosks for no-contact ordering! These will be installed in October at Rademacher's and Chick-fil-A.
And more…to be revealed at a later date!
There are also new and revamped stations in The Eatery:
Pasta - Our new location for build-your-own pasta
Innovate - This is the Mongolian grill area that will feature stir fry and other "action" items
Kitchen - Think comfort food that reminds you of home!
Deli - A build-your-own sandwich station
Pizza - Here, you can find pizzas, flatbreads, calzones, and more
Grill - Classic grill items
Desserts - Our daily menu of made from scratch desserts
Salad - A station for creating your own salad
Avoiding Gluten - This station has gluten-free options that include waffles, toast, muffins, cookies, and more
Your Chartwells family is excited about these new developments and can't wait for students to experience them, too. For continued updates, you can follow @FoodatUE on Facebook, Instagram, and Twitter.

Submitted by Julie Beer / jb855@evansville.edu
Check Out the "Need Help?" Student Resources Webpage!
The UE website has several webpages that can be of assistance to students - or even faculty and staff who want to help students. But the webpages are in various departments and may not be easily located. Students may not even know what resources are available to them, such as campus departments and services. Thank you to an Ethics & Social Change ChangeLab, led by Dr. Valerie Stein, that proposed a student resources webpage!
For a one-stop shop of student services and support, visit the Need Help? webpage. You can find an orange button under the Student Life menu item or simply visit evansville.edu/needhelp. The webpage has links and information pertaining to food pantries, tutoring, scheduling advice, counseling and disability services, and much more.
Submitted by Julie Beer / jb855@evansville.edu
Congratulations Passport To Inclusion Recipients
The Center for Diversity Equity and Inclusion (CDEI) would like to congratulate the following University of Evansville Employees for successfully completing Passport to Inclusion and becoming our inaugural recipients!
Passport to Inclusion is a diversity certificate program created by Changelab students and ran through the CDEI! The purpose of this program is to increase awareness surrounding the diverse cultural identities and experiences of our UE community in order to better inform the work we do on and off campus. The certificate is not only earned once but must be maintained over time by completing select requirements each year.
Congratulations to the individuals that completed the program in its first year and will be receiving their initial Passport to Inclusion Certificate!
- Ms. Marisa Knox
- Dr. Lisa Hale (Education)
- Dr. Mike Slade (Chemistry)
- Dr. Valerie Stein (Ethics and Social Change)
- Dr. Amy McBride (Education)
- Dr. Shari Milikan
- Dr. Theresa Price
- Dr. Kate Schwartzkopf- Phifer
- Dr. Kristina Hochwender
- Dr. Diane Brewer
- Dr. Sharon Gieselmann
If you are a UE Employee and interested in participating in the second year of Passport to Inclusion (2022-2023) be on the look out for open enrollment in the following week!
Submitted by Abagail Catania ac532@evansville.edu
Kevin Smith Retirement
After 7 years with HES (WFF) at University of Evansville, Kevin Smith will be retiring on 8/26/22.
If you happen to see Kevin this week, please pass along your well wishes and congratulations!
Submitted by Bob Dale bd22@evansville.edu
Summer Ceramics potters say Thank you
The potters in the Summer Ceramics Workshop say Thank You to the UE community for their support at the sale on August 6. Nearly 500 people came to campus to peruse and buy the wonderful ceramics. Thanks to the potters that were involved: Eric Renschler, Kristie Hochwender, Cris Hochwender, Kyle Darnell, Todd Matteson, Susan Wilkie, Hannah Girten, and Makayla Stewart.
Submitted by Todd Matteson tm8@evansville.edu
UE Men's Basketball Roster Update
University of Evansville head men's basketball coach David Ragland has announced that junior Trey Hall will be shifting his collegiate focus to academics and will not be on the Purple Aces active roster moving forward. Hall will remain at UE as he works towards his degree.
"Our program will continue to support Trey Hall in any way that we can," Ragland explained. "Academics are the top priority at the University of Evansville and we are excited for Trey to work towards a successful future."
Submitted by Athletics
Contribute to AceNotes
To have content considered for inclusion in AceNotes, please submit a Marketing Request Form. Deadline for submission to AceNotes is 10:00 a.m. on the requested date of publication. Only articles concerning UE related/sponsored activities will be accepted. Articles submitted to AceNotes may be edited for length and clarity. Submitter contact information is at the end of each article.