| | |
| --- | --- |
| AceNotes Today | Wednesday, August 24, 2022 |
CDEI Presents: Diversity Fest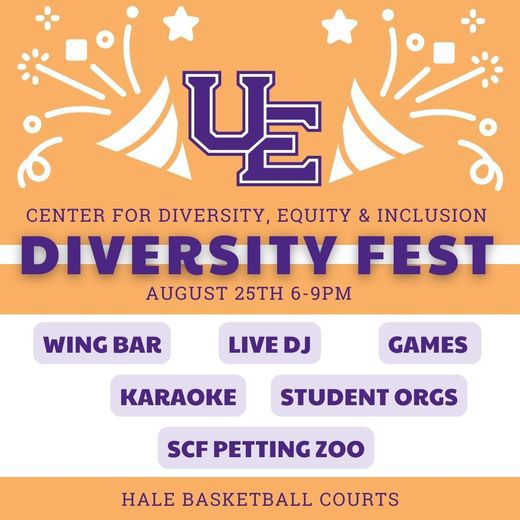 The CDEI invites you to join us at the first ever welcome back Diversity Fest this Thursday!
Diversity Fest will take place at the Hale Basketball Courts and East Terrace Lawn on Thursday, August 25th from 6-9pm! There will be a live DJ, wing bar, games and as a special treat Student Christian Fellowship is sponsoring a mobile petting zoo!!
Come join us for food, fellowship and fun! We cannot wait to see you there!!
Submitted by Abagail Catania ac532@evansville.edu
What's it like to discover a lost, underwater castle?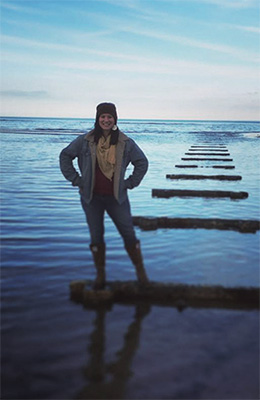 If you've ever wondered what it was like to work as an underwater archaeologist? Join Dr. Emily Stammitti, British Faculty Member and MA Programme Director at Harlaxton College. She is a British- American underwater archaeologist and community activist, as she explores the discovery of an underwater castle in Scotland and the treasures it revealed.
September 8, 2022
12:15 p.m. – 1:00 p.m.
COST: Free Via Zoom
Learn more an register at: https://www.evansville.edu/lostcastle/index.cfm
Submitted by Holly Lee Smith hh98@evansville.edu
CDEI Is Hiring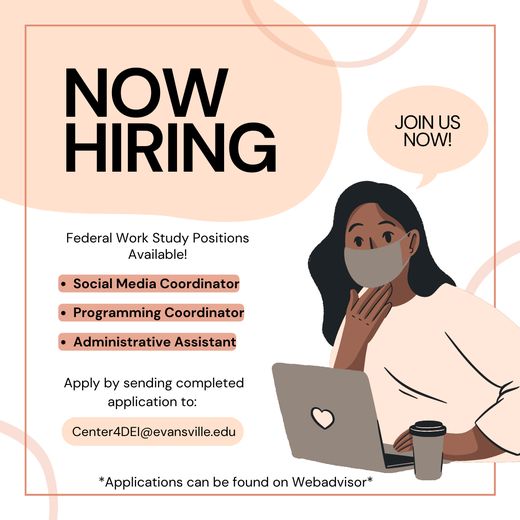 We're Hiring!
Are you interested in learning more about DEI or helping your fellow students become more culturally ware? Then a federal work study position in the CDEI might just be for you!
We have three (3) federal work study positions open that will focus on different duties! We'd love to see an application if any of these interest you!
Apply today!
*federal work study eligibility is required*
Submitted by Abagail Catania ac532@evansville.edu
Join the CDEI Programming Committee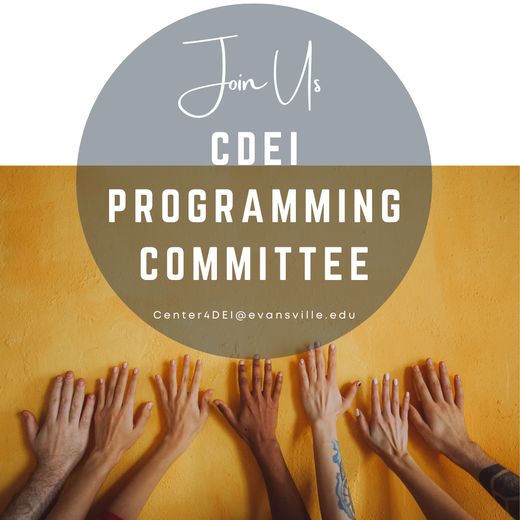 The CDEI invites students and employees to apply to be part of the CDEI Programming Committee!
The primary duty of the Programming Committee is to aid in the administrative responsibilities associated with events through the Center. Some of these events include MLK Day, Hispanic History Month, Women's Appreciation Month, Disability Awareness Month and more. In the CDEI, we want to create programming our community not only needs but wants. What better way to have your voice heard by channeling your inner changemaker and being part of the planning process?
Time commitment includes weekly meetings for one hour, as well as assigned responsibilities based on event/ program happenings not to exceed four hours in total per week.
Being part of the Programming Committee is completely voluntary.
If you or someone you know would be a great addition to this committee please send an email of interest to Center4DEI@evansville.edu
Submitted by Abagail Catania ac532@evansville.edu
Fall Meal Plan Changes
Students can adjust meal plans for the Fall semester until Friday, September 2, 2022 at 5:00 p.m.
Submitted by Brian Conner bc32@evansville.edu
Andiron Lecture Series 2022-2023 (Call for Papers)
UE faculty, staff, and administrators are invited to submit an abstract for papers on any aspect of their research or expertise for the 2022-2023 Andiron Lectures Series. All disciplines and fields of study are welcome to submit proposals.
Please send the following by email:
A 50-word abstract with Name, Academic Affiliation/ Occupation, Paper title, and Contact Information to: Mohammad Azarian MA3@evansville.edu and/or Ray Lutgring at RL5@evansville.edu with a Cc to Cheryl Emmons at CE36@evansville.edu. These will be forwarded to the Andiron Lecture Committee for consideration. Those considering abstract submissions may contact Mohammad Azarian at 2945 if they have questions.
Nominations for off-campus speakers can be sent by email to Ray Lutgring at RL5@evansville.edu with a Cc to Cheryl Emmons at CE36@evansville.edu; she will forward them to the Andiron Lecture committee for consideration.
Submitted by Cheryl Emmons ce36@evansville.edu
Library Display Cases
Looking for a great place to show off what is happening in your area of UE campus?
Then I have the perfect place for you.
The library has two display cases with great views, open all year round, and the 2022-2023 schedule is open for the taking. If you are interested in taking advantage of the space, then all you have to do is call ext. 1062 and let Julie know dates, an email of the person reserving the display case, if you want both cases or just one, and what you want to display.
Submitted by Julie Wilson jw223@evansville.edu
UE Jazz Auditions
Auditions for the UE Jazz Band will be on Wednesday August 24 beginning at 7:00 PM in Fine Arts room 144. If you play saxophone, trumpet, trombone, drums, piano, guitar, or bass please consider auditioning. The Jazz Band will be touring to New Orleans Louisiana this fall! Contact Dr. Zifer at tz3@evansville.edu for audition excerpt information and the audition sign-up sheet.
Submitted by Timothy Zifer tz3@evansville.edu
Order Up: The Eatery!
We're pleased to announce that Café Court has been rebranded to The Eatery! Our dining center will have the same location and stations inside, but it's a new and improved place with some great features around the corner, including:
Cold and hot items in Aces Place! Now you can use a meal swipe for more than just refrigerated foods and snacks. Aces Place will now have menu items such as burgers, chicken tenders, and more.
Your music selections! The Eatery is excited to offer Rockbot to students, an app that will allow you to request songs from your table. Think of it as a modern jukebox.
Self-service kiosks for no-contact ordering! These will be installed in October at Rademacher's and Chick-fil-A.
And more…to be revealed at a later date!
There are also new and revamped stations in The Eatery:
Pasta - Our new location for build-your-own pasta
Innovate - This is the Mongolian grill area that will feature stir fry and other "action" items
Kitchen - Think comfort food that reminds you of home!
Deli - A build-your-own sandwich station
Pizza - Here, you can find pizzas, flatbreads, calzones, and more
Grill - Classic grill items
Desserts - Our daily menu of made from scratch desserts
Salad - A station for creating your own salad
Avoiding Gluten - This station has gluten-free options that include waffles, toast, muffins, cookies, and more
Your Chartwells family is excited about these new developments and can't wait for students to experience them, too. For continued updates, you can follow @FoodatUE on Facebook, Instagram, and Twitter.

Submitted by Julie Beer / jb855@evansville.edu
Check Out the "Need Help?" Student Resources Webpage!
The UE website has several webpages that can be of assistance to students - or even faculty and staff who want to help students. But the webpages are in various departments and may not be easily located. Students may not even know what resources are available to them, such as campus departments and services. Thank you to an Ethics & Social Change ChangeLab, led by Dr. Valerie Stein, that proposed a student resources webpage!
For a one-stop shop of student services and support, visit the Need Help? webpage. You can find an orange button under the Student Life menu item or simply visit evansville.edu/needhelp. The webpage has links and information pertaining to food pantries, tutoring, scheduling advice, counseling and disability services, and much more.
Submitted by Julie Beer / jb855@evansville.edu
Congratulations Passport To Inclusion Recipients
The Center for Diversity Equity and Inclusion (CDEI) would like to congratulate the following University of Evansville Employees for successfully completing Passport to Inclusion and becoming our inaugural recipients!
Passport to Inclusion is a diversity certificate program created by Changelab students and ran through the CDEI! The purpose of this program is to increase awareness surrounding the diverse cultural identities and experiences of our UE community in order to better inform the work we do on and off campus. The certificate is not only earned once but must be maintained over time by completing select requirements each year.
Congratulations to the individuals that completed the program in its first year and will be receiving their initial Passport to Inclusion Certificate!
- Ms. Marisa Knox
- Dr. Lisa Hale (Education)
- Dr. Mike Slade (Chemistry)
- Dr. Valerie Stein (Ethics and Social Change)
- Dr. Amy McBride (Education)
- Dr. Shari Milikan
- Dr. Theresa Price
- Dr. Kate Schwartzkopf- Phifer
- Dr. Kristina Hochwender
- Dr. Diane Brewer
- Dr. Sharon Gieselmann
If you are a UE Employee and interested in participating in the second year of Passport to Inclusion (2022-2023) be on the look out for open enrollment in the following week!
Submitted by Abagail Catania ac532@evansville.edu
Kevin Smith Retirement
After 7 years with HES (WFF) at University of Evansville, Kevin Smith will be retiring on 8/26/22.
If you happen to see Kevin this week, please pass along your well wishes and congratulations!
Submitted by Bob Dale bd22@evansville.edu
Summer Ceramics potters say Thank you
The potters in the Summer Ceramics Workshop say Thank You to the UE community for their support at the sale on August 6. Nearly 500 people came to campus to peruse and buy the wonderful ceramics. Thanks to the potters that were involved: Eric Renschler, Kristie Hochwender, Cris Hochwender, Kyle Darnell, Todd Matteson, Susan Wilkie, Hannah Girten, and Makayla Stewart.
Submitted by Todd Matteson tm8@evansville.edu
Kaisha Weeks Named Associate Head Track & FIeld Coach At UE
University of Evansville Director of Cross Country/Track & Field Brooks LeCompte made the first addition to his coaching staff on Tuesday, as he announced the addition of Kaisha Weeks as Associate Head Track & Field Coach at UE.
Weeks recently served as the assistant Track & Field coach for hurdles and jumps and recruiting coordinator at Xavier University in Louisiana. While at Xavier (Louisiana), Weeks coached seven NAIA National Qualifiers and three NAIA All-Americans, while helping the Gold Nuggets to back-to-back women's Track & Field conference championships. Weeks also helped the Xavier men to a conference title last spring.
"I am very excited to have Coach Weeks join my staff and the UE athletics family!" said LeCompte. "I conducted a comprehensive search and it was clear to me that Kaisha was exactly what we needed here to usher in a new standard of competitiveness in our sprints, hurdles and jump events.
"She came very highly recommended by my coaching peers, who's opinions I highly value. I cannot wait to have Coach Weeks here and working alongside me, as we begin a new era in UE Track & Field and Cross Country."
Prior to her time at Xavier, Weeks was the Track & Field head coach at Oviedo High School in Florida, where she helped guide the boys' program to the 4x800-meter state championship. She also served as an assistant coach at her alma mater, Lake Brantley High School, in Florida.
Weeks was a standout performer in her own right at Southern University in Baton Rouge, Louisiana, earning a spot in Southern's Sports Hall of Fame in 2017. At Southern, Weeks was a seven-time Southwestern Athletic Conference track and field champion in hurdles, sprints, relays and javelin. She was also a four-time NCAA regional qualifier in the 100-meter hurdles, and was All-Louisiana in 2006 in both the 100 hurdles and 400 relay.
Submitted by Athletics
Contribute to AceNotes
To have content considered for inclusion in AceNotes, please submit a Marketing Request Form. Deadline for submission to AceNotes is 10:00 a.m. on the requested date of publication. Only articles concerning UE related/sponsored activities will be accepted. Articles submitted to AceNotes may be edited for length and clarity. Submitter contact information is at the end of each article.