| | |
| --- | --- |
| AceNotes Today | Wednesday, August 10, 2022 |
New Marketing Request Process
Marketing is launching a new marketing request form and process for requesting for creative and publications services on Wednesday, August 10.
You will use the same link, but when you get to the option for creative services you will be prompted to create a Lytho login. Once created you will get a confirmation email from noreply@inmotionnow.com.
There are more forms for you to choose from and less questions asked! You can track projects and provide collaboration in the system. The goal is to streamline approvals and allow for history to be documented for future projects. Our superusers who have piloted the system have seen a huge improvement in workflow!
If you have any questions during this transition, email Holly Smith at hh98@evansville.edu.
Submitted by Holly Lee Smith hh98@evansville.edu
Academic Convocation - August 23, 2022
The University of Evansville (UE) will hold Academic Convocation for first-year students on Tuesday, August 23, at 8:50 a.m. in Meeks Family Fieldhouse. Academic Convocation is a formal event that marks the beginning of an academic year. The keynote speaker this year is Mike Slade, PhD, associate professor of chemistry.
Students will gather in Neu Chapel for prologue, which begins at 8:15 a.m. and will be led by Rev. Andy Payton, university chaplain. At 8:30 a.m., students will process from Neu Chapel to Meeks Family Fieldhouse. Walnut Street will be closed at this time so everyone can safely travel to Carson Center.
Staff and administrators are welcome to attend Academic Convocation. This year, you are also invited to meet at the sidewalk between Ridgway University Center and the East Terrace Lawn to welcome students as they process to Academic Convocation! Please arrive by 8:30 a.m. to form two lines, and we encourage you to wear purple too!
Submitted by Julie Beer / jb855@evansville.edu
What's it like to discover a lost, underwater castle?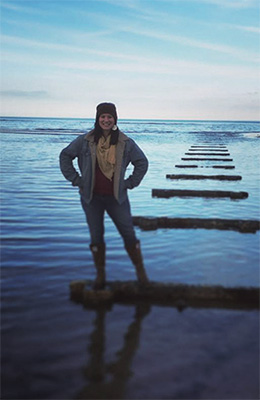 If you've ever wondered what it was like to work as an underwater archaeologist? Join Dr. Emily Stammitti, British Faculty Member and MA Programme Director at Harlaxton College. She is a British- American underwater archaeologist and community activist, as she explores the discovery of an underwater castle in Scotland and the treasures it revealed.
September 8, 2022
12:15 p.m. – 1:00 p.m.
COST: Free Via Zoom
Learn more an register at: https://www.evansville.edu/lostcastle/index.cfm
Submitted by Holly Lee Smith hh98@evansville.edu
Save the Date - UE Majors and Minors Fair
Save the date for the UE Majors and Minors Fair on Tuesday, October 18, 2022, from 4:00 to 5:30 p.m. in Eykamp Hall.
Faculty, students, and alumni along with campus support teams will provide information about their discipline, professional outcomes, education programs, academic support, social innovation, and much more.
Watch for additional information coming soon. Contact Paula Heldt at ph28@evansville.edu or 812-488-2479 with questions.
Submitted by Paula Heldt ph28@evansville.edu
Today: New Residence Hall Ribbon Cutting
Today, the opening session of our Fall Conference will be held from 1:00-4:00 p.m. Afterwards, we will hold a ribbon cutting ceremony for our New Residence Hall! This will take place at 4:00 p.m. inside the lobby of the New Residence Hall, and then we'll celebrate with appetizers and drinks under a tent on Walnut Street. Tours will be offered for those who would like to explore the interior. You're invited to join us as we mark the opening of our New Residence Hall, which many first- and second-year students will soon call home!
Submitted by Julie Beer / jb855@evansville.edu
Employees - United Way Day of Caring
United Way of Southwestern Indiana's Day of Caring will be held on Friday, September 16! This is the largest service day in the area where volunteers give their time and energy to help non-profit organizations in Vanderburgh, Spencer, and Warrick counties.
This year, UE will continue to partner with the Buffalo Trace Council of the Boy Scouts of America, located at the Eykamp Scout Center. Projects include general landscaping, fall field day setup, organizing program supplies, pressure washing, painting posts, and more! Participating employees WILL NOT need to use a vacation day but are required to obtain approval from respective supervisors.
If you have been looking for the chance to make a positive impact on our community, this is the perfect opportunity! Sign up by completing this survey - Registration. Please contact Jenni Sauls, Office of the President, with any questions via email at js944@evansville.edu or phone at 812-488-2151.
Let's have a great showing!
Submitted by Jenni Sauls js944@evansville.edu
Order Up: The Eatery!
We're pleased to announce that Café Court has been rebranded to The Eatery! Our dining center will have the same location and stations inside, but it's a new and improved place with some great features around the corner, including:
Cold and hot items in Aces Place! Now you can use a meal swipe for more than just refrigerated foods and snacks. Aces Place will now have menu items such as burgers, chicken tenders, and more.
Your music selections! The Eatery is excited to offer Rockbot to students, an app that will allow you to request songs from your table. Think of it as a modern jukebox.
Self-service kiosks for no-contact ordering! These will be installed in October at Rademacher's and Chick-fil-A.
And more…to be revealed at a later date!
There are also new and revamped stations in The Eatery:
Pasta - Our new location for build-your-own pasta
Innovate - This is the Mongolian grill area that will feature stir fry and other "action" items
Kitchen - Think comfort food that reminds you of home!
Deli - A build-your-own sandwich station
Pizza - Here, you can find pizzas, flatbreads, calzones, and more
Grill - Classic grill items
Desserts - Our daily menu of made from scratch desserts
Salad - A station for creating your own salad
Avoiding Gluten - This station has gluten-free options that include waffles, toast, muffins, cookies, and more
Your Chartwells family is excited about these new developments and can't wait for students to experience them, too. For continued updates, you can follow @FoodatUE on Facebook, Instagram, and Twitter.

Submitted by Julie Beer / jb855@evansville.edu
Volunteer at Move-in as a Greeter
Calling all faculty, staff, and administrators! Volunteer "move-in greeters" are needed for Saturday, August 20 from 8am - 2pm.
Greeters will work in pairs (in a shaded/covered area) for a 2-hour shift to help greet new students and their families as they drive up to their assigned residence hall. We are looking for 30 volunteers from across the university to welcome the newest additions to our UE Family.
Sign-up here by August 10th.
Submitted by Rachel Carpenter rc35@evansville.edu
Andiron Lecture Series 2022-2023 (Call for Papers)
UE faculty, staff, and administrators are invited to submit an abstract for papers on any aspect of their research or expertise for the 2022-2023 Andiron Lectures Series. All disciplines and fields of study are welcome to submit proposals.
Please send the following by email:
A 50-word abstract with Name, Academic Affiliation/ Occupation, Paper title, and Contact Information to: Ray Lutgring at RL5@evansville.edu with a Cc to Cheryl Emmons at CE36@evansville.edu. These will be forwarded to the Andiron Lecture Committee for consideration.
Nominations for off-campus speakers can be sent by email to Ray Lutgring at RL5@evansville.edu
with a Cc to Cheryl Emmons at CE36@evansville.edu; she will forward them to the Andiron Lecture committee for consideration.
Submitted by Cheryl Emmons ce36@evansville.edu
Welcome Shelby Gardner
Please join us in welcoming Shelby Gardner to the University of Evansville team! Shelby has accepted the position of Executive Assistant to the Vice President for Student Affairs/Dean of Students. Shelby is proud to call Evansville home and graduated in Spring 2022 from the University of Louisville. At UL, Shelby earned a Bachelor of Arts in Music; Bachelor of Arts in Women's, Gender, and Sexualities Studies; and a diversity Literacy Graduate Certificate. Welcome to UE Shelby!
Submitted by Jenni Sauls js944@evansville.edu
TIAA Counseling Appointments for Fall 2022
The TIAA-CREF representative will be back on the UE campus for individual counseling sessions. To schedule an appointment, call TIAA-CREF at 1-800-732-8353 or 317-706-6200. The sessions are held in the University Library, room 209.
August 18
September 14
October 12
November 10
Submitted by Lori LeDuc ll138@evansville.edu
Only 4 Spots Left for Purple Patrol!
Purple Patrol is once again returning this fall! We now need your help filling up the 15 Fridays throughout the semester!
You can sign up for Purple Patrol through SignUpGenius. Join your coworkers, department, or team and volunteer for the Friday of your choosing. Please sign up for one week only so everyone has a chance to participate. Those who sign up will travel around campus on Fridays (preferably morning or lunchtime) and hand out giveaways to Aces showing their purple pride!
If you have questions, please contact Julie Beer, university relations coordinator, at jb855@evansville.edu.
Submitted by Julie Beer / jb855@evansville.edu
Order Textbooks Online and Skip the Lines
Did you know you can order your textbooks online ahead of time and skip the long in-store lines? Simply visit the bookstore online at evansville.bncollege.com, click on "Find Course Materials" under the "Course Materials & Textbooks" header, select your courses from the dropdown menus, and the website will pull a personalized list of Required and Recommended titles!
Now if you plan on renting any books, you will need to put in a credit card to secure the rental BUT you can pay a different way! Are you an Athlete? On VA benefits? Or just need to use your Book Loan before your Financial Aid is distributed? You can do that AND rent! When it comes time to check out, make sure you follow the directions, putting in your credit card AND selecting the secondary form of payment as "Financial Aid: Student Account". When the order comes through, the appropriate account will be charged (nothing will be charged to the credit card unless you damage the books or don't bring them back at the end of the semester).
Please allow up to 72 hours for web order processing during the first 2 weeks of class. You will receive 2 emails: one confirming the order, the other to let you know when it is ready to pickup/has been shipped. Please wait for that second email before coming in to pick up your order. If you have decided to have your books shipped, the tracking number will be on that email.
Find out you don't need the book? You have one week from the start of classes to return the book for a full refund with the book in original condition and a copy of your receipt.
Dropped a class? Get a full refund if you return your book by September 30th, with proof that you dropped the course, the book in original condition, and a copy of your receipt.
Of course, if you don't feel comfortable ordering online, you're more than welcome to bring your schedule into the store (either printed or pulled up on your phone), we will pull your books at our back counter, and you can pay at the register. Remember, if you're renting, you need to have a credit card to secure the rentals, even if you're using a different form of payment.
Submitted by Becky Lamont bl164@evansville.edu
Dr. Unger publishes article in Zeitschrift für angewandte Mathematik und Physik
Professor Emeritus of Mechanical and Civil Engineering, David J. Unger, publishes technical article in ZAMP (Journal of Applied Mathematics and Physics) titled, "Generalized Tresca yield condition as a family of elliptic curves with application to mode I crack problems," 73: 184, pp. 1-17.
Submitted by David J. Unger fu2@evansville.edu
Contribute to AceNotes
To have content considered for inclusion in AceNotes, please submit a Marketing Request Form. Deadline for submission to AceNotes is 10:00 a.m. on the requested date of publication. Only articles concerning UE related/sponsored activities will be accepted. Articles submitted to AceNotes may be edited for length and clarity. Submitter contact information is at the end of each article.