| | |
| --- | --- |
| AceNotes Today | Wednesday, August 3, 2022 |
New Marketing Request Process
Marketing is launching a new marketing request form and process for requesting for creative and publications services on Wednesday, August 10.
You will use the same link, but when you get to the option for creative services you will be prompted to create a Lytho login. Once created you will get a confirmation email from noreply@inmotionnow.com.
There are more forms for you to choose from and less questions asked! You can track projects and provide collaboration in the system. The goal is to streamline approvals and allow for history to be documented for future projects. Our superusers who have piloted the system have seen a huge improvement in workflow!
If you have any questions during this transition, email Holly Smith at hh98@evansville.edu.
Submitted by Holly Lee Smith hh98@evansville.edu
Fall Conference Opening Session and Concurrent Sessions 2022
The opening session of the University of Evansville Fall Conference is Tuesday, August 16, beginning at 1:00 p.m. in Shanklin Theatre, Hyde Hall. Gather and reconnect with one another at 12:30 p.m. with beverages in the Matt Williams Lobby and Toyota Lounge, Hyde Hall. All faculty, staff, and administrators are welcome and encouraged to attend. Following the opening session, a ribbon cutting ceremony will be held for the New Residence Hall at 4:00 p.m. Everyone is invited to join in this celebration, which will be held in the lobby of the New Residence Hall. Appetizers and drinks will be served afterwards.
Fall Conference will continue Wednesday, August 17, with Concurrent Sessions in the Schroeder School of Business Building from 9:00 a.m. to 3:00 p.m. The campus community is encouraged to attend the informational sessions.
View the Fall Conference Schedule for a complete list of events and Concurrent Sessions.
Please address questions to Tracey Folden at ext. 2509 or tf91@evansville.edu or Paula Heldt at ext. 2479 or ph28@evansville.edu.
Submitted by Paula Heldt ph28@evansville.edu
What's it like to discover a lost, underwater castle?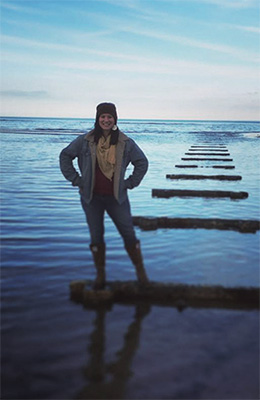 If you've ever wondered what it was like to work as an underwater archaeologist? Join Dr. Emily Stammitti, British Faculty Member and MA Programme Director at Harlaxton College. She is a British- American underwater archaeologist and community activist, as she explores the discovery of an underwater castle in Scotland and the treasures it revealed.
September 8, 2022
12:15 p.m. – 1:00 p.m.
COST: Free Via Zoom
Learn more an register at: https://www.evansville.edu/lostcastle/index.cfm
Submitted by Holly Lee Smith hh98@evansville.edu
Save the Date - UE Majors and Minors Fair
Save the date for the UE Majors and Minors Fair on Tuesday, October 18, 2022, from 4:00 to 5:30 p.m. in Eykamp Hall.
Faculty, students, and alumni along with campus support teams will provide information about their discipline, professional outcomes, education programs, academic support, social innovation, and much more.
Watch for additional information coming soon. Contact Paula Heldt at ph28@evansville.edu or 812-488-2479 with questions.
Submitted by Paula Heldt ph28@evansville.edu
TIAA August Webinar Dates
Lifetime Income: Marketproof your retirement
You've worked hard to save for retirement. TIAA can help you understand how to create a diversified retirement income plan that protects you against key retirement risks.August 10 at 12 p.m. (ET), 11 a.m. (CT), 10 a.m. (MT), 9 a.m. (PT)
Gaining Insight: Navigating debt consolidation and understanding the mortgage process
You can understand how to manage and consolidate debt, and get a primer that can help make the mortgage process easier to navigate.August 16 at 12 p.m. (ET), 11 a.m. (CT), 10 a.m. (MT), 9 a.m. (PT)
The power of saving
Whether you're the kind of person that lives and spends in the now or plans for what's ahead, there are always ways to save smarter. In this webinar, you'll learn a number of strategies for better managing your money so you have the knowledge and confidence to pay your bills, save for a rainy day, and achieve any larger financial goals you've set for yourself.August 17 at 12 p.m. (ET), 11 a.m. (CT), 10 a.m. (MT), 9 a.m. (PT)
Hindsight 2020: A look back at lessons learned in 2020
A look back at 2020 and the lessons learned during this unique time. This presentation will look back at the historical example of 2020 and what we learned in terms of the value of advice, following a disciplined risk management strategy and the role lifetime income can play in a sound financial plan.August 18 at 3 p.m. (ET), 2 p.m. (CT), 1 p.m. (MT), 12 p.m. (PT)
Submitted by Lori LeDuc ll138@evansville.edu
Today: New Residence Hall Ribbon Cutting
Today, the opening session of our Fall Conference will be held from 1:00-4:00 p.m. Afterwards, we will hold a ribbon cutting ceremony for our New Residence Hall! This will take place at 4:00 p.m. inside the lobby of the New Residence Hall, and then we'll celebrate with appetizers and drinks under a tent on Walnut Street. Tours will be offered for those who would like to explore the interior. You're invited to join us as we mark the opening of our New Residence Hall, which many first- and second-year students will soon call home!
Submitted by Julie Beer / jb855@evansville.edu
Employees - United Way Day of Caring
United Way of Southwestern Indiana's Day of Caring will be held on Friday, September 16! This is the largest service day in the area where volunteers give their time and energy to help non-profit organizations in Vanderburgh, Spencer, and Warrick counties.
This year, UE will continue to partner with the Buffalo Trace Council of the Boy Scouts of America, located at the Eykamp Scout Center. Projects include general landscaping, fall field day setup, organizing program supplies, pressure washing, painting posts, and more! Participating employees WILL NOT need to use a vacation day but are required to obtain approval from respective supervisors.
If you have been looking for the chance to make a positive impact on our community, this is the perfect opportunity! Sign up by completing this survey - Registration. Please contact Jenni Sauls, Office of the President, with any questions via email at js944@evansville.edu or phone at 812-488-2151.
Let's have a great showing!
Submitted by Jenni Sauls js944@evansville.edu
UE Summer Ceramics Workshop Sale
The UE Summer Ceramics Workshop is hosting their ceramics sale August 6, 10am -2pm, on UE's campus. The location is the South Lawn of Koch Center. Ceramics will range in price from $20-$300. Parking is available in front oval or the parking lot off Weinbach Avenue.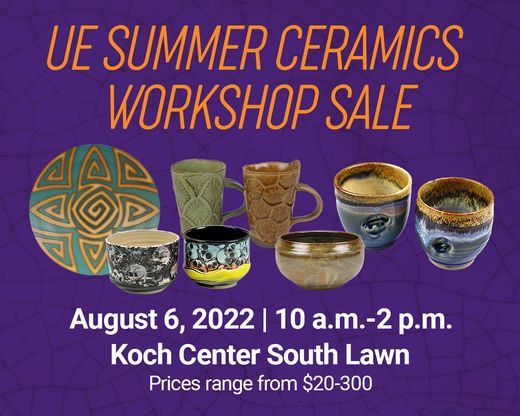 Submitted by Todd Matteson tm8@evansville.edu
2022 UE Changemaker Challenge Winners, Intertwined Financial Literacy Announce $30,000 Pre-seed Investment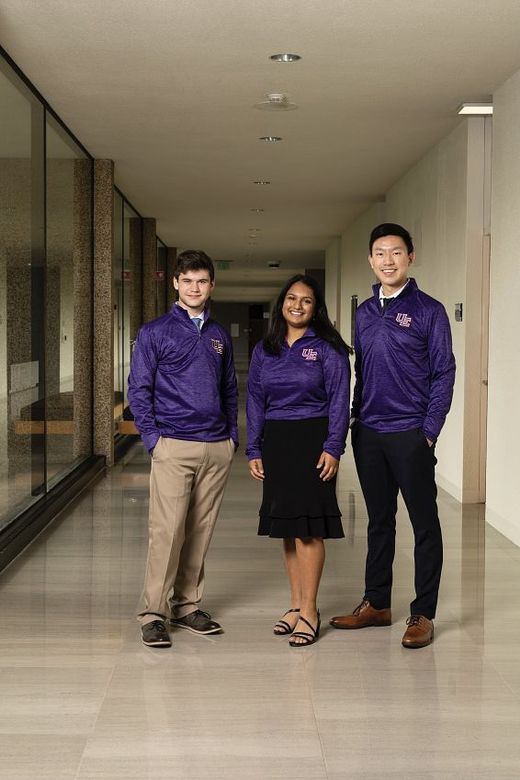 The 2022 UE Changemaker Challenge Winners, Intertwined Financial Literacy LLC announced on July 26, a $30,000 pre-seed Investment from Paul Saunders, President of eLuxury.com & ePackageSupply.com, and software investor Luch Bucshon, formally at Vista Equity Partners.
Intertwined was co-founded by Kerry Ao, 17, Cooper Croslyn, 17, and Naina Muvva, 17, in 2022, making them some of the youngest venture-backed entrepreneurs in America. The three high schoolers attend Signature School in Evansville, Indiana.
The team is developing an online interactive personal finance and stock market simulator that integrates adaptive learning lessons. The financial literacy education web application, Intertwined Finance, allows students to learn more effectively as it adapts to their own pace. The adaptive quizzing then unlocks financial tools within a simulator after the software determines that a student has mastered a learning topic. The platform is intended for high schoolers inside the classroom, and these tools are part of a broader curriculum Intertwined will develop.
Ao states, "My co-founders and I are excited to bring Paul and Luke on as investors. This investment will accelerate our work on achieving Intertwined's mission—to vastly improve the quality of financial literacy education across America." The founders of Intertwined were inspired to create a financial literacy educational platform after seeing a gap for this type of education in Indiana as well as broadly in the U.S.
Four Indiana high schools will pilot test Intertwined in their classrooms beginning with the 2022-2023 school year.
The complete article can be viewed at: https://www.pr.com/press-release/866121
Submitted by Brooksie Smith bs267@evansville.edu
Volunteer at Move-in as a Greeter
Calling all faculty, staff, and administrators! Volunteer "move-in greeters" are needed for Saturday, August 20 from 8am - 2pm.
Greeters will work in pairs (in a shaded/covered area) for a 2-hour shift to help greet new students and their families as they drive up to their assigned residence hall. We are looking for 30 volunteers from across the university to welcome the newest additions to our UE Family.
Sign-up here by August 10th.
Submitted by Rachel Carpenter rc35@evansville.edu
Andiron Lecture Series 2022-2023 (Call for Papers)
UE faculty, staff, and administrators are invited to submit an abstract for papers on any aspect of their research or expertise for the 2022-2023 Andiron Lectures Series. All disciplines and fields of study are welcome to submit proposals.
Please send the following by email:
A 50-word abstract with Name, Academic Affiliation/ Occupation, Paper title, and Contact Information to: Ray Lutgring at RL5@evansville.edu with a Cc to Cheryl Emmons at CE36@evansville.edu. These will be forwarded to the Andiron Lecture Committee for consideration.
Nominations for off-campus speakers can be sent by email to Ray Lutgring at RL5@evansville.edu
with a Cc to Cheryl Emmons at CE36@evansville.edu; she will forward them to the Andiron Lecture committee for consideration.
Submitted by Cheryl Emmons ce36@evansville.edu
Welcome Shelby Gardner
Please join us in welcoming Shelby Gardner to the University of Evansville team! Shelby has accepted the position of Executive Assistant to the Vice President for Student Affairs/Dean of Students. Shelby is proud to call Evansville home and graduated in Spring 2022 from the University of Louisville. At UL, Shelby earned a Bachelor of Arts in Music; Bachelor of Arts in Women's, Gender, and Sexualities Studies; and a diversity Literacy Graduate Certificate. Welcome to UE Shelby!
Submitted by Jenni Sauls js944@evansville.edu
TIAA Counseling Appointments for Fall 2022
The TIAA-CREF representative will be back on the UE campus for individual counseling sessions. To schedule an appointment, call TIAA-CREF at 1-800-732-8353 or 317-706-6200. The sessions are held in the University Library, room 209.
August 18
September 14
October 12
November 10
Submitted by Lori LeDuc ll138@evansville.edu
Only 4 Spots Left for Purple Patrol!
Purple Patrol is once again returning this fall! We now need your help filling up the 15 Fridays throughout the semester!
You can sign up for Purple Patrol through SignUpGenius. Join your coworkers, department, or team and volunteer for the Friday of your choosing. Please sign up for one week only so everyone has a chance to participate. Those who sign up will travel around campus on Fridays (preferably morning or lunchtime) and hand out giveaways to Aces showing their purple pride!
If you have questions, please contact Julie Beer, university relations coordinator, at jb855@evansville.edu.
Submitted by Julie Beer / jb855@evansville.edu
Check Out the "Need Help?" Student Resources Webpage!
The UE website has several webpages that can be of assistance to students - or even faculty and staff who want to help students. But the webpages are in various departments and may not be easily located. Students may not even know what resources are available to them, such as campus departments and services. Thank you to an Ethics & Social Change ChangeLab, led by Dr. Valerie Stein, that proposed a student resources webpage!
For a one-stop shop of student services and support, visit the Need Help? webpage. You can find an orange button under the Student Life menu item or simply visit evansville.edu/needhelp. The webpage has links and information pertaining to food pantries, tutoring, scheduling advice, counseling and disability services, and much more.
Submitted by Julie Beer / jb855@evansville.edu
Athletic Training Application Cycle Now Open
Applications are now open for the Master of Science in Athletic Training degree. The program uses the Athletic Training Centralized Application System (ATCAS), and applications can be submitted here. The priority deadline is 12:00 p.m. on January 1, 2023.
For more information about the Athletic Training program, visit their webpage.
Submitted by Julie Beer / jb855@evansville.edu
Employee Summer Healthy Behavior Challenge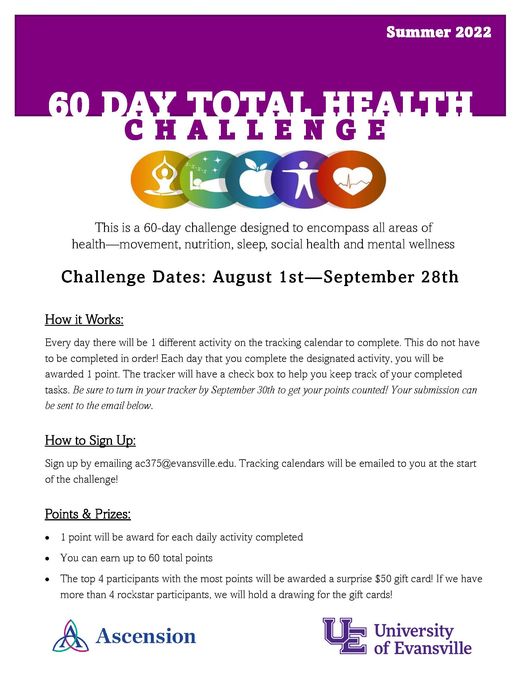 The Summer Healthy Behavior Challenge for Employees is underway! This is the 60-Day Total Health Challenge which encompasses all areas of health: movement, nutrition, sleep, social health, and mental health. Earn $150 in HRA credits for successfully completing the challenge!
The challenge will begin August 1st - September 28th. Use the link below to sign up!! Tracking calendars will be emailed to you at the start of the challenge. See the flyer attached for additional information!
SIGN UP HERE: https://forms.gle/H7vMZ4knAioPUA3x8
Submitted by Ashley Chipps ac375@evansville.edu
Order Textbooks Online and Skip the Lines
Did you know you can order your textbooks online ahead of time and skip the long in-store lines? Simply visit the bookstore online at evansville.bncollege.com, click on "Find Course Materials" under the "Course Materials & Textbooks" header, select your courses from the dropdown menus, and the website will pull a personalized list of Required and Recommended titles!
Now if you plan on renting any books, you will need to put in a credit card to secure the rental BUT you can pay a different way! Are you an Athlete? On VA benefits? Or just need to use your Book Loan before your Financial Aid is distributed? You can do that AND rent! When it comes time to check out, make sure you follow the directions, putting in your credit card AND selecting the secondary form of payment as "Financial Aid: Student Account". When the order comes through, the appropriate account will be charged (nothing will be charged to the credit card unless you damage the books or don't bring them back at the end of the semester).
Please allow up to 72 hours for web order processing during the first 2 weeks of class. You will receive 2 emails: one confirming the order, the other to let you know when it is ready to pickup/has been shipped. Please wait for that second email before coming in to pick up your order. If you have decided to have your books shipped, the tracking number will be on that email.
Find out you don't need the book? You have one week from the start of classes to return the book for a full refund with the book in original condition and a copy of your receipt.
Dropped a class? Get a full refund if you return your book by September 30th, with proof that you dropped the course, the book in original condition, and a copy of your receipt.
Of course, if you don't feel comfortable ordering online, you're more than welcome to bring your schedule into the store (either printed or pulled up on your phone), we will pull your books at our back counter, and you can pay at the register. Remember, if you're renting, you need to have a credit card to secure the rentals, even if you're using a different form of payment.
Submitted by Becky Lamont bl164@evansville.edu
Creative Writing Professor Publishes in Paste Magazine
Katie Darby Mullins has an article about the TV show Prodigal Son in Paste Magazine this week. She's been covering music and entertainment as a freelancer for years, and is excited to work with an acclaimed pop culture magazine.
Submitted by Katie Mullins kd60@evansville.edu
10 Aces earn Easton/NFCA All-America Scholar-Athlete honors
More than half of the University of Evansville softball team was honored for their efforts in the classroom by the National Fastpitch Coaches Association, it was announced on Monday morning.

10 Aces were named to the Easton/NFCA All-America Scholar-Athlete list, an honor given to softball student-athletes with a GPA of 3.5-or-higher during the 2021-22 academic year.

Those earning the recognition are listed below:

Megan Brenton, So., P
Alexa Davis, So., OF
Zoe Frossard, R-Fr., OF
Elyse Hickey, 5th, IF
Paige McAllister, Fr., P
Mackenzie McFeron, Sr., IF
Jenna Nink, So., OF
Izzy Vetter, Sr., P
Sydney Weatherford, Fr., P
Haley Woolf, Sr., C/1B

The Aces were also one of 150 teams in the nation with a GPA of 3.0-or-higher as a team, generating a 3.364 GPA as a team.
The rankings and honors recognize the academic prowess of softball teams across the Association's membership categories. In all, more than 7,500 student-athletes were honored with NCAA Division I student-athletes representing 2,155 of the honors. Team GPAs and scholar-athletes are submitted by member head coaches.
Submitted by Athletics
UE Cross Country Announces 2022 Schedule
University of Evansville Director of Cross Country/Track & Field Brooks LeCompte announced the 2022 cross country schedule on Thursday, a five-meet slate that includes the 20th-annual University of Evansville Invitational in mid-October.
LeCompte's first season as head coach at UE will begin in Terre Haute, Indiana, as Evansville will kick off the 2022 campaign at the John McNichols Invitational on Saturday, September 17. The UE men will take the course at 8 a.m. in the 8-K event, before the women will compete in a 5-K at 8:45 a.m. central time.
"With this being my first cross country season at Evansville, I felt it would be best to start our season a couple of weeks later than normal," said LeCompte. "This will allow for some much-needed time for me to get a good grasp of where the student-athletes are at fitness-wise to ensure that we aren't getting ahead of ourselves, and time for them to adjust to the new training stimulus."
The season will continue on Saturday, October 1 when the Purple Aces take part in one of the nation's largest cross country events with the annual Live In Lou Classic in Louisville, Kentucky. Last year, over a thousand runners and nearly 100 schools from the various NCAA and NAIA levels competed in three races at the Live In Lou Classic.
Evansville will then return home to the Angel Mounds Cross Country Course to host the 20th-annual University of Evansville Invitational on Saturday, October 15. The men's 8-K race will kick-off the UE Invite at 10 a.m., with the women's 5-K race set to begin at 10:45.
"I am really excited to be able to host the 20th-annual UE Invitational," said LeCompte. "The Angel Mounds course was one of my favorite courses to visit as a visiting coach, and to now be able to host an event there is exciting."
The 2022 season will then conclude in the same place that it started, as both the Missouri Valley Conference and NCAA Great Lakes Regional Championships will take place in Terre Haute, Indiana. The Valley Championships will take place on Friday, October 28, with the NCAA Great Lakes Regionals taking place two weeks later on Friday, November 11.
Submitted by Athletics
Baseball earns ABCA Team Academic Excellence Award
Competing on and off the field, the University of Evansville baseball team has been honored for an impressive season in the classroom, receiving the ABCA Team Academic Excellence Award.

Along with recording its best season on the field since 2014, the Aces excelled academically, amassing a 3.313 GPA for the 2022 season. Evansville had five student-athletes finish the spring with a 4.0 semester GPA, including Danny Borgstrom, Tanner Craig, Tyler Denu, Niko Klebosits, and sophomore Donovan Schultz, who holds a cumulative GPA of 4.0 in sport communication.
The American Baseball Coaches Association's Team Academic Excellence Award honors high school and college programs coached by ABCA members that post a cumulative Grade Point Average over 3.0 on a 4.0 scale. This year, the ABCA honored nearly 700 member high school and college programs. Evansville was one of five Valley teams to earn the award, joining Bradley, Illinois State, Indiana State, and Valparaiso.
Criteria for the ABCA Team Academic Excellence Award include:
• Must be a high school or college team
• Head coach must be a current ABCA member
• Team must have a minimum cumulative GPA of 3.0 on a 4.0 scale during the 2021-22 academic year. GPA may not be rounded up.
The American Baseball Coaches Association has a long tradition of recognizing the achievements of baseball coaches and student-athletes. The ABCA/Rawlings All-America Teams are the nation's oldest, founded in 1949, and the ABCA's awards program also includes the ABCA/Rawlings All-Region Awards, the ABCA/ATEC Regional & National Coaches of the Year and several other major awards such as the ABCA Hall of Fame and Dave Keilitz Ethics in Coaching Award.

Submitted by Athletics
Morales and Vazquez set for 2022 Volleyball Challenger Cup
Another international tournament opportunity is slated to open Friday for University of Evansville head volleyball coach Fernando Morales and 5th-year senior Alondra Vazquez who will represent Puerto Rico in the 2022 Volleyball Challenger Cup.
Taking place in Zadar, Croatia, the Challenger Cup is an 8-team event that is held from July 28-31. The Puerto Rico Women's National Team opens play on Friday with an 8 p.m. local time (1 p.m. CT) match versus Cameroon. With a victory, the team would guarantee a spot in one of the medal contests while matching up against either France or Colombia for a spot in the championship final.
On the opposite side of the bracket, Belgium opens against the Czech Republic while Croatia faces Kazakhstan. Round two features two matches on Saturday, July 30 with the medal games taking place on July 31. The winners of the competition will earn a promotion to play in the 2023 FIVB Volleyball Nations League replacing the lowest ranked challenger teams of this year's VNL in each gender.
Morales serves as the head coach of the national squad while Vazquez is an outside hitter. Earlier in the summer, they were part of the Puerto Rico team who competed at the NORCECA Final Four Qualification Tournament in Mexico. Highlighting the event was a victory over Costa Rica.
Submitted by Athletics
Contribute to AceNotes
To have content considered for inclusion in AceNotes, please submit a Marketing Request Form. Deadline for submission to AceNotes is 10:00 a.m. on the requested date of publication. Only articles concerning UE related/sponsored activities will be accepted. Articles submitted to AceNotes may be edited for length and clarity. Submitter contact information is at the end of each article.