| | |
| --- | --- |
| AceNotes Today | Wednesday, July 27, 2022 |
Fall Conference Opening Session and Concurrent Sessions 2022
The opening session of the University of Evansville Fall Conference is Tuesday, August 16, beginning at 1:00 p.m. in Shanklin Theatre, Hyde Hall. Gather and reconnect with one another at 12:30 p.m. with beverages in the Matt Williams Lobby and Toyota Lounge, Hyde Hall. All faculty, staff, and administrators are welcome and encouraged to attend. Following the opening session, a ribbon cutting ceremony will be held for the New Residence Hall at 4:00 p.m. Everyone is invited to join in this celebration, which will be held in the lobby of the New Residence Hall. Appetizers and drinks will be served afterwards.
Fall Conference will continue Wednesday, August 17, with Concurrent Sessions in the Schroeder School of Business Building from 9:00 a.m. to 3:00 p.m. The campus community is encouraged to attend the informational sessions.
View the Fall Conference Schedule for a complete list of events and Concurrent Sessions.
Please address questions to Tracey Folden at ext. 2509 or tf91@evansville.edu or Paula Heldt at ext. 2479 or ph28@evansville.edu.
Submitted by Paula Heldt ph28@evansville.edu
TIAA August Webinar Dates
Lifetime Income: Marketproof your retirement
You've worked hard to save for retirement. TIAA can help you understand how to create a diversified retirement income plan that protects you against key retirement risks.August 10 at 12 p.m. (ET), 11 a.m. (CT), 10 a.m. (MT), 9 a.m. (PT)
Gaining Insight: Navigating debt consolidation and understanding the mortgage process
You can understand how to manage and consolidate debt, and get a primer that can help make the mortgage process easier to navigate.August 16 at 12 p.m. (ET), 11 a.m. (CT), 10 a.m. (MT), 9 a.m. (PT)
The power of saving
Whether you're the kind of person that lives and spends in the now or plans for what's ahead, there are always ways to save smarter. In this webinar, you'll learn a number of strategies for better managing your money so you have the knowledge and confidence to pay your bills, save for a rainy day, and achieve any larger financial goals you've set for yourself.August 17 at 12 p.m. (ET), 11 a.m. (CT), 10 a.m. (MT), 9 a.m. (PT)
Hindsight 2020: A look back at lessons learned in 2020
A look back at 2020 and the lessons learned during this unique time. This presentation will look back at the historical example of 2020 and what we learned in terms of the value of advice, following a disciplined risk management strategy and the role lifetime income can play in a sound financial plan.August 18 at 3 p.m. (ET), 2 p.m. (CT), 1 p.m. (MT), 12 p.m. (PT)
Submitted by Lori LeDuc ll138@evansville.edu
English Professor to Present New Book at Your Brother's Bookstore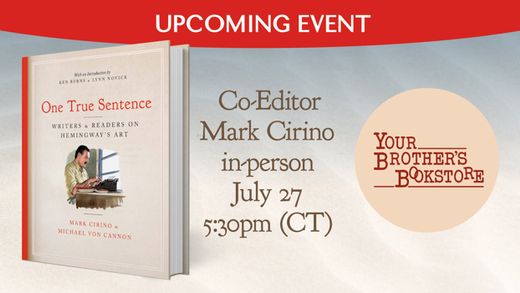 Mark Cirino, Professor of English and Melvin M. Peterson Endowed Chair in English Literature, will introduce and sign his new book, ONE TRUE SENTENCE: WRITERS & READERS ON HEMINGWAY'S ART, at 5:30 PM on Wednesday July 27 at Your Brother's Bookstore (504 Main St.) in Evansville. This book collects the favorite Hemingway sentences of writers, scholars, and luminaries, including Elizabeth Strout, Sherman Alexie, A. Scott Berg, Hemingway's daughter-in-law, and many others. The book's introduction was written by documentarians Ken Burns and Lynn Novick. For more information about the book and pre-ordering information, see https://godine.com/book/one-true-sentence/.
Submitted by Michelle Lehman ml281@evansville.edu
Today: New Residence Hall Ribbon Cutting
Today, the opening session of our Fall Conference will be held from 1:00-4:00 p.m. Afterwards, we will hold a ribbon cutting ceremony for our New Residence Hall! This will take place at 4:00 p.m. inside the lobby of the New Residence Hall, and then we'll celebrate with appetizers and drinks under a tent on Walnut Street. Tours will be offered for those who would like to explore the interior. You're invited to join us as we mark the opening of our New Residence Hall, which many first- and second-year students will soon call home!
Submitted by Julie Beer / jb855@evansville.edu
Employees - United Way Day of Caring
United Way of Southwestern Indiana's Day of Caring will be held on Friday, September 16! This is the largest service day in the area where volunteers give their time and energy to help non-profit organizations in Vanderburgh, Spencer, and Warrick counties.
This year, UE will continue to partner with the Buffalo Trace Council of the Boy Scouts of America, located at the Eykamp Scout Center. Projects include general landscaping, fall field day setup, organizing program supplies, pressure washing, painting posts, and more! Participating employees WILL NOT need to use a vacation day but are required to obtain approval from respective supervisors.
If you have been looking for the chance to make a positive impact on our community, this is the perfect opportunity! Sign up by completing this survey - Registration. Please contact Jenni Sauls, Office of the President, with any questions via email at js944@evansville.edu or phone at 812-488-2151.
Let's have a great showing!
Submitted by Jenni Sauls js944@evansville.edu
UE Summer Ceramics Workshop Sale
The UE Summer Ceramics Workshop is hosting their ceramics sale August 6, 10am -2pm, on UE's campus. The location is the South Lawn of Koch Center. Ceramics will range in price from $20-$300. Parking is available in front oval or the parking lot off Weinbach Avenue.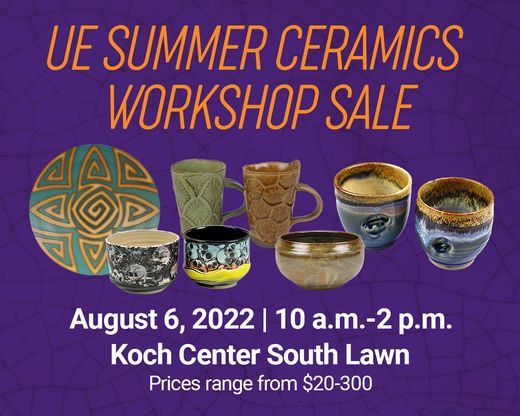 Submitted by Todd Matteson tm8@evansville.edu
2022 UE Changemaker Challenge Winners, Intertwined Financial Literacy Announce $30,000 Pre-seed Investment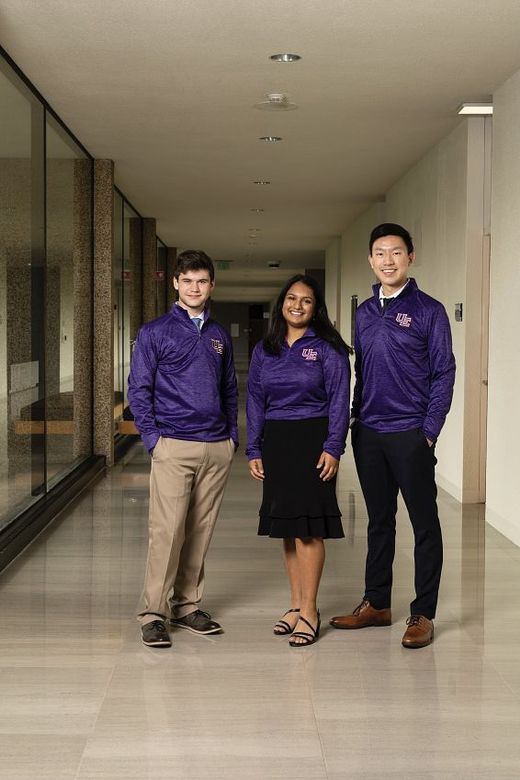 The 2022 UE Changemaker Challenge Winners, Intertwined Financial Literacy LLC announced on July 26, a $30,000 pre-seed Investment from Paul Saunders, President of eLuxury.com & ePackageSupply.com, and software investor Luch Bucshon, formally at Vista Equity Partners.
Intertwined was co-founded by Kerry Ao, 17, Cooper Croslyn, 17, and Naina Muvva, 17, in 2022, making them some of the youngest venture-backed entrepreneurs in America. The three high schoolers attend Signature School in Evansville, Indiana.
The team is developing an online interactive personal finance and stock market simulator that integrates adaptive learning lessons. The financial literacy education web application, Intertwined Finance, allows students to learn more effectively as it adapts to their own pace. The adaptive quizzing then unlocks financial tools within a simulator after the software determines that a student has mastered a learning topic. The platform is intended for high schoolers inside the classroom, and these tools are part of a broader curriculum Intertwined will develop.
Ao states, "My co-founders and I are excited to bring Paul and Luke on as investors. This investment will accelerate our work on achieving Intertwined's mission—to vastly improve the quality of financial literacy education across America." The founders of Intertwined were inspired to create a financial literacy educational platform after seeing a gap for this type of education in Indiana as well as broadly in the U.S.
Four Indiana high schools will pilot test Intertwined in their classrooms beginning with the 2022-2023 school year.
The complete article can be viewed at: https://www.pr.com/press-release/866121
Submitted by Brooksie Smith bs267@evansville.edu
Check Out the "Need Help?" Student Resources Webpage!
The UE website has several webpages that can be of assistance to students - or even faculty and staff who want to help students. But the webpages are in various departments and may not be easily located. Students may not even know what resources are available to them, such as campus departments and services. Thank you to an Ethics & Social Change ChangeLab, led by Dr. Valerie Stein, that proposed a student resources webpage!
For a one-stop shop of student services and support, visit the Need Help? webpage. You can find an orange button under the Student Life menu item or simply visit evansville.edu/needhelp. The webpage has links and information pertaining to food pantries, tutoring, scheduling advice, counseling and disability services, and much more.
Submitted by Julie Beer / jb855@evansville.edu
Athletic Training Application Cycle Now Open
Applications are now open for the Master of Science in Athletic Training degree. The program uses the Athletic Training Centralized Application System (ATCAS), and applications can be submitted here. The priority deadline is 12:00 p.m. on January 1, 2023.
For more information about the Athletic Training program, visit their webpage.
Submitted by Julie Beer / jb855@evansville.edu
Employee Summer Healthy Behavior Challenge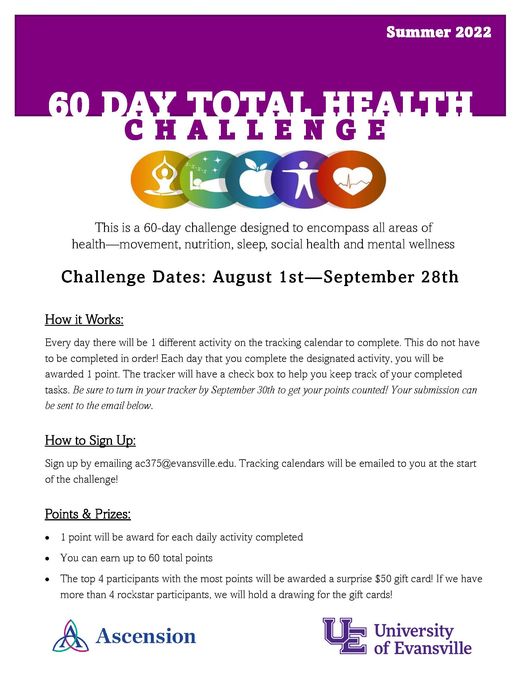 The Summer Healthy Behavior Challenge for Employees is underway! This is the 60-Day Total Health Challenge which encompasses all areas of health: movement, nutrition, sleep, social health, and mental health. Earn $150 in HRA credits for successfully completing the challenge!
The challenge will begin August 1st - September 28th. Use the link below to sign up!! Tracking calendars will be emailed to you at the start of the challenge. See the flyer attached for additional information!
SIGN UP HERE: https://forms.gle/H7vMZ4knAioPUA3x8
Submitted by Ashley Chipps ac375@evansville.edu
Now Hiring - ScholarCorps AmeriCorps Member
We're looking for our next ScholarCorps AmeriCorps member at UE. Do you know someone who can make a difference in the lives of UE students from Indiana? Is that someone you?
The ScholarCorps AmeriCorps member will complete a minimum 1,700 hours of service from August 1, 2022 - July 31, 2023, with an option to renew for up to 2 additional years. Our ScholarCorps member will join the Academic Services team as UE's 21st Century Scholar Support Specialist.
ScholarCorps members receive a living allowance and are eligible for an AmeriCorps education award, as well as student loan forbearance and interest accrual reimbursement on qualifying student loans. ScholarCorps members are also provided health benefits through AmeriCorps.
If you know someone interested in working in higher education and serving Indiana students, please share this information with them! This is a great way to get experience in higher education and student success.
The Indiana Commission for Higher Education's ScholarCorps AmeriCorps program engages volunteers in full-time AmeriCorps service. AmeriCorps is a network of national service programs that engage more than 75,000 Americans each year in intensive service to meet critical needs in education, public safety, health, and the environment. Members who successfully complete a minimum 1,700 hours of AmeriCorps service will receive a modest living allowance of up to $20,370 and are eligible to receive a $6,345 AmeriCorps Education Award. AmeriCorps Education Awards can be used to repay qualified student loans, or pay the cost of attending a qualified institution of higher education.
ScholarCorps AmeriCorps members are placed at select colleges and universities across Indiana and serve as an on-campus resource to freshman and sophomore 21st Century Scholar students enrolled at that institution. The program aims to increase 21st Century Scholar retention and success by providing on-campus programming, direct support and connecting students to various on-campus resources, information and services needed to be successful in college. Each ScholarCorps AmeriCorps member will be charged with providing Scholars with resources in alignment with four programmatic goal areas, including:
1.) Academic Performance and Persistence,
2.) Student Engagement and Enrichment,
3.) Career Exploration and Preparation, and
4.) Financial Literacy and Debt Management.
Primary tasks and duties:
• Increase student retention and success by providing on-campus programming and direct support to 21st Century Scholars
• Track and monitor the academic performance of Scholars (mid-term and end of semester) and refer at-risk Scholars to on-campus tutoring, advising and academic support services
• Enhance the overall collegiate experience for 21st Century Scholars by providing meaningful networking and social opportunities, leadership development programing and civic engagement activities
• Participate in ScholarCorps Member trainings, orientation and professional development opportunities (e.g., statewide conferences, trainings, events, etc.)
Qualifications:
• Must be a United States citizen, national or lawful permanent resident of the United States
• Associate degree or Bachelor degree preferred
• Ability to make a full-year commitment from on or near August 1, 2022 – July 31, 2023
• Ability to work well with individuals from diverse backgrounds
• Ability to drive and access to a vehicle
• Preference will be given to former 21st Century Scholars
A full description and position summary is available. Interested candidates should contact Chad Hart, Manager of Retention, at CH299@Evansville.edu to talk about the position and to discuss arrangements for an interview. Let's talk!
Do you know anyone who might be interested in this opportunity? Let us know! We want to reach out to them!
Submitted by Chad Hart ch299@evansville.edu
Order Textbooks Online and Skip the Lines
Did you know you can order your textbooks online ahead of time and skip the long in-store lines? Simply visit the bookstore online at evansville.bncollege.com, click on "Find Course Materials" under the "Course Materials & Textbooks" header, select your courses from the dropdown menus, and the website will pull a personalized list of Required and Recommended titles!
Now if you plan on renting any books, you will need to put in a credit card to secure the rental BUT you can pay a different way! Are you an Athlete? On VA benefits? Or just need to use your Book Loan before your Financial Aid is distributed? You can do that AND rent! When it comes time to check out, make sure you follow the directions, putting in your credit card AND selecting the secondary form of payment as "Financial Aid: Student Account". When the order comes through, the appropriate account will be charged (nothing will be charged to the credit card unless you damage the books or don't bring them back at the end of the semester).
Please allow up to 72 hours for web order processing during the first 2 weeks of class. You will receive 2 emails: one confirming the order, the other to let you know when it is ready to pickup/has been shipped. Please wait for that second email before coming in to pick up your order. If you have decided to have your books shipped, the tracking number will be on that email.
Find out you don't need the book? You have one week from the start of classes to return the book for a full refund with the book in original condition and a copy of your receipt.
Dropped a class? Get a full refund if you return your book by September 30th, with proof that you dropped the course, the book in original condition, and a copy of your receipt.
Of course, if you don't feel comfortable ordering online, you're more than welcome to bring your schedule into the store (either printed or pulled up on your phone), we will pull your books at our back counter, and you can pay at the register. Remember, if you're renting, you need to have a credit card to secure the rentals, even if you're using a different form of payment.
Submitted by Becky Lamont bl164@evansville.edu
Dr. Payal Patel-Dovlatabadi Named to Rotary's 20 Under 40
Congratulations to Dr. Payal Patel-Dovlatabadi, associate professor of public health and director of the public health program. She was recently named to the 20 Under 40 Class of 2020 by the Rotary Club of Evansville!
20 Under 40 recognizes individuals in the Evansville community who are younger than forty years old and have exhibited leadership qualities and characteristics in their various roles throughout the community. Those special individuals are eligible for nomination. The nominations themselves are made by community leaders across the tri-state area in June and July of each year.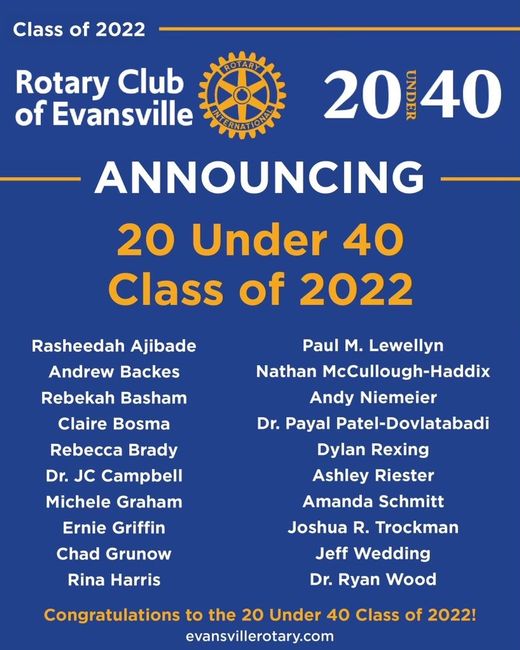 Submitted by Julie Beer / jb855@evansville.edu
Men's golf earns Presidents Special Recognition
On Monday, the Golf Coaches Association of America announced its 2021-22 Outstanding Team Academic Award recipients.
With a 3.530 grade point average, the University of Evansville men's golf team was recognized with Presidents Special Recognition. Teams across the nation who finished with season GPA's of 3.5 or higher earned the award.
"The men's team has earned this honor two years in a row. Only 36 teams in the country were recognized and our young men have been on there two years in a row," UE head golf coach John Andrews stated. "It shows the kind of commitment they have put in in the classroom. I am truly honored to have the opportunity to work with such academically gifted young men and young ladies in our program."
Over the course of the 2021-22 school year, the Purple Aces men's squad finished with a 3.530 GPA and was one of just 36 Division I teams to be honored. UE joins Drake and Valparaiso as representatives of the Missouri Valley Conference.
Submitted by Athletics
Contribute to AceNotes
To have content considered for inclusion in AceNotes, please submit a Marketing Request Form. Deadline for submission to AceNotes is 10:00 a.m. on the requested date of publication. Only articles concerning UE related/sponsored activities will be accepted. Articles submitted to AceNotes may be edited for length and clarity. Submitter contact information is at the end of each article.