| | |
| --- | --- |
| AceNotes Today | Wednesday, July 13, 2022 |
Give Back via Payroll Deduction
Greetings Aces Family – It's that time of year again!
You are incredibly generous and dedicated people, so we want to be sure we bring you the opportunity to establish or renew a payroll deduction as a way to give back philanthropically.
We are so fortunate that the people on campus give of their time, talents, and treasures – That's a really big deal and makes a genuine difference in the lives of UE students.
Remember that you can make gifts to any area on campus, including those in which you are involved! To establish a payroll deduction, please follow this link and click on "Campus Campaign Pledge Form." https://myue.evansville.edu/DepartmentPages/UniversityAdvancement.
When completed, please send the form to annualgiving@evansville.edu.
Thank you once more for all you do at the University of Evansville. This is a special place, made all the more exceptional by you, your work, and your generous giving.
For any questions, please contact the Office of University Advancement at 812-488-1094 or at annualgiving@evansville.edu.
Go Aces!
PS – Please know that any giving though payroll deductions will count towards the university's goals for FORWARD: The Campaign for the University of Evansville. To learn more, click here! https://forward.evansville.edu
Submitted by Tyler White fw18@evansville.edu
UE Summer Ceramics Workshop Sale
The UE Summer Ceramics Workshop is hosting their ceramics sale August 6, 10am -2pm, on UE's campus. The location is the South Lawn of Koch Center. Ceramics will range in price from $20-$300. Parking is available in front oval or the parking lot off Weinbach Avenue.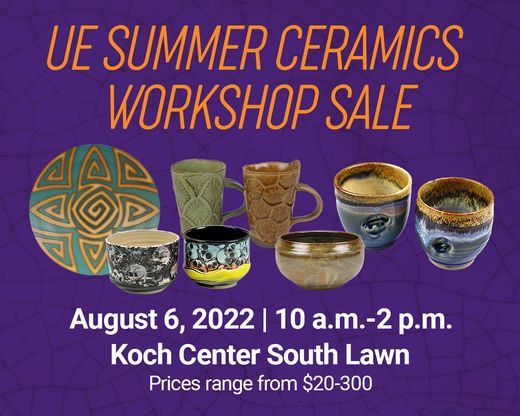 Submitted by Todd Matteson tm8@evansville.edu
FREE Summer Institute for Any K-16 Educator!
The University of Evansville is offering for the first time ever a FREE Summer Institute for Educators! All resources, workshop materials, food, and accommodation will be provided at absolutely zero cost to educators.
The 4-day workshop is designed for K-16 educators to transform their classrooms into creative problem-solving powerhouses. They will learn how to incorporate design thinking, changemaking, and innovative creative problem-solving skills regardless of discipline or grade level. This cohort will build a network of innovative educators and learn proven techniques from experienced mentors. Space is limited.
The Elevate Design Thinking Summer Institute presented by the Center for Innovation & Change at the University of Evansville, is made possible by the Elevate Ventures Higher Education Grant.
Deadline to Register: July 13th
Dates: Saturday, July 23rd – Wednesday, July 27th
For more information, and to register please visit: http://www.Evansville.edu/elevateinstitute
Questions: Please contact the UE Center for Innovation & Change at 812-488-2455

Submitted by Brooksie Smith / bs267@evansville.edu
CDEI Presents: Inclusive Language, Identity, and Terminology
Join the Center for Diversity Equity and Inclusion in learning and understanding inclusive language, identity, and terminology!
This session will be led by the CDEI Faculty Director, Dr. Valerie Stein. At the end of this session you will have developed a vocabulary for different social identities, understood the difference between gender, sex and sexuality, and ultimately have a better overall understanding of how to foster inclusion through everyday language!
Session will be held on July 13th from 11-12pm in Hyde Hall 108.
We look forward to seeing you there!
Submitted by Abagail Christine Catania ac532@evansville.edu
Pest treatment
A contractor will be conducting annual pest treatment to the exterior of campus buildings on Friday July 22.
Questions or Concerns Regarding this Work: Contact Fred Wilson fw2@evansville.edu.
Thank you for your patience as we maintain our beautiful campus.
To report a facilities emergency, call (812) 488-2775.
Submitted by Fred Wilson fw2@evansville.edu
Now Hiring - ScholarCorps AmeriCorps Member
We're looking for our next ScholarCorps AmeriCorps member at UE. Do you know someone who can make a difference in the lives of UE students from Indiana? Is that someone you?
The ScholarCorps AmeriCorps member will complete a minimum 1,700 hours of service from August 1, 2022 - July 31, 2023, with an option to renew for up to 2 additional years. Our ScholarCorps member will join the Academic Services team as UE's 21st Century Scholar Support Specialist.
ScholarCorps members receive a living allowance and are eligible for an AmeriCorps education award, as well as student loan forbearance and interest accrual reimbursement on qualifying student loans. ScholarCorps members are also provided health benefits through AmeriCorps.
If you know someone interested in working in higher education and serving Indiana students, please share this information with them! This is a great way to get experience in higher education and student success.
The Indiana Commission for Higher Education's ScholarCorps AmeriCorps program engages volunteers in full-time AmeriCorps service. AmeriCorps is a network of national service programs that engage more than 75,000 Americans each year in intensive service to meet critical needs in education, public safety, health, and the environment. Members who successfully complete a minimum 1,700 hours of AmeriCorps service will receive a modest living allowance of up to $20,370 and are eligible to receive a $6,345 AmeriCorps Education Award. AmeriCorps Education Awards can be used to repay qualified student loans, or pay the cost of attending a qualified institution of higher education.
ScholarCorps AmeriCorps members are placed at select colleges and universities across Indiana and serve as an on-campus resource to freshman and sophomore 21st Century Scholar students enrolled at that institution. The program aims to increase 21st Century Scholar retention and success by providing on-campus programming, direct support and connecting students to various on-campus resources, information and services needed to be successful in college. Each ScholarCorps AmeriCorps member will be charged with providing Scholars with resources in alignment with four programmatic goal areas, including:
1.) Academic Performance and Persistence,
2.) Student Engagement and Enrichment,
3.) Career Exploration and Preparation, and
4.) Financial Literacy and Debt Management.
Primary tasks and duties:
• Increase student retention and success by providing on-campus programming and direct support to 21st Century Scholars
• Track and monitor the academic performance of Scholars (mid-term and end of semester) and refer at-risk Scholars to on-campus tutoring, advising and academic support services
• Enhance the overall collegiate experience for 21st Century Scholars by providing meaningful networking and social opportunities, leadership development programing and civic engagement activities
• Participate in ScholarCorps Member trainings, orientation and professional development opportunities (e.g., statewide conferences, trainings, events, etc.)
Qualifications:
• Must be a United States citizen, national or lawful permanent resident of the United States
• Associate degree or Bachelor degree preferred
• Ability to make a full-year commitment from on or near August 1, 2022 – July 31, 2023
• Ability to work well with individuals from diverse backgrounds
• Ability to drive and access to a vehicle
• Preference will be given to former 21st Century Scholars
A full description and position summary is available. Interested candidates should contact Chad Hart, Manager of Retention, at CH299@Evansville.edu to talk about the position and to discuss arrangements for an interview. Let's talk!
Do you know anyone who might be interested in this opportunity? Let us know! We want to reach out to them!
Submitted by Chad Hart ch299@evansville.edu
Academic Services Welcomes New Additions
Academic Services has welcomed three new additions recently and it is our pleasure to finally introduce them to the campus community. Please join us in welcoming these individuals in their new roles on campus!
Anthony Halmon – Senior Academic Advisor
Anthony Halmon joined Academic Services toward the end of the spring semester and comes to us from the Office of Admission. Besides advising students, Anthony will be helping coordinate the support programming and outreach efforts of our academic advisors and will be a DISC-110 instructor. Anthony has a bachelor's degree from Cornell University where he studied Africana Studies and a MDiv from the University of Chicago.
Kelsey Gordon – Assistant Registrar/Retention Coordinator
Kelsey Gordon joined Academic Services this spring where she stepped right into helping our graduating students and working in the background to make the 164th Commencement ceremony a success. She'll be working with junior and senior level students to ensure smooth progress toward degree completion and will be helping retention efforts throughout the year. Kelsey has a BA in International Studies from Centre College and a MA in Teaching from St. Louis University.
Laci Rowe – Academic Advisor
Laci Rowe is starting her new role as an Academic Advisor this summer and we are very excited! Since 2019, Laci has been working with Indiana 21st Century Scholars as our ScholarCorps member, a grant-funded AmeriCorps position. We're excited to have her begin work as an Academic Advisor and to have her finally join the University of Evansville as a full-time employee. Laci is herself a 2019 University of Evansville graduate and majored in English Literature and was an Admission Ambassador and a Writing Center Tutor during her time on campus.

Submitted by Chad Hart / ch299@evansville.edu
Andiron Lecture Series 2022-2023 (Call for Papers)
UE faculty, staff, and administrators are invited to submit an abstract for papers on any aspect of their research or expertise for the 2022-2023 Andiron Lectures Series. All disciplines and fields of study are welcome to submit proposals.
Please send the following by email:
A 50-word abstract with Name, Academic Affiliation/ Occupation, Paper title, and Contact Information to: Ray Lutgring at RL5@evansville.edu with a Cc to Cheryl Emmons at CE36@evansville.edu. These will be forwarded to the Andiron Lecture Committee for consideration.
Nominations for off-campus speakers can be sent by email to Ray Lutgring at RL5@evansville.edu
with a Cc to Cheryl Emmons at CE36@evansville.edu; she will forward them to the Andiron Lecture committee for consideration.
Submitted by Cheryl Emmons / ce36@evansville.edu
Order Textbooks Online and Skip the Lines
Did you know you can order your textbooks online ahead of time and skip the long in-store lines? Simply visit the bookstore online at evansville.bncollege.com, click on "Find Course Materials" under the "Course Materials & Textbooks" header, select your courses from the dropdown menus, and the website will pull a personalized list of Required and Recommended titles!
Now if you plan on renting any books, you will need to put in a credit card to secure the rental BUT you can pay a different way! Are you an Athlete? On VA benefits? Or just need to use your Book Loan before your Financial Aid is distributed? You can do that AND rent! When it comes time to check out, make sure you follow the directions, putting in your credit card AND selecting the secondary form of payment as "Financial Aid: Student Account". When the order comes through, the appropriate account will be charged (nothing will be charged to the credit card unless you damage the books or don't bring them back at the end of the semester).
Please allow up to 72 hours for web order processing during the first 2 weeks of class. You will receive 2 emails: one confirming the order, the other to let you know when it is ready to pickup/has been shipped. Please wait for that second email before coming in to pick up your order. If you have decided to have your books shipped, the tracking number will be on that email.
Find out you don't need the book? You have one week from the start of classes to return the book for a full refund with the book in original condition and a copy of your receipt.
Dropped a class? Get a full refund if you return your book by September 30th, with proof that you dropped the course, the book in original condition, and a copy of your receipt.
Of course, if you don't feel comfortable ordering online, you're more than welcome to bring your schedule into the store (either printed or pulled up on your phone), we will pull your books at our back counter, and you can pay at the register. Remember, if you're renting, you need to have a credit card to secure the rentals, even if you're using a different form of payment.
Submitted by Becky Lamont bl164@evansville.edu
Summer Health Risk Assessment
Summer Health Risk Assessments will take place July 11th-13th in Eykamp Hall from 7:00AM-10:45AM each day. Complete your health risk assessment and earn HRA credits. Please remember, fasting 8-10 hours is recommended. Water and Black coffee are allowed. Please take maintenance medications as prescribed, as long as they are not required to be taken with food. Please click the link below to sign up today!
https://acelink.evansville.edu/Areas/MedicalClinic/Appointments/
Submitted by Ashley Chipps ac375@evansville.edu
Physician Assistant Student Receives Grant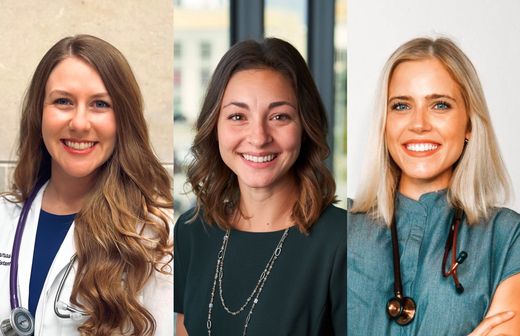 Pictured on left; Taylor Thomas. Middle; Emily Thimling (faculty sponsor). Right; Iza Correll (OVI founder).
UE Physician Assistant student Taylor Thomas was recently awarded the Robert K. Pederson Global Outreach Grant through the PA Foundation in the amount of $10,105. This grant will support OVI Healthcare's project "OVI Fellows Hygiene and Sanitation Initiative". OVI is a medical organization founded by a physician assistant that offers medical care for children in the Migori Kenya region. This Initiative will help promote sustainable development in healthcare and health education to improve the health and quality of life for OVI patients and staff. Taylor is part of the team that will help develop this initiative over the next year, and will travel to Kenya next summer to help implement this project.
Submitted by Andy Lampkins al207@evansville.edu
Chi Omega Wins Founders' Cup
This summer at Chi Omegas 64th National Biennial Convention, the UE chapter of Chi Epsilon was presented with the prestigious Founders' Cup. It was created to recognize and reward the continued development and exceptional performance of collegiate chapters. It is now known as the highest honor a collegiate chapter can receive in Chi Omega and is the epitome of chapter excellence. Only 5 out of 181 chapters receive this award every two years. Chi Epsilon is honored to have been selected for the 2018-2020 and the 2020-2022 biennium's. Chi Epsilon is proud to be a part of UE Greek Life and looks forward to continuing this legacy of excellence.
Submitted by Jordan McKinney jm806@evansville.edu
Tri-State Orthopaedics makes major commitment to women's sports
Led by a major financial commitment from Tri-State Orthopaedics, the University of Evansville formally announced a renovation to its softball facility that is set to feature close to $1 million in facility enhancements.

Through these improvements, Tri-State Orthopaedics Field at James & Dorothy Cooper Stadium will be one of the most impressive facilities in the Missouri Valley Conference while rivaling any in the entire Midwest.

"We are thrilled to solidify our continued long-term relationship with the University of Evansville through the softball branding. We support Title IX and what an opportunity to assist the University in strengthening the women's facility," Tri-State Orthopaedics Chief Executive Officer Phil Rawley exclaimed. "Over the years, we've expanded our services to meet the needs of the student athletes, coaches, and the residents of Evansville and that mission continues!"

Renovations to the facility include:
- State-of-the-art artificial turf playing surface from AstroTurf
- Regrading of the playing surface
- Reconfiguration and upgrade of the pitching and hitting areas
- Padded walls for the entire stadium
- Dugout renovations

"On behalf of the University of Evansville, our athletics department and the softball program, I want to thank Tri-State Orthopaedics for their generosity in making this dream a reality. They do so much for our student-athletes and their commitment to this project strengthens that relationship," UE Director of Athletics Dr. Kenneth " Ziggy" Siegfried said. "Enhancing the student-athlete experience while creating championship caliber facilities are two of our main goals and this checks all the boxes. Our goal with each of our programs is to win the Missouri Valley Conference and this moves us even closer to that goal."

"Another important aspect of this project is the impact it will have on the Evansville community. The ability to host tournaments and events at our facility will bring about multiple positives for our city."

Evansville is set to be the only on-campus facility in the Missouri Valley Conference with completely turfed infield and outfield. The hitting and pitching cages will also be turfed, providing practice and warm-up opportunities.

"I want to thank Tri-State Orthopaedics for helping make our dream of having the best facility in the Midwest a reality," UE head softball coach Mat Mundell exclaimed. "Not only will this give us a competitive advantage in recruiting but the city of Evansville will be able to watch their Aces play more games at home."

ABOUT TRI-STATE ORTHOPAEDICS
Tri-State Orthopaedics was founded in 1949 by Dr. John H. Sterne and Dr. Henry Leibundguth, and has grown into the largest orthopaedic practice of its kind in the Evansville, Indiana area. Their 30 physicians, advanced practice providers and their affiliated staff carry on their Founders' commitment to and reputation for excellence, providing specialized orthopaedic care for patients all across the tri-state.


ABOUT ASTROTURF
AstroTurf will be completing its second project at UE. In 2019, the company was chosen to complete the turf project at German American Bank Field at Charles H. Braun Stadium. AstroTurf was the first brand of artificial turf on the market. First pioneered in 1964 and used in 1965 at the Astrodome on the world's first indoor baseball game, we've seen it all. An industry fixture and the brand leader for cutting–edge synthetic turf technology, AstroTurf has earned a sterling reputation for warranty performance and client trust
Submitted by Athletics
UE volleyball unveils 2022 fall schedule
From start to finish, the 2022 University of Evansville volleyball schedule features a new level of excitement as the Purple Aces look to take the next step forward.
Featuring matches against nine teams who participated in the 2021 postseason, the 2022 slate is one that UE head coach Fernando Morales hopes will prepare his team for the challenges of the Missouri Valley Conference.
"After a great season in 2021, we have higher and harder goals this fall and we worked to schedule our non-conference matches according to those goals," Morales stated. "We will have a progressive schedule, closing at Baylor and Michigan State. This will us for the MVC, which we know is one of the toughest in the nation. We are excited and ready for the season to start."
On Friday, August 26, the season opens with a trip to Huntington, W.Va. for the Marshall Invitational. UE is set to face Wright State, South Carolina State and Marshall in its opening weekend. The Raiders are coming off the best season out of the group, posting a 23-8 mark last season.
Home play opens on August 30 when the Aces welcome USI to Meeks Family Fieldhouse. The Screaming Eagles are set for the first season at the Division I level as members of the Ohio Valley Conference. In their final campaign at the Division II level, USI won 18 matches. The second non-conference tournament of the year has the Aces traveling to the Golden Eagle Invite, which is hosted by Tennessee Tech. Set for September 2-3, the event includes Tennessee Tech, Northwestern and Western Carolina. UE returns home on Sept. 6 for its second and final home non-conference match against Tennessee State.
In one of the biggest tests the program has ever seen, Evansville treks to Waco, Texas for the Baylor Classic on Sept. 9-10. UE will face Baylor, Arizona State and Colorado State in the tournament. The Bears completed the 2021 season with a 22-6 mark while finishing 10th in the final national rankings. Baylor has advanced to the Sweet 16 of the NCAA Tournament in each of the last three seasons. With a 14-4 record in the Mountain West Conference last fall, the Rams were the regular season champions. They were 19-11 overall and played in the National Invitational Volleyball Championship (NIVC).
Non-conference play comes to an and a week later with a trip to the Green & White Classic, which is being hosted by Michigan State. Aside from the host Spartans, UE will take on Chicago State and Oakland. CSU won 17 matches a season ago on the way to the NIVC.
Right off the bat, the MVC slate will provide a challenge as defending conference champion Illinois State comes to Evansville on Sept. 23. The Redbirds were 19-14 overall and 13-5 in the league. Following the opener, UE welcomes another 2021 postseason squad – Bradley. Coming off a 16-14 record, the Braves played in the NIVC in 2021.
For the first time as members of the MVC, the Aces face Belmont (9/30) and Murray State (10/1) to open the road conference schedule. Following home matches versus Southern Illinois and Missouri State, UE faces a challenging stretch that includes seven out of nine matches on the road between Oct. 10 and Nov. 5. Drake and UNI are the lone home matches on Oct. 21 and 22. The Aces take on the third new member of the league – UIC – on Oct. 29. The Flames were 20-12 last season and won the Horizon League Championship. They were matched up at Louisville to open the NCAA Tournament.
Following the Nov. 5 road match at Southern Illinois, UE returns home for its final three regular season matches. Evansville welcomes Murray State and Belmont on Nov. 11-12 before closing the year with Indiana State on the 16th. For the first time in program history, the Aces will host the Missouri Valley Conference Championship at Meeks Family Fieldhouse. It is set for Nov. 20-23.
Submitted by Athletics
UE Men's Basketball announces July summer camp
Hitting the ground running since the moment he stepped on campus, University of Evansville head men's basketball coach David Ragland has announced the return of the popular summer camps in 2022.
The 2022 David Ragland Boys & Girls Basketball Camp will take place from July 25-28. Camp will take place between 9 a.m. and 4 p.m. over the four days with registration opening on Monday the 25th at 8:15 a.m. in the Fifth Third Practice Facility.
Camp is open to grades 3-8 (as of fall 2022) and the cost is $210 per camper. Discounts of $25 are given to current Aces Assist Club members, UE faculty and staff and members of "Aces Up Our Sleeve". To register, visit the registration link above or print out the brochure and return the completed form to the attention of David Ragland Basketball Camps, 1800 Lincoln Avenue, Evansville, IN 47722.
An amazing experience for basketball players of all ages, the camp includes lunch each day, the opportunity to work with the UE coaching staff while meeting members of the Purple Aces men's basketball team, a camp t-shirt, contests, competitions and more.
For more information, please contact Roosevelt Jones at rj110@evansville.edu.
Submitted by Athletics
Contribute to AceNotes
To have content considered for inclusion in AceNotes, please submit a Marketing Request Form. Deadline for submission to AceNotes is 10:00 a.m. on the requested date of publication. Only articles concerning UE related/sponsored activities will be accepted. Articles submitted to AceNotes may be edited for length and clarity. Submitter contact information is at the end of each article.